Christine Telesforo reports on the perks and challenges of representing the Wild Bird Club of the Philippines at the 2nd Asian Bird Fair held in Tainan, Taiwan.
[slideshow]
click on the play button to view the photos as a slideshow
2ABF: SCOPING SPOONBILLS IN TAINAN
By Christine Telesforo
I distinctly remember the moment I decided to go to the 2nd Asian Bird Fair (ABF) in Tainan, Taiwan. It was halfway through the lion dance that opened the turnover dinner of the 1st ABF in Davao last year. I guess it was the pomp and bizarreness of the performance that got me. I felt there was something mysterious and magical there, and I wanted to be a part of it. By the time Mr. Chang Hung-ho of the Wild Bird Society of Tainan took the stage to invite everyone to the 2nd ABF, my mind was already made up—I was going to Tainan!
And so I booked my tickets as early as June, and by October 14, I was on the bus that ferried foreign delegates from the Taoyuan International Airport to Tainan City, some 4hrs away south of Taipei on a virtually traffic-free highway.
Tainan is a coastal city rich in history and culture. But its main draw to birdwatchers is the Black-faced Spoonbill. The wetlands of Tainan are a winter haven to about half the remaining population of this nearly extinct species. Just as the 1st ABF was held in Davao City to draw attention to the critically endangered Philippine Eagle, the 2nd ABF was brought to Tainan to train the spotlight on the Black-faced Spoonbill. With just over 2,000 individuals left in the wild, these large migratory birds are among the rarest birds in the world. And I was there to see them.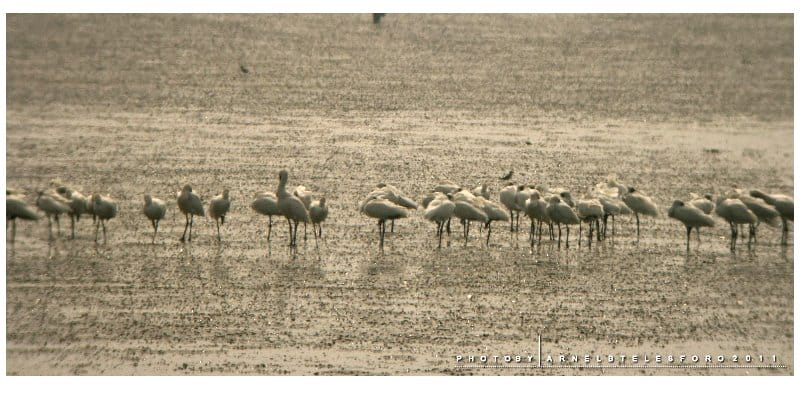 Team Philippines
With me on the bus were the eight other delegates from the Wild Bird Club of the Philippines (WBCP)—our president Anna Gonzales, her niece and new member Katrina, former president and now treasurer Mike Lu, Doc Charo Lim who had been in Taiwan since the centennial celebrations the previous week, longtime but rarely seen club members Patty Adversario and Jo Solis, the club's wonder boy and now sought-after bird guide Mark Villa, and Arnel Telesforo who designed the 1st and 2nd ABF logos. I later found out that we were the largest of the foreign delegations, not even counting Je-el and Niki of Haribon-slash-BirdLife Philippines and Niki's daughter Maxine, who were all technically part of Team Philippines.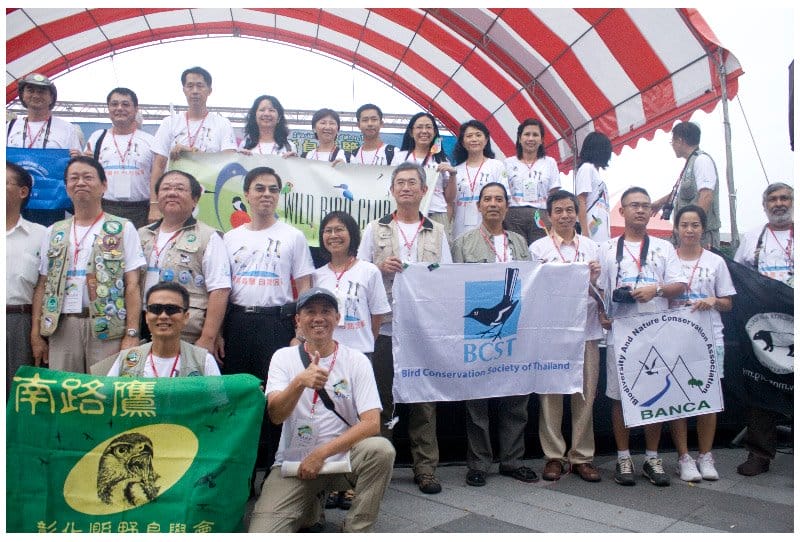 Some 2 hours into our trip, Kentish, the English-speaking guide from the Chinese Wild Bird Federation (CWBF) who met us at the airport, took us to a maritime-themed restaurant for lunch. That was my first encounter with what would soon be my favorite part of the 2nd ABF—the food! If there's one thing we Filipinos share with our Taiwanese neighbors, it's our love for huge meals, during which we also do a lot of socializing. So from that first lunch, I gained new friends from Myanmar, Sri Lanka, Singapore and Malaysia, as well as some 5 pounds around my girth.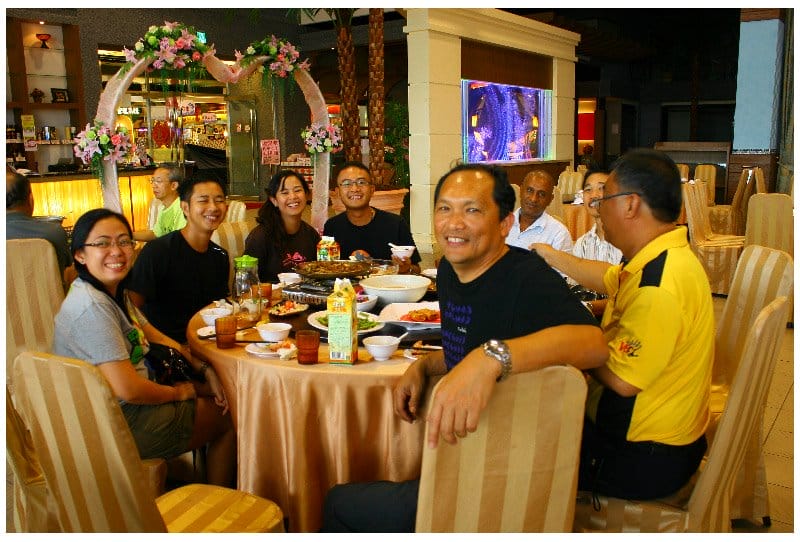 I had planned on getting some shuteye on the rest of the trip, but there were so many new things to see and marvel at. Half our group were Taipei bird fair veterans, but all of us were first-time visitors to Tainan. And so we arrived at our hotel tired but giddy with excitement. After we had settled in, Elva Hsu—CWBF's answer to WBCP's Melanie Tan for Miss Logistics—distributed shirts with the festival logo and the participant's kits.
I unpacked my kit and was immediately amazed at the work that must have gone into putting it together. There were full-color brochures of Taiwan's natural parks, an artsy city map, and other materials a visitor to Tainan would need. While leafing through one of the brochures, I made a mental note to visit Taiwan again and to stay longer so I could check out the places featured there. When I realized what I just did, I silently congratulated the team behind the tourism campaign because their brochure just made a sale.
Then among the leaflets and booklets, I saw a black box with a silver spoonbill elegantly outlined on the cover. I expected the usual logo pin or keychain, but inside was a 2GB USB drive with a cute spoonbill pendant. I thought it was a lovely touch—very Taiwan, very Tainan, very ABF.
After a couple of hours' rest, we got ready for the welcome dinner. The venue was within walking distance and Kentish led the way. It turned out to be a wet affair because it rained non-stop since late afternoon. I imagine it must have been a nightmare for the organizers who had prepared a really nice outdoor buffet party, complete with live entertainment. Instead we moved to a nearby auditorium where the organizers set up an impromptu program. We were entertained by a talent showcase from the children of an indigenous community whose outfits reminded us of our own Cordillera people, and from a gentleman we dubbed as the Levi Celerio of Taiwan.
While everyone sat there mesmerized by the haunting melodies "Levi" blew out of his nose flute, the familiar strains of the 'Happy Birthday' song slowly filled the auditorium. And before I saw 'Levi' move towards our aisle, I knew he was playing for our own Madam President, who was appropriately garbed in birthday red that day. Soon Mr. Chang came over with a pretty birthday cake with Anna's name, as the whole auditorium sang the birthday song. And just as Anna was blowing her birthday candles, the Tainan City mayor arrived to grace her surprise party. He also later gave a welcome speech for the 2nd ABF.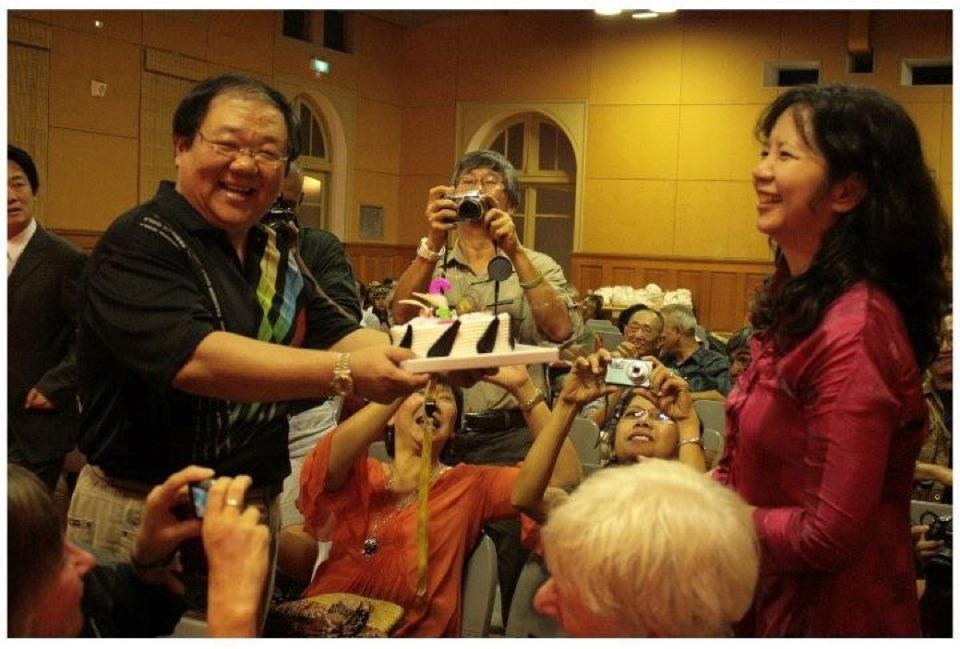 After the program, we moved out to the buffet tent for dinner. It was still raining, but since birders are used to the outdoor elements, it didn't stop us from feasting and enjoying ourselves. If anything, the standing-room-only setup along the narrow buffet tent made socializing a lot easier, and by the end of the evening everyone had at least one close encounter—literally—with other delegates.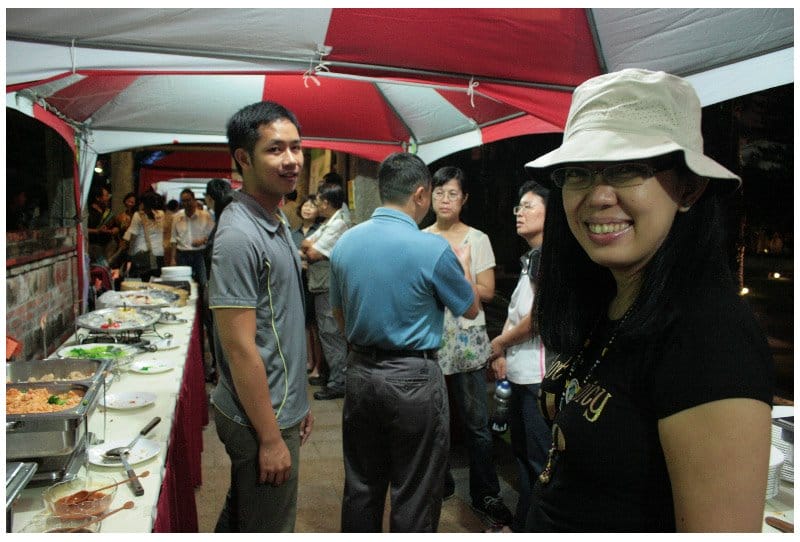 Anping Fisherman's Wharf
The next morning, two buses picked us up from the hotel to bring us to the Anping Fisherman's Wharf, venue of the 2nd ABF. The ride was short, and we knew we were there when we saw a huge spoonbill balloon in the sky. The sight of it got me so excited I couldn't keep still in my seat.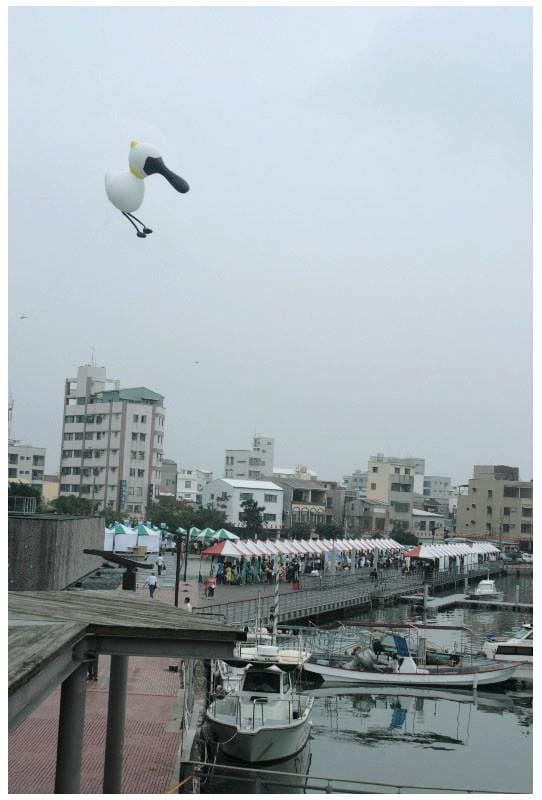 And the view that met us as soon as we got off the bus didn't disappoint. It was nothing like the fishy-smelling and slimy kind of fisherman's wharf that I imagined. No, it wasn't anywhere near our Navotas at all. The wharf didn't look like it was used for unloading and trading fish. It was more like an open park, obviously designed for strolling, biking, or simply lounging. It had a spacious public square, a number of fountains in the middle of what looked like a shallow, rectangular pond, several rows of docking piers for small boats, and an interestingly designed low-rise building for indoor activities.
The tents were set up around the water feature. The commercial groups—those selling binoculars and scopes and also non-bird-related products—were in green tents by the entrance and near the streets. The visiting and bird-related organizations were in red tents on the side overlooking the sea. The WBCP tent was sandwiched between the Bird Conservation Society of Thailand (BCST) and a bird club from another Taiwan city whose representatives spoke only Chinese, so I never got the chance to chat them up.

All throughout the 2-day event, the WBCP representatives took turns manning the tent. We sold merchandise: shirts and tote bags with Robert Alejandro designs, buttons, stickers, mugs, bird books, bamboo bird whistles, and even dried mangoes; distributed bird sticks—those paper bird cutouts taped to spines of coconut leaves; and encouraged kids to color Philippine birds, an activity that is becoming a permanent feature in all bird fairs or festivals WBCP joins. We commandeered the lone bench in front of our tent and turned it into a coloring station.
On my tour of duty, I must have met a hundred kids. Some of them were barely preschoolers, and they endured the noonday sun just to finish their artworks. I hardly ever met a rude or cocky kid. I took that as an indication of the culture of courtesy, discipline and perseverance that Taiwanese parents still instill in their children, something I hoped would be revived in Filipino families as well. I also noted that most kids came with their parents, not in school buses like what we see in our bird festivals. It was the parents themselves who recognized the value and relevance of the fair, and made sure their children experienced it.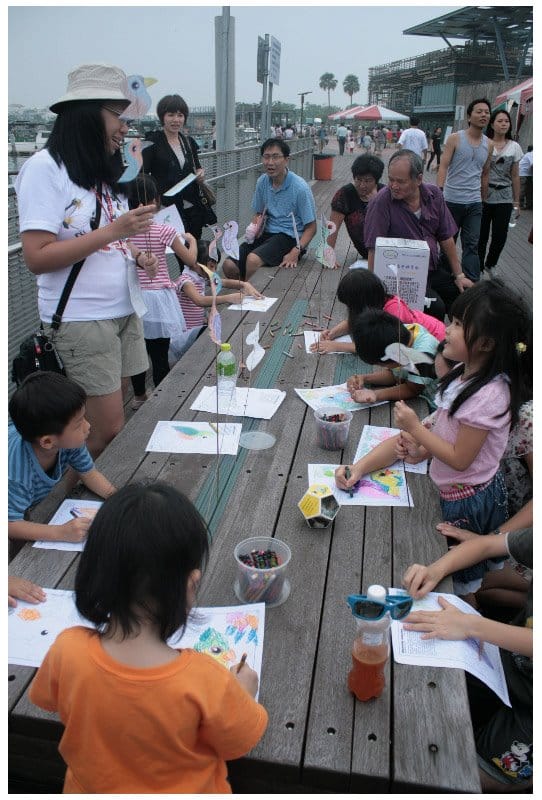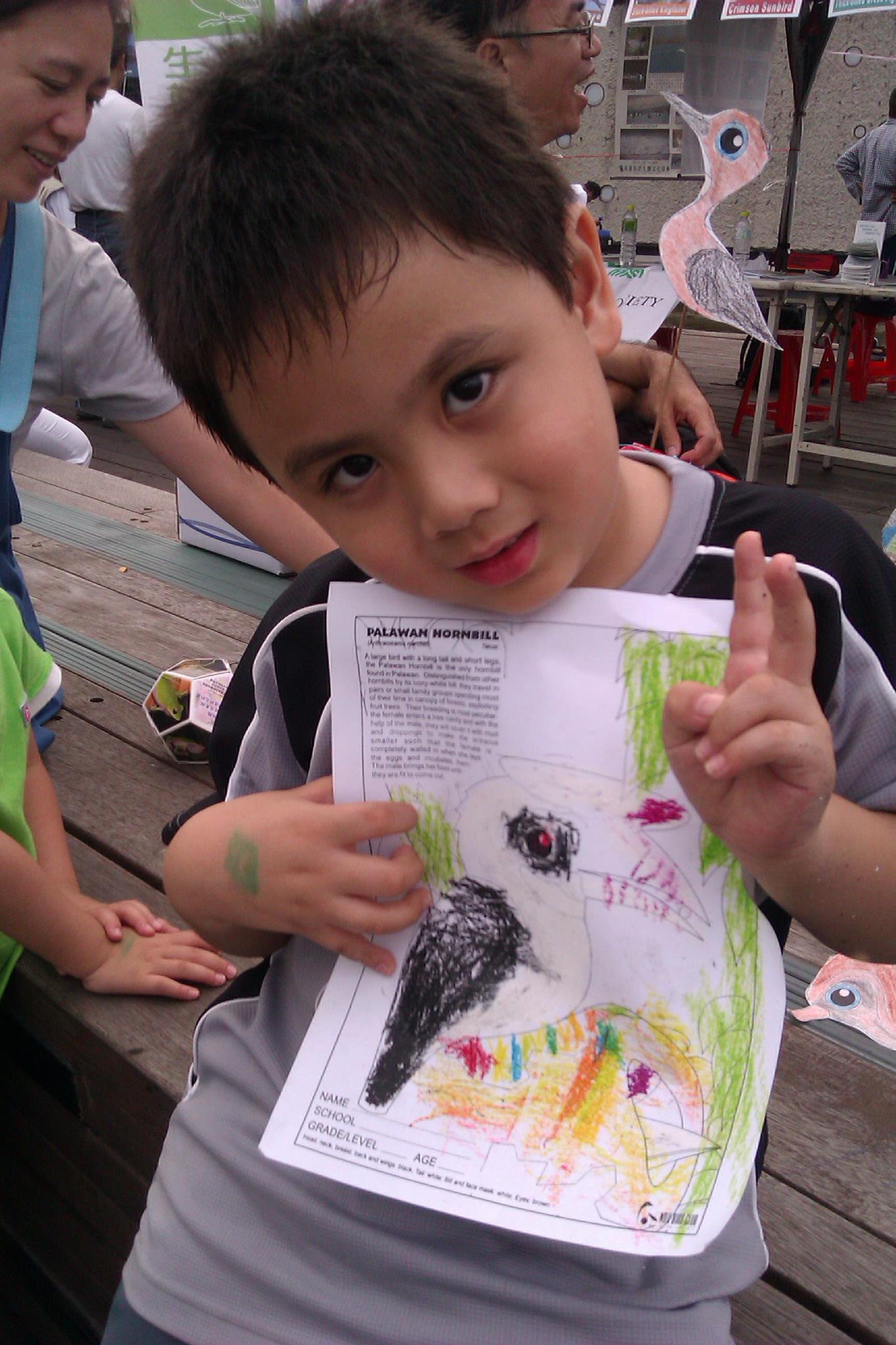 Dinners and Tours

The two succeeding dinners more than made up for that first one that got rained on. On our second night, we went to a fancy restaurant that served local cuisine. If I thought our first lunch was an adventure, this one was a trip to space. The video presentation Arnel made about the club did not play as expected, and the acoustics of the place was horrible, but it did not matter—most of the audience were either engrossed with dinner, or were already too stuffed to notice what was going on. We all made an effort to clap politely at the right moment, but I didn't think anyone was really into the program, especially among us who didn't understand Chinese.
The closing dinner topped it all. It was a deluge of unfamiliar food—at least to me—and made me wish I had more room in my stomach so I could sample everything. It was held at the grounds of a historic fort, and a live orchestra played what sounded to me like traditional Chinese music. I loved everything, including the overeager emcee who made Doc Charo dance the cha-cha, Arnel sing John Denver's 'Country Roads,' and me do the rabbit dance. I felt like he was picking on the Philippine team—I guess we were the only ones who looked game for it. To my great relief, Victor Yu, the all-around boss of the 2nd ABF, took over the program. Symbolic gifts were exchanged and momentous photos were taken. Then the details of the 3rd ABF, to be hosted by BCST, were announced. The dates to remember are November 10-11, possibly in Bangkok.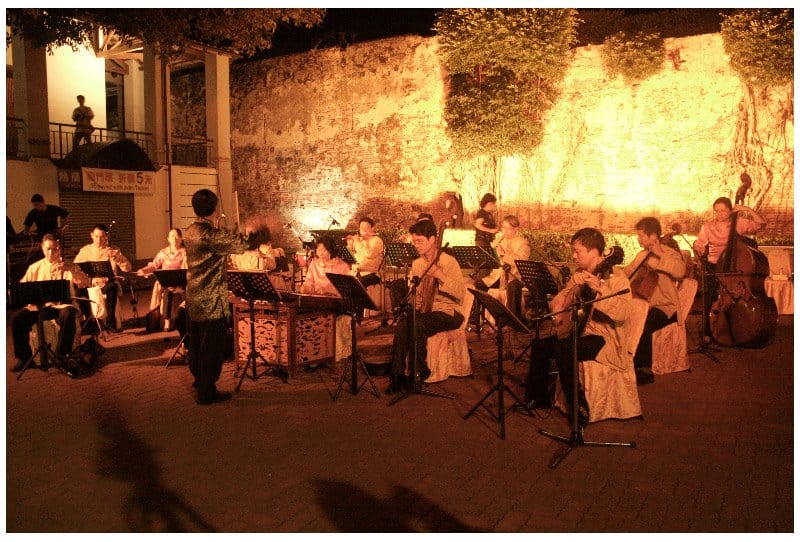 It was on the third day, our last day in Tainan, that I finally saw the Black-faced Spoonbill. The organizers brought us to the wetlands where a flock was feeding. I also caught a glimpse of a strange-looking bird that I later found out was a Sacred Ibis that had broken out of a zoo. Then we visited the research and conservation center where we viewed a documentary about efforts to save what remains of the spoonbills.
What impressed me most was how the city of Tainan has adopted the Black-faced Spoonbill, a migrant species, as their own. I don't think I have met a local who hasn't heard of the spoonbills and their plight. You see images or outlines of spoonbills decorating their bridges, the billboards, even the light posts. You can't drive through Tainan and not be aware of the spoonbills.
The view decks did not charge any entrance or maintenance fees—they were just there to encourage everyone to look at the birds. The students I met at the fair were all aware of the efforts to save the spoonbills, and have all been to the conservation center or the view decks as part of their school activities. It made me wish we had similar facilities to take students to for field trips, rather than a mall, an ice cream factory, or a carbonated drink plant.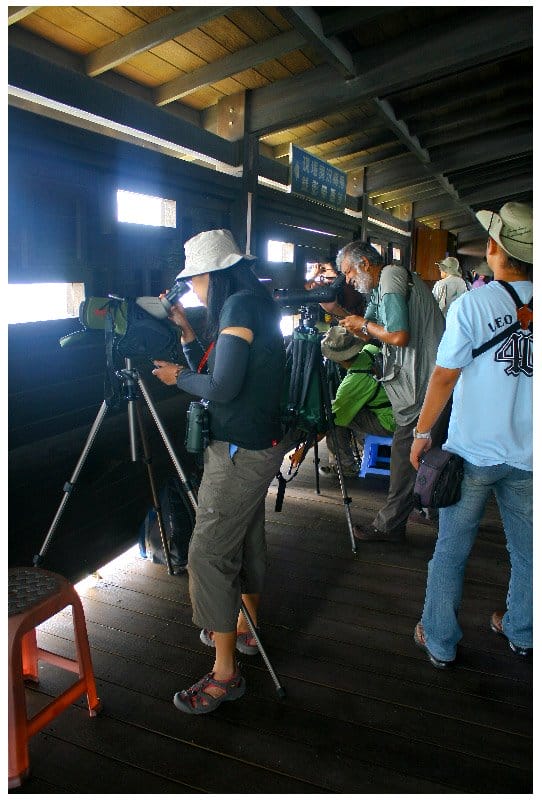 Overall, my Tainan experience was an eye-opener. I saw how far behind we are in making our people aware of the rich avian diversity in the Philippines. For a country with almost 200 endemic birds, it is disturbing that most Filipinos are ignorant about birds.
I also saw what ordinary citizens like us can do. I saw how we can be empowered to produce results, far beyond what traditional conservation groups and government entities can do. This, to me, is what makes WBCP special. We are responding to the need to fill the knowledge gap on birds, simply because we truly love them and we enjoy watching them free and healthy. We do not stand to gain anything material from our initiatives, but we carry on because this is a responsibility that came with our choice of a hobby.