This month EBON features Mayon Volcano, an area rarely visited by birders. This article written by birding guide Stijn de Win was adapted from as earlier post on his website which can be seen at

http://www.birding2asia.com/W2W/Philippines/VolcanoMayon.html

.
space


Birding on Mayon Volcano
by Stijn de Win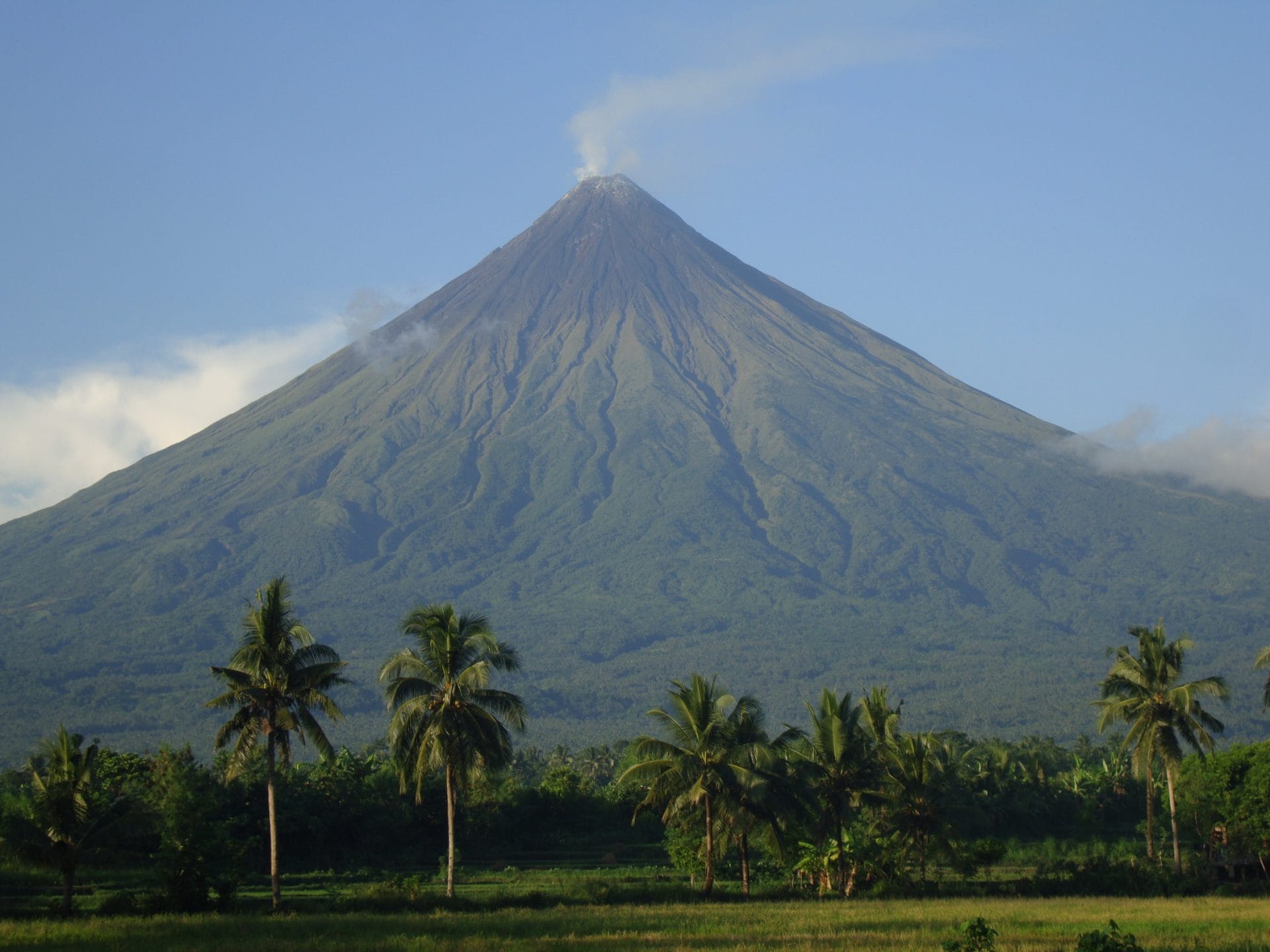 Rising 2462m above the plains in Southeast Luzon, Mt. Mayon is a truly impressive sight. The volcano's symmetrical cone really is picture perfect, like the ones you may remember from childhood cartoons or drawings. Actually only two mountains in the world are famous for this perfect conical shape, the other one being Mt. Fuji in Japan. Even without birding, Mt. Mayon is well worth a visit on its own, for the simple reason this 'is' the most impressive sight in the Philippines competing only with a Philippine Eagle soaring right above your head.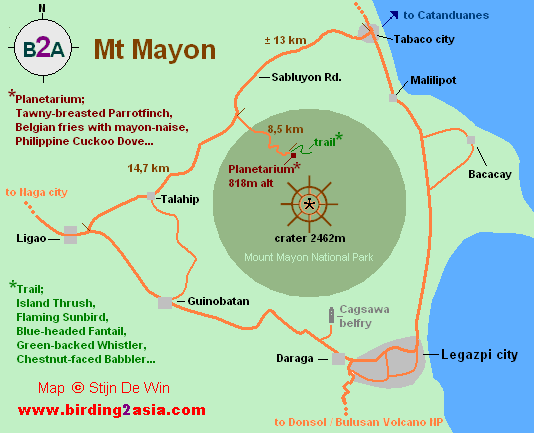 Expectations
There is no Philippine Eagle on Mayon, and the volcano isn't exactly situated on the regular birding circuit, neither would it provide with a large set of bird species or endemics as compared with any of the popular birding sites.
Do visit Mount Mayon –you have to see this volcano- for its ridiculously easy access to forest at 800m above sea level on its slopes, which, believe me is rare enough in the Philippines –- the access ha! Visit because it's interesting. If not for the few good birds I found, go simply because nobody yet seems to do any birding there. You may want to go for this little feel of exploration complete without having to do the grueling trek. Apart from the volcano views, there's great scenery on the way up to the planetarium and from the parking lot by the end of the road the views of the surrounding landscape and yes –seascape- are fantastic. You may want to learn a bit about the volcano and its latest eruptions by visiting the exhibition and planetarium. Don't forget to go birding on the easy trail which starts from the parking lot and by the time you get back you may be hungry for a snack from the cafeteria. I can recommend the potato fries –not with ketchup here- they will come with the one and only real 'mayon-naise'.
If you still think all of this isn't worth your flight to Legaspi, visit the Cagsawa belfry, which, with Mount Mayonnaise in the background is one of the most photographed sites in the Philippines. (And with Lowland White-eye foraging in the bushes on the roof!)
Further, do know that the Donsol Whale Sharks are near and perfect for a combination visit, at least from mid-February to April. Not contented yet? Drive south for about 3 hours to Bulusan Volcano National Park. More? The town of Tobaco, in the shades of Mt. Mayon, is where the ferry to Catanduanes starts. This island is said to have some good areas of lowland forest remaining although this would really get you to the exploring bit.
Anyway, no need to go that far to get excited. Mayon is an active volcano and regarded one of the most dangerous on earth. And nothing more exhilarating than a little play with your life on its flanks would it not! Joke lang. Any of the recent eruptions blew out away from the planetarium and northern flanks which is exactly why some forest thrives in the area. Besides, Mayon is carefully monitored these days and any sign of new volcanic activity would see the area closed for visitors and locals evacuated. This is a safe place to visit.
Birds
A big surprise find on my own visit in May 2012 were 4 Tawny-breasted Parrotfinches (endemic race brunneiventris). These get seldom recorded in the Philippines and obviously were new for my Philippine list. Further it was amazing to see that Island Thrush, of the mayonensis race, seems to be common at this low altitude. On my brief two hours of birding on Mayon I had two sightings, three birds total, of which, interestingly, I watched one singing a rather perfect imitation of Blue-headed Fantail. The Blue-headed Fantail itself was seen on two occasions, as was Green-backed Whistler and Mountain Verditer-Flycatcher. Flaming Sunbird seems to be the common Sunbird here with Philippine Cuckoo-Dove calling all over. There was Grey-backed Tailorbird, Buzzing Flowerpecker and Elegant Tit all near to the parking lot. The entrance road held a Plain Bush-Hen. I assume though that these sightings of only two hours of birding on Mayon would not nearly picture what should be possible on the mountain. Go and find some other avian delights is the message! I could find less than nothing on the Internet for birding Mayon. I assume there must have been one or the other old survey of the area but as in so many cases results may end up in a library drawer and sitting dusty there doesn't really help anyone I presume…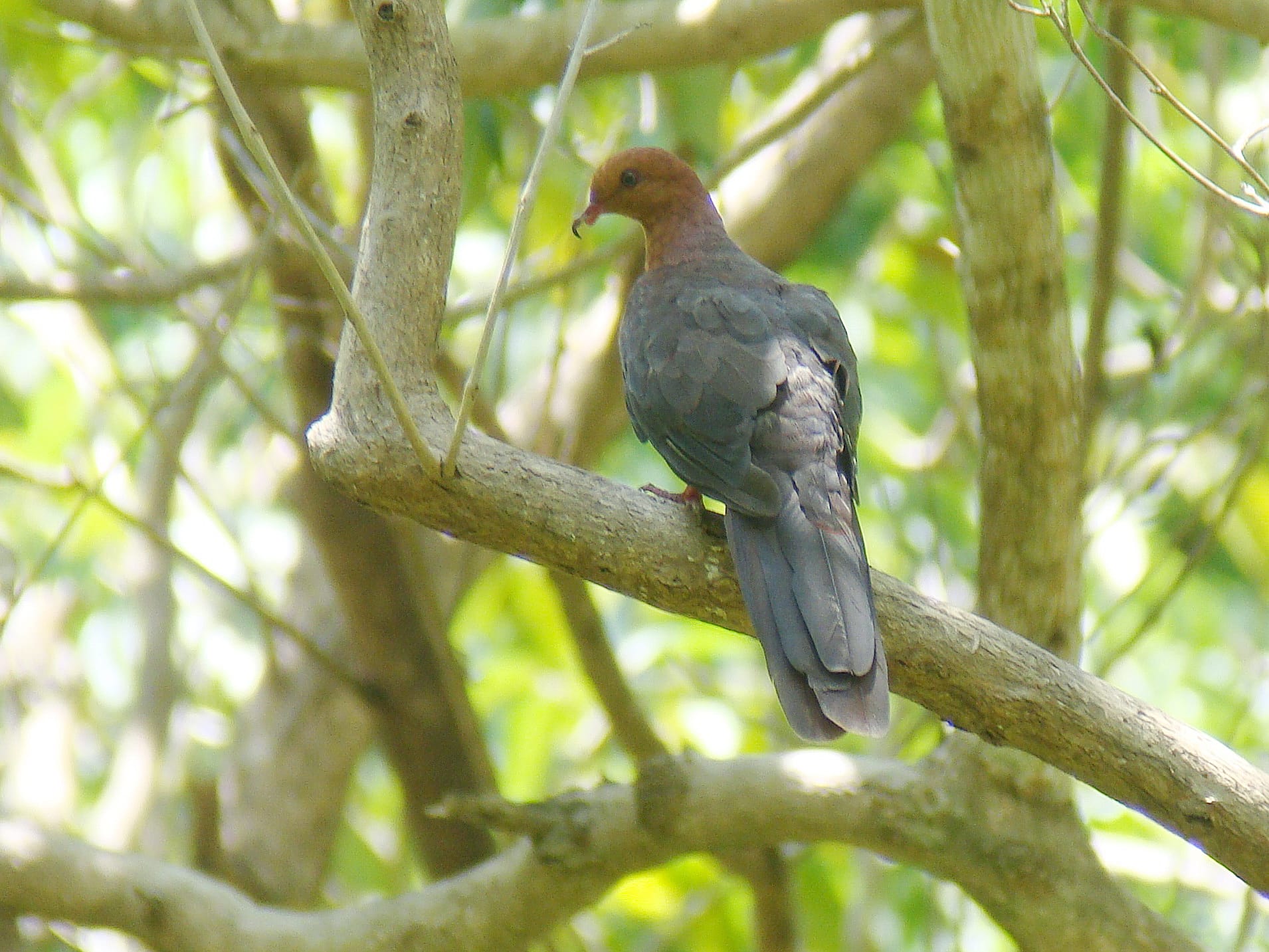 I must thank Arne Jensen for the contribution of his sightings from Mayon. Additions to my sightings include a Spotted Wood-Kingfisher and Metallic-winged Sunbird which would be residents of the forest and also an Oriental Cuckoo was seen. Arne got these from the trail by the planetarium. In Barangay Comon, Tabaco City, near the 6-kilometer danger zone, Arne also saw a Japanese Night-Heron. This bird may be regarded as a very rare winter visitor or passage migrant.
Birding the Area
The entrance road gave me a Plain Bush-Hen and there are some common open country birds like Long-tailed Shrike, Richard's Pipit and White-breasted Wood-swallow. Some birding can already be done around the parking lot by the planetarium and this is actually where I found the Tawny-breasted Parrotfinches. Then a good trail leads straight into the forest from the back end of the parking lot by the planetarium at the end of the 8.5 km entrance road, at 818m altitude. It looks like this trail has once been a track and continuation of the road some way further up the volcano and this means the walking is almost level and pretty easy. I only followed it for a good kilometer on my brief visit but I'm sure it would be interesting to continue here. A little further up may give some different bird species although I don't think there's much in the way of forest or even shrubs much higher. At least up to 1200m altitude should be good though but I think after that grassed slopes would soon take over. Higher up still nothing but volcanic rock and rubble lead to the crater rim. As this is an active volcano one should not expect to find mature primary forest with huge trees. If not eruptions, the hard volcanic soil would prevent this to exist. Trees aren't tall but the forest does certainly looks good enough in such that a good range of bird species would be able to occur.
Notes and Info
– Planetarium at N13°17.068'  E123°40.322'

– Daily flights to Legazpi from Manila take about 1 hour.
– Private transport is needed to reach the planetarium. Car or motorbike hire is available in Legazpi City. The 8.5 km entrance road is good and concreted all the way up to the planetarium parking lot.
-The closest accommodation can be found in Tabaco city: Gardenia Hotel or Carolyna Hotel, both for about 1000 Pesos. Better options in Legazpi city I reckon.
-Snacks and drinks sold at the planetarium café.
-Parking for car 10 Pesos. Public pay-toilet available next to parking lot.
-Driest months February to May but I'm pretty sure any time of year can be good for birding here.
-Little or no biting insects on the trail.
-Two minor eruptions in 2000 and the latest was in June 2001. Last fatalities (77) in 1993, when the eruptions continued for two months.
-Mount Mayon is declared a Natural Park with a size of 57,75 km²