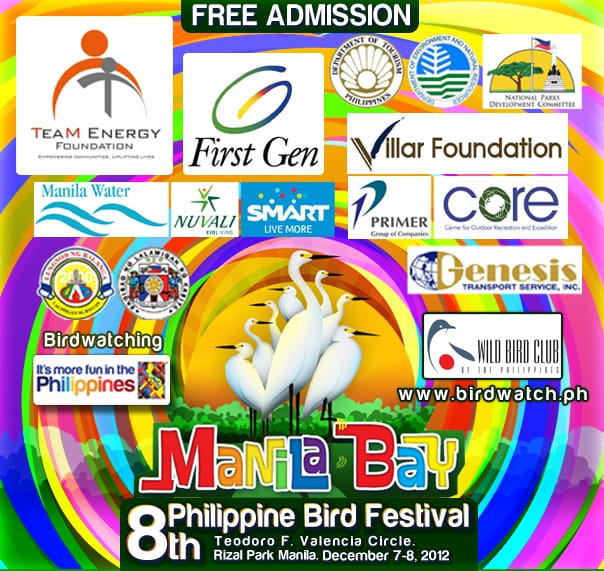 8th Philippine Bird Festival-Manila Bay
December 7 – 8, 2012
Teodoro F. Valencia Circle, Rizal Park
Manila
The 8th Philippine Bird Festival, the country's largest celebration of avifaunal diversity and bird lore awareness, takes wing on December 7 in the City of Manila and will bring attention to Manila Bay and the important role this plays in the East Asian Flyway.
Themed "Birdwatching. It's More Fun in the Philppines" this year's festival will highlight the Little Egret, a common migrant that congregates in the Coastal Lagoons on the southern coast of Metro Manila during the northern winter, and the endemic Philippine Duck, whose remnant population in the Philippine capital is threatened by reclamation and property development plans in that part of Manila Bay.
Bird watchers, conservationists and tourism promoters from all over the country and abroad are expected to flock to the Teodoro F. Valencia Circle in Rizal Park on December 7 and 8 for the 8th annual Philippine Bird Festival – Manila Bay, the country's largest celebration of avifaunal diversity and bird lore awareness.
Themed Birdwatching. It's More Fun in the Philippines, this year's bird festival aims to promote the hobby as a nature tourism activity and drum up support for conservation and restoration of Metro Manila's remaining wetland in the Las Piñas-Parañaque Critical Habitat and Ecotourism Area (LPPCHEA), a 175 hectare protected habitat just off the Coastal Road leading to Cavite province.
"There are 600 species of birds in the Philippines, no fewer than 200 are found nowhere else in the world," according to Michael Lu, president of the Wild Bird Club of the Philippines (WBCP), the country's leading bird watching society and chairperson of the Philippine Bird Festival. With its unique habitats across more than 7,100 islands, the Philippines has recently become a magnet for birdwatchers in the Asian region and further afield, Lu said.
The Las Piñas-Parañaque Critical Habitat and Ecotourism Area, which features lagoons, ponds, mangroves and two natural barrier islands, is an important feeding and rest area for endangered species like the Chinese Egret that migrate south to escape the harsh winters in China, Japan and Siberia as well as a roosting and breeding area for a surviving population of endemic Papan or Philippine Duck, a species found only in the archipelago of which a few thousands remain in the wild.
The wetlands around Manila Bay attract large numbers of migratory wader species like egrets (tagak) and herons, sandpipers and plovers (tarinting). The coastal waters provide feeding areas for species of terns (kanaway) and gull, while the mosaic of scrubland, mangroves and ponds are haven for migratory Siberian Rubythroat, Arctic Warbler (manayti) and Oriental Reed Warbler (rakrakit), resident Collared Kingfishers (sasala), Barred Rail (tikling) and Moorhen (to-ob). The endemic Philippine Cuckoo-Dove has also been recorded in the area.
"The coastal wetlands and other green spaces around Manila Bay are part of the Asia-wide ecosystem and their conservation will have positive impact on Asian birdlife and the health and livability of Metro Manila," Lu explained. This year, the Philippine Bird Festival logo depicts the Little Egret, a common winter visitor species that makes its home along the Manila Bay coast.
The annual event hopes to raise the bar of awareness about the bird life of the islands, promote public participation in conservation and encourage the creation of more public green spaces.
The festival will be held at the Teodoro F. Valencia Circle, Rizal Park and is open to the public free of charge. It will feature an exhibit of bird photos by the country's leading and amateur nature photographers, displays on the biodiversity of Manila Bay, films and lectures, bird watching trips, and forums on eco-tourism, birdlife management and aviation safety. Organizers said an activity center featuring bird-themed games and crafts will be on tap for the young and the young at heart.
The Philippine Bird Festival was launched by local bird watching hobbyists in Quezon City in 2005 and in succeeding years brought the message of birdlife awareness and conservation to the country's important bird areas like Dumaguete City, Balanga City in Bataan, Puerto Princesa in Palawan, Cebu and Davao City.
Delegates will head for Balanga City in Bataan on 6 December to participate in its Ibong Dayo (Migratory Bird) Festival at the Balanga Wetland Park, the first coastal wetland of Manila Bay to be declared an environmental protected area by the local government. Balanga's Ibong Dayo Festival, which started in 2010 a year after the city hosted the Philippine Bird Festival, has become an annual event for bird awareness and habitat conservation.
Similar events take place throughout the world each year, attracting large numbers of bird watchers, scientists and nature enthusiasts. In Asia, some of the well-known events are the annual Taipei International Birdwatching Fair in Taiwan and the Thailand Birdwatching Fair.
This year's Philippine Bird Festival will be jointly-hosted by the Department of Environment and Natural Resources, the Department of Tourism, National Parks Development Committee, and the City of Manila.
International organizations such as the Bird Conservation Society of Thailand, Chinese Wild Bird Federation (Taiwan), Wild Bird Society of Taipei, Malaysian Nature Society, Nature Society of Singapore, Chengdu Birdwatching Society (China), Borneo Bird Club (Malaysia), Asian Raptor Research and Conservation Network (Japan), University Birding Clubs of Korea, Taiwan Ecotourism Association, Sabah Tourism Board (Malaysia), Gujarat Tourism Opportunity (India), Thailand Cycling Club will be participating in the festival, alongside local organizations and institutions including the Philippine Eagle Foundation (Davao), Katala Foundation (Palawan), WWF-Philippines, Isla Biodiversity Foundation (Babuyan), Haribon Foundation, Philippine Biodiversity Conservation Foundation (Negros Occidental), PENAGMANNAKI (Negros Oriental), Polillo Island Biodiversity Conservation Foundation, Birding Adventure Philippines, Mabuwaya Foundation (Isabela), Philippine Native Plants Conservation Society, Save Freedom Island Movement, Cavite Provincial Tourism and the Department of Tourism Region IX. Private institutions Team Energy Foundation, First Gen Corporation, Villar Foundation, Primer Group, Center for Outdoor Recreation and Expedition, Manila Water Company, Nuvali, City of Balanga, Province of Cavite, Genesis Transport and SMART Communications are also backing the two-day event.