In this month's The Blind Spot,  Adrian Constantino writes about some advantages and disadvantages of a digiscoping as presented by Pierre Severy, Swarovski Optik France Country Director.
space
DIGISCOPING 101
By Adrian Constantino, photos by Tere Cervero
A Digiscoping workshop was held last September 1, 2012 at the Superferry Pavillion at the La Mesa Ecopark in Quezon City. Monsieur Pierre Severy, Swarovski Optik France Country Director and avid digiscoper discussed the basics of digiscoping, gear requirements, techniques on how to get better pictures and showcased the latest products from Swarovski Optik.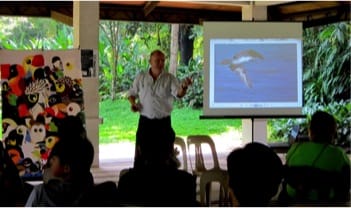 Digiscoping is the art of taking pictures using a camera coupled with a spotting scope. It is believed to be invented/popularized by Laurence Poh of Malaysia in 1999 using a point and shoot Nikon Coolpix 950 next to the eyepiece of his spotting scope and started to take pictures of birds. Since then, a lot of improvements have been developed in the field of digiscoping such as dedicated camera adapters not only for point and shoot cameras but also for DSLR cameras as well.
Monsieur Severy demonstrated the use of the TLS-800, an adapter that is designed to combine a DSLR camera with a spotting scope, turning the scope and DSLR into a 1200 mm birding camera. One of the advantages of this setup is that it is very light compared to conventional super telephoto lens. The whole setup just weighs around 3 kilos, depending on your DSLR camera. Since it is lightweight, there is no need to use a tripod, making you more mobile and flexible when taking pictures of birds.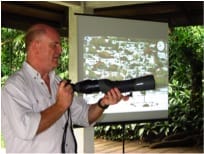 Another advantage is the cost. To get a 1200mm birding lens, you would need a 600 mm lens plus a 2x extender. A high-end spotting scope like the Swarovski scope and eyepiece, plus the camera adapter costs 3 times less than a high-end DSLR set up.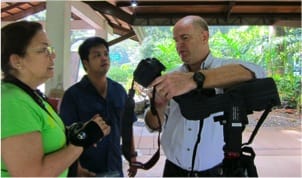 Digiscoping also has its disadvantages. Most digiscoping setups will need more light than conventional lenses; typical digiscoping rigs have a fixed f10 – f11 aperture while conventional telephotos usually have a f5.6 minimum aperture. Another disadvantage of digiscoping is that there is no autofocus; all focusing should be done using the spotting scope's focusing wheel making it a slower rig compared to conventional telephoto setups.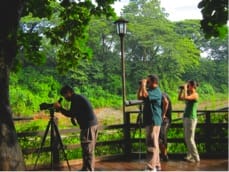 After discussing the basics and techniques of digiscoping, Monsiuer Severy unveiled the newest Swarovksi spotting scopes: the Swarovski ATX modular line of spotting scopes. This is one of the highlights of the workshop since the new spotting scope has not been released yet in the market. WBCP members were very fortunate to try and look through the new Swarovski scope and we are one of the first countries to have field-tested them outside of Austria.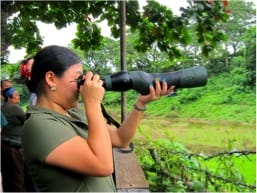 The event was attended by 40 birders and hosted by the Wild Bird Club, Birding Adventure Philippines, Swarovski Optik France and the La Mesa  Ecopark. The La Mesa Ecopark administration continued to show its support for WBCP activities by providing the venue for free. Many thanks LMEP!