Many people know that Trinket Canlas and Adri Constantino have been an important part of the WBCP from the beginning. People assume that Trinket and Adri were a couple from the start. Read on to find out the real story!
space
TRINKET and ADRI  – A WBCP Fairy Tale Love Affair
By the Godparents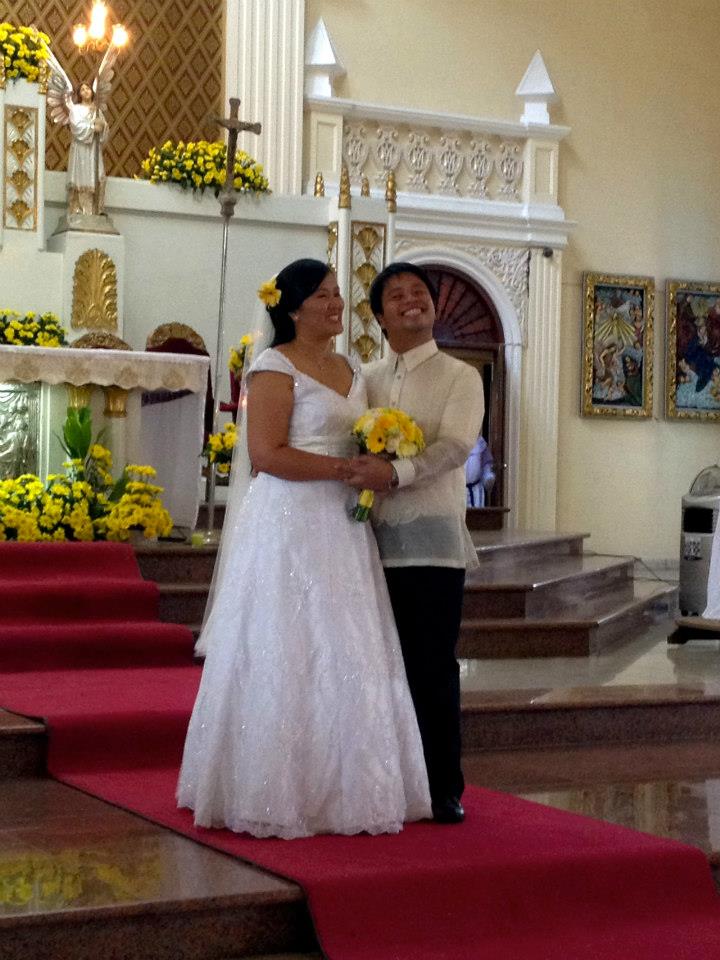 On Friday, 14th "December 2012, barely a week after the 8th Philippine Bird Festival, Trinket and Adri got wed in a quaint little old church, in the charming town of Concepcion,Tarlac. It was quite an old fashioned wedding as weddings would go in the province during the past generations, yet delightfully and simply modern  as planned and executed by Trinket and Adri themselves with the help of some close friends.
The beautiful bride arrived in an old fashioned aqua-blue bridal Kombi. And in the real traditional way, after the wedding, relatives filled up the Kombi along with the bride and the groom to the reception held at the wonderfully decorated lawn of the vast Castro Farm.
There were four God-parents for this wedding, the first ninang was Dr. Ameurfina D. Santos, their boss during the research projects in UP Diliman – presumably where they first met. The first ninong was Adri's uncle, Roger D. Constantino, who fostered him into the fine young man that he is since Adri's father had died when he was still a toddler.
Interestingly the other set of Godparents were members of the WBCP, for although the WBCP represent a very short phase in their multifaceted lives, it is the most significant in the lives of Trinket and Adri together. It was here where Trinket and Adri first looked at each other in another light, in a different complexion.
To be sure Trinket and Adri had known each other long before their WBCP days. After all they were colleagues in the profession and had worked on several projects together as molecular biologists. They joined the Club at the same time but then they had separate loves of their own and led separate lives.
A small group of  kindred newbies quickly formed around them – at first composed of Trinket, Tintin, Tere, Adri, Arnel , Alex and Felix. And who was to be the group's birding mentor? Nicky Icarangal no less. This group formed the Emperor's crack platoon in the early days, going anywhere and everywhere they were sent by the Emperor and following his every bidding. The group has since formed and reformed and expanded in accordance with the needs of the club.
Before this group came to be, WBCP parties were alcohol free – as would epitomize the life of Mike Lu, ( we remember the first time ever that Mike was constrained to purchase beer for a party at Ixi's house, he felt so sinful and unclean, he had  to wash his hands several times and all in vain – shades of Lady Macbeth) where laughter was genteelly subdued to the proper and polite decibels and conversation graciously carried out in careful whispers so as not to be intrusive to the nearby gentle souls who were not quite privy to it and who might be conducting exciting conversations of  their own.
In one party at Alice's house which was held simultaneously with the Astronomy group meeting, Alice made the mistake of allowing Nicky to bring beer.  We remember the party too well, that was the time when the core group of the Astronomy club came out from their meeting inside the house onto the lawn where we were having the party to join the WBCP in charivari till the wee hours in the morning – thus was born the Astro-birders!   The rest is history.
Back to Trinket and Adri…
So on they went with their separate lives and loves, coming together for work and birding, not having a hint of what was to become. Of course they were great friends, but so were everybody else in the then small Club.
Perhaps, it may not be true that they did not have any hint of what was to become, perhaps they had secret puppy love crushes on each other but then both could have been too shy to say so, or afraid that such things might destroy a wonderful friendship, or worse, betray each other's own love affair.
Anyway, with each club activity and outing both came to know more about each other and their appreciation and fascination for each other grew. But the shyness and timidity remained, so beautiful matters like love were left unsaid and unspoken. Each perhaps preferring to live in a mute and lonely prison of knowing exactly how one felt but was unable to show it – made miserable by the thought that the other might never know but then, also made excitingly delicious by a glimmering chance that the other might just be loving back too.
But as they say "true love ways", the raging tide they each kept inside could no longer be held back.
Tere could almost pinpoint the place and the occasion when their silence at last was broken, when their feelings were finally set free, when they throw their hearts at the sky for all to see. It was a few days before the 2nd Philippine Bird Festival in the most appropriate occasion and place – during a birding trip in the most birdy and environmentally aware area in the Philippines forming part of the Sunda Region.
Their love once free as a wild bird, flourished with time, nourished greatly by the various club activities that they were actively involved in together until it finally blossomed into the marriage, 7 years thence  – a truly Wild Bird Club Love Affair.
We wish them happiness ever after.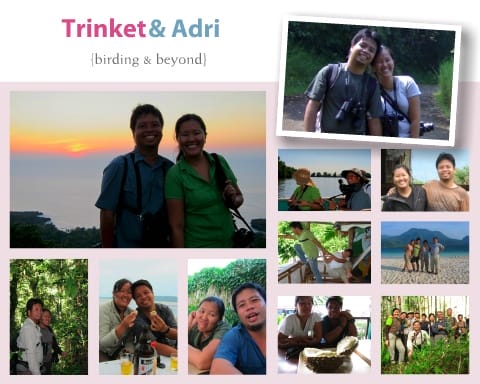 True love ways does not need an object to be complete. It is a universe in itself.