I am very pleased to have my friend, Jose Telesforo L. Limbaga, write a guest article about birding and bird photography in Iloilo.  "Boy" Limbaga presently lives in New York City with his family. He makes it a point to come home to Iloilo City at least once a year. – Bob Kaufman
A Beginner's Tale: Birding in Iloilo – Why Not?
By: Jose Telesforo L. Limbaga
I have been into point-and-shoot photography for years now, much like most people with similar cameras in hand. But birding? Well, as with all endeavors, it had to start somewhere. My interest in birds -the two-legged and feathered kind – developed when I was yet working with the Development Bank of the Philippines – Iloilo. My work involved inspection and appraisal of properties offered as collateral for loans and that included agricultural lands that were at times situated in the hinterlands of Iloilo. Thus, trail encounters with resident wild birds, mostly doves, became standard fare. The smaller and prettier birds – what were they? I had to do my official duties first and bird sightings along the way made for pleasant distractions from the tedium of hiking for hours. That was yesterday when I was young.
The spark or sparks that ignited my interest in bird photography happened when I was gifted with a bridge camera in spring 2012 – a SONY NEX-5N. Trying out the camera at the nearby Bronx River Greenway in New York City, attempts to capture two birds in flight – a resident Great Egret and a Canada goose taking off from the walkway ended just that – decent attempts. After all, what could a novice birder and an 18-200mm lens really do?
An extended vacation in Iloilo City in October 2012 changed all that. Not wanting to invest in a full size DSLR yet, one of the current crop of superzooms became a choice – the NIKON CoolPix 510 which with its 42X zoom lens (equivalent to 1000mm) was kind of "tops" in its category at the time of purchase, until Canon came out with its SX50HS in 50X zoom two weeks later in October. Boy, did I miss out on that! To our DSLR friends and purists, a superzoom may not cut it when it comes to bird photography. For a beginner like me, learning to work with and using the Nikon to its full potential was the way to go. "Birding 101" was born.
So! Birding in Iloilo, why not? Meeting and teaming up with a fellow Ilonggo bird enthusiast on Facebook only served to further my desire to capture images of resident birds in my home province of Iloilo. Birding buddy June Dale I. Lozada was already into bird photography with his 400mm-equipped Canon, capturing images of egrets and other waders frequenting the remaining wetlands still existing within the developing commercial area at Mandurriao District in Iloilo City.
Before anything else, Iloilo doesn't have something even close to that birders' paradise called Coron, Palawan. It doesn't have a park akin to the likes of La Mesa EcoPark. But wetlands and fishponds right within three of the five city districts, yes. So what to do? Check out the wetlands near the SM City Iloilo complex – a ten-minute drive from home that's what.
If a milestone were to mark my entry into birding it would be October 14, 2012 when I captured my first images of Javan Pond Herons in one of the many runoff ponds near SM City Iloilo. Paved roads within the undeveloped commercial area next to the mall made it easy to drive as close as five meters to take photos of these herons without spooking them. In vehicle birding became reality! There was no stopping after that.
The fishponds and remaining wetlands within the commercial area of Mandurriao District became our "birding spot within the city."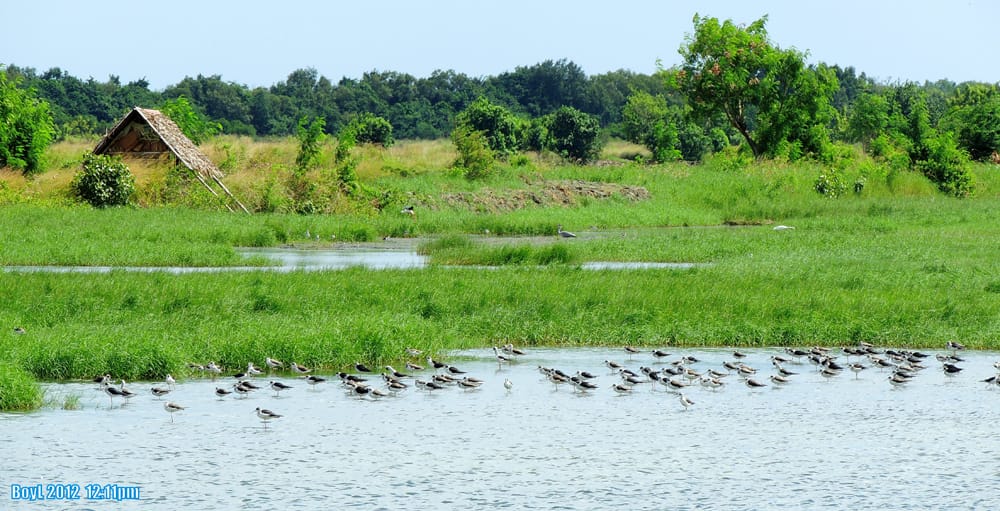 Images of birds captured within this area include: a Wandering Whistling duck family (with ducklings), Common Moorhen and chicks, Common Sandpipers, Wood Sandpipers, Little Ringed Plovers, Egrets, White-browed Crakes, Striated Herons, Whiskered Terns, Common Kingfisher, White Collared Kingfishers, Zebra Doves, Striated Grassbirds and Brown Shrikes. For a beginner, the area was like a "bird photography learning center."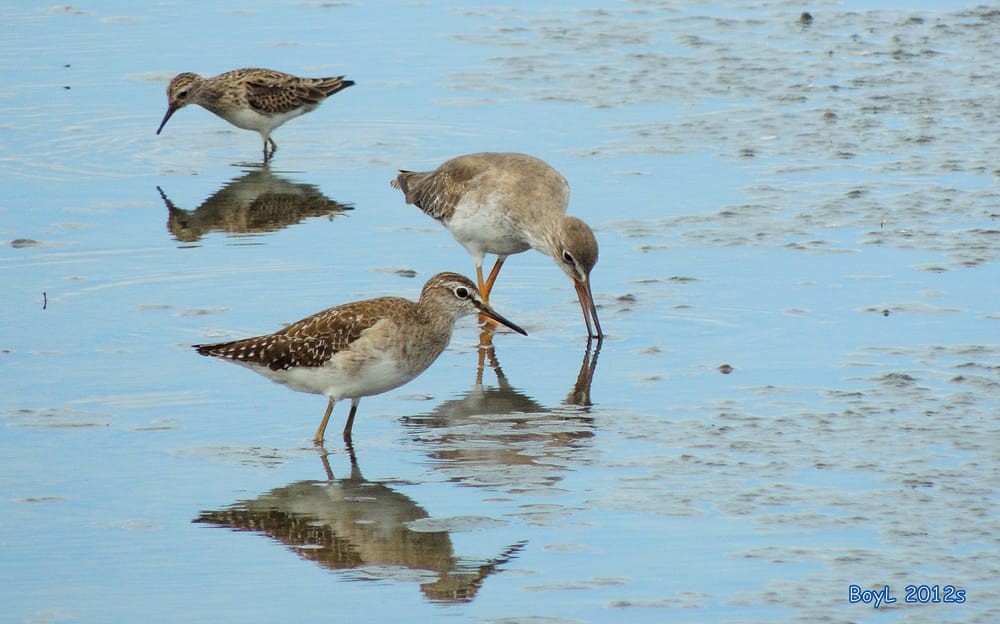 It didn't take long for birder buddy June and I to scout the Coastal Road that runs pretty much near or along the southeastern coastline of Iloilo. Completed sometime in the mid 1990s, the Coastal Road was an alternate truck route linking Iloilo City to the municipal port of Dumangas which was also a RO-RO jump off point.  The Coastal Road traverses rice lands, fishponds and at one section follows part of the riverbank of one of Iloilo's major rivers – Jalaur. It also adjoins portions of the shoreline at Dumangas. If water birds are your cup of tea, the Coastal Road is it.
Accessibility to the Coastal Road is not a problem and so with vehicular traffic. Where road shoulders are limited you could park on road, do in-vehicle roadside birding and not cause traffic buildup. That easy! Just take note though of passing vehicles when shooting; their slipstream can and do rock the parked vehicle.
The wetlands along the Coastal Road are home to and feeding grounds of Grey Herons, Purple Herons, Javan Pond Herons, Egrets, various Sandpipers, Long-toed Stints, Asian Golden Plovers, Black-winged Stilts, Barred Rails, White Collared Kingfishers, Common Kingfishers, Wandering Whistling Ducks, Philippine Ducks, Red Turtle Doves, Spotted Doves, Zebra Doves, Barn Swallows, Asian Glossy Starlings, Little Grebes, Common Redshanks, Whimbrels, Grassbirds, Brown Shrikes and in all certainty a host of other birds that may so far have remained under the radar so to speak.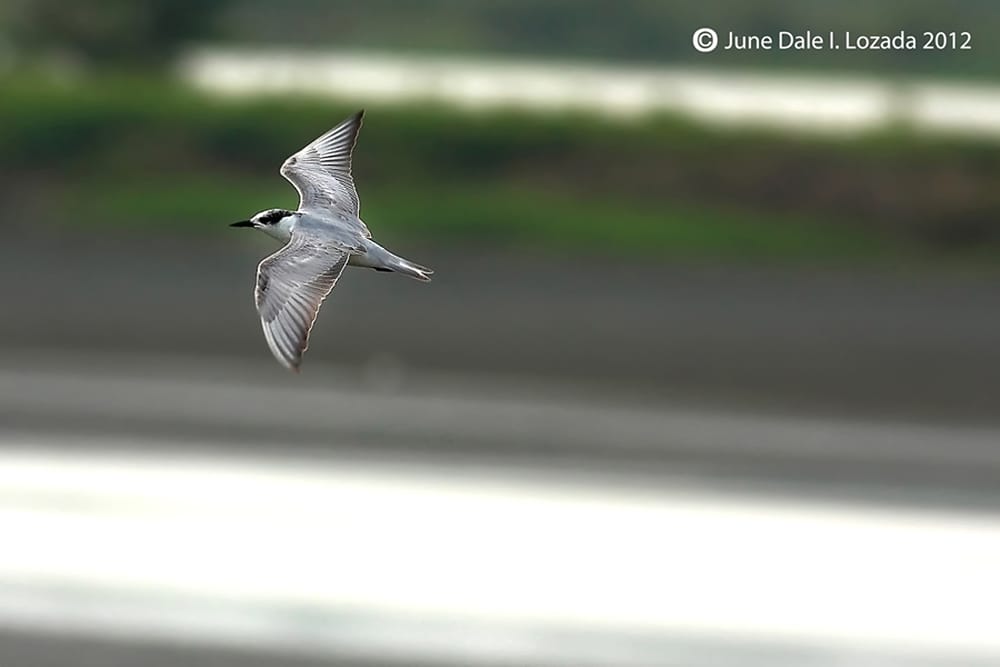 It was along the Dumangas stretch of the Coastal Road in October 2012 that birder buddy June Lozada captured his lifer, a Rosy Starling which is considered a rarity in the Philippines.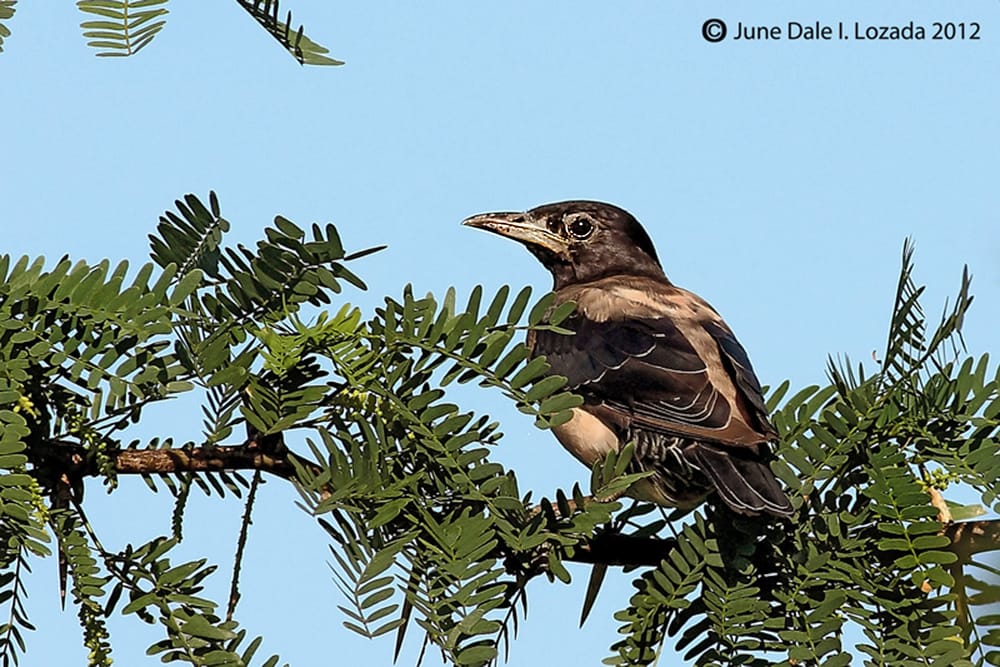 Going to the Coastal Road is easy; every local knows where it is. A friend could take you there in no time at all. If a vehicle-for-hire is the choice, just say "Coastal Road to Dumangas."
Iloilo City has a number of hotels and inns making accommodation arrangements a breeze. Just avoid the Dinagyang Festivities Week in January. Hotels would be fully booked before and during Dinagyang. Of course, there is the local cuisine to savor and enjoy as well.
For now, the Coastal Road is a favorite birding area that never fails to give birding opportunities for water birds and other avian species without the need for getting out of the vehicle; the car serves as "mobile blind and stalker."
There are a number of photographic clubs in Iloilo City; however, not one is dedicated solely to bird photography. Moreover, the hinterlands of Iloilo have not been studied nor surveyed for potential birding sites. Our recourse at present is to check out avian residents and migrants frequenting the more accessible spots like the Coastal Road and the remaining wetland habitats within the city before it falls to urban development and disappear forever. After all, this beginner has to start somewhere; soon it will be time to go back to New York.
Another birding enthusiast friend, Ruperto Quitag has begun documenting resident birds found in the University of the Philippines in the Visayas campus at Miag-ao, Iloilo.
Just this January, we had the opportunity to meet with Mr. Quitag at UP-Visayas for a scouting trip for potential birding sites in-campus. As a song goes: "The hills (at UP-Visayas) are alive with the sound of music" of tailor birds and flowerpeckers and other birds. The downside: the hilly areas around the university grounds cover, well, a lot of ground. My senior citizen knees creak in protest! But when a bird is sighted and well within range, all aches are forgotten and it's just camera, bird and me.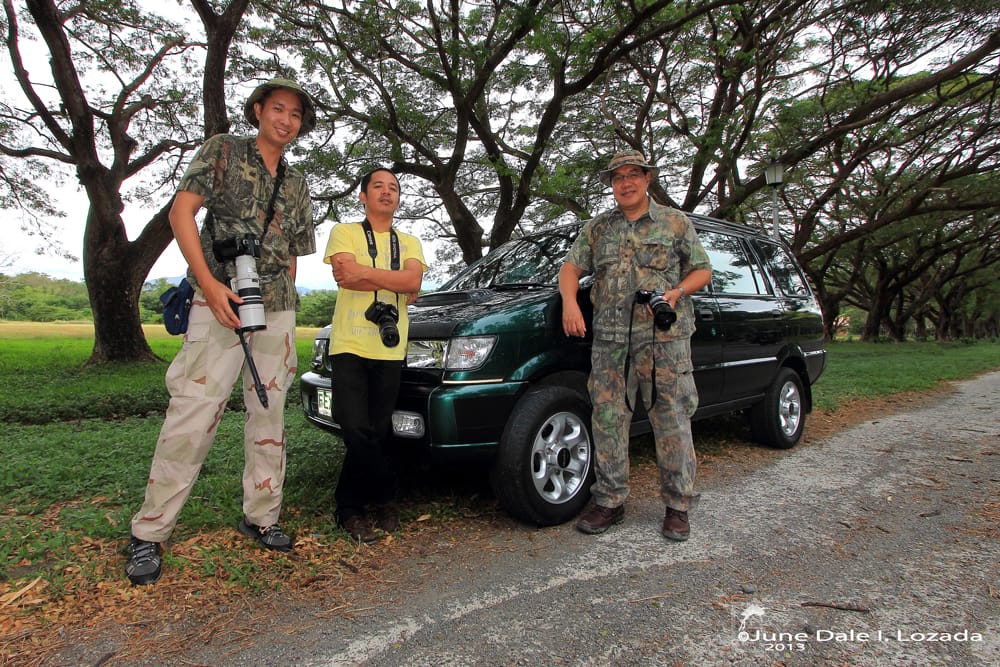 from left to right: June Dale Lozada, Ruperto Quitag, Jose Telesforo Limbaga