The Wild Bird Club of the Philippines, Hornbill Research Foundation and Philippine Biodiversity Conservation Foundation hosted the 6th International Hornbill Conference in the Philippines. The topics covered in the various presentations are listed.


space



6th International Hornbill Conference
April 24-26, 2013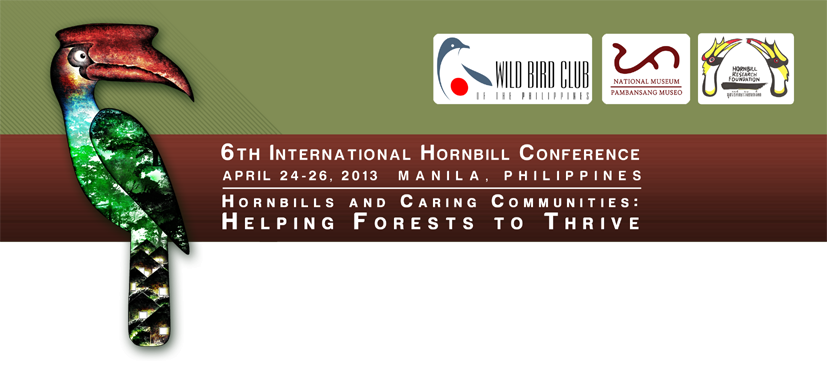 The 6th International Hornbill Conference was held for the first time in the Philippines. The Wild Bird Club of the Philippines, the Hornbill Research Foundation (Thailand) and the Philippine Biodiversity Conservation Foundation hosted the 3-day conference.
The Opening Program of the Conference was held at the Ayala Museum in Makati. Former WBCP President and Chair of the 6th International Conference Organizing Committee Anna Maria Gonzales and Protected Areas and Wildlife Bureau Director Mundita Lim gave welcome messages.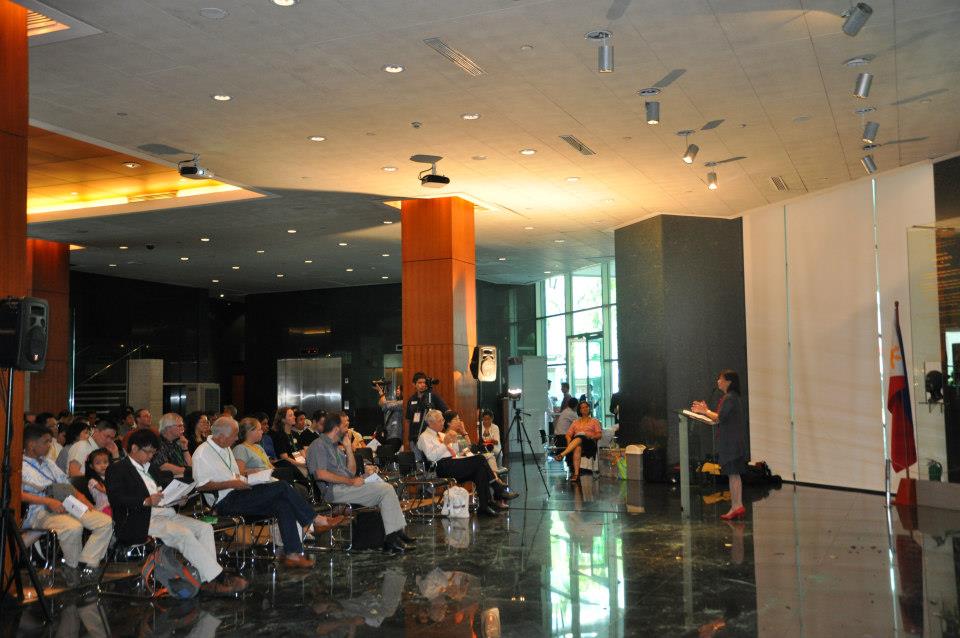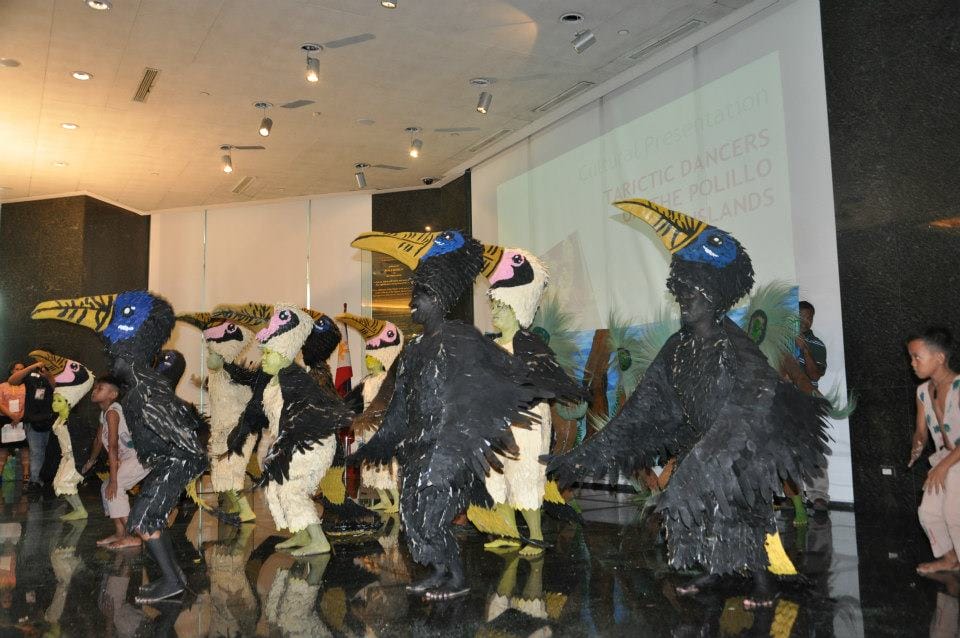 This was followed by  four keynote addresses.
KEYNOTE ADDRESSES
Dr. Woraphat ARTHAYUKTI, President of Hornbill Research Foundation – Thailand's Hornbill Research Foundation: What has been achieved after 35 years
Dr. David NEIDEL, Asia Training Program Coordinator of Environmental Leadership and Training Initiative – Integrating hornbill conservation with reforestation
Dr. Vijak CHIMCHOME, Kasetsart University in Thailand – Conservation of hornbills in Thailand
Dr. Juan-Carlos T. GONZALEZ of the University of the Philippines, Los Baños and Dr. William OLIVER, Director of Philippines Biodiversity Conservation Foundation, Inc. – Philippine Conservation Status: Problems and Prospects
LAUNCHES
Dr. William Oliver re-launched the Philippine Hornbill Conservation Program. There was also an video presentation on the Hornbills of the Philippines by the Wild Bird Club of the Philippines and the book launch of Hornbills of the World authored by Pilai Poonswad, Alan C. Kemp & Morten Strange. After the Opening Program there was a press conference and open forum.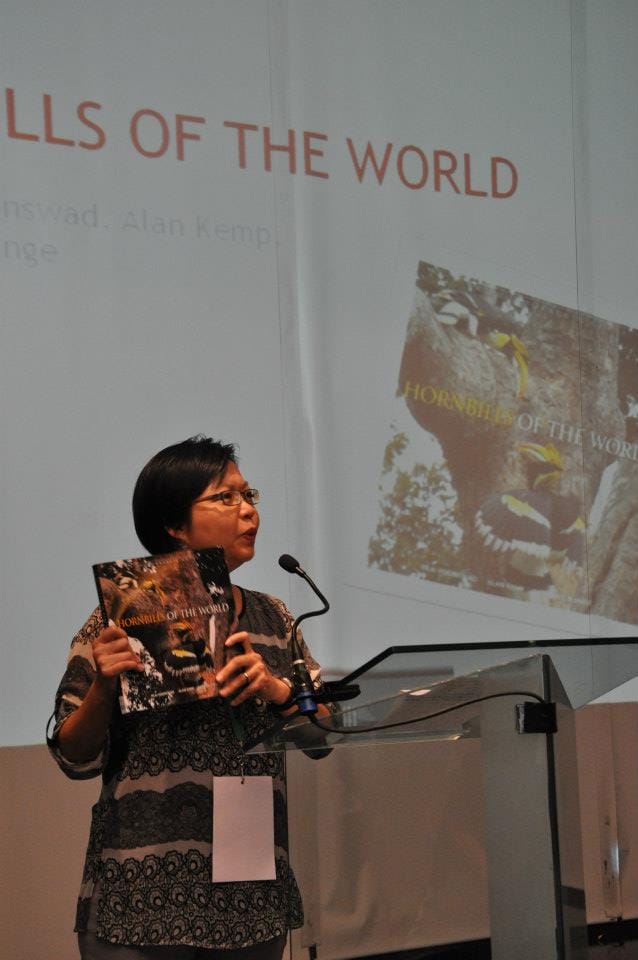 EXHIBIT
Following the opening program was the opening of an exhibit entitled "Hornbills Past, Present and Future?"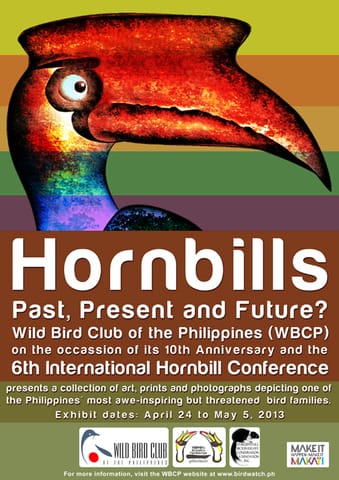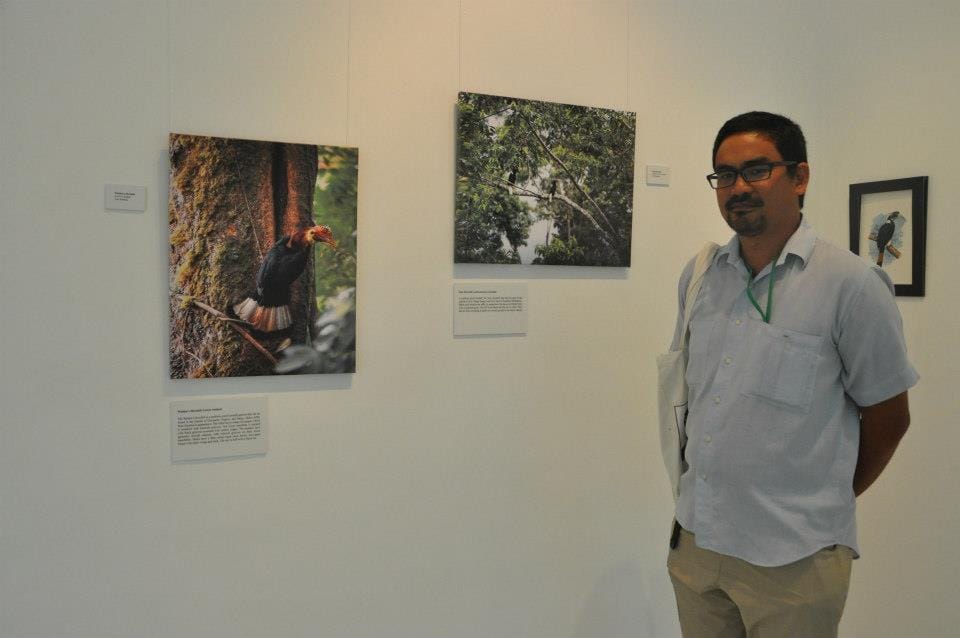 PRESENTATIONS BY SPEAKERS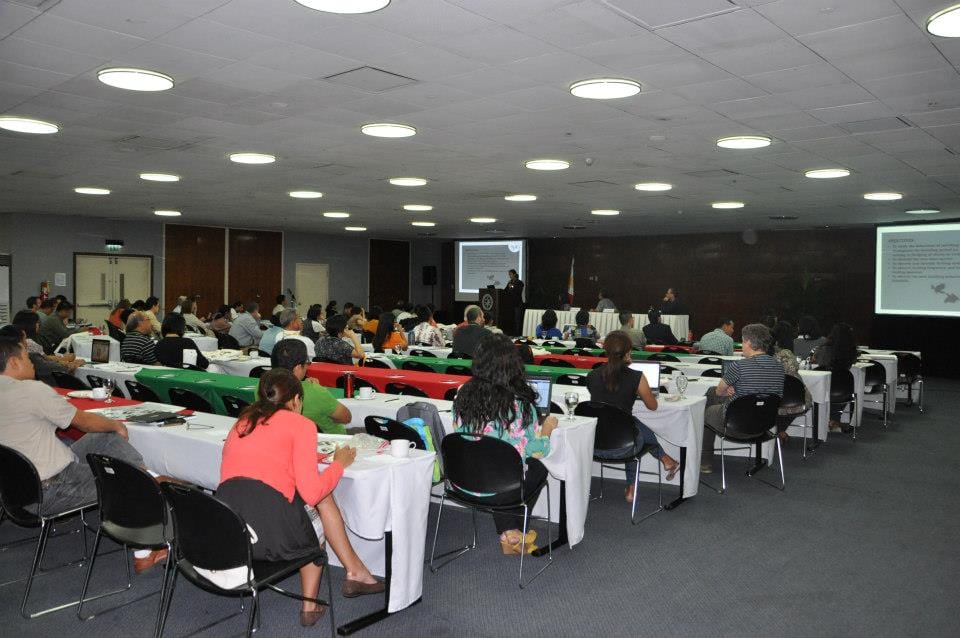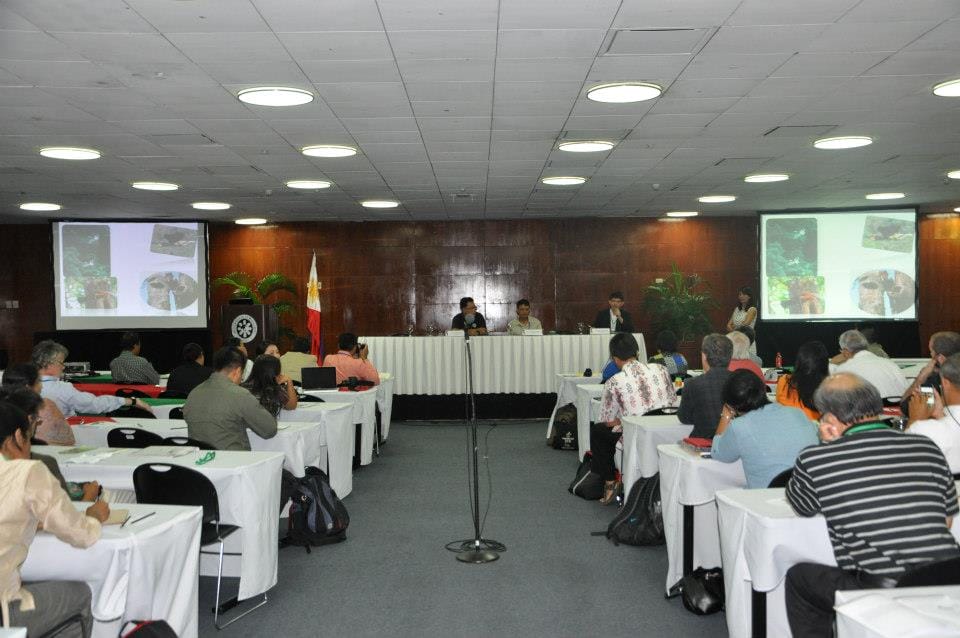 The second and third days of the Conference were held at Asian Institute of Management in Makati where speakers gave their presentations on hornbill biology, ecology and distribution; monitoring hornbill populations and strategies for in-situ conservation; captive management of hornbills and strategies for ex-situ conservation; threats to hornbills and community-based conservation initiatives; poster presentations on the different hornbill populations in the Philippines; and a workshop on estimating abundance in hornbills.
HORNBILL BIOLOGY, ECOLOGY AND DISTRIBUTION
Juan Carlos GONZALEZ University of the Phils – Los Banos, Philippines – A comprehensive molecular phylogeny and historical biogegraphy of the Afro-Asian Hornbills (Aves:Bucerotidae)
THET Zaw Niang Wildlife Conservation Society of Myanmar Program, Myanmar – Recent distribution and status of Rufous-necked Hornbill (Aceros nipalensis) in Myanmar
Gujanan WAGH Shri Shivaji Science College, INDIA – Studies on the status, distribution, habitat ecology and strategic planning for conservation of Malabar Pied Hornbill (Anthracoceros coronatus) in Vidarbha, Central India
Chuti-on SAVINI Srinakharinwirot University, Thailand – Do sympatric hornbill species share or compete for food?
Narong JIRAWATKAVI Thailand Hornbill Project, Thailand – The effect of interannual variation in fruits availability on hornbill nesting efforts
Ravinder KAUR Gaia, India – The breeding biology of the Great Hornbill (Buceros bicornis), Rhinoceros Hornbill (Buceros rhinoceros) and the Helmeted Hornbill (Rhinoplax vigil) in the Belum-Temengar Forest Complex, Perak
Peter WIDMAN Katala Foundation, Philippines – Aspects of breeding biology and conservation of the Palawan Hornbill (Anthracoceros marchei)
P BALUSUBRAMANIAN Salim Ali Centre for Ornithology and Natural History, India – Frugivory and seed dispersal by Malabar Grey Hornbill (Ocyceros griseus) in a semi-evergreen forest in Western Ghats, India
MONITORING HORNBILL POPULATIONS AND STRATEGIES FOR IN-SITU CONSERVATION
YEAP Chin Aik Malaysian Nature Society, Malaysia – Conserving the globally threatened Plan-pouched Hornbills in the Belum-Temengar Forest Complex, Peninsular Malaysia
Chakorn PASUWAN Mahidol University, Thailand – An assessment on artificial nest perception of hornbills in Budo-su-ngaui National Park, Thailand
Vijak CHIMCHOME Kasesart University, Thailand – Use of Satellite tracking device to determine home range and habitat utilization of Rufous-necked Hornbill (Aceros nipalensis Hodgson, 1829) at Huai Kha Khaeng Wildlife Sanctuary, Thailand
Tanisorn SUPUNYARAK Mahidol University, Thailand – The response behavior of Great Hornbill (Buceros bicornis) to playback experiment at Khao Yai National Park
Yokyok HADIPRAKARSA Indonesian Hornbill Society, Indonesia – Future outlook of Sulawesi endemic hornbills
Sittichai JINAMOY Thailand Hornbill Project, Thailand – Population viability analysis of Rufous-necked Hornbill in the core area of the Western Forest Complex, Thailand
Lucy KEMP Mabula Ground Hornbill Project, South Africa – Planning reintroductions of redundant hornbill chicks harvested from the wild: biological, behavioural, ecological, genetic, husbandry, and anthropogenic considerations for success
Kate MEARES Percy Fitzpatrick Institute of African Ornithology, South Africa – Use of natural and artificial nests by Southern Ground-Hornbills in the Associated Private Nature Reserves, South Africa
CAPTIVE MANAGEMENT OF HORNBILLS AND STRATEGIES FOR EX-SITU CONSERVATION
Shumpei KITAMURA Ishikawa Prefectural University, Japan – Seed retention times for wild fruits consumed by captive hornbills (Buceros bicornis and Rhyticeros undulatus) in Thailand
Minerva BONCO-NUQUI Jurong Bird Park, Sinagpore – Artificial incubation and hand-rearing of Great Pied Hornbill
Luis NEVES Jurong Bird Park, Singapore – Squamous cell carcinoma of the casque in two captive Great Pied Hornbills
Roger SWEENEY Virginia Zoo, USA – Ground hornbills in Americal zoos: A case study of the challenges to ex situ population sustainability for conservation
Melissa RAMSEY San Diego Zoo Global, US – Bridging the gap between zoos and hornbill conservation at San Diego Zoo Global
Luis NEVES Jurong Bird Park, Singapore – The hornbill collection of Jurong Bird Park: How to manage one of the world's largest captive collections
THREATS TO HORNBILLS AND COMMUNITY-BASED CONSERVATION INITIATIVES
Rangga IRWAN Titian Foundation, Indonesia – Helmeted Hornbill head trafficking: What do we know about it?
Chris SHEPHERD TRAFFIC Southeast Asia, Sinagpore – International trade in hornbills: a case study from the Solomon Islands
Apol CARINO Penagmannaki, Philippines – Why do hunters hunt? A case study on Negros Island, Philippines
SIM Lee Kheng Sarawak Forestry, Malaysia – Sarawak hornbills conservation initiatives: Engaging the society
Amrutta RANE Nature Conservation Foundation, India – Protecting a hornbill haven: A community-run conservation initiative in Arunachal Pradesh
Sukanya CHAISUIRYANUN Mahidol University, Thailand – The community-based conservation and hornbill education outreach programs in Budo Mountain, Budo-Sungai Padi National Park, Southern Thailand
Stuart MARSDEN Manchester Metropolitan University, United Kingdom – Workshop: Estimating abundance of hornbills
POSTER PRESENTATIONS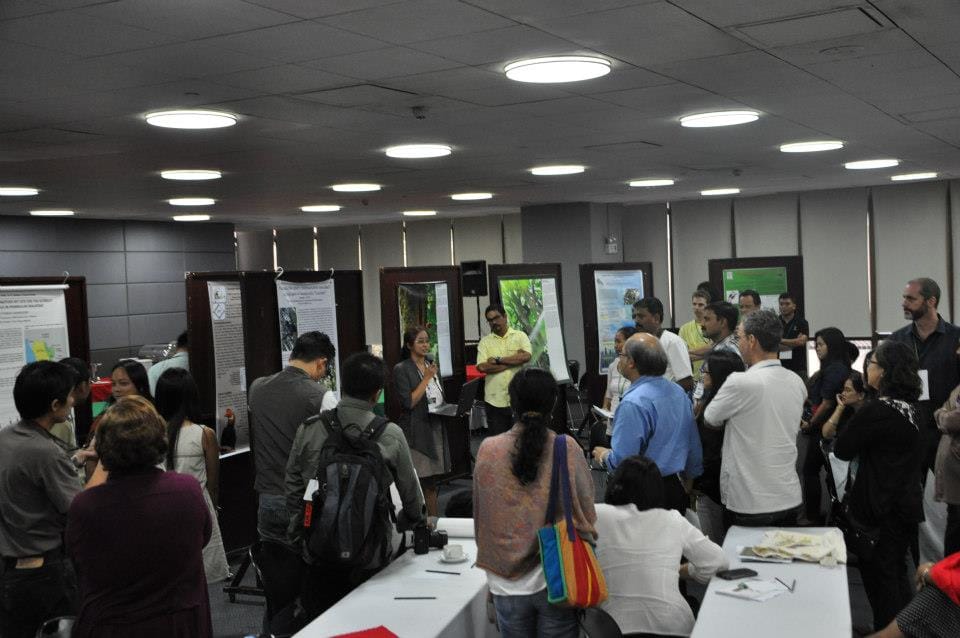 Apol CARINO Penagmannaki, Philippines – Where are the hornbills of Negros Oriental, Philippines
Mariglo LARIRIT El Nido Resorts, Philippines – Hornbills of El Nido, Northern Palawan, Philippines
Sunate KARAPAN Hala-bala Wildlife Research Station, Thailand  – Observations of the breeding biology of Wrinkled Hornbills
Ivan SARENAS Wild Bird Club of the Philippines – A conversation on the Sulu Hornbill
Willem VAN DE VEN Philippines Biodiversity Conservation Foundation Inc. – Philippine Hornbill Captive Management