How does a pro birder go about seeing the most Philippine birds possible in one calendar year? Read Rob Hutchinson's Big Year story and find out. Rob of Birdtour Asia is the winner of the Pro Division of WBCP's 10th Anniversary Big Year Philippines contest.


–
WBCP 10th Anniversary PH Big Year
photos and text by Rob Hutchinson
Since I began birding as a kid I've always kept notebooks and checklists of all the birds I've seen and at an early age the 'Birdwatchers Yearbook' became an annual Christmas present, and the list of British Birds at the back started my first annual records of birds seen, each new species for the year would be diligently added with location, date, numbers etc. I was never particularly competitive with the lists but found that seeing each species for the first time each year added an extra excitement to the sightings, and so began my year-listing obsession!
For most of my years living in the UK I would easily see 300+ species, not too shabby but still far behind the guys who you tear up and down the country and see 370+! When I left for Asia, the annual lists held less significance because the regions and countries visited varied from year to year, but when the news was announced the WBCP would hold a year list competition to celebrate the 10th anniversary, I just couldn't resist rekindling that old year-listing excitement.
I decided from the start that I wouldn't make any special trips during the year but rather concentrate on finding as many migrants as possible within reach of Metro Manila, and hoping that most of the other species would fall into place during the three scheduled bird-tours around the Philippines that I was already due to guide for Birdtour Asia. I also resolved to spend as much of the time as possible birding with friends and most of all not to get too frustrated by the things I wouldn't have time to 'twitch', of which there turned out to be many!
Although the guided tours were helpful in picking up many of the Philippine endemics, my tours overseas also meant that my big-year got off to a relatively slow start with just the odd day out at La Mesa Ecopark and Subic Bay providing a few of the commoner species as I languished in the likes of Borneo and Indonesia reading blog posts about an exciting trickle of rare migrants, some of which like Forest Wagtail, Narcissus and Ferruginous Flycatchers, I wasn't to see during the year.
My first real migrants started to appear in November and December when trips to Candada, some in the fun company of fellow big-year competitors Bram and Ivan, started to produce the likes of White-shouldered Starling, Ruff, Sharp-tailed Sandpiper, Black-tailed Godwit, and a wonderful Shelduck hiding failing to hide away among the throng of water-birds, my first new Philippine bird of the big-year!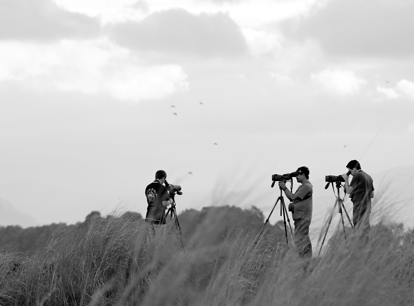 Searching for migrant water-birds at Candaba with follow contestants Ivan and Bram, highlight of the day was Shelduck, a Philippine lifer for us all!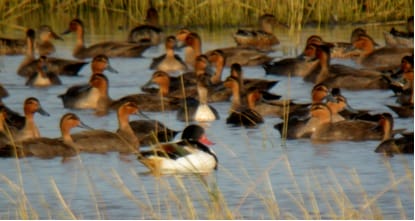 After more prolonged overseas travel to Madagascar and India I was itching to be out in the field again and La Mesa provided the perfect antidote with a stunning Scaly Thrush and Philippine Nightjar awaiting my return!
Living just 5km from La Mesa Ecopark gave a steady trickle of exciting migrants throughout the year like this Scaly Thrush and Pechora Pipit.
–
The next day a visit to Candaba was to prove even more exciting when we found a Dusky Warbler, another new Philippine bird for me, and even better news was that it stayed long enough to be seen and photographed by many other big-year people too! As if this wasn't enough, a skulking Middendorf's Grasshopper Warbler was sometimes in the same view and Eastern Marsh Harrier was another fine addition, the big year was really starting to move!
Two megas added to the big-year list on the same day; Dusky Warbler and Middendorf's Grasshopper Warbler, both at Candaba.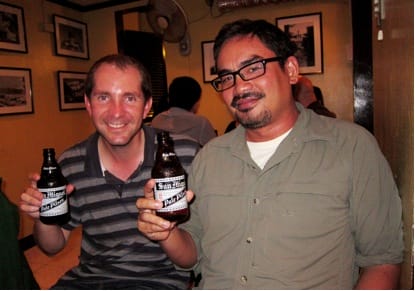 The year included many big-year strategy meetings, typically involving plenty of excellent Filipino food and quantities of 'San Mig'.
–
One bird that I had missed consistently, not just this year but also previously, was the White Wagtails that had been hanging around the spillway at La Mesa. I was assured by Ivan and others that they really did exist but it was several visits before I was lucky enough to see two of these beauties on January 9th, cavorting with no less than 326 Grey Wagtails, Philippine lifer # 3 for the year.
White Wagtails at La Mesa, took several visits to find but well worth all the time, a Philippine lifer for me too!
–
January also saw the start of my Philippine guided tours which took my to all the regular places on Mindanao, Luzon, Palawan, Negros, Bohol and Mindoro, besides some more obscure places like Sawa Camp and Camiguin Sur. As hoped I found a great many of the Philippine endemics of the tours but I also secretly tried extra hard to sneak in the odd migrant, the first of which turned out to be of little significance because the Kamchatka Warbler was not yet included in the big-year list, but it was my first time to identify this recently split species so I was still happy! Ashy Minivet, Dark-sided Flycatcher at Subic, Brown-headed Thrush and Olive-backed Pipit at Mount Polis, Shrenck's Bittern at Candaba, Asian Brown and Blue-and-White Flycatcher on Palawan were all exciting migrant finds, but all were topped by one of my most wanted Philippine birds, a cracking Chestnut-winged Cuckoo on Sabang Beach as a reward for flogging around during the heat of the day when any sane person would have been resting.
One big fruatration during the first tour was the appearance of the highly nomadic Green-faced Parrotfinch in Bataan, a species I hadn't seen for some years and a great big-year bird. Not surprisingly I was straight off at the first opportunity when the tour finished and was grateful that a few stragglers still remained. Amazingly this wasn't to be the highlight of the day, because an impromptu visit to Balanga Wetland Centre on the way home found a rather odd looking gull among those roosting distantly on the sandbar, locked to the scope as it gradually came closer, it could soon be confirmed as a Laughing Gull, not only that it was in spanking summer plumage, and was the very first record for the Philippines. Highlight of the year for sure!

The distant views already had us sure that we had found something special but the bird was kind enough to come close for some really stunning views, a Laughing Gull in full breeding dress, a first for the Philippines and one of only a handful of Asian records. My highlight of the year by far!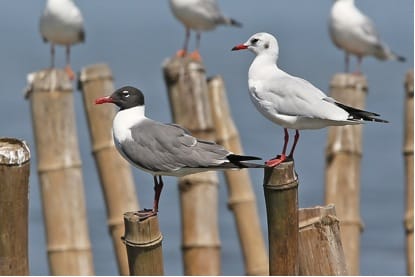 The bird couldn't be found the next day, or subsequently, but a Sand Martin was nevertheless appreciated as some small compensation for those searching.
–
Unexpected species continued to highlight the next tour including Indian Cuckoo, Metallic Pigeon, Island Collared Dove and some delightful groups of Red-necked Phalaropes bobbing on the sea during the crossings to Camiguin Sur. We also took the opportunity for a few hours at the new wader hotspot of Tibsoc on Negros, which proved to be some of the best wader-watching the Philippines has to offer and filled many of my gaps including fantastic views of Asiatic Dowitcher, Far Eastern Curlew, and no less than three Nordmann's Greenshank! Another highlight on Negros was the unexpected sighting of two Asian House Martins, a species I had not expected during the year.
Nordmann's Greenshanks and Asiatic Dowitcher at Tibsoc on Negros, a new wader-watching mecca in the Philippines.
—
The final tour was still adding new species such as Apo Sunbird which we hadn't hiked up to see in January, Oriental Hobby, Oriental Reed Warbler, Green Sandpiper, and a migrant Large Hawk Cuckoo in Palawan.
A trip to Samar in May didn't add any big-year species, so the final additions were left to some stunning Siberian Rubythroat plus Oriental Cuckoo at Candaba in April, Japanese Sparrowhawk during an excellent raptor passage at Tanay, Pechora Pipits at La Mesa, the delightful Philippine Dwarf Kingfisher in the Sierra Madre, and White-winged Black Tern was a long-awaited addition during a visit to Balanga in May.
Siberian Rubythroat was my last migrant added during the year, at Candaba in April.
—
In May, after years of waiting, I finally had the opportunity to join the seabird monitoring team headed by Arne Jensen, for the annual trip to count the breeding seabirds on Tubbataha Reef. It was hot, stinky work but the exhilaration of being in the midst of tens of thousands of raucous breeding seabirds was out-of-this-world.
The seabirds, many of which I had never seen in the Philippines before, included Brown and Black Noddy, Red-footed and Brown Booby, Great Frigatebird, Sooty Terns and Great Frigatebird. There were even some migrants to distract us like a confiding Lanceolated Warbler, Slaty-breasted Rail, a Brown Hawk Owl perched atop the lighthouse and a rather bewildered-looking Watercock swimming around in the sea! On the way back the trip finished perfectly with Bulwer's Petrel and a fine Swinhoe's Storm Petrel seen, the latter a long-awaited addition to the Philippines list after several undocumented sight records.
Exhilarating action at the Tubbataha sea-bird colonies in May,plus some cool migrants like Slaty-breasted Rail and Lanceolated Warbler.
—
The trip to Palawan also gave me a chance to catch up with Spotted Wood Owl after several failed tries during the year.
After a trip to IRRI with an Australasian Bushlark courtesy of Paul Bourdin, the big-year finished with something completely different as a team of intrepid birders headed for Siargao to try something completely different, the Philippines first official pelagic birding! There were no albatross to be found but it was great fun and we were able to find yet more Bulwer's Petrels, Streaked and Wedge-tailed Shearwaters, Brown Booby, Bridled and Roseate Terns. I'm sure we will be back out on the waves soon, there's a lot to be discovered out there.
My big year finished on 431 species, well above my target of 400, and still there were so many that I didn't get to see. I'm quite sure someone will see 450 to celebrate the clubs 20th (or 15th?) anniversary! The highlights for me though were the fun and camaraderie between those taking part and above all sharing so many of these great birds with WBCP friends.