The Wild Bird Club of the Philippines continues to promote birding all over the Philippines, from Baguio to Zamboanga! Read about all the WBCP activities for the month of March.
—
March Roundup
by James Biron and Mike Lu

March 1, 2014 – Last Day of the 9th Philippine Bird Festival
Final day of the Philippine Bird Festival. Some festival participants woke up early for an owling activity at Intake Watershed while students were also taken there for a nature walk led by Arne Jensen and Mark Wallbank led the guides at the fishponds of the Zamboanaga Sate College for Marine Science and Technology (ZSCMST). Lectures at the Centro Latino were conducted in the morning with the highlight being the talk and book signing by Pedro Gonzales, one of the authors of the Complete Guide to the Birds of the Philippines. Activities such as coloring, face-painting and origami were held on the festival grounds at the Paseo del Mar. In the evening, DENR IX tendered the Farewell Dinner at the Astoria Hotel where the Club turned over IEC materials to DENR IX and birding equipment to ZSCMST. (Photos by Andrew Sebastian and Mike Lu)
March 2, 2014 – Club trip to Pasonanca
The hardworking WBCP volunteers were given a special treat with a birdwatching trip to the Pasonanca Natural Park to see some forest birds and they were not disappointed ! Some of the birds seen were Little Slaty Flycatcher, Rusty-crowned Babbler and a Zamboanga Bulbul. Other delegates went further by exploring the pink beaches of Sta Cruz Island. (Photos by Maia Tañedo)
March 3, 2014 – Hearing of the Committee on Government Corporations and Public Enterprises
Mike Lu attended the second hearing of the Committee on government corporations and public enterprises regarding the powers of the Philippine Reclamation Authority chaired by Senator Cynthia Villar at the Laurel Room of the Philippine Senate (Photo by Mike Lu)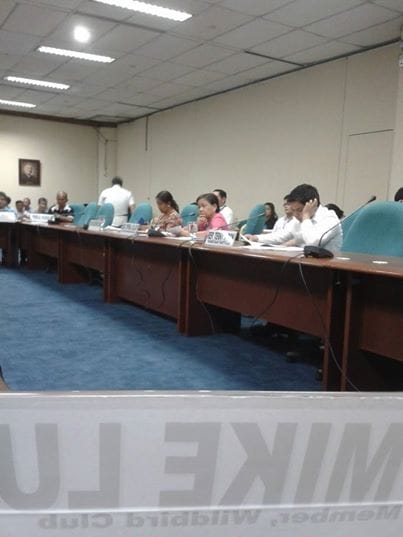 March 6, 2014 – Lecture on birdwatching and WBCP at College of Arts and Science, UP Manila
Mike Lu gave a talk on birdwatching and the mechanics of the bird club to a class of students from the College of Arts and Science of UP Manila.
March 8-9, 2014 – Raptorwatch in Tanjung Tuan, Malaysia
WBCP members Jason Apolonio, Jamie Dichaves, Krees Castaneda and Mike Lu went to Tanjung Tuan in Malaysia to attend the 15th Raptor Watch upon the invitation of the Malaysian Nature Society. (Photos by Jason Apolonio)
March 8-10, 2014 – Rapor Migration Count at Pagasa Observatory
WBCP members Tere Cervero, Boy Ochavo and Alex Tiongco were joined by Ronald Obias  and Marvin Salomon, two young volunteers from Tanay Rainforest Camp. An adult male Pied Harrier was spotted and according to Arne Jensen this could be the first record for raptorwatch in Tanay.
March 10, 2014 – Opening of LPPCHEA Photo Exhibit at Senate
WBCP members Jops Josef and Maia Tañedo attended the opening and ribbon-cutting ceremonies of the LPPCHEA Photo Exhibit at the Senate. They also listened to the privilege speech by Senator Cynthia Villar. (Photos by Maia Tañedo and DENR)
March 10-12, 2014 Asian Bird Fair Execom Ocular Trip, Langkawi, Malaysia
Members of the Asian Bird Fair Execom made an ocular trip to Langkawi, Malaysia in preparation for the Asian Bird Fair in the said country. WBCP member Mike Lu went to Langkawi to join Andrew Sebastian of Malaysia and Victor Yu of Taiwan. (Photos by Victor Yun and Rahayu Ahmad)
March 15, 2014 – Club Trip to Hacienda Balabatican, Calatagan, Batangas
WBCP members Anna, Manny, Trinket, Anthony, and Lanie went to Hacienda Balabatican, Calatagan, Batangas for a birding trip. They were awed by the beauty of the place. (Photos by Maia Tañedo)
March 15-17, 2014 – Raptor Migration Count at Pagasa Observatory
On March 15 fourteen volunteers joined the raptor migration count at Pagasa Observatory in Tanay Rizal. The day ended up with quite a reasonable count with 323 Gray-faced Buzzards among others. On March 17 Marts Cervero and Alex Tiongco were able to count more than 2,000 raptors in just 20 minutes. (Photo by Alex Tiongco)
March 23, 2014 – WBCP-Kenko Guided Trip to La Mesa
A guided trip to La Mesa Eco Park was conducted on 23 March 2014. Ten participants joined this guided trip. (Photo by Jops Josef)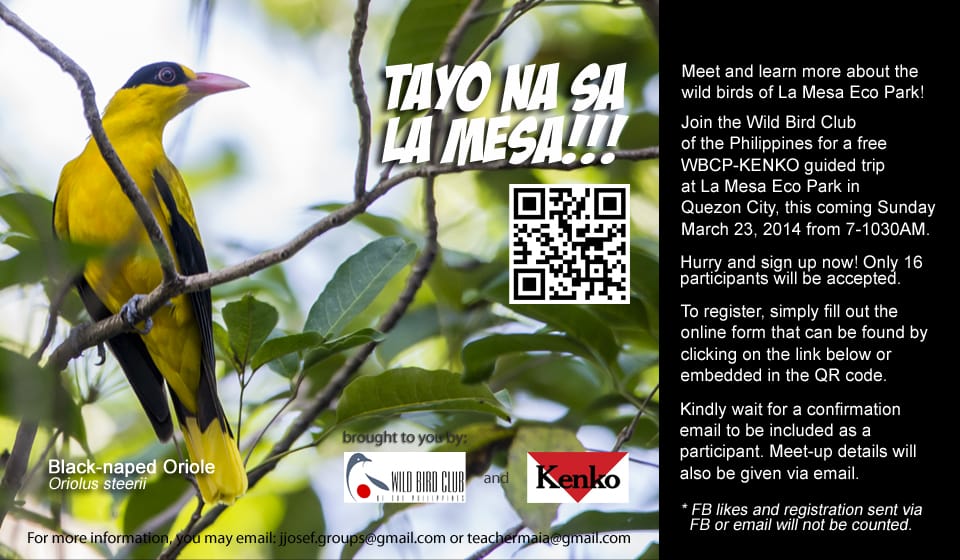 March 26, 2014 – Meeting for Earth Day celebration at LPPCHEA
Attended by WBCP president Gina Mapua and Mike Lu to assist DENR-NCR and the City of Paranaque to celebrate Earth Day on Freedom Island. Prelimary agreement includes setting the celebration on April 23 starting with birdwatching for city councilors, a motorcade by the different barangays, birdwatching and other activities for children.
March 29-30, 2014 – Raptor Migration Count at Pagasa Observatory
It was a great day for raptorwatching with over 2,500 raptors, 60% Chinese Goshawk and 40% Greyfaced Buzzard. There was also an an aerial dogfight between an osprey and a Japanese Sparrowhawk. (Photos by Alex Tiongco and Marts Cervero)
March 30, 2014 – WBCP-Kenko Guided Trip to Baguio
A guided trip headed by WBCP members Jops Josef and Maia Tañedo at the ECO Trail, Camp John Hay was conducted on 30 March 2014. Ten participants joined this guided trip. (Photos by Jops Josef and Maia Tañedo)
March 30, 2014 – WBCP Guided Trip to Anvaya
A guided trip headed by WBCP members Anna Gonzales, Lu-Ann Fuentes Bajarias and Amado Bajarias Jr. was conducted in Anvaya. The participants were happy to see 22 species in 1.5 hours in a very hot afternoon in Anvaya. (Photos by Amado Bajarias Jr. and Lu-Ann Fuentes Bajarias)