Patty Adversario shares birding tips and insights from Richard Ruiz, the birder who changed the face of birding in Ilocos Norte.

—
The Accidental Rare Bird Master
By Patty Adversario
Richard Ruiz is Ilocos Norte's rare bird master. He shares his secret tips for birding in the north.
First tip: Never take any bird for granted.
Every day, in his early morning walks, he sees swarms of Eurasian Tree Sparrows flock to a rice field in Barangay Lagui, Laoag. And every day, he stops and scans the birds in case there's something different.
On March 1, his exercise paid off. He spotted a male Black-headed Bunting and filed the country's first picture-documented record. This very rare migrant to the Philippines was first described, but not photographed in February 1996 when Tim Fisher and Pete Morris saw one at Iwahig, Puerto Princesa.
"When I saw it I knew it looked different. My knees were shaking while I was taking pictures," he recalls. He went home, bursting with excitement, and announced to his wife Cindy: "I saw something new!"
Second tip: Obey your wife. According to Cindy, Richard was supposed to go to Pasuquin (an hour's bus ride from Laoag city) on March 1 to look for the Spotted Imperial Pigeons.
Cindy told him it was too early for the birds to fly in.
She explains, "I wanted him to come home early because I needed help at the printing shop."
Richard, at his wife's request, opted to go to the nearby rice fields. And that was how he saw the not so common Black-headed Bunting.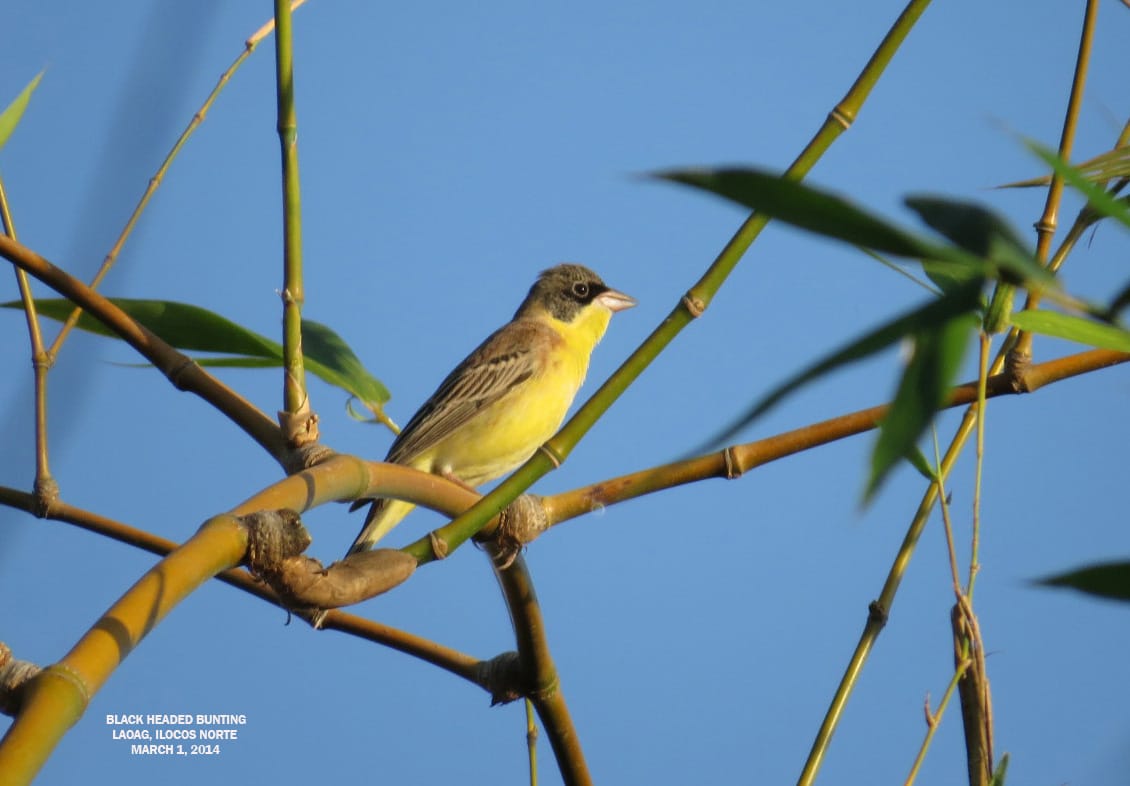 Understated
The 60-year-old semi-retired entrepreneur from Laoag City has an unassuming demeanor. His birding attire consists of faded long-sleeved shirt, long shorts, slippers and a floppy hat. He doesn't say much but laughs easily when fellow birders joke around.
He bikes to his favorite haunts, Mondays to Fridays, birding from 6 am to 8 am. He goes to the rice fields in Barangay Lagui, the Chinese cemetery, or the Laoag River. On Saturdays, he drives to his favorite patch — a private fishpond in Barangay Gabu.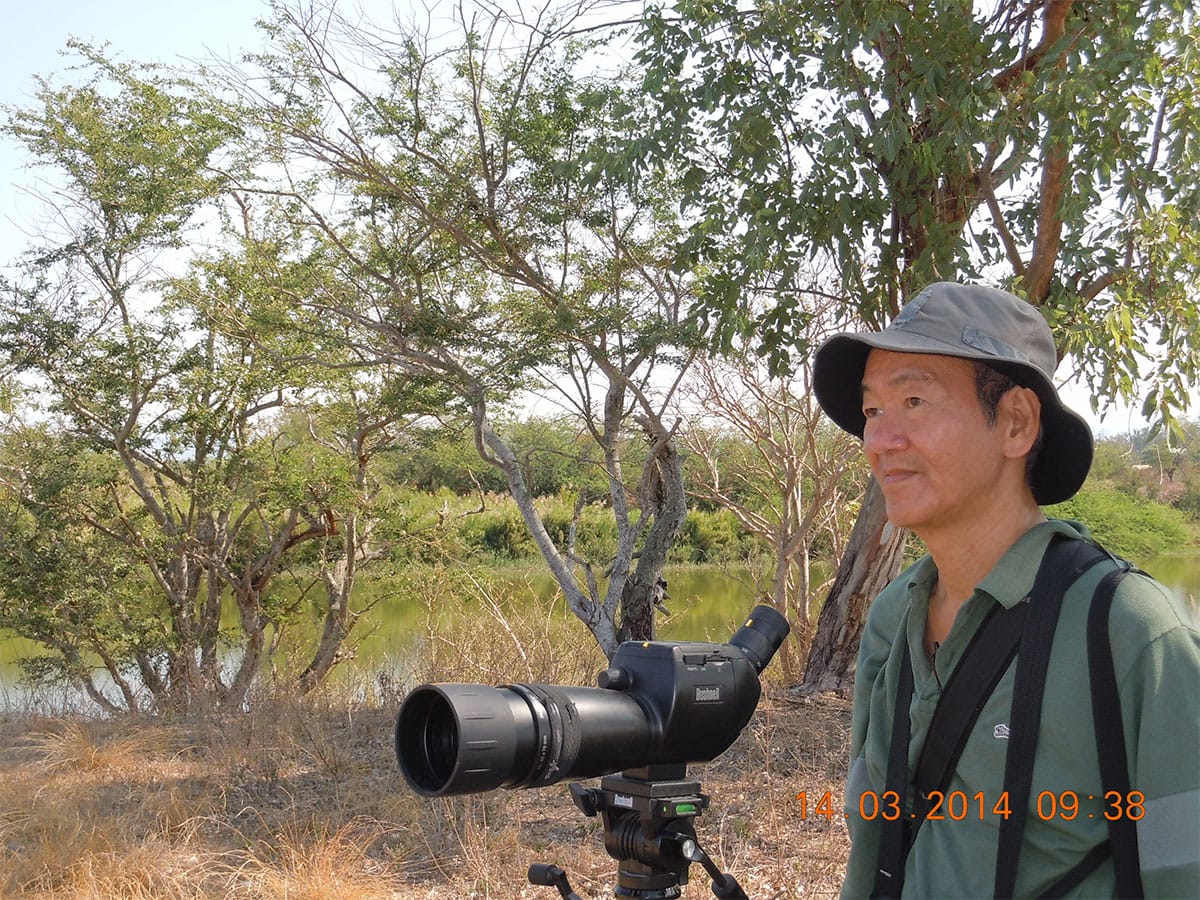 "I don't like being called a rarity master. I feel uncomfortable. I don't deserve that title," he says, blushing with embarrassment.
"A master implies you're an expert of rare birds and an expert spotter of rare birds," he points out.
"All I want to do is contribute something to the club," adding that he prefers to be called a contributor of rare bird sightings. If indeed he has reported several unusual sightings, they were "mere coincidences."
How he started bird watching
Sometime in 2007, Richard read a newspaper story promoting bird watching in the Philippines. He was drawn to the pictures of the birds. "I knew them, but I didn't know their English names, only their Ilocano names."
The story mentioned the Wild Bird Club of the Philippines (WBCP) and "I knew right away I wanted to join." He found the WBCP website, saw Doc Pete Calope's name and email address and contacted him.
Doc Pete, who also lives in Laoag, taught Richard the basics of bird watching. After three birding trips, he became a member of the WBCP in August 2008.
Before discovering the club, he says he would often bird watch on his own. At that time, there was no bird club and birding was unheard of. Later, he stumbled upon Romy Ocon's website. He would often refer to it to identify birds until he got his Kennedy guide (A Guide to the Birds of the Philippines by Robert S. Kennedy).
He says he is fascinated by birds and wants to learn everything he can about the subject. His spark bird? The most ordinary and most common bird in the Philippines—the Eurasian Tree Sparrow. "I even chose this as my email ID (brown.sparrow@yahoo.com)," he adds.
Richard says most of his unusual sightings occurred while birding alone. But he doesn't mind birding with company, preferring a small group of three people at most. "The more eyes, the better, especially if the area of coverage is big."
He keeps a notebook to jot down trip highlights and his observations of interesting birds. He takes notes if he sees a new bird, jotting down size, shape, appearance, and how it compares with familiar birds like the Yellow- vented Bulbul.
He is very particular with dates and can recall them easily, yet he brushes aside his sharp recall of dates as mere "coincidence."
He reveals a weak point: He's not great when it comes to identifying bird calls.
Records
To date, he has one new country record and numerous records of birds thought to be only accidental visitors, says Arne Jensen, chairman of the WBCP records and rarities committees.
Richard was the first to spot the Mandarin Duck at a fishpond in Barangay Gabu on November 30, 2013. He was also the first to photograph the Black-headed Bunting in March this year.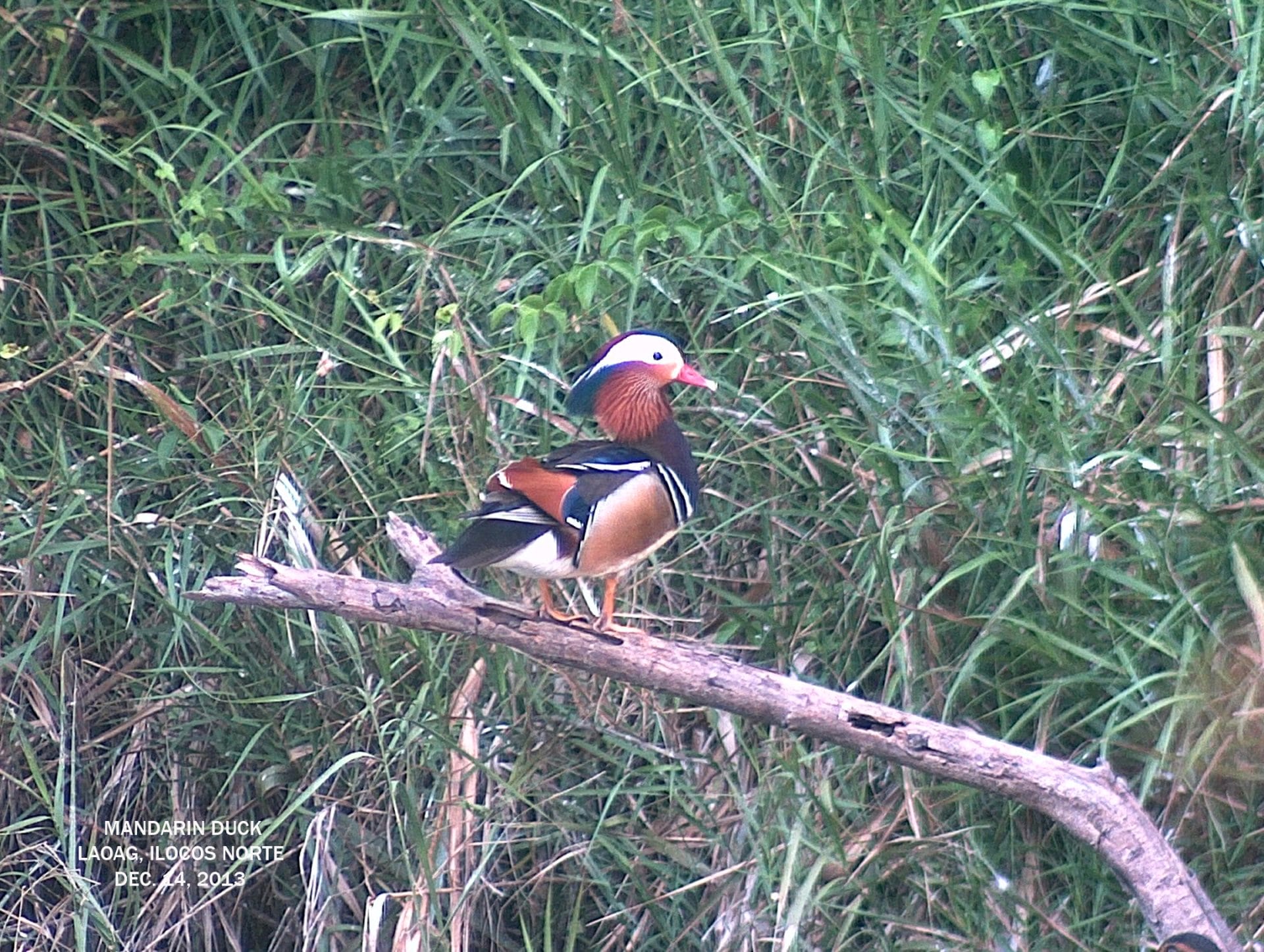 Notes Arne: "Richard lives up north where several species from mainland Asia may accidentally or regularly pass by. Hence, Ilocos Norte is a good place in the Philippines to look out for rare species. However, it requires sharp eyes and good knowledge to find rare birds, and Richard has contributed significantly to our understanding on the distribution of several species."
Richard was the first in more than 100 years to document the occurrence of the White-cheeked Starling (Grey) Starling and since 2009, he has regularly recorded rare species such as Eastern Spot-billed Duck, Gadwall, Mallard, White-shouldered Starling and Red-billed (Silky) Starling. He also monitors the uncommon Green Sandpiper, which he first saw in March 2009.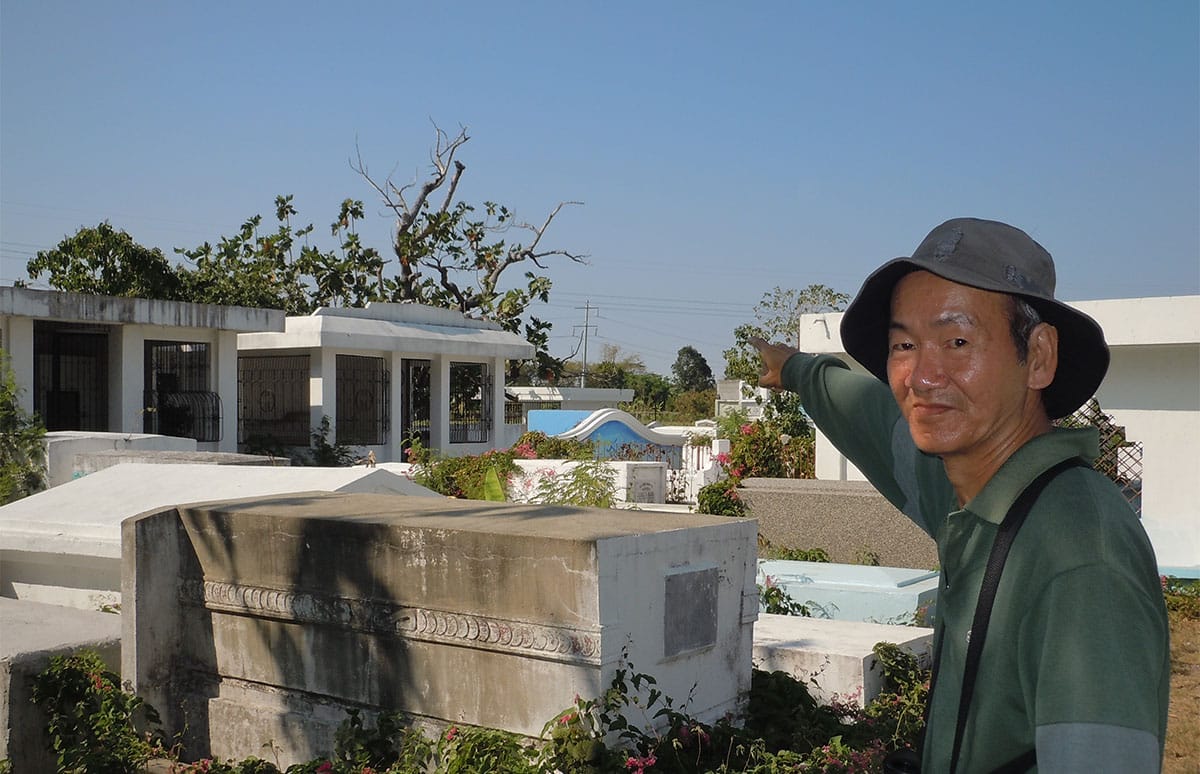 "Thanks to his contributions we now know that these species are not just accidentally occurring in the Philippines but that they are regular—although rare—migrants occurring mainly in northern Luzon. We are very thankful to Richard for his contributions," says Arne.
Richard's first unusual bird sighting was the globally threatened Yellow Bunting in March 2009. He has tracked this species every year for the past six years. In the last four years, the bunting has been seen from February up to April, until WBCP member Tonji Ramos spotted it earlier, in December 2013.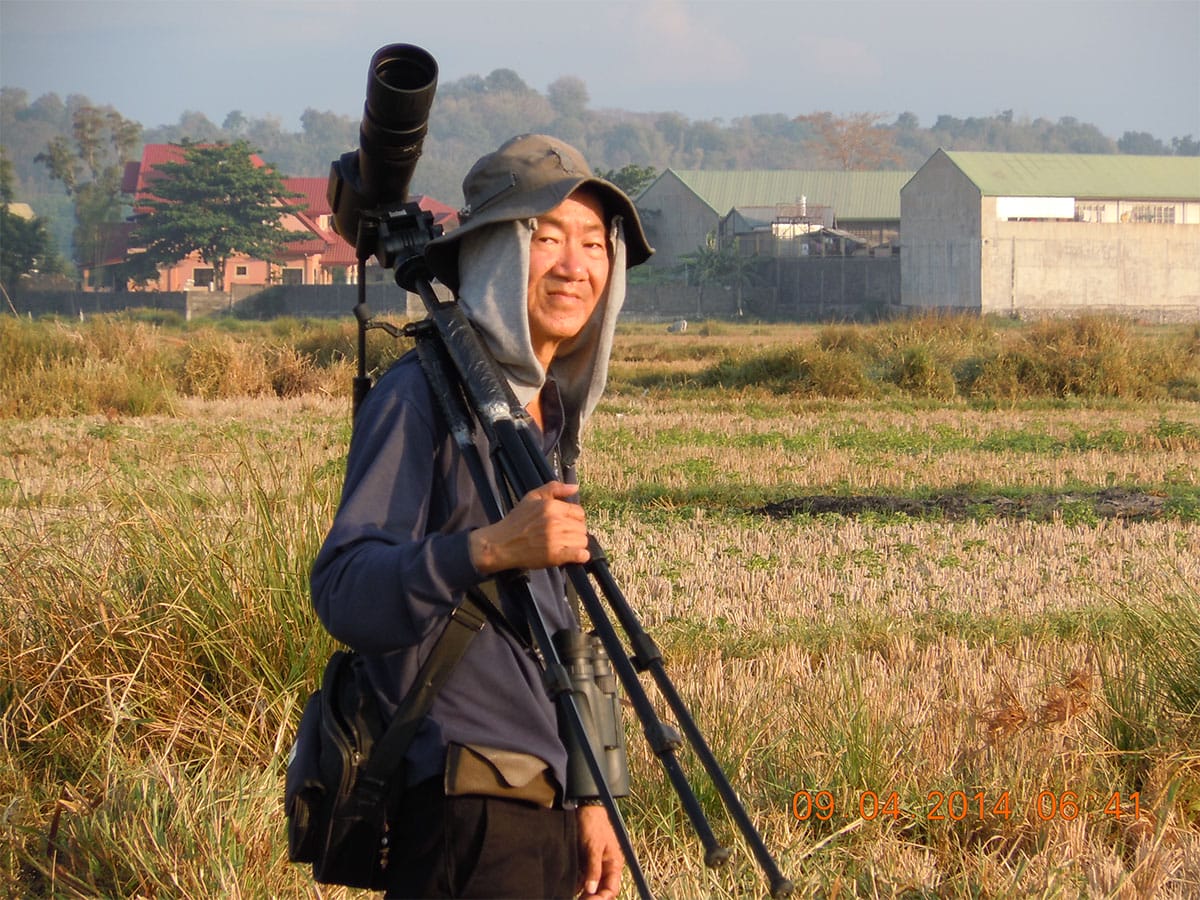 Unforgettable birding experience
Another unusual sighting was the endemic and threatened Spotted Imperial Pigeon, which Richard first saw in Pasuquin in May 2011. His hunter friends told him about it and he promptly took a bus to Pasuquin to look for it.
He documented the pigeons for the first time on May 23, 2011, using a borrowed camera. On May 26, 2011, he filed his first random report of no less than 40 Spotted Imperial Pigeons in Pasuquin.
Seeing a flock of Spotted Imperial Pigeons is his most unforgettable experience to date.
"Ang ganda nila, napa-wow ako doon. I think there were more than 30 pigeons and they flew in a horizontal-line formation—like winged soldiers heading towards me. They flew over me, swirled around me like they were putting on a show. I cannot forget that. I haven't seen any other bird do this. It was early morning," he says and smiles in recollection.
"Wow. Ang ganda nito, pero wala akong camera," and laughs at his misfortune of missing a photo op.
Birder or bird photographer?
Whenever he goes birding, he wants to spot unusual birds or those not usually seen. "If I don't see anything new, that's okay. Bird watching is for enjoyment whether you see a rare bird or not."
He started taking pictures in October 2012. He was forced to go into avian photography because he couldn't give detailed descriptions of the birds.
A man of few words, he would rather show a picture than describe the bird in detail. In January, his daughter gave him a camera as a Christmas present.
"Nagbago na ang style ng pag-birding ko. Now I bring a camera," he says. But he considers himself a birdwatcher first: "Bins first, then I take pictures if it's an unusual bird."
For unusual sightings, he tries to identify them on his own. If the bird is not in the Kennedy guide, he researches on the Internet. He found the Black-headed Bunting in the Birds of China website. If he still can't identify the bird, he submits the pictures to the experts.
Patience
For Richard, birding is a way to relax and enjoy nature. "I will be birding always."
He is the only one in his family interested in bird watching. His wife thinks it's too hot to stay outside, waiting for sightings. His three children—two daughters and a son—have yet to be convinced to take up the hobby.
He used to play table tennis and lawn tennis but now devotes all of his leisure time to bird watching.
"Birding has taught me to be patient. I've learned to be more observant, to pay attention. I continue to learn new things—birding basics, behavior, bird identification and now, bird photography."
He is especially fond of ducks. "They're very colorful. The males especially—the Northern Pintail, Eurasian Wigeon, and the Mandarin."
His favorite duck? He laughs before replying: "Before, it was the beautiful Spot-billed Duck, but now it's the Mandarin."
His least favorite bird? Richard says he likes all birds.
"And there's no such thing as a difficult bird to spot or see. They're wary and guarded at the beginning, but if you stay long enough, they will show themselves.
"Like the ducks—at first, they would fly away… but the more they see me, they more they come close. You have to be patient."
Good birding advice from a rarity master.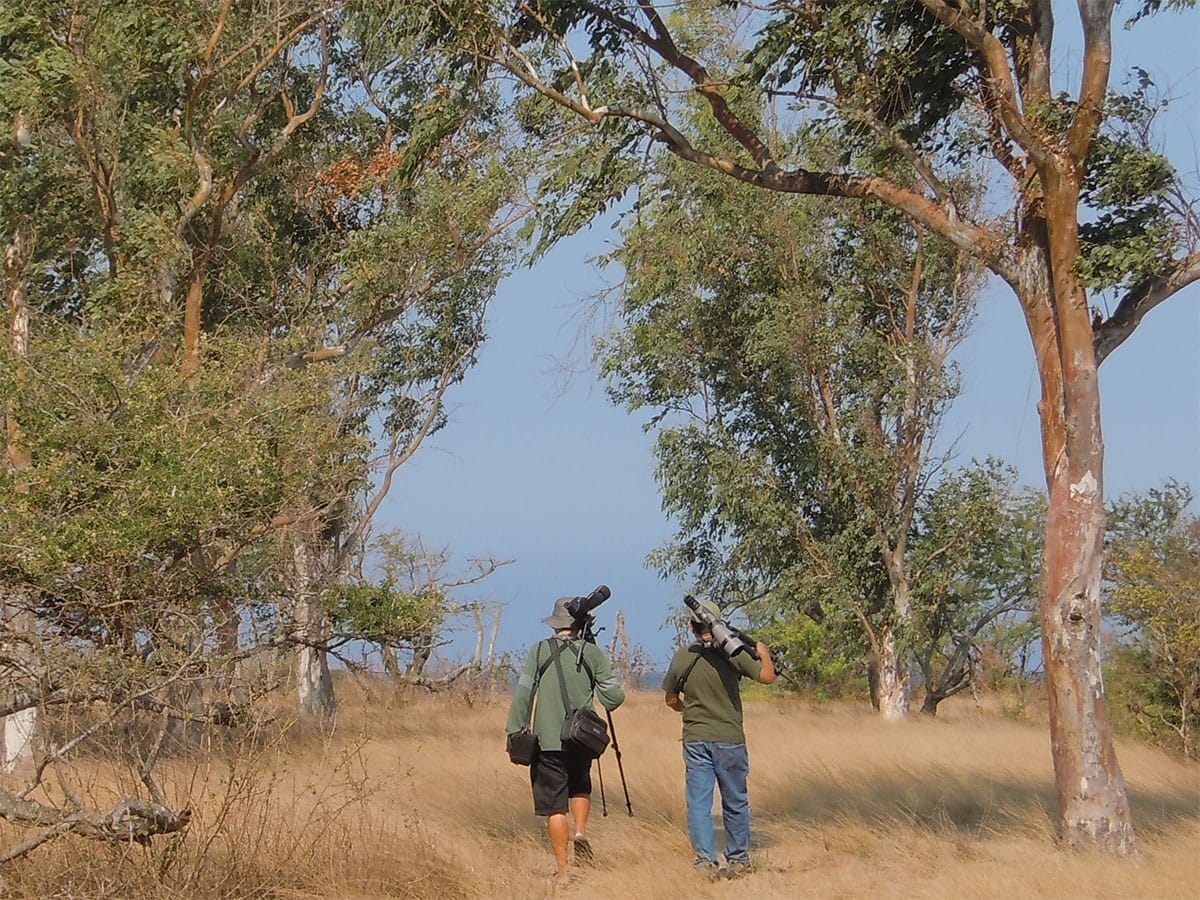 ________________________________________________
Pop quiz for birders
Birding with Richard Ruiz is like taking a pop quiz.
He scans the pond and asks you: "There's a different duck among those Philippine Ducks. What is it?"
You peek through the scope, scan the pond, study the duck, wrack your brain, and hope you pass the ID test.
While walking through the rice fields, he stops, cocks his ear to the cheery whistle of the Plaintive Cuckoo, and grills you: "What bird is making that call?"
Later by the fishpond, you hear a dove coo behind you and his next question is: "What dove?"
Soon we hear a warbler chack-chacking inside a bush. We don't see it but he will ask: "What warbler is it?"
He later confides that he does not hear very well, but the few bird calls he does hear, he knows them by heart.
When he gets excited, he tends to say the bird's name over and over. I will always remember him chanting "Pe-re-grine Fal-con," while the raptor was chasing Barn Swallows over a rice field in Sanchez Mira, Cagayan. It seemed like an apt cheer for the chase.
And after hours of crouching in wait for a sighting, he is pleased when the target bird is spotted, sharing with you the thrill of another "lifer."
With his reports of rare bird sightings, Richard hopes to promote Ilocos Norte as an important birding destination. By Patty Adversario