September 7, 2014 – World Shorebirds Day
Barangay Consuelo Macabebe Pampanga
World Shorebirds Day was held on 6 September 2014 for the first time. One of the key programs of this special day is the Global Shorebird Counting which is a public awareness initiative.
The Wild Bird Club of the Phil. did its share on September 7 in participating for this worldwide activity. Some five locations from the Phil. has been marked. The WBCP participants were able to encounter the first migrating shorebirds for the season, such as plovers, sandpipers, egrets, terns , stints, stilts and a lot of Little Grebes. According to the locals, peak season for the migrant waders are in November when the fishponds are drained just in time to nourish the these famished birds when they leave their homes in Northern Asia at the onset of the Winter Season. (Photo credits: Marites Falcon and Christian Perez)
September 12, 2013 – Raptorwatch
Tanay, Rizal
Randy Weisser described the raptor migration as "a little slow" that morning in Tanay, but believes that "younger brighter eyes would have
surely increased the count." Randy and his wife saw a flock of 47 Chinese Sparrowhawks about 10 a.m. directly north of the tower, which then passed on the east side of the tower headed south. To add excitement during the slow times, an Oriental Honeybuzzard 
hovered overhead and then dove sharply down to land on a tree-top not far
from the tower. (Photo credit: Randy Weisser)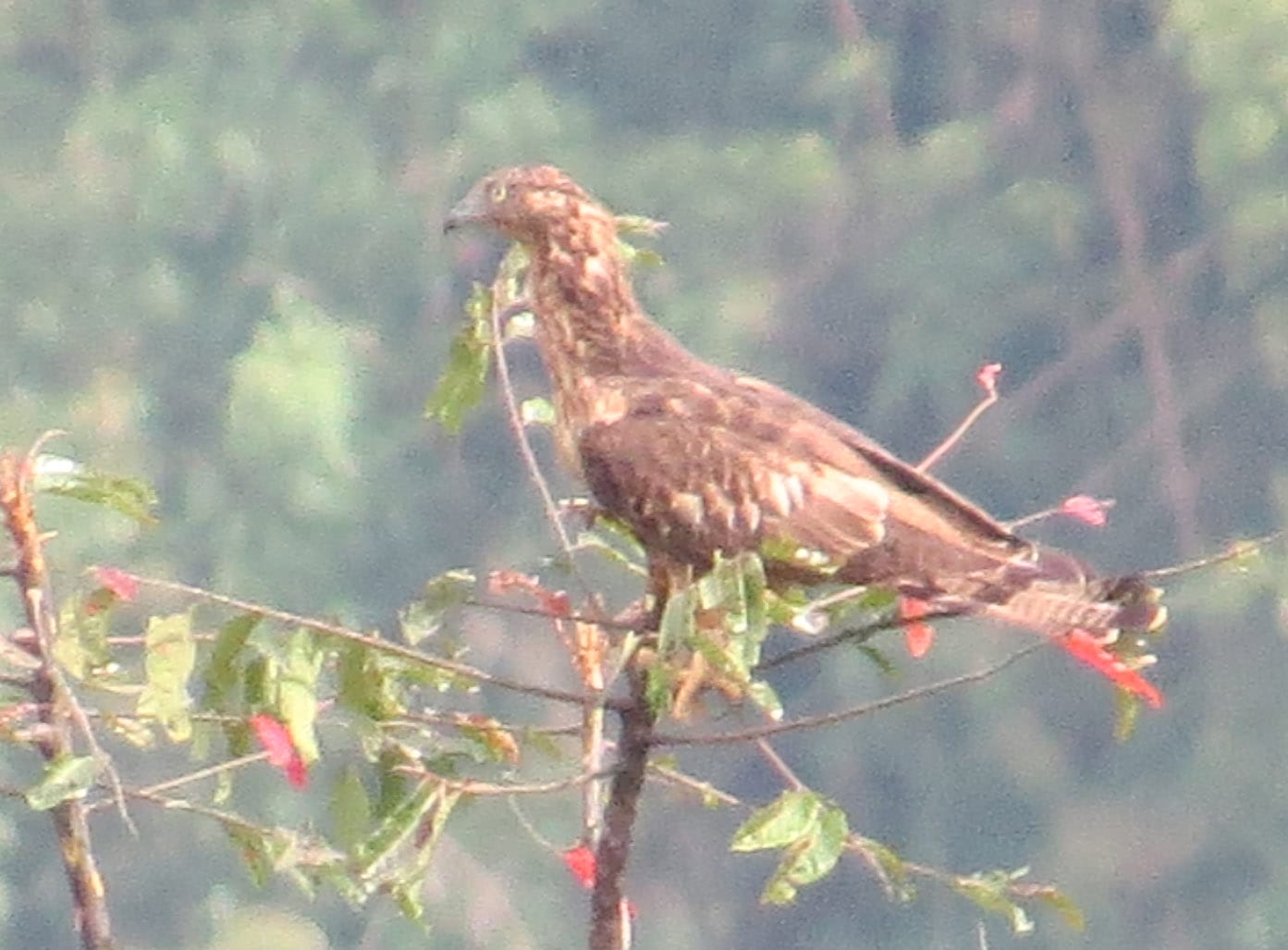 September 13, 2014 – Coastal Clean Up at Freedom Island
LPPCHEA, Parañaque City
In line with the Coastal Clean-Up at LPPCHEA organized by the Save Freedom Island Movement, WBCP conducted a guided trip for the United Architects of the Philippines – Parañaque Chapter as well as manned a birdwatching station for those who joined the clean-up drive.
WBCP member Jops Josef reported that despite several squalls that threatened the clean-up activity at LPPCHEA that morning, the group of WBCP volunteers still decided to push through with the guided trip and birdwatching station for UAP-Parañaque chapter and coastal clean-up volunteers respectively.
The clean-up started past the grotto area of LPPCHEA, so their group decided to start the guided trip at the corner of the road going to the inner ponds. While Maia Tañedo and Anna Gonzales were giving the background on LPPCHEA and introduction to birdwatching, there was a sudden commotion among the other WBCP members who were already scanning the beach for birds – 4 Whimbrels were feeding on the beach! Indeed, one of the highlights of that day's guided trips. It was a delight for the guided trip participants to see the Whimbrel's fieldmarks and the characteristic curved beak. Among the Whimbrels were other migrants as well, Grey-tailed Tattlers and Little Egrets.
The tide was a bit high that day, but they were still lucky to see other waders like Pacific Golden Plover, Little Ringed Plover and Common Sandpiper. And among the Whiskered Terns constantly on the fly to feed, Karen Ochavo was able to spot one Little Tern. All in all, 33 species were spotted that morning.
After the guided trip finished, a group of elementary students from Pembo and Nuevo de Pebrero Elementary Schools requested to try out birdwatching after finishing their coastal clean up duties with Hands On Manila. Doc Charo Lim, Manette and Jops Josef had a wonderful time conversing with them about birds that can be found in the Philippines, migration and what they can do to help protect bird species.
September 13, 2014 – Raptowatch
Tanay, Rizal
WBCP members Brian Ellis, Adri and Trinket Constantino, Linda Gocon, Jason Apolonio, Jamie Dichaves and Patty Adversario went to the Pagasa Weather Tower to conduct raptorwatching activity. Lindo Gocon reported seeing 287 Chinese Goshawks, the bulk flying north and then a small group flying south later on and 1 Oriental Honeybuzzard. She described the winds as going southwest
September 15, 2014 – Raptowatch
Tanay, Rizal
WBCP member Linda Gocon reported that she saw a group with 19 Chinese Goshawks flying south, east of the tower and low through the valley at 10:30 am. At around 11:30, a lone goshawk or sparrowhawk was thermalling north of the tower and then zoomed off west.
September 20, 2014 – Raptowatch Project Southern Crossing
Saranggani
WBCP members Alex Tiongco and Tere Cervero had envisaged that the raptors at Sarangani would be thermalling 
over the Taltak Mountains on their way to the big island of Balut 
where there certainly would have more updrafts generated by the 
Southwest monsoon. So they conducted the Raptorwatch Project 
Southern Crossing 2014 at the last barrio of mainland Sarangani.
 They camped out there for 4 days at the edge of Sarangani awaiting for
the raptors to come but only a negligible number came which did not justify 
the numbers leaving Taiwan.
They were constrained to retrace their steps northward a bit to find out
what is happening. And there they were, at Barangay Cruz. – Project
 Southern Cross at Barangay Cruz. They only watched there for 2 days then they took a necessary
 break at General Santos City.
The Sept 19 watch
 recorded only 390 and on Sept 20 was only 810. The watchsite they discovered was a little rise of about 304 meters
– to her east is the low rising hills of Davao which were covering their vista to the Davao Gulf, to the far north should be Malalag and Digos, Davao del Sur. To the west is Mt. Taltak and south is the
 center of the island of Balut.
Its approximate coordinates were 5 degrees 37'9"N 125 degrees 20'60" E.
The raptors come from dead north between 330 degrees to 30 degrees,
 thermal overhead and veer south-east to between 120-150 degrees. They
 envisage them to be coming from Digos City.
 There were roosting raptors in nearby hills located 30-60 degrees which
rise and use the eastern ridges.
They had very short watch windows – from 0700 hours to about 1100
hours; peak is from 7 to 9am.
On Sept 24 they had 3,800+
raptors and on Sept 25 they recorded 1,800+ raptors. (Photo credits: Alex Tiongco, Marts Cervero and Anthony Arbias)
September 27, 2014 – Mini Bird Fair
Tagaytay Highlands Golf and Country Club
Tagaytay Highlands Golf and Country Club held its first mini bird fair to launch birdwatching as one of the resort's activities for its members. WBCP was tapped to partner in this nature oriented activity. Highlights from the morning birding activity were the Phil. serpent eagle, which we saw really up close and the crested honey-buzzards, which definitely was a welcome addition to the WBCP's records of birds seen at Tagaytay Highlands. Karen Ochavo was lucky enough to hear the call of the Luzon Hornbill, but too shy enough to make a show. Willem on the other hand was the only one who saw the Hooded Pitta. Venue for the bird fair was at the campsite. After the lectures, WBCP members led another guided trip in the afternoon for members and staff of Tagaytay Highlands. The activity ended right before sun down. Birders happy, mission accomplished, and the tribe of birdwatchers continue to multiply. Another fruitful weekend for the cause of nature awareness. (Photo credit: Cristina Cinco)