January 2, 2015 – Birding with Finnish Birding
LPPCHEA, Las Pinas
The WBCP welcomes visiting birdwatchers to join Club activities or brings them out to our favorite sites whent he opportunity arises. We started the year with a birdwatching to the Las Pinas-Paranaque Critical Habitat & Ecotourism Area with Finnish birder Anssi Kullberg. (Photo credit: Mike Lu)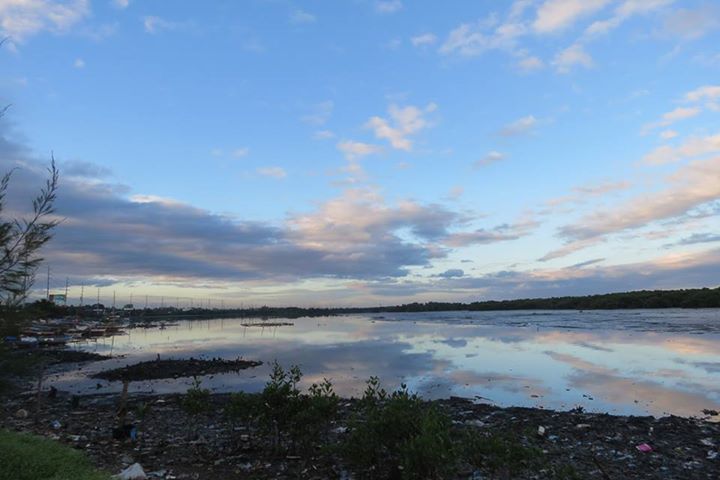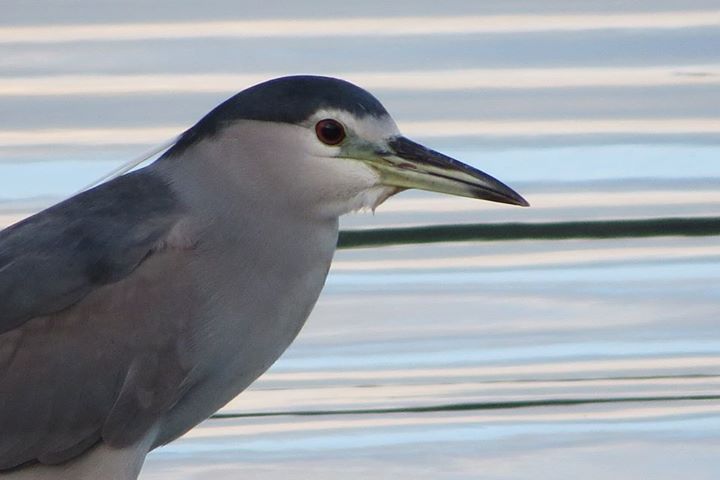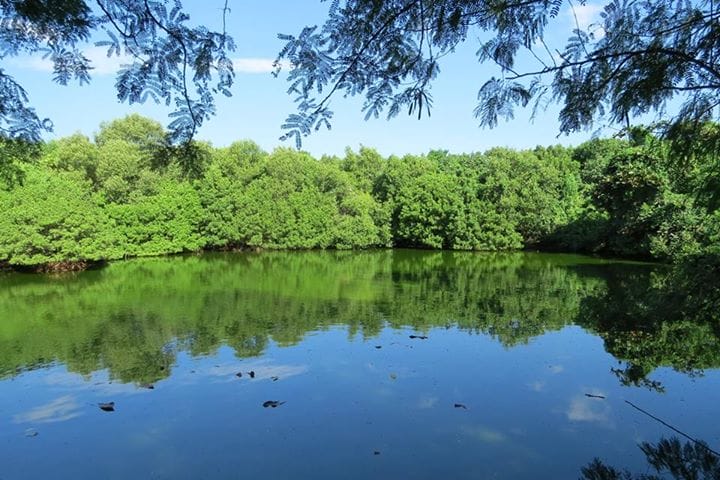 January 3, 2015 – Launching of Birds of Anvaya
Anvaya, Morong, Bataan
It was a treat and privilege to be part of this initiative according to Anna Gonzales. A historic first- A Field Guide to the Birds of Anvaya , intended to inspire Anvaya members and Morong communities to appreciate the bird life of the area..Ably written by Trinket and Adrian Constantino, gorgeous photos by Michael Anton Tina Sarmiento Mallari Manny Illana and Trinket and Adri themselves. Very pretty book design/layout by Veronica Peralejo. Copies will be available mid January. (Photo credit: Adri Constantino & Raymond Sandoval)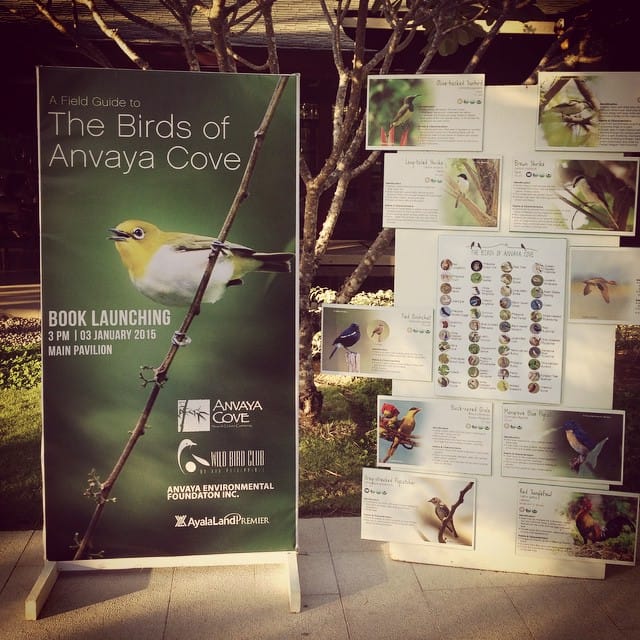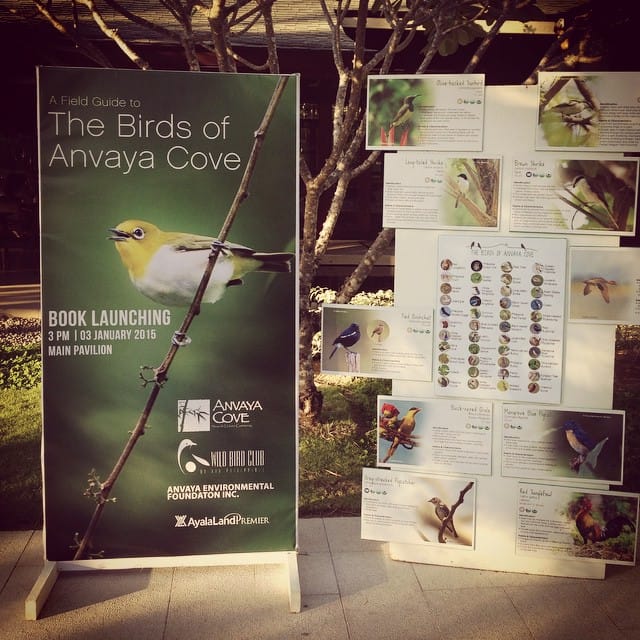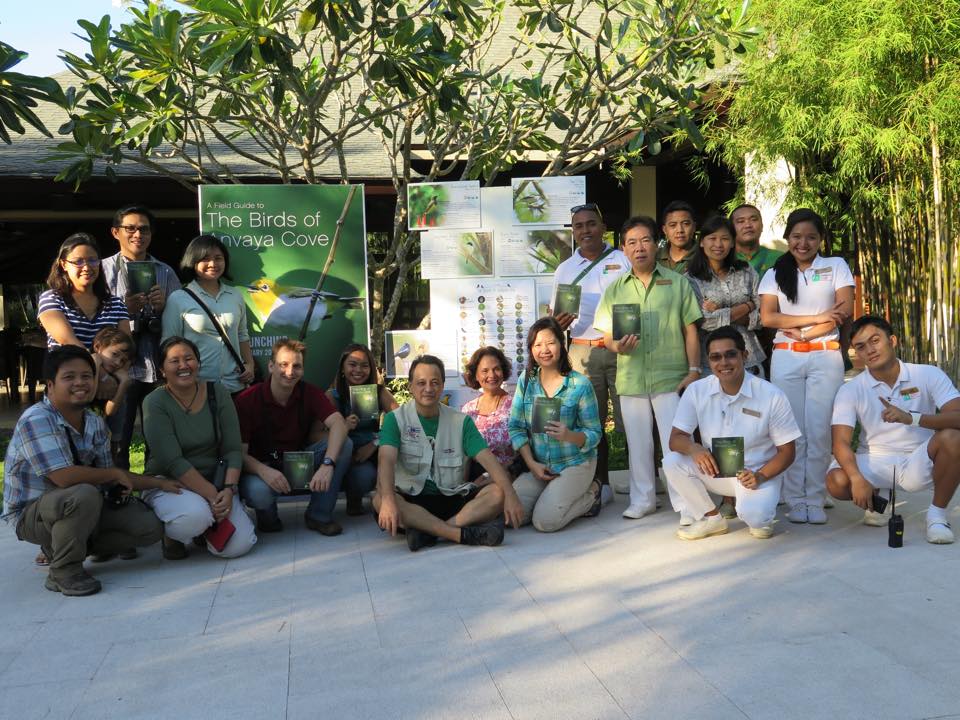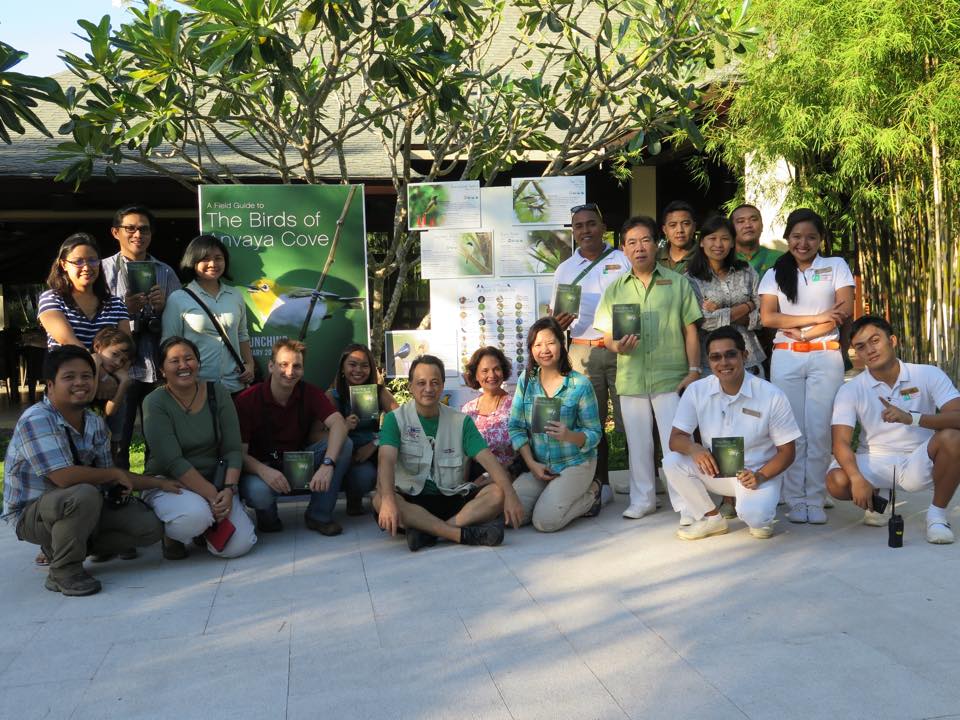 January 4, 2015 – New Year Party
La Vista Club House, Quezon City
In lieu of the annual Christmas Party, Club members celebrated with a New Year Party. The program started with the year-end report from the Records Committee by Chairman Arne Jensen. WBCP President Gina Mapua reported on the activities the past 6 months and announced the plans for the next 12 months encouraging members to join the Asian Waterbird Census, the bird festivals abroad and announcing the selection of Balanga as the host city for the 10th Philippine Bird festival in December 2015.
To get members more acquainted, we conducted the Human Bingo game, Pinoy Henyo game and a Best Attire Contest. A White Elephant Auction that netted more than P 6,000.00 to benefit the Katala (Philippine Cockatoo) Foundation was excitedly anticipated by Club members. More than 80 members came to attend the party. (Photo credit: Mike Lu & Marites Falcon)
January 10, 2015 – AWC Carmen, Davao del Norte
Carmen, Davao del Norte
Conducted by DENR Region 9 and WBCP member Pete Simpson. The group was able to count 2053 birds.
January 11, 2015 – AWC Candaba
Candaba Marsh, Pampanga
A total of 7,186 birds – an improvement from last year by about 2,000 was counted by the group composed of Bob Natural (reporter), Mike Lu, Maia Tañedo, Jops Josef, Willem van de Ven, Desmond Allen, Jayce Japit, Riza Melicor, Art Melicor, Tommy Tan, Jon Javier, Becky Santos, Karen Ochavo, Jasmin Meren, George Inocencio, Manette Inocencio, Nona Castillo, Nancy Dimayacyac, JC Garcia, Joed Perez (Photo credits: Mike Lu & Jasmin Meren)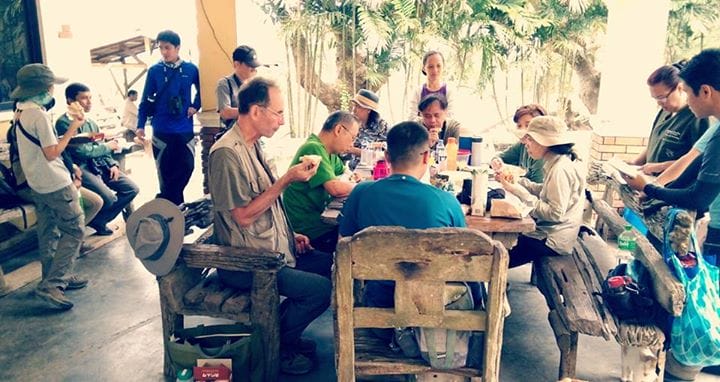 January 11, 2015 – AWC Bani
Bani, Pangasinan
The group of Alex Tiongco, Tere Cervero, Juan Mesquida, Jude Sanchez, Homer Pautulot, Adri Constantino, Boy Ochavo and Trinket Canlas counted waterbirds last January 11, 2015 morning at 6 – 10am at the Bangrin Marine Protected Area mangroves.
They counted 16, 602 birds composed of 29 species. Highest counts were 9,400 egrets, 3,879 Philippine ducks, 1,229 Whiskered Terns, 658 Redshank and 515 Greenshank.
But the highlight of the morning was a lone Great Cormorant! It was first spotted by Alex, Tere, Jude, and Juan who were counting from the guardhouse. It stayed on until Adri, Homer and Trinket had finished counting the waders on the far side of the mangroves so that we were able to approach it by boat on the driftwood which seemed to be its favorite perch. Our boatman said that last Monday there were 3 of them but the two disappeared during the week, and he recognized the rarity of the bird (saying "bagong dating lang yan dito").
They will be sending a copy of our count to the mayor's office. Thanks to the Mayor for supporting our visit.
On a side note, Alex, Tere, Adri, Many Boy and Trinket visited the Masidem SRIP (small reservoir irrigation project) Dam and noted several ducks including Philippine Ducks, Eurasian Widgeons, Northern Shovellers and a Common Pochard. It was the most widgeons they had seen together: 22 of them! (Photo credit: Trinket Constantino)
January 12, 2015 – ABS-CBN Feature on Navotas
Navotas, Metro Manila
Why were we in Navotas ? The Wild Bird Club received a request from ABS CBN News' Ces Drilon to feature migratory birds. As the Club sits on the Regional Ecotourism Council along with the DENR and the DOT, we had wanted to help the Navotas LGU promote the Navotas Marine Tree Park as an ecotourism site, hence we picked Navotas over the other sites. The garbage can be cleaned, the shoreline can be rehabilitated but how do we take the guards and the guns away? (Photo credit: Mike Lu and Tinggay Cinco)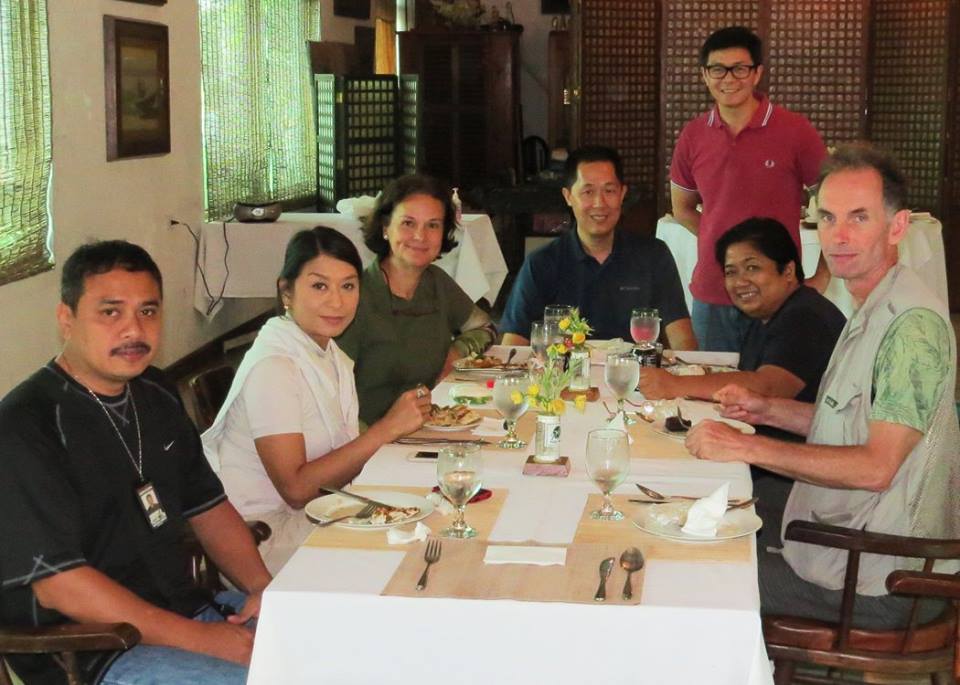 January 13, 2015 – AWC General Santos City
General Santos City, South Cotabato
There were 5732 birds counted by the group who conducted the bird survey in the City.
January 13-14, 2015 – AWC Sual
Sual, Pangasinan
A total of 271 birds were counted by the group was composed of Mike Lu, Babie Magadia and Douglas Ball. (Photo credit: Mike Lu)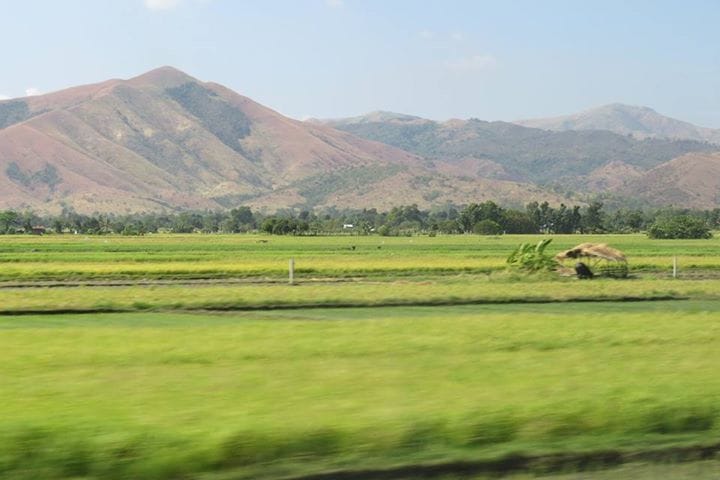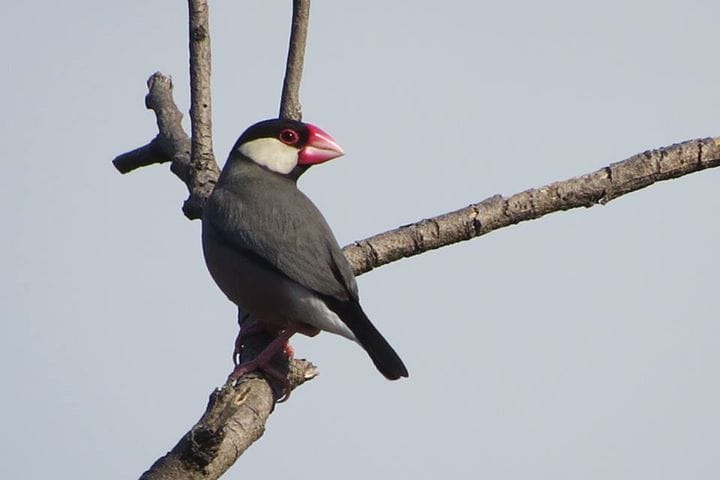 January 17, 2015 – AWC Paoay
Paoay, Ilocos Norte
The group had the highest count in Paoay AWC with the help of the Mayor of Paoay, DENR Paoay head, Elsie Nolasco and a special guest a Chinese Consul, Mr. Zhao. The group had a total count of 3,515. (Photo credits: Melanie Tan  & Marts Cervero)
January 17, 2015 – AWC Cabusao
Cabusao, Camarines Sur
Conducted by DENR Region 5 and WBCP member Felix Servita. Some notable birds seen were terek sandpipers, northern shovelers, pacific golden plovers and a Chinese egret. A total of 8,046 birds were counted in the Bicol river estuary. (Photo credit: Felix Servita)
January 17, 2015 – Meeting with U.P. Vice Chancellor regarding Biodiversity Protection
U.P. Diliman Campus, Quezon City
A multi-disciplinary group, including members of the Wild Bird Club of the Philippines, met with U.P. Vice Chancellor Nestor Castro to discuss proposed measures aimed at protecting the biodiversity of the U.P. Diliman campus.
VC Castro was receptive to the group's ideas, among which is to conduct a Knowledge, Attitudes and Practices (KAP) survey to get baseline data to be used as basis for subsequent Communications, Education and Public Awareness (CEPA) campaign program and activities.
Among the other recommendations that VC Castro also said he will implement is to bring back an ad hoc environmental committee that had become dormant and to make it into a standing committee with possibly greater powers including policy making.
VC Castro also agreed that members of the U.P. Police force and security contractors undergo a DENR-led training on the Wildlife Act of the Philippines and related laws. The WBCP will help by using its pact with the Department of Environment and Natural Resources' Biodiversity Management Bureau to set this up. Aside from the Wildlife Act, it was also agreed that security forces be briefed on non-intrusive bird photography.
The group also offered to help come up with the design and language for signs aimed at protecting biodiversity in specific areas around the campus.
Amid all this, Carmela P. Española and other Institute of Biology faculty are moving forward with a comprehensive plan to survey and map out the biodiversity in the campus. The idea is to create a map of known species, their distribution and abundance.
There were a lot of other measures discussed. The tasks are many and kind of exciting and scary as well. At the very least, we will learn from these activities and perhaps, maybe even apply them to other communities whose biodiversity is under intense pressure from conversion and over-exploitation.
WBCP members who have experience in KAP surveys, CEPA activities and in designing signages with environmental messages are highly encouraged to share their knowledge and insights. We need your input and help.
Present in the meeting were WBCP's Gina Squillantini Mapua, Lala Española (also representing Institute of Biology), Lydia Robledo (also representing Philippine Native Plants Conservation Society), Lu-Ann Fuentes-Bajarias, Mads Bajarias; College of Science Assistant Dean Ian Fontanilla, IB professor Jonathan Anticamara; IB graduate student Kevin Carlo Artiaga; Jethro Antonio David of the U.P. Student Council and convenor of the General Assembly of Environmental Advocates (a group of 11 environmental organizations in the campus); and Jamie Gamil of the Philippine Daily Inquirer. (Photo credit: Amado Bajarias)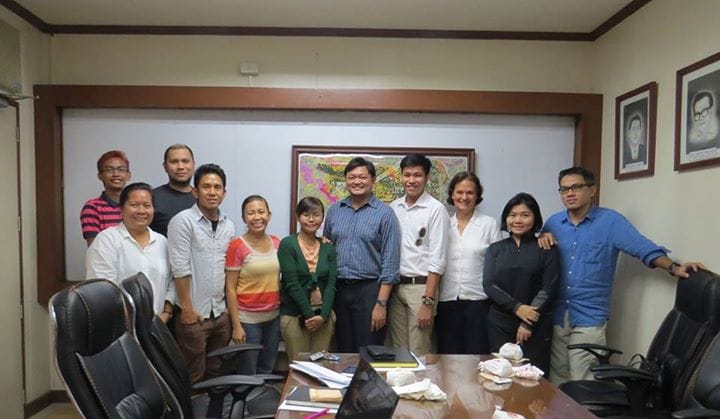 January 21, 2015 – AWC Pagbilao
Pagbilao, Quezon Province
Nina Lim, Becky Santos, Des Cambaliza and Douglas Ball went to Pagbilao to conduct the bird census. The team explored all the ash ponds at the power plant and saw Philippine ducks, garganeys, tufted ducks, and little grebes. The next day they explored the fishponds and mangroves. The group started the count at the fish ponds where we saw kentish plovers, terns, black-winged stilts, little egret, great egret, common moorhen, common redshank, snipe species. At the mangroves area, the WBCP members led by Ompong went to what was left of the view deck through a risky pathway while the DENR counted by the river. There were not many birds in the area though the group counted 16 Philippine Ducks flying by. Also, the boat wasn't available so they were not able to visit the other side. The group was able to count a total of 1,551 birds.
January 22, 2015 – Launching of New Faunal Species Record
Mindoro
Maia Tanedo, Jops Josek, Trinket Constantino, Bob Natural and JC Gonzalez attended the launching of New Faunal Species Records in Mindoro by the Mindoro Biodiversity Conservation Foundation Inc. Maia said that It was nice being part of it and of course, seeing many familiar faces too. (Photo credit: Maia Tanedo)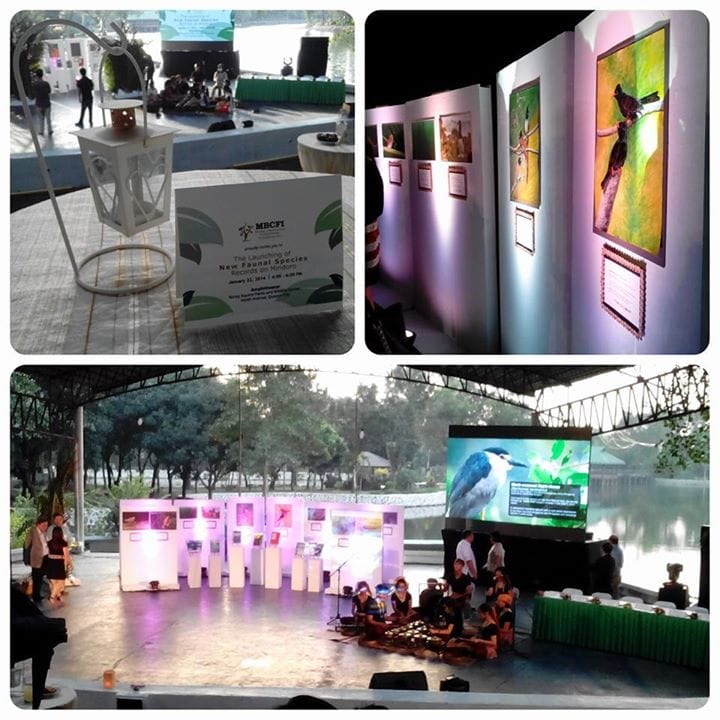 January 23, 2015 – AWC Malalag
Malalag, Davao del Norte
Conducted by DENR Region 9 and WBCP member Pete Simpson. 27,000 birds were counted.
January 24, 2015 – AWC Balanga
Balanga, Bataan
The Wild Bird Club of the Philippines joins the DENR and the Balanga City LGU in the Asian Waterbird Census today, Saturday, January 24, 2015. Born to be Wild host and WBCP member Doc Nielsen Donato will be covering the event for his show.
Gina, Lala, Christine ,Ternel and Tinggay decided to make a headstart the day before to do some leisurely birding in Bataan. Tinggay shared that enjoyed my birding this week-end having visited several sites in two day. Sadly, the count of these visiting waterbirds have decreased this year and is something worth looking into. (Photo credit: Cristina Cinco)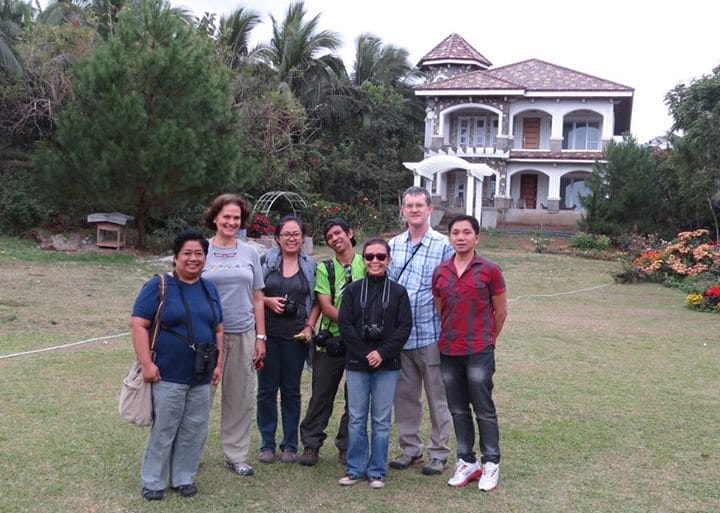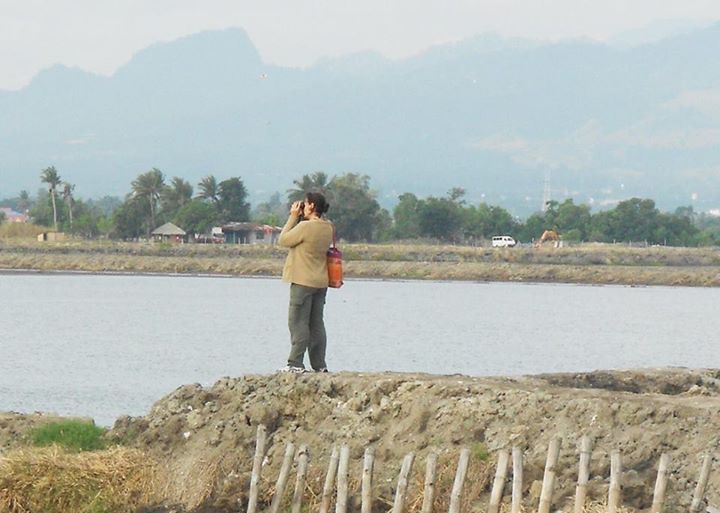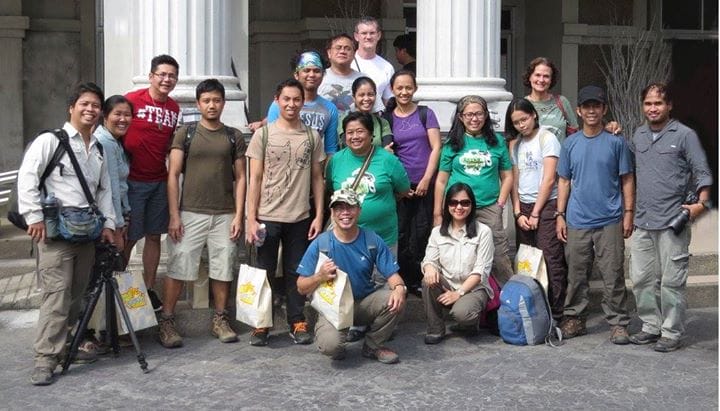 January 25, 2015 – Records Committee Meeting
The record's committee held its meeting to consolidate and resolve certain issues regarding the about to be released 2013 comprehensive Philippines' species list based on data gathered by WBCP. Assignments were also made for the consolidation of data entries for 2014. The Rarities Committee also met to validate unusual sightings in certain areas in the country to be included in the data base once it is approved. (Photo credit: Maia Tanedo)