by Trinket Canlas Constantino
---
WBCP and Anvaya teamed up to produce a beautiful, full-color photographic field guide to the birds of Anvaya Cove. 
---
The WBCP's long-time partnership with the Anvaya Cove Seaside Leisure Community has once again borne fruit: this time in the form of A Field Guide to The Birds of Anvaya Cove.
Anvaya Cove is Anvaya Land Premiere's first leisure development, located in Morong, Bataan. WBCP member Manny Illanna, Assistant VP and Senior Architect of Ayala Land Premiere, was actively involved in its planning and helped create an environment which nurtured flora and fauna. Several club trips and bird walks were held at Anvaya as early as 2009 with a pioneering training session for the staff headed by Manny and WBCP members Marites Cervero, Leni Sutcliffe and Alex Tiongco. In 2012, the Anvaya Recreation and Leisure Team, through WBCP member and Ayala Land Sustainability/Planning Manager Anna Gonzales organized regular quarterly birdwalks which have been led by several WBCP members for staff, guests and residents.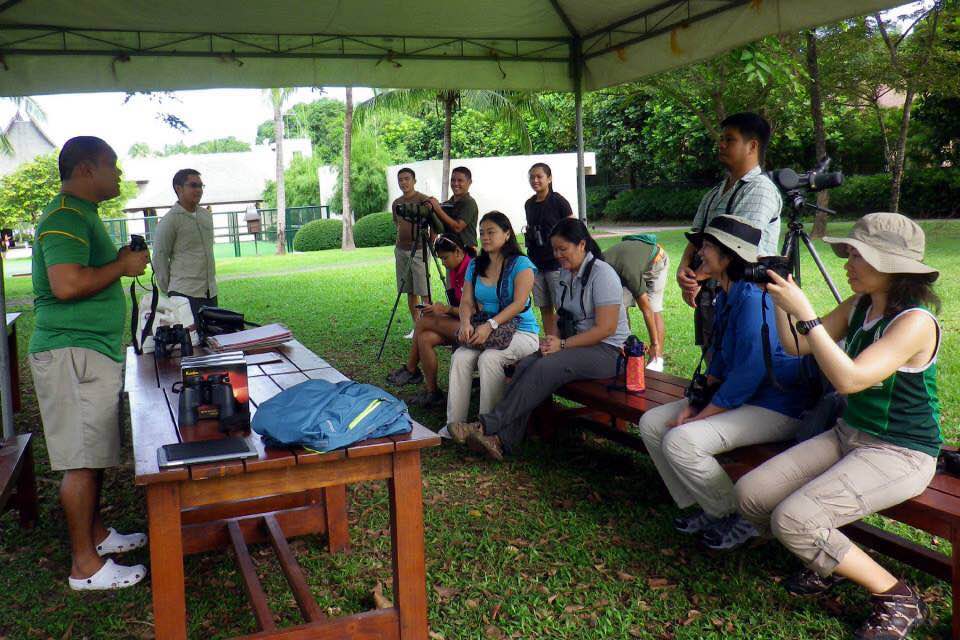 The continued close ties between the Anvaya staff and WBCP eventually led to a plan of coming up with a booklet which would highlight the birds of Anvaya Cove. It would serve as a field and identification guide for novice and experienced birders and nature enthusiasts and a monitoring tool for the staff. In September of last year, Kate Lim of the Anvaya Environment Foundation formally proposed the project to the WBCP execom on behalf of Anvaya's very supportive manager George Cadhit and the rest of the management team. The execom welcomed the proposal and the project team was quickly assembled. The team was headed by the super-efficient duo of Kate and Anna, who were joined by Adri Constantino and myself from the WBCP, Raymond Sandoval of the Anvaya Beach and Nature Club and Arlene Hatcha of Ayala Land Premiere. The talented Veronica Peralejo provided a wonderful layout and designed the final copy.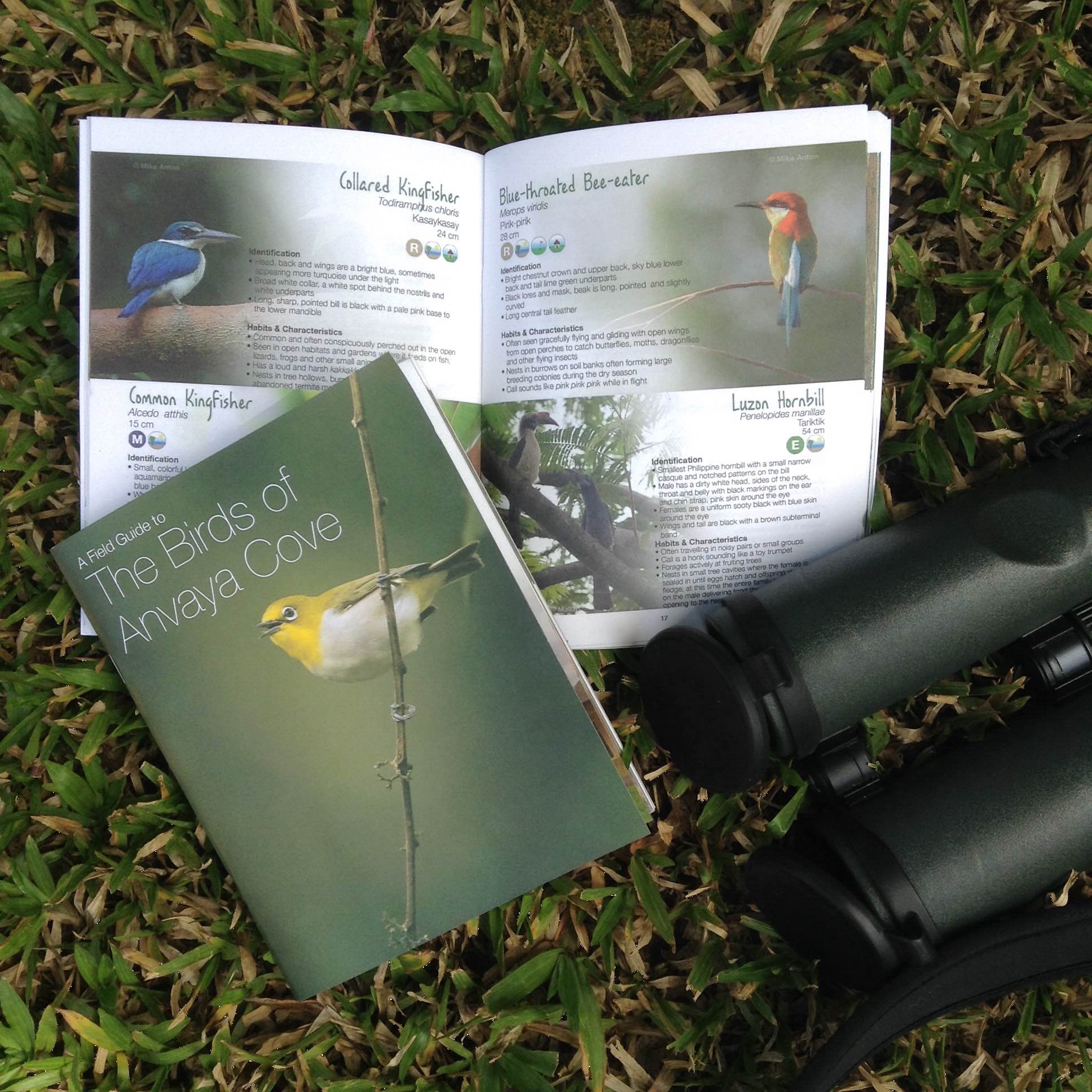 Most of the beautiful bird photographs in the field guide were taken on site by Mike Anton and Tina Mallari, both WBCP members and members of the Anvaya community. Other photos were taken by Manny Illana, Adri and myself. Raymond provided photos of birders in action at Anvaya. It was a challenge for the project team, ably assisted by the WBCP records committee and WBCP execom members Gina Mapua and Tinggay Cinco, to come up with a final list of birds to be included in the field guide.
After numerous run-throughs of the text and constant fine tuning of the final design, the field guide was pre-launched on January 3 at Anvaya. The Anvaya Environmental Foundation also plans to distribute copies of the booklet to other Ayala Land Units and to the Morong schools, LGUs and non-governmental institutions as part of environment management efforts, community engagement and sustainability awareness.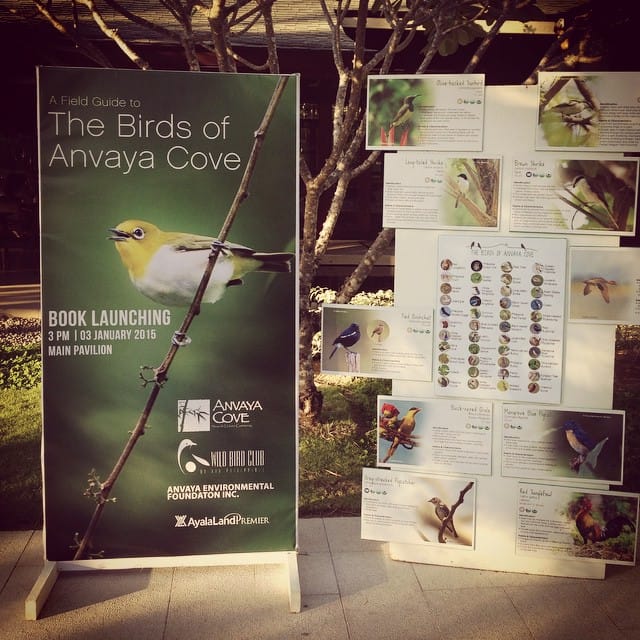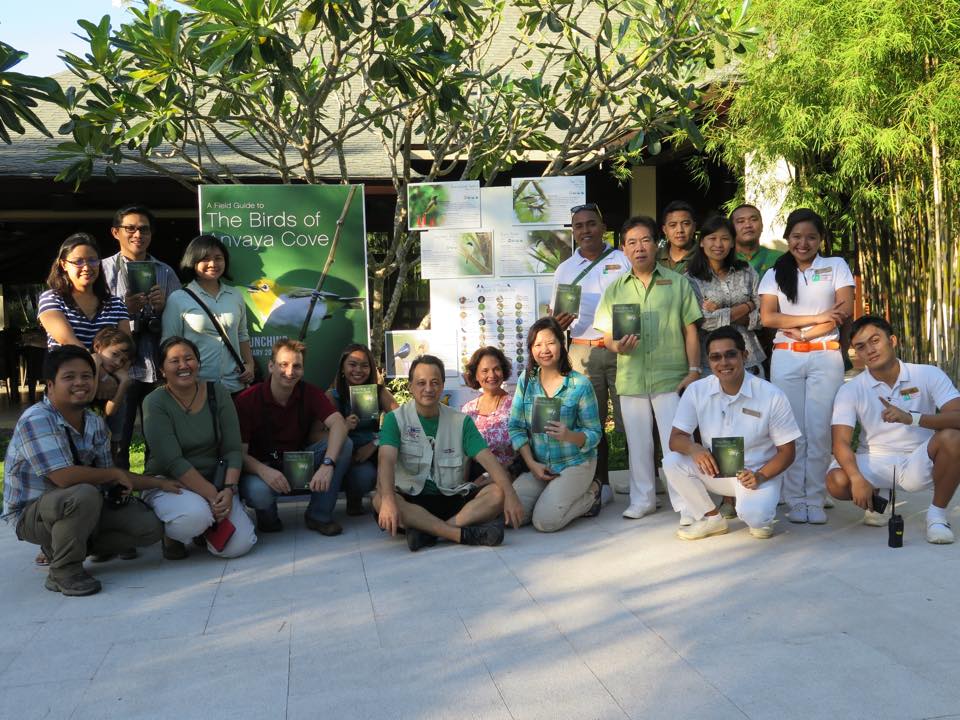 It was a pleasure and privilege to be part of such an exciting project and an energetic team. Hopefully the guidebook will not only promote birdwatching in Anvaya, but generate a genuine interest for the birds and their habitats and inspire passion for environmental conservation.
A Field Guide to The Birds of Anvaya Cove is another testimony to the dynamic partnerships of the WBCP. Hopefully, this sustained cooperation with private companies, local government units, government and non-government organizations, people's organizations and other civic-oriented groups will continue to bear fruit.
About the guide
A Field Guide to The Birds of Anvaya Cove is a compact, 46-page booklet which highlights 44 bird species found at Anvaya Cove. The field guide provides photos of these birds in their natural habitat, the birds' common, scientific and local names and a short description of their physical characteristics, habits and habitats to aid in identification. It also lists down suggestions of areas at Anvaya where one is likely to encounter the bird paired with a map of the entire property.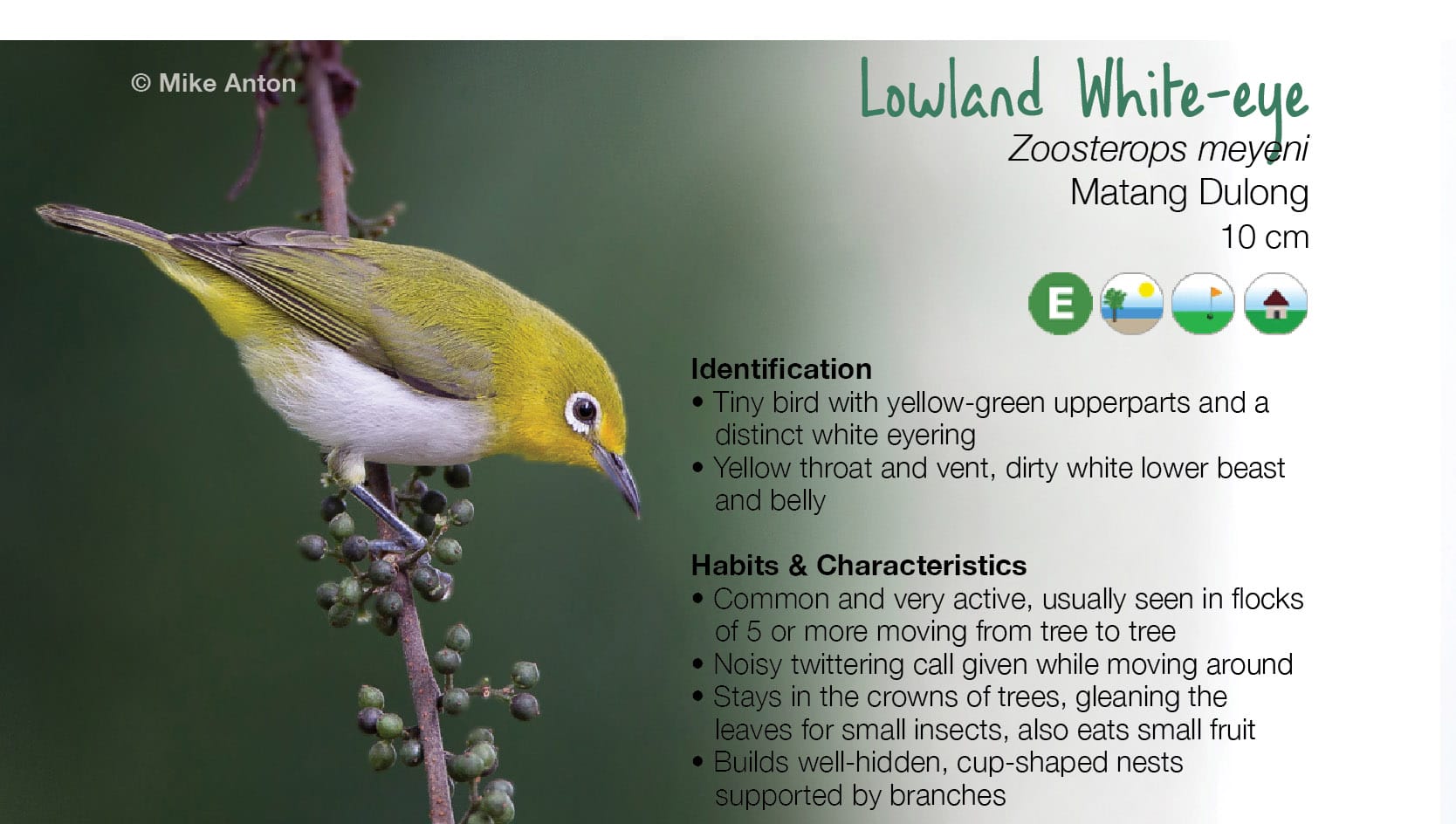 To aid novice birders, an introduction to birdwatching is provided, including birding tips and general information for bird identification. A short section on bird friendly gardens and "what to do" for nests and nestlings is also included. A checklist for the 81 bird species which have been reported at Anvaya as well as a short list of additional reading materials will hopefully further encourage readers to become active birders.
The field guide is currently available at the Anvaya Cove Beach and Nature Club Gift Shop. It is meant to be the first in a series of Anvaya nature guides published by the Anvaya Environment Foundation. Congratulations to the team and many thanks to Ayala Land group for coming up with this wonderful project!