by Kitty Arce
---
Two birders grab a chance to take a trip to faraway island on the off-chance that a bird that was reported two weeks before is still there. What they experience is the magic of being in a beautiful setting where wildlife and nature are valued and protected.
---
Birding, parenting, and a hectic work life is a crazy balancing act, but when it works out, you feel ready to take on anything. So when we heard rumours about a Beach Thick-Knee wandering on a beach somewhere in the Visayas, a friend and I grabbed the opportunity to go see it.
Negros Occidental – here we come. Some quick phone calls and a few emails later placed the bird on Danjugan Island, 4 hours south of Bacolod City. No-one had reported the sighting since the first report 2 weeks previously but we decided to take a chance.
Tibsoc, the Philippines' increasingly well-known wader site, was on the way so a day on the mud flats was a must. After a day of sun, blue skies and wheeling flocks of waders, and a delicious home-cooked lunch by Faith, Tibsoc's excellent and essential coordinator for birding visits, we jumped into the car and headed south.
After a drive through sugarcane fields and small villages, we arrived at the drop off point to Danjugan. From here we waded out to the boat, and minutes later were heading across the ocean to a hilly island ahead, the sun setting over the ocean.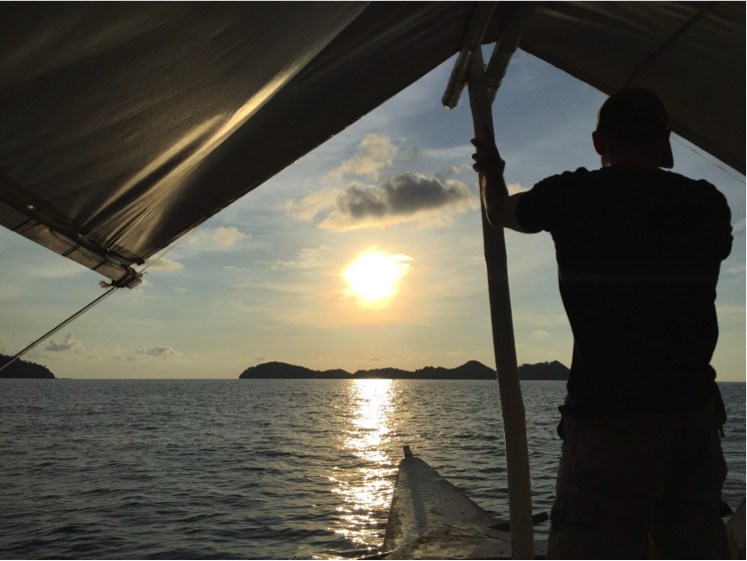 As the boat glided through the shallows and the engine cut, we eased in to a small cove of clear blue waters. The peace and quiet of the evening descended. From here it was a 15 minute walk across the island to the accommodation at Typhoon Beach. The trail is well kept and an easy walk, and our guide Uwa filled us in on the natural history of the area. Emerging out of the forest and walking along the beach to the cabins, it was dusk, with a magical sunset reaching out over the ocean. We walked along the beach stopping a few times to just take the beautiful view all in. Uwa told us that turtles used to lay eggs on this beach, and they are hoping that they would be back someday.
A warm welcome awaited us at the cabañas, where by chance the president and founder of the The Philippine Reef and Rainforest Conservation Foundation, Inc. (PRRCFI),Gerry Ledesma, and his family, were also staying. Within minutes of arriving we were handed a glass of red wine and settled into comfortable chairs in the open dining area which looks out over the ocean. We hadn't known what to expect on this trip, but it was quickly becoming a luxury birding trip indeed!
After settling in, we enjoyed a nice meal, and evening with the people behind Danjugan and learned so much from them.
PRRCFI was established to manage and operate the Philippine Reef and Conservation Project on Danjugan Island. To make this possible, the foundation purchased the island with funding from the World Land Trust for the sole purpose of protecting it and restoring it as it was threatened by illegal and over fishing, mining, and even poaching. One of the priorities of PRRCFI is environmental awareness therefore, conducting regular environmental education programs and marine wildlife camps. It is a unique classroom for anyone, including young children to learn from. It is a great wildlife research and education center. The foundation is doing its best to work closely with the community as this is one of the most crucial elements in making Danjugan Island, as well as the surrounding environment continuously protected. The same community is also possibly their no.1 challenge as there is not much governance on the environment coming from the mayor of the town where Danjugan is located. But the people of PRRCFI, led by Gerry are committed to take on this challenge.
This probably explains the good energy you get while on the island. The healing island energy, and the energy you get from people striving hard out of love to protect nature is pure.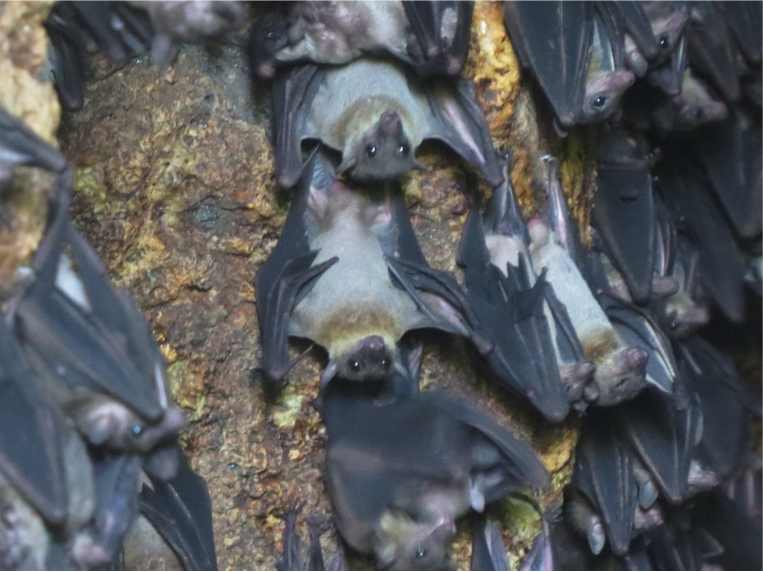 A walk on the beach under the stars did not find any turtles, although we startled a few Barred Rails at the top of the beach. It's been a while since I was in a place with no electricity of engines, and the starry sky and sounds of nature were wonderful.
5.30 am – up to look for a thick-knee. After a short walk along the beach, we kayaked around a rock outcrop, pulling in gently and continuing our walk. Almost immediately we saw the thick-knee, which gave a short alarm call, then flew out in front of us. What a fantastic bird! Walking a little further, we waited until it emerged from the edge of the beach forest. It seemed nervous, so we didn't move, and just quietly observed. After a while of us watching it and it watching us, it apparently decided we were harmless enough, and suddenly sat for a quick rest and preened! Enthralled, we watched it for the next hour.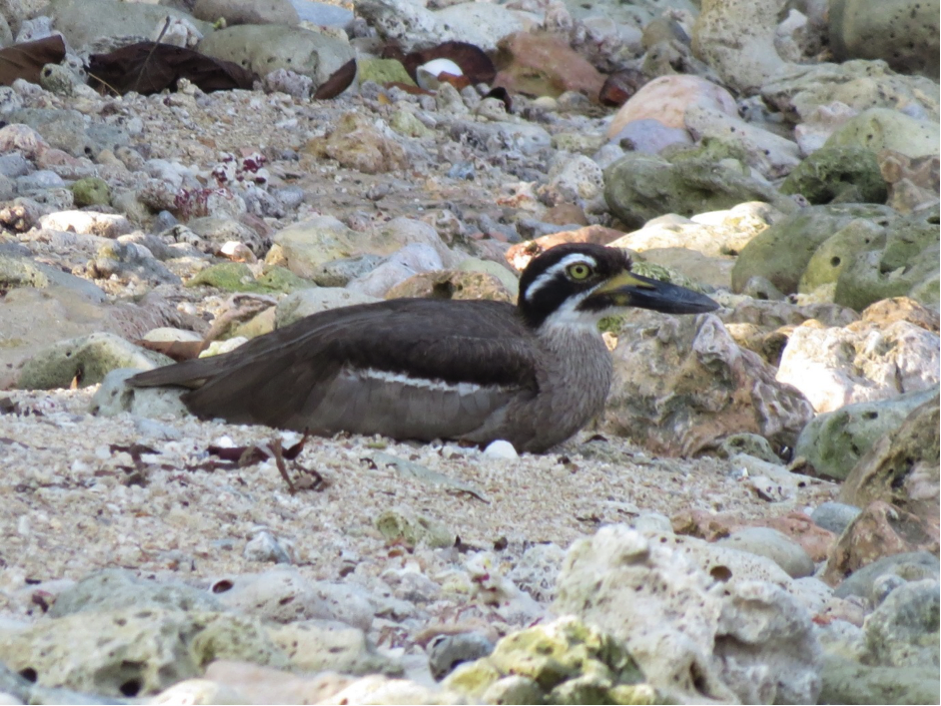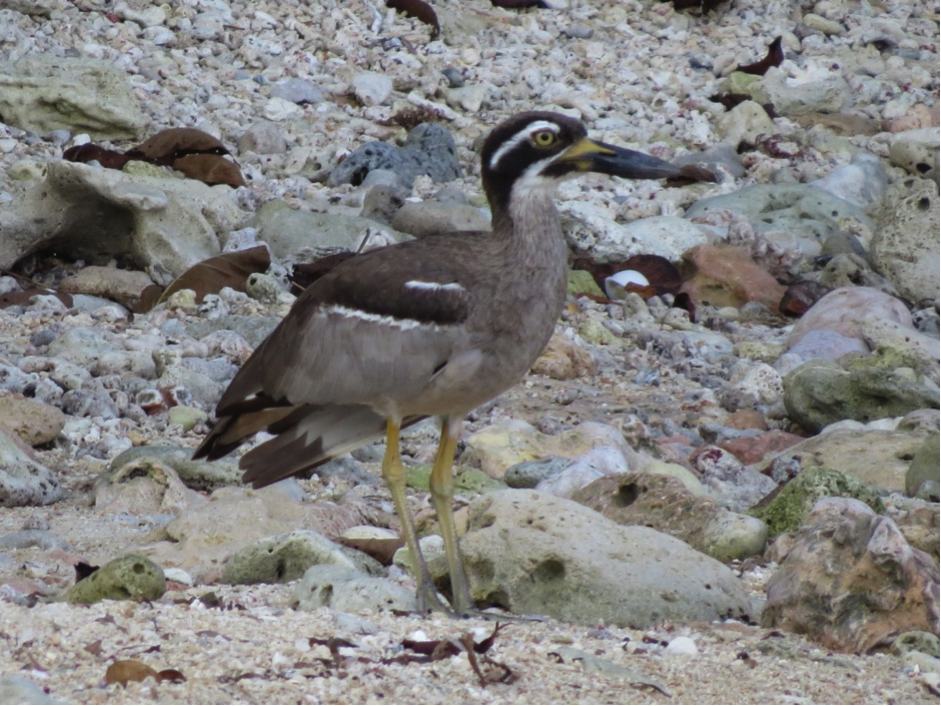 Back at the cabañas we celebrated with a hot breakfast, and sitting at the Nudibranch Bar, a cocktail which was immediately christened the Beach Thick-knee! A must-have for future birding visitors. A few hours of kayaking, snorkeling, and another cocktail or two had me convinced this is how all birding trips should be!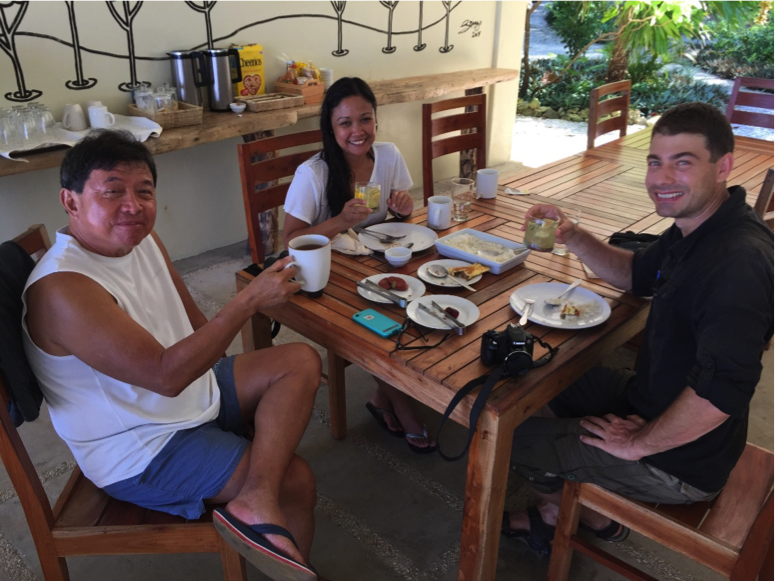 Seeing this beautiful, rare bird, at rest in its natural habitat, was a truly wonderful experience. We gave it lots of space and were careful not to approach too closely. This individual, now seen by many club members, appears to be the only known bird so far on the island. It is one of the first documented records for this species in the Philippines for many years. Beach Thick-knees need (surprise) beaches, for nesting and foraging. Yet this very habitat is also one of our proudest natural assets and a centerpiece for tourism. Beaches are increasingly populated by tourists, and as a ground-nesting bird their eggs are vulnerable to predation from dogs and rats. It is widely distributed, but uncommon, across Australasia, and no-one knows how many thick-knees occur in the Philippines. On Danjugan, a small but highly committed group of staff are looking out for this species and the other fauna and flora of the island. Your visit will help support the protection of its biodiversity, and with time, who knows. There might be baby thick-knees around too!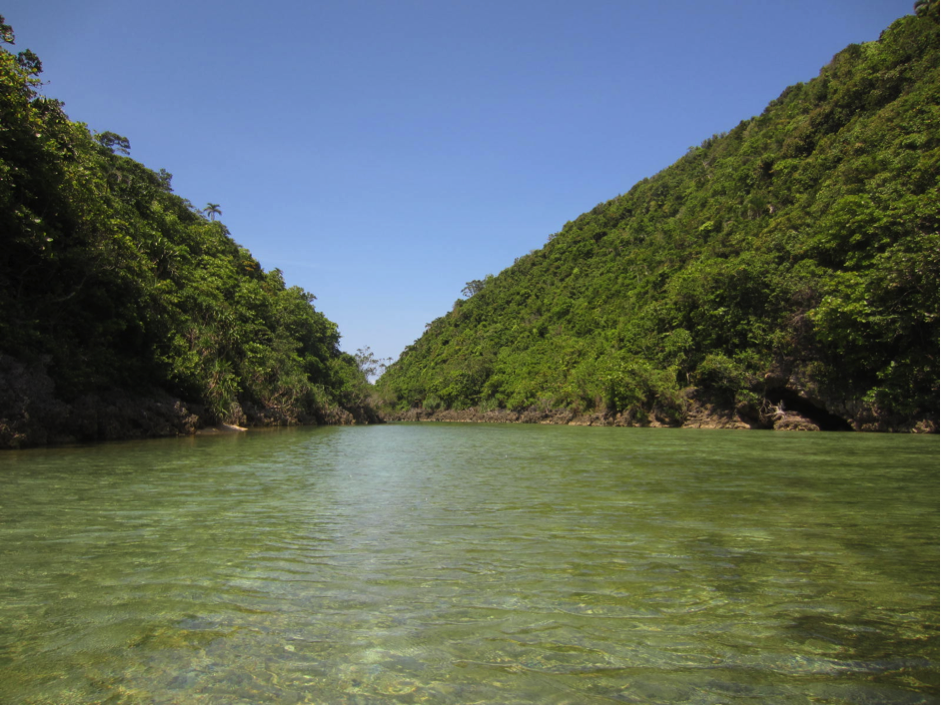 Useful information on Danjugan: Island Manager is Dave Albao,0915-2347145. You may also visit their website at www.danjuganisland.ph. Accommodations are from P2950/night/person including meals, and drinks except alcohol.