Caylabne Birding
by Gwen So and photos by John & Beng Ricarte
I desperately needed a break, so when Gina Mapua issued an invitation to birdwatch in Caylabne Resort on April 21, Saturday, I arranged for a sub (I'm the main teacher in my own language center) and signed up.  At first, I was apprehensive because I didn't know anybody on the list but Gina assured me it was a fun group.  It was also the club's practice that those without cars can hitch a ride and she did the assigning.  It was time to cut the apron strings that made me dependent on Mike Lu since he's the only one I knew and would join only when he's around.  Besides, in December, I took the plunge and got my own heavy-duty bins.  I and an MJ Bugante were assigned to a Russ Andaya and we agreed to meet at 4:15am with Russ's friend Tim following us in his own vehicle.  We were all strangers but during the 2-hour trip, with Broadway music in the background, we were talking and laughing as if we already knew each other.  Good start!
As we neared our destination, we spotted so many birds on electric wires, some flying into our line of vision, so I kept stealing glances at Russ to check if his eyes were still on the road… that is, until low-flying Brahminy Kites made their appearance!  My companions are not newbies like me but they were just as fascinated seeing the beautiful russet wings in stark contrast to the white head and breast.
On the last stretch of road to the resort, I noticed we were the only vehicles.  It was then that I found out Caylabne is not open to the public!  I feasted on a magnificent view of the ocean as we gave the guard our names.  It was about 6:30 am.  Upon entry, I saw a sign that said eagle viewing area.  Strange.  Only eagles?  Anyway, our car followed a path and we passed several monkeys lounging by the road.  Our windows were open and just to be sure I stopped munching on my sandwich (care of MJ).  Further along we saw the others.  I thought we would be climbing or trekking but apparently birding commences already on the road to the clubhouse.  Well!  That's easy!  I got out of the car and my head jerked seeing sudden movement on the tree to my left.   It was big and black… and then nothing.  The next thing I knew it was on the right – a female Luzon Tarictic!  I forgot my sandwich.   Showtime! A male Luzon Tarictic was also spotted that day.
There was a body of water to the left and I saw two White-Breasted Water Hens.  I stayed with Gina for a bit watching her squat on the ground perusing dung.  I think I'll pass.  I saw a lot of medium-size black birds flying to and fro and heard alien terms from my companions:  Balicassiao and Shama.  Gina and the others were identifying birds through their calls, something I can't quite grasp yet but I'll get there.  Anyway, I did have my first glimpse of Balicassiao, wow!  While training my binoculars on what I thought were more Balicassiao, what popped into view was a black bird with pink a la Phantom of the Opera mask – Coleto!!! I've been wanting to see one and felt like screaming!  During my first birding experience, I made the mistake of screeching upon seeing 4 or 5 pied fantails for the first time (yes, back then I thought all birds were mayas) and they all disappeared.  This day I saw two Coletos and I wanted to burst into joyful song but instead I flailed my arms and did a shake your bon bon routine to release all that kilig!  Later, my BirdMaster M. Lu would reprimand me because what I did would have scared the objects of my fancy.  Party pooper!  Ok, ok, he's right.
Here is my list:  Philippine Pygmy Woodpecker, dozens of Brahminy Kites, Gray-Rumped Swiftlets, White-breasted Woodswallow, Bar-Bellied Cuckooshrike, Black-Naped Oriole, Large-Billed Crow,  Philippine Magpie Robin, Eurasian Tree Swallow, Stripe-Headed Rhabdornis, Pacific Swallow, Whiskered Tree Swift (this one is cute as a button), and Philippine Bulbul.  We had a total of 44 species but these were all I saw.  I'm still stoked though because most of them were lifers wheeee!
I stayed mostly with MJ, Russ and Tim. The guys had bazooka cams and I enjoyed seeing the images they captured.  Russ got a photo of a tail-less Yellow-Vented Bulbul! We scrutinized it and that part of its anatomy really wasn't there!  We even showed it to Juan Mesquida and Dieter Reichert who confirmed the anomaly.
About this time, I reminded MJ we should be heading to the clubhouse for lunch.  I mean, all we needed to do was stand in one spot patiently waiting and we were rewarded for it.  My soul was giddy and satisfied at the number of species we encountered.  MJ let out a guffaw and in between chuckles she blurted "Gwen, it's only 8 o' clock what did you think?!!"  Hah!?
Ok, I guess more birding is in order.  So Juan and Dieter joined us around mid-morning.   The Brahminy Kites were really putting on a spectacular show and as I watched, it suddenly occurred to me that one of these things is not like the others!  Juan identified it as a Chinese Sparrowhawk whoaaaa!  It soared low enough for us to see it in all its glory.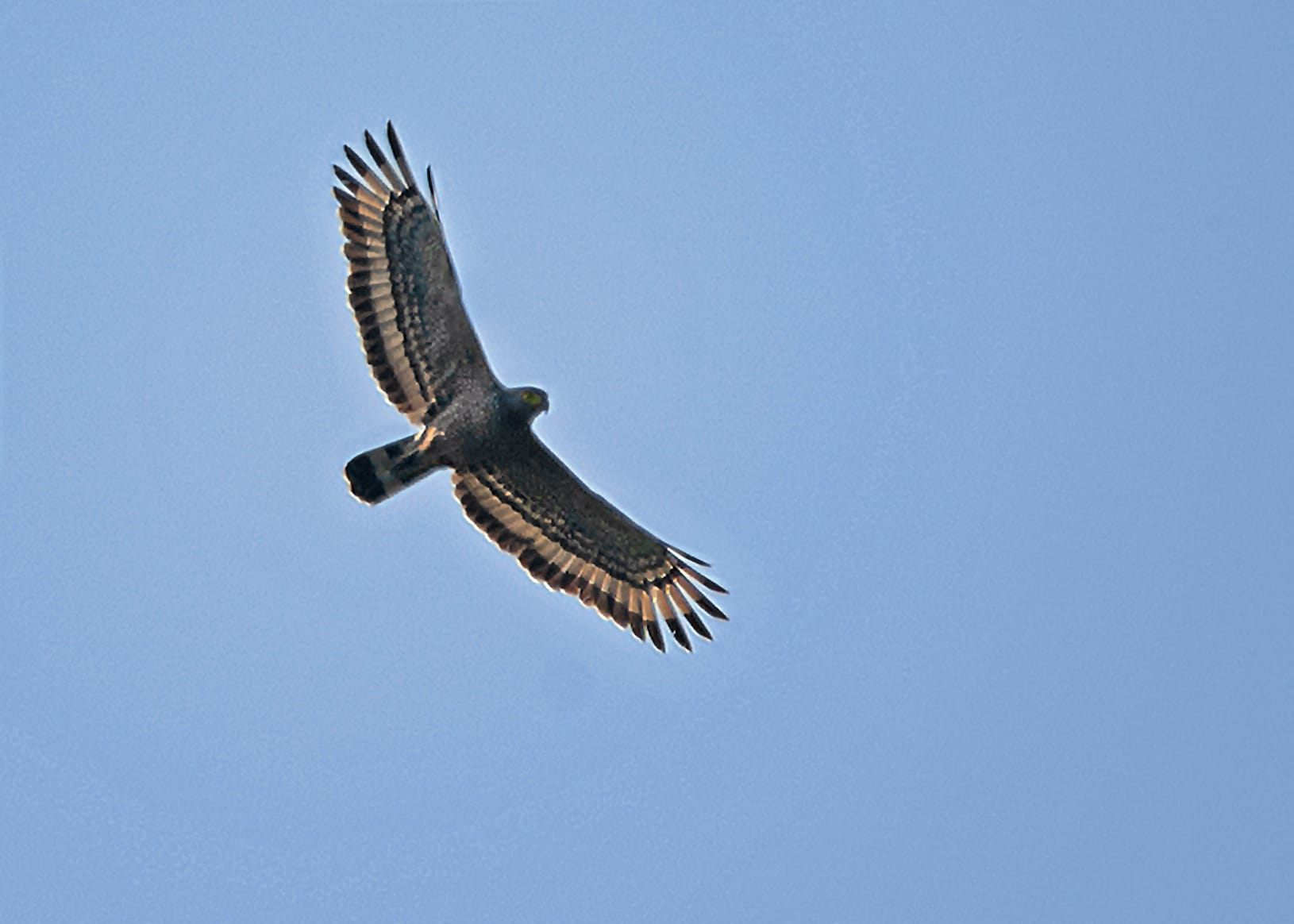 Let me just say something about woodpeckers.  Two years ago when Mike told me we have them I thought he was joking because I've always thought they were American. Well, he showed me one and that was certainly a revelation! I can't distinguish bird sounds but pecking I can!  So on this trip we already spotted a Philippine Pygmy Woodpecker and were eager for more. Maybe a Sooty?  Then we heard it…. tok, tok, tok.  We froze in our tracks as our eyes scanned the trees, ears perked up like dogs on a scent…tok…tok…tok…TOKOHHH!  Drat!!! We burst into peals of laughter hahaha!
Time passed and someone made the call to go to the clubhouse.  The view of the sea there was breathtaking!  We could see Corregidor Island and Fort Drum. Aside from us, there were some hobby fishermen and their family, but that was it. We basically had the place all to ourselves!  The pool and beach looked inviting but I didn't feel like taking a dip.  I preferred sitting with the others and listening to their stories.  MJ has held a Philippine Eagle chick how cool is that?!!  While chatting we snacked on our baons and pizzas from the clubhouse's wood-fired oven.  I filled my lungs with the air here willing my pulmonary sacs to be cleansed of the grime of urban Manila.  Then, Riza Melicor took out a thick white book.  Gasp, could it be?  Yes!  It was the Kennedy Guide!  I had just found out about its existence and ordered a copy but haven't seen it in real life. I swear a Hallelujah chorus went off in my head la la la la!
Lunch was at 11:30am.  For 500 bucks, we had 2 pieces of fried chicken, rice, fried talakitok care of the manager, and iced tea.  It was too hot for birding and people wanted to go home already but there was one thing more that had to be done – consolidating our lists.  I have never been involved in one before so I watched intently.
Now, the downside.  I was soooo bummed at what I missed:  Hiding behind some foliage quite near the clubhouse was a pond that had 200+ Philippine Ducks! They wouldn't be back until late afternoon but we were already leaving waaah! I would have wanted to see the Rough-crested Malkoha and Sooty Woodpecker the others in the group saw too.
However, I can't complain.  I saw birds whose names I've never heard of and met really nice people.  I've made a new friend in MJ, I think Tim has decided to join the club, and Russ? Well, it was quite hilarious that his baritone speaking voice and heh-heh laughter sounded exactly like my brother-in-law haha.   Birds and new friends – ah, a day off to remember!