Fraser's Hill International Bird Race 2018:
A Newbie Birder's Experience in the World of Competitive Birding
by Redi Mendoza
Located in Peninsular Malaysia, Fraser's Hill is one of the most popular birding spots in Southeast Asia. It is a former hill retreat used by the British during colonial times as a respite for the hot, humid climate of the tropical region. With its famous clock tower at the center of the town and a line of Tudor-style bungalows, it has been aptly touted as the "Little England" of the country. But also because of its elevated location, its tropical forest has become the favored habitat of montane and submontane birds.
With such perfect setting, the resort town has been hosting the annual Fraser's Hill International Bird Race for 31 years now. Fifty-four teams in 3 categories (Advanced, Novice, and Students) participated, coming from the Philippines, Cambodia, Myanmar, Sri Lanka, Singapore, and Hong Kong.
The WBCP team was represented by team captain Ruth Francisco, Cebu-based Maria Suga Dioko and I. Due to geographic constraints, our planning for the race was done purely online: communicating via Facebook and sharing Google documents and calendars. But we have also decided to go to Fraser's Hill two days before the official registration date to get acquainted with the place and its winged inhabitants.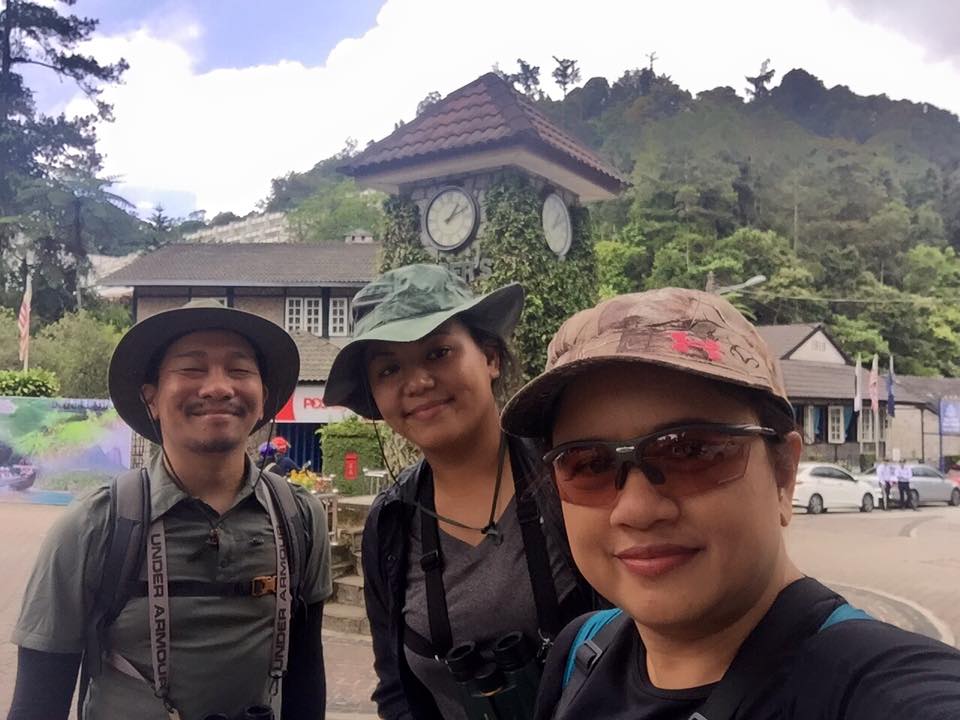 On our first afternoon, we birded on the road going to Telekom Loop where lots of bird sighting have been reported. Just across our hotel, we already saw a Streaked Spiderhunter, and the common but beautiful Silver-eared Mesia. We encountered several flocks of Long-tailed Sibias flying by while walking.
We haven't reached more than 200 meters when we saw a Chestnut-Capped Laughingthrush, followed by a quick appearance of the Ferruginous Partridge. Suga, the only one in the team who had birded in Fraser's Hill before, suggested that we go up to the yard of one of the chapels because of the higher vantage point it offers. There we encountered several babbler species. Darkness was creeping in so we decided to skip Telekom Loop and called it a day.
The next morning, we went to a man-made lake to look for some kingfishers and other species living near bodies of water. That proved futile so we went to an abandoned hotel where the Fire-Tufted Barbet is often spotted. The area didn't disappoint because we easily saw it, plus a Mountain Bulbul in a nearby shrub. Then on our way back to the hotel, a large bird was gliding and we were able to identify it as the Crested-serpent Eagle.
As if we were really meant to see more of our feather friends, the power interruption at the hotel forced us to take the stairs, where the windows gave us a good view of a pair of Grey-chinned Minivets, Blue Nuthatches, and Oriental Magpie-robins among other birds—all resting on a tree at the often overlooked parking lot. We called it our magic tree and promised to return to it during race day.
After checking out from the hotel, we went to Hemmant Trail and Bishop's Trail, two popular birding areas in Fraser's Hill. Right after we entered Hemmant Trail, it started to rain. We took cover in one of the observation sheds and a Rufous-browed Flycatcher appeared.
When the skies finally cleared, we headed off to Bishop's Trail to look for the Long-tailed Broadbill reported to be building a nest. But we failed. Instead we encountered a snake and the largest millipede I have seen in my life!
Sure we've seen some amazing lifers but we were not satisfied with with the number of species we spotted on the locations we visited. We had to plan carefully because it was almost impossible to cover the whole of Bukit Fraser within 23 hours by foot. This was the first time that the race prohibited any form of transportation. So we decided to go to Telekom Loop because most of the species we encountered before the race were also reported to be in the 10-kilometer loop.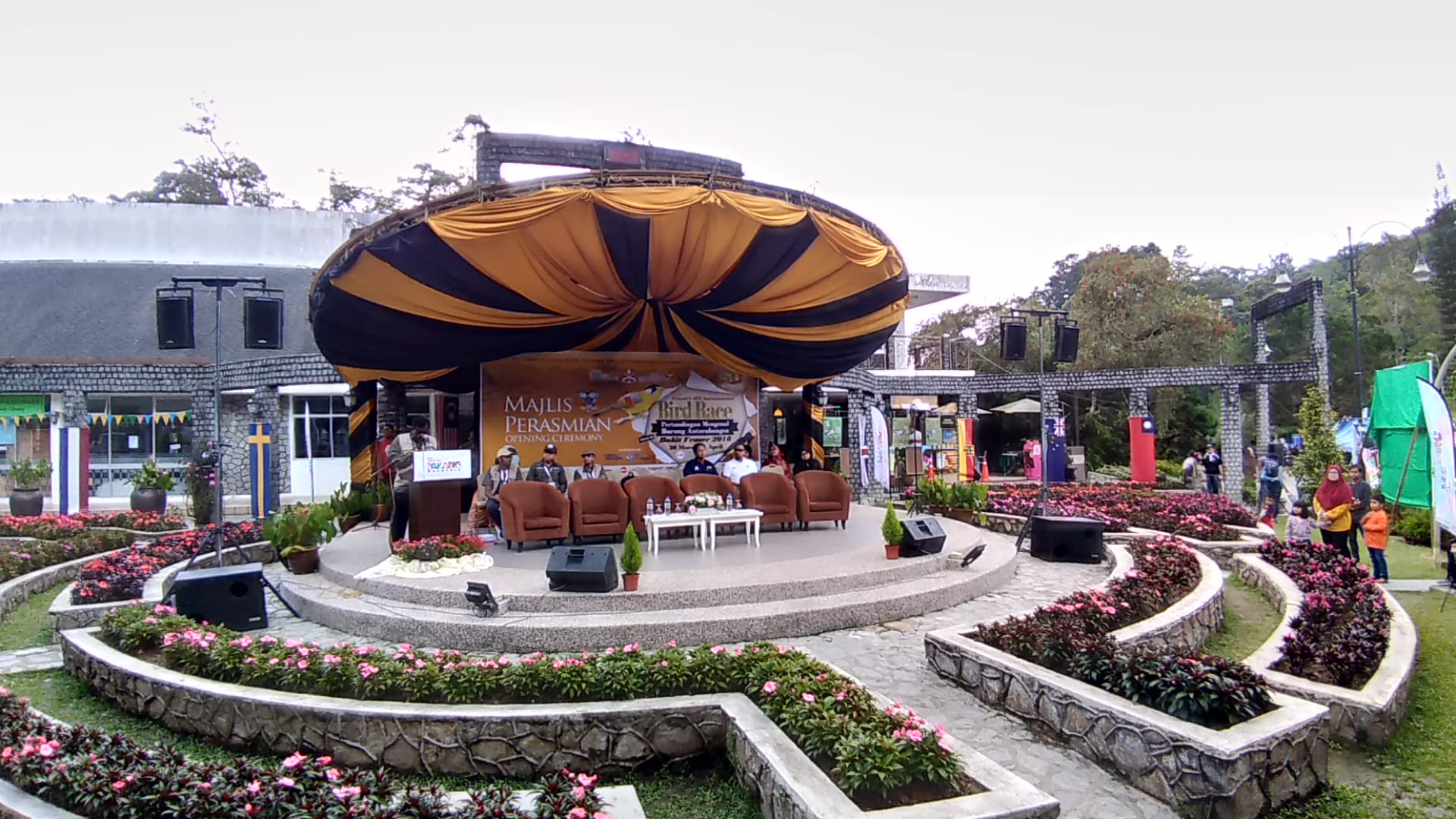 Game day and we made sure that not single time is wasted. When the race officially started, we dashed to the magic tree in the hotel so we can tick off some of the common birds. The Minivets, Sibias, Spiderhunter, Laughingthrush, and the Nuthatch were there. We were able to tick off a lot of the common birds even before Telekom Loop except for 2 common Philippine residents that we saw the previous day: the Yellow-vented Bulbul and the Brown Shrike.
We were first to get to one of the check-points and enter the route to Telekom Loop. After the Marshall stamped our booklet, she told us "Don't forget your friend." She was referring to a brown dog that looked like he was waiting for us. The dog started following us to the trail. At first we were afraid that he might scare the birds away but he was so gentle that we even gave our birding guide dog a name: Malik.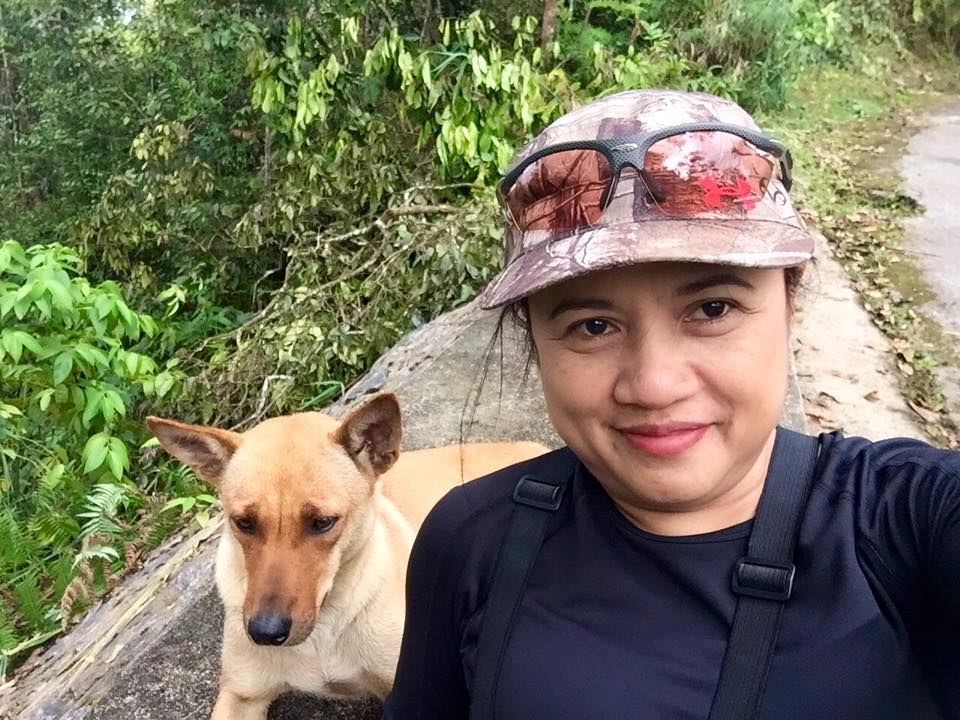 We didn't want Malik to flush out birds so we just kept him near us and he walked with us very calmly. We already had more or less 20 species by then but new bird spotting was becoming more difficult. After walking a few kilometers, we passed by a vacant resort. It was closed, with no other racers around, so we decided to have a little rest outside.
Even before we were able to sit, some Sibias and Laughingthrushes landed. We took out our binoculars and found that there were a lot of birds on that spot. We spotted a Red-Throated Barbet and Black-Browed Barbet among other species. Moments later, a yellow and green bird appeared with a long blue tail— finally, the Long-Tailed Broadbill!
A Mugimaki Flycatcher and a pair of Black-throated Sunbirds also showed, and our lifers quickly piled up. We stayed there for just about an hour but we were hearing other birders getting excited on the main road. Maybe they saw the broadbill too! We quickly continued the hike so we could be back to the town center before dark.
Along the way, we chanced upon an abandoned shed. There were things flying in and out of the shed. At first, I thought they were bats. Upon closer inspection, the shed housed dozens of swiftlet nests. I haven't seen a swiftlet up close before because they seem to never perch.
We finished the loop before sunset and at the end of Telekom Loop, we spotted two Red-headed Trogons, Ruth's target lifers in Fraser's Hill. We also saw a Black-and-Crimson Oriole on the way back. We had a total of 31 species on day 1 of the race.
We got back to town center and ate our dinners so we could prepare for the presentation night, where all international teams took turns in discussing various topics. For WBCP, Team captain Ruth presented the Philippine Asian Bird Festival that will be held in May in Tacurong City.
The next day, hours before sunrise, we were already hiking. Ruth suggested that we should go to the lowest point of the trail. That meant the Old Gap Road which is near the Pahang-Selangor border. That way, our chances of seeing different species was better.
During the morning hike, we encountered a Greater Raquet-tailed Drongo, then a Bronzed Drongo, then a Lesser Raquet-Tailed Drongo, all feasting on some insects around the area. It was a drongo-spree! Swifts and swiftlets started hovering the sky, too. We continued our descent from Fraser Hill and spotted some Sultan Tits, Ochraceous Bulbul, Black-Crested Bulbul, Hill Blue Flycatcher, and a Malaysian Blue Flycatcher. On the fifth kilometer mark, we decided to come back to the city center to make sure that we could submit our booklet on time and prevent any penalties.
On our way up, we saw more species including the Bar-winged Flycatcher-shrike and Black-winged Flycatcher-shrike.
At the town center, we were able to add some more species in our list including the Yellow-vented Bulbul and Brown Shrike. We submitted our booklet with a few minutes to spare, and there we concluded the race at 61.
Everyone was excited for the results as the arbiters reviewed the lists of the teams. While waiting, I was reading a blog entry saying that teams have a fighting chance of winning the Fraser's Hill Bird Race if they get to 60. I was hoping for a podium finish since we got 61.
But all the teams upped their game and all the podium finishers were above the 70 mark. In the end, we placed 7th. We were the first one to be awarded and each one of us got a goody bag with the best Malaysian products. The race may have ended with its ranking, but nobody's really at the losing end with more than 50 birds added on his life list and a new birder friend, like Malik.