Return to Paradise: Senator Ninoy Aquino, Sultan Kudarat
by Forest Jarvis
Ever since my first visit to the forests of Barangay Kuden in the municipality of Senator Ninoy Aquino, Sultan Kudarat, I've been itching to go back. Located in south-central Mindanao, Senator Ninoy Aquino still holds surprisingly large expanses of pristine forest clinging to the limestone mountains. Even better, Barangay Kuden is below 1000 meters above sea level, meaning that it still holds primary lowland forest, the rarest of environments in Mindanao, where natural areas are disappearing even faster than in Luzon.
Thankfully, I had a free weekend in late April, so I got in touch with my contacts in the LGU of SNA, who were happy to help out and learn more about birdwatching as a potential tourist activity there. Also joining was Emelie Jamorabon, the tourism operations officer of Tacurong City, who's done wonderful things to promote birdwatching in Region XII. Thanks to coordination with the LGU, we were able to get a hold of a 4×4 vehicle for navigating the rocky roads of Barangay Kuden- much more comfortable than the habal-habal I used the first time!
We arrived in SNA in the afternoon of Saturday, April 21, just in time for the daily rain shower! I checked in with the police chief of SNA- always necessary when visiting the area!- then we moved on to the Kuden barangay hall. Kap Marzo, the local barangay captain, has been an incredibly useful resource for birding in SNA, as he knows a bit about the local birds and is happy to show people around his barangay. By the time we'd finished with our courtesy calls and getting settled in, it was already dark, so we settled for an excellent dinner of fish and vegetables. There's a very nice little inn in SNA proper, but we elected to sleep in the barangay hall, as it's much closer to the birding site and saved us a long drive on bumpy roads in the early morning.
The next morning, we started bright and early at 4:30 in the morning, so we could arrive at the birding site by sunrise. We were joined by Mary Jane Peroy of the mayor's office, who was interested in learning about birding first-hand, as well as a couple of other LGU staff and a small police escort. I brought some extra binoculars from the Davao chapter of the WBCP- all we needed were some good birds! Thankfully, SNA always seems to deliver in the "good bird" department.
We stopped just before sunrise on a hillside near a small village, where I'd seen hornbills and imperial pigeons on my first visit. This time, there were no imperial pigeons, but a beautiful flock of Southern Rufous Hornbills was there in the same place it had been the last time, showing off beautifully in the sunrise light (though unfortunately always backlit). Along with the hornbills, we also started the morning with great views of Black-naped Orioles, a Philippine Pygmy Woodpecker of the more colorful (and less common) fulvifasciatus subspecies, and a Hair-crested Drongo, likely to be split to become Short-tailed Drongo, a Mindanao endemic.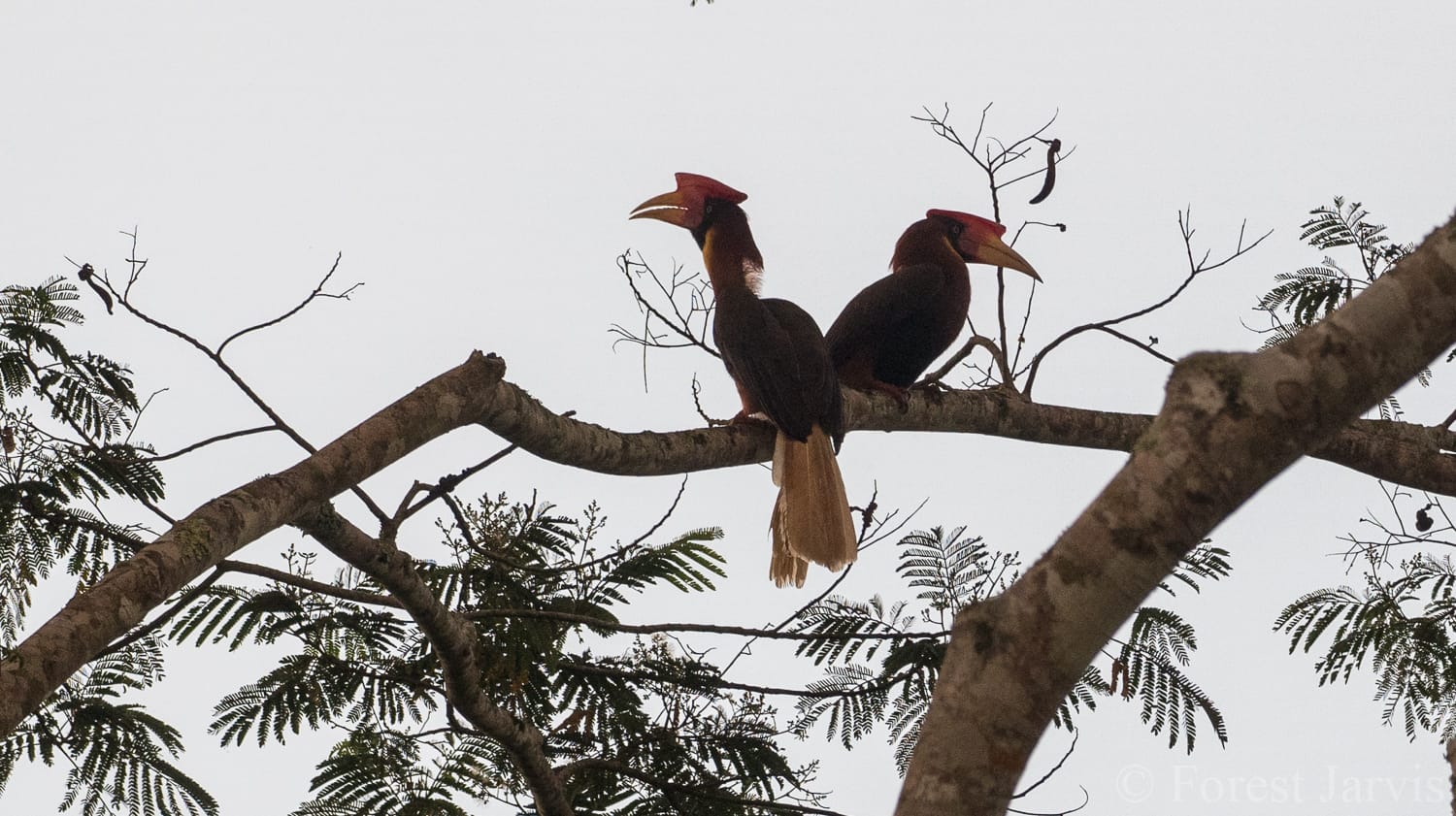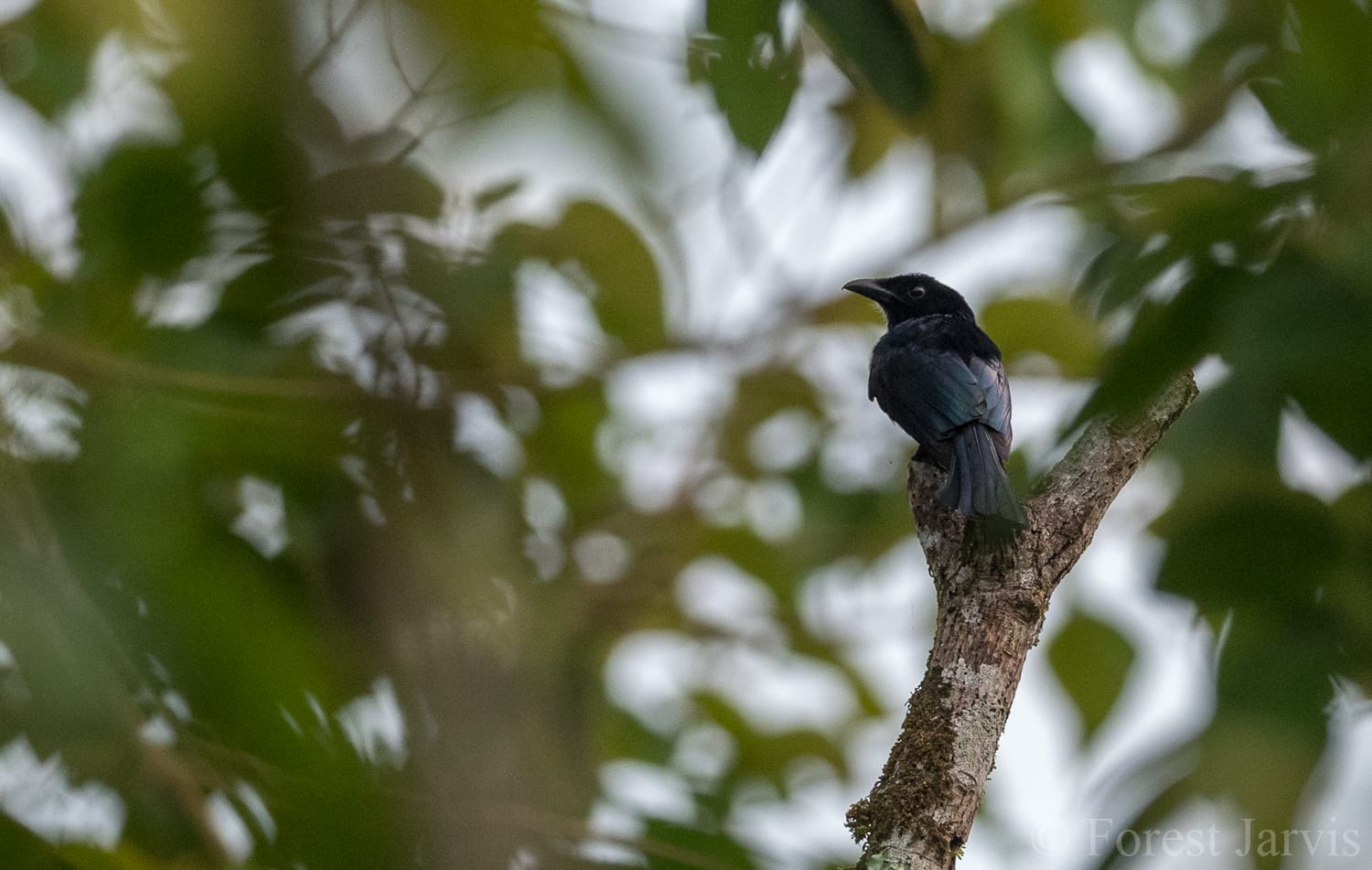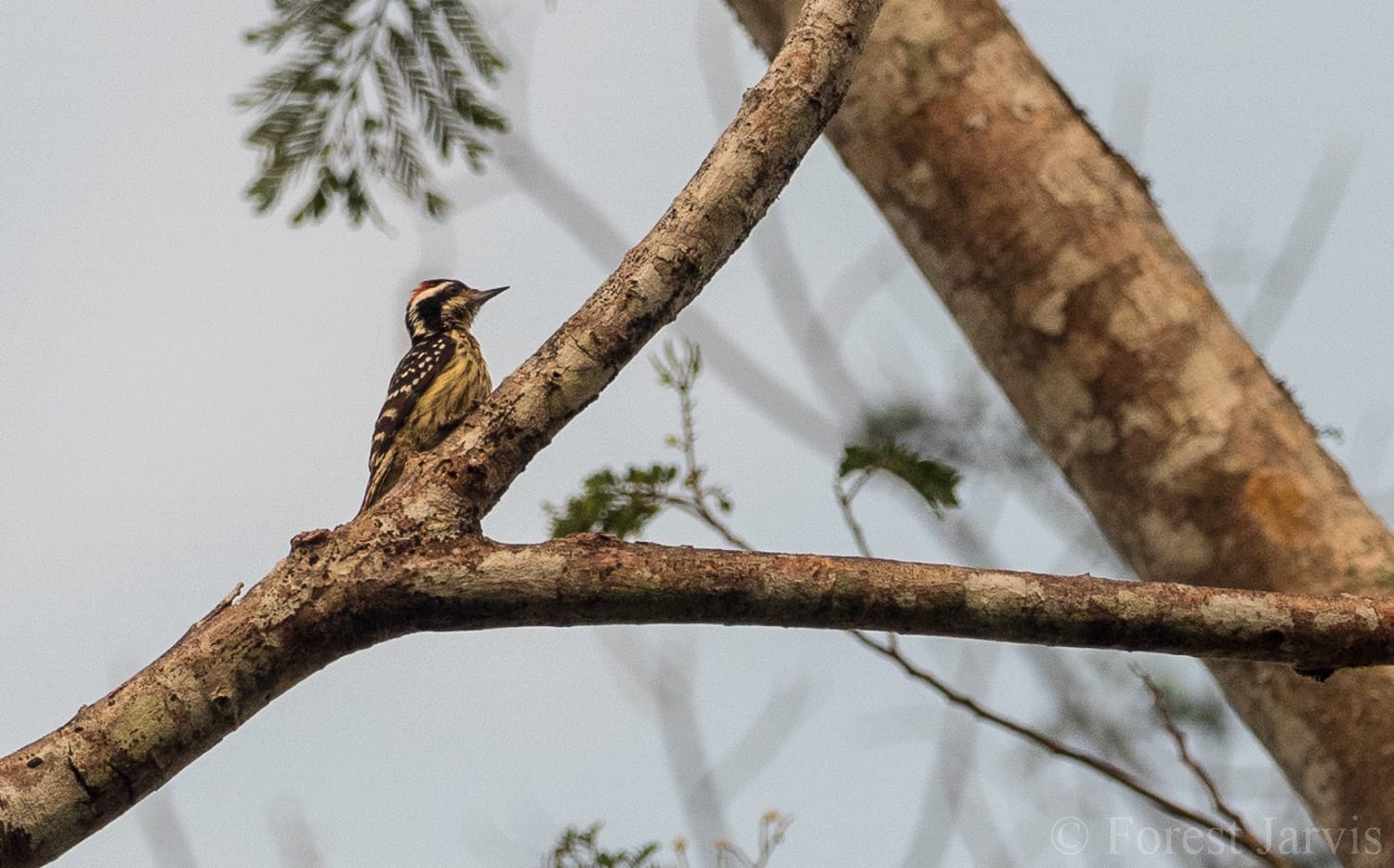 After the flock of hornbills moved on, we started walking downhill, and were greeted with a second species of hornbill, a pair of Mindanao Hornbills, though they remained too high up and shrouded in fog for decent pictures. At the bottom of the hill, we arrived at the second "magic spot" of the Kuden road, a stretch of underbrush along the road that I knew tended to hold some good-quality smaller birds. The second magic spot delivered just as well as the first one, chiefly with fantastic views of a male Philippine Trogon, one of the best-looking Philippine endemics. I'm always happy to see trogons when introducing people to birding- even a non-birder can appreciate birds when they look like that!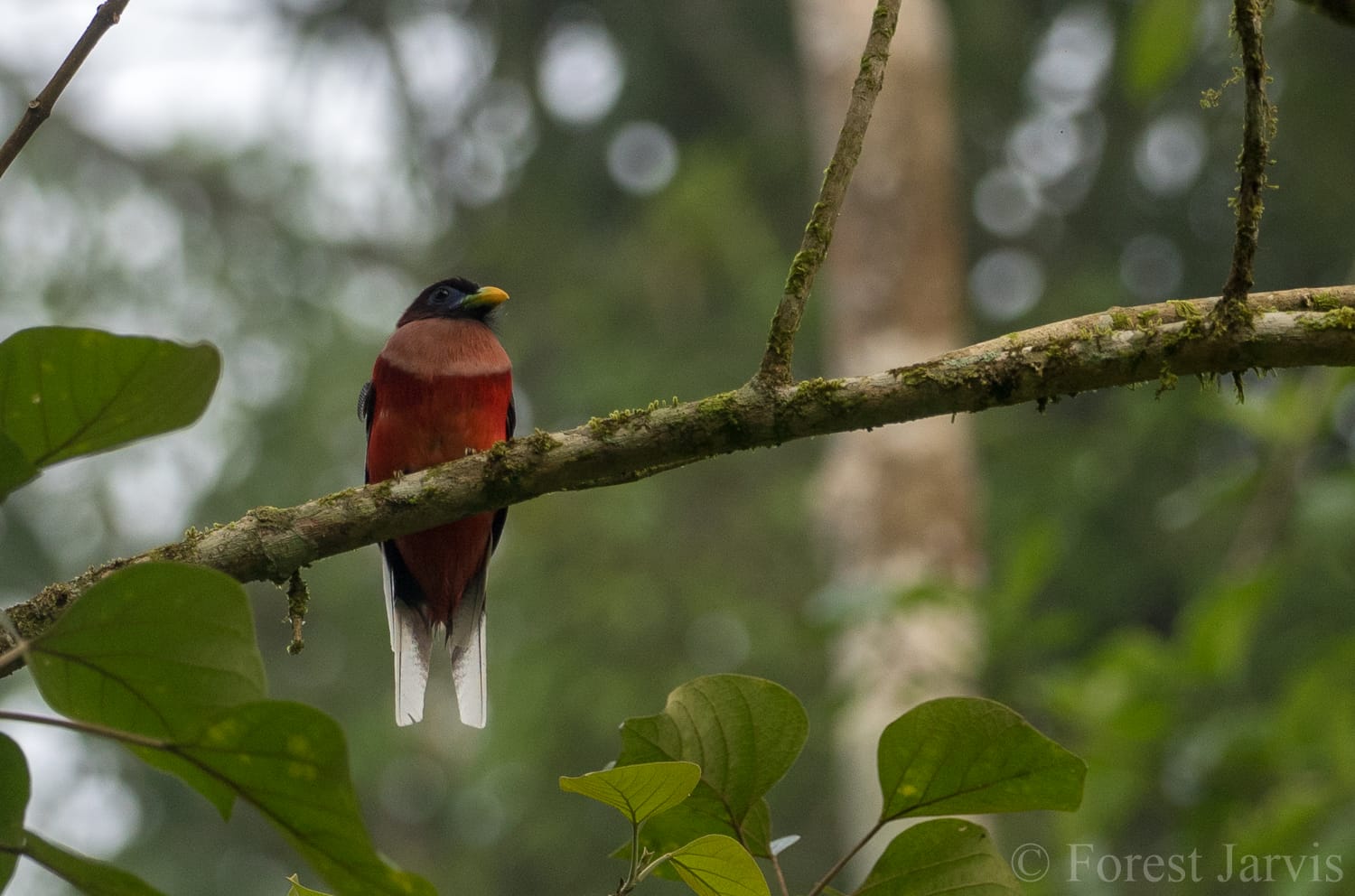 Joining the trogon were some other very good- albeit perhaps less charismatic- Mindanao-endemic birds, including Mindanao Pygmy Babbler, White-eared Tailorbird, Rufous-tailed Jungle Flycatcher, and Striated Wren-babbler. A trio of Rusty-crowned Babblers provided especially good views, eyeing me from a vine just above my head. Up above, Rufous-bellied Eagles and Philippine Serpent-eagles soared on the thermals, occasionally being tormented by Large-billed Crows, while a single Blue-crowned Racket-tail squawked noisily high in the tree-tops. A particularly good "heard-only" was Philippine Leafbird, a very uncommon Mindanao lowland-endemic, and another specialty of the embattled PICOP I was excited to have in SNA. Southern Rufous Hornbills, meanwhile, gave us even better views, with one posing for more than half an hour with a large piece of fruit in its beak as we happily filled up our memory cards with pictures.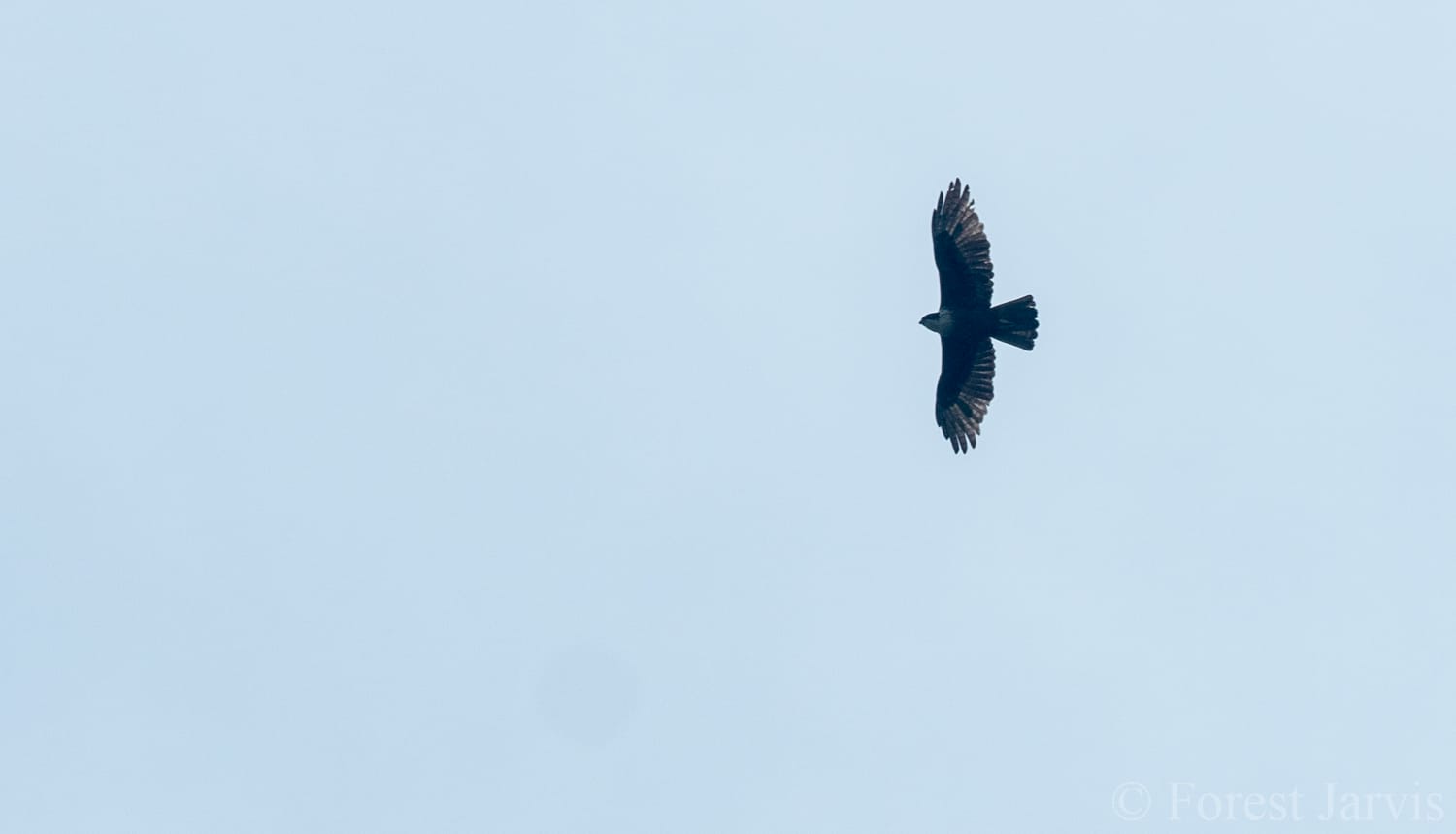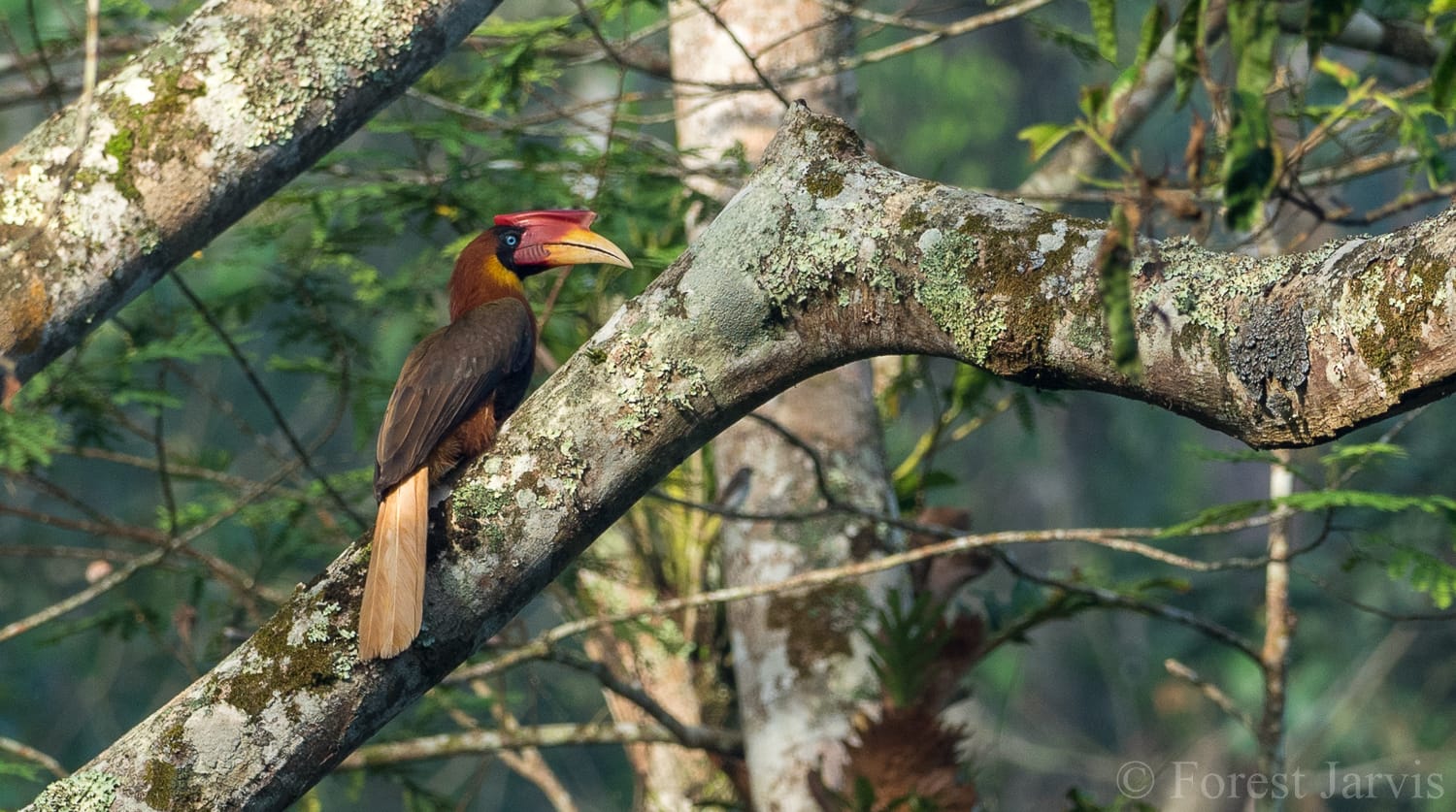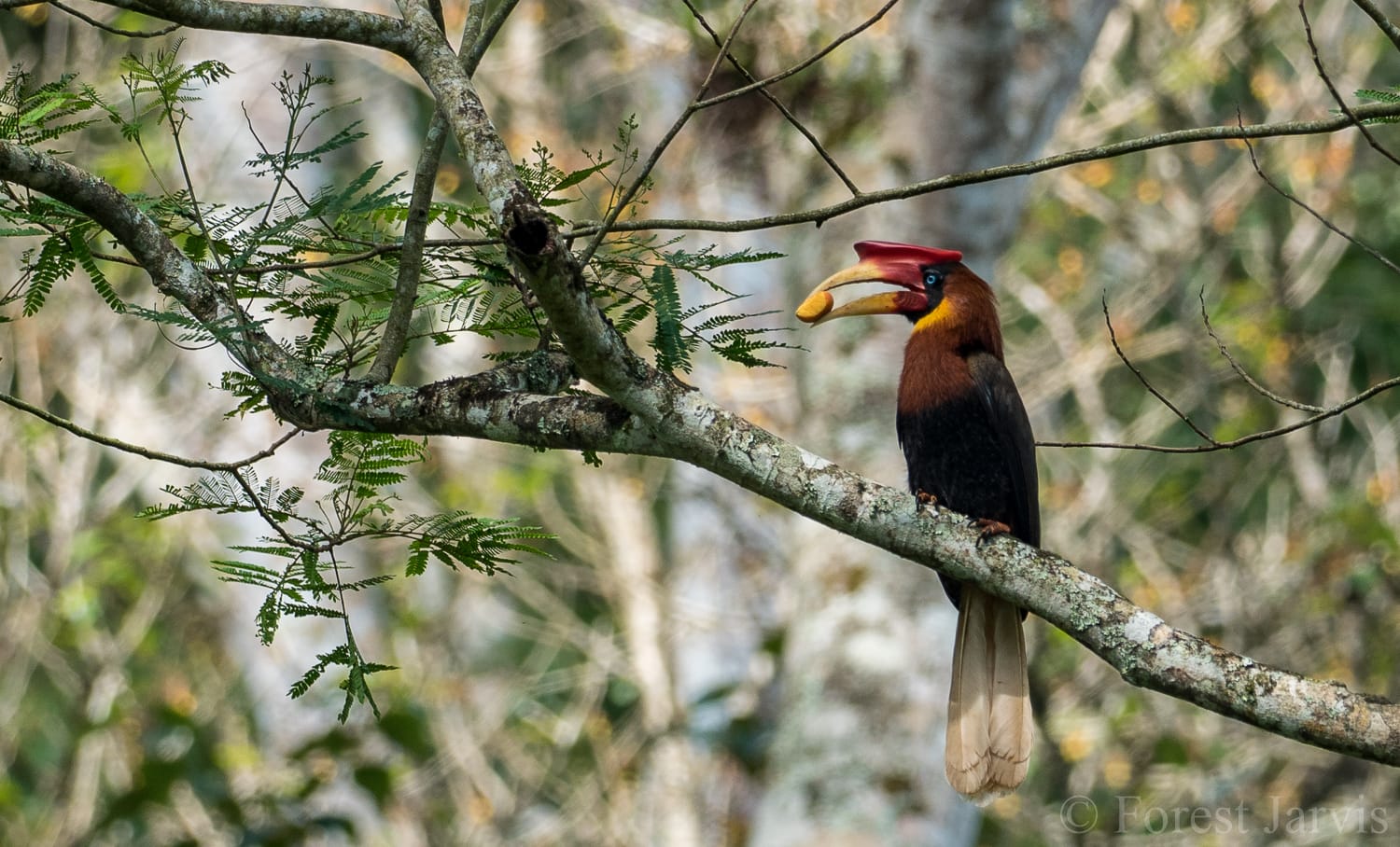 Southern Rufous Hornbill
Perhaps most rewarding was returning to the main group after a short excursion on a side trail and having Ma'am Peroy from the LGU point excitedly at her field guide, saying "we just saw this one!"- a Southern Rufous Paradise-flycatcher, a very good-looking Mindanao-endemic bird. There are few things more satisfying than converting the uninitiated into birders, and having them enjoy it!
We moved further down the road to a third spot I knew of from the last time, with very good primary rainforest. It was getting hot by that time and the birds were less, but we still added some very good birds to the list, including Philippine Oriole, Black-bibbed Cuckooshrike, Metallic-winged Sunbird, Philippine Drongo-cuckoo, and Yellow-breasted Fruit Dove. From the car, we saw two endemic raptors of very different sizes: Philippine Honey-buzzard and Philippine Falconet.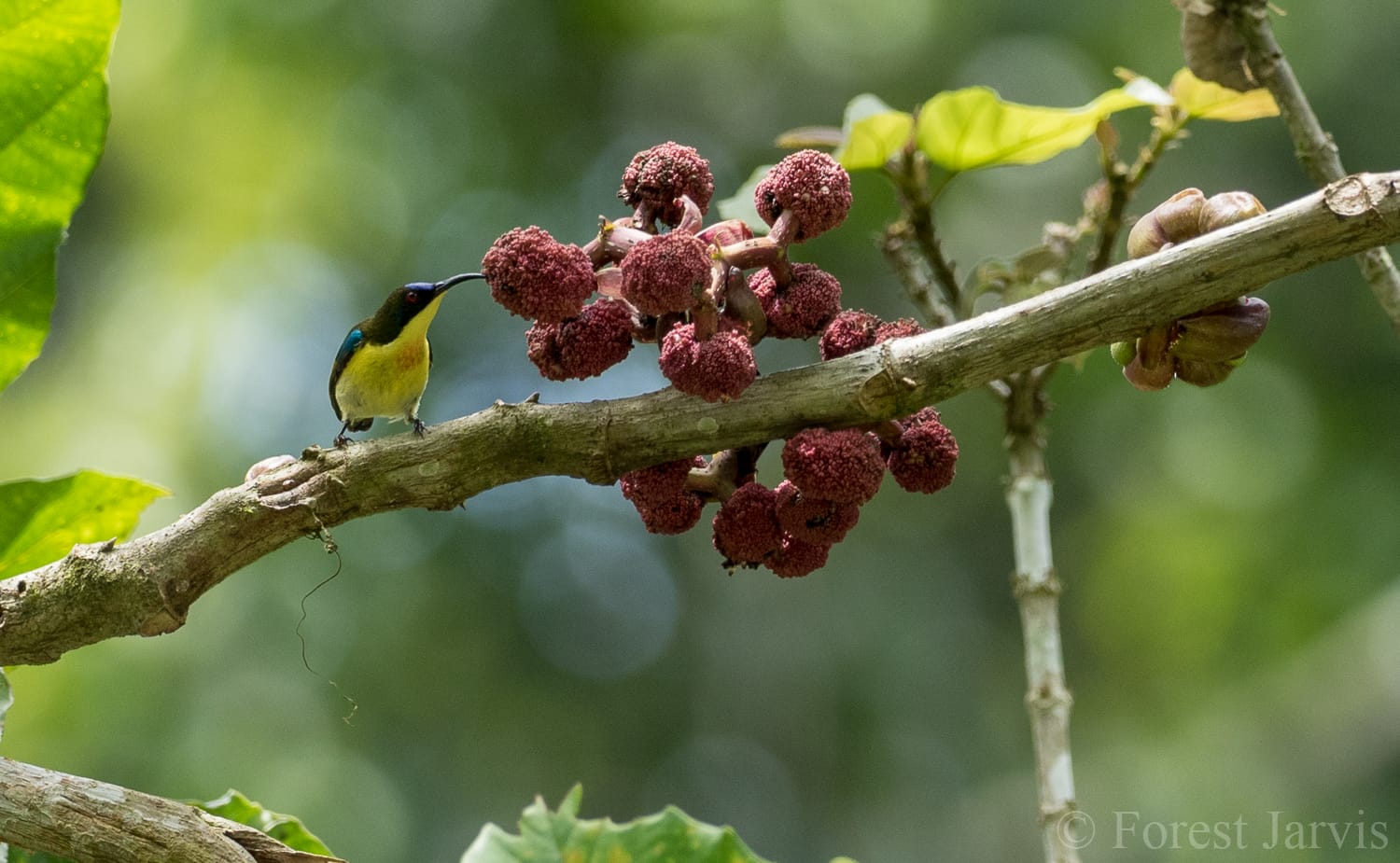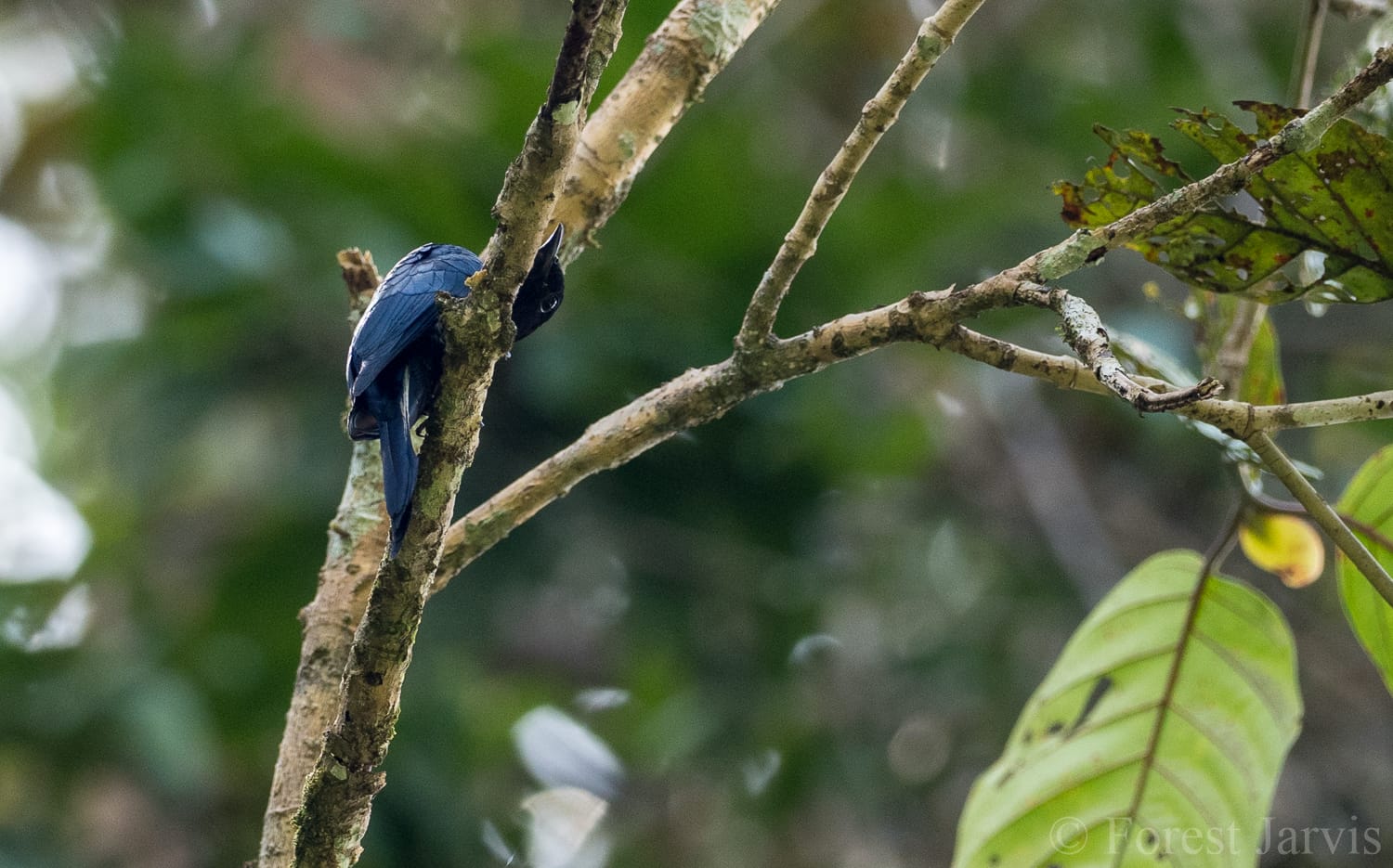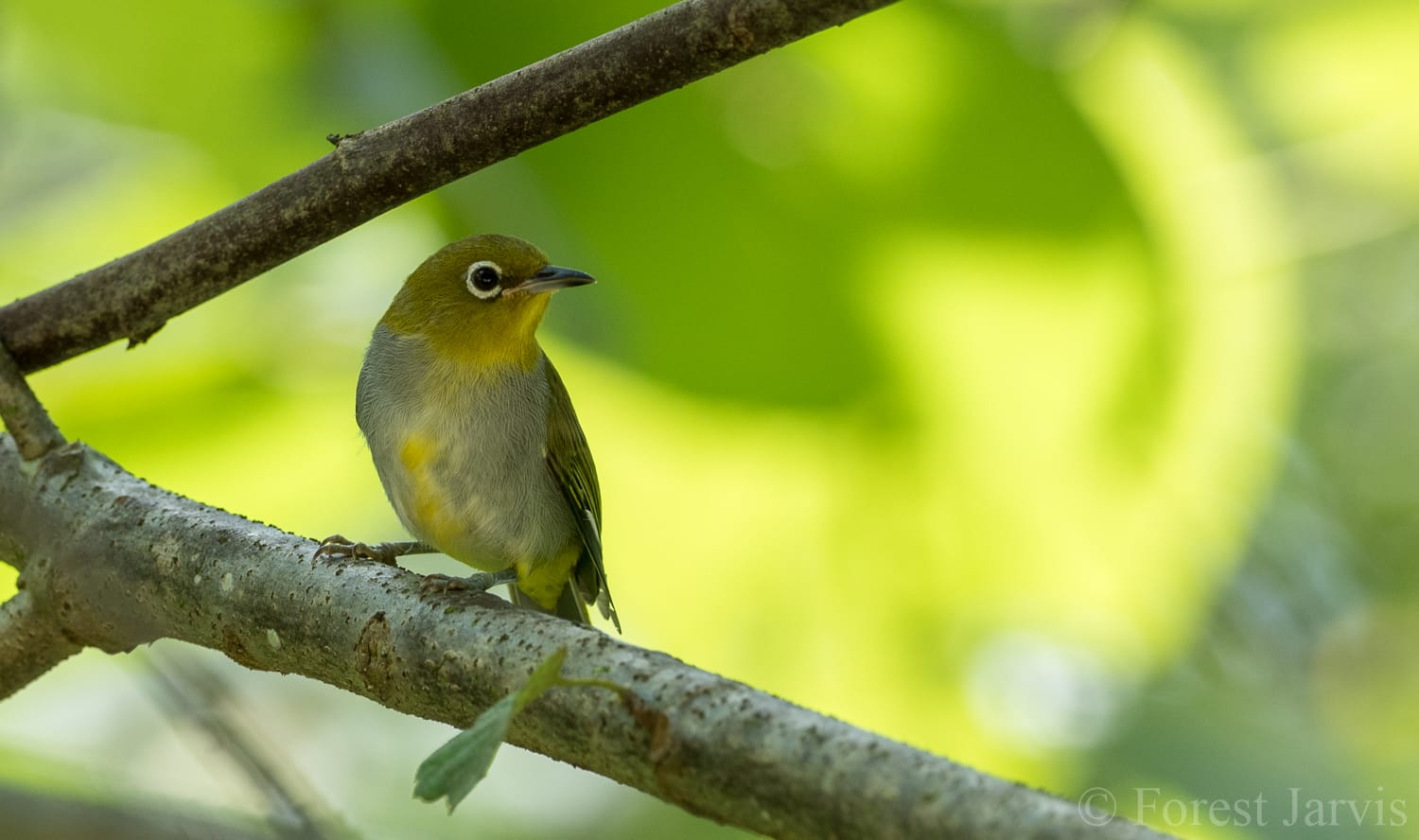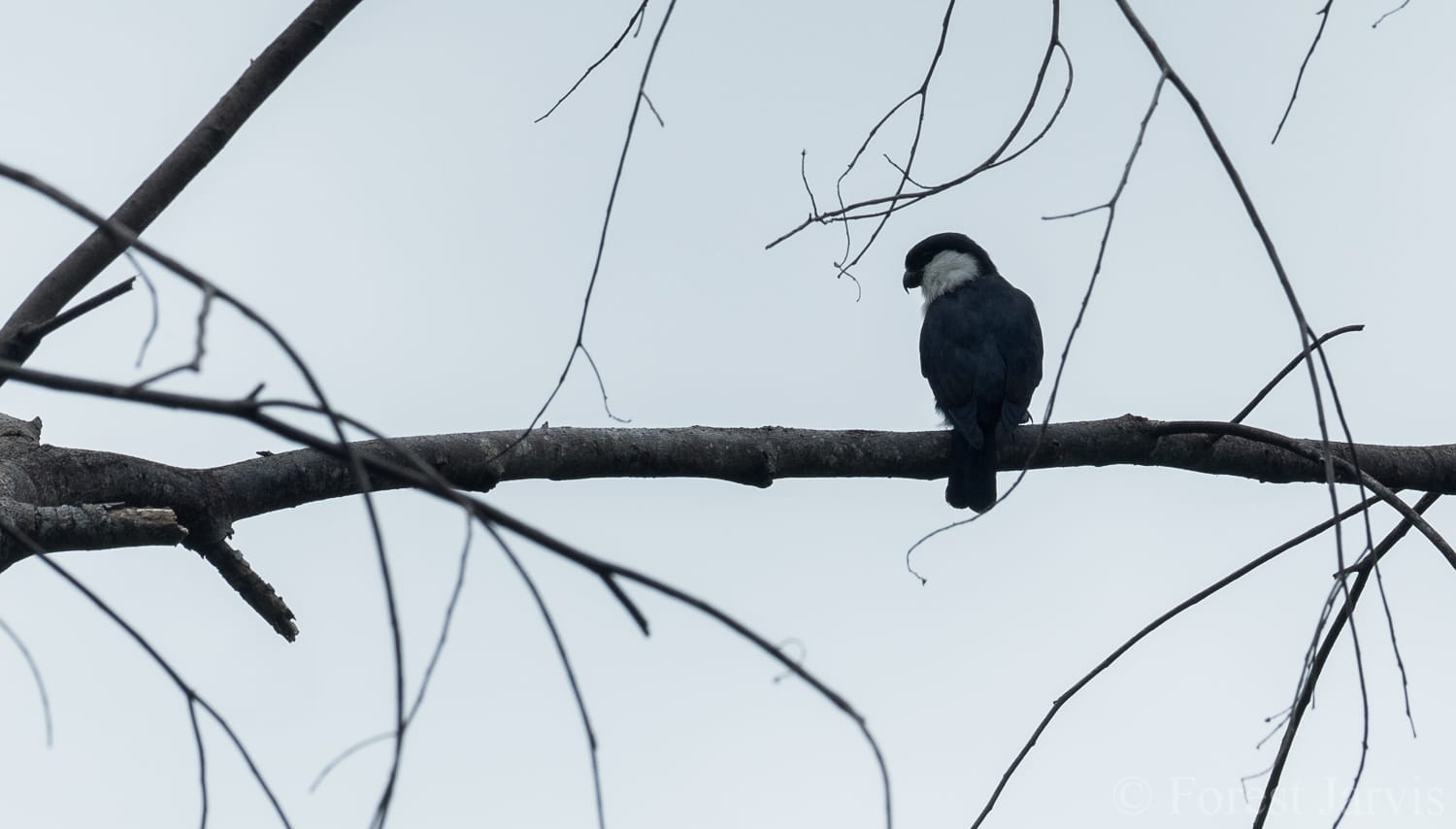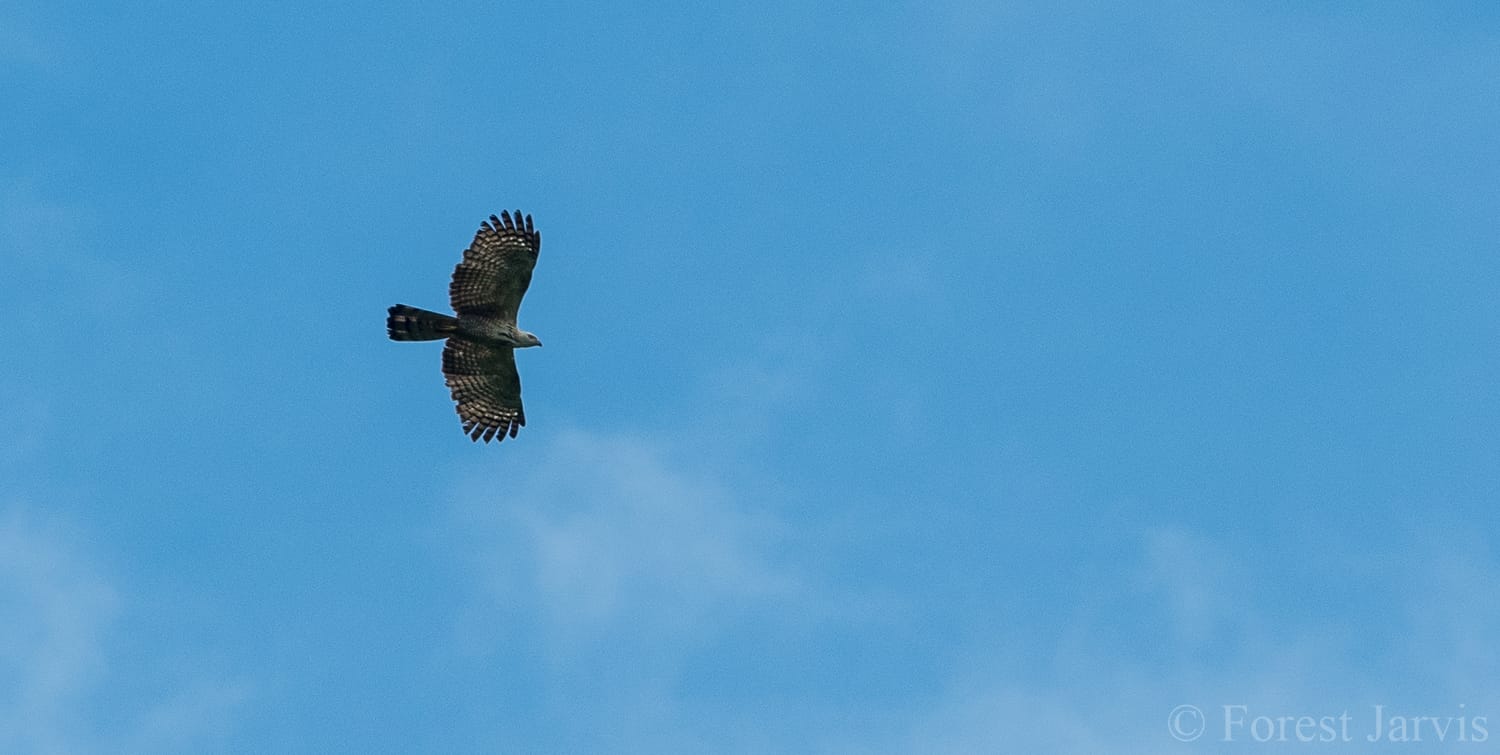 It was getting hot and the birds were very quiet, so we stopped at Kap Marzo's farm house for an excellent adobo lunch and an afternoon nap. Once we were fed and rested, we continued on, driving through kilometers of depressing landscape- denuded hills and burning vegetation, denuded by kaingin agriculture. The limestone soil of the mountains there is unstable and infertile, and newly deforested land will only be productive for a few years before the topsoil is lost thanks to a lack of stabilizing tree roots, thus meaning that farmers must move to a new hillside and clear even more forest.
There's nothing inherently wrong with kaingin on a small scale, as it's what's been practiced by indigenous Filipinos for centuries. However, with an increasing population of settlers in the area, it's become an incredibly unsustainable practice, and it's only a matter of time before the forest in Kuden is lost, if things continue the way they are now. Of course, there's such a thing as sustainable forest use; SNA is also the largest coffee-producing region of the Philippines, and we saw examples of shade-grown coffee in our birding sites, where the coffee plants can be grown on the ground, while the natural forest cover remains undisturbed. Hopefully sustainable agriculture and land use can be promoted in this area so that the local human residents can benefit both from cash crops and from the incredible biodiversity of their home.
Our afternoon birding site was another large patch of forest, with huge trees towering over the road on both sides. This proved to be another fruitful area, with some great new species added to our day list, including White-bellied Woodpecker, Buff-spotted Flameback, Citrine Canary-flycatcher, Black-faced Coucal, and Red Junglefowl. Best, however, were the knockout views we had of a Pinsker's Hawk-eagle, an endangered endemic raptor with fewer than 350 mature individuals estimated to be present on Mindanao. Clearly aware it was the top of the food chain, the eagle perched just meters away from our group, to the excitement of all, particularly our police escort.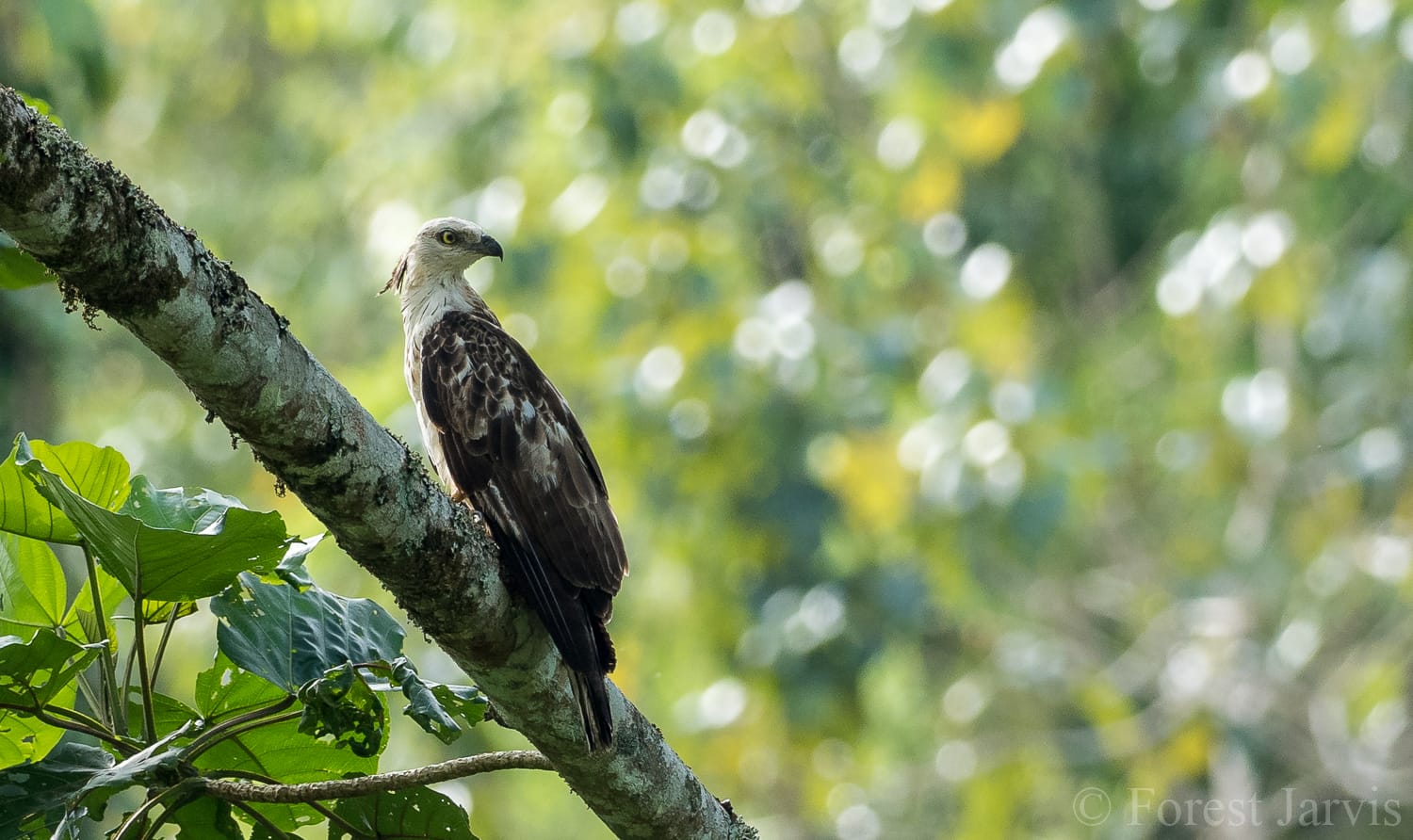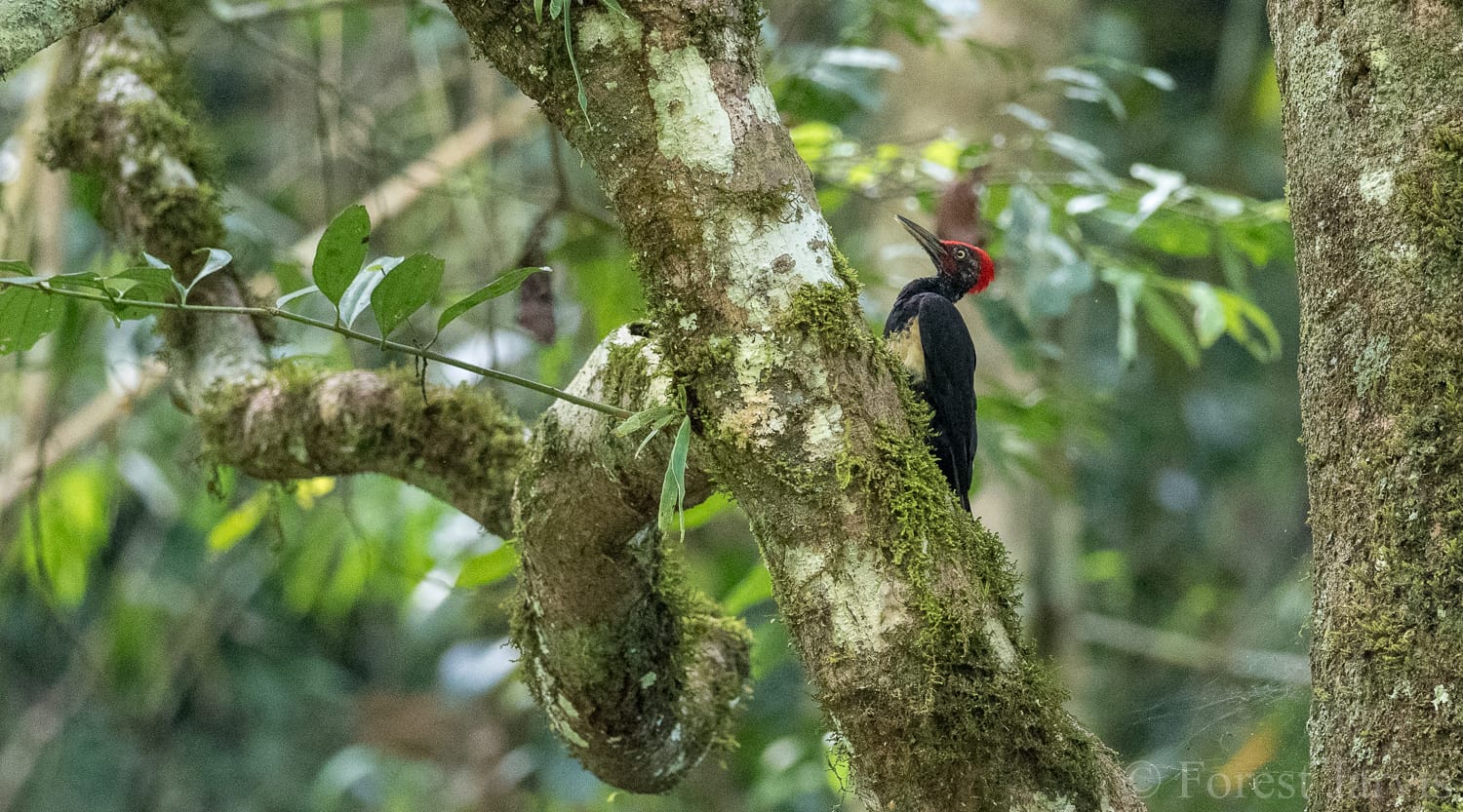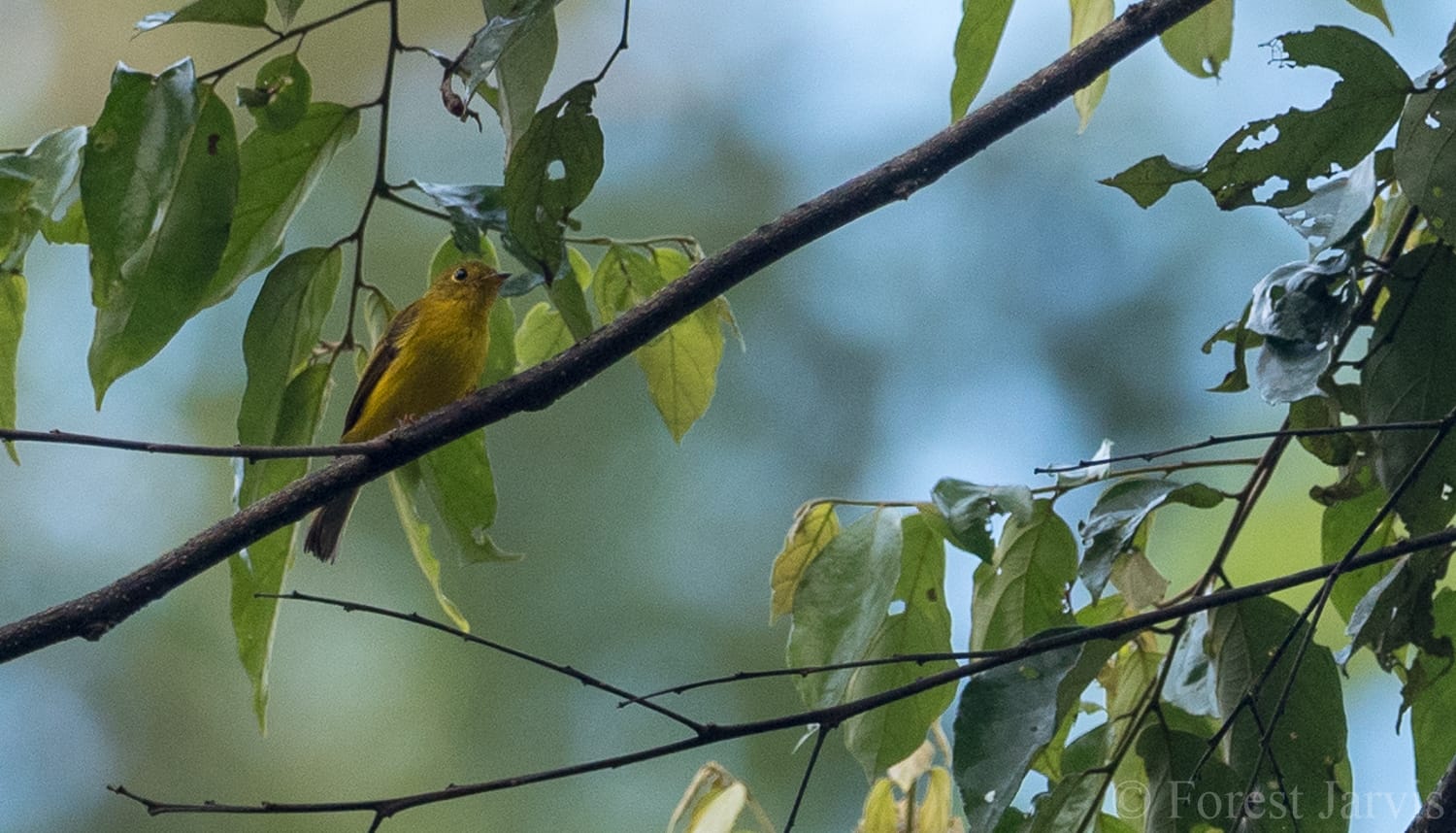 Satisfied with a very, very successful day of birding, we drove back to the barangay hall, where we bid goodbye to our companions from the LGU. I had originally planned to spend the night in comfort at Dannah's Inn back in the SNA poblacion, but Emelie and I decided we hadn't quite had enough of birding- so why waste a perfectly good morning sleeping? Instead, we spent another night in the barangay hall, having dinner and a very productive conversation with Kap Marzo and his wife.
The best non-bird find of the trip was a friend of Kap Marzo's, an indigenous farmer who turned out to have an encyclopedic knowledge of the local avian fauna. Among other things, he was able to give detailed descriptions of the three species of hornbills in the area, including accurate impressions of their calls and a very thorough understanding of their nesting habits. He also gave good descriptions of a number of very rare birds I suspected were in the area but haven't seen yet- something I hope to investigate in greater detail on my next visit! On a practical note, it's exciting to have a contact who can become a birding guide once this site (hopefully!) ends up on the Mindanao birding circuit.
Monday morning, we started the day early as usual, arriving in time for sunrise. We had hoped to arrive in the dark with some time for owling, but the habal-habal took a while to pick us up- the owls will have to wait for my next visit as well. The morning was misty and unusually quiet, with the mixed flocks I'd hoped for never showing up. Deeper in the forest, we did, however, have a small flock of Brown Tit-babblers, a number of calling Mindanao Blue Fantails, an Oriental Dollarbird, another heard-only Philippine Leafbird, and, best of all, a quick glimpse of a couple Mindanao Wattled Broadbills, a mega bird that I'd seen on my first visit and hoped to rediscover this time.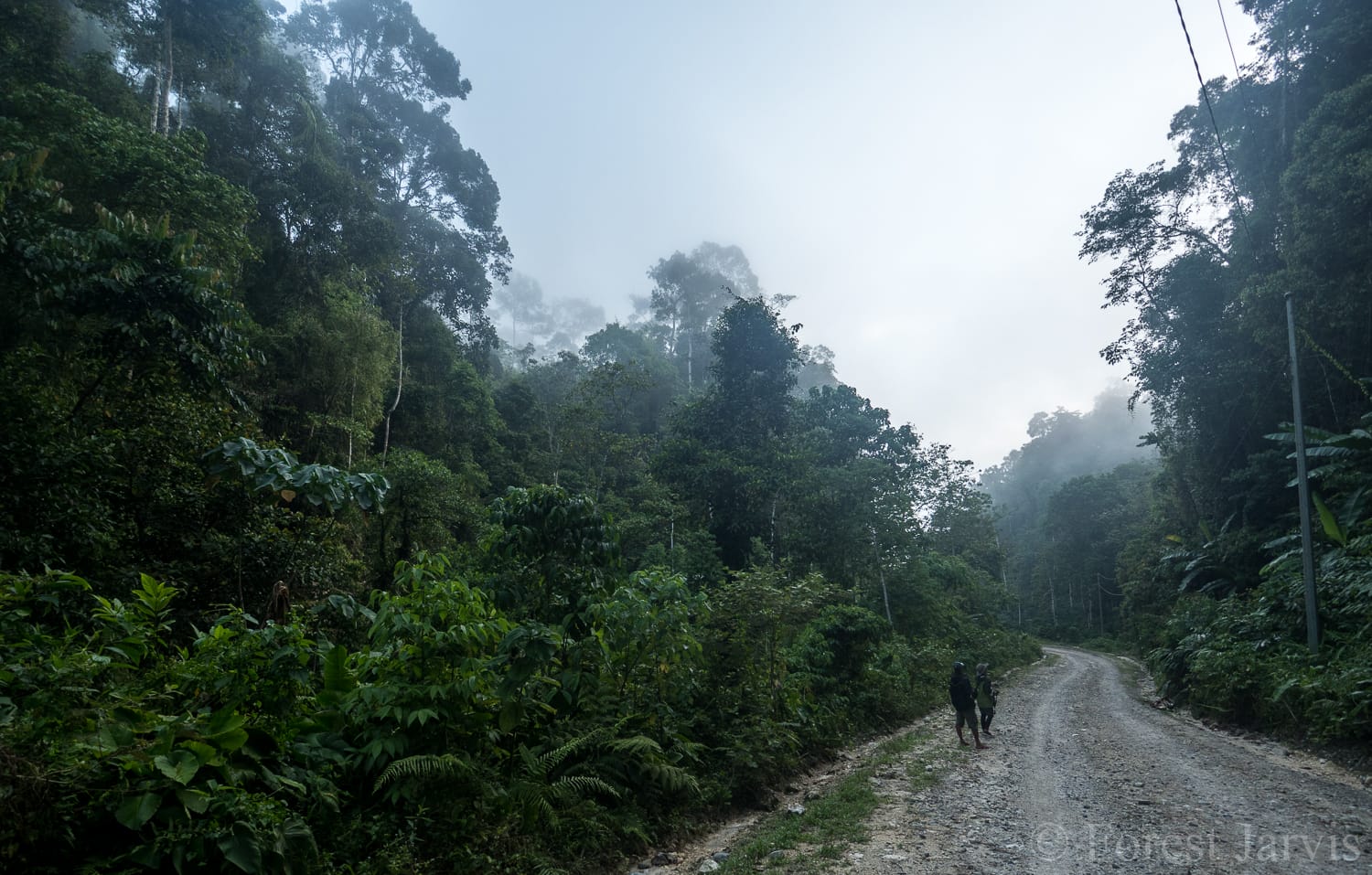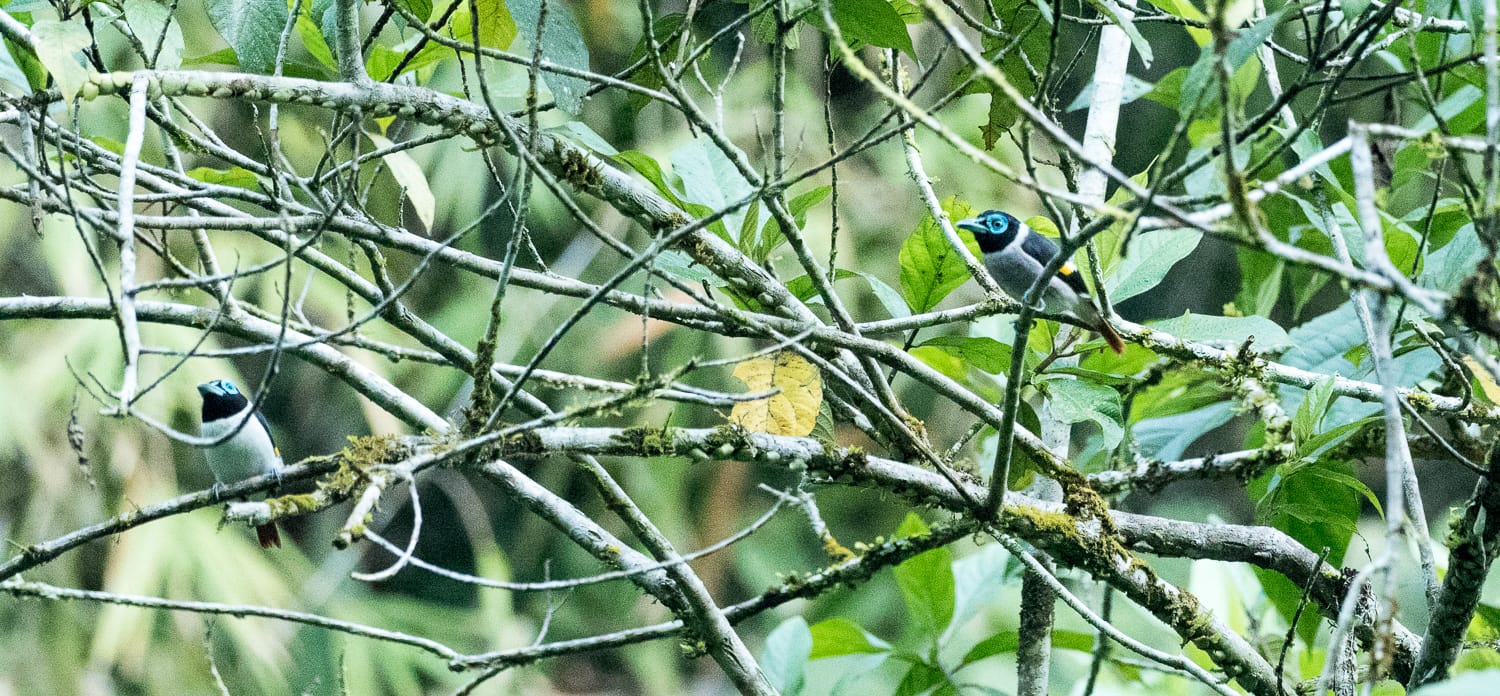 On the way out of the woods, we had a very noisy flock of Mindanao Racket-tails, as well as more fabulous views of Southern Rufous Hornbills, including a male in the process of adding mud to a nesting hole on the side of a large tree. Even better, I heard a flock of Writhed Hornbills, the third and rarest of the Mindanao hornbills, and after a bit of searching we saw a flock of eight feasting on a fruiting tree some distance off, along with Philippine Green Pigeons and Scarlet Minivets.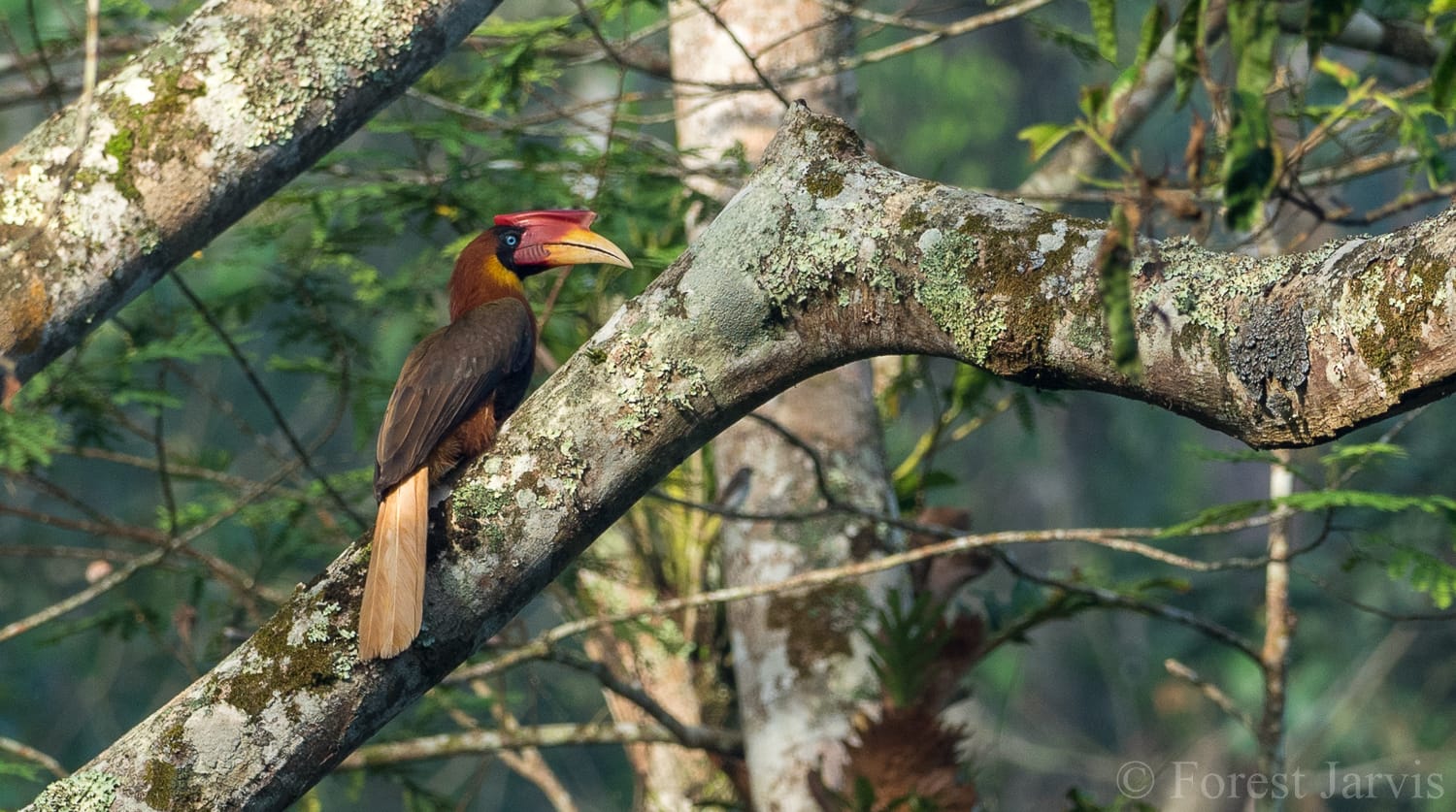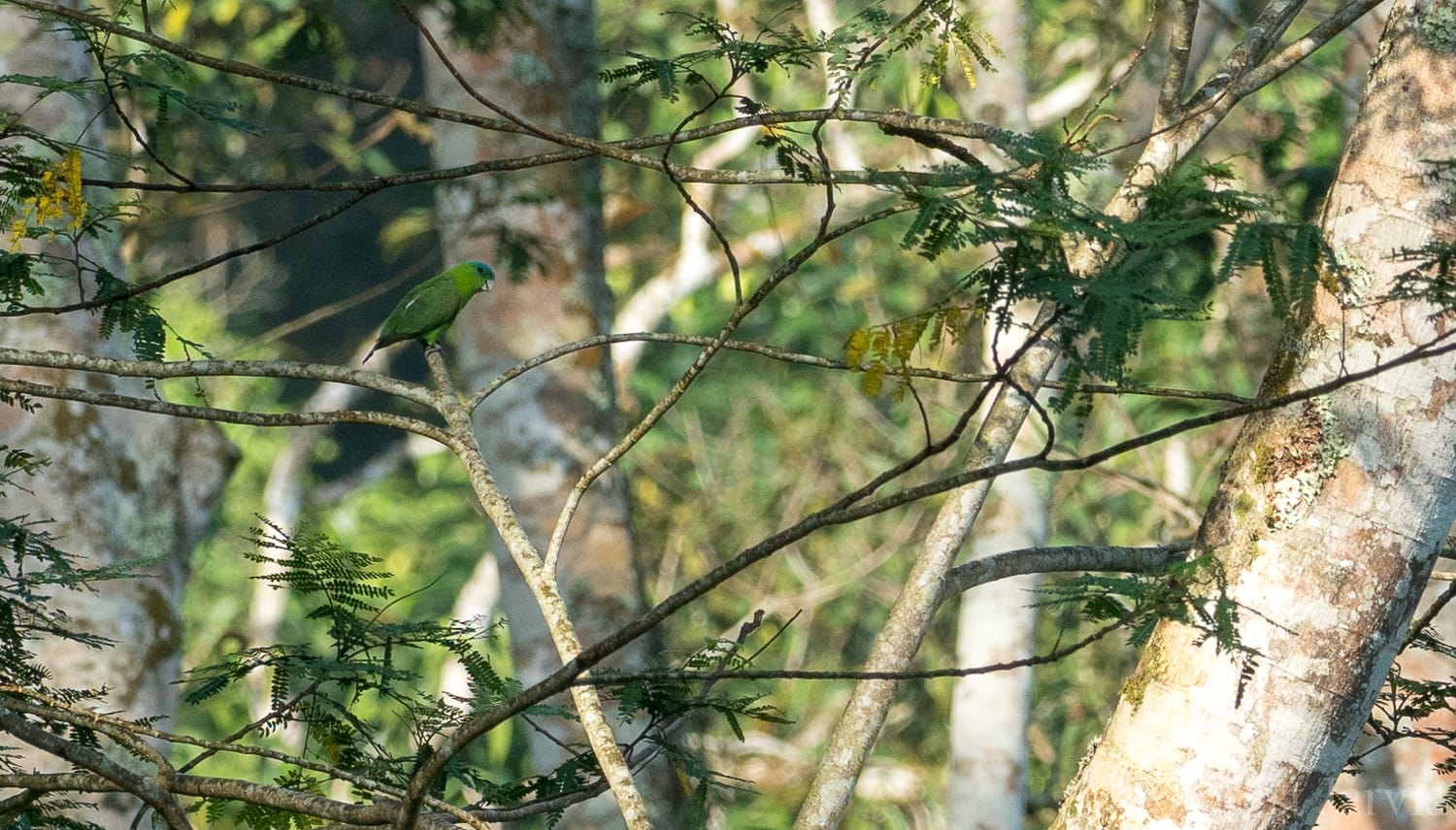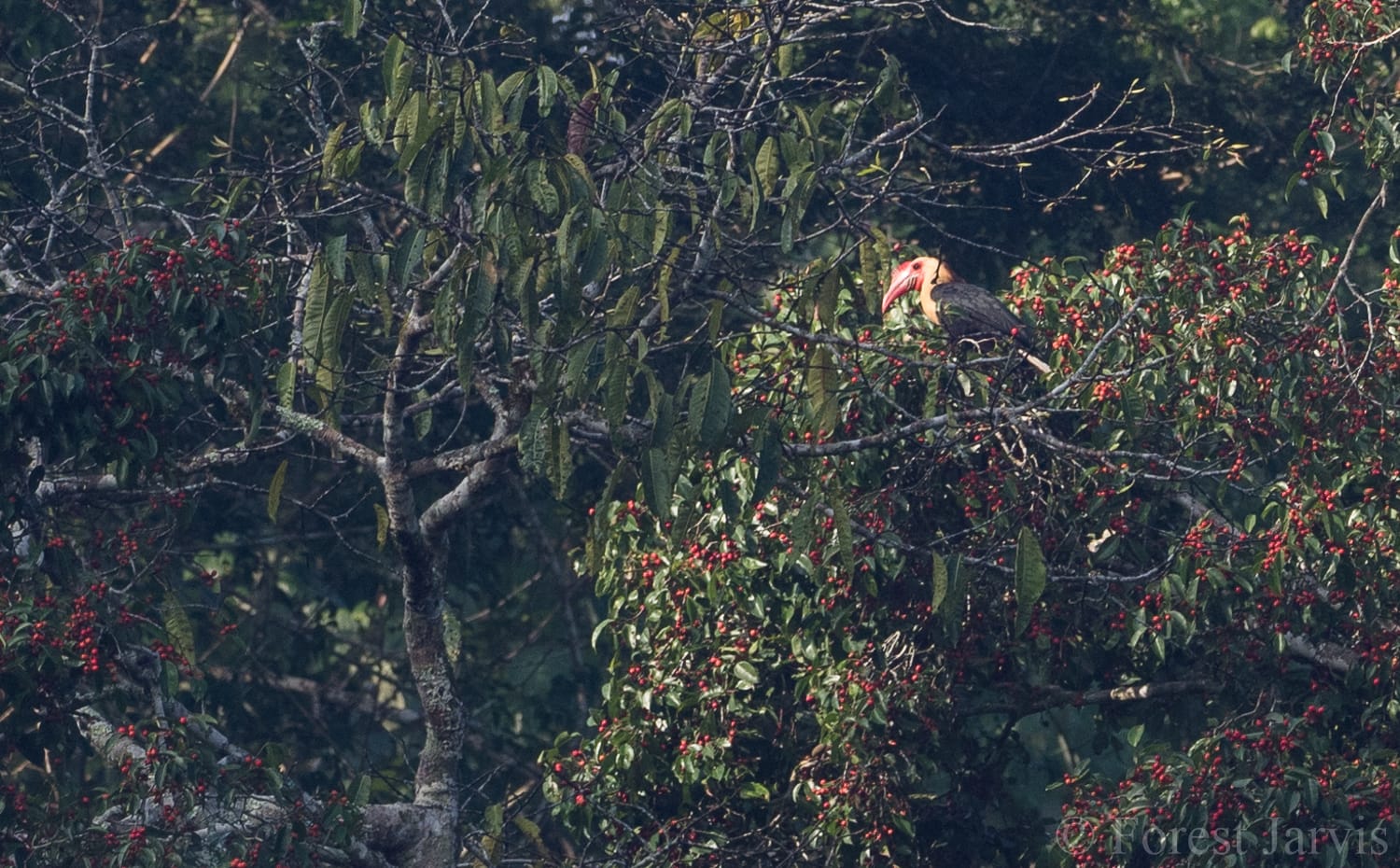 We could have stayed out birding all day, but instead had to return to the barangay hall to do some quick washing up so that we could go to the SNA municipal office in time for a meeting with the mayor. Mayor Ecija is young and active, and was very interested in our descriptions of the site and its birdwatching potential. Hopefully action can be taken in the LGU and barangay to protect this fantastic area from deforestation, and prevent the trapping and hunting of native birds.
By the time I'd finished my brief visit, the site had a new total of 81 species, a whopping 54 (2/3!) of which are Philippine endemics and 21 of which are endemic to Mindanao or greater Mindanao. I'm sure that number will greatly increase as more and better birders arrive, and as more forest is explored. As the once-great PICOP is decimated before our eyes, it's a huge relief to know that another site with most (and perhaps all!) of the PICOP specialties exists, and may even have a chance of being preserved for future generations. I'm excited to see what will be discovered as more birders come to the area.
AUTHOR'S NOTE: SNA is a fantastic birding site and I hope many birders will visit there. However, anyone wishing to visit the area should first coordinate through the LGU of SNA and the barangay captain of Barangay Kuden. The municipal office can help to arrange transportation, and can also ensure that visitors' safety is guaranteed, while the barangay captain can help arrange a local guide. In addition, it is important to keep the LGU interested in promoting birding in the area, and to make sure that some of the benefits are shared with the local communities. Mary Jane Peroy of the municipal office can be contacted at 09356681531, and will help arrange any logistics necessary.