Text and photos by Rache Go
---
MAY 9, 2018
I wasn't able to sleep much today… maybe I was too excited. No, this isn't my first Philippine Bird Festival. This is my second despite being a WBCP member for three years. I enjoy volunteering for the club as I learn a lot along the way. This year, aside from helping with logistics and documentation, I was tasked to fetch delegates from the Wild Bird Society of Taiwan and ABF Ecotourism Taiwan main organizer from the airport to the Berjaya Hotel where the Welcome Dinner is going to be held.
Despite the usual Manila traffic, we were able to make it to the hotel just in time for the delegates to check in before the dinner. Registration was a breeze and soon, the program for the evening started. Thus, the welcome dinner kicked off the 12th PBF upon the arrival of both local and foreign delegates before travelling to Mindanao. The night was laden with sumptuous food, exquisite photographs, and roaring laughter.
Almost everyone went back to their respective rooms or went home. A few of us proceeded to a nearby bar for a bottle or two of beer to catch up and relax a bit. No one planned to get drunk and so had to go home after a couple of drinks. I didn't want to go to sleep yet. I neither felt sleepy nor the least bit tired. After buying some essentials across the hotel and checking my stuff, I tried to lie down and close my eyes, lest I end up pacing the room and eventually disturbing my roommate.
MAY 10, 2018
I felt someone move inside the room before I opened my eyes. My roommate was up. I wasn't able to sleep a wink. I have been officially awake for 48 hours! We had to hurry and meet everyone downstairs to check out and head for the airport. The hotel vans were all ready for us by the time we reached the lobby. We waited for a few more participants to check out and finally left around 1:45am.
Thank heavens for online check-ins, some of us were able to avoid the long lines. Some of the delegates had issues checking-in half an hour before our flight, but luckily, we were able to get the issue resolved and thus, we headed for the departure gate.
Or next stop, Mindanao!
We arrived at the General Santos Airport past 7am and were welcomed by the Tacurong City Tourism Office, headed by Ms. Emelie Jamorabon. Everyone was assigned to their respective vans before being escorted to Saranggani Highlands for breakfast.
Breakfast was a treat, a buffet spread with a breathtaking view of Saranggani Bay. The scenic mountains were indeed wonderful. The free flowing coffee was a life-saver. Everyone was busy chit chatting with old friends, catching up, and recording moments with selfies, etc. We waited for the second batch of foreign delegates to arrive before we all convoyed from General Santos to Koronodal and check-in to our hotels..
The trip to Koronodal from General Santos City took almost 2 hours. The highways were unbelievable, there wasn't any traffic! The roads were wide and the place felt safe. People usually cringe whenever they hear "Mindanao". The media portrayed the place as a "war zone" or somewhere replete with security issues. I remember a couple of people discouraging me from joining the 12th PBF when they found out it was going to be held in Tacurong City. Well, against all odds, I still proceeded with the trip. I wanted people to realize Mindanao is not as bad as it is painted in the news. There were 14 vans escorting us to FB Hotel, where lunch was waiting for us… yes, it didn't matter that we just ate 2 hours ago.
Upon arrival, I was met by FB Hotel's Operations Manager, Ralph Buendia. The hotel staff prepared a snack bar while check in was ongoing. Since lunch was about to be served, check-in resumed after lunch. The welcome lunch for both local and foreign delegates was courtesy of the Mayor of Tantangan, Mayor Benjamin V. Figueroa.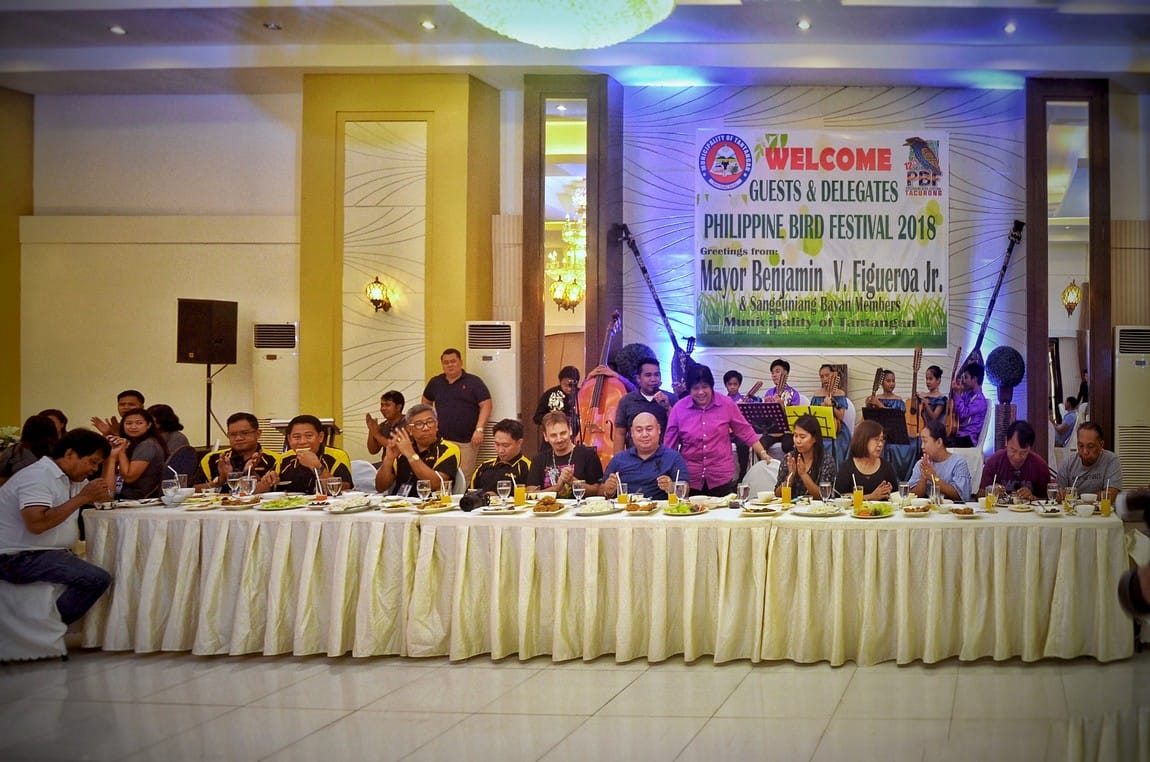 It was a hectic first day for everyone. After checking-in to the hotel, we were all expected to board our assigned vans and head for Baras Bird Sanctuary in Tacurong City. WBCP wanted to promote Tacurong's conservation efforts with the Baras Bird Sanctuary where close to 20,000 herons, egrets, and other bird species are being protected by both the private land owner and the local government. It is a conservation program that should be emulated nationwide. I have never seen egrets and herons roosting and nesting at a very close proximity!!!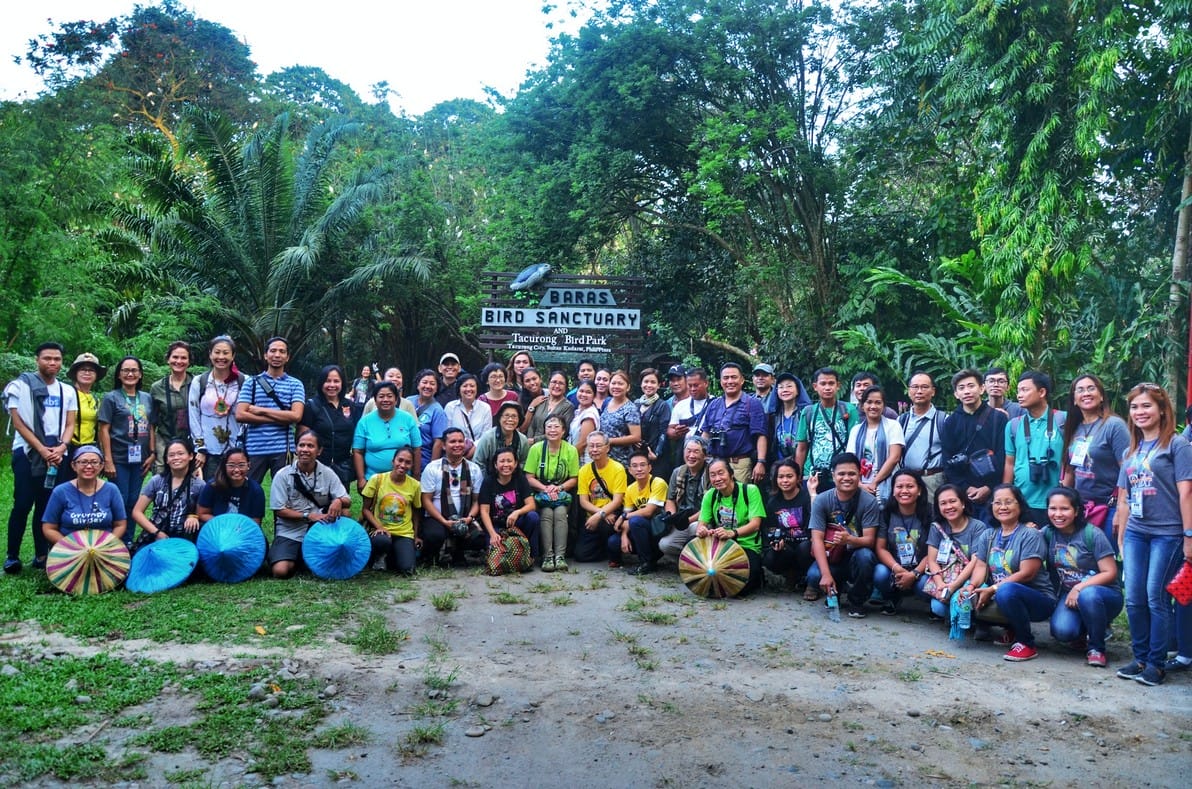 We rode back to the hotel before dusk to freshen up and get ready for dinner, this time hosted by LGU of the Province of South Cotabato at The Farm in Carpenter Hill. Aside from dinner, they also showcased a spectacular cultural performance for the participants of the 12th Philippine Bird Festival. We were simply awed!
MAY 11, 2018
The annual Philippine Bird Festival is the highlight of the many activities of the Wild Bird Club of the Philippines.  The club brings nature awareness to different provinces of the three major island groups of Luzon, Visayas, and Mindanao.  It is also the appropriate occasion to educate the locals of a town or city, combined with the fun aspect of a fiesta, and further highlighted with the integration of the local sights and culture of the area.  It is an ideal set up wherein an organization harmoniously works with the local government and various government agencies such as the Department of Environment and Department of Tourism, joining efforts for the conservation of the country's natural resources.  Foreign affiliate organizations geared towards nature conservation also help by lending support in terms of sharing their own knowledge through nature related programs, exhibitions, and forums organized in the locality.
The festival started off with a motorcade early in the morning. Groups of dancers and the sound of beating drums filled the streets! Colors and smiles were everywhere despite the heat from the sun.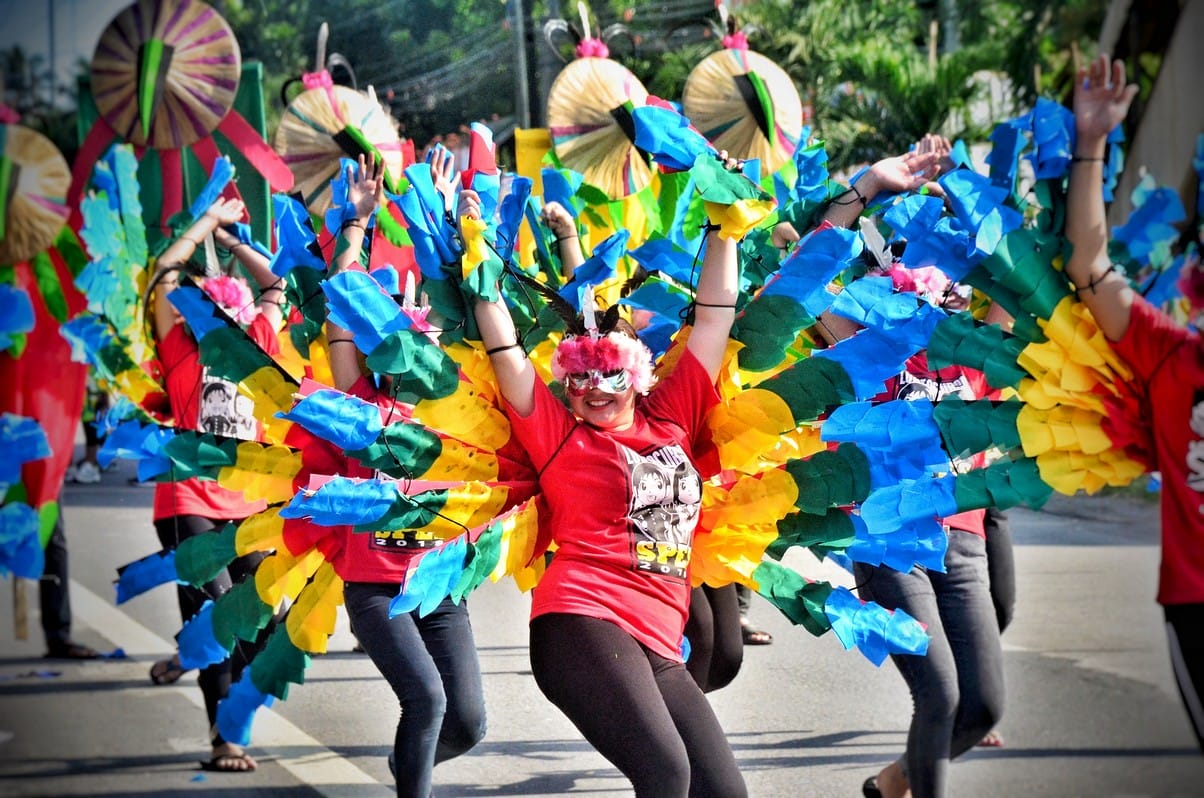 In the afternoon, I joined the Ecotourism Forum in Notre Dame College and listened to talks by Rajendra Gurung of Bird Conservation Nepal, Pamela Lim of Amazing Journey Asia, Rey Malana of Baras Bird Sanctuary, MJ Bugante (former Regional Director DOT IX), and Gawin Chutima of Bird Conservation Society of Thailand. It was truly a very interesting forum. We wrapped it up with homemade durian ice cream on the way to the Tacurong City Cultural and Sports Center where the booths were stationed before we went back to the hotel.
As I've said, the schedule was hectic. We only have a little time left to rest and freshen up before proceeding to dinner, this time hosted by the Department of Tourism Region 12. I know it is usual for us to make our foreign visitors try balut… but, much to my surprise, this is the first time I saw foreigners enjoy balut and even ask for more! Here are some of the highlights of the evening.
MAY 12, 2018
As the 12th Phil Bird Festival came to a close, I realized that the festival didn't just have an impact on me in terms of nature conservation, it also gave me a glimpse of how the indigenous tribes of Central Mindanao, particularly the T'bolis, live. The delegates headed for Lake Sebu early in the morning to visit the School of Living Traditions. To experience the T'boli culture even for just a few hours was priceless!
Afterwards, we were whisked away to Tupi Gym for the Conservation Forum. This is also where we had lunch that day. After the forum and some photo ops, we headed back to the booths and packed up.
We had to go to the hotel to freshen up before heading back to the Tacurong Cultural and Sports Center to attend the farewell dinner hosted by the Tacurong LGU.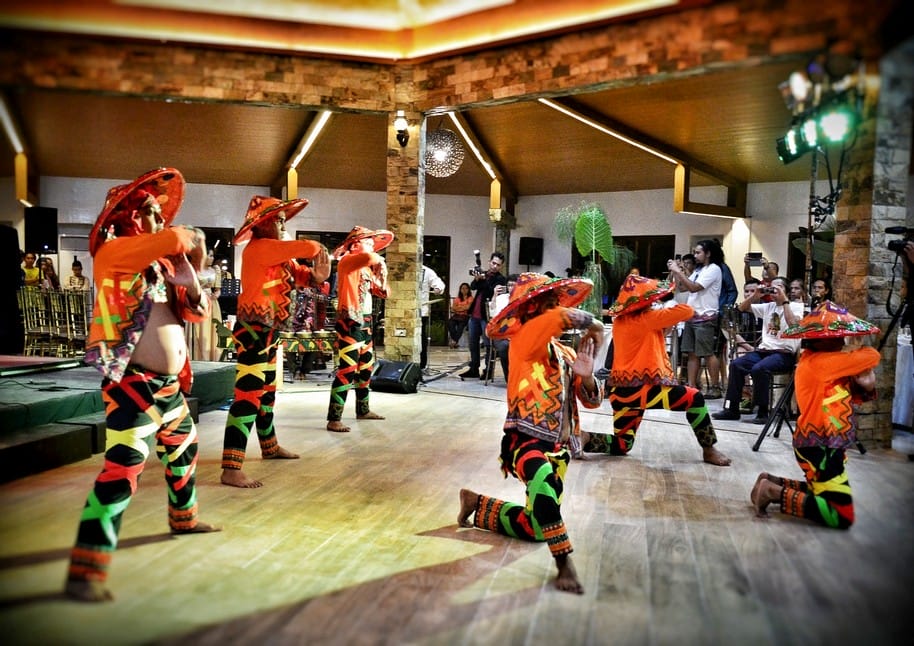 MAY 13, 2018
It was Mothers' Day and I had to pack up and leave for Manila. As much as I wanted to stay behind for a few more days for post birding, I have to go back home. I had breakfast with everyone, did some picture taking and confirmed that I will be allowed to buy tuna in General Santos City before I'm driven to the airport.
My journey to Central Mindanao for the 12th Philippine Bird Festival was short and memorable. After reading this entry and looking at the pictures of my brief adventure, does Mindanao still look unsafe to you? I actually felt safe there, really. Safer compared to Manila.