by Willem van de Ven
---
Another WBCP calendar year has finished; the club is now 15 years old! Time for a party! Of course also another General Assembly, another election of officers, and a report on what has happened in the club in the past year. The execom has tried to serve the club faithfully and follow the club vision, mission and goals.
The officers that served the club in the past year were Willem van de Ven (President), Karen Ochavo (Vice President), Tinggay Cinco (Secretary), Mike Lu (Treasurer), Lolet Tan (5th officer), Jon Villasper (permanent execom) and Gina Mapua (permanent execom).
I'd like to call attention to this vision actually, as it is sometimes taken for granted. The club is: "To provide a forum for individuals to share their interest in watching wild birds in the Philippines and to provide support and records to other groups with similar interest." As you can see the club is not an organizing body for club trips or training members, though we try to do this also. Instead, the club is a forum, it is a group of individuals with a shared interest, that together are better able to practice their hobby, as well as contribute to citizen science. We depend on our members to host, attend & instigate activities, for all other members to enjoy.
In order to summarize all activities of the past year, I've broken this vision down into separate parts to see what the club has done this year to fullfill it:
FORUM: We have and maintain several platforms for club members to communicate and participate. The website is still updated regularly, with the dates of the next club trips, the new checklist of birds and the annual report etc. The e-group is the most commonly used method to exchange information and invite other members to clubs or other, non-related information, together with the Facebook pages (we have an open page where anyone can access, as well as a secret group for members only). Finally, the newsletter eBON newsletter that is now sent out bimonthly, with more content than ever, thanks to the great team behind it.
INDIVIDUALS TO SHARE: We had a number of club trips in the past year, organized by individuals, all over Luzon and even outside.
Manila Southwoods Golf and Country Club, Metro Manila (Aug 2), Salinas Farm, Pangasinan (Aug 26-27), Barrington Place, Valley Golf, Rizal (Sep 24), Infanta, Quezon (Nov 5), San Roque, Pangasinan (Mar 1-2), Subic, Bataan (Mar 3-4), LPPCHEA, Metro Manila (Mar 11), Orchard Golf, Rizal (Mar 17), Masungi, Rizal (Apr 9), Pagasa/Marilaque, Rizal/Quezon (Apr 14), Caylabne Bay, Batangas (Apr 21), Marilaque, Quezon (May 6), Lake Sebu, South Cotabato (May 13) & Caylabne, batangas (June 29-30).
PROVIDE SUPPORT: The execom will provide the backbone and provide the support to host all this. To do this, we attend meetings, organize the GA and New Year's party, attend and host lectures and meetings, do oculars for festivals and much more.
Execom meeting (Aug 6), METT Workshop for LPPCHEA (Aug 11), Meeting with LGU Masantol (Aug 17), ROX Thursday Talk (JC Gonzalez, Aug 31), Ocular Puerto Galera (Sep 10-11), Execom meeting (Sep 17), Ocular Tacurong (Sep 22-24), Planning for Ibong Dayo (Sep 28), Execom meeting (Oct 8), Convention on migratory species (Oct 24-28), Planning meeting PBF (Nov 28), New Years party (Jan 7), PBF meeting (Feb 4), Ocular Tacurong (Mar 3-5), Earth Day celebration DENR-NCR (Apr 21), PBF press conference (May 4) & General Assembly (July 28).
RECORDS: The records committee has been the most active committee, as usual. It also has a lot of members working away on all deliverables: Arne Jensen (Director), Kitty Arce (Secretary), Christian Perez (eBird Coordinator), Desmon Allen (eBird Reviewer), Jun Osano (eBird Hotspot Reviewer), Tinggay Cinco (Data Encoder), Willem van de Ven (Checklist), George Innocencio (Annual Report) and regular members JC Gonzalez, Mike Lu, Irene Dy and Rob Hutchinson. Furthermore, the subcommittee of the Rarities Committee consists of Arne Jensen (Chair), Karen Ochavo (Secretary) and the regular members Adri Constantino, Desmond Allen, Geoff Dobbs & Rob Hutchinson. Together they worked hard this year on the Annual report 2016 (final draft stages) and created the Checklist of Birds 2018. This year all eBird Hotspots have been reviewed and updated (this is an ongoing process however all the backlog is now gone).
ASSIST OTHER GROUPS: The main way in which we assist other groups is of course through Guided Trips, of which 26 were held this past year. We are also represented in the Technical Working Group of the Philippine Red List Committee (under BMB), who are working on legislation on threatened species. Of course we assist the DENR/BMB also with the Annual Waterbird Cencus in January, an activity that was particularly well attended this past year. Besides the regulated AWC in January, club members joined with Arne Jensen, sponsored by Wetlands International, in a number of trips to survey the waterbirds of Manila Bay from January through to March. Finally, the WBCP attends festivals in the country and abroad, and hosts its own Philippine Bird Festival.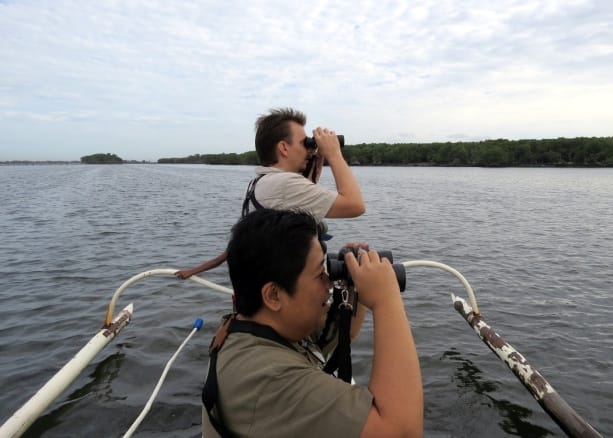 WBCP Davao 1st Saturday of the month guided trips (Aug 5, Sep 2, Oct 7, Feb 3, Mar 3, Apr 7), Guided trip UP Diliman (Aug 13), Guided trip UPM (Sep 23, Sep 30, Oct 7, May 19), Cleanup at LPPCHEA (Sep 30), Guided trip Greenbelt (Oct 8), Guided trips for CMS (Oct 24-28), Guided trip LMEP (Feb 11), Guided trip LMEP (Feb 17), Guided trip Victoria Valley (Mar 3), Guided trip NAPW (World Wildlife Day, Mar 4), Guided trip Anvaya (Mar 3-4), Birdwalks Ateneo (Mar 12, Mar 16, Mar 22, Apr 12, Apr 18), Guided trip UPD (Apr 7) & Guided trip LMEP (Apr 15).
AWC were done in Pangasinan (Jan 12), Candaba (Jan 13), Team Energy Sual (Jan 17), Bataan (Jan 20-21), Bulacan (Jan 20-21), NCR (Jan 20-21), Cavite (Jan 20-21), Pagbilao (Jan 24-25) & several Manila bay surveys (Jan-Mar).
Festivals were attended internationally in Korea (ABF), Malaysia (Borneo Bird Festival, Fraser's Hill Bird Race and the Royal Belum Hornbill Expedition), Taiwan (Taipei Bird Fair & Japan (Japan Bird Festival), as well as national festivals in Narra, Palawan (Katala Festival), Balanga, Bataan (Ibong Dayo), Tacurong, Sultan Kudarat (Baras Bird Festival/ Philippine Bird Festival) & Sucat, Paranaque (Wild for Wetlands).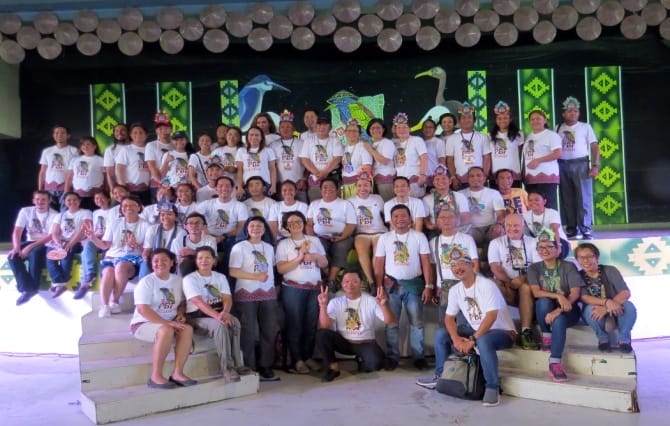 All in all it was another busy year, and the new execom is looking forward to the upcoming year for even more things to do and enjoy. I would like to thank all the wonderful people who've been volunteering their time and expertise this past year!
Cheerps!