Text by Rosa Theresa O. Albano
Photos by Maia Tañedo, Gwen So, and Kiko Albano
---
The Las Piñas – Parañaque Critical Habitat and Ecotourism Area (LPPCHEA) is a unique nature reserve that is located towards the southern part of Manila Bay.  It is the only RAMSAR-listed wetland in the country that is located in an urban area, hence it is the most threatened ecosystem due to massive reclamation, drainage, and other similar infrastructures.  For harboring an overwhelming number of bird species both residents and migratory, it was declared as a critical habitat in the Philippines.
On 11 November 2018, a group of thirty members and friends of the Wild Bird Club of the Philippines explored this so-called "last coastal frontier of Metro Manila" to observe the water birds and practice their identification skills. But getting there is already half the challenge. The road to and from LPPCHEA is not quite known and wanting of signs and directions, and for the unwary driver, he might end up going straight to Cavitex and paying several toll fees just to get back to the right path. Or worse, Grab may not locate it on its system or taxi drivers may not be familiar of the place or may totally refuse commuters due to its remoteness.  In our case, we walked a 2.5-km distance from Victor Medina St. at Sucat Road going to a service road with an exit until we reached a foot bridge leading to a very narrow access road directly going to LPPCHEA.  Luckily, this happened to be the same spot called the North Lagoon where shore birds are plentiful. When we arrived, Gina, Arne, Angelo, Janjaap, Gwen, Nicole, Anna, and Glacy already had their birding preliminaries there and we gladly joined them as well.  Within a backdrop of a verdant mangrove landscape, we spotted Gray Herons, Striated Herons, Intermediate Egrets, and Little Egrets. Some of them were feeding on bottom dwelling aquatic animals while others were simply stationary, basking in the radiant sunrise.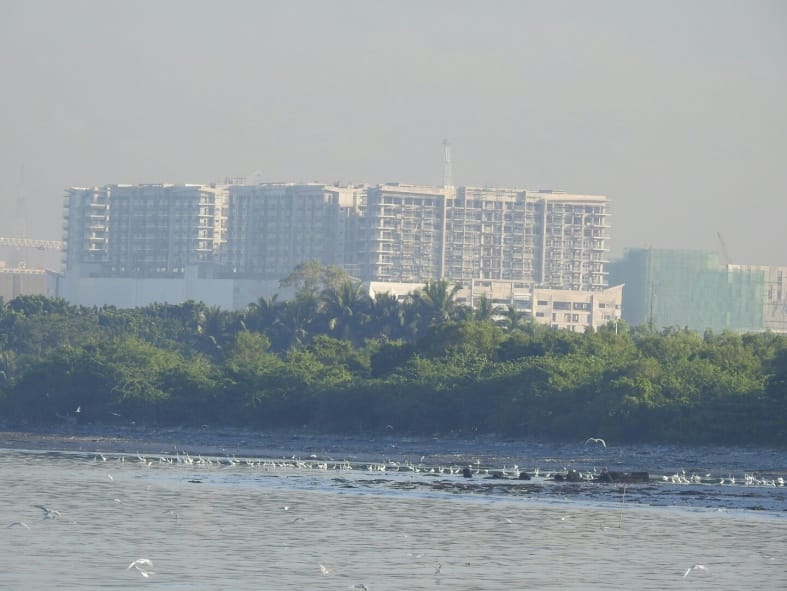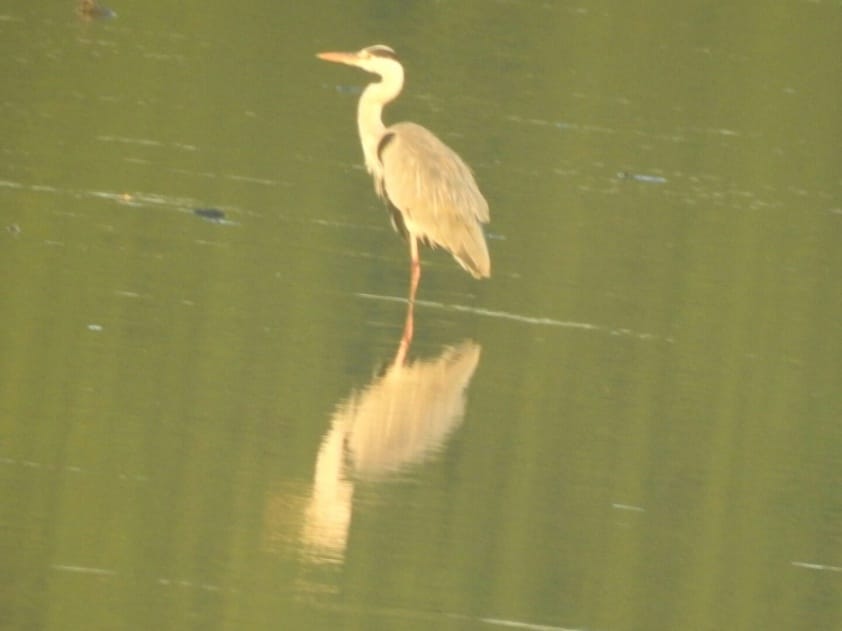 Around 6:45 AM, we headed inside LPPCHEA and we immediately noticed the flights of the Whiskered Terns and Little Egrets which were very common in the area. As a prelude, Willem van de Ven, current president of the WBCP, gave a lecture on significant waterbirds that we might expect to encounter and techniques on how to identify them, while Jon Villasper spoke about methods of counting waterbirds with supplemental inputs from Arne Jensen. We learned that skills in counting waterbirds is as equally significant as our ID skills.  We were introduced to the book entitled Field Guide to the Waterbirds of ASEAN and copies of Peak Count Figures of Waterbirds/Water-related Birds in LPPCHEA were distributed for everyone.  Thus, armed with our notebooks, binoculars, field guides, cameras, and spotting scopes, we were off to make our observations.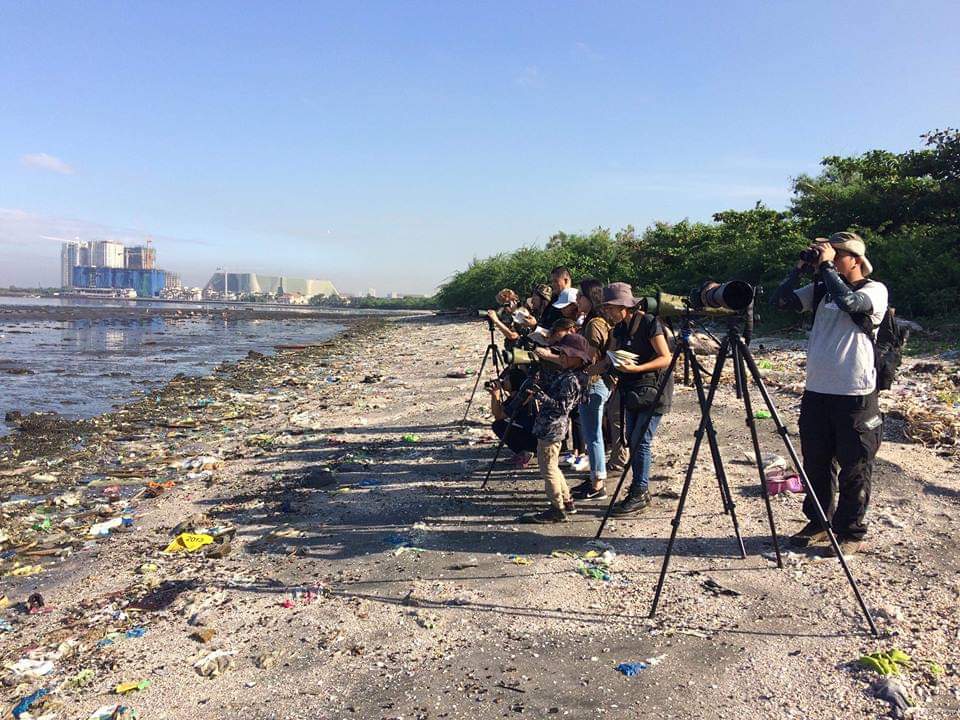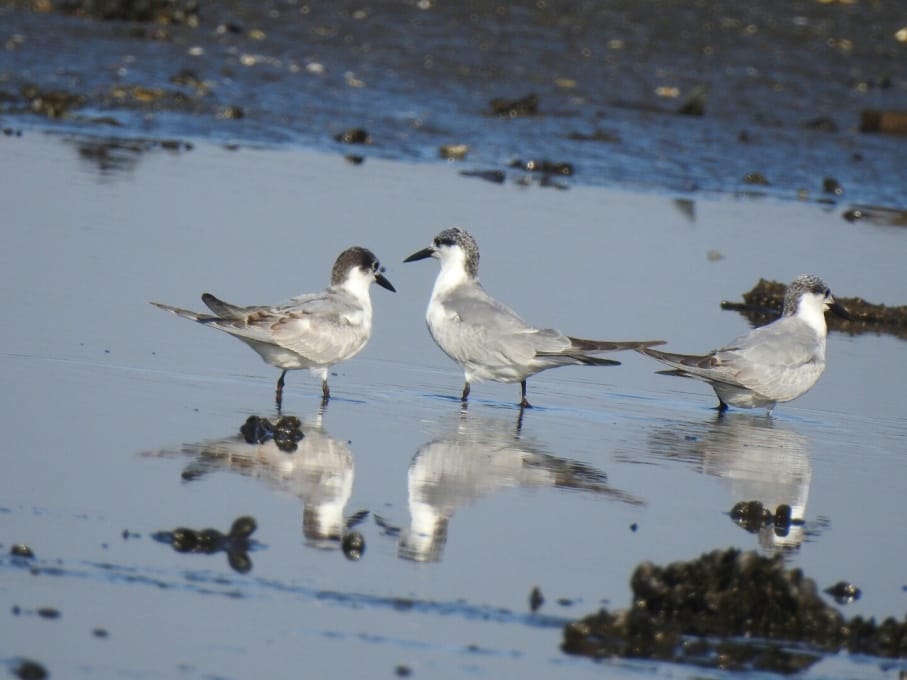 The tide was low and we saw several birds scattered over a large exposed area at the seaward shore of Freedom Island.  There were a few Rufous Night Herons and Striated Herons wandering among the numerous Common Greenshanks and Common Redshanks.  Spotting the birds over a wide expanse was a struggle. The solid waste that were scattered on the shore were in terribly copious amounts and they seemed to have commingled artificially with the area that any photograph of these beautiful birds will almost and always be besmirched.  There was usually a Common Kingfisher perched on any available stump, while Collared Kingfishers and Common Sandpipers frequented the rocks near the Wave Center which we used as our lecture hall.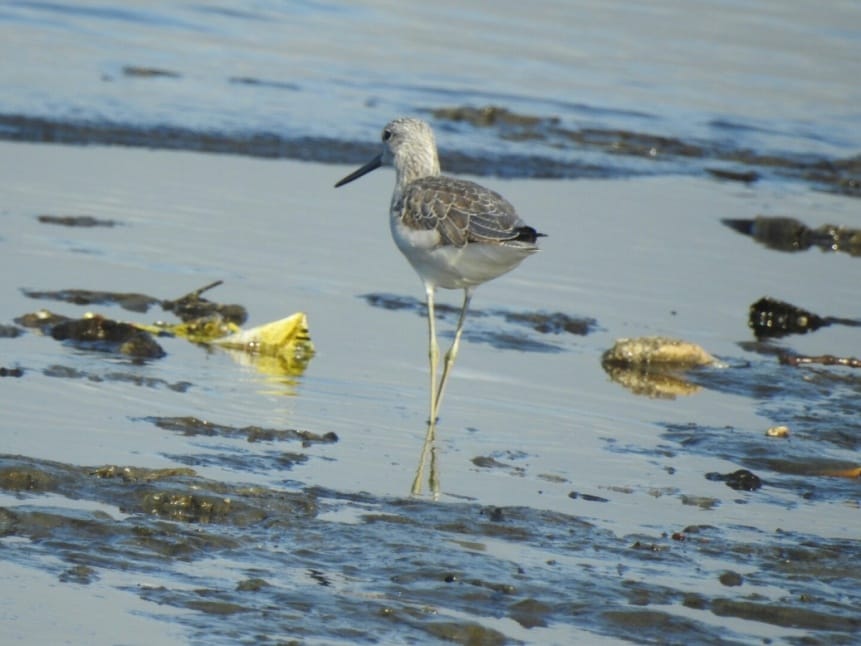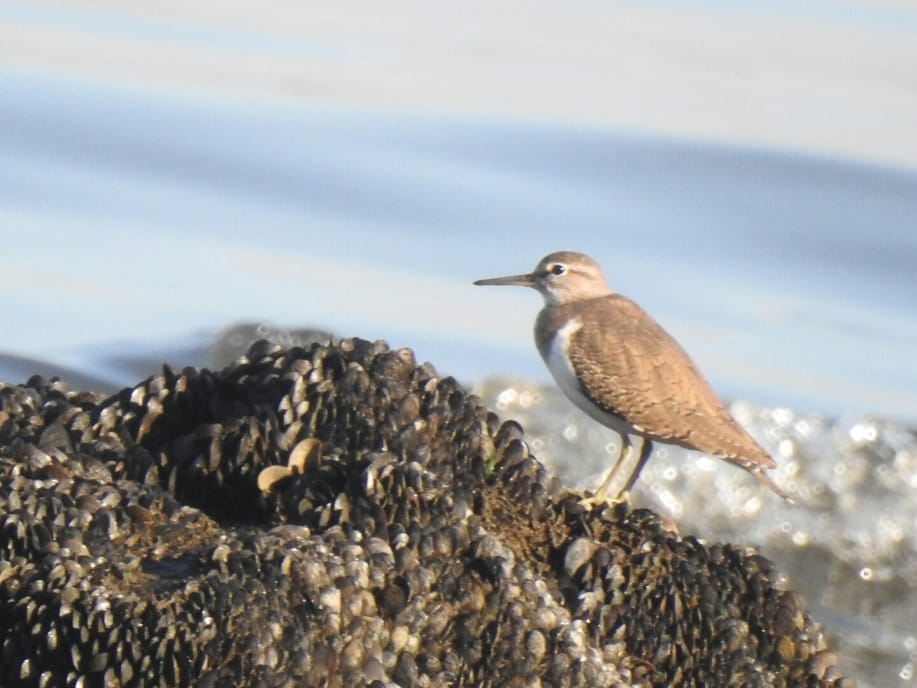 Then someone spotted a Great Egret and a Purple Heron from afar. Gina was quick to call our attention to a Javan Pond Heron in non-breeding plumage sauntering about on the shore.  It blended well with the refuse around it that we had to use a spotting scope to have a clear view.  According to the census data at hand, Javan Pond Heron is an uncommon sighting at LPPCHEA, such that Gina considered it the highlight of the trip.  There were also many Black-winged Stilts even at the South Lagoon where other birds were scarce at that time. After an hour of identification field practice, we fairly managed to differentiate the Common Greenshanks from the Wood Sandpipers and to spot the well-camouflaged Pacific Golden Plovers amidst the plastic debris.  We compared and observed through the scopes the salient features of the non-breeding Whiskered Terns which told them apart from White-winged Black Terns, especially on the marks of their forehead, crown and nape.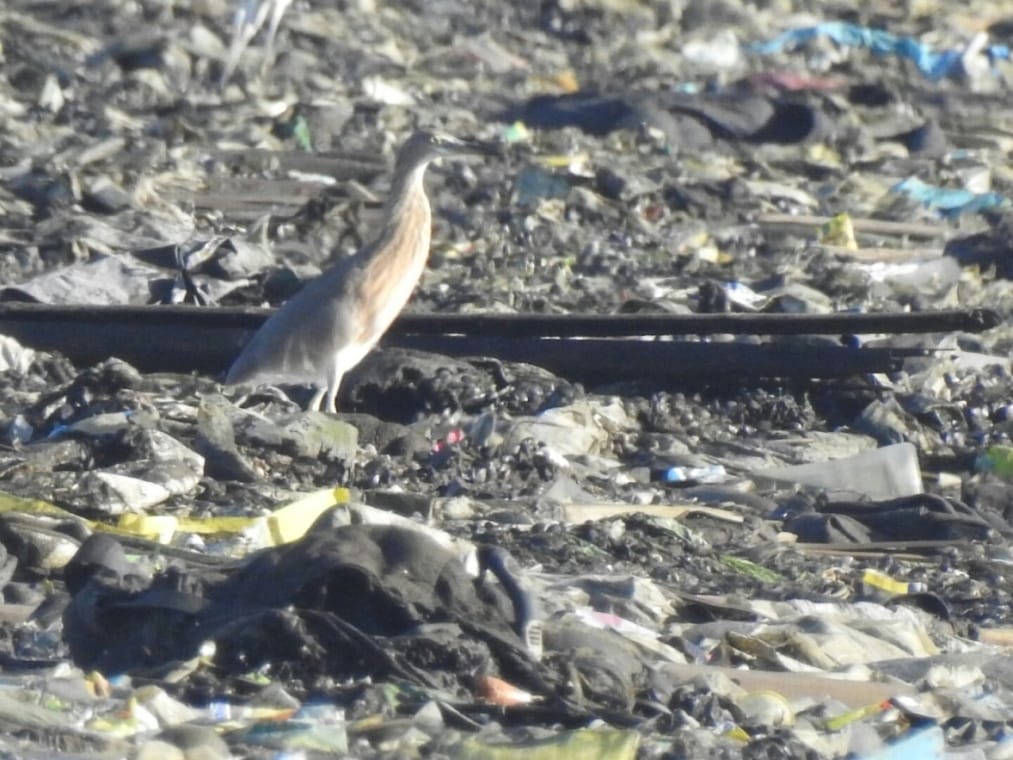 We also noticed the presence of stray dogs to which Arne quipped that LPPCHEA is somewhat unique among the RAMSAR sites for harboring these animals.   But it was the solid waste that overwhelmed us – they were not just scattered all over the place, they were virtually choking the area, depriving it of its very life with the waterbirds at the receiving end of the chain of human negligence.  We are aware of a continuing Mandamus issued by no less than the Supreme Court of the Philippines to restore and rehabilitate the Manila Bay but it seems the duty-bound government agencies have not done enough.  As if adding insult to injury, the same Court had to issue a Writ of Kalikasan to block the reclamation of the Las Piñas and Parañaque coastal areas but the threat of massive reclamation persisted despite the fact that LPPCHEA was already enlisted as a Wetland of International Importance by the Ramsar Convention in March 2013. Until last year, the DENR through public outcry cancelled the ECC for the reclamation project and hopefully put to the grave this impending danger.
Meanwhile, we hiked the trails and checked the inland waters at Freedom Island expecting to see the Philippine Duck Anas luzonica.  At the first pond, we saw a White-browed Crake and a Barred Rail which immediately took cover at the slightest sound we made.  There was a sudden flight of a yellowish creature with black shoulders which we identified as a Yellow Bittern. We walked further on to the second pond where Common Moorhens abound and a Black-crowned Night Heron stood guard on a tree top. There was a murmur about a Cinnamon Bittern allegedly foraging among the vegetation at the third pond, and while locating it, we were startled by the fleeting appearance of a White-throated Kingfisher with its huge dark red bill. At the end of the trail was a concrete boardwalk which was elevated allowing a lighter-than-air view of the mangrove forest where a small party of Pied Trillers rattled their familiar calls.  On our way back, we passed by an avenue of wispy trees where Japanese and Kamchatka Leaf Warblers chuckled their notes. Fortunately, Maia Tanedo and Djop Tabaranza were in our company and guided us through the calls to distinguish the two warblers that looked identical.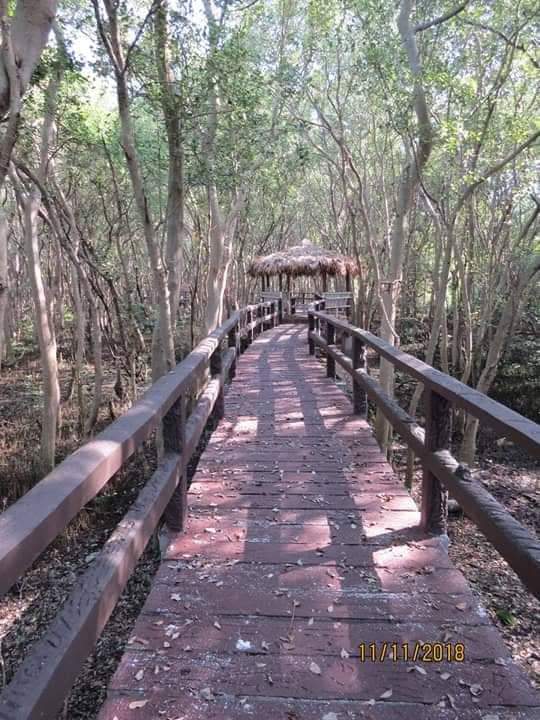 We concluded at the hall to discuss our sightings and the corresponding counts.  There was also a report on the presence of Kentish Plovers, Grey-tailed Tattlers, and Long-toed Stints.  The group was complete and we likewise met with Jon Josef, Doc Lolet, Myles Holar, Allan Holar, Marion Holar, Yani Barcenas, Art and Riza Melicor, Gabbi Reyes, Ruth, Dette de Venecia, Tristan Mirasol, Lalaine, Kurt and Keanu Dy, Charles Pandi, Tristan Manalad, and Stephanie Ching.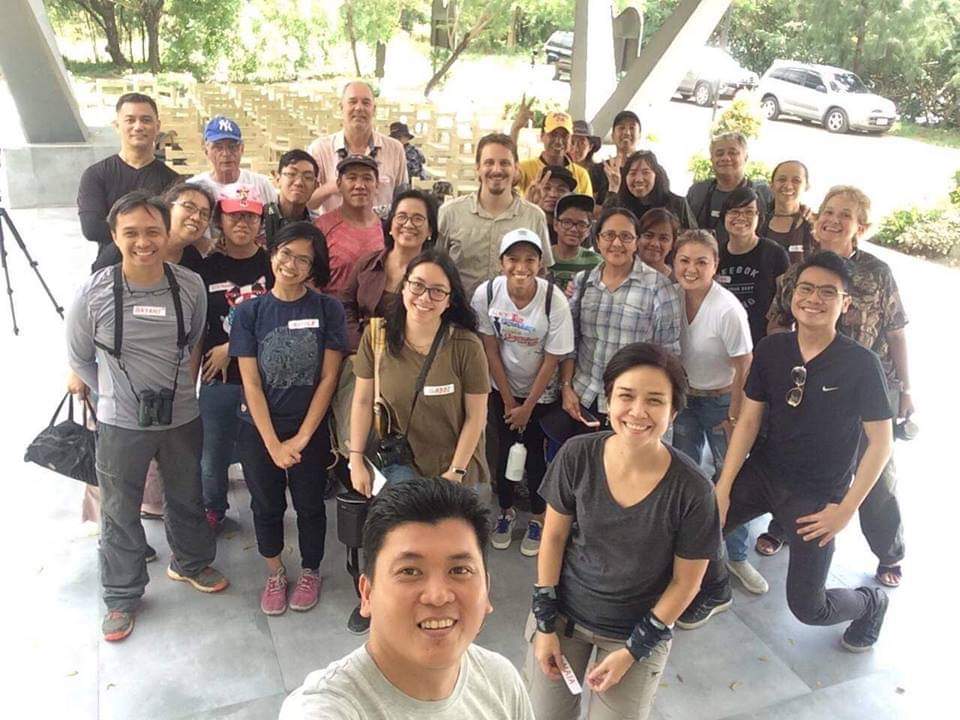 Overall, the field practice definitely improved our ID skills but we lamented the environmental degradation we had witnessed firsthand at LPPCHEA.  Considering the injury of the place, protecting LPPCHEA is a herculean task which needs the concerted efforts from different sectors of society.   Although we have noticed that the islands were rehabilitated with bamboos and other important vegetation, we feel that more aggressive efforts must be put to place.  As birders, we recognize that LPPCHEA is a treasure trove for birds with a huge potential as a birding hotspot, and our club activities such as waterbird ID and census will certainly contribute in the efforts to its rehabilitation and protection.