Text by Willem van de Ven
---
Every year the UP Mountaineers have their applicants  who want to join their organization participate in activities such as tree planting, tree walks, and of course, birdwatching! The Wild Bird Club of the Philippines always facilitates the birdwatching part which usually means we trump out at 5:30 am and gather at the steps of the Main Library of UP Diliman, and then walk around the campus with our scopes and bins and talk about the birds. But not this year! This time, the UP Mountaineers decided to hold the birdwatching activities, spread over 2 days, at the reservoir at IPO Dam. As I'd never been there before, this was an excellent opportunity to go birding in another forest-y area near(ish) Metro Manila, so I volunteered for both trips.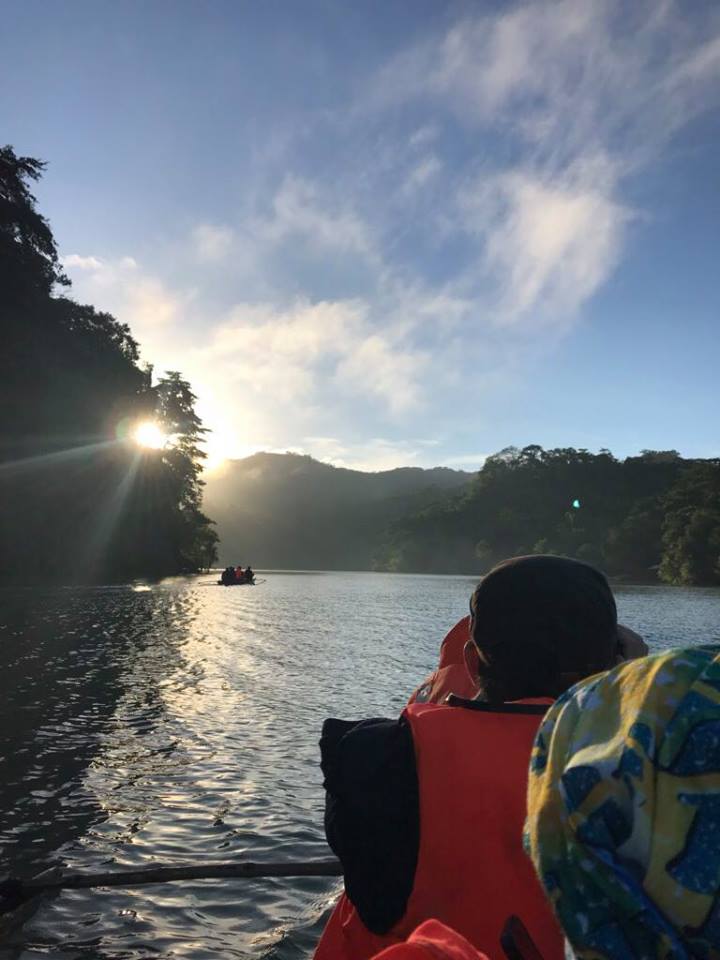 As it was slightly further away from the usual venue (UP Diliman is only a stone's throw from my home), meet up time was 2:30 am. So, as usual, I had slept around 2 hours before heading out. I was joined by vice-president Lorelie Tan (Doc Lolet) and new member JanJaap Brinkman (JJ), and waved off by fellow officer Jops Josef who handed over our bins. Luckily JJ had a van we could all ride in, so we could make our own schedule. First item on the agenda: Jollibee breakfast. As it was by this time around 3 am, none of us were very hungry yet, we packed the breakfast for later, though all of us opted for coffee 😉 Then came the 1.5 hour ride out to the dam, following the jeepney which carried the UP Mountaineers and their applicants. After a slight delay at the Ipo Dam gate due to paperwork issues (you cannot just go there and enter without proper permits), we were let through and soon arrived at the dam around dawn. We already checked one species on the list while waiting at the gate: a Philippine Scops Owl which returned our call twice before turning in for its daytime nap.
A short introduction was given and the binoculars handed out. While scanning the dam and reservoir around us, we spotted Philippine Bulbuls calling, Lowland White-eyes chittering, a Blue Rock Thrush on the dam, and Pacific Swallows and swiftlet sp's flying all over the place. Then, instead of our usual birdwalk, we divided up into 6 boats and set out along the water edge. Immediately, a pair of Common Kingfishers flew across the bow of the lead boat, and a bit further the White-throated Kingfisher saw us off with a series of its laugh-like cries. We traversed the lake in groups of two boats with one WBCP guide each, stopping here and there to listen to the birds in the trees. Great sightings all around: a flock of 15 Rough-crested Malkoha with a couple of Rufous Coucals in the group, Luzon Hornbills (according to Fredd Ochavo, they've seen flocks of up to 45 in the area), and a lot of flyby Guaiaberos. With the noise of the engine, it was hard to hear any birds while driving, however as soon as we stopped anywhere, the forest seemed to come alive.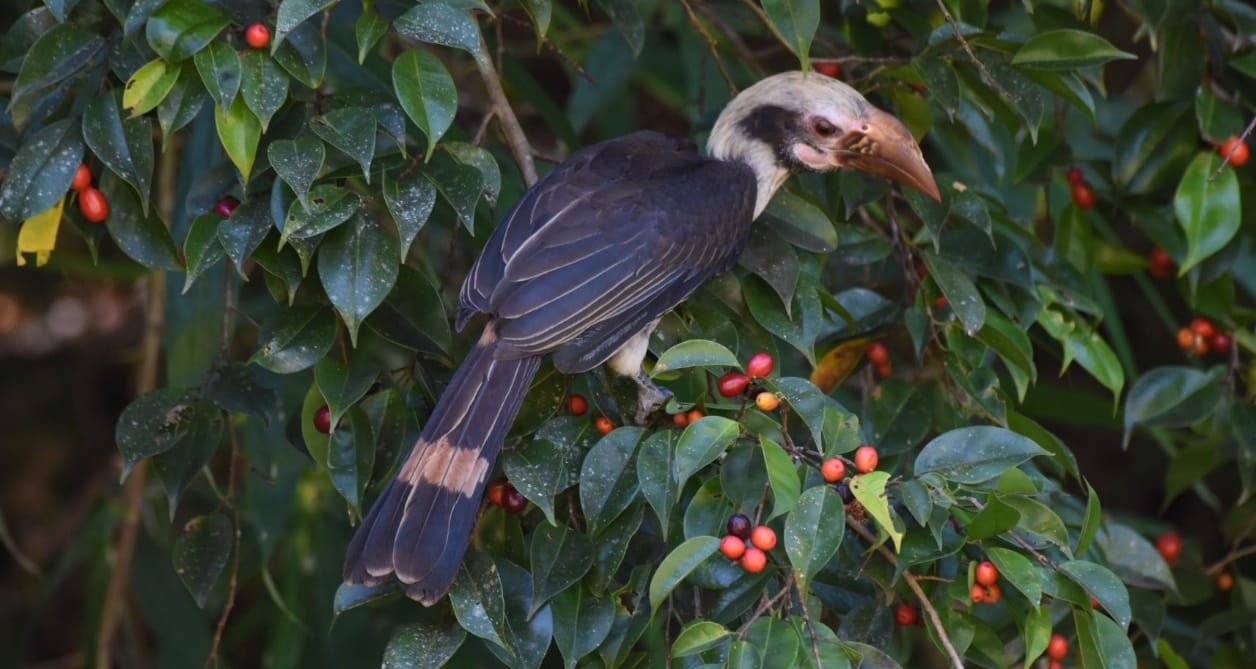 The highlight of the trip, just before we made landfall around 2 hours later, was a pair of Grey-headed Fish Eagles, one of which obligingly perched for a while before flying off. When the applicants went on with their next activity, treeplanting, us WBCPers were allowed to hijack one of the boats and went further upstream. We went all the way to the spillway of the Angat Dam in search of the Indigo-banded Kingfisher, which we found but was reluctant to pose in front of our cameras for very long 😉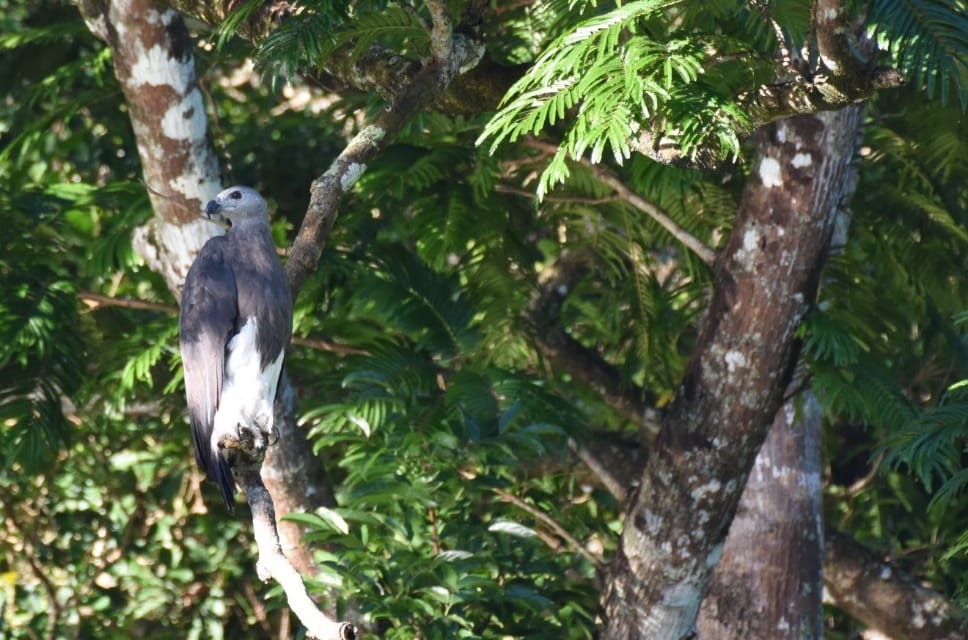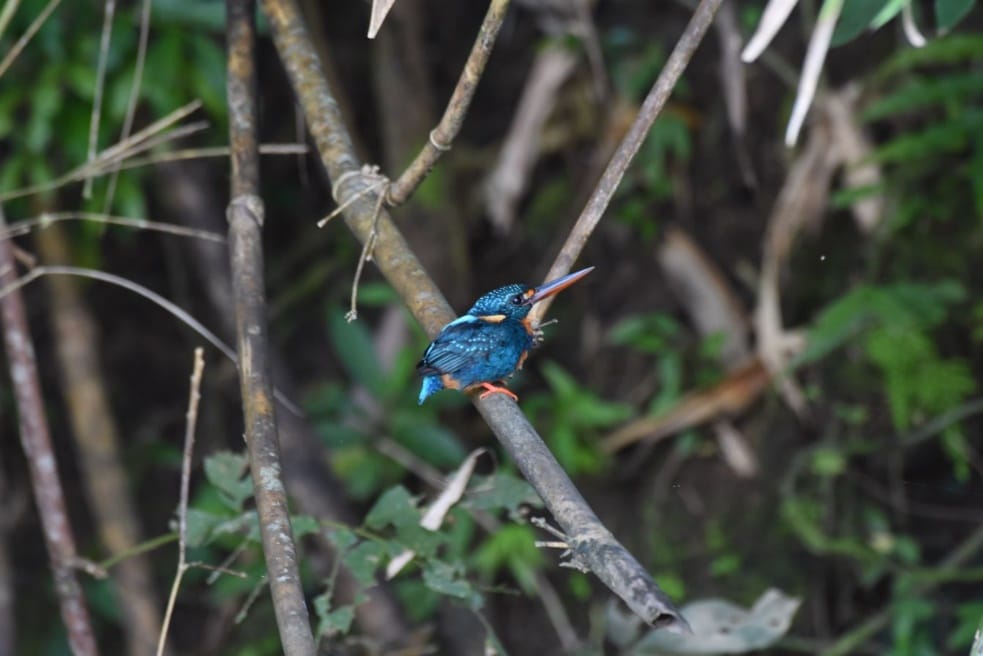 It was such a wonderful trip that I decided to join the second one also, even though this was on a Saturday instead of a Sunday. Jops Josef, whom we handed back the binoculars to after the first trip, was also convinced after our enthusiasm, so joined the second trip along with Nikdye Realubit and new member Cheta Chua. We had a larger group of participants this time and a bit of a harder time birding, a lot of the same birds including great views of the Grey-headed Fish Eagle, and at the very end even a lifer for me! Just a flyby, but very clearly right next to our boat, we saw a Ruddy Kingfisher cross the reservoir and disappear into the forest just before we arrived back at the dam. I will go back there the next chance I get 🙂
---
Here are the bird lists from the two trips to Ipo Dam:
Ipo Dam, Norzagaray, Bulacan
Sunday Sep 23
Rufous Coucal (Centropus unirufus)  3
Rough-crested Malkoha (Dasylophus superciliosus)  5
Scale-feathered Malkoha (Dasylophus cumingi)  1
Whiskered Treeswift (Hemiprocne comata)  1
Striated Heron (Butorides striata)  2
Besra (Accipiter virgatus)  1
Grey-headed Fish Eagle (Haliaeetus ichthyaetus)  1
Philippine Scops Owl (Otus megalotis)  1
Luzon Hornbill (Penelopides manillae)  15
Indigo-banded Kingfisher (Ceyx cyanopectus)  2
White-throated Kingfisher (Halcyon gularis)  1
Spotted Wood Kingfisher (Actenoides lindsayi)  1
Guaiabero (Bolbopsittacus lunulatus)  5
Brown Shrike (Lanius cristatus)  3
Balicassiao (Dicrurus balicassius)  1
Large-billed Crow (Corvus macrorhynchos)  1
Barn Swallow (Hirundo rustica)  1
Pacific Swallow (Hirundo tahitica)  1
Philippine Bulbul (Hypsipetes philippinus)  3
Grey-backed Tailorbird (Orthotomus derbianus)  1
Blue Rock Thrush (Monticola solitarius)  2
Red-keeled Flowerpecker (Dicaeum australe)  1
Grey Wagtail (Motacilla cinerea)  1
Saturday Oct 13, 2018
Common Emerald Dove (Chalcophaps indica)  1
Rough-crested Malkoha (Dasylophus superciliosus)  3
Pygmy Swiftlet (Collocalia troglodytes)  1
Grey-rumped Swiftlet (Collocalia marginata)  3
Little Egret (Egretta garzetta)  2
Striated Heron (Butorides striata)  5
Philippine Serpent Eagle (Spilornis holospilus)  2
Brahminy Kite (Haliastur indus)  2
Grey-headed Fish Eagle (Haliaeetus ichthyaetus)  2
Philippine Scops Owl (Otus megalotis)  2
Luzon Hornbill (Penelopides manillae)  4
Common Kingfisher (Alcedo atthis)  7
Indigo-banded Kingfisher (Ceyx cyanopectus)  3
Ruddy Kingfisher (Halcyon coromanda)  1
White-throated Kingfisher (Halcyon gularis)  8
Spotted Wood Kingfisher (Actenoides lindsayi)  1
Coppersmith Barbet (Psilopogon haemacephalus)  1
Philippine Pygmy Woodpecker (Yungipicus maculatus)  1
Philippine Falconet (Microhierax erythrogenys)  2
Guaiabero (Bolbopsittacus lunulatus)  8
Brown Shrike (Lanius cristatus)  4
Black-naped Oriole (Oriolus chinensis)  1
Large-billed Crow (Corvus macrorhynchos)  5
Pacific Swallow (Hirundo tahitica)  1
Philippine Bulbul (Hypsipetes philippinus)  6
Blue Rock Thrush (Monticola solitarius)  2
Coleto (Sarcops calvus)  2
Dicaeum sp. (Dicaeum sp.)  2
Grey Wagtail (Motacilla cinerea)  2