by Willem Van de Ven
The Crane is a symbol often seen in Korea, on chopsticks, figurines, or signboards, and we were eager to get to see them in real life. However, in Namhae, the island where the 1st Korea Bird Fair was held, it was the Eurasian Oystercatcher that stole the show.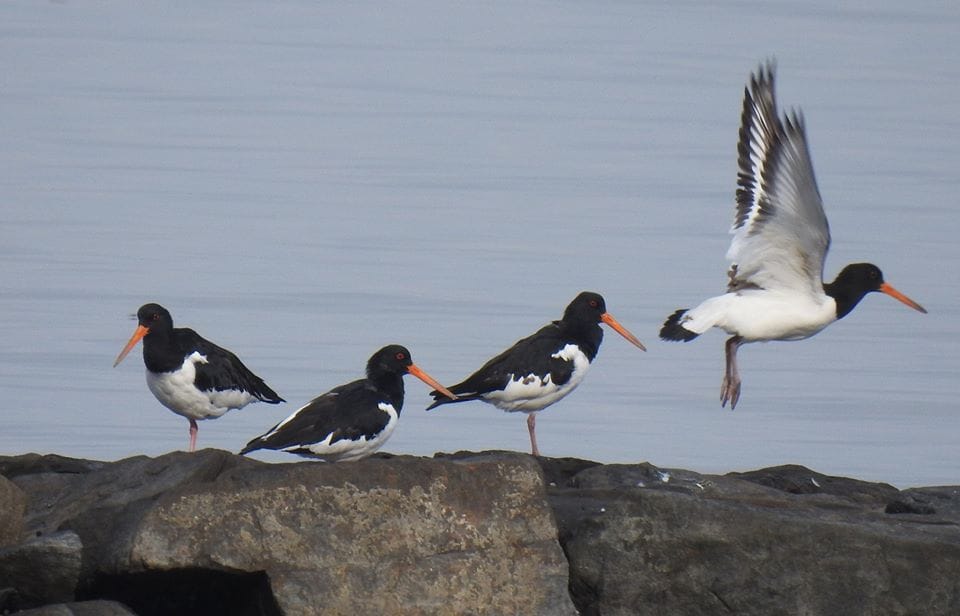 As there is a direct daily flight from Manila to Pusan by Philippine Airlines, this was our logical choice to get to Korea. Only the flight arrives quite late in the evening, and as we did not want to miss anything of the program, we arrived the day before the bird fair officially started.
Even before landing, Korea already made an impression. The city, or rather the seven connected cities as was later pointed out to me, are all on the coast and valley bottoms, and of course brilliantly lit up, while in between the 'thousand mountains' of Korea are completely dark. Every hill we saw in Korea is completely forested! What a sight. A short history lesson taught us that after the Korean War (1950-53), when the country was completely devastated and greatly defoliated, the Koreans started an intensive campaign on strong education and focus on developing industry. Companies like Samsung and Hyundai are examples of what eventually happened and the reason the country went from receiving foreign aid to giving foreign aid to others from the 1980s forward. But not only that, they started reforesting their country and have focused on building upwards with many high rise buildings everywhere and intensifying agriculture to high yield crops only in the valleys and lowlands. The result is a beautiful landscape where you never have to go far to walk from the middle of the city to the middle of the woods.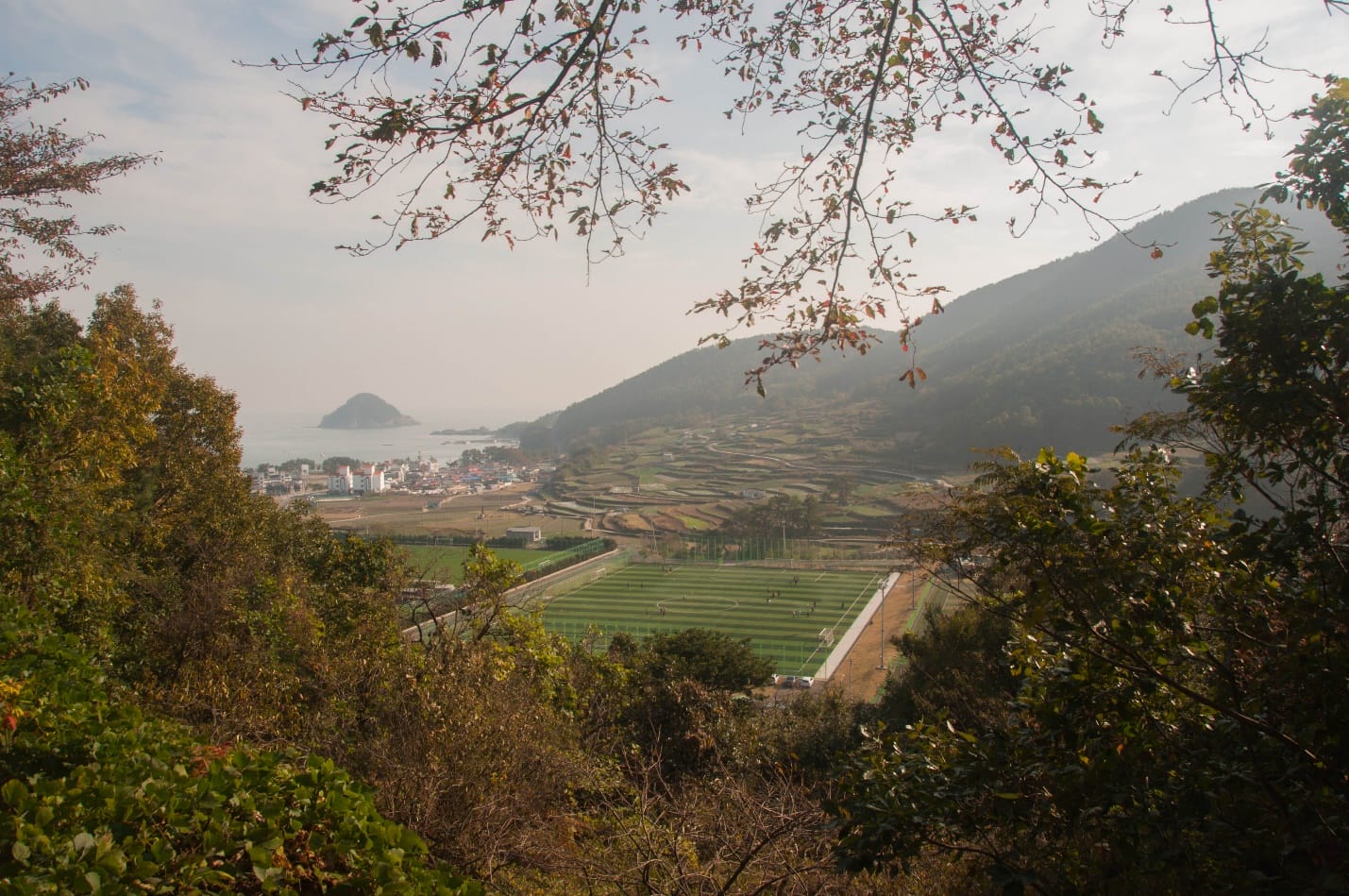 We were picked up by Dr. Hwang Inseog and swiftly drove through the well-maintained highways with almost no traffic, all the way to Namhae county on the island with the same name. We were treated to Samgyeopsal and local beers, a great way to start any event. Our hotel room was huge, contained barely any furniture, and with a heated floor. This was a good thing, as we were often sitting on it to upload photos to Facebook in the evenings. Outside, it was cold!
It was so cold, that early morning birding turned into early morning walking around the place with your hands in your coat pockets instead, breathing in the fresh air. But as soon as the sun rose over the hilltops, the temperatures went up to a balmy 17 degrees and the weather was truly wonderful. Well, so says yours truly. Any Filipinos maintained that it was still cold 😀
We spent the first day (Friday) walking the grounds and trying to get the overexcited Vinous-throated Parrotbills on photo, chasing Daurian Redstarts for a better view, or checking if the Blue Rock Thrush had come back to its previous perch after being chased off by people. We discovered a canal with a lot of Spot-billed Ducks and a couple of Mallards, Grey Herons, and a Little Egret. Also, White Wagtails were abundant. Other birds seen included Grey-capped Greenfinches, Bull-headed Shrikes, and Eurasian Great Tits. Crows (probably Carrion Crow. You are supposed to distinguish from Large-billed because they 'hop' rather than 'walk'. Most were 'perched' on top of light masts, so who knows…) and Oriental Magpies were all over the place, and nearly as noisy as the Brown-eared Bulbuls.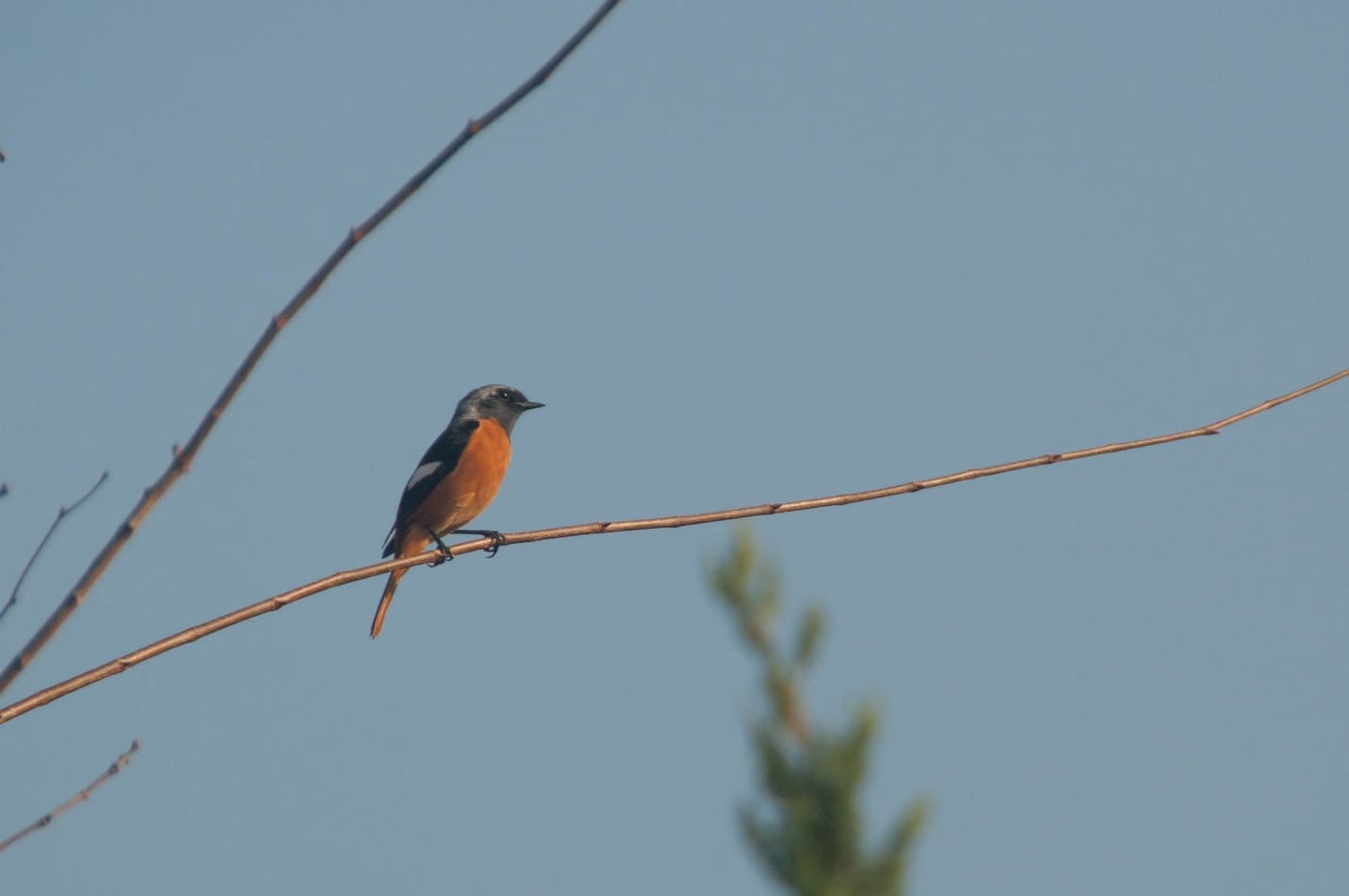 When the other participants arrived, we had dinner with our Korean counterparts and renewed ties with friends from Taiwan and Australia. Dinner (and consecutive breakfasts and lunches) consisted of a main dish, usually a soup with fish or meat, and lots of small dishes made up of dried fishes, vegetables, bean sprouts, and of course kimchi.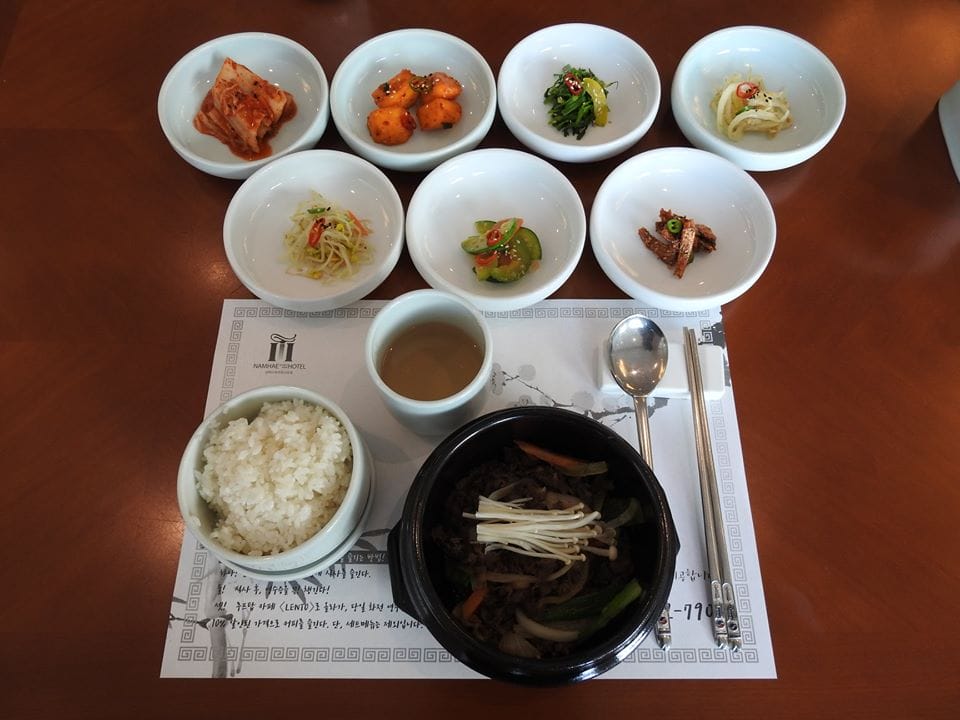 On Saturday, the festival proper started with a short opening program which included a Crane dance, and we set up the Wild Bird Club of the Philippines' booth in the nice sunny weather. Around 20 other booths were occupied by Sicklebill Safaris, Cambodia Bird Guide Association, Ecotourism Taiwan, East Asian – Australasian Flyway Partnership, and a number of local vendors and partners.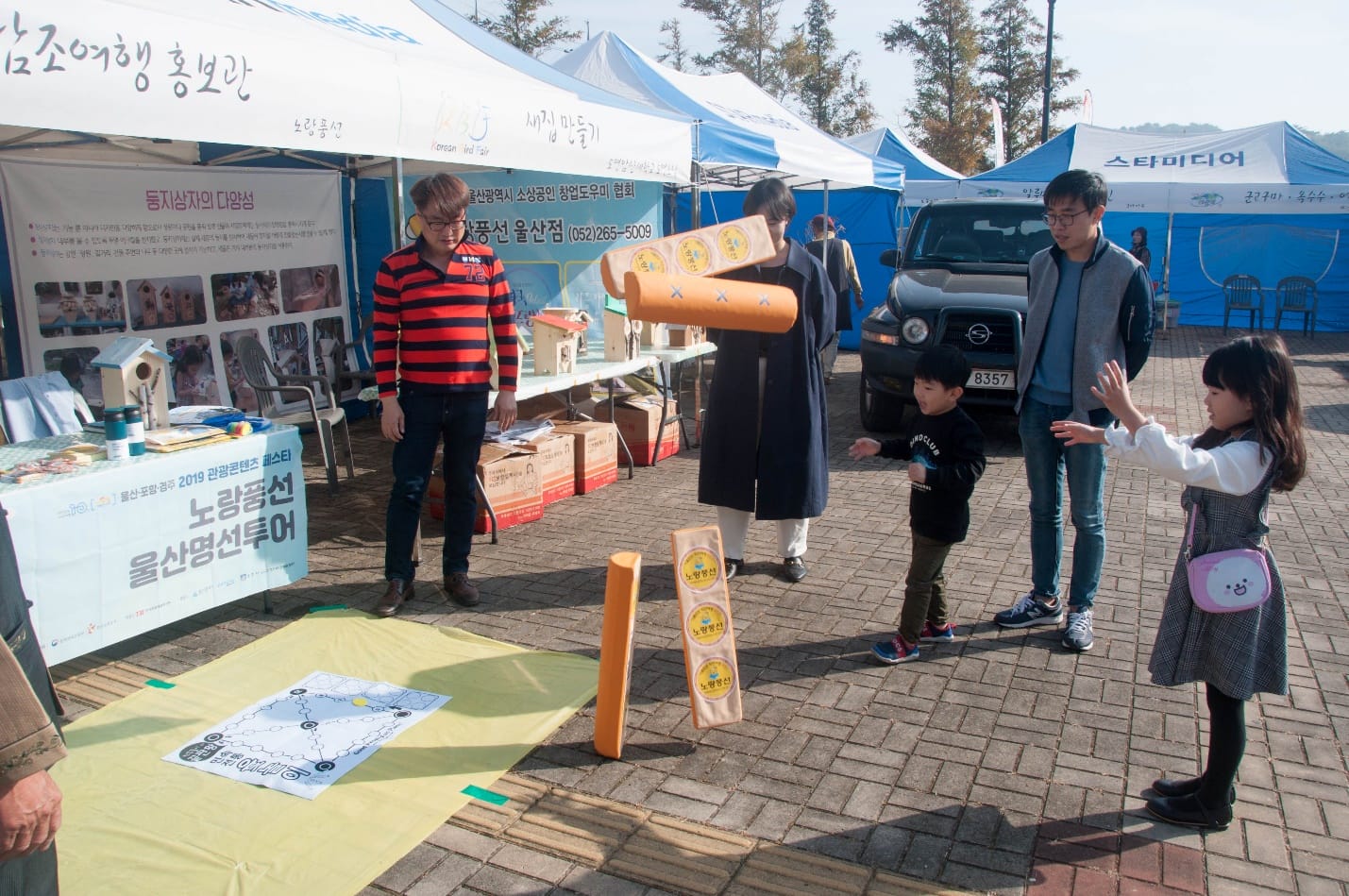 In the afternoon, we were toured around the fishponds along the coast, and saw many Eurasian Oystercatcher, some Black-billed Gull, Black-tailed Gull, Vega Gull, and even a Saunder's Gull. There were also many more ducks, including Eurasian Wigeon, Northern Shoveler, a couple of Gadwall, and more Mallard and Spot-billed Duck. We saw Common Kingfisher, Eurasian Great Cormorant, and even a Stejneger's Stonechat and a Northern Lapwing.
The buffet table of the dinner in the evening was the longest I've ever seen. I filled up my plate with only one piece of each and only got halfway through. A nice dark draft beer from the rooftop bar topped off the day nicely.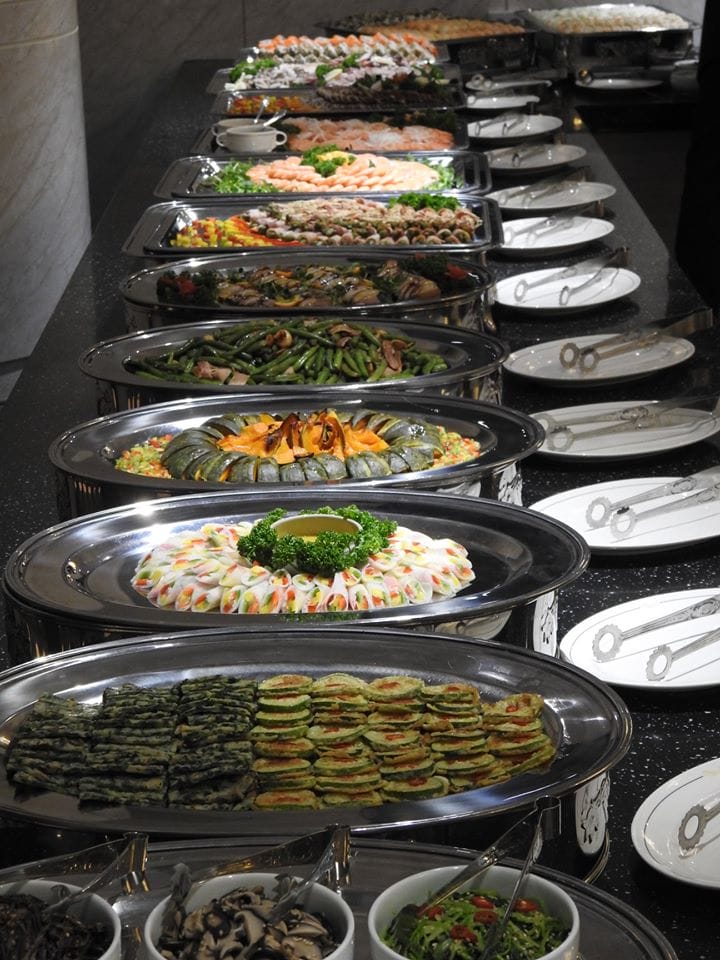 Sunday was the first (and only) day we were too tired to get up really early to go birding, instead we went to the fairgrounds after breakfast for the International Symposium on Promoting Birdwatching Tourism in Namhae. Randy Durband of the Global Sustainable Tourism Council (GSTC) kicked off the forum which was hosted by Mihee-Kang and moderated by one of the foremost ornithologists in the country, Dr. Lee Gi-seop.
After the talk about the Sustainable Tourism, Victor Yu of Ecotourism Taiwan talked about the history and current practices of birdwatching in Taiwan. Mike Lu of our own Wild Bird Club of the Philippines showed us the different birds and birding sites in the Philippines. Johnny Orn of Cambodia Bird Guide Association talked about how they set up local ecotourism benefits and conservation including their Vulture Restaurant. Finally, Dr. Lee himself talked about the Waterbird Network Korea and current status and challenges of birdwatching tourism in Korea.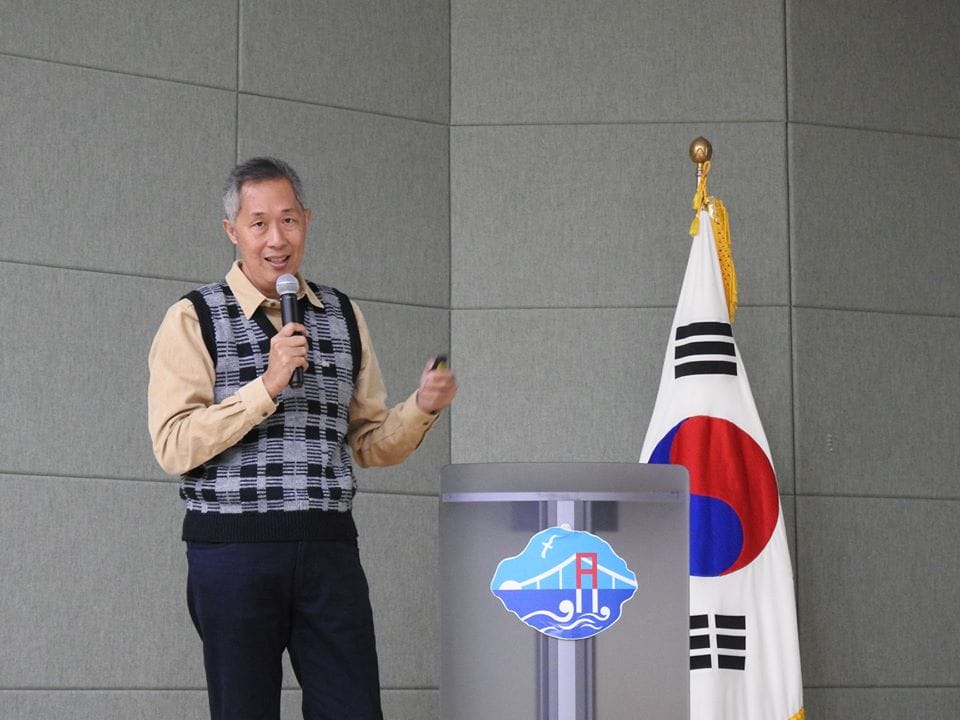 In the afternoon; birding again! These organizers knew how to keep their delegates happy. This time we went up one of the mountains and looked for forest birds while walking along the roads. Not just delegates, but visitors got to join as well. We saw Eastern Great Tit, Coal Tit, Long-tailed Tit, and Marsh Tit, a Grey-headed Woodpecker, Large-billed Crow, and a number of raptors: Eastern Buzzard, Common Kestrel, and Eurasian Sparrowhawk.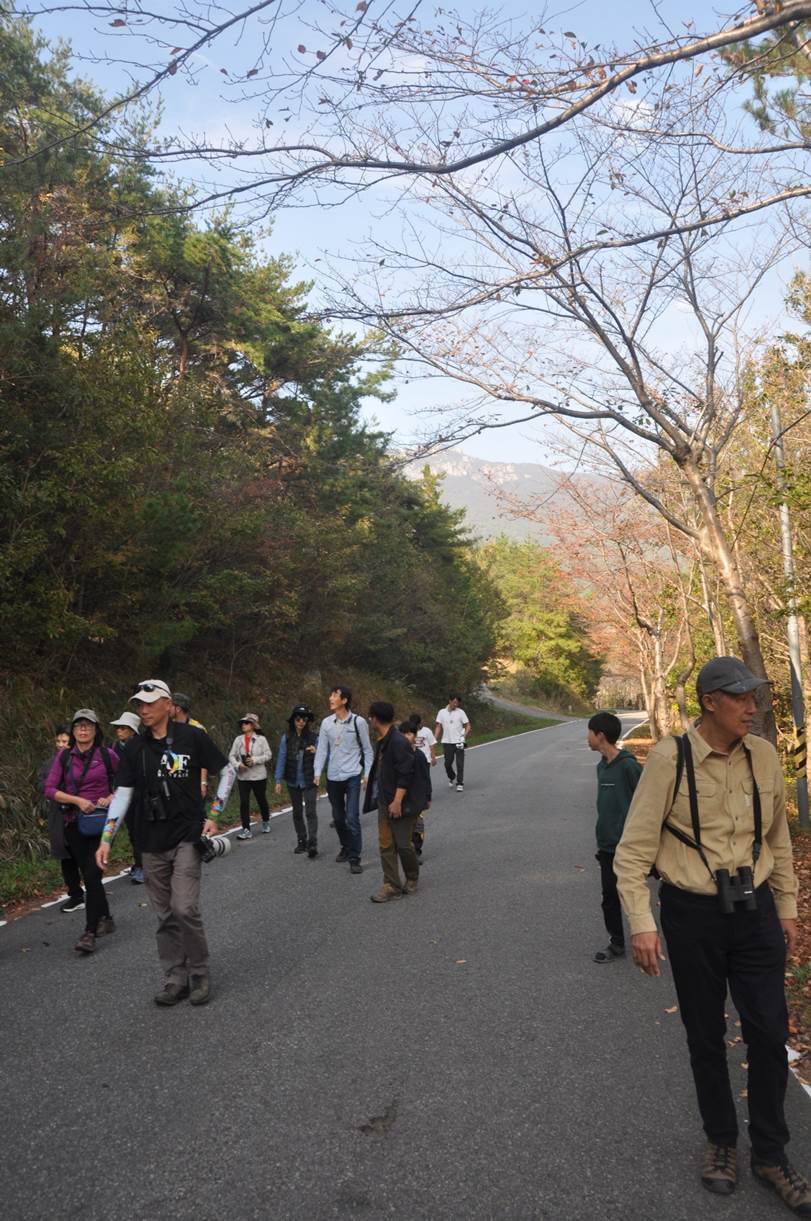 Monday was officially no longer part of the Korean Bird Fair, which ended the afternoon before with a short closing ceremony and group photo session. We were now on the post tour. We got up early and left Namhae around 5 am to go to Suncheon Bay Nature Reserve. We stationed ourselves halfway up a hill with an overview of the most gorgeous river valley and mudflats, protected on two sides by mountains and covered with grasses varying from yellow to green and even red! And amongst that all were a couple thousand Hooded Crane! In small groups, they were taking off to go foraging elsewhere or move on towards Japan for their final overwintering destination. We also spotted a Common Crane and several Eurasian Spoonbill.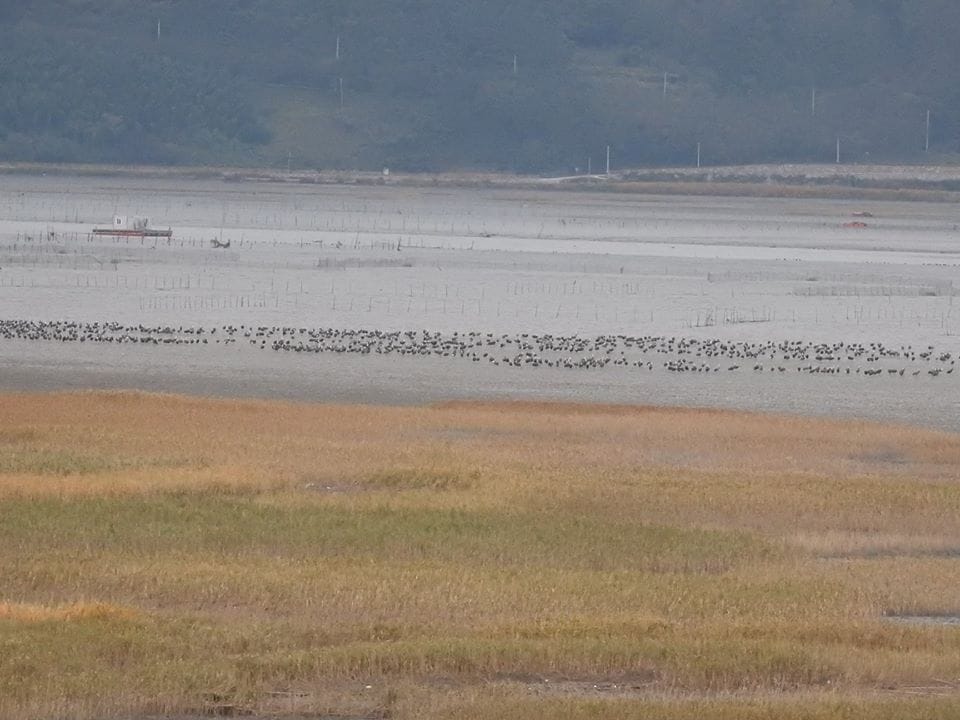 We went around the place for better views and to see the grassland areas up close. The wetland center is a busy tourist attraction where you can wander around the area over walkways through the grasses and enjoy the breeze. We also saw some small villages up close with the typical roof style and persimmon trees. Alas! After that, the trip was over and we were brought to the Pusan airport again, where we enjoyed a Hamburger meal. The next Korean Bird Fair will be in another place in the country, as they will follow the example of the Philippines and host the Bird Fair in different cities every year. I hope I can join it again then.