Compiled by Michele T Logarta
While field guides are essential to birding, there are many other tomes of interest to the bird watching bookworm. This section features those "other" books, fiction and nonfiction, about birds, birders, nature and the environment. Books can be old and new, from a personal collection, or borrowed from the library or from friends, or encountered and browsed at a bookstore or anywhere for that matter. This is not intended to be a book review, but rather a space for the birder to tell others about a book he thinks is noteworthy, life-changing or simply, just a good read.
For this edition of eBon, Birder's Bookshelf asked birder Amado "Mads" Bajarias, Jr. to share with us a book from his bookshelf. Here's what he says about the book that reveals the secrets of the Bagobo babbler:
Demystifying the Bagobo Babbler—The Philippines' most secretive bird
Miguel David De Leon, M.D.
Published by the Manila Bulletin Publishing Corp. (2022)
Limited to 100 copies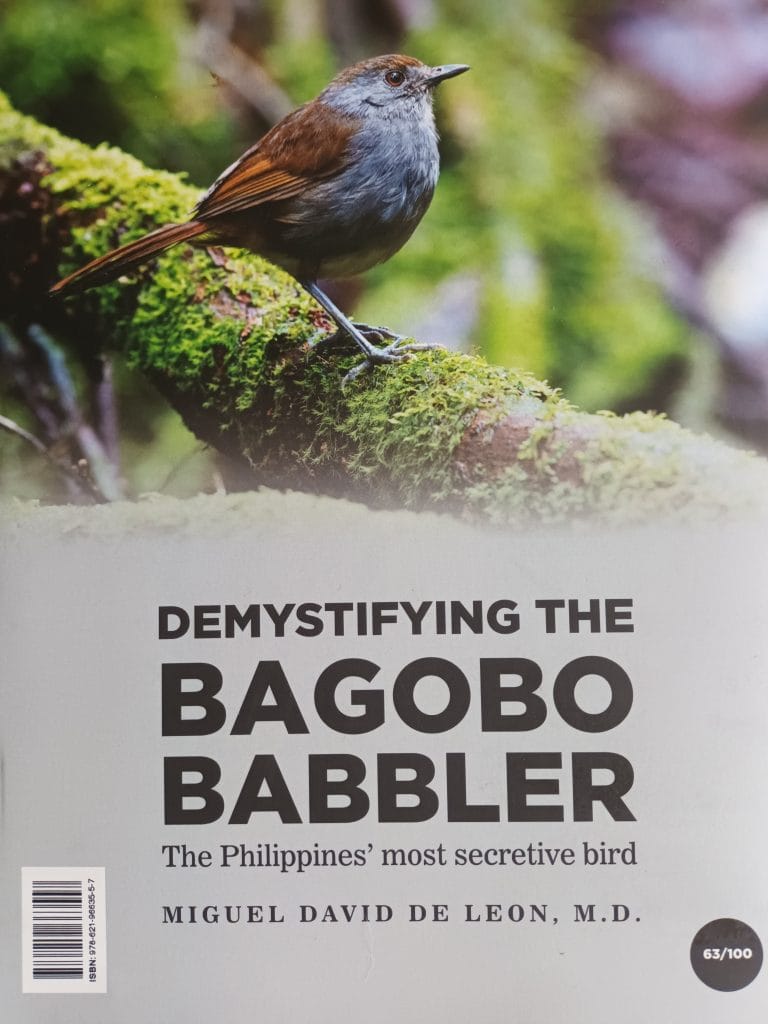 The Bagobo Babbler Leonardina woodi is "[u]nquestionably the most secretive bird in the Philippines as free ranging individuals have only recently been seen by naturalists." Thus declared Robert S. Kennedy and his co-authors in the authoritative A Guide to the Birds of the Philippines (Oxford, 2000), adding, "Nest and eggs undescribed."
This shy and elusive creature is known from only a handful of forest patches above 1000masl in Mindanao. Although it is known to respond to playback of its call, it mostly remains hidden from view, and a typical encounter in the wild is a long stakeout punctuated—if one is lucky enough—by a blur of movement in the dimly lit undergrowth. This is not a bird that shows itself easily.
The babbler, which is apparently known to Bagobos as "Doo-roogh-bah-long" according to Kennedy etal., entered the realm of science when a specimen was collected at 1200masl on Mt. Apo by Edgar A. Mearns in 1904. A second was procured by Austin Rand only in 1948, and the first published photograph of the species in its natural habitat was taken only in 2015, underscoring the cryptic nature of this animal.

Fast forward to 2018 and enter Miguel David De Leon, M.D., an eye surgeon and field biologist who has discovered more than two dozen orchid and Hoya species over the years. De Leon is also the founder of the Robert S. Kennedy Bird Conservancy, which aims to conserve Philippine birds and their habitats; and the Return Flights Raptor Facility, which rescues and rehabilitates injured birds in partnership with the Department of Environment and Natural Resources.

De Leon took on the Bagobo Babbler's reputation as a "difficult" bird as a personal challenge. With tireless energy and unwavering focus, he made it his quest to learn as much as he could about the babbler and share his observations with the wider world with a view towards conserving it and its habitats.

De Leon's monograph, Demystifying the Bagobo Babbler—The Philippines' most secretive bird (Manila Bulletin Publishing Corp., 2022), is a distillation of his four-year field research, involving innumerable hours of close observation and documentation of Bagobo Babbler nests from inside carefully constructed bird hides. During the course of field work, he and his team found 62 nests, of which 48 featured in the study. Out of the 48, De Leon focused his attention on 15 in Lantapan and Manolo Fortich, Bukidnon.

Demystifying the Bagobo Babbler consists of two parts: Section 1 is the formal study with supplemental notes, and Section 2 is a set of high resolution photographs in the wild that complement the study findings. The first section includes detailed observations that shed light on previously unknown features of the biology of the Bagobo Babbler, including the identification of nest host plants and nest construction materials. The second section is a photographic essay that constitutes the best ever documentation of the babbler's nesting and nesting associated behaviors.

All together, this monograph represents a breakthrough on our understanding of this enigmatic Mindanao taxon. After reading this short but substantial work, one can say that the distinction of being the Philippines' "most secretive bird" does not apply to Bagobo Babbler anymore.
—Amado C. Bajarias, Jr.