By Angel Chan and Cheta Chua
Cheta:
In 2019, Mads and I climbed a steep hill in search of two birds – the Whiskered Pitta and the Bicol Ground Warbler (BGW). Despite being a new birder, I was already familiar with highly sought-after pitta, but it was the BGW that really caught my attention. Mads described the BGW as "rat-like" and upon hearing its call, I understood why. It was a high-pitched ringing that sounded like a mouse and Mads further explained that this bird acted more like a rat than a bird, crawling around the ground rather than flying. On our first attempt, we heard the bird closely, but the nature of its call made it extremely difficult to pinpoint where it was coming from, so we did not see it that day.

Over the years, I would regularly hear its call and try to stake it out for hours. Fast forward to June 2021, having seen most of the Infanta birds, I decided to devote full trips to see this secretive bird. A few trips later, in Nov 2021, I had the first ever visual sign of the bird: a flash of movement in the underbrush, but despite our best efforts, we had no luck with it.
Not seeing the BGW became a personal frustration of mine to the point of obsession. I had every known photo of the bird and its only video saved on my phone. Over time, I had familiarized myself with the bird, its territories, and its general habits, and slowly I felt myself get closer and closer to finally seeing it. In Feb 2022, we spent a whole day looking for it, and we experienced success in which half the group had seen the bird but unfortunately, due to its sneaky nature, I only once again just saw movement.
Angel:
Five months after I started birding, I found myself going to Infanta in Quezon for the first time. Cheta, a known birder who frequented the area, led the trip and provided me with a list of Infanta birds. I half-jokingly put the Bicol Ground Warbler as the top target of the list for my guide's sake, as he would not stop talking about it. Still, I am a self-named chonky colorful bird enthusiast, so I would be extra happy if I saw the Philippine Trogon, any of the Fruit-Doves (Flame-breasted, Yellow-breasted, and Cream-breasted), Whiskered Pitta, Rufous Hornbills, or even the Blue-headed Fantail. The brown BGW was only at the back of my mind (sorry, Cheta!), but it was primarily due to the thought that if Cheta hasn't seen it, how can I?
Albeit a rainy day in May, our morning was very productive. Some birds we saw were: a flock of annoying Citrine Canary-Flycatchers, beautiful Blue-headed Fantails (my favorite), cool Philippine Fairy-bluebirds, adorable Sulphur-billed Nuthatches, and from a distance, majestic Rufous Hornbills.
Near lunchtime, Cheta wanted to check a spot where the BGW was frequently heard, so we staked out the area that required a bit of a climb down. We heard its call nearby, but it was difficult to pinpoint where it was exactly. This was my first time waiting for a bird for more than 20 minutes, so it was an exciting experience! Cheta then gave up (I think for my sake), and we climbed back up to the roadside. We continued to hear its call near one of the roadside canals, which led us to stand in front of the overgrown grass to keep trying to spot any movement.
I detected a rippling of grass, and through my binoculars, I saw a small brown bird with white specks on its wing, waiting to hop around. "Oh, it's there on the right!" I exclaimed. Cheta immediately asked me where and what I saw, to which I realized he didn't observe the movement. I panicked as I lost sight of the bird, and I would honestly feel bad if Cheta didn't see it and I did, so I responded, "I think it's a brown bird? Not sure." My vague directions were apparently enough because, after a minute or two, he finally saw it.
Maybe it was because I manifested it by making it my top bird target of the day or Cheta was truly meant to see it after 27 times, but my first Infanta trip became memorable by unexpectedly spotting the elusive BGW.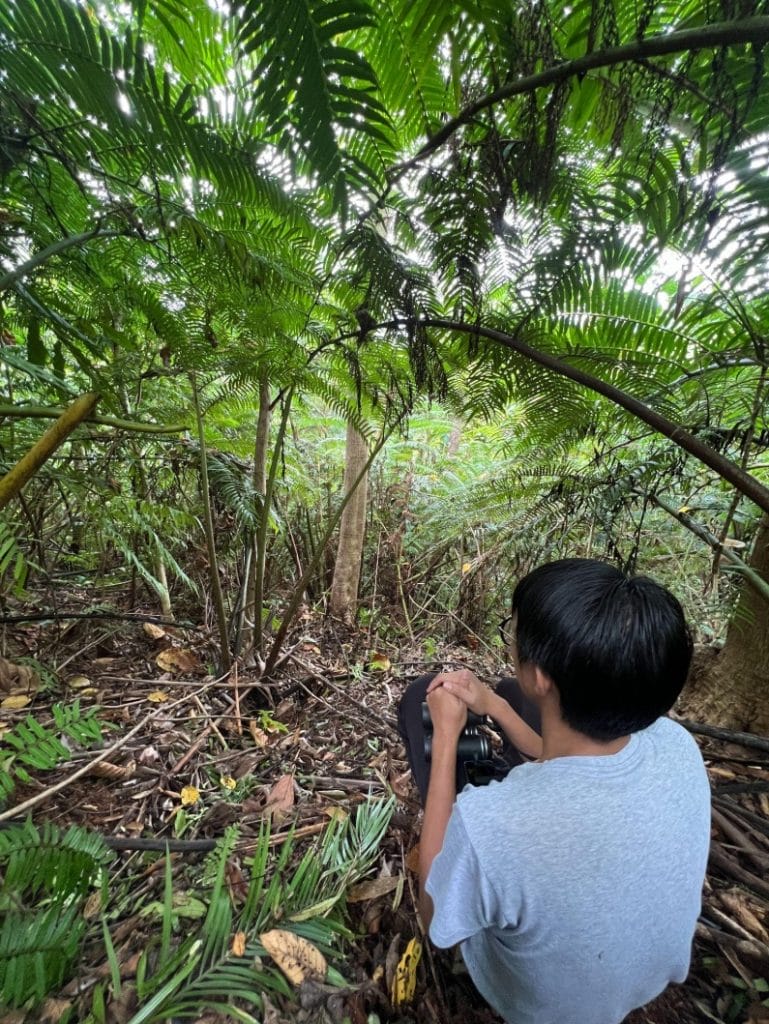 Cheta:
It took me a bit longer to see, but I got incredible views of the BGW a few feet away. I didn't even need binoculars to appreciate its full beauty. It was way larger than I expected, which made it even more incredible that this bird was so hard to see. The photos could not do it any justice – its huge beady eyes and beak, slaty gray and round belly, bright white throat, and spotting on its wings that looked like sparkles. I've been doing my Big Year in birding, and I've seen the top and most wanted birds of the Philippines, including PH Eagle, Celestial and Short-crested Monarch, Visayan and Mindanao Wattled Broadbill, Yellow-faced Flameback, Mindanao Lorikeet and honestly none of them can compare to the joy of seeing this sneaky chunky brown bird. After finally seeing it, I celebrated like a kid dangerously running around the highway, oblivious to the traffic.
Finally seeing the BGW was a dream come true. I legitimately could not believe for weeks that my 3-year journey had come to a close. I'd randomly quip in conversations with Angel, "I can't believe we've finally seen the BGW." We affectionately named the BGW "Kawali" after the famous lechon kawali served in a nearby restaurant. Another bonus was that the specific spot where we saw Kawali made it easier to spot it on future trips. I was able to bring a lot of other birders to finally lifer the bird, with Jennifer Ramos having it as her first-ever bird on her first-ever visit Infanta. It all came in full circle when one of my great birding mentors Mads went to the area and got the 2nd ever video of the bird and some docu shots. Thanks to my lucky day with Angel, I was able to share this experience with many other birders.
Angel:
It's interesting to note that I did not feel as much excitement and fulfillment as my guide's 27-time build-up of seeing the BGW. It felt great to see the bird, but I knew the feeling wasn't the same as seeing the fantails or if I saw the trogon that day (sorry again, Cheta!). Three weekends later, this feeling was mirrored as I was eager to see my first ever pitta at La Mesa Eco Park, a species I have wanted to see since I began birdwatching. But then, a carefree Hooded Pitta casually crossed the road three minutes after I went through the park entrance. I took a significant number of photos. Only during lunch a few hours later did the elation sink in that I saw it – and I realized that sometimes seeing birds can be a bit anti-climactic without the thrill of the chase.