By: Tien Oriana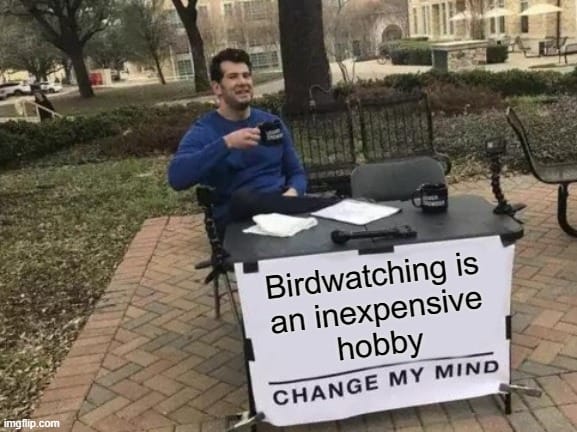 Birdwatching is an inexpensive hobby. The literal meaning of the word requires you to merely watch birds. There are those who are interested in exploring the hobby but are held back by seemingly required equipment. But this hesitation can be let go of because to watch birds, all you really need are your eyes and ears. If you have those, you are good to go! And if you find yourself filled with so much joy about your bird sighting that you want to be able to share it to others, you do not need fancy cameras to capture the moment. In this photo essay I will show you what I believe is the cheapest way you can take photos of birds: digibins.
What is Digibins?
Digibins is short for digital binoculars where you use a digital device i.e. your smartphone camera with your binoculars or bins. Binoculars may not be as cheap but it is a sulit purchase as a good pair can last you a lifetime. At the end of this article are some resources you can refer to in purchasing the only birdwatching equipment you will ever need.
While this method of taking photos may not yield the high quality photos, it is often enough for documentation purposes. The details of the bird may not appear sharp on the photos as it would with a proper camera, but the quality is enough to show defining characteristics of the bird. If these are your only goals in taking photos, then digibins is for you.
Digibins Photography
One of the first few birds I was able to take digibins photos of was a Collared Kingfisher. I had a good view of one from the balcony of my dorm room in Quezon City and it was kind enough to perch and pose for me as I practiced aligning my phone to my binoculars.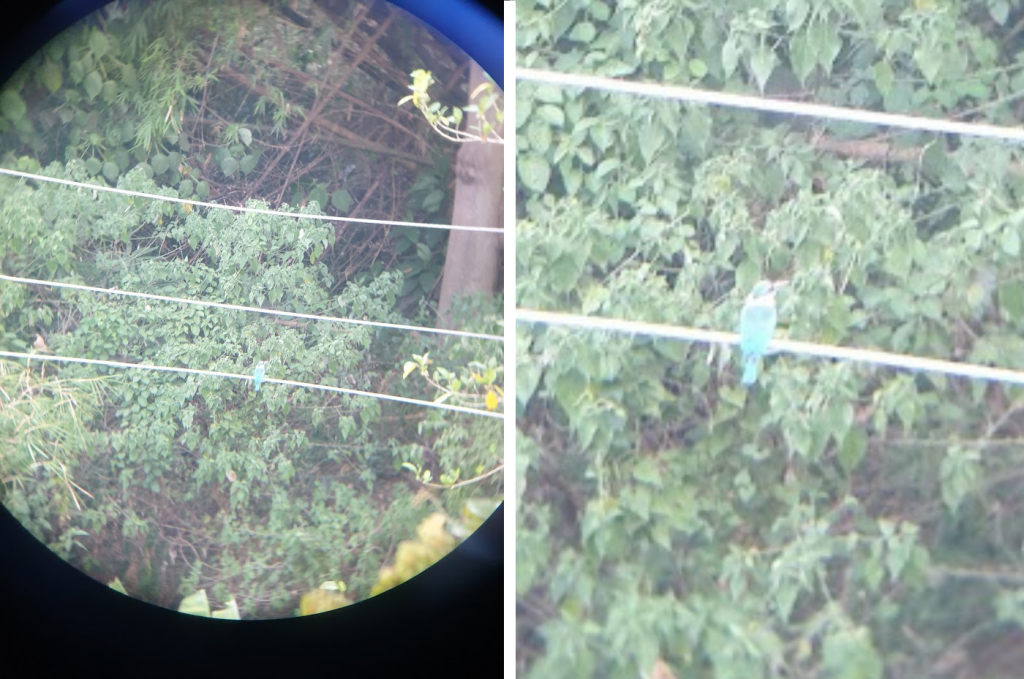 My bins are an old Bushnell Powerview 10×50. Its lenses being old do not always grant me the best views. I did not know what I was missing until I tried a friend's Celestron Nature DX 8×42. With it, I finally got a good photo of my spark bird, the Black-naped Oriole. This bird sparked my interest to pursue birdwatching as I was surprised and delighted to find a bright yellow bird in an urban setting.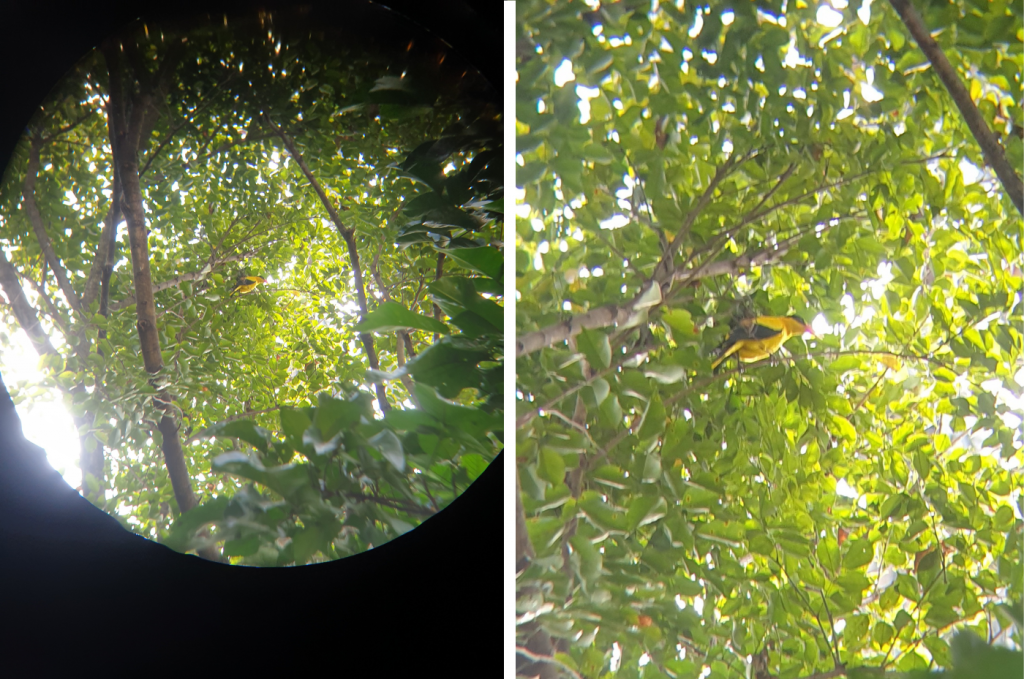 I was fortunate to have been able to borrow these better bins when I got to see the Philippine Eagle in the wild last September 2022. I love how my photo actually has a rain droplet on the lens, a good reminder of how the soft drizzle at that moment made the sighting dramatic and memorable.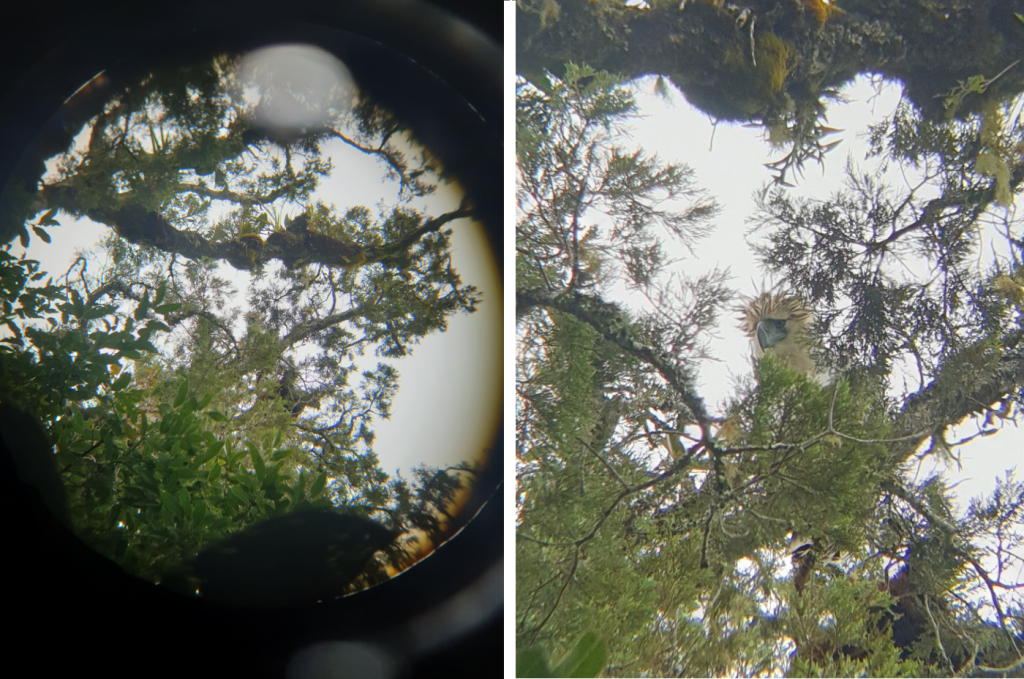 While I have yet to save up money for a better pair of binoculars like that of my friend's, I am happy to keep birding and digibinning with my own pair. It may not be the best but I have seen most of my first 100 lifers (birds seen for the first time) with my trusty bins. This includes my favorite lifer so far, the Philippine Nightjar.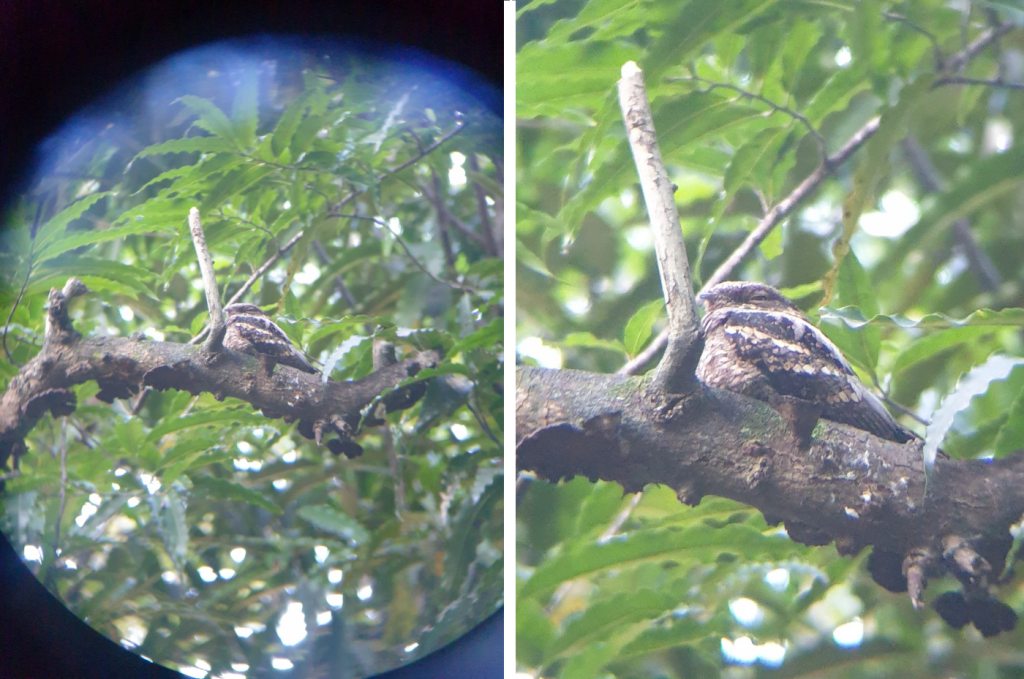 Perhaps some of the birds that are good to practice digibins with are flycatchers. One of their distinct behaviors is returning to the same perching spot, giving one many opportunities to take photos. This is how I managed to get good photos of a Grey-Streaked Flycatcher on two different occasions.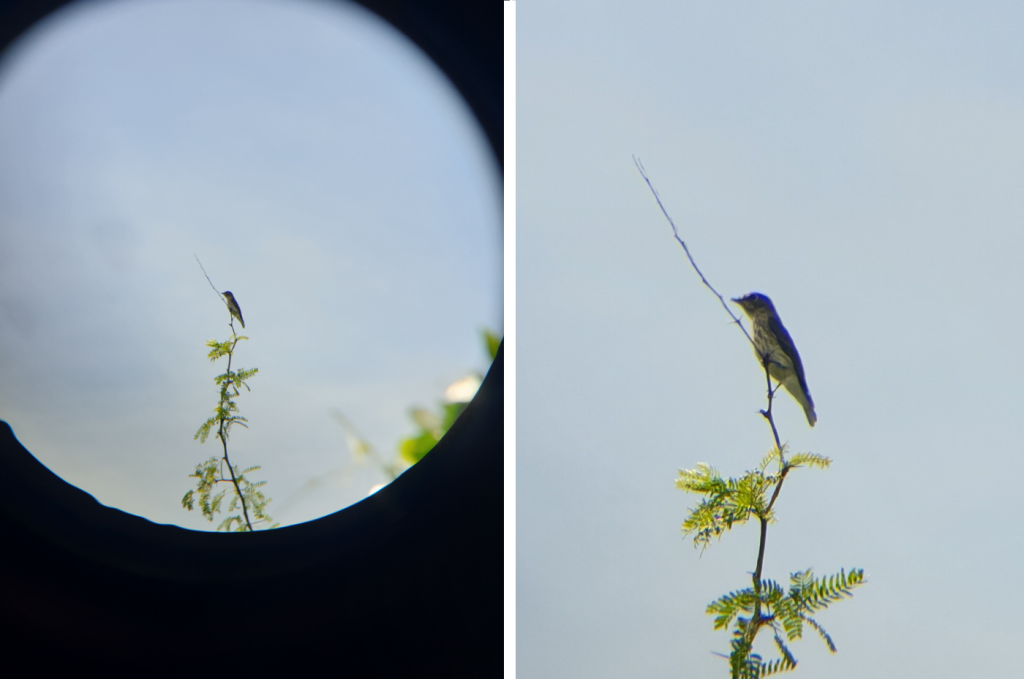 The second Grey-Streaked Flycatcher photo was actually not taken intentionally. There was a Chestnut Munia that was perching on the same spot but it left when the Grey-Streaked Flycatcher came. But eventually, on a different birdwatching trip, I was able to take a photo of a Chestnut Munia.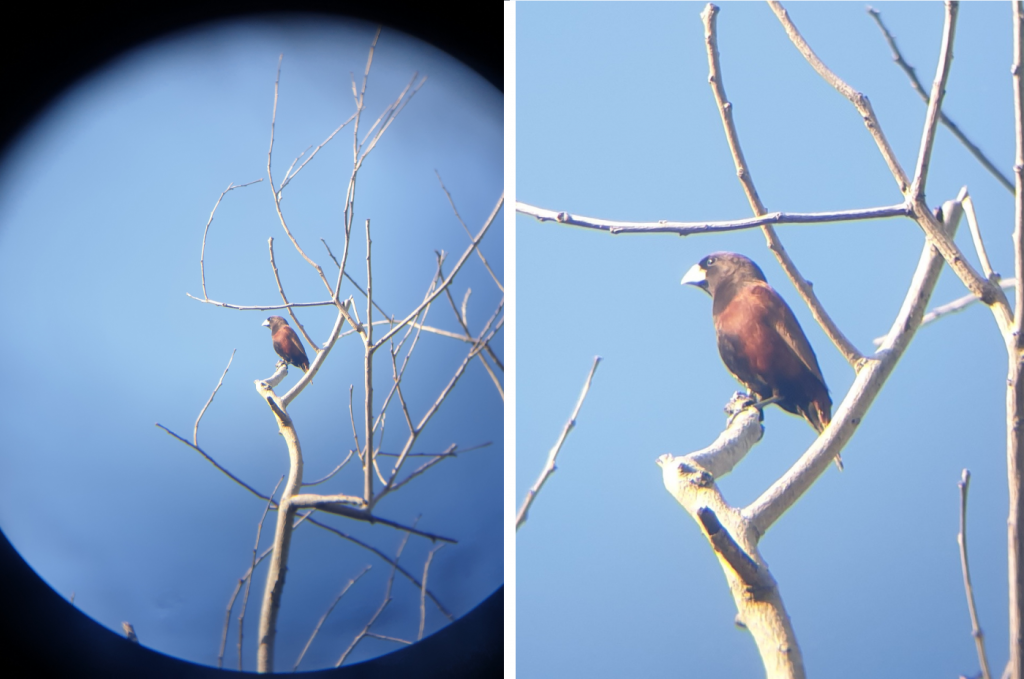 The opportunity for a good photo will not always be there so be ready to seize the chance when it presents itself. When a bird perches close by, like this Common Redshank, sometimes a little prayer is necessary for the bird to not fly away before you can align your phone to your bins.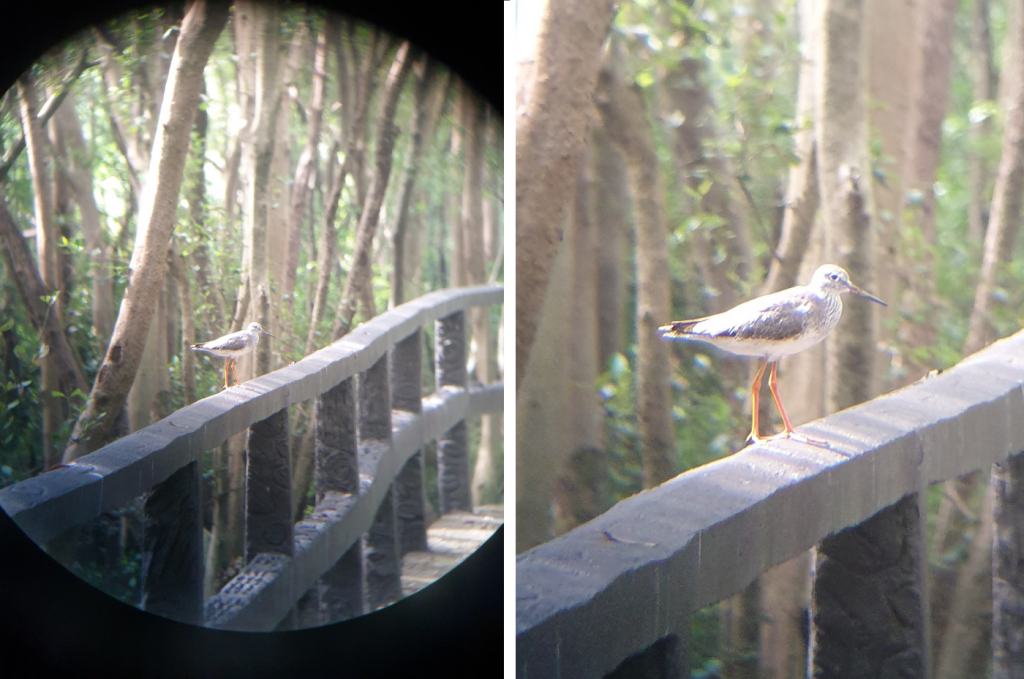 Digibins Tips
Sometimes, the bird would fly away before you are able to take a photo. Practice will help to be more prepared for photo opportunities. If you are interested to try out digibinning, here are some tips that might help:
Only start attempting to take a photo once you've already got good views of the bird with your own eyes. You don't want to miss a good sighting because you were too busy trying to take a photo.
Practice! It might take a while to get the hang of it but with a bit of practice and patience, you will soon be a digibins photographer. You can always practice with objects that won't fly away any time soon.
The trick is to have your phone perpendicular to the binoculars' eyepiece.
If you need help choosing the right binoculars for you, you can head over to this eBON article about it: Birdwatching 101: All About the Bins. There also exists a thread about this on the Birdwatch Philippines Community, a Facebook group run by volunteers from the Wild Bird Club of the Philippines (WBCP).
---