By Karen Ochavo
Capisaan is a small, quiet upland village in Kasibu, Nueva Vizcaya. Its name means kung saan nagpupugad ang mga kalaw or the place where theKalaw or hornbills, presumably Rufous Hornbills, nest and hatch their young.
The village, by its name alone, is promising in terms of birdwatching potential and yet, it is ironic and sad that there is no record of Rufous Hornbills there. The Luzon Tarictic Hornbills, however, are still present, flitting on trees along the ridgetops above the trail.
Farming has encroached on the forested hills of Kasibu, which is settled mainly by Ifugao farmers from the nearby Cordillera region,
Last year, the Wild Bird Club of the Philippines held a members-only trip to Capisaan on March 12-13. Led by Cheta Chua, our group of seven, namely, Cecil Morella, Angie Macunan, Diuvs de Jesus, Jops Josef, Allan Fernando, and I, took a 12-hour long van ride from Manila to this destination famous for its Capisaan Caves system. With its Baguio-like temperatures, Capisaan has become popular because of the spelunking and ecotourism activities there.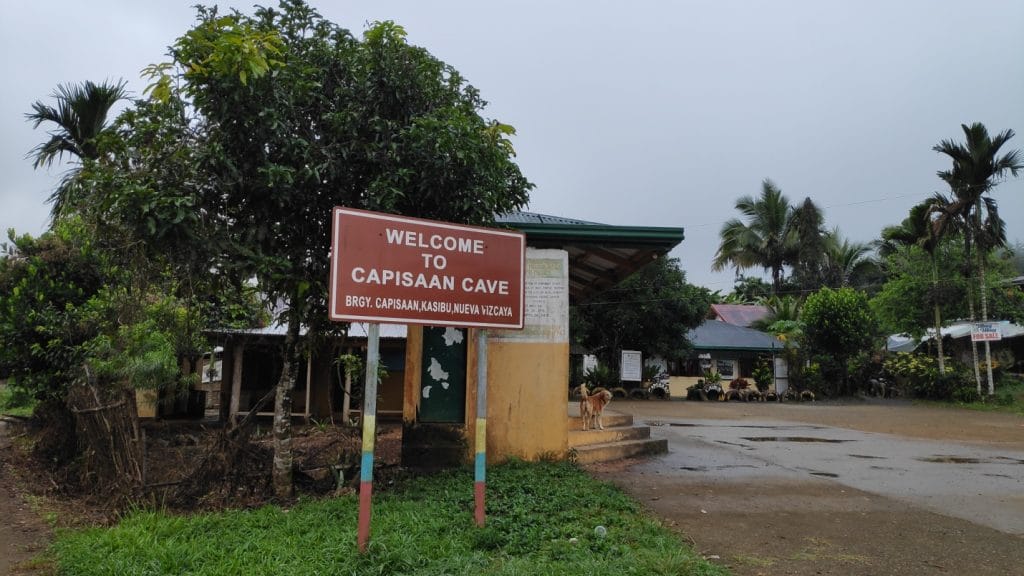 After settling down at the homestay of Pastor Manuel Pawid and his wife Junia, the group didn't wasteany more time and headed to the "Birdwatching Zone and Eco-trail" in light rain. In terms of difficulty, the trail was moderate enough for the group to hike in a single file, inspite of several steep obstacles.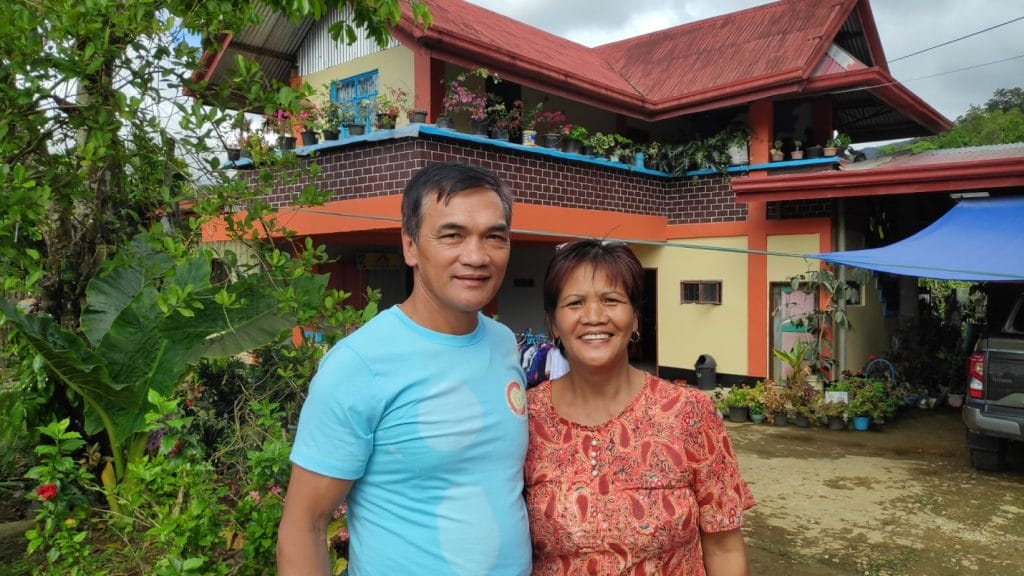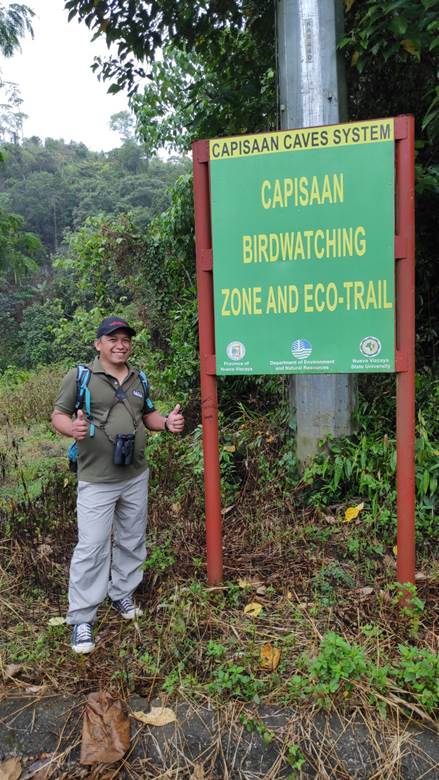 The steepest part was going up the limestone outcrop, the summit of which was a bit unstable with loose rocks. One wrong step and you could stumble and scratch yourself on the sharp rocks, or worse, fall off the cliff!
Okay, so that made the trail difficult instead of moderate… but it was still manageable and not death-defying!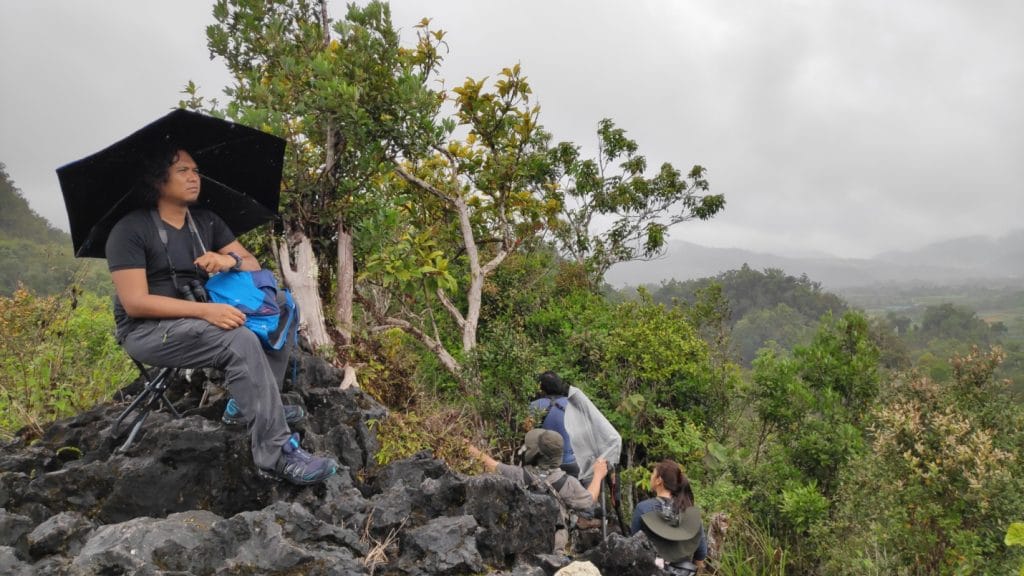 It was there at the summit when a mixed flock with male and female Scarlet Minivets passed by so closely that everyone saw them clearly even without binoculars.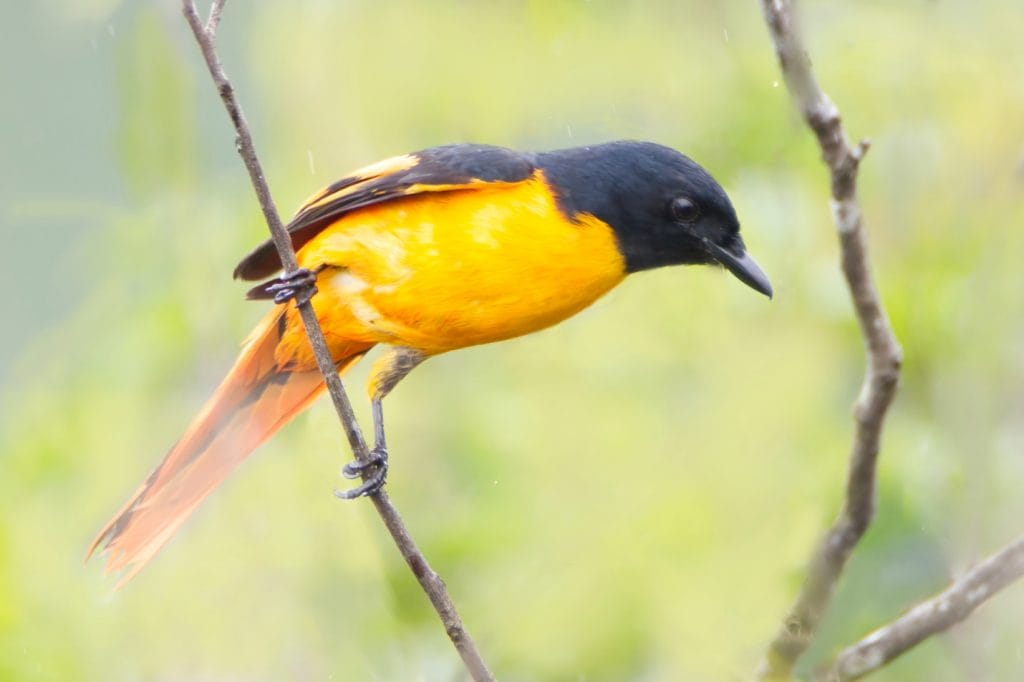 Along the trail, one could easily notice the ikmo or betel plant growing. Ikmo leaves are used for chewing betel nut and are considered a prized agricultural commodity. Growing ikmo has led to widespread clearing of forest lands for farming.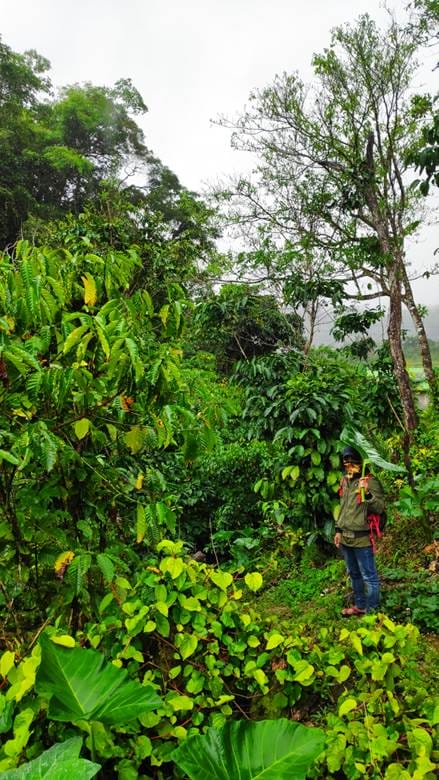 Despite patches of ikmo along the rolling terrain, the morning birding brought good sightings of the following:
Luzon Hornbills
a Rusty-breasted/Brush Cuckoo,
a lone Purple Needletail in flight
three kinds of sunbirds (Grey Throated/Handsome/Flaming)
seven kinds of flowerpeckers (Olive-backed /Striped/Flame crowned/Yellow-crowned/Bicolored/Red-keeled/Orange-bellied/Pygmy Flowerpecker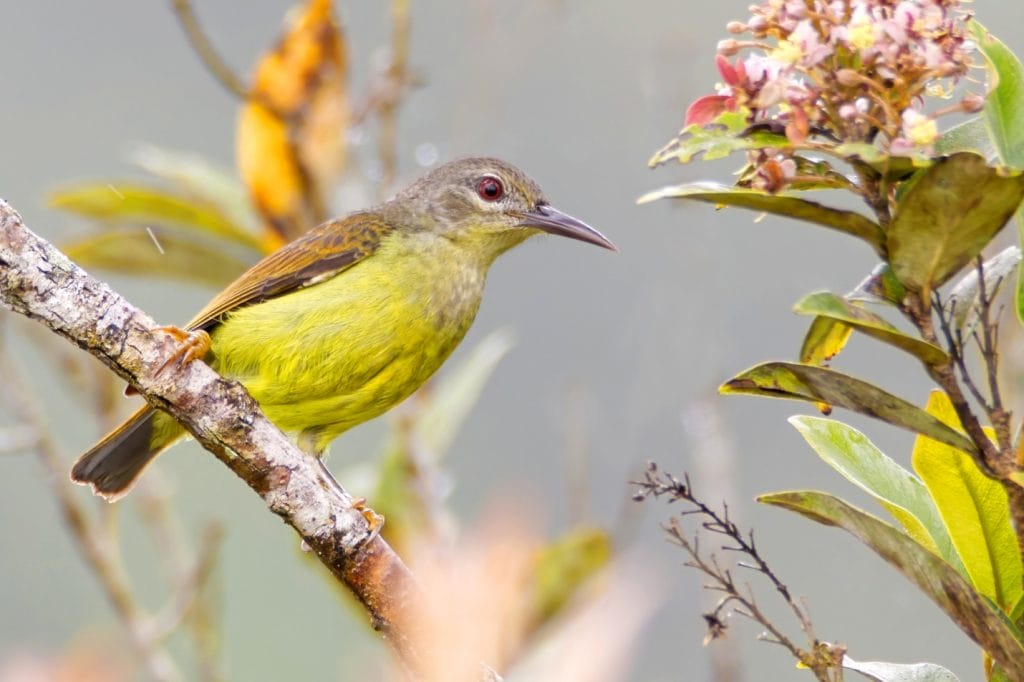 After lunch of tinolang manok at the homestay, we were ready and well-fortified to continue birding at another trail. The first portion of this trail was very challenging; it must have been at least 30 meters of a very steep and slippery single track. Things eased up when the trail widened and took on the appearance of a proper path, being tiled with limestone chips.
The Furtive Flycatcher was our main target on this trail. There were no records of the species for this area, although the type of habitat and proximity of Kasibu, which is part of the Caraballo mountain range, to the Sierra Madres, seemed the right one for our target bird.
Despite the bird's initial response to playback, the group didn't get good enough views, but only flitting shadows in the dark understory .
Furtive indeed!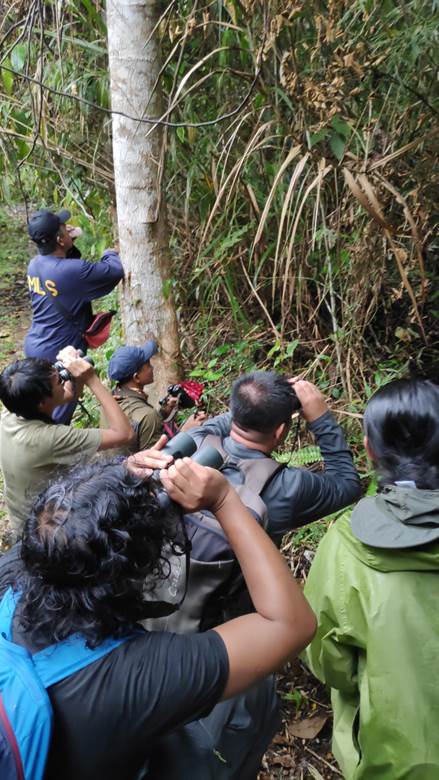 Cheta, our group leader, vowed to go back the next day.
Luckily, a flock of Brown-headed Thrush was seen along the way and that made up for what was missed.
On our second day in Capisaan, Diuvs and Angie decided to try the full spelunking experience of the Capisaan Caves System, while Cheta, Jops, Cecil, Allan and I agreed to try a different section of the Eco-trail.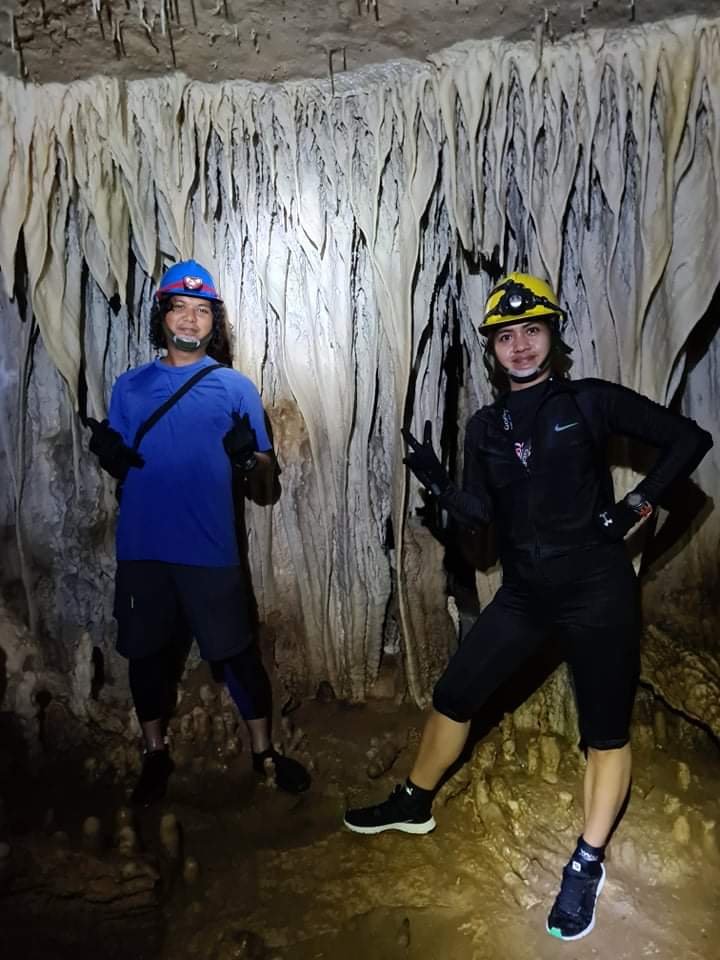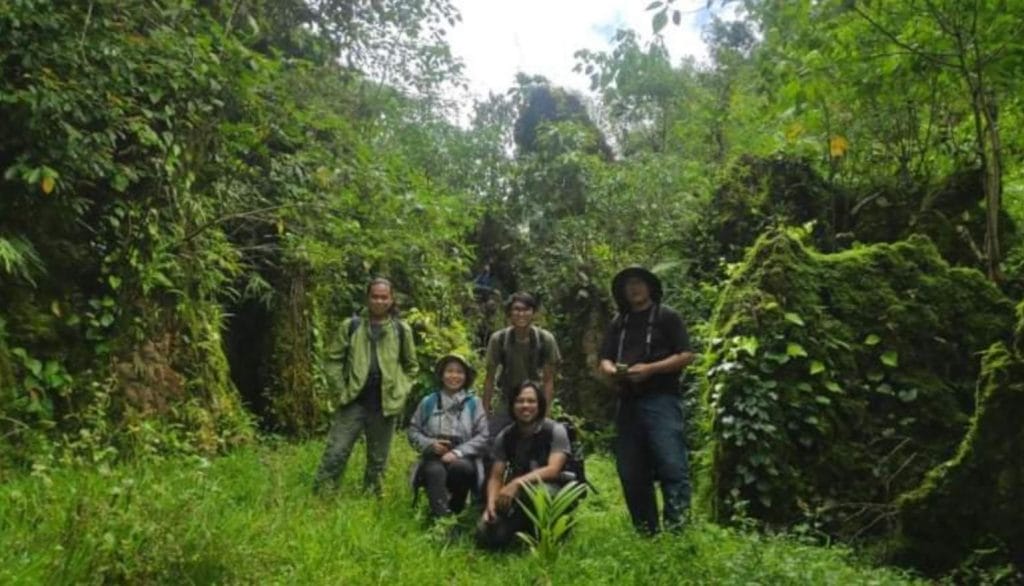 The Eco Trail portion we went on proved to be extremely difficult. It was buwis-buhay, so to speak, or death defying, because a portion could only be traversed by climbing rocks.
Here's a link to the video of us crossing:
With the help of our local guides Jerry and Johnny, everyone was able to cross safely, with shaking legs and labored breaths
The highlight species in this section included the Green-backed Whistler and female Philippine Trogon.
Adding to the excitement was the moment when Jops almost fell into a ditch, but was saved by a net of vines!
Everyone came together for lunch.
Our two companions who finished the spelunking adventureshared what they saw in the caves wherein some parts even had cold, chest-deep water.
After eating, only four of us—Cheta, Diuvs, Allan, and myself—had the energy left for a final attempt to see the furtive little one.
We tried a different and easier trail this time. A quick playback and lots of patience rewarded all of us with the sight of the slate and orange-colored flycatcher—first record for Capisaan !
With happy and grateful hearts, the group thanked their hosts and guides before taking the long journey back to Manila.