By Michele T. Logarta
While field guides are essential to birding, there are many other tomes of interest to the bird watching bookworm. This section features those other books, fiction and nonfiction, about birds, birders, nature, and the environment. Books can be old and new, from a personal collection, borrowed from the library or from friends, encountered and browsed at a bookstore and anywhere for that matter.More than a book review, this is a space for the birder to tell others about a book he thinks is noteworthy, life-changing or simply, just a good read.
To commemorate the 20th anniversary year of the Wild Bird Club of the Philippines, I chose a book that I consider a perennial, one that I will always return to and read again.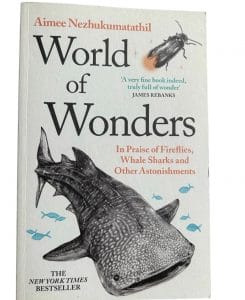 World of Wonders: In Praise of Fireflies, Whale Sharks and other Astonishments
By Aimee Nezhukumatathil
Illustrated by Fumi Mini Nakamura
Paperback edition
Published by Souvenir Press (2022)
Non Fiction
This is a beautiful book of essays that has earned much praise for award winning poetAimee Nezhukumatathil.
Online literary and culture magazine Rumpus said the book is "a stunning union of biography, poetry, philosophy and science" while Bustle.com called the book "a gorgeous collection of essays that ruminate on flora, fauna and what they can teach us about life itself."
There are 31 essays in the book, each an ode to the beautiful and delicate of nature's creatures, but also to the strange and peculiar. About a third of the collection is about birds, with many mentions of bird species everywhere in it.
Aimee was born to an Indian father and a Filipino mother. Knowing this, I was drawn even more to the author.
One of my favourite pieces in the book is on the Potoo, a bird related to the nightjars and frogmouths and found in the American tropics.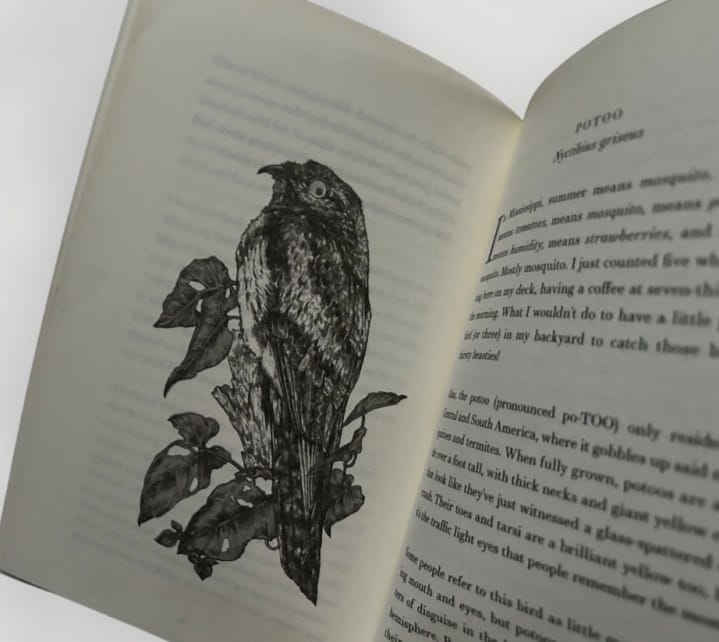 While having breakfast one summer day in her patio in Mississippi and bothered by mosquitoes, the bird came to Aimee's mind.
She had wished for a Potoo to "catch those bloodthirsty beasties", she wrote.
Potoos, said Aimee, are masters of disguise and that they have no fear of sleeping out in the open. Only the wind rustling its feathers will reveal it is there, wherever that place may be.
Aimee likened herself to the Potoo when she was growing up in the American Midwest.
"Like the Potoo" she confided, "I wanted to blend in—in my case, with my blonde counterparts—and why would I know anything else?"
A brown girl in the midst of white girls and boys, Aimee grew up feeling different and yet unseen.
In her childhood, she said, she felt most seen when she was outdoors, where she learned to be still like the Potoo
"If I wanted to see them (birds), I had to mimic their stillness to move slow in a world that wishes us brown girls to move fast," she wrote.
With a whistle her father gave her at the age of 6, she lured birds to her yard and had conversations with them.
"The secret in talking to birds is in the steadiness of each limb as you make way into their territory, in the deliberateness of each movement and bend of tree branch and grass blade. And just like the Potoo, who is rewarded for her stillness by having her lunch practically fly right to her mouth—perhaps you could try a little tranquillity, find a little tenderness in your quiet. Who knows what feathered gifts await?"
In the midst of such lyrical and poetic musings in the book, there is one particularly charming and humorous, but also thought provoking piece.
It is titled: Questions while Searching for Birds with my Half White Sons, aged six and nine, Audubon Bird Count Day, Oxford, Ms.
Reading it, I could almost hear the voices of her sons Jasper and Pascal, as they walked with their mother in the woods.
Of their many questions, here are my favorites:
On important and need to know stuff
Is there a bathroom nearby?
Mommy! What if there were a hundred more green birds in the forest right now and we just didn't know it…and they were giggling and telling each other our bird count is all wrong?
On cardinals and camouflage
Why do lady cardinals look so sad and boy cardinals look like they're going to a party?
But isn't that scary for the boy cardinal? He can't camouflage on anything except a red wall.
Mommy, you are like a lady cardinal because you are brown. Don't worry Mommy you can hide in the forest from bad people. You have good camouflage.
On the present realities and what the future might look like:
At school we have to hide under our desks in case of bad people. We did that last week. It's called "Lockdown"! We have to be quiet like what we're doing now while we wait for birds.
Why are there people who will hunt kids? If hawks are circling around us now, does that mean they think one of us might be good to hunt?
What if there is a bird count when I am forty and we don't find any birds?
Will you be missing when I'm forty?
Will you be missing when I'm sixty?
And then, there are Aimee's paeans to fireflies.
In one, she reflected on wonder.
She said: "It is this way with wonder: it takes a bit of patience and it takes putting yourself in the right place at the right time. It requires that we be curious enough to forego our small distractions in order to find the world."
I read somewhere the awe is an emotion that children today know less and less of. That's a sad thought, isn't it? I'd like to think all is not lost yet.
We birders are luckier than most people, for we know awe and wonder so well
Every time we peer through our binoculars and scopes, it is God's grandeur and majesty we see—-in the littlest of our feathered friends to the fiercest of birds of prey.
As the Wild Bird Club of the Philippines celebrates its 20th anniversary, this is my wish for all of us:
May we –and our children-always be blessed with a world of wonder, a world filled with birds!
Happy 20th Anniversary, WBCP!