By Brendan Sloan
Brendan is a double Graduate in Law and Sociology but given the choice would much prefer to be in the great outdoors looking for birds. He has long been fascinated by the many endemics in the Philippines and the species changes that occur between the many islands and the great efforts and adventures required to see some of the rarer birds. Brendan regularly contributes articles to eBON.
The Visayan Rhabdornis is a restricted-range species endemic to the Philippines and known only from the two large central islands of Panay and Negros. Although the combined land area of the two islands is some 41,000 sq kms of intact forest cover, each island has been devastated over vast areas so that only relatively small forest tracts are left. This is especially the case on Negros where only some 4% of forest remained by 1988.1 As a result, all forest taxa on both islands are under some degree of threat.
The species is a little known and cryptic Philippine endemic that has been described in the recently published Philippine bird guide as an undistinguished brown, grey and white rhabdornis with a less contrasting mask.2. It was previously considered conspecific with Stripe Breasted Rhabdornis Rhabdornis inornatus with little apparent detail at that time on its differentiation from the other three races.3.
Because of the species apparent preference for staying in the canopy, views are often distant and observing the finer plumage details is normally not easy.
Visayan Rhabdornis was listed as "missing" on a list of missing bird species published by eBird in June 2014 and again in the updated list from September that same year, as at that time no records had been submitted. This was a measure of its considered rarity and how little was known about the species in the field up to the very recent past.
In 2016, the species was designated as Vulnerable and is considered as a scarce and local resident in suitable forest habitat in the 800-1750 masl zone.4 However, records from the Sibaliw Research Station on Panay, detailed below, seem to indicate an altitudinal range as low as some 500 masl. From observations, it appears to exist in very small numbers split into little known and unquantified sub-populations with some groups, likely cut off from others by deforestation. It is therefore pressured in its remaining habitat.
The species had been only rarely observed on Panay (Kennedy and Miranda, 2016) prior to that date and Birds of the World refers to there being only one sight record on Panay from August 1994.5 However there have been a small number of sightings over recent years on the island.
On Panay, the two known main sites are the Sibaliw Research Station at North West Panay Peninsula Natural Park and on Mt. Madja-as. These are much more remote and less visited than the two regular sites on Negros, at Mt. Kanlaon in the north and Lake Balinsasayao (Twin Lakes) to the south. These are both tourist-forest interfaces which are much visited by local people and small numbers of foreign tourists.
Still on Panay, some good forest is still extant in the North West Panay Peninsula Natural Park covering an area of some 120 km2 which was proclaimed a natural park on 18 April 2002. However, not all of this area is suitable habitat, with much of it
considered too low in altitude. There is perhaps some 25-30% of the protected area with suitable primary or selectively logged forest at sufficient altitude, and there have been some sightings in this area by visiting birders.
Further south, the Central Panay Mountain range extends down the length of the island's western flank for over 100 km. Here the terrain is more rugged with high altitude peaks such as Mt Madja-as, rising to 2,117 m (nearly 7000 feet) and a number of other peaks just below this elevation. Much of the higher forest here is virtually inaccessible as it cloaks steep narrow ridges and runs deep into the higher river valleys and gorges which offers some hope for the higher altitude forest dependent species.
The real status of the bird in this range is unknown. Mt. Madja-as sightings carry a small possible caution in the fact that goodwill attempts to assist accompanying birders have in the past pointed to Panay Striped Babbler as being the species and vice versa (personal observation). Confusion is possible in poor canopy sightings from below or otherwise fleeting distant views.
Recent birding exploration on the southern flanks of the Central Panay Mountain Range which is the bird's potential stronghold at suitable altitude surprisingly failed to find any trace of the species6. It is thus unsafe to make assumptions at this point regarding the extent of the bird's presence along the Central Panay Mountain range.
On Negros, forest destruction has been very extensive and only a tiny percentage of native forest is still intact, most at higher elevations. On the island, the species seems to be largely outposted in the remaining forest tracts at Mt. Kanlaon and Lake Balinsasayao (Twin Lakes) far away to the south both of which receive numbers of recreational tourists. They are considerable tourist attractions for local people and at times parts of the terrain is busy with family parties and others enjoying the sights and facilities at higher elevations. Each site is at least initially accessible by road thereby potentially advancing further encroachment.
Historically, there have been a very limited number of sightings on eBird or elsewhere up to 2018. Since then, there has been additional sightings notably at the two reasonably well-birded sites on Negros. Other good areas of forest are seldom accessed by visiting foreign birders although local surveys have been carried out.
In general, the forest areas in Negros where the bird has been recorded are very fragmented, widely separated and suffering encroachment. Therefore, its hold on territory there is more precarious than on nearby Panay.
There are now some 41 sightings recorded on eBird in the period from 1991-2022, some 31 years almost all at the two pressured main sites on Negros and at the two Panay sites. The species seems scarce to rare, and thinly distributed even at the known locations. They may eventually be found to have specialist ecological needs.
Like other members of the rhabdornis family, it often frequents the higher tree tops and makes use of exposed perches giving views over the canopy and appears to seldom come lower unless for specific reasons. One such reason may be in courtship pursuits, as observed on Mt. Madja-as in late April 2018 when a pair was observed in courtship low in the trees on the mountain slope.7
Observations
In the period from 2010 to 2019, I had spent some time in suitable habitat and elevation on Negros, mostly at Twin Lakes and Canaway Forest in the south and at Mt. Kanlaon in the north. In my 8 days in the field, no sightings of the species were made.
In the period from 2012 to 2018, I spent a total of 43 days birding in suitable habitat on Panay, primarily at the Sibaliw Research Station in North West Panay Peninsula Natural Park and at Mt. Madja-as. This involved camping or staying at the Research Station in known habitat for the species. It included a period of time assisting with research for the late Dr. Eberhard Curio, who did much for conservation, and local communities in North West Panay. During this time, I had two brief distant treetop sightings. Two encounters I was able to get the photos below and two other encounters including one with a mating pair that did not allow good views. This in essence summarizes to some 6 encounters in 51 days birding quite intensely in what are considered the remaining strongholds for the species.
Given the bird's significant scarcity, its recent down-listing to Least Concern might be premature with so few sightings over a long period of over 30 years, apparent absence from some sites where it would be expected to be present, and lack of knowledge of its ecological needs. There might be suitably elevated forest cover8 but no guarantees of a strong presence within that area at this time. This and a density comparator with the congener Stripe-sided Rhabdornis (Rhabdornis mystacilis), which is said to be fairly common within its range with 1,949 observations on ebird9, seems optimistic on which to base a population estimate as "highly unlikely to be below 10,000″10.
Plumage
The species looks nondescript in the distance but good views reveal it to be handsome and intricately marked. Some of the photographs obtained in 2017 and 2018 on Panay help show a number of the finer details.
Some photographs indicate a pinkish hue over the flanks which is perhaps a plumage enhancement in the breeding season. Others show distinct white markings on the brown outer lesser coverts. All of these features can be best seen below in Plates 1 and 6: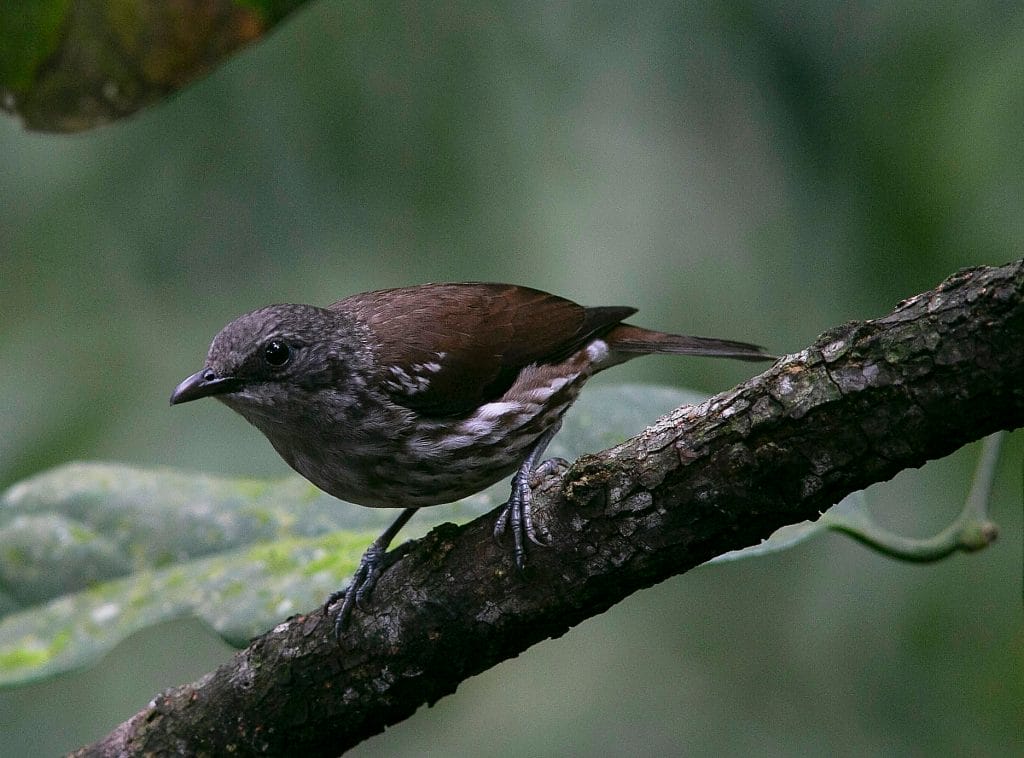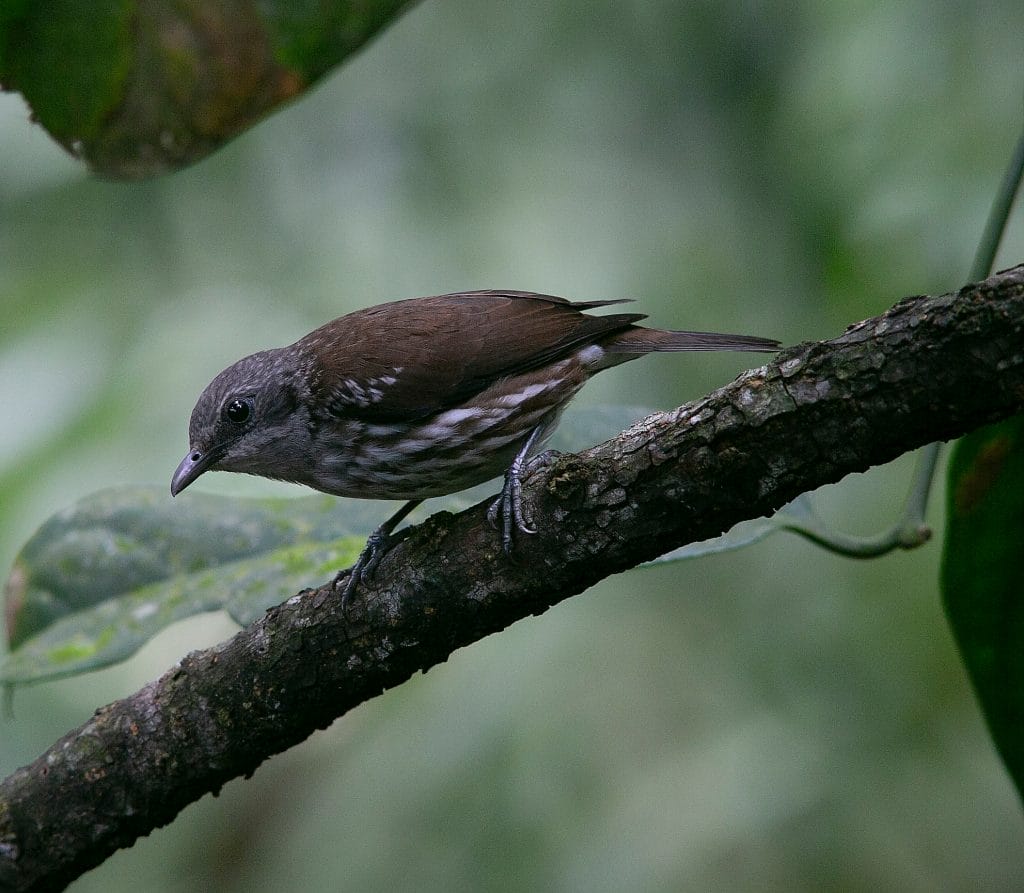 There is a marked contrast between the grey head and nape and the solid brown back. The rump is brown and the tail and primaries are blackish brown as shown in Plates 2 and 4: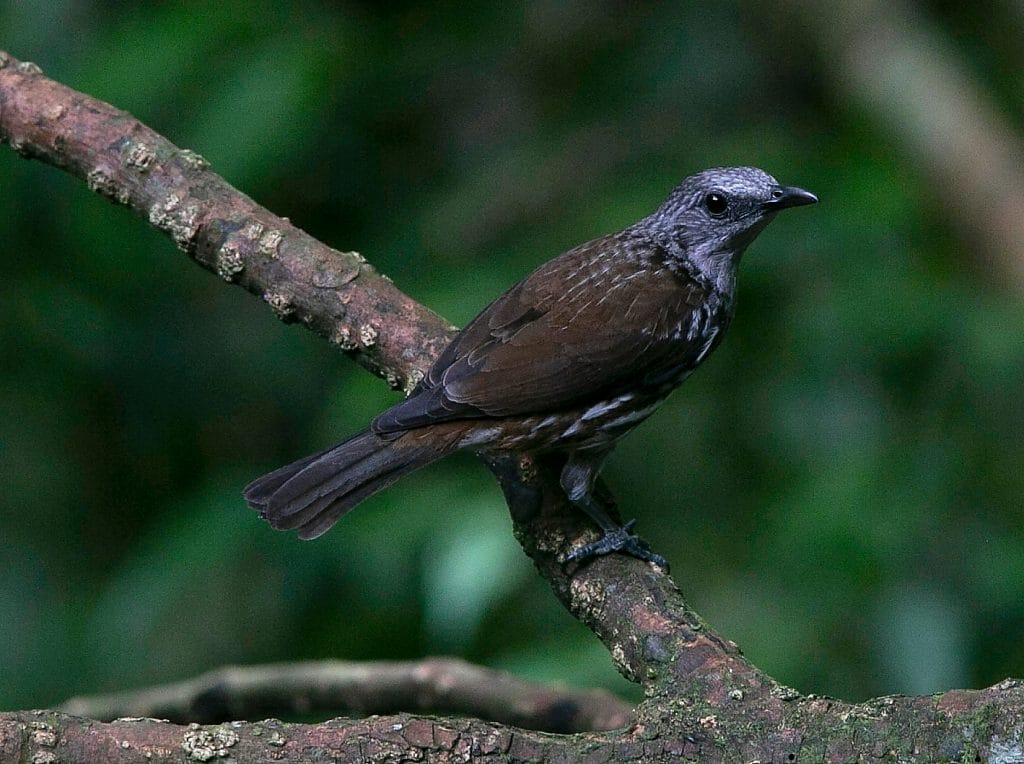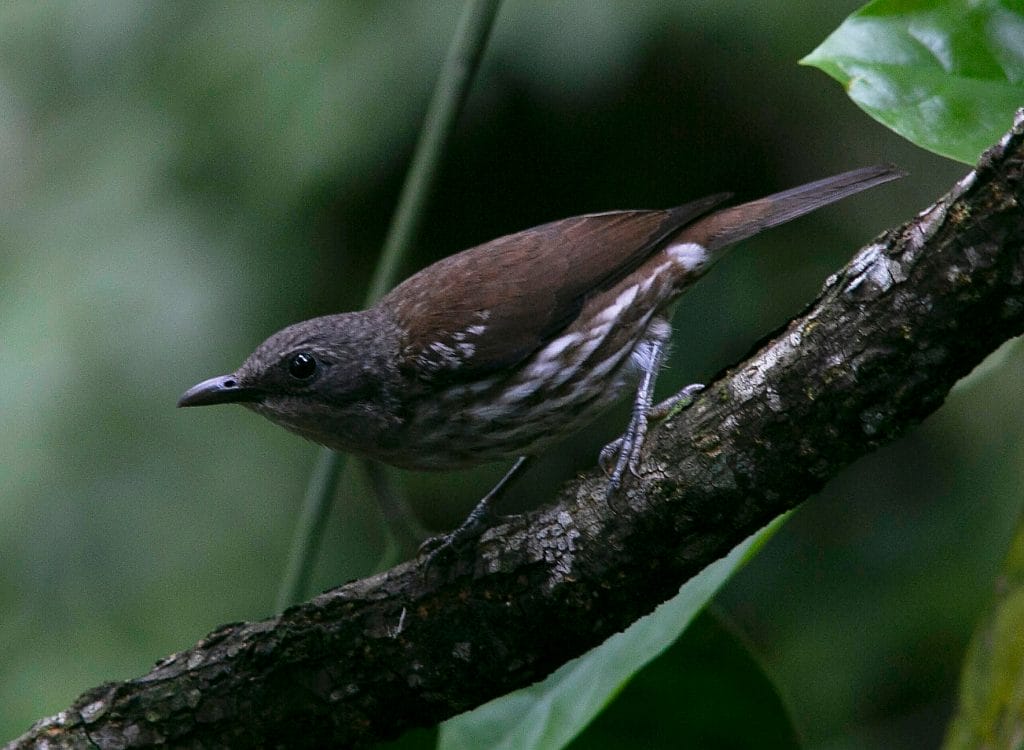 The birds facial mask is very much paler being a faint shade of brownish-grey which can be hardly noticeable in certain light or from some angles (Plate 5).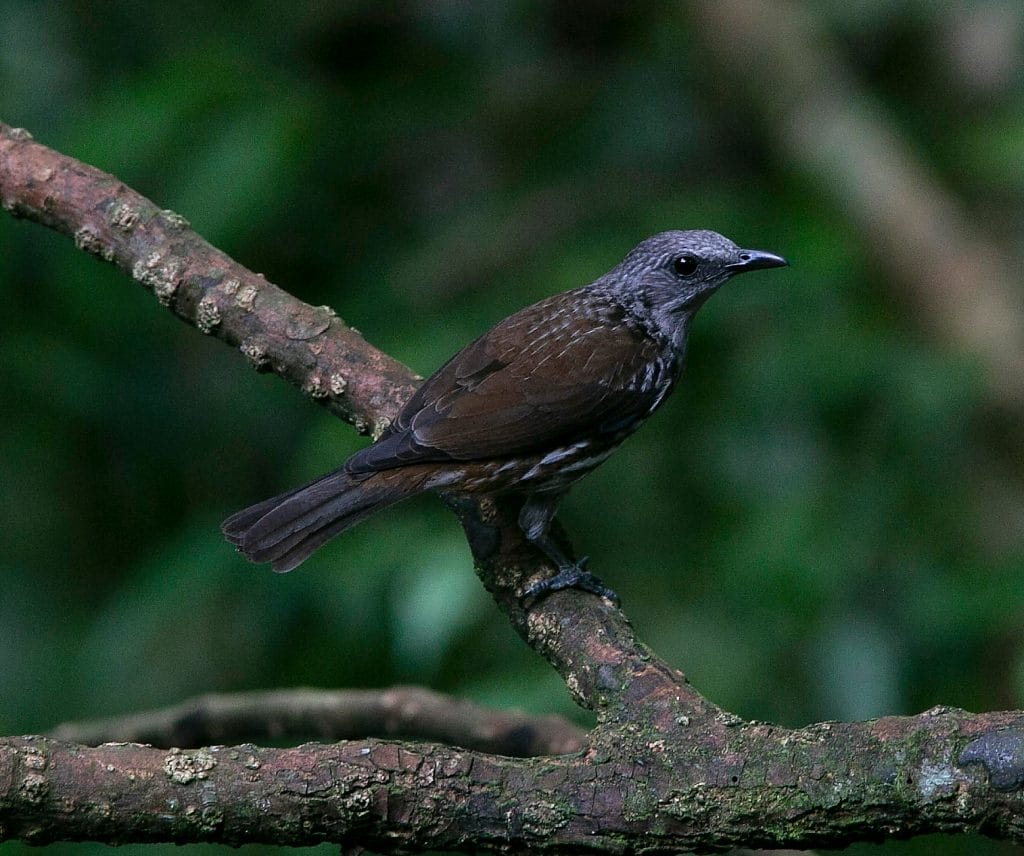 This is very different from the distinct and pronounced blackish-brown facial mask of Stripe Breasted Rhabdornis Rhabdornis inornatus and is well-featured in the photographs in Plates 3 and 8.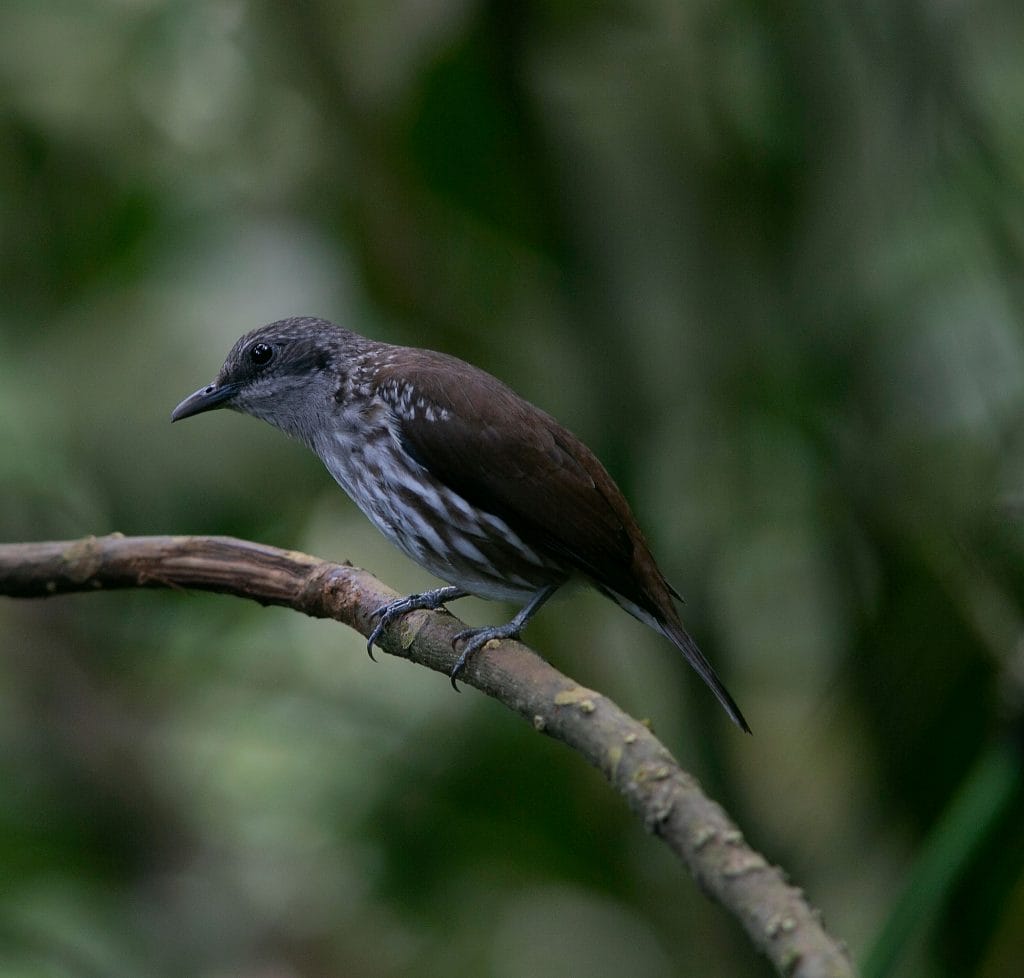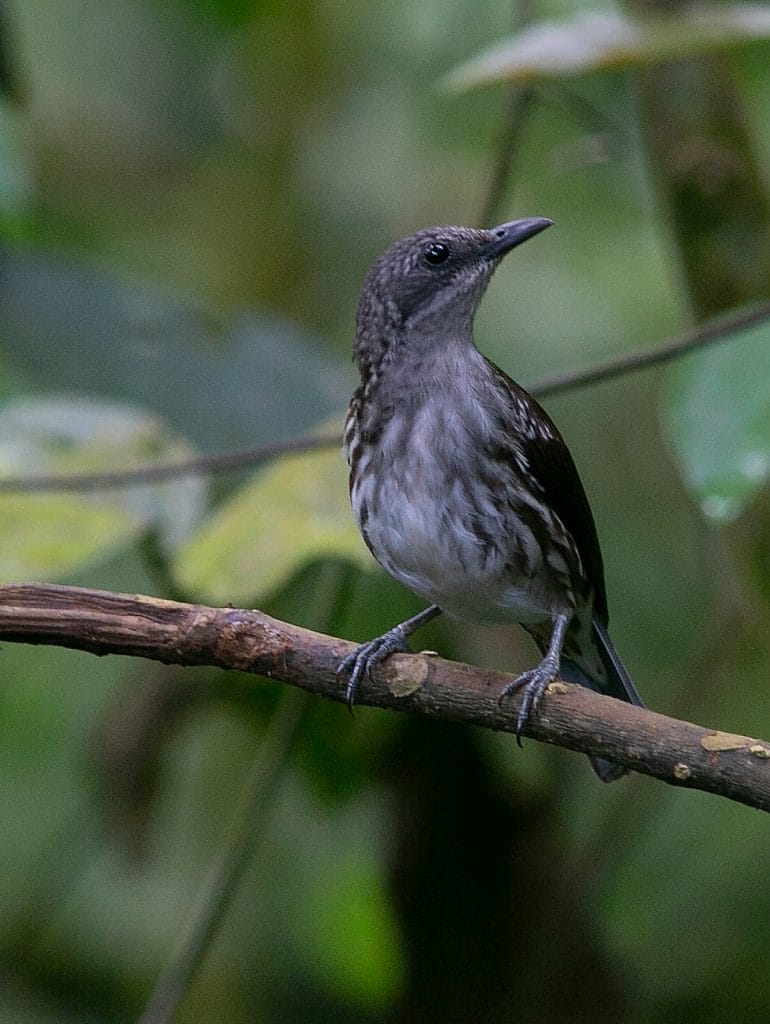 Grand Rhabdornis Rhabdornis grandis from the main island of Luzon has a much darker and prominent blackish-brown mask and a cleaner white throat among other differences that appears to include a lack of black markings on the hindneck and no white streaking down onto the mantle.
The supercilium is pencil thin, shorter and at times barely noticeable and the bird lacks this much more well marked feature as in rhabdornis inornatus and is seen in Plate 3 and 7.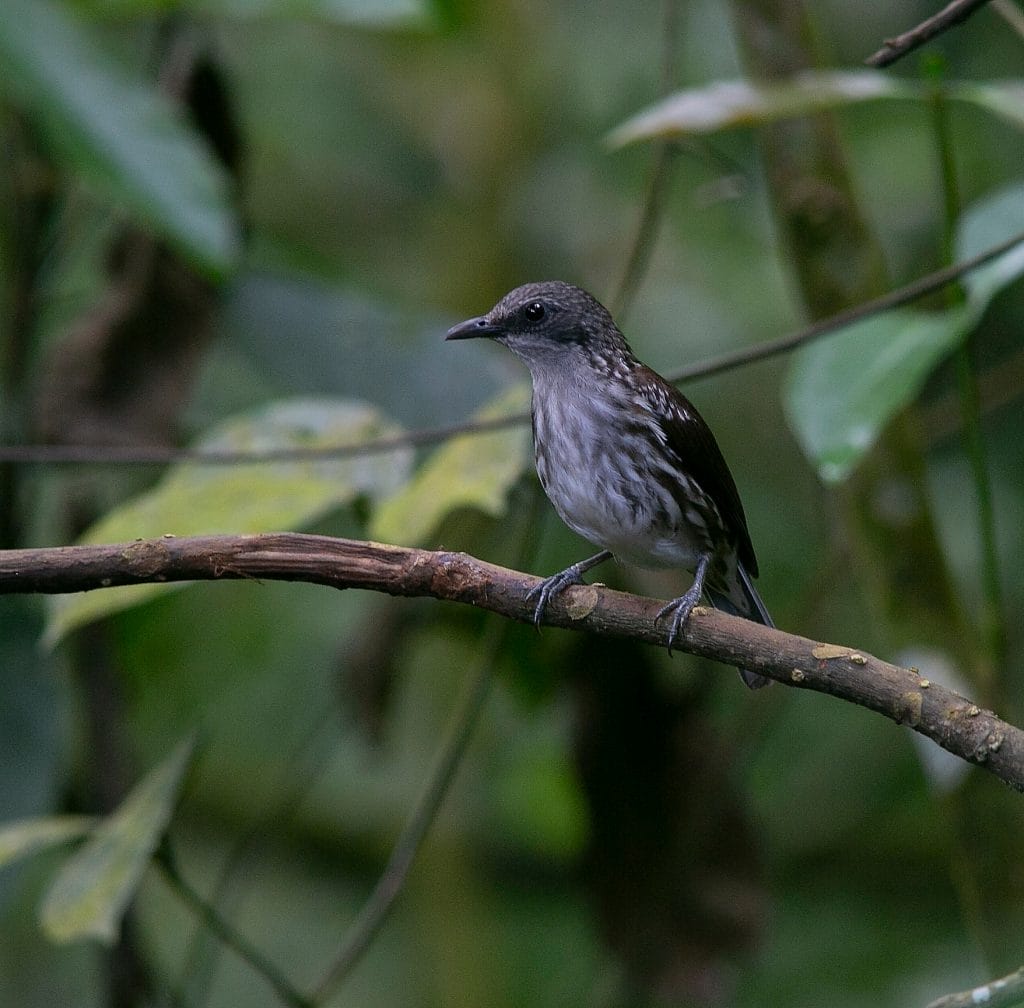 Over all the head is much greyer, plainer and less contrastingly marked, the crown being grey with small white markings noticeable only close up. This apparent blandness of face and crown as a characteristic stands out even in quite distant views of the species. There are distinctive black smudges on the lower hindneck and all these features are apparent in Plates 2 and 5.
Other features are that the upper breast markings are more a diffusion of grey blending down from the all-greyish chin and throat to the more distinct brown markings that take shape on the lower flanks as can be seen in Plate 8.
Other photographs show an indistinct broad pale whitish-grey malar stripe often barely noticeable due to its closeness in hue to the rest of the throat and head coloration perhaps best seen in Plates 3, 7 and 8. The bird also has narrow but prominent white streaks extending from the hindneck down onto the brown mantle (Plate 2).
Some of these finer plumage details were apparently not known from the field until this information was submitted to the Oriental Bird Club in August 2019. These might include the pinkish hue on the flanks, the extent of the fine white streaking on the mantle and black smudging on the lower hindneck and the apparent small white patches on either side of the brown rump.
In Panay the most reliable site to find it seems to be in the forests around Sibaliw Research Station which can be reached after a 5 hour hike up from the coastal road. The higher and wilder Mt Madja As, which is a steep hike, requires camping and can be subject to unpredictable weather.
Possibly the most accessible site in Negros is Lake Balinsasayao in southern Negros which is an increasingly used tourist draw but where there are some elevated vantage points that allow views over the canopy. The forest here and around Mt Kanlaon in the north have reasonable initial road access. It is hoped there are as yet unknown sites that might further enhance knowledge of this enigmatic species and therefore the opportunities to protect it.
Acknowledgements
Much appreciation to the late Dr. Eberhard Curio who managed and facilitated visits and did much to protect the forest at Sibaliw Research Station via the Eco-Social Conservation Project Philincon. Thanks to Rhea Santillan of Philincon who works hard to arrange porters and other logistics for visits. Many thanks to Putput Fernandez who acted as a guide for parts of the trips both at Sibaliw and on Mt Madja-as. Thanks to Des Allen for his assistance and support with the text.
References
BirdLife International (2023) Species factsheet: Rhabdornis rabori
Birds of the Philippines. Desmond Allen. Lynx and Birdlife International Field Guides. 2020
A Guide to the birds of the Philippines. Robert. S. Kennedy et al Oxford University Press 2000
Allen (n 2),
del Hoyo, J., N. Collar, and D. A. Christie (2020). Visayan Rhabdornis (Rhabdornis rabori), version 1.0. In Birds of the World. February 2023
Pajareo Sin Fronteras Forest Jarvis Birding Blog and pers com.
ebird April 29th April 2018 Visayan Rhabdornis Rhabdornis rabori. Mt Madja As Panay Philippines
BirdLife International (2023) Species factsheet: Rhabdornis rabori.
Birds of the world (2023) Stripe-sided Rhabdornis (R. mystacilis)
BirdLife International (2023) Species factsheet: Rhabdornis rabori.
©Brendan Sloan 10th May 2023