By Gabbi Reyes-Banaria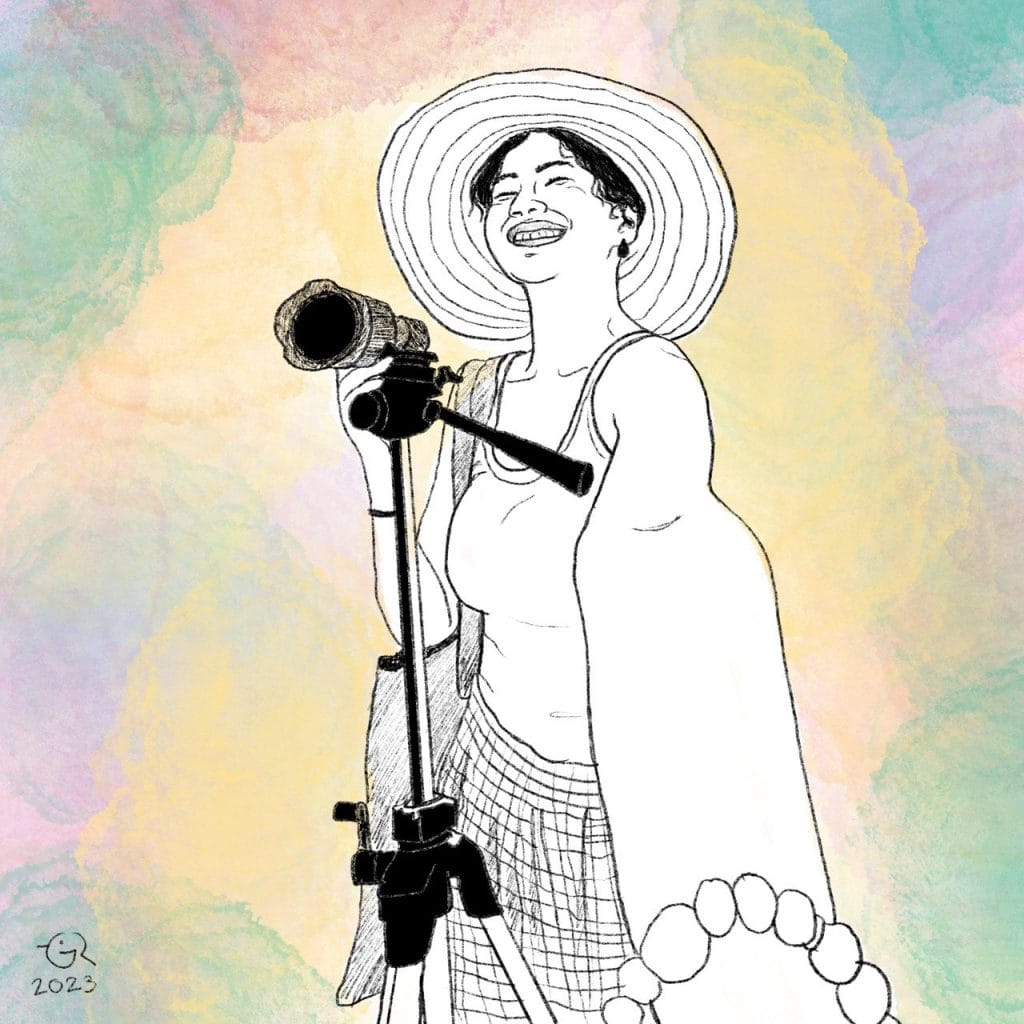 Sometimes, it's unbearable to be in this world that we live in. Bills, chores, and work always seem to keep chasing us. Even seeing certain people can ruin one's day—maybe that's why we choose to look at birds instead.
However, there are those who are unfazed by the storm we call life. They stop to see the beauty and light of each moment while others rush by. One such person is club member Anj Angeles.
Positively Anj
Anjeline Angeles, or Anj for short, is a full-time photographer from Cainta, Rizal. Among the interests of this creative soul is nature and slow fashion. For those not familiar with slow fashion, it is the approach to the fashion industry that puts careful thought into the process and resources that go into creating clothes so that they may be long-lasting and sustainable rather than easily disposable.
G: When did you start birding and how? Tell us your story.
Anj: It's all thanks to my friend Aly Kangleon! We went to Palawan together earlier this year 2023 & she casually brought up if we can do a birdwatching tour there! We were very curious to try. It was then I saw my spark bird, a little Olive-backed sunbird just chilling out in a low hanging fruit tree. Its bright colors beamed in the sunshine & it was just a moment for me!
It was also through her friend, Aly, that Anj learned about WBCP. Seeing reshared club posts on social media piqued her interest and compelled her to join earlier this year.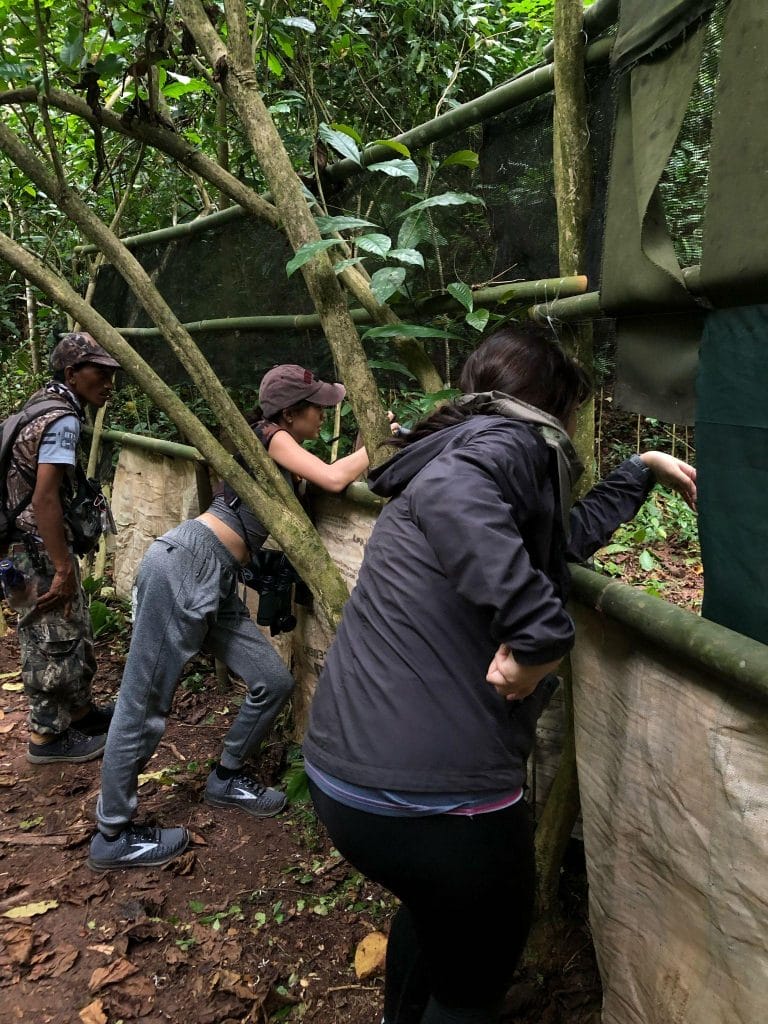 Anj in action with her friends in Palawan
G: What are you looking forward to the most as a newbie?
Anj: I'm looking forward to discovering new birds, especially ones in places where I usually go. I'm really excited to discover more magic in mundane places!
G: What was your most challenging experience as a birder?
Anj: Learning to use the binoculars was challenging and frustrating at the beginning haha!
G: What was your most rewarding experience?
Anj: I think seeing Philippine hanging parrots! I never realized they could just be found in the wild roaming around if you just knew where to look!
G: Birding is great because…
Anj: It keeps me present and grounded in the beauty and wonder of nature.
A good reminder that while we have our targets and do not have the luxury of time, birding is an experience one does not always need to rush. To see and be in nature is a privilege we must not take for granted.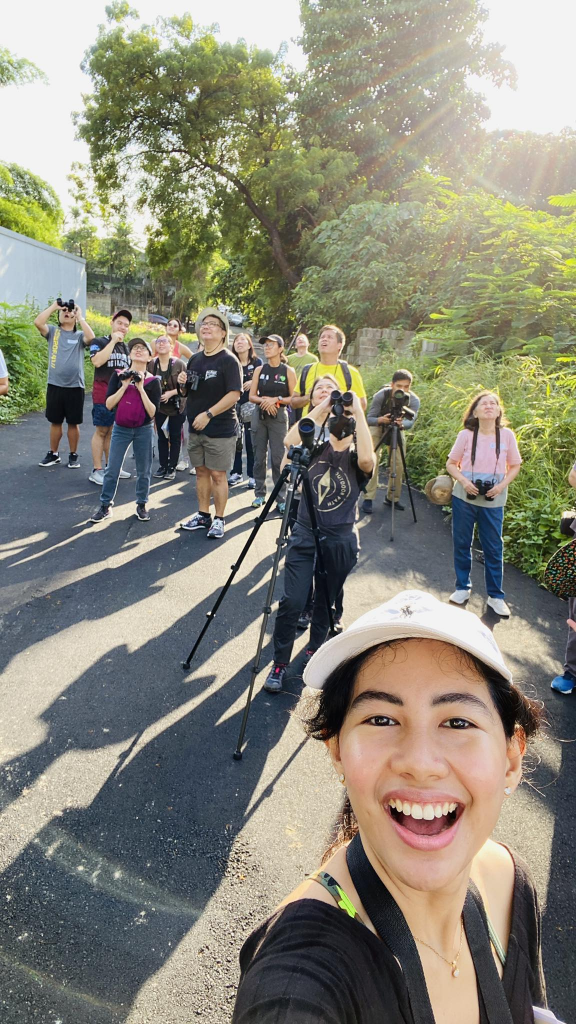 Volunteering for a guided trip
Through Her Lens
Anj's photography business is named Her Light Studios where she hopes to help others "shine brighter". Photographers have a gift for capturing and seeing what others normally don't. Now, what exactly does Anj see that inspires her to keep doing what she does?
G: Why is your business named "Her Light Studios"?
Anj: Because it's based on the idea of finding and capturing the light in everyone, in every situation, and also to inspire others to see the light in themselves too through the creative work I do.
G: What was the most interesting subject you photographed?
Anj: So hard to choose! But my fave subject will always be meeting ang capturing women and learning their unique stories 🙂 Most interesting, siguro, was what got me into women photography! Which was working with women shelters for young girls who have experienced sex work & sexual abuse at such a young age. It was a life changing experience, their wisdom and their strength really inspired me and continues to inspire me to work to be an avenue of empowerment & healing.
G: What is the greatest thing you've learned from your job?
Anj: Confidence is a superpower that is best shared and celebrated together with others 🙂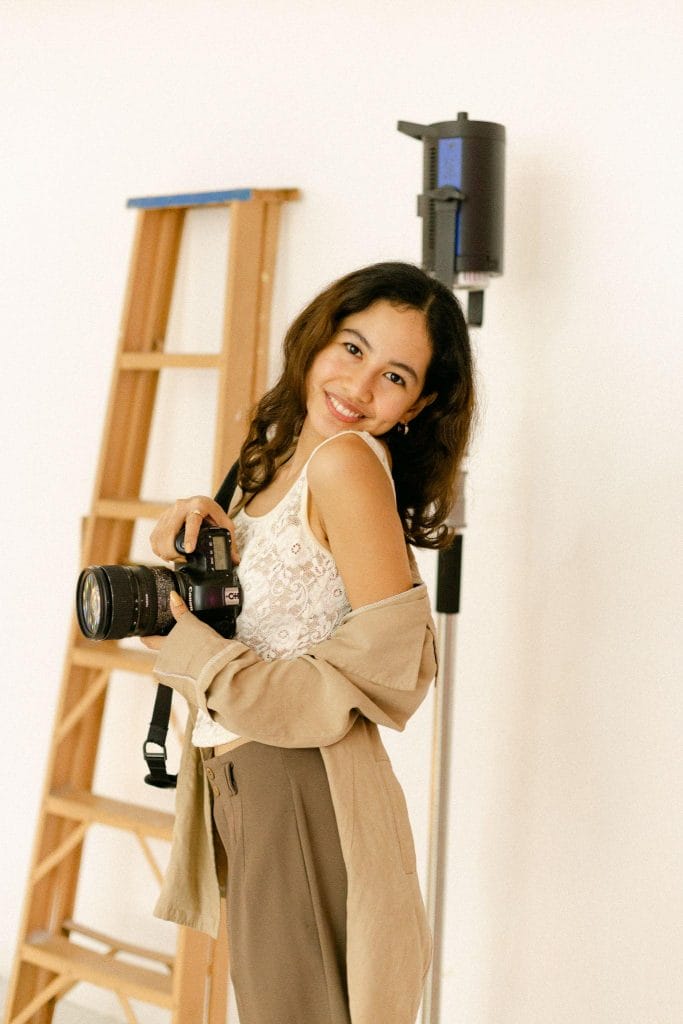 G: What is your dream project?
Anj: Omg so many! But my goal is just really to make fashion and beauty photography more relatable to all women, especially Filipinas. That every Filipina feels more represented and celebrated and empowered through media and photography!
G: Your personal advocacy revolves around sustainability and women empowerment. How do you think birding contributes to your life's missions?
Anj: Birdwatching reminds me to find beauty in every corner! And just like every woman, every bird is unique, beautiful and worthy 🙂 I'd love to get more people aware of the beauty of nature and our responsibility to take care of it! 🙂
G: How do you think birding brings light to people?
Anj: Birdwatching is nothing short of finding magic in mundane places 🙂
G: Any life wisdom you'd like to share?
Anj: No more! But I'd just like to add that birdwatching is also a very humbling experience! Realizing that we share this earth with so many creatures we are yet to see and appreciate! And every one of these species, or nature itself can teach us so much wisdom. For instance, just like birds, we are meant to be free of worry, free of judgement, free to be our truest selves and show our true colors 🙂
It's so easy to get lost in the mountain of work we need to do to get by. There's a lot of things we overlook too only because we're so used to the routine. But just as what Anj has shared, birders have the special ability to spot the beauty that goes unnoticed. And if we could apply our practice to our daily lives, we too can shine a light on the "magic in the mundane" and even influence others to do the same.
Thank you to Anj Angeles for all your positive insights and allowing us to create your Birder Portrait!