By Mike Lu
The first month of the year had always been the busiest time of the year members of the Wild Bird Club of the Philippines as we assist the Department of Environment and Natural Resources in the conduct of the Asian Waterbird Census in different wetlands sites. Thank you to the following contributors for the write-ups and photographs: Bayani Barcenas, Mads Bajarias, Linda Gocon, Adrian and Trinket Constantino, Nathalie Magay, Riza Melicor, Jasmin Meren, Gwen So, Mark Villa.
January 6- 17, Asian Waterbird Census
The Asian Waterbird Census was held earlier than usual. WBCP partnered with Wetlands International to monitor several of the wetland sites around Manila Bay.
January 6 – Lake Canarem, Victoria, Tarlac
All that is left of the lake are fishponds (some abandoned) and rice fields, nevertheless it is home to more than a thousand Wandering Whistling Ducks. Jops Josef also recorded close to a thousand Black-winged Stilts during the census, though other waterfowl species were not in significant numbers. More visits to the site may yield more interesting finds.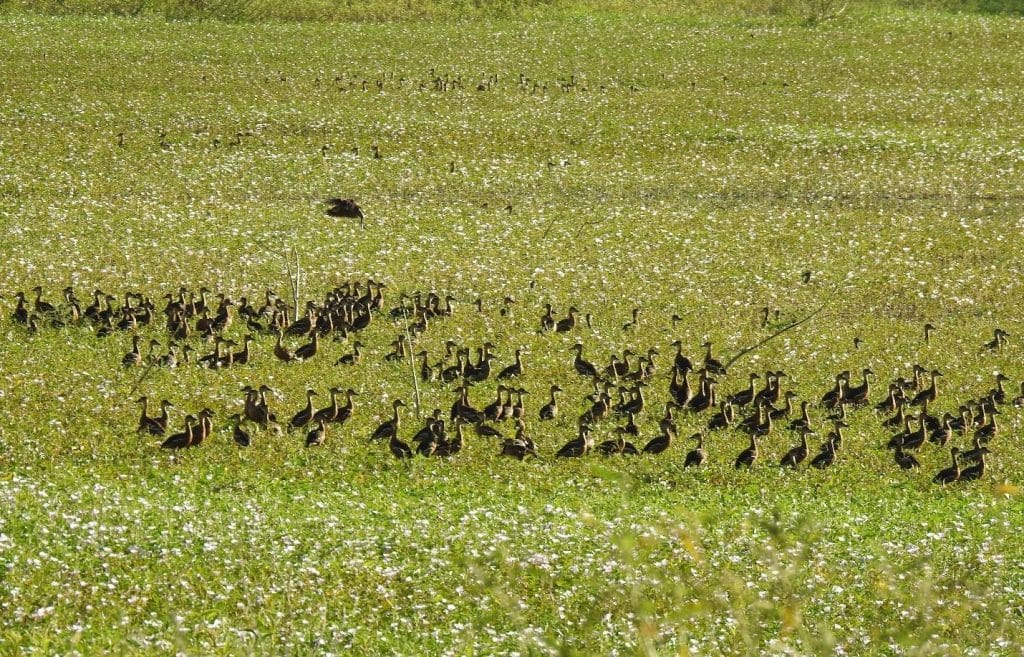 January 8 – Candaba Marsh, Pampanga
Flooded fields and an earlier census date yielded a high increase of birds counted compared to the dwindling census numbers in the past few years. Jasmin Meren came up with a total 23,787 birds belonging to 36 species with high counts of Garganey (7321), Eurasian Coot (233), Black-winged Stilt (7330), Wood Sandpiper (604) and a good diversity of migrant duck species not seen in recent years including Green-winged Teal, Tufted Duck and Common Pochard.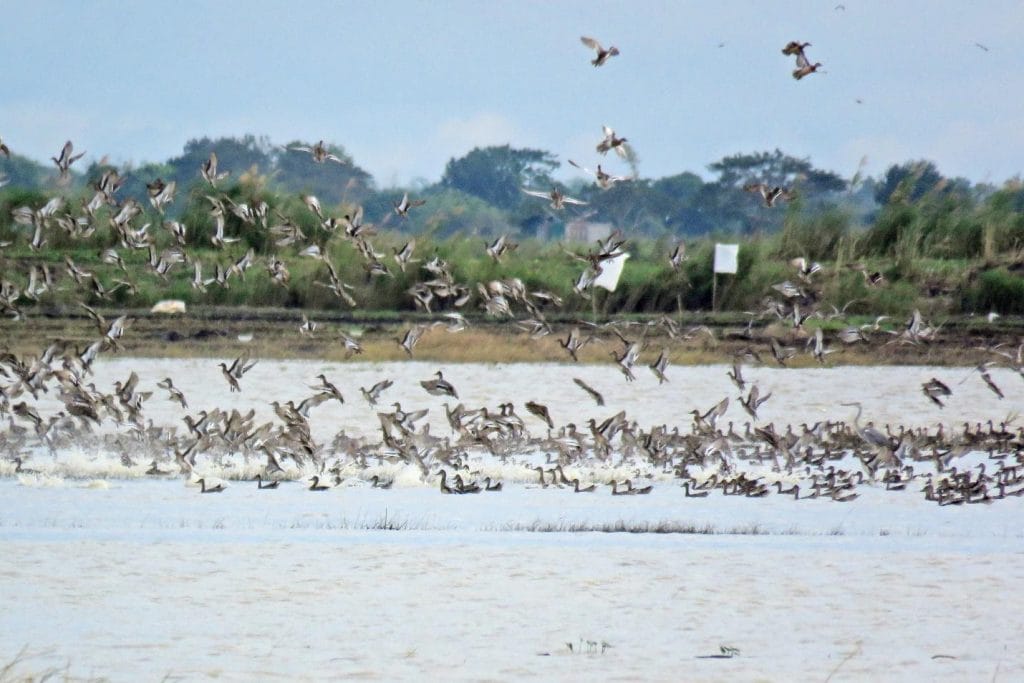 January 13 – Imus River, Cavite
Imus River was the stronghold of the Philippine Duck in the southern part of Manila Bay but due to recent developments in the area which resulted in mangrove cutting and reclamation, no Philippine Ducks were seen during the census. 1031 birds belonging to 28 species were recorded by Cheta Chua including Pacific Golden Plover (285), Black-winged Stilt (230) and other waders including Lesser sand Plover, Grey-tailed Tattler, Red-necked Stint and others.
January 14 – Baseco, Manila
Baseco Beach is right in the heart of Manila's dockyards.  The DENR started monitoring this site to see if recent clean-up operations have an impact on birdlife on this stretch of beach.  Mike Lu joined the DENR and recorded 6 species of waterbirds for a total of 915 birds, mostly Whiskered Terns (899).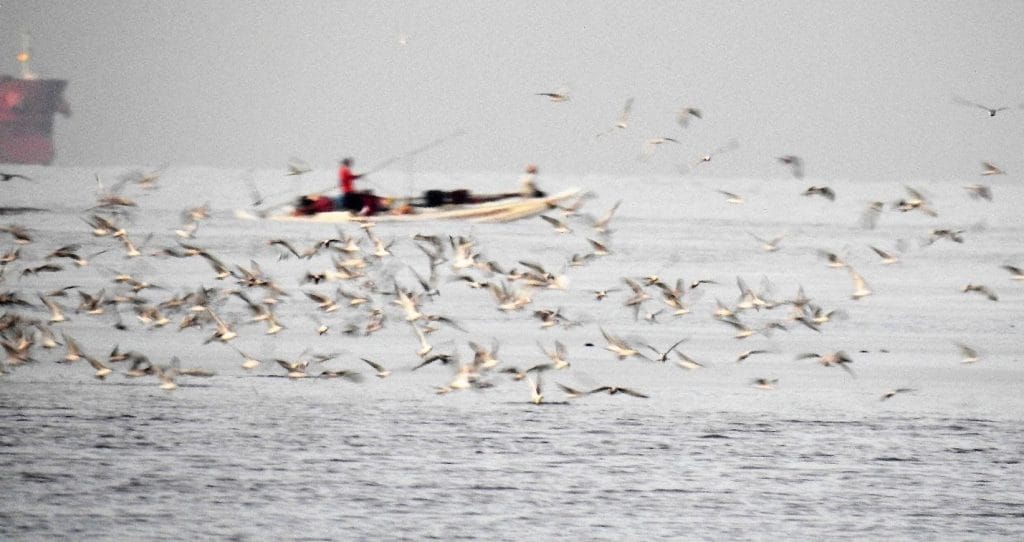 January 14 – Noveleta, Cavite
These mudflats fringed by mangroves and dominated by fishponds in Noveleta is where the Ylang-Ylang River drains to the Manila Bay in Cavite. Ruben Bala counted 672 birds belonging to 22 species. The highest being terns, mostly likely Whiskered Terns estimated at 300 birds and Pacific Golden Plovers at 99. Hopefully Club members can visit the site on a more regular basis.
January 14 – Taliptip, Bulacan
Barangay Taliptip covers the mudflats and fishponds extending towards Manila Bay which are now abandoned and its mangroves cut down, including the site where 24 globally-threatened Black-faced Spoonbills were seen last year. A local informed the group led by Arne Jensen that previous residents were paid by San Miguel Corporation to destroy their houses and leave. No Trespassing signs were seen in many places. This year we counted only 8,748 birds belonging to 42 species were counted this year.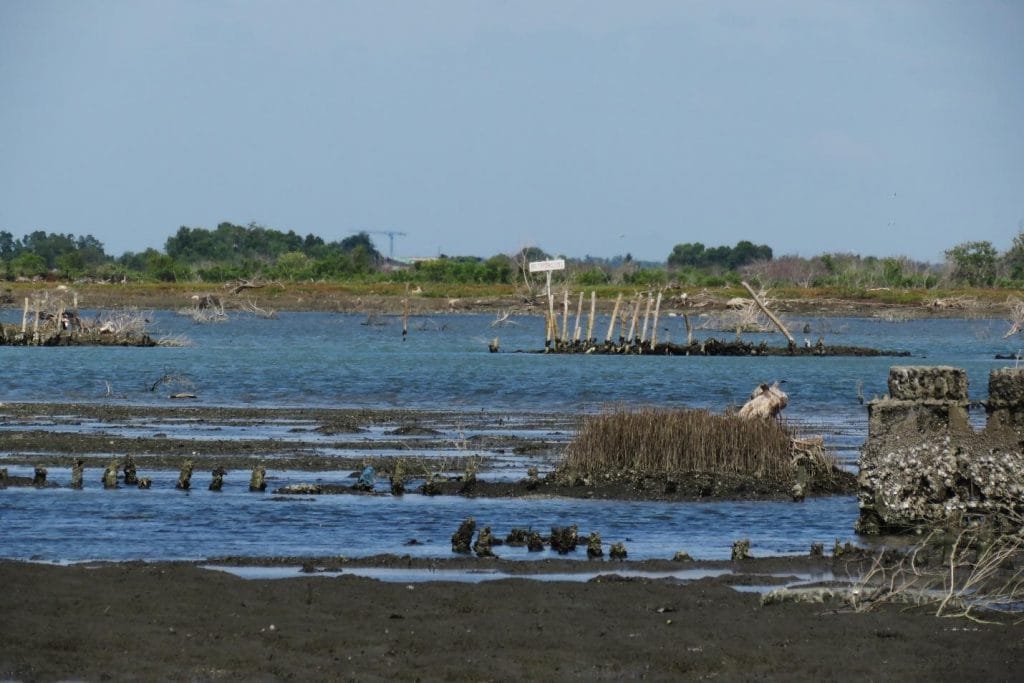 January 15 – Sta. Cruz, Guiginto, Bulacan
The waters surrounding barangay Sta. Cruz is shallow, with sandbars and mudflats observed during low tide. In this favorable habitat, 21,863 birds belonging to 43 species were counted. Notable species are Far Eastern Curlew and Great Knot (IUCN Endangered), Chinese Egret (IUCN Vulnerable), Asian Dowitcher, Black-tailed and Bar-tailed Godwit, and Red Knot (IUCN Near Threatened), and Dunlin which is a rare visitor in the country.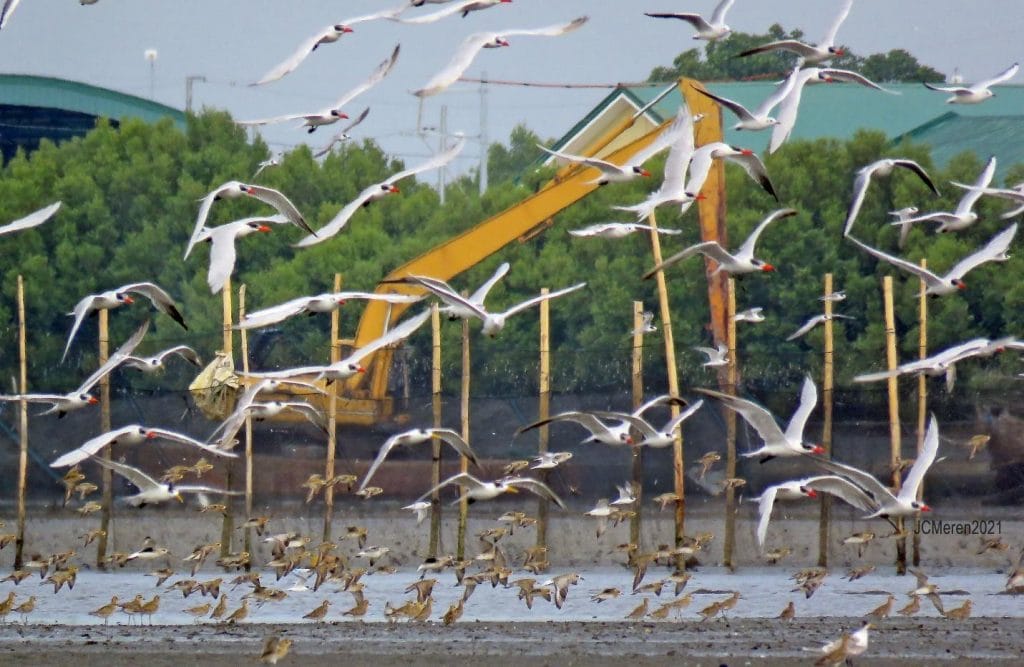 January 15 – Pampanga River (East)
Twenty-two species were counted on the East Bank with a total of 11, 724 birds with a highlight of 3820 Marsh Sandpipers joined by over a thousand each of Kentish Plovers, Red-necked Stint and Common Redshank.  WBCP census takers were Adrian Constantino, Trinket Constantino, Juan Mesquida, Rene Calado, Tristan Mirasol with Wilson Eloreta of the DENR.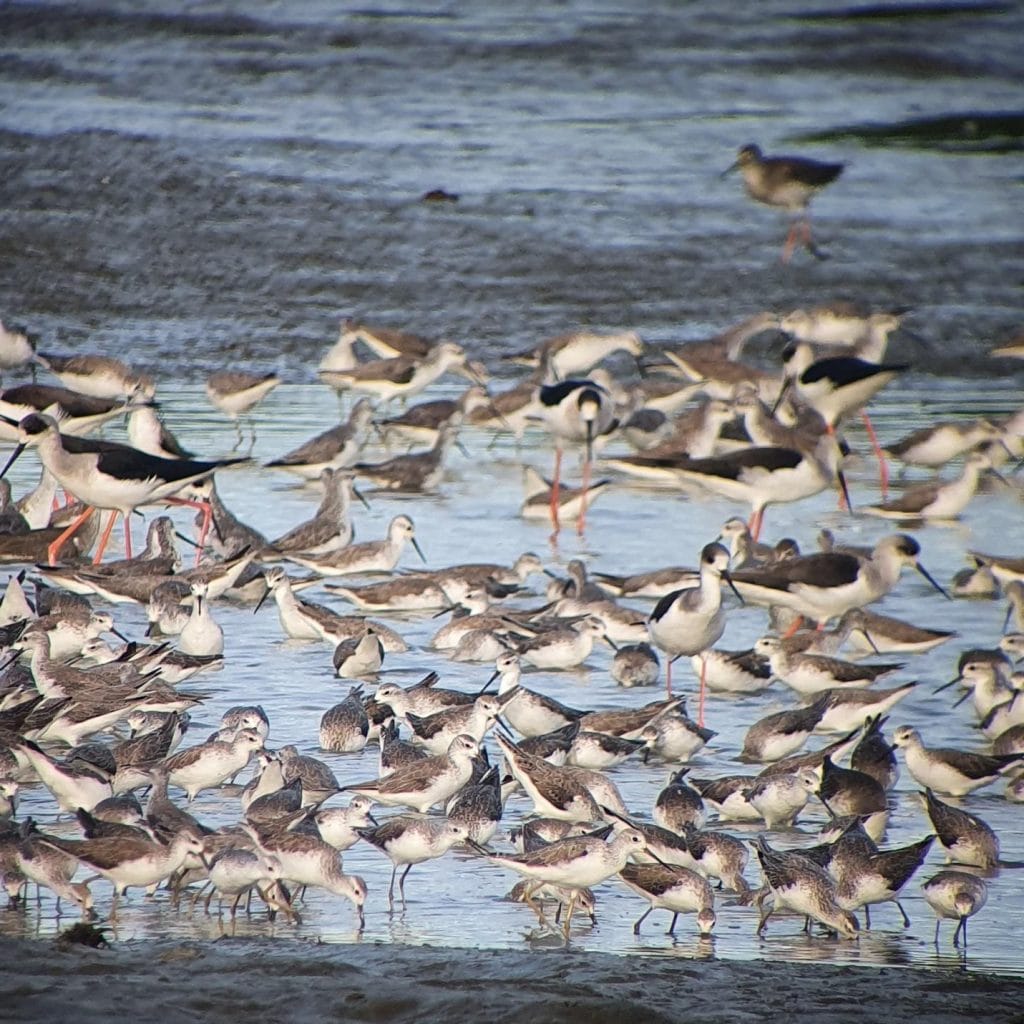 January 16 – Tanza (Navotas), Tagalag & Malanday (Valenzuela)
The wetlands of Tanza (Navotas) have been a wintering home/stopover site for a number of threatened/endangered shorebird species, but will soon be lost forever due to the ongoing reclamation.
A total of 6493 birds belonging to 32 species were recorded including Whiskered Terns (2799), Red-necked Stint (784), Kentish Plover (487), Marsh Sandpiper (3030, Lesser Sand Plover (216), Black-headed Gull (175). Also recorded were Chinese Egret, Grey-tailed tattler, Eurasian Whimbrel, Grey and Pacific Golden Plover, Sandpipers (Broad-billed, Curlew and terek), Long-toed Stint and other waders.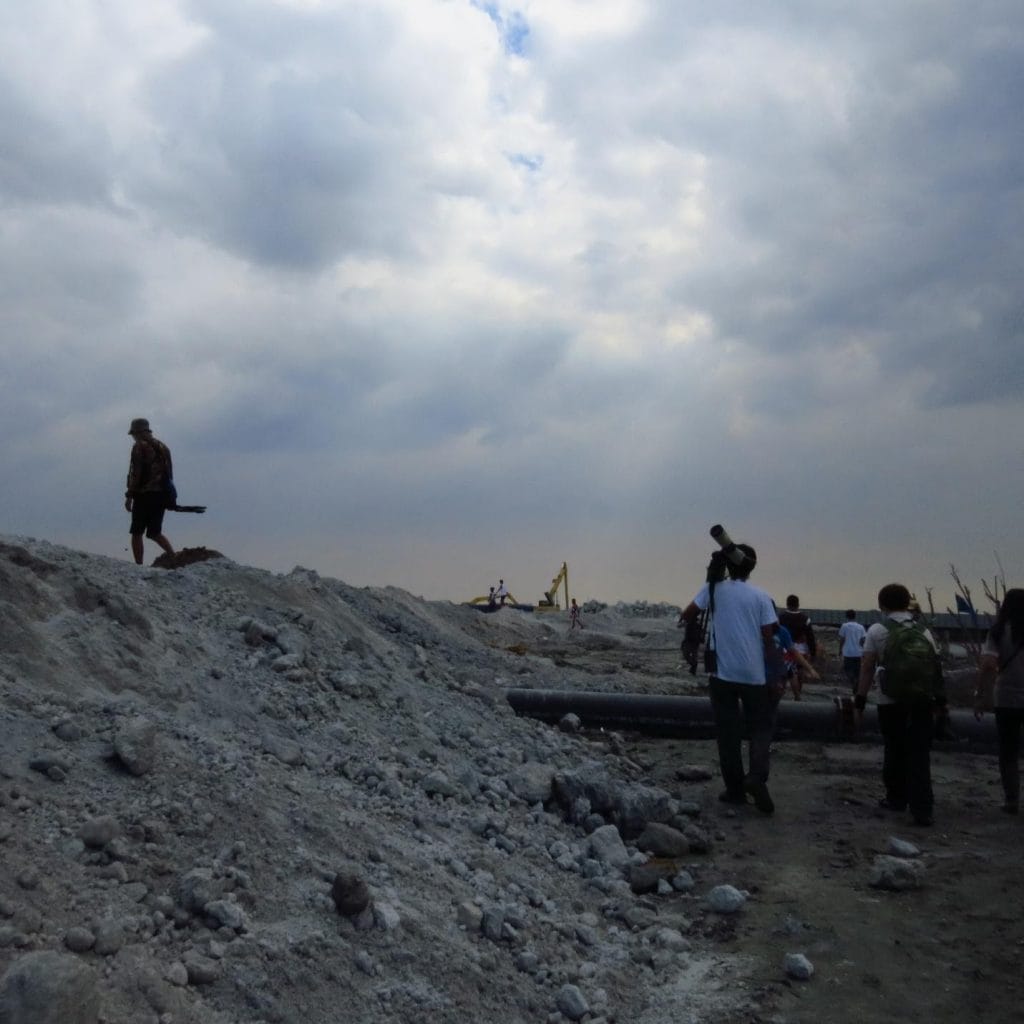 724 birds belonging to 15 species were recorded in Tagalag (Valenzuela) including Whiskered terns (350), Cattle Egret (207), Common Moorhen (116), Black-headed Gull (4), Black-crowned Night-Heron, Yellow Bittern, Purple Heron and other waterbird species.  Malanday (Valenzuela), also threatened by development, recorded a total of 220 birds from 6 species including Purple Heron (145), Wandering Whistling Duck (30), Common Moorhen, Great Egret and Black-crowned Night Heron.
January 16 – Pamarawan (Bulacan)
WBCP members Jasmin Meren, Diuvs de Jesus, Tinggay Cinco, Bob Natural and Mark Villa recorded 38 species numbering almost 20,000 waterbirds (19,866). Main highlights include a big flock of the near threatened Black-tailed Godwit (3000). The group also recorded other threatened species such as Asiatic Dowitchers (near threatened), Eurasian Curlew (near threatened) and Far-eastern Curlew (vulnerable).  A high number of Greater Crested Terns (709) and a huge concentration of Black-headed Gulls (est. 6000) are also noteworthy. It is important to have more surveys at these sites as parts of Manila Bay are increasingly under threat from reclamation projects.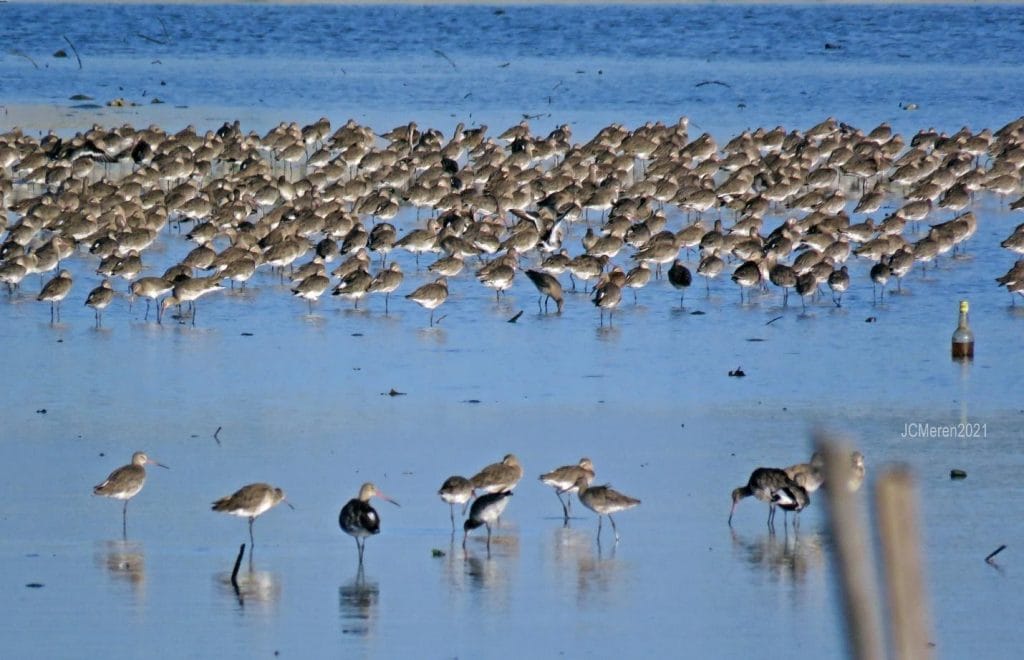 January 16- Pampanga River (West)
Adrian Constantino, Trinket Constantino, Linda Gocon, Cathy Mendoza and Ravi Iyengar led the census on the west bank of the Pampanga River. 27 species were counted with a total of 23, 183 birds. Over 4,000 egrets were counted and 72 Little Grebes were seen at one fishpond. Overall, the count of Whiskered Tern (5980) and Black-headed Gull (13,110) were much lower than the two previous years, but still impressive.  At the mouth of the river, a major dredging project is already in the works.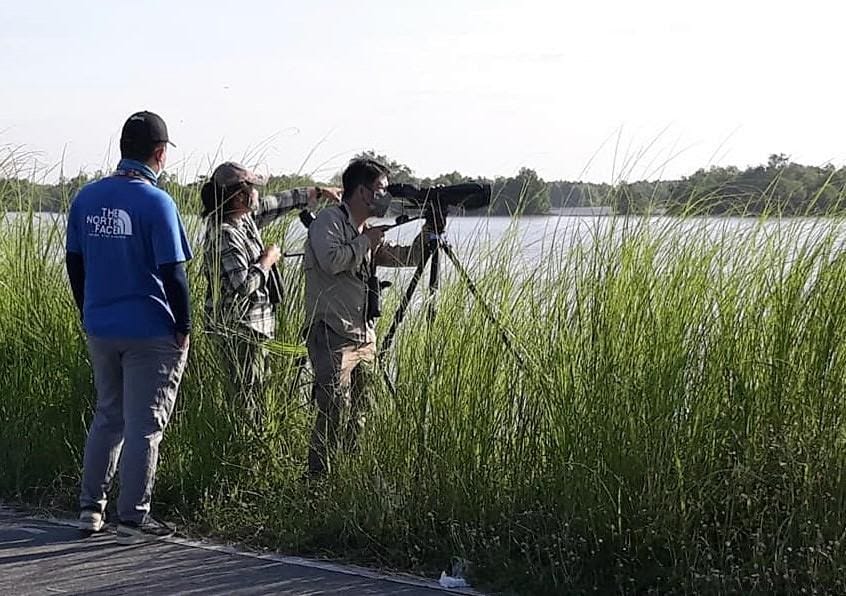 January 17 – Caylabne Bay Resort, Ternate, Cavite
Club members led by Arne Jensen visited Caylabne Bay to check on the resident flock of Philippine Ducks.  We counted 300 Philippine Ducks, the highest count in the southern part of Manila Bay however there were not many other species of water fowl in the vicinity.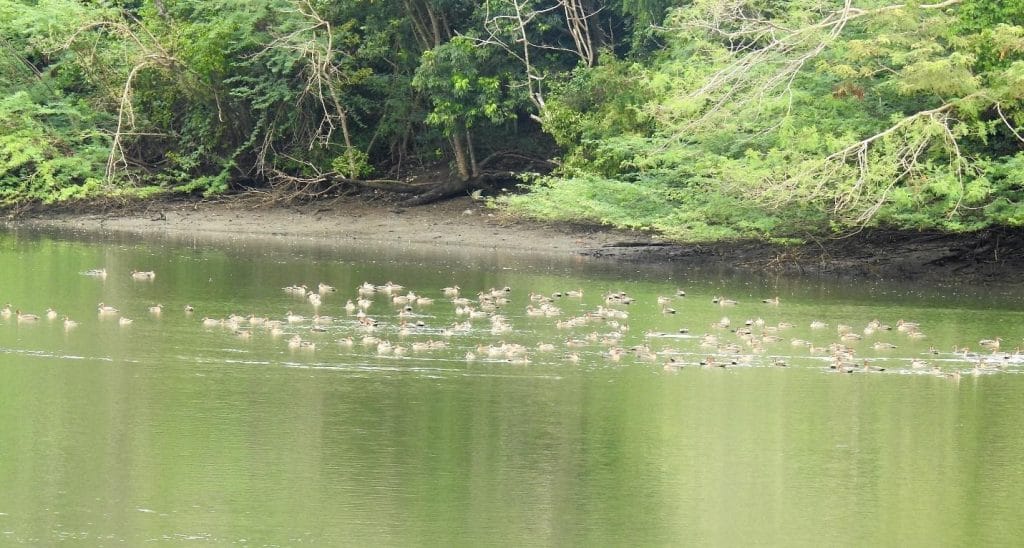 January 23- Kapihan: History of Philippine Bird Books by Christian Perez
In the 23 January Birding Kapihan, members listened to Christian Perez as he shared his personal collection of bird books. Some of these books are old editions, such as the first book that has mentioned Philippine birds by Father Francisco Alzina. We learned of extirpated birds such as the Spot-Billed Pelican and Sarus Crane. We also learned about nomenclature designed by Carl Linnaeus who named 100 of 700+ species in the Philippines checklist. Christian showed us his collection of manuals of Philippine birds, and how to find the document where a species was first described and named.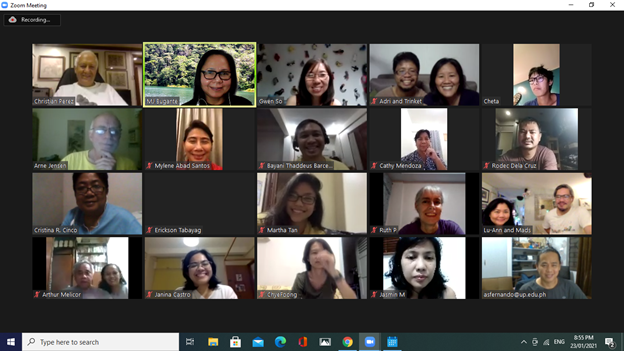 January 30 – Kapihan: Birdwatching in Local Communities: the Negros Oriental Experience by Pol Cariño 
Pol Cariño was our speaker last 30 January. Pol is into community development projects and his working experience and knowledge of the local communities provided the listeners an idea of how it is to birdwatch in Negros Oriental. The federation's name to which he belongs means "farmers for protection of the environment." Pol's aim is  sustainable livelihood for communities, such as birding tourism in Balinsasayao Twin Lakes, developing local birding guides, and mapping of trees for specific bird species. Pol is also passionate about the local rainforestation program: native trees for forest restoration.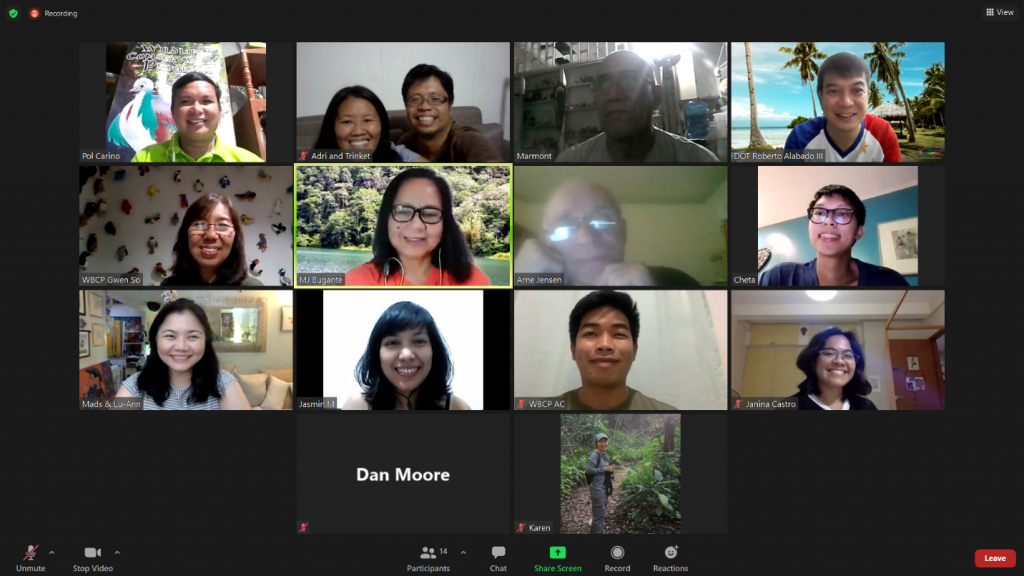 January 31 – Club trip to Pamawaran & Sta. Cruz wetlands, Bulacan
A club trip to select Bulacan AWC sites was organized 2 weeks after the annual census. The 2021 Asian Waterbird Census on this side of Manila Bay yielded about 40,000 birds with high counts of uncommon species like Black-tailed Godwit, Asian Dowitcher and a possible Nordmann's Greenshank. A day trip organized for members to some of these sites yielded a high count of 20,000 birds.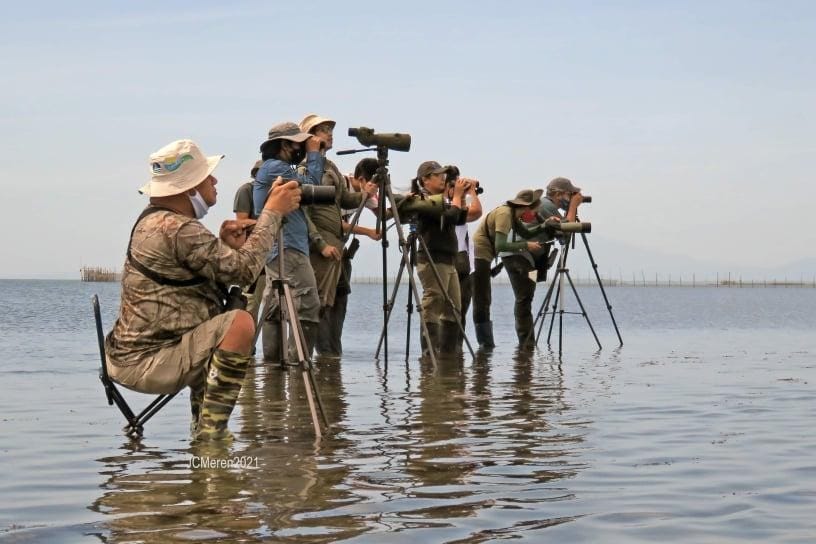 January 31 – Club Trip to Palo Alto Subdivision, Baras (Rizal)
Palo Alto Subdivision in Baras (Rizal) is situated in the lower edges of the Sierra Madre mountain range.  This underdeveloped subdivision has become a favorite day-trip destination as it is surrounded by forest on three sides hence forest birds are easily seen.  Club members headed for this site in recent weeks to tick-off the must-see migrant Green Sandpiper.