WBCP Secretary Gina Mapua's Coastal Clean Up idea has grown from a handful of family and WBCP members collecting garbage and having a barbecue to 400 highly motivated and concerned volunteers from all over Metro Manila joining together to clean up Coastal Lagoon on September 11th.

A CLEANED UP BEACH IS GOOD FOR THE SOUL
by Gina Mapua

After many weekends of uncooperative weather, glorious sunshine smiled down upon the approximately 400 volunteers for the Coastal Clean Up 911. It was a hot and sweaty day for a clean up but all our efforts were rewarded in the end by the sight of four dump trucks filled to the brim with assorted footwear, styrofoam and plastic, a long stretch of garbage-free sand and an amazing feeling within our souls.
At the assigned time of two o'clock in the afternoon, the trickle of volunteers soon became a deluge pouring out of cars, jeeps, vans and buses.  The various groups from Las Pinas, led my Mrs. Cynthia Villar, composed the biggest unit. WBCP member Sherbien Dacalanio led his group of CNN iReporters.  The Samahan ng mga Responsableng Mamumundok sa Pilipinas (SRMP) led by Levy Ulandap, who had been cleaning the MOA boardwalk area in the morning, arrived still strong and ready to go.  Schools were represented by Arellano University led by Ed Lorico, St. Scholastica's Academy led by Rhoda Tayag, St. Alphonsus Liguori Integrated School of Bacoor, Cavite led by Cecile Sipin and UP Diliman by Khrysta Rara.  WBCP member Ricky de Castro brought in volunteers from Team Energy.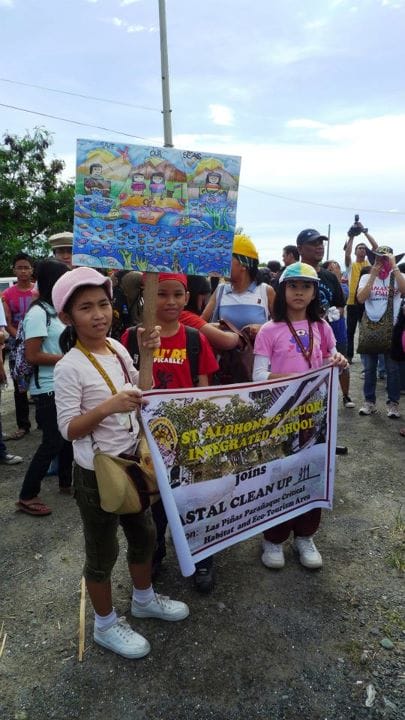 NGOs such as the Earth Island Institute and Save Dolphins, led by Angela Colmenares and Mark Padlan and the Save Freedom Island Movement led by Glacy Macabale and Jerry Mamansag, came in force.  Rey Aguinaldo led his team from the DENR-NCR who very kindly provided a tent for registration and First Aid.  The media were there too:  Net 25 and TV 5 were just two of those I noted.  Of course, the WBCP was there too.  Anna, Mike, Ixi, Karen, Jonathan, Ruth, Jun and Riana, Mai, Maia, Jops, Des C., Vincent, Raffy, Dibay, Abby, Melanie, Jelaine and her sister, Ivan, Alex, Lisa and June.  (Did I miss anyone?)  In addition to all these groups, many individuals and families also came on their own accord to help out. I met Charlito Maputol who is marine biologist.
In order to address everyone for the briefing, I had to stand on the bed of my pick-up. The SRMP very kindly provided me with a megaphone.  Everyone was informed to leave bio-degradables behind on the beach, not to uproot any vegetation and to shake off as much sand as they could.  After the briefing, volunteers were sent out to the beach in groups armed with rubber gloves, woven plastic sacks and an odd assortment of rakes, hooks and "sipits".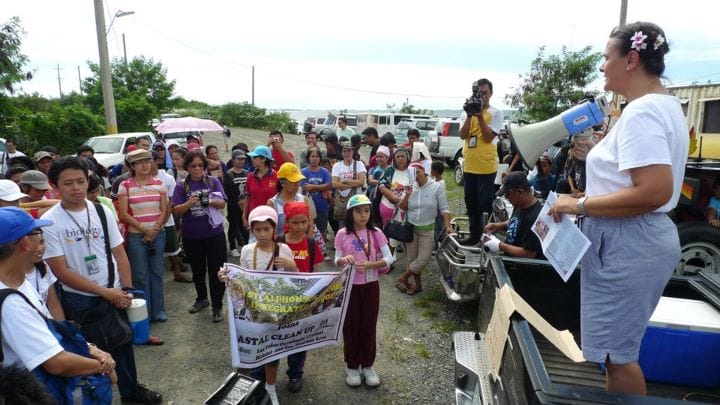 The first target of the day was footwear – slippers, sandals, rubber shoes and more filled the small dump truck within an hour.  Some groups were so focused on this task that they wandered farther and farther down the beach.  Afraid that darkness would fall on them and they would have to stumble back in the dark over garbage, I called them back. The next target was Styrofoam and other foams.  The second dump truck was also filled within an hour.  It was a great idea to recycle the woven plastic sacks by dumping the footwear and foam directly into the trucks.  The last target item for our clean up – plastics – proved more time-consuming to sort out from remaining mess.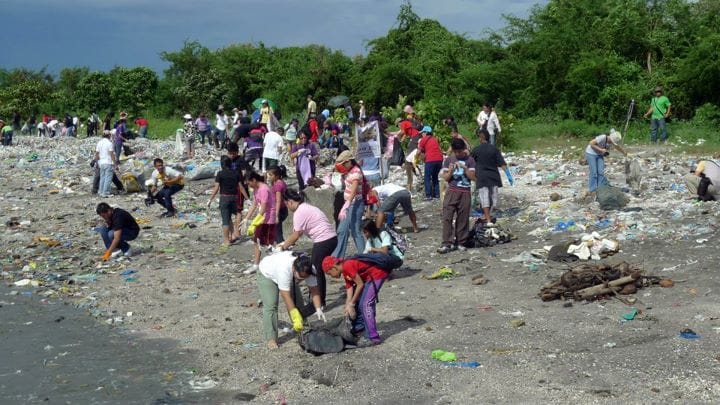 Mrs. Villar herself participated in the clean up, delving into the trash with a tool she borrowed from Ixi.  Rhoda Tayag and her students from St. Scholastica's Academy focused on a small area and removed garbage until they saw the sand.  The garbage was measured to be about a foot thick!   WBCP member Lisa Lumbao, despite the late hour, still came over with her family and did some cleaning.  Mark Padlan kept his troup's energy up with cheers and woo-shoo like movements with his spear.  Finally, all the remaining trash was picked up and loaded onto the last dump truck.  Soon the longest length of cleaned sand we had ever seen stretched out before us.  It was time to party!!!
Some volunteers were already partying early.  Students were gamboling about on the rock so Ixi and I played the dragon ladies and ordered them off the rocks.  Las Pinas had brought the Red Cross with them but we didn't think the Red Cross would be able to do much for cracked skulls.  Some members of the SRMP were rock balancers and soon the big rocks were sporting little balancing wonders.  We trotted out our beach chairs, coolers and snacks to share and we partied till it got too dark to see.  We all went home dirty and stinky but filled with accomplishment and satisfaction.
This pursuit was organized by WBCP and Earth Island Institute headed by Trixie Concepcion.  Our initial target was only 100 volunteers so the 400-strong turnout surprised and pleased us immeasurably.  It is an indication of how much our countrymen wish to do something for their community.  It is a force I believe we can continue to tap in the future.  I learned much from the experience and will refine and improve our methods for the next clean up.  Some NGOs held debriefings before going home.  I spoke with some of them and the over-all conclusion was that it was a wonderful soul-cleansing day.  We had done something for nature and our country and the feeling of accomplishment surpassed the discomfort of dealing with garbage.
There will be more clean ups like this.  We will enroll more groups in our endeavor.  We will improve our methods and increase our capacity for cleaning.  We will find a means to keep the garbage off the island.  We will draw attention to our cause and move others to take our cause. We will not stop until we achieve our goal – a clean habitat, not only for the birds we love so much, for also for our countrymen.
Till next time!!
All photos by Jun Osano