These are the highlights of the Annual Report given by Outgoing WBCP President Anna Maria Gonzales


space



President Anna Gonzales' Annual Report for July 2011 – June 2012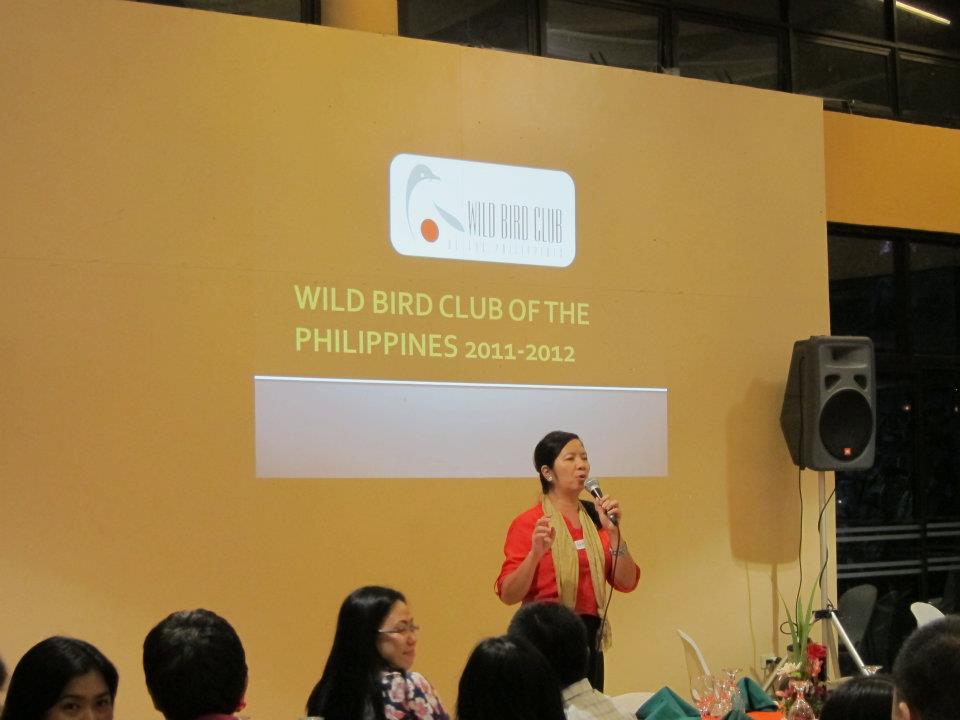 The Executive Committee or EXECOM for 2011-2012 was comprised of the following members:
President: Anna Gonzales
Vice President: Alain Pascua
Secretary: Gina Mapua
Treasurer: Mike Lu
5th Officer: Alex Tiongco
Founding members: Jon Villasper, Kitty Arce
The EXECOM members head various Working Committees such as Records, Trips, Education, Newsletter (eBON), Membership, Conservation, Coastal Cleanups, and more.
These Working Committees spearhead projects such as Raptorwatch, Philippine Bird Festival, International Hornbill Conference, special projects, and outreach projects.
The Club had  284 members as of December 201. Most of the members came from Metro Manila. Only 48 were from outside of Metro Manila. The WBCP members are from 24 provinces and 9 countries. The Club has 9 British members , 8 Americans, and 6 Dutch.
The WBCP members were busy traveling to various sites for birdwatching. There were 25 Club Trips, including trips to Mt. Kitanglad in January and Bislig in October; 12 Raptorwatch trips; 8 Asian Waterbird Census counts; and 39 guided trips.
WBCP members conducted 13 talks and training sessions. These members were Maia Tañedo, Anna Gonzales, Jun Osano, Arne Jensen, Arnel Telesforo, Jops Josef, Mike Lu, Diuvs de Jesus, Carmela Balcazar, Trinket Canlas, Melanie Tan, and Adri Constantino.
The Club was also represented at six local events: Bayan Mo, Ipatrol Mo,  2nd Ibong Dayo Festival in Balanga, Asian Waterbird Census, Bird Survey at La Mesa Nature Reserve, Earth Day at Arroceros Park, and Earth Day at NUVALI.
The Club participated in 6 international events: 2nd Asian Bird Fair in Taiwan, Borneo Bird Fest, 13th Taipei International Birdwatching Fair, ARRCN Symposium in Korea, 2nd Global Birdwatchers Conference in India, Raptorwatch 2012 in Malaysia.
The Club hosted eight visiting birders from the USA, Canada, UK, France, Malaysia, and Guam.
The Club and birdwatching continues to be popular in media. Club members represented WBCP at six radio shows, five (or more)  print media articles,  and four (or more) TV shows, including TV Patrol.
The EXECOM represented the WBCP at meetings with the National Museum of the Philippines, Department of Tourism, Rizal Park Administration, Columbia, AES, sponsors and partners, LPPCHEA Council Meetings, EII, SFIM, and DENR NCR.
President Anna Gonzales also made special mention of the club members who participate in two of of the most basic and also important WBCP members' jobs:  volunteering for guided trips and submitting trip reports. She compiled lists of the Top Volunteers for Guided Trips and Top Submitters of Trip Reports. The top three volunteers for guided trips were Jops Josef, Maia Tañedo, and Jon Javier. The top three submitters of trip reports were Randy Weisser, Maia Tañedo, and Sylvia Ramos.