Very few birders have gone out to look for pelagic birds in the Philippines. Paul Bourdin reports on his exploration of the Philippine Trench in search of pelagic birds.
space
Pelagic Birding in Siargao
by Paul Bourdin
Pelagic: living or occurring in the open sea (Webster), from the Greek pelagos: sea
My interest in a pelagic trip to this region was sparked by an article in Birding Asia 16 (December 2011), which mentioned the Philippine Trench. This is a deep channel stretching up the south-east Asian archipelago from New Guinea up the eastern side of Indonesia to The Philippines. It is the second deepest submarine trench in the world, reaching a maximum recorded depth of 10,540m (The deepest point of any ocean, the Marianas Trench is a mere 323m deeper). With such deep water lying not far offshore the potential for interesting pelagic birds (and mammals) is high.  The proximity of such deep waters close to the coast of The Philippines was news to me, and I was immediately intrigued.
A glance at a map will tell you that the closest island to the Philippine Trench is Siargao, and a quick Internet search will locate a number of charter companies based there prepared to take fishermen out for big-game fish. I contacted one of them who was quite happy to take us out whether we were fishing or not, and advertised for anyone fool enough to want to come with me. I soon filled the available spots, and having settled on a date of 3rd June 2013 we all met up at the appointed time.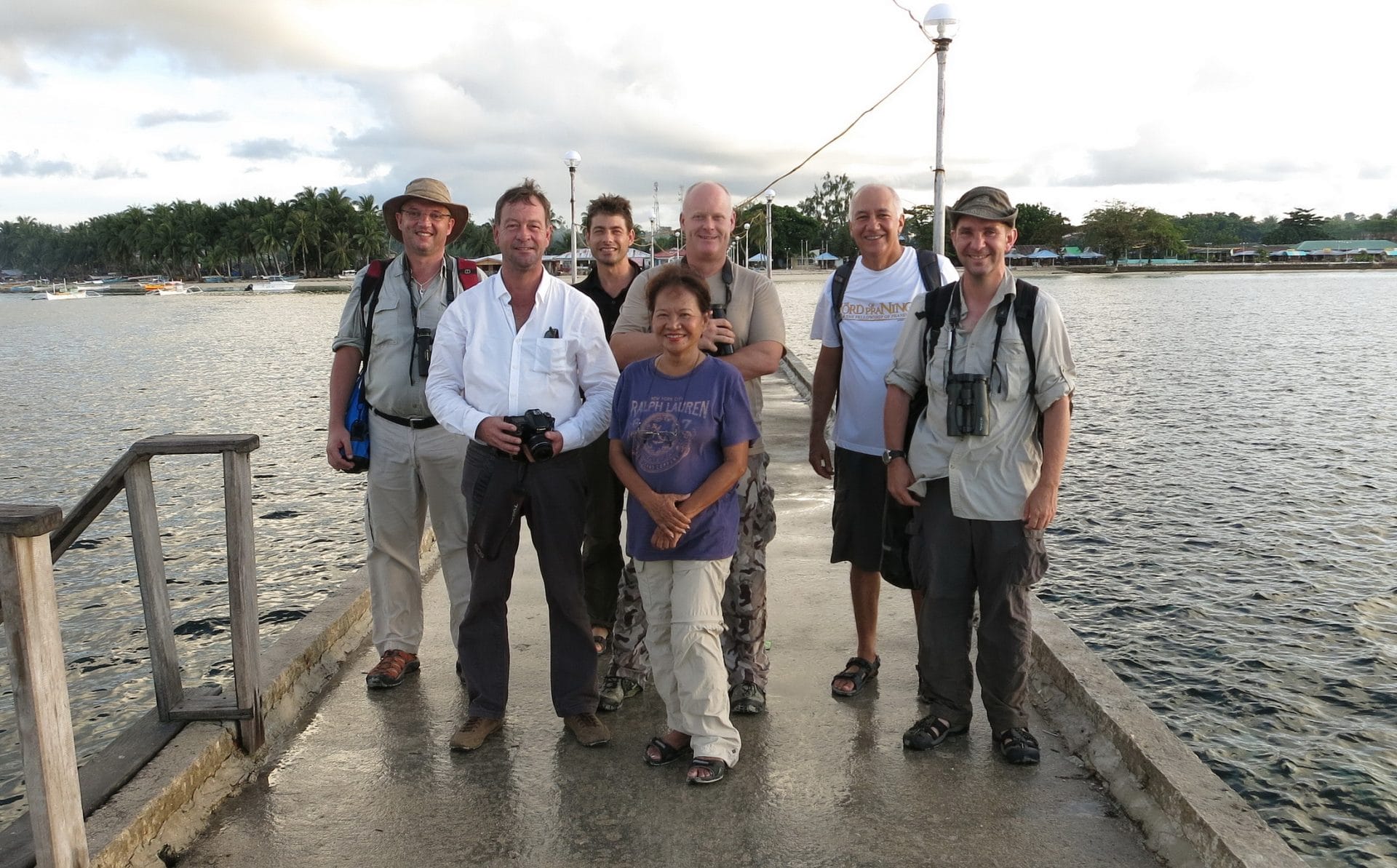 What is Pelagic Birding?
Birding at sea is a very hit and miss prospect. With no fruiting trees or other bird magnets around the problem is locating the birds in the first place. One thing that separates the true pelagic birds from their land-based neighbors is an extraordinary sense of smell. Many species can detect the scent of rotting fish from many kilometers away, and can home in on the source, much like sharks are said to do. One look at a seabird's bill shows evidence of this, the nostrils of seabirds are so prominent that as a group Shearwaters, Petrels and Albatrosses are referred to as tubenoses. Thus the main method that seabird watchers around the world have developed to observe these amazing creatures is by luring them to a boat through their sense of smell. The substance used is referred to as chum, and the practice of using it is called chumming. There are many ideas of what constitutes the best chum, and the Internet abounds with recipes, however the main ingredient seems to be some form of fish-smelling oil that will spread across the surface of the sea behind the boat. An excellent resource for a chum recipe is the scillypelagics website.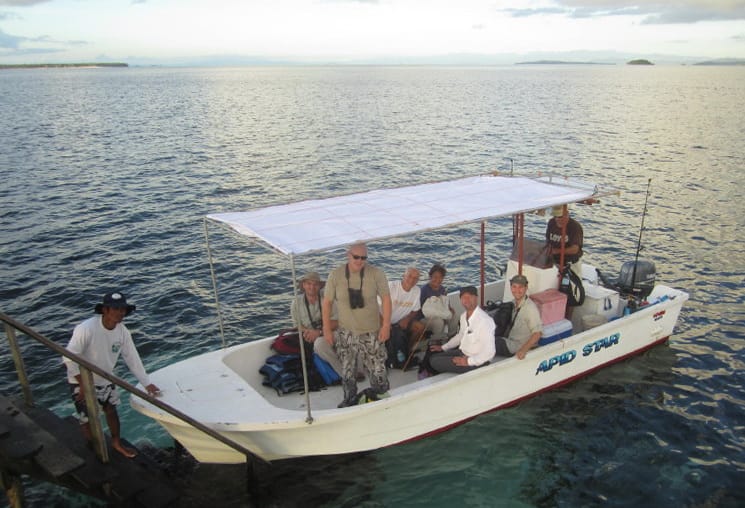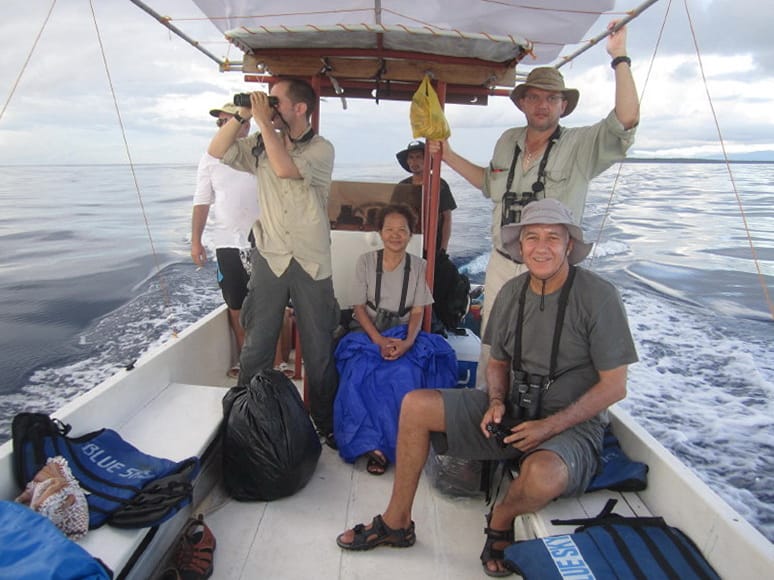 The Birds we saw
Our captain, Steve Brown, was very knowledgeable about fishing, but while he had a keen interest in the birds, he didn't have much specific knowledge. Nevertheless we set off to sea, with a heady mix of anticipation and trepidation, and reached a distance of about 30km in the open ocean east of Siargao. The birds themselves took a while to appear, but once we had reached a decent distance offshore they started to show themselves. The first bird we saw was a Brown Booby, powering past us, but soon after that we started to see what we were really looking for, tubenoses. The majority at first were dark phase Wedge-tailed Shearwater, with a few larger Streaked Shearwater added in. Eventually Rob shouted out that he had something more interesting, Bulwer's Petrel. When seen properly this bird has a distinctive profile, and sure enough there was a Bulwer's Petrel floating past. There are few accepted records of this species in the Philippines, and we were to record 5 over the 2 days. The chum we had made (vegetable oil, chopped up fresh fish, bait additive) seemed partially effective, with at least some of each of the three species of tubenose appearing to come closer to our boat, though none alighted on the slick.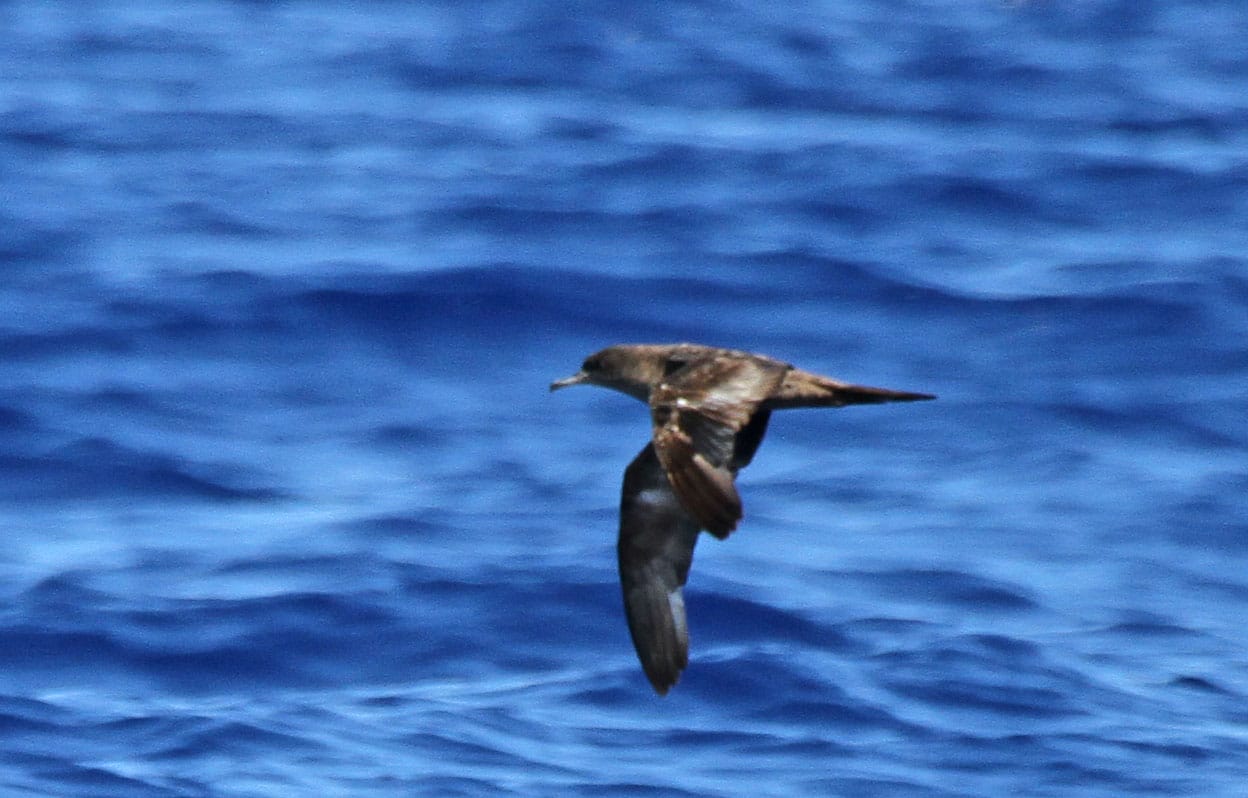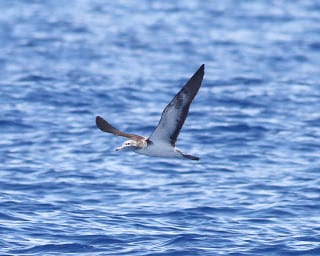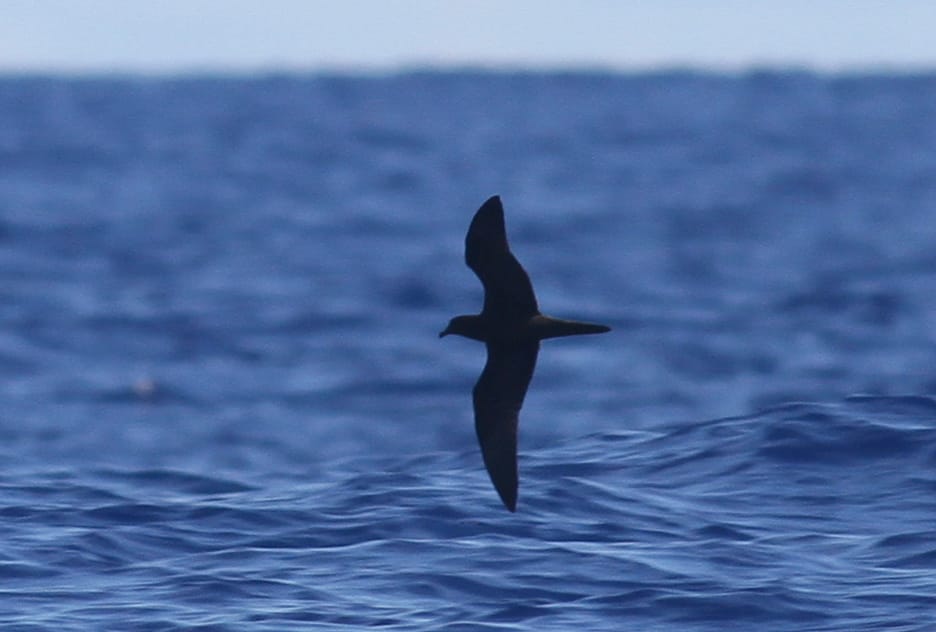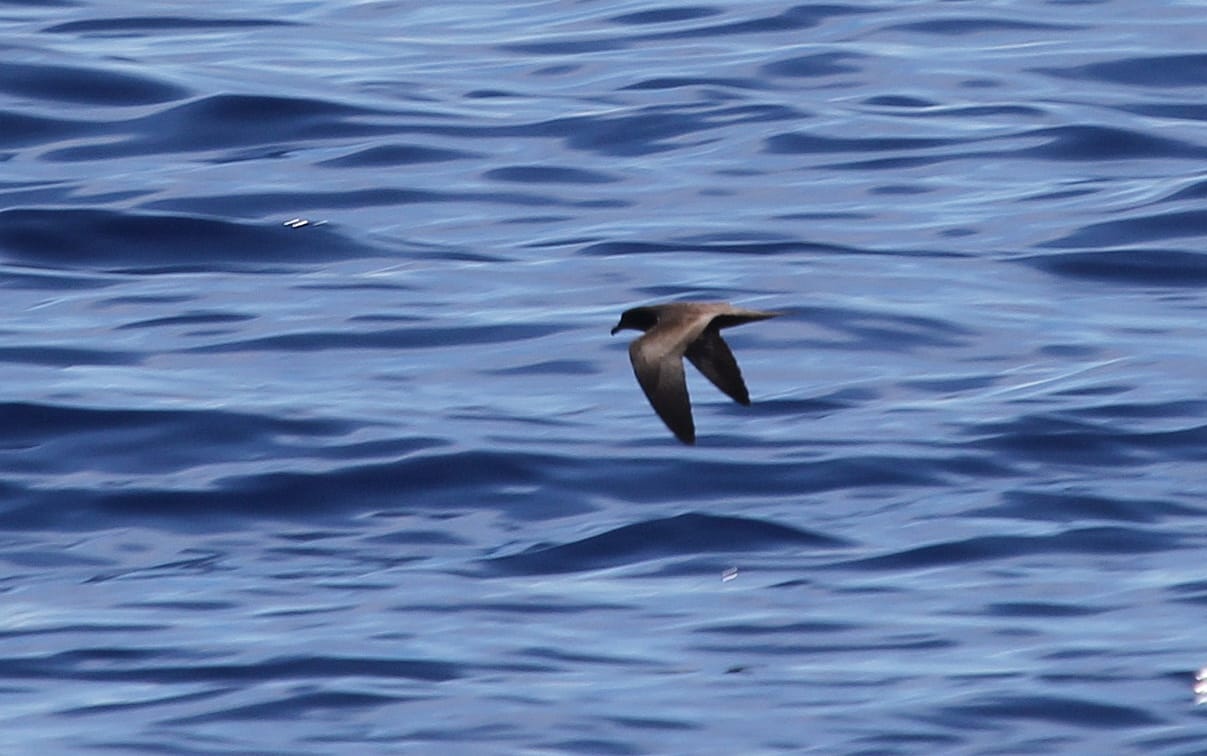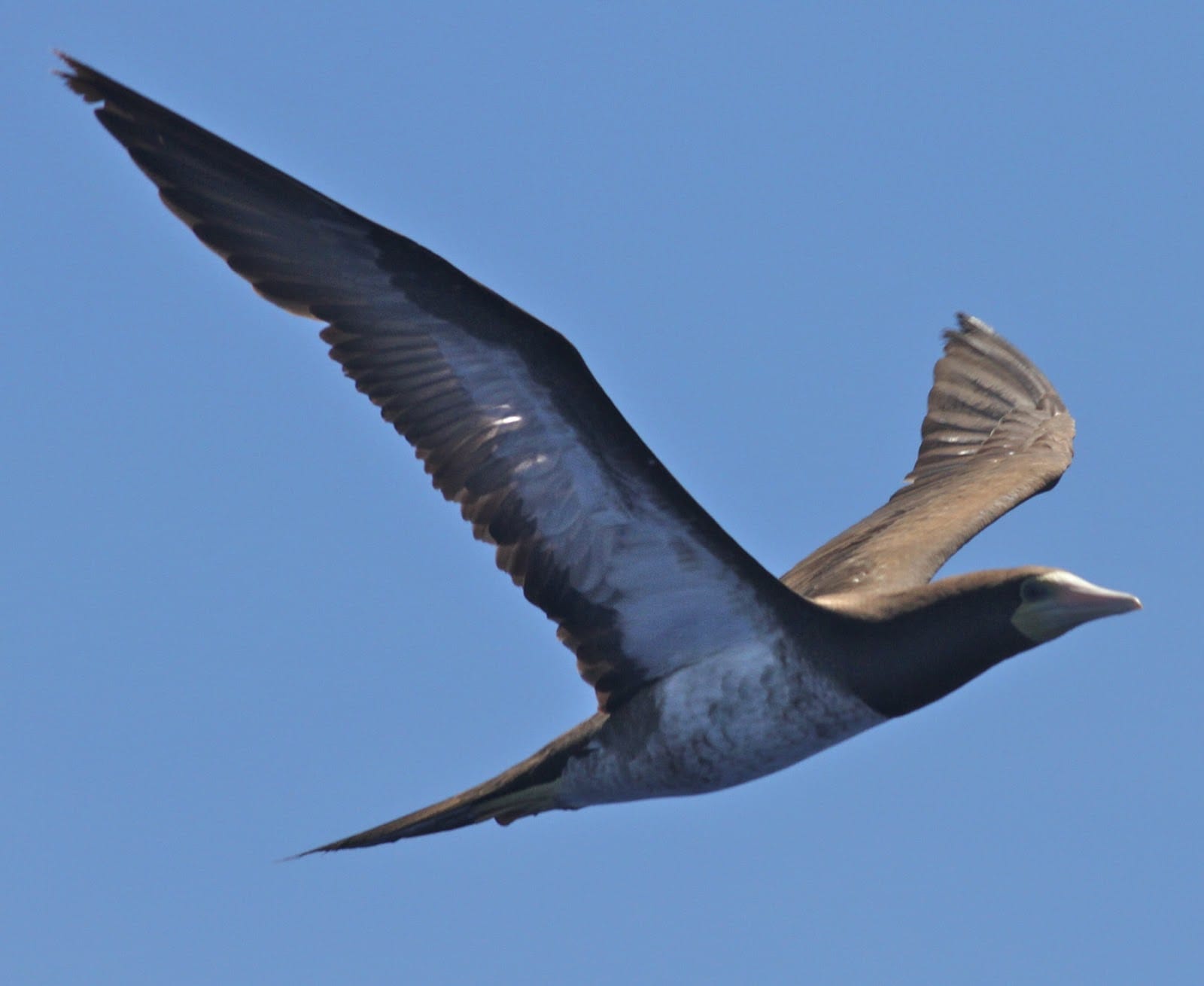 After waiting for quite a while, and adding Lesser Frigatebird to our list, we headed inshore to an island that Steve knew where he thought there were breeding terns. As we approached the island (Rock Island, opposite the viewing tower at Cloud 9 beach) we started to see quite a number of terns. While most were the common Black-naped Tern, there were at least 5 Bridled Tern amongst them, as well as several birds with bright red feet and bills, Roseate Tern! We eventually recorded 14 of these beautiful birds, and it seems entirely possible that they are using this tiny islet to breed, potentially the first breeding record of this species in The Philippines.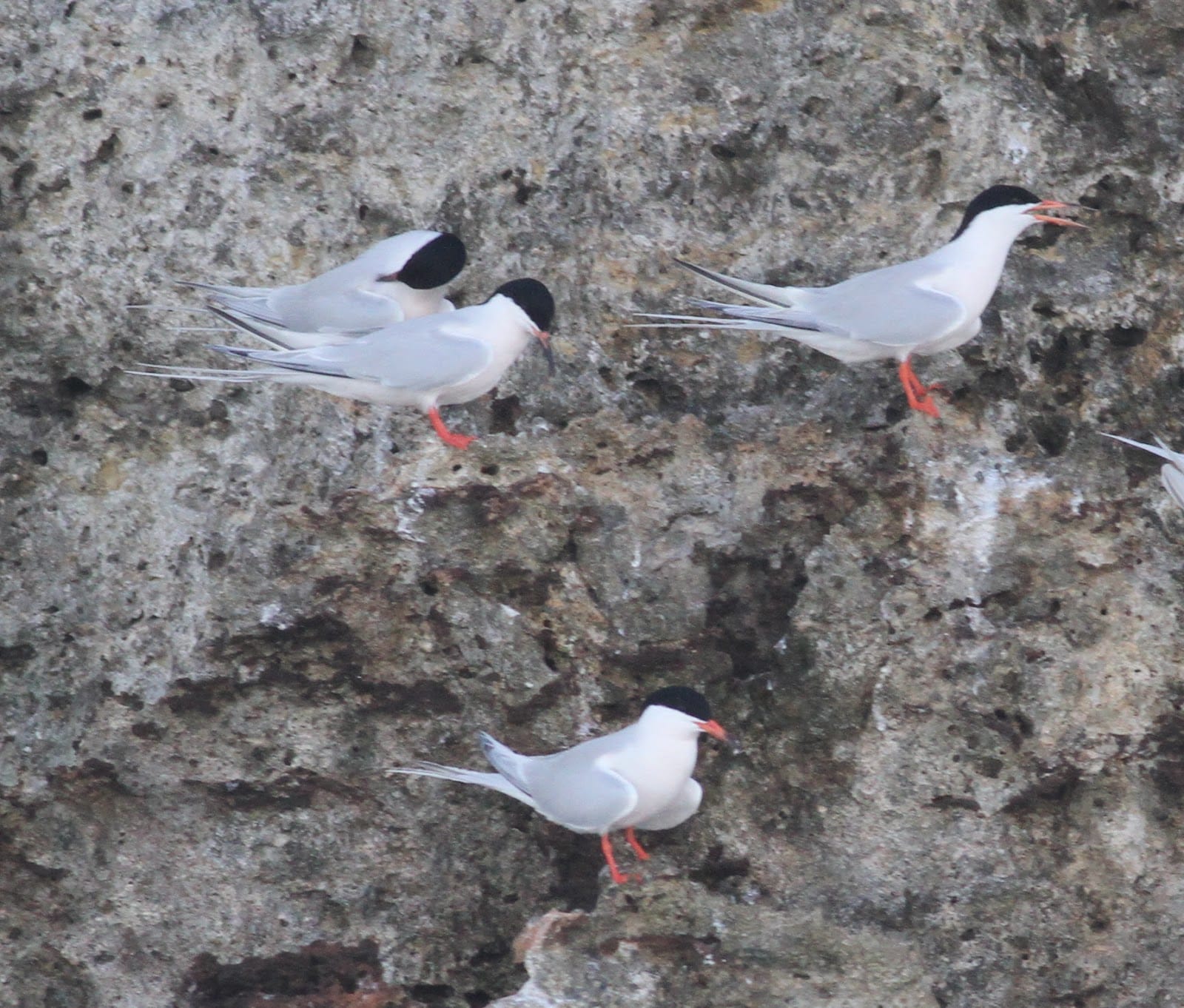 On the first day we eventually saw 8 Wedge-tailed Shearwater, 9 Streaked Shearwater, 3 Bulwer's Petrel, 3 Brown Booby, 1 Lesser Frigatebird, 76 Black-naped Tern, 14 Roseate Tern and 5 Bridled Tern.
Aside from birds we only saw one species of mammal, a small pod of Common Bottle-nosed Dolphin.  The depth of the ocean and the variety of fish species available make the potential of the area for finding cetaceans extremely high, and we feel sure that a wide variety of species will be seen on future trips.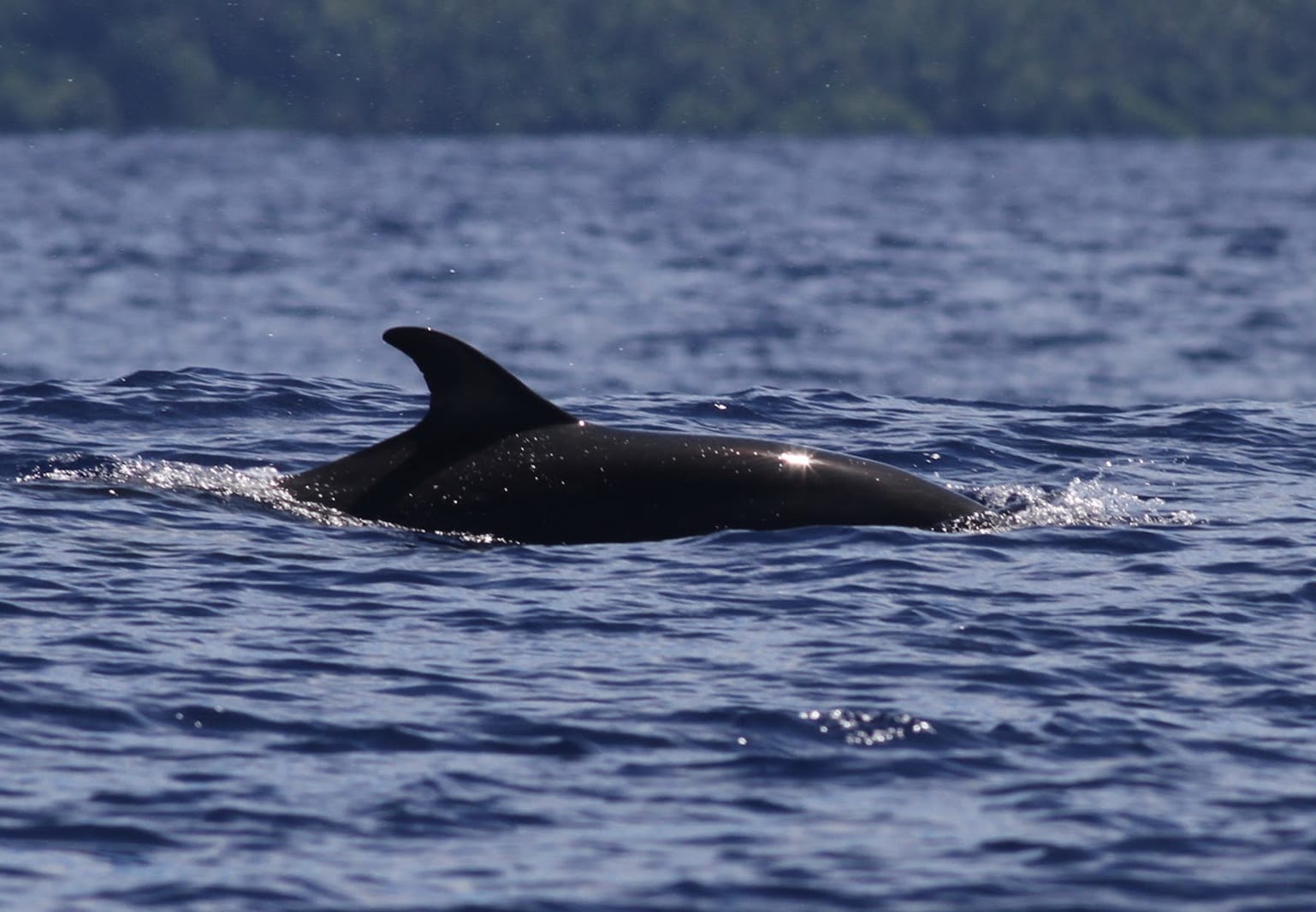 Practical information
Transportation: the base is General Luna, Siargao Island, Surigao del Norte. Cebu Pacific has regular flights from Cebu to Sayak Airport in Siargao, which is about 30 minutes by car from General Luna. Cars and vans are available at the airport, or can be arranged beforehand through resorts. Vans and motorbikes can also be rented in General Luna to go around Siargao
Lodging: there are many resorts in the General Luna area, catering for a variety of budgets. We stayed at Cherinicole Beach Resort (www.cherinicolebeachresort.com), which offers AC and non-AC rooms at a reasonable price. It is conveniently located within walking distance from the pier where we were to catch the boat, and had a beach front so was very convenient. They can serve full breakfast at 4:30am and prepare packed lunches. Another option is nearby Patrick's Resort.
Eating: Patrick's Resort next door to Cherinicole has an eclectic menu and excellent food. Kalinaw Beach Resort, about 2km north of General Luna was touted as having "The best pizza in The Philippines", which was quite a statement, though when we tried it we all agreed that the claim was a strong one! A must when you are in Siargao. The resort is definitely at the higher end, so none of us felt tempted to stay overnight. We were told that the restaurant at the Kawayan Resort in Cloud 9 was one of the best but did not try it.
Boat rental: we rented a boat owned by Steve Brown for P10,000 a day for a maximum of 8 people. Call 0929 978 4945 for details. Cherinicole Resort advertises another boat that seems to be larger. It is important to note that the best time of the year in terms of sea and weather for a trip in the open ocean is May and early June. The sea can be rough and the weather unpredictable outside of that period.