The Records Committee of the Wild Bird Club compiled the noteworthy Philippine bird records for January 2012 to April 2013


—



News from the Field – January 2012 to April 2013
By Mark Jason Villa and Arne Jensen
Country firsts
 A surprise record, making it the first swan for the Philippines, was the Tundra Swan Cygnus Columbianus bewickii. Three individuals were observed in Cabusao, Camarines Sur on February 10, 2012 (FS). Unfortunately, one of these was reportedly shot and wounded by a hunter.
Other than the Black-headed Gull Larus ridibundus, the gull family is generally quite a rarity in the Philippines. One amazing sighting this year was of a lone Laughing Gull Leucophaeus atricilla in Balanga, Bataan on February 4, 2013 (RH). The Laughing Gull is generally found only in the Americas.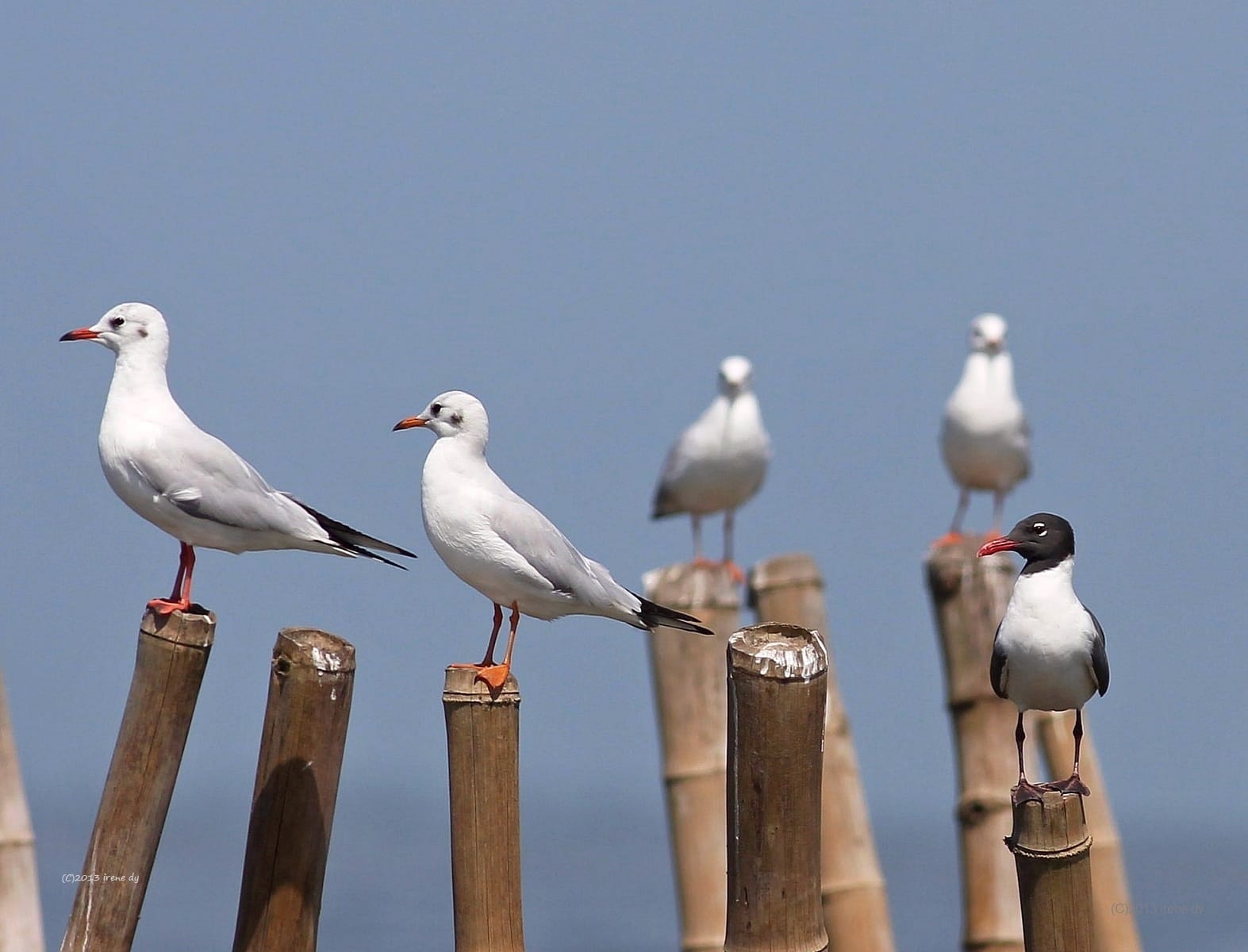 Another unlikely but welcome species recorded in the Philippines is the Japanese Waxwing 
Bombycilla japonica
. The Japanese Waxwing breeds in Japan and has been recorded in Taiwan as a vagrant. It is now officially also a Philippine bird after being recorded in Basco, Batanes on March 31, 2013 (VB).


—



Another country first from the same island of Batanes is Dusky Thrush Turdus eunomus. Two were seen in Basco, Batanes on January 28, 2013 (RU).
The Philippines has about 11 or more species of bulbuls. One more species was added to the list this year in the form of
Black Bulbul
Hypsipetes leucocephalus
. No less than 4 individuals of a black-headed subspecies (either 
sinensis
 or 
concolor
) were found at Apo Reef Natural Park, Mindoro Occidental during March 1-3, 2013 (VN).
Accidental records and rarities
— 
Rare, endangered and enigmatic, 1 Japanese Night-heron Gorsachius goisagi was found in Marawi City, Lanao del Sur on January 14, 2013 (JS),  and a  tenth country record of Black-faced Spoonbill Platalea minor was added in Cabusao, Camarines Sur on January 6, 2013 (FS).
Wintering ducks like Garganey 
Anas querquedula
 and Tufted Ducks 
Aythya fuligula
 number in their thousands in the Philippines. Scanning and counting through these multitudes of ducks can sometimes be worth it for some of the rarer ducks like those
mentioned below.
Common Shelduck Tadorna tadorna was reported in Candaba Marsh, Pampanga during December 11-12, 2012 (IS). This is only the fourth record of the species in the Philippines.
Gadwall Anas strepera was recorded in Laoag, Ilocos Norte on a few separate occasions: 1 female was seen on December 21, 2012 and January 5, 2013 (RR), 3 females on January 19, 2013 (LS) and a pair (male and female) on January 31, 2013 (RR).
Mallard Anas platyrhynchos, a Philippine rarity, was documented in three different localities this season. Two were found in Candaba, Pampanga on December 13, 2012 (RH). Another 3 (2 males and 1 female) were seen up north in Pagudpud, Ilocos Norte on January 20, 2013 (LS), and one male individual on February 3, 2013 in Pagudpud, Ilocos Norte (RR).
Eastern Spot-billed Duck Anas poecilorhyncha was also seen in Laoag, Ilocos Norte on January 5, 2013 (RR).
Many shorebirds are hard to distinguish in the field for a positive identification. The Grey-headed Lapwing 
Vanellus cinereus
 is an exception to this rule and is quite readily identifiable. One was reported and photographed in Balanga, Bataan on November 25, 2012 (JO).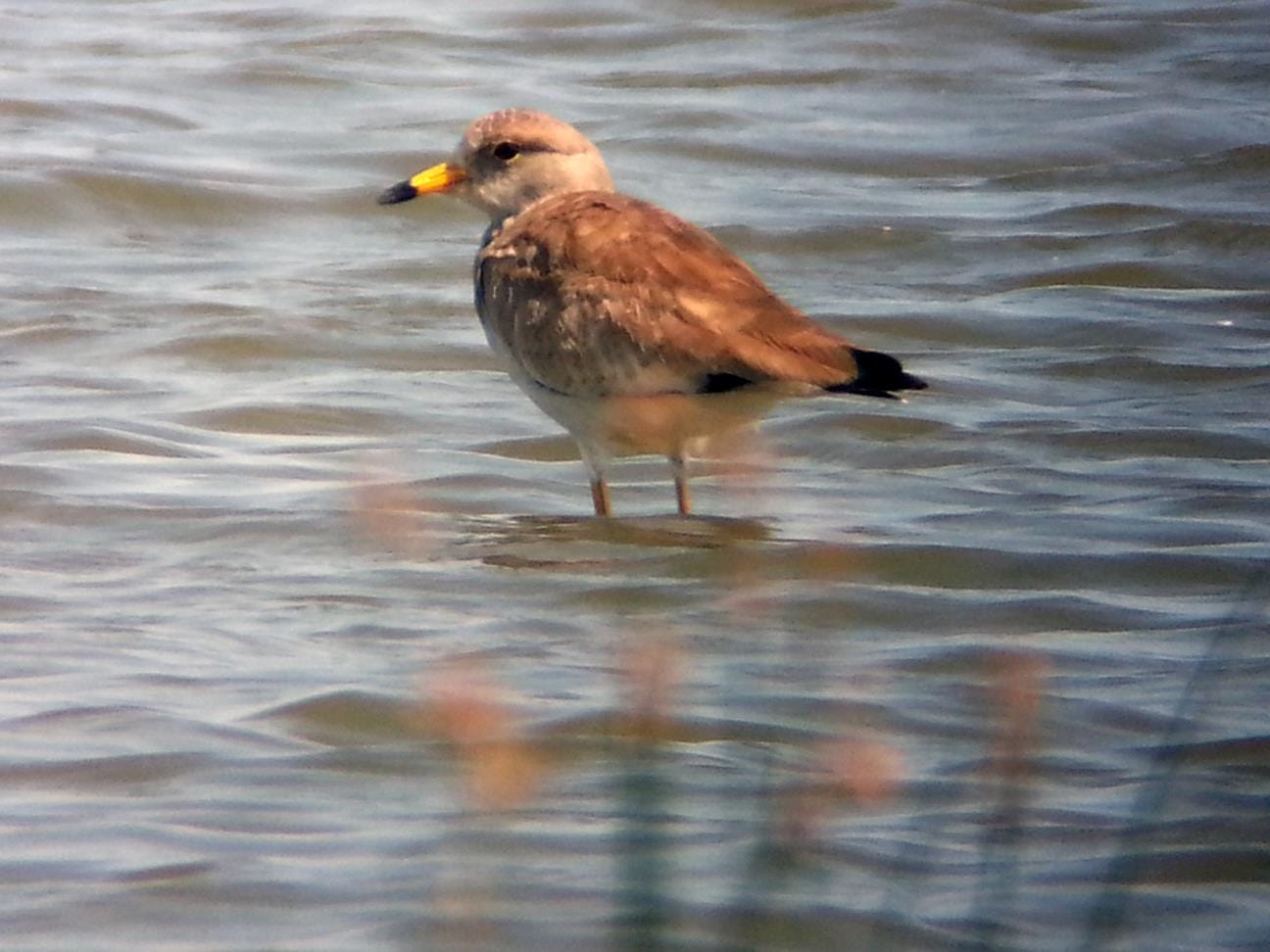 Somewhat more difficult to separate from the much more common Common Greenshank Tringa nebularia, the globally endangered Nordmann's Greenshank Tringa guttifer was seen at the same locality of Tibsoc, Negros Oriental for 2 consecutive years: 1 individual in March 2012 (LJ) and another 3 on February 27, 2013 (RH).
Probably overlooked amongst the many Wood Sandpipers Tringa glareola, the rare Green Sandpiper Tringa ochropus was seen just a few times this season: 1 individual in Gabu, Laoag, Ilocos Norte on March 7, 2013 (AC) and another one in Iwahig Penal Colony, Palawan in January 2013 (MV) and March 7, 2013 (RH).
Only regularly recorded in Olango, Cebu, the Asiatic Dowitcher Limnodromus semipalmatus is also probably a regular in Tibsoc, Negros Oriental. At least 30 birds were seen this year on February 27, 2013 (RH).
Jaegers or skuas; gulls and terns
Jaegers or skuas are found mostly in the open seas, which probably contributes to the lack of reports for this family. Four Pomarine Skuas 
Stercorarius pomarinus
 were spotted in Manila Bay during March 12-20, 2013 (VB). Although not in the reporting period, worth a mention is a previous sighting of no fewer than 50 in the Sulu Sea on December 19, 2011 (BQ).
Almost as rare as the Laughing Gull, 1 Slaty-backed Gull Larus schistisagus was found in Gabu, Laoag, Ilocos Norte on March 1, 2013 (SR). This sighting was only the second or third documented record in the Philippines.
One immature Herring Gull Larus argentatus was seen in Manila Bay off Bataan on March 13, 2013 (VB). This is the fifth country record.
The second record of the beautiful White Tern Gygis alba was found on Romblon Island, Romblon on September 18, 2012 (LT) and 5 Aleutian Terns Sterna aleutica, the fourth country record, passed Sofronio Española, Palawan on April 21, 2013 (CG).
Fast-flying and difficult to detect, one White-throated Needletail 
Hirundapus caudacutus
 was spotted in Cape San Agustin, Davao Oriental on October 9, 2012 (PS). This is only the second record of this needletail species in the Philippines.
The Black-capped Kingfisher 
Halcyon pileata
 can probably be considered the rarest kingfisher in the Philippines. It is a very rare migrant. One was reported from Sabang, Palawan on October 21, 2012 (PP) for the first time in many years.
Two Asian House Martin 
Delichon dasypus
 were reported from Mantakil, Negros Oriental on February 28, 2013 (RH). The sighting marks the fifth country record.
The Ashy Drongo Dicrurus leucophaeus is a common resident in Palawan. The migratory subspecies leucogenis, however, is much rarer with only 4 previous documented records. It was reported several times this season. One individual was spotted in January 2013 at two sites on Mt. Makiling, Laguna (MV, RH) and another in Subic Forest, Zambales (RH). Another, possibly the same bird, was spotted on March 26, 2013 in Subic (IS).
One male
Daurian Redstart
Phoenicurus auroreus 
was seen and photographed in Mahatao, Batan Island, Batanes on April 5, 2013 (RP). This is only the third record for the Philippines.
A very confiding Dusky Warbler Phylloscopus fuscatus wintered and stayed in the same general area in Candaba, Pampanga from December 29, 2012 to April 13, 2013 (RH). This is only the third country record.
One Asian Brown Flycatcher Muscicapa latirostris was seen in Nasugbu, Batangas in March 2013 (NC). The report might be a new island record for Luzon for the said species.
One Dark-sided Flycatcher Muscicapa sibirica was reported from Subic, Zambales on March 4, 2013 (RH). This is only the second record in Luzon.
One Rosy Starling Pastor roseus was reported in Bancao-Bancao, Palawan on June 26, 2012 (EG) and another on 29 Oct 2012 in Iloilo, Panay (JL). These are only the second and third records for the Philippines.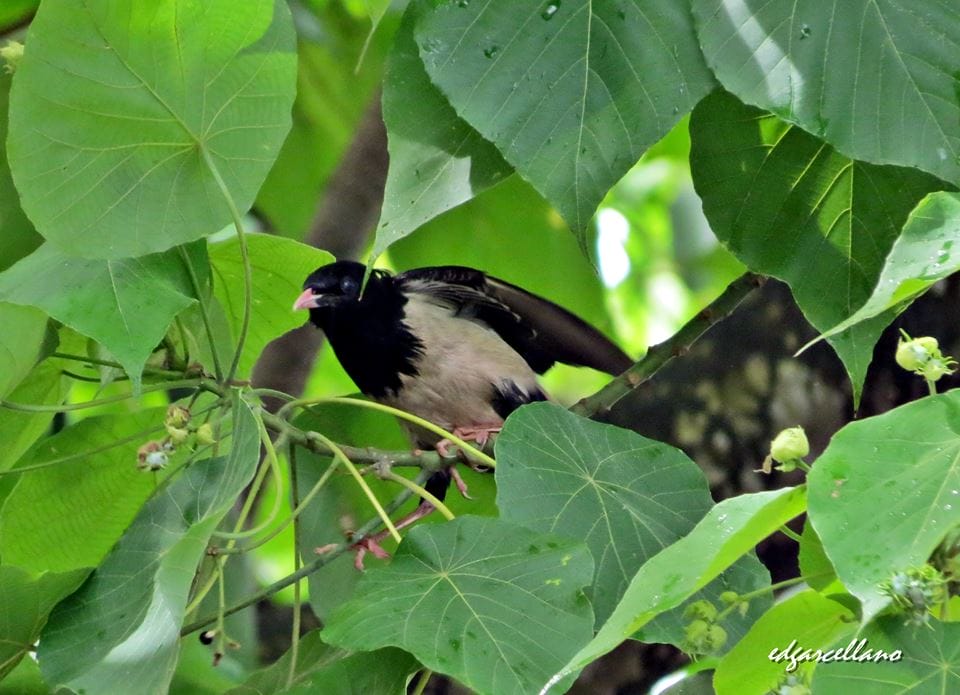 A surprise observation was the second record of Tiger Shrike Lanius tigrinus on December 12, 2012 in Puerto Princesa, Palawan (SW). This species was last seen in 1887, or 125 years ago.
A pair of
Yellow Bunting
Emberiza sulphurata 
was a regular visitor in a locality in Laoag, Ilocos Norte. It was reported on March 1, 2013 (RR) and stayed on until late April.
Rare residents and range extensions
One Glossy Ibis 
Plegadis falcinellus
 was reported and photographed in Dumoy, Davao City on November 6, 2012 (PS). Apart from one claimed sighting from Ligawasan Marsh in 2004, this record is the first documented record in decades.
At least 5 pairs of Great Egret Ardea alba were seen and documented breeding in Zamboanga City on February16, 2013 (MT). Other than breeding in the Baras Bird Sanctuary, Sultan Kudarat, this record is the first positive documented breeding record for the species in the Philippines.
Another unusual spotting is of Christmas Island Frigatebird Fregata andrewsi. It was seen in the bustling city of Quezon City, Metro Manila on January 12, 2012 (RF).
The king of the birds, the Philippine Eagle Pithecophaga jefferyi, was seen in Taft, Samar on March 10, 2013 (RF). The species is very seldom recorded from the island of Samar despite many scientific surveys.
Many birdwatchers were treated to a special endemic tick when flowering bamboo was found in Bataan. A flock of at least 150 Green-faced Parrotfinches Erythrura viridifacies regularly visited the flowering bamboo in January 2013 (JoS).
Coincidentally, 5 individuals of the same species were also seen feeding on flowering bamboo in Sablayan, Mindoro Oriental on March 4, 2013 (MV). This is possibly the first report from Mindoro.
Also in Mindoro, the Mindoro Bleeding-heart Gallicolumba platenae is one of the rarest endemics in the Philippines. One was reported in Victoria, Mindoro on January 25, 2013 (MW).
Large congregations
Much more needs to be learned about raptor migration in the Philippines. An important step to filling the knowledge gap is to monitor them regularly during the spring and fall migration periods in the few known sites where they have been observed to pass. Time and effort are required to get more information.
Grey-faced Buzzard Butastur indicus and Chinese Goshawk Accipiter soloensis are the two most numerous migrant raptor species that winter in and migrate through the Philippines. About 13,408 Grey-faced Buzzards were counted during an 11-day survey conducted in March 2013 in Tanay, Rizal (AT). A separate survey conducted in Claveria and Pagudpud, Cagayan during April 17-20, 2013 produced 14,000 Chinese Goshawks (AT).
Endemic and many
A large flock of the endemic Philippine Ducks 
Anas luzonica
 numbering 3,872 individuals was counted at San Roque Dam, Pangasinan (GM) on February 7, 2013.
Asian Waterbird Census
From the Asian Waterbird Census (AWC), a few species appearing in large numbers are worth a mention: 
3,000 Little Egret Egretta garzetta were counted in Bani, Pangasinan on January 30, 2013 (CP).

1,738 Grey Plover Pluvialis squatarola were counted in the Kabankalan City Wetlands of Negros Occidental during January 14-16, 2013 (AJ). This constitutes more than 1% of the East Asia-Pacific flyway population of the species.

3,500 Black-tailed Godwit Limosa limosa accounted for more than 2% of the flyway population. This big number was counted in Tibsoc, Negros Oriental on January 13, 2013 (AJ). The subspecies in question is melanuroides.

1,500 Great Knots Calidris tenuirostris were also counted in the same locality of Tibsoc, Negros Oriental on January 13, 2013 (AJ).

The largest congregation of Caspian Tern Sterna caspia in the Philippines, numbering 210 individuals, was also documented from January 14 to 16, 2013 in Kabankalan City Wetlands, Negros Occidental (AJ)
—
Murmuration
—
On April 16, 2013, again the largest ever number of a particular species was documented in the Philippines. This time, a murmuration of at least 1,300 Chestnut-cheeked Starlings Sturnus philippensis was photographed in Naga City, Camarines Sur (PG). 
REPORTERS:
Adrian Constantino (AC), Alex Tiongco (AT), Arne Jensen (AJ), Bim Quemado (BQ), Carlo Benitez Gomez (CG), Christian Perez (CP), Ed Garcellano (EG), Felix Servita (FS), Gina Mapua (GM), Ivan Sarenas (IS), June Lozada (JL), Jun Osano (JO), Jayson Segovia (JS), Joey Soriano (JoS), Leif Jonasson (LJ), Leni Sutcliffe (LS), Lyn Tolentino (LT), Maia Tañedo (MT), Mark Jason Villa (MV), Mark Wallbank (MW), Nic Cabigas (NC), Paul Guerrero (PG), Paula Peralejo (PP), Pete Simpson (PS), Ruth Francisco (RF), Robert Hutchinson (RH), Rene Pamuspusan (RP), Richard Ruiz (RR), Rolly Urriza (RU), Sylvia Ramos (SR), Stijn de Win (SW), Val Borja (VB) and Virtito Natural Jr. (VN).