by Kitty Arce
---
Arne Jensen is renowned and respected in the Philippine birding community. He is a founding member of the Wild Bird Club of the Philippines, the head of WBCP's Records Committee, a waterbird expert, and the steady hand that guides the Philippine bird list through all the lumps and splits. Read about Arne's exciting journey from Denmark to the Philippines via Arctic Greenland, North Korea, and other places in this profile of Arne Jensen by WBCP Founding Member Kitty Arce.
---
In the early 1990s work brought Danish ornithologist and Wild Bird Club of the Philippines founding member Arne Jensen to the Philippines as a BirdLife International Representative. In those years he conducted numerous field studies for the Department of Environment and Natural Resources – Protected Areas and Wildlife Bureau (DENR-PAWB) now known as DENR – BMB (Biodiveristy Management Bureau). He also worked in different developing countries in Asia and Africa on environment and natural resource management. At the end of the day, all these projects also meant making life a little better for wild birds. In spite of having assignments in different parts of the world, Arne made Manila his home away from home.
The young birder.
Arne Jensen started birding in his home country, Denmark when he was 10 years old. His spark bird is the Snowy Owl which was shown to him by his grandmother. He notes that what struck him most at that moment was the odd people getting together to see this magnificent looking bird.
His first pair of binoculars was only a 2.5x, the type you would use in the theater. But during his Confirmation, which is a big deal in Denmark, he was given a real pair of binoculars as a present. He would wake up very early and bird in the morning before going to school on his bike with his new pair of binoculars! "My Dad was terrified I would become a nerd." Arne, recalls.
When he was 13 years old, he joined the Danish Ornithological Society (DOF). Back then it was a gathering of a few hundred wealthy people and scientists, so it was quite a feat to become part of the organization at a young age. At 16, he conducted his first bird tour and co-founded DOF-Travel, which is now the largest bird tour company in Scandinavia.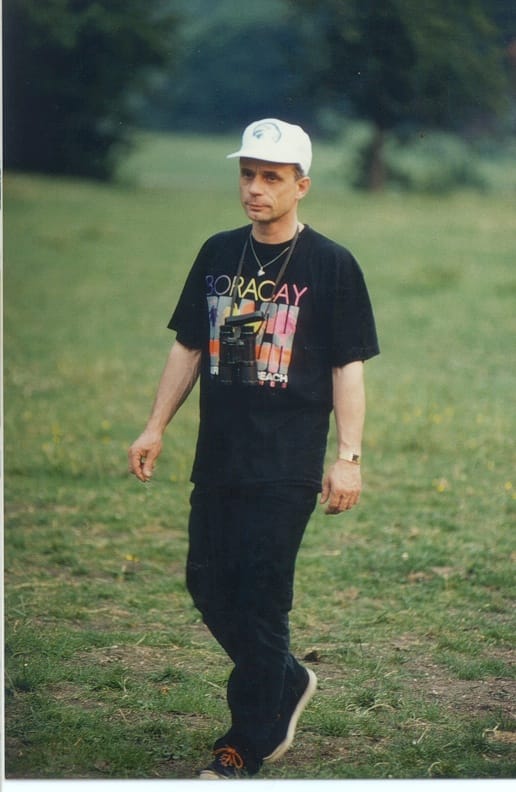 The activist birder.
The problem in the Las Pinas-Paranaque Critical Habitat Eco-Tourism Area (LPPCHEA) is nothing new to Arne.
Years ago, the Danish government wanted to build the largest airport with a bridge connecting Sweden and Denmark. To do this, 6,000 hectares of wetland with more than 100,000 water birds had to be reclaimed. At that time, Arne was a young activist volunteer in the very conservative Danish Ornithological Society (now BirdLife Denmark). They were able to form an NGO coalition among all conservation organizations opposing to this development madness. Little did Arne know that the bird records he had gathered for more than 10 years just bird watching would help support this case and help save the wetlands and its inhabitants. The case they filed reached the Supreme Court. They also ran a parallel case in the European Court of Justice where they accused Denmark of violating EU environmental legislation, especially the EU Wild Birds Directive. Lo and behold, their group won by just one vote at the Supreme Court! The wetland that was saved, an island called Saltholm, became fully protected and is known to host Europe's largest breeding population of Barnacle Goose, Eider Duck, and more. And as for the Danish government's project, they were not able to reclaim the land they want so instead they built a 5 billion USD bridge – the very impressive Oresund Bridge, which connects Sweden to Denmark, Europe's longest suspension bridge.
So you see, if we get all our resources together, it is possible to save critical habitats such as the LPPCHEA!
The hard core conservationist birder.
The man has done it all when it comes to birding. Including having a couple of near-death experiences! One of the unforgettable stories he shared with me was when he was hired by the Portuguese National Museum to count and band birds at Salvagem Grande, a Portuguese seabird island in the Atlantic Ocean. One day, he was sitting on a rock cliff hanger on top of the island when a landslide occurred. He got knocked out by several boulders and slid more than 100 meters down the rocky shore. He was unconscious for about an hour. When he woke up, he had to crawl on his knees, up and down the island to reach his shelter which was on the other side of the island!
He also shared going to the Arctic Greenland for a year after he graduated university where he almost froze to death in a dink boat and got rescued by Eskimos! Now, Arne only goes on a dink and snorkels in the warm waters of Tubbataha!
Back then, he was assigned by the United Nations Development Programme, funded by the World Bank's Global Environment Facility (GEF) to North Korea about establishing a large coastal wetland protected area. Although the project had to cease before it's completion due to North Korea being North Korea – he still had some pretty interesting stories that cannot be disclosed to the public!
In the Philippines, Arne is no stranger to the NPA. While doing field work in the Sierra Madre, he was able to make the NPA understand and respect the importance of what he was doing – traversing the Sierra Madre for biodiversity and converting the area to the country's largest Protected Area! In return he was "protected" from harassment and insurgencies. He had more difficulty dealing with politically-backed, organized illegal loggers than with the NPA. He was even accused of being a Dutch spy by the Regional NBI. He and his team was put on house arrest by some logging syndicate at one point, and a Mayor's son held a gun against his stomach and asked him to sign a permit for the transportation of logs since the guy in charge was not around!
Arne is very grateful that all that ended happily except for the fact that illegal logging and the local political greed is as rampant today as it was 25 years ago.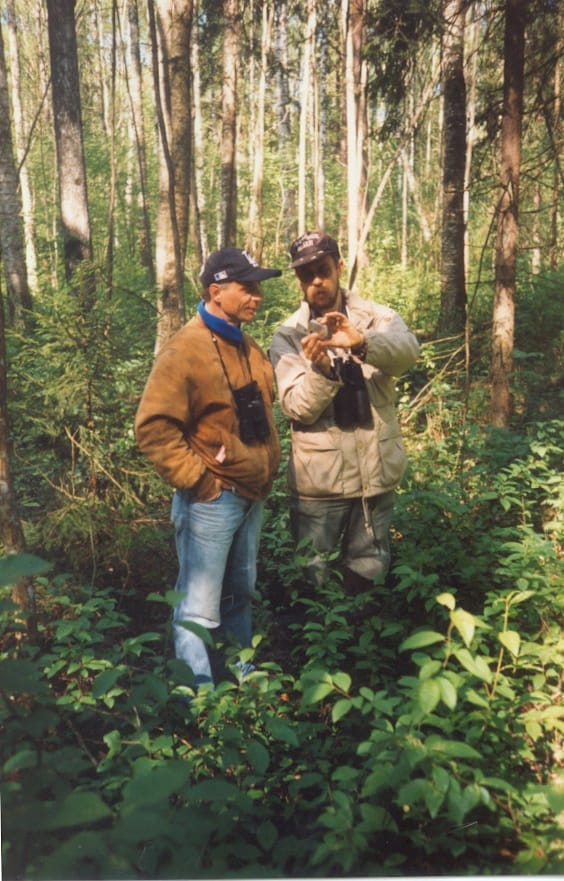 The volunteer birder.
Throughout his life, he has helped form ornithological organizations, bird clubs and the like, mostly working as a volunteer. Arne is co-founder of the Wild Bird Club of the Philippines. His dreams for the organization are to have more members' show-casing how to establish and manage bird sanctuaries and continue to produce quality work and not quantity. He supports the continued development of the Philippines' only Bird data base, educational bird tours, and bird festivals with a clear conservation substance. He is very proud of the club and only speaks fondly of it. He is the chairperson to the WBCP's Records Committee, including the Rarities Committee.
My bird watching mentor, my friend.
When I lived in Denmark, I was able to visit Arne when he would come to attend to his Copenhagen apartment. The first time I stepped into his place, I suddenly missed home as it was decorated with baskets from the Philippines, elephants from Thailand and more. It was not very Danish! When I would visit, he would pick wild mushrooms and sauté it to perfection for us to have for merienda while telling me about his experiences in bird watching and conservation. I remember having dinner with him and 2 of his friends and getting a headache trying to follow their conversation which was mostly in Danish about saving biodiversity in different parts of the world! I saw and used his first ever pair of binoculars when we went bird watching at the big cemetery very close to his apartment. Arne had also been my "pasalubong" bearer to and from Manila while I was in Denmark. And as a friend has given me advice about life which I will always appreciate.
He taught me so much about this very addictive hobby. I will never forget his advice to not look at my guide book when on the field but instead take down notes or else my observations will be biased. Back then he encouraged me to go bird watching by myself which I found truly helpful in improving my ID skills because then I would put my observation skills -listening, watching, and recording to practice.
When your mentor in bird watching is someone like Arne, who is very passionate about what he does – bird watching, conservation work not only as a hobby but as a profession, as a lifestyle, even – one gets to have a better understanding and appreciation of the importance of birds and their habitats and bird watching.
I asked him what his plans are now and this is what he has to say, "Thought I perhaps should retire but all of a sudden it looks like I have become the Philippines representative of the world's largest wetlands organization, Wetlands International. An organization closely associated with the Ramsar Convention and responsible for the coordination and conduct of the annual waterbird censuses all over the world, including the Philippines."
So it looks like Arne has a lot more adventures to make and experiences to share to all of us. The Philippines and the Wild Bird Club of the Philippines is lucky to have someone like you, Arne.