by Jelaine Gan
---
Raptorwatching in the Philippines is like going on a mystery hunt. The Philippines has even been called "The Black Hole of Asian Raptor Migration Route" because the thousands of raptors that are duly recorded flying out of Taiwan seem to disappear once they reach the Philippines. Where do they make landfall? Jelaine Gan writes about their efforts to unravel the mysteries of raptor migration in the Philippines while having a great adventure at the same time!

---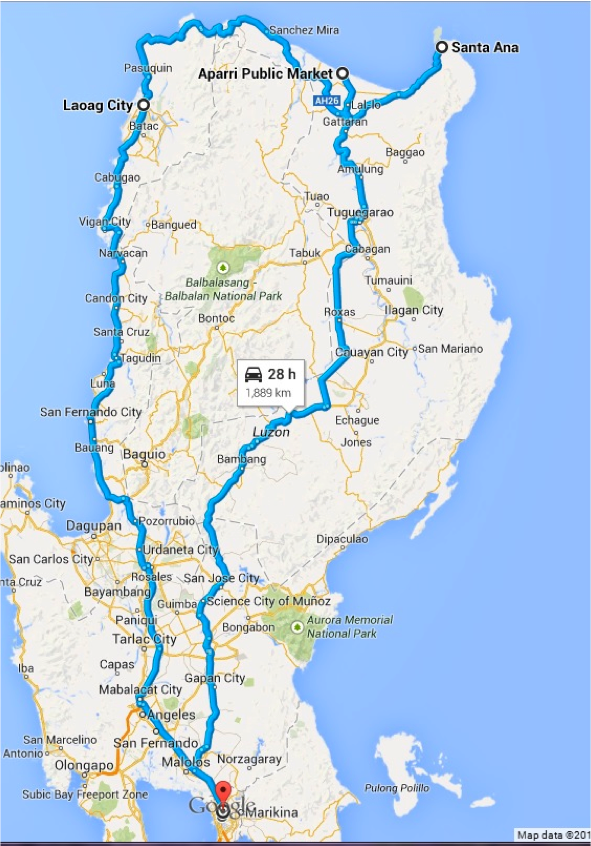 Raptorwatching got a tight hold of me ever since the beginning. A whooping three thousand raptors welcomed me into their world at PAGASA weather station three years ago, and they have never ceased to amaze me.
Every great adventure starts off with a long drive
The drive to Sta. Ana, Cagayan was really long, around 12 hours including our stops. While I did spend most of the travel time dozing off, I was awake at the important parts…. Like when we spotted 2 Hawk-Eagles and a Crested Honey Buzzard at Balete Pass, noticed how denuded the mountains were (at the first half of the way all the mountains are just covered by grass), and of course we were all wide-eyed when the Kuya Alex took the driving reins as Mang Boy's eyes were fighting a losing war against weariness. We started doubting the whole thing when Kuya Alex mentioned casually that the last time he was on the driver's seat was about…. 10 years ago. Great times.
We arrived around 8pm at Jotay's Resort, owned by fellow WBCP member Trevor. The resort looked cozy and provided us with good dinner. Sta. Ana's first impression on me was that it is a bustling town with many foreigners. It is home to the Cagayan Special Economic Zone, which allowed so many casinos to be built on this fishing community. The natural scenery remains mostly untouched, though you'll see once in a while patches of forest land where either properties or agriculture had taken over.
During the pre-planning of the trip, master navigator Jun Osano had given us a treasure map that told us to go to the mouth of Tangatan River, which he predicted it a part of the flyway. Right he was, we hit a vein. Raptors were spotted coming in one's or two's from the faraway mountain. Just as we were thinking of leaving and moving on to another spot, we saw a kettle consisting of about 70 Chinese Sparrowhawk!
Day 1 – Port San Vicente, Nangaramoan Beach and a murmuration of starlings
We followed the road leading to the mountain where we saw the raptors come from and arrived at Port San Vicente. The renowned Palaui Island was only 45 minutes of boat ride away. While surveying the area, the locals were seemed interested in what we were doing, well how often was it that tourist come to their humble port just to watch birds? A kettle was seen and we immediately pointed it out to the coast guards, fishermen, and the locals around us. What happened next was a brief introduction about the migratory raptors and how important they are to our environment. Instant Pledge to Fledge!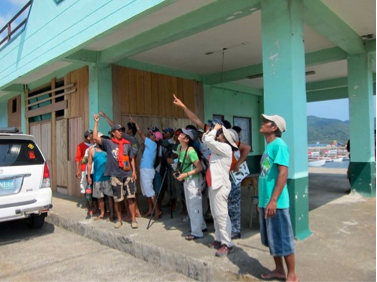 At the afternoon, we found the way to Nangaramoan Beach. It was a beach facing the north and full of locals enjoying the water. We left immediately since the noise from the karaoke was too loud and found another beach at the eastern side called Pozo Robo. It was quiet and the scenery was great. The mountain cover was intact and lively green, and there were no other people but the workers. We decided to come back here first thing in the morning because it was already late. Night time was spent enjoying the beach and sunset, while watching murmuration of starlings.
Day 2 – Pozo Robo
With our packed brunch, we headed to Pozo Robo and stopped at the road overlooking the beach to get a good view. The migrant raptors were no show though, but we did meet the property manager of Pozo Robo, who then gave us free passes to the beach and to the dirt road along the east coast. We stayed the whole morning until early afternoon at the beach with no luck. No raptors, no seabirds, just reef-egrets. Kuya Boy bested all of our 0's when he saw 2 Chinese Sparrowhawk near noon.
The afternoon was spent going around the rice fields, where there were hundreds of red turtle doves lazily pecking the palay that was being dried on the roadside. To our amazement, a Peregrine Falcon tried to swipe one of the doves that we were observing in front of the car. We also got to see Chestnut-cheeked Starlings! The rest of the group arrived that night, Sir Jude, Kuya Mads, and Kuya Louie (Sir Jude's fisher friend) joined our merry camp!
Day 3 – Survivor Island Palaui!
On the 12th of April, birthday girl Tere, Mads, Jude, Louie and I set out for the renowned Survivor Island, Palaui! Kuya Alex, who was accompanied by Kuya Boy, stayed at the Port due to his reluctance to cross waters (like raptors). But to cover up this, in official record, Kuya Alex selflessly volunteered to watch over Port San Vicente for record's sake. ☺
Palaui was as beautiful as the pictures showed. The view was spectacular. Though the desire to go for a dip and explore the waterfalls was tempting, we were there on mission. Looking at the map, Palaui would be a good vantage point as we had the whole view of Sta. Ana's northwestern coast, where raptors might fly out from. Our guide led us to a small hill beside the Cape Engaño lighthouse, where we enjoyed a 360 degree view of the island and of Sta. Ana's coast.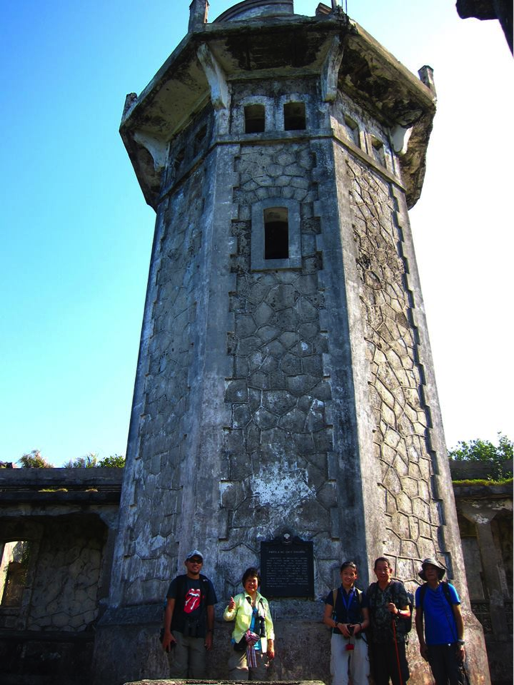 There was not a shadow on the hill though. We tried using an umbrella, but it was useless because of the strong wind. Some of us resorted to crouching between the tall grasses. Migrant raptors were seen in small numbers, with one or two per sighting. Most were observed to be coming from southeast of our position, which is Sta. Ana's mountain ranges. The raptors were following the mountain ridges heading north east. We didn't see any raptors flew overhead, which might indicate that they don't pass through the island. Then again, one day is not enough to rule this out. Perhaps, the most exciting part of this whole Palaui journey was my sighting of 38 raptors flying over the ocean. I have never seen raptors fly out in the ocean and have always dreamed of seeing it. I do not know where this desire came from, maybe because this was a concrete sign that they were migrating, or maybe because of worry and excitement for the raptor that is braving the long, seemingly endless blues to follow its innate instinct. I tried to share this joyous moment to the others and in the process, lost sight of them. I was at a loss at how to point out the raptors against a clear blue sky! There were no clouds that I could use nor island I could point that will give the others even a hint of where they were. I tried pointing at that portion of the blue sky, and by the time I realized how futile it was, they were gone. I had to stop my scanning for a few minutes to marvel and rant about this awesome experience. The sighting made us realize that we might be missing many more raptors as we do not usually scan the blue sky.
In theory, raptors fly high when they're crossing bodies of water. They try to gain altitude by using the updrafts from the mountain, and when they successfully reached a certain height, they could choose to fly out. The possibility that they would be near impossible to see through the naked eye is quite big, so we used our bins scanning the blue horizon. It made me sick and a little insane. Even though you are moving your bins to either direction, all you could see in your field of view was blue, blue, and more BLUE! Maddening same shade of blue! Still, for the love of raptors we shall endure. There were no more seen over the ocean, but we did saw 3 raptors heading the wrong direction, back to south. Studies have shown that this is quite normal. Raptors usually try to fly out but when the conditions are not ideal, they will head back. This retreat and approach could happen several times because of their reluctance of crossing bodies of water. At noon, we decided to head down and cool off with a cup of halo-halo goodness. Back at the port, Kuya Alex and Mang Boy had a greater haul than ours.
Day 4 – Forest birding

The next day, we head to the east coast through a dirt road from Pozo Robo, which we were allowed to access by Sir Jojo, the property manager. The forest area was quite birdy. The list include Luzon Hornbills, Philippine Tailorbirds, White-browed Shama, and a pair of Malaysian Plovers. On our last night at Jotay Resort, we found out that the starling murmuration that we always see at sunset was mostly Chestnut-cheeked Starlings! A fitting parting gift!
On the way home. But first – Laoag!
We made a detour by the Aparri PAGASA station, where they have a Doppler Radar. In Taiwan, they use their Doppler radar to study raptor migration. When this similar technique is applied to the Philippines, it would be invaluable data as it could fill up the blanks. We were given a tour of the tower and given a look at the weather data from the radar. The range of the radar covered much of northern Luzon, even reaching Tanay area! If we could utilize this, imagine…. Anyone knows Radar Ornithology?
What we learned
During the 4 days we were at Sta. Ana, we didn't notice any significant number of migratory raptors, even though April 10 – 14 was a projected peak for the north. In Tanay, the peak of the Chinese Sparrowhawk was at April 6, with 3 thousand sightings. The succeeding days until the 12th were still blessed with a thousand plus Chinese Sparrowhawk, we would expect then that there would be significant number of raptors that could be seen at Sta. Ana, provided that there would be no weather disturbance and that Sta.Ana is really a major flyway. Again, 4 days are not enough to be 100% sure. The adventure was not for naught, as we learned important details and could now focus on the specifics. Such as, "Where is the major jump-off point?" And we were back on the road again.
Getting ready for the next great adventure
From last year's exploration in Claveria, they noted that the raptors head west instead of north. Maps were brought out and we thought that maybe, just maybe, the raptors fly out of Luzon from the tip of Pagudpud. We were already at Laoag by that time, but that didn't stop us from going back the next day to Pagudpud and try to unravel the mystery. On 15th, we travelled back to Balaoi, Pagudpud, and stopped near the entrance to Hannah Resort. The wind was strong at that time, but we did saw a few braving the winds. Some tried to fly out from the Patapat mountain, only to land again. A lone Osprey was seen fly out north over the ocean. That might be one of the jump-off point. At the entrance of the road leading to the resort, there were barangay officials that collects tourism fee/entrance fee. Kuya Alex approached them to ask about the Patapat Mountains and direction to the other side of the mountains. Lady Luck smiled down upon us and gave us a major hint. One of the officials there knew about the raptors! He was really familiar with the Grey-faced Buzzard, as he was the one to point it out in our Kennedy guide. Same as the people of Claveria, he seemed to recognize only the grey-faced, and not the smaller Chinese Sparrowhawk. He proceeded to tell us that the raptors roost on the coconut trees at Brgy. Caunayan. We were all excited as this might be what we were looking for at last. After getting directions, we were on our way again.
Unfortunately, we arrived there near noon, and previous experience with monitoring raptors tells us that there is a lull around this time. Only 8 raptors were seen flying over the ocean, and it was enough to plant a suspicion. Next year, we have to check it out again to confirm/debunk the theory. While the migration period is not yet starting, our efforts will be focused on bringing awareness to the locals, particularly at Sanchez Mira and Claveria where hunting of raptors persist. We're going back this July to Sanchez Mira, this time with a contingent from Japan! We'll be holding a talk about raptors at Cagayan State University, and we hope that this will be the start of a fruitful endeavor. Watch out, a raptor team up north might rise!