Compiled and edited by Arne Jensen and Christine Telesforo
---
Records collected by the Records Committee and the Rarities Committee and presented here cover the period from 1 October 2013 to 3 April 2014 (unless otherwise stated). All records of species documented less than 20 times previously are undergoing final assessments by the WBCP Rarities Committee and the records included in the presentation does not in some cases represent the final conclusions.
Observers: Kitty Arce (KA), Nilo Arribas Jr. (NA), Mads Bajarias (MB), Annabelle Barquilla (AB), Mark Bezuijen (MB), Val Borja (VB), Paul Bourdin (PB), Jeniel Buday (JB), Nic Cabigas (NC), Tere Cervero (TC) Chris Chafer (CC), Adrian Constantino (AC), Trinket Constantino (TC), Macky dela Cruz (MC), Bram Demeulemeester (BD), Darwin Dimayacyac (DD), Irene Dy (ID), Paula Peralejo-Fernandez (PPF), Charlie Peralejo-Fernandez (CPF), Paul French (PF), Ed Garcellano (EG), Carlo B. Gomez (CG), Linda Gocon (LG), Robert Hutchinson (RH), Jessar Inocencio (JI), Dennis Jakoboski (DJ), Arne Jensen (AJ), Cynthia Layusa (CL), Jose Limbaga (JL), Norberto Madrigal (NM), Ixi Mapua (IM), Dan Miguel (DM), Shotaro Nakagun (SN), Bianca Ong (BO), Tirso Paris (TP), Pieter Pelsen (PP), Christian Perez (CP), Ramon Quisumbing (RQu), Ruberto Quitag (RQi), Sylvia Ramos (SR), Tonji Ramos (TR), Richard Ruiz (RR), Felix Servita (FS), Peter Simpson (PS), Richard Smedley (RS), Peter Stevens (PS), Ryan Sugala (RS),Timothy Sykes (TS), Melanie Tan (MT), Maia Tanedo (MT), Alex Tiongco (AT), Mark Jason Villa (MV), Mark Wallbank (MW), Merlijn van Weerd (MW), Randy Weisser (RW).
Acronyms
IRRI                           International Rice Research Institute
DENR                        Department of Environment and Natural Resources
LPPCHEA                Las Piñas – Parañaque Critical Habitat and Ecotourism Area
---
New Country Records
There were no less than five potential new country records submitted to the Rarities Committee for assessment: a male Mandarin Duck Aix galericulata at Gabu, Laoag, Ilocos Norte in company with other duck species on 30 November – 14 December 2013 (RR); an injured adult Laysan Albatross Phoebastria immutabilis at Bibincahan, Sorsogon City on 10 January 2014 (DENR, AB) but it perished in a rescue center on 19 January 2014; a juvenile Pectoral Sandpiper Calidris melanotos was spotted at IRRI, Los Baños, Laguna on 10 October 2013 (PB); a 2nd year old Mew Gull Larus canus at Laoag River mouth, Ilocos Norte on 29 December 2013 – 7 January 2014 (RH, KA, MT, ID, RR); and Richard's Pipit Anthus richardi at Basco Airfield, Batan Island, Batanes on 15 October 2013 (RH, ID).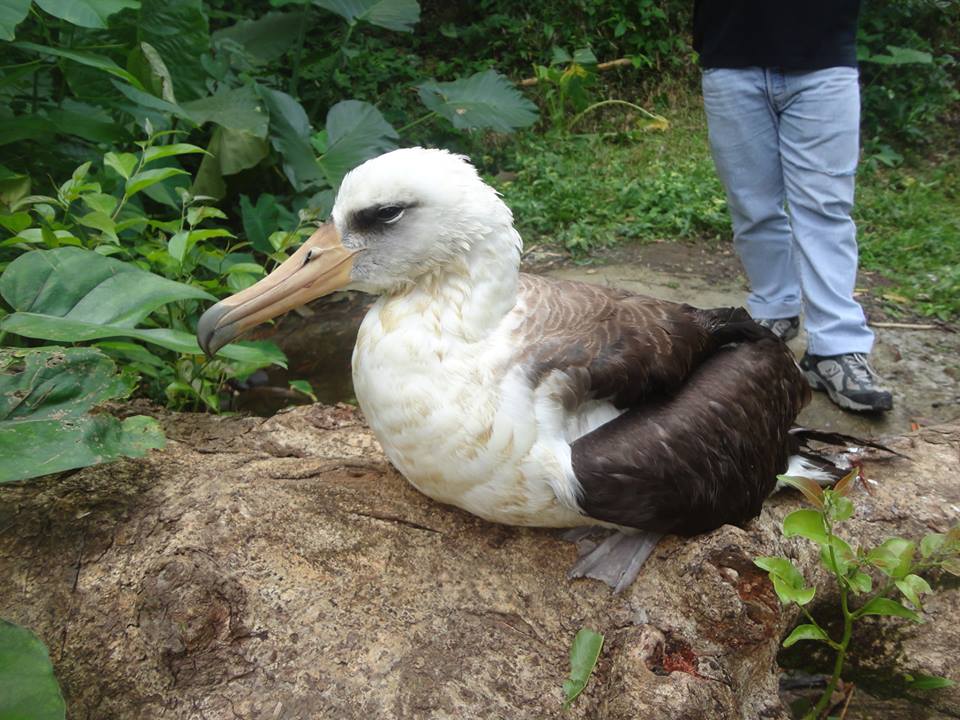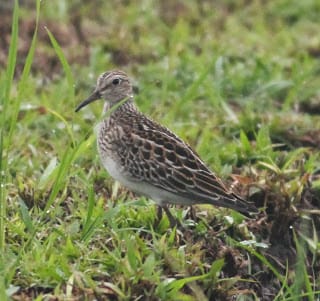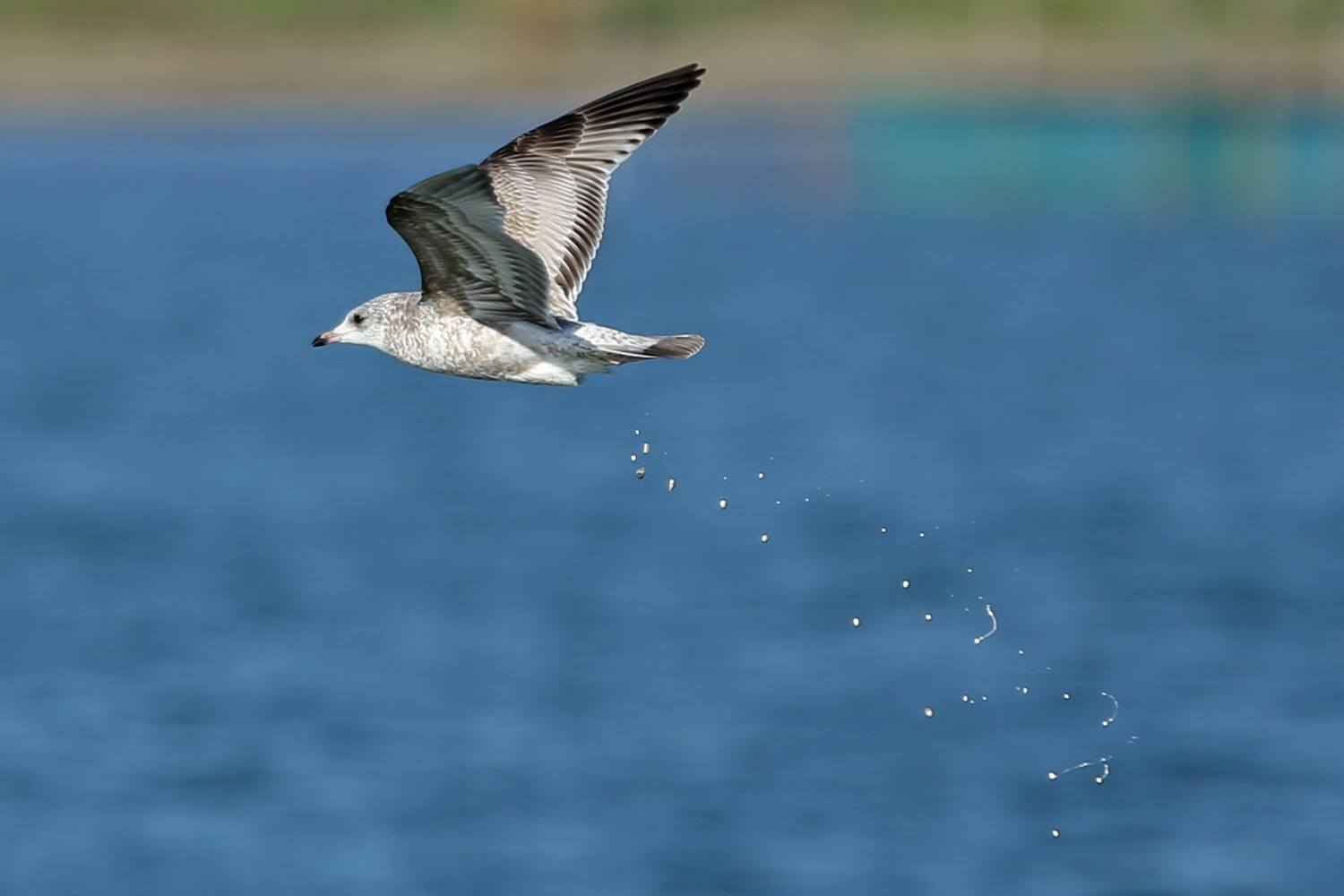 ---
Accidental and very rare migrants
The Rarities Committee also received information of accidental records (less than 20 country records) including records of 19 different species. These records will also be looked into by the committee. Four observations were of Gadwalls Anas strepera: a male at Gabu, Laoag, Ilocos Norte on 4 December 2013 (RR, TR, SR), male and female at Pagudpud, Ilocos Norte on 30 December 2013 (RH, KA, MT, ID, RR), one female at Candaba March, Pampanga on 2 January 2014 (RH, MB, KA, ID, PB, RS), and three females at Semirara Island, Caluya, Antique on 27 January 2014 (JI). Eastern Spot-billed Duck Anas zonorhyncha was reported found in Gabu, Laoag, Ilocos Norte on 9 November 2013 (DJ, RR DJ) and on 26 January 2014 (RR), at Paoay Lake, Ilocos Norte, one was seen on 29 Dec 2013 (RH, KA, MT, ID, RR) and another one at Candaba Marsh, Pampanga on 2 January 2014 (MB, KA, ID, PB, RS . A single male Mallard Anas platyrhynchos was described among other migratory ducks at the Cabusao wetlands, Camarines Sur on 16 February 2014 (FS). The country's second record of a Black-necked Grebe Podiceps nigricollis since 1930 was from Gabu, Laoag, Ilocos Norte on 19-30 December 2013 (TR, SR, RR). The pelagic White-tailed Tropicbird Phaethon lepturus was spotted during whale-watch activities on 13 March 2014 west of Pamoctan Island, Babuyan Islands, Cagayan (CL, SN). Three adults of the endangered Black-faced Spoonbills Platalea minor were present at Candaba Marsh, Pampanga from 19 December 2013 to 17 January 2014 (LG) and another adult on 27 Nov 2013 at Olango Island, Lapu-Lapu, Cebu (NA). In Batanes two Eurasian Hobby Falco subbuteo were seen migrating at Basco, Batan Island on 9 October 2013 (SR) and another one on 10 October 2013 (ID).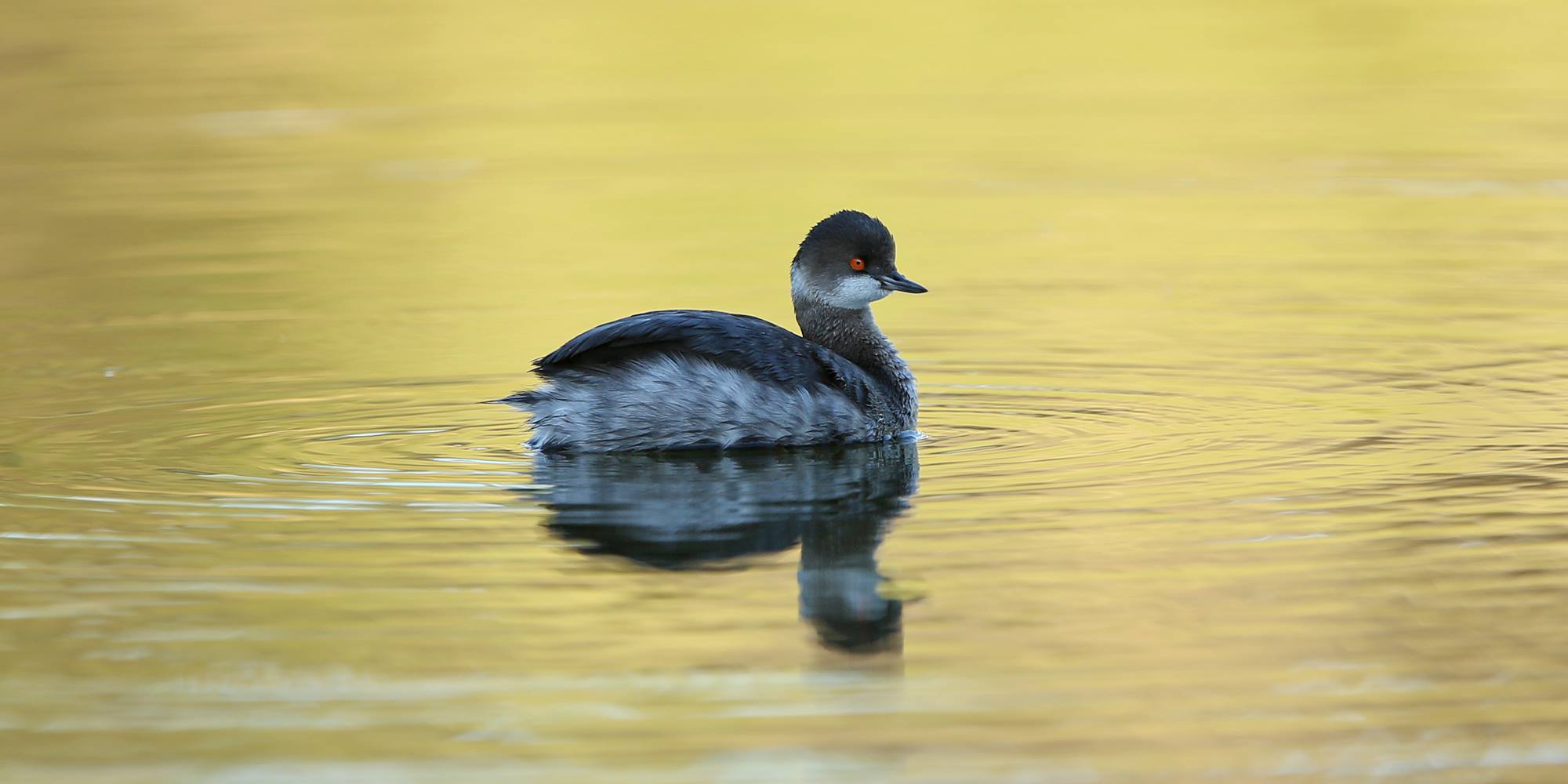 There were several interesting records of shorebirds, gulls, skuas and terns. An Avocet Recurvirostra avosetta roosted at Malalag, Davao del Sur on 6 February 2014 (PS, TR, SR, CP). A rare Grey-headed Lapwing Vanellus cinereus was found at Basco, Batan Island, Batanes on 9 October 2013 (RH) and Long-billed Dowitcher Limnodromus scolopaceus at Candaba Marsh, Pampanga on 16 November 2013 (RH, MB, KA, ID) with possible another record on 27 December 2013 (AC, TC, MT, MJV). Five globally threatened Nordmann's Greenshank Tringa guttifer were identified in the large flocks of overwintering shorebirds at Tibsoc, St. Enrique, Negros Occidental on 4 January 2014 (RH). The much overlooked Temminck's Stint Calidris temminckii were documented at three separate occasions at IRRI, Los Baños, Laguna on 30 September and another one from 31 October to 8 November 2013 (PB). On 24 November 2013 three different individuals at the same location (PB);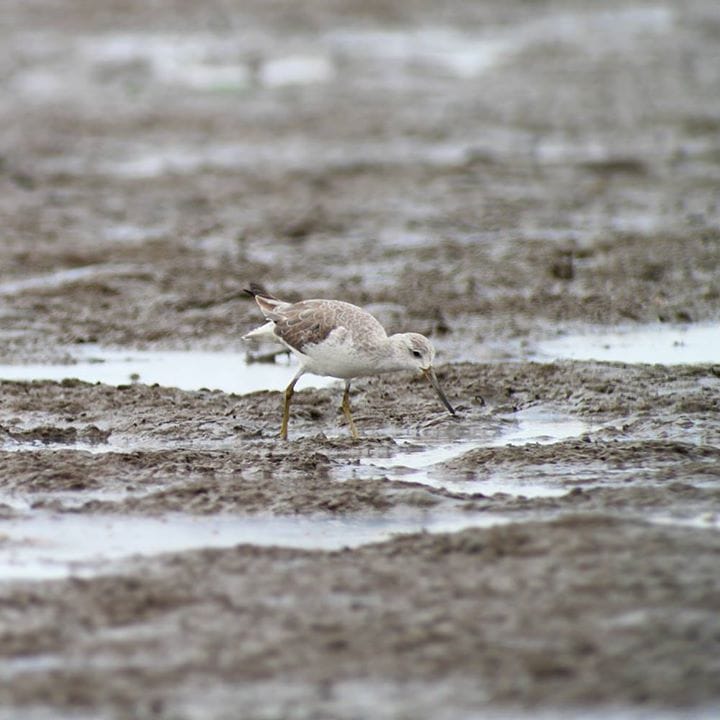 Immature gulls, eventually Vega Gulls Larus vegae (a split from Herring Gull Larus argentatus) were photo-documented at Laoag River, Ilococ on 30 December 2014 and again at Tibsoc, St. Enrique on 4 January 2014 (RH). Black-tailed Gull Larus crassirostris of which there now are more than 20 documented records in total, was also seen at the Laoag River, Ilocos Norte from 29 December 2013 to 18 January 2014 (RH, KA, MT, ID, RR). Another immature bird was at Bucana Beach, Davao del Sur on 14 January 2014 (PS), and an adult at Mahatao, Batan, Batanes on 20 March 2014 (PPF). On Luzon the Caspian Tern Hydroprogne caspia has its stronghold in northern Manila Bay  where 99 individuals were counted at the mudflats at Bangkong Malapad, Sasmuan, Pampanga on 4 January 2014 (LG). In Iloilo, at fishponds in Dumangas, 10 birds were seen on 31 March 2014 and another two birds on 03 April 2014 (JL). An immature Pomarine Skua Stercorarius pomarinus was killed by cyanide fishing at Patnanungan, Quezon on 27 November 2013 (DD). Another record of an immature bird is from Honda Bay, Puerto Princesa, Palawan on 3 January 2014 (MC). Six adult skuas were photo-documented from the northern Manila Bay, Bataan on 26 March 2014 (VB) and on 2 April another immature was spotted off of Santa Ana, Cagayan (SN).
Seven accidentally occurring passerine species also found their way to the Philippines. Black Drongo Dicrurus macrocercus, previously only known from Luzon, was photographed on 8 0ct 2013 at Semirara Island, Caluya, Antique (JI) and another individual was at Basco, Batan Island, Batanes on 16 Oct 2013 (RH). A rare Pale Thrush Turdus pallidus, only the 11th record for the Philippines, was observed in Divilican, Isabela, on 1 Feb 2014 (MW) and the country's second Common Starling Sturnus vulgaris turned up at Bagamanoc, Catanduanes on 11 November 2013 (NC). A Yellow-browed Warbler Phylloscopus inornatus was photo-documented at Camp John Hay, Baguio on 30 November 2013 (NM) and another one described at Sawa, Sierra Madre, Cagayan on 12 January 2014 (PF, TS). No less than five different records of Dark-sided Flycatcher Muscicapa sibirica were documented from Palawan, Mindanao and Batanes. At Puerto Princesa, Palawan single birds on 01 October 2013 (CG), on 19 March 2014 (CG), and on 26 March 2014 (TP). At Batanes, one at Mt. Irayat, Basco on 13 October 2013 (RH, CP)           (CP), and another at Mt. Apo, Kidapawan, North Cotabato on 18 January 2014 (CG). A juvenile Zappey's/Blue-and-white Flycatcher Cyanoptila cumatilis/cyanomelana at Iwahig, Puerto Princesa, Palawan on 06 February 2014 (CC) may not be identified to species level since differentiating field characters of the newly split Zappey's Flycatcher Cyanoptila cumatilis are unknown. A Little Bunting Emberiza pusilla, the first since 2010, was described from the Basco Airfield, Batanes on 14-15 October 2013 (RH, ID). A surprise second record of a possible male Black-headed Bunting at Laoag, Ilocos Norte on 01-23 March 2014 (RR, RH, CP, ID).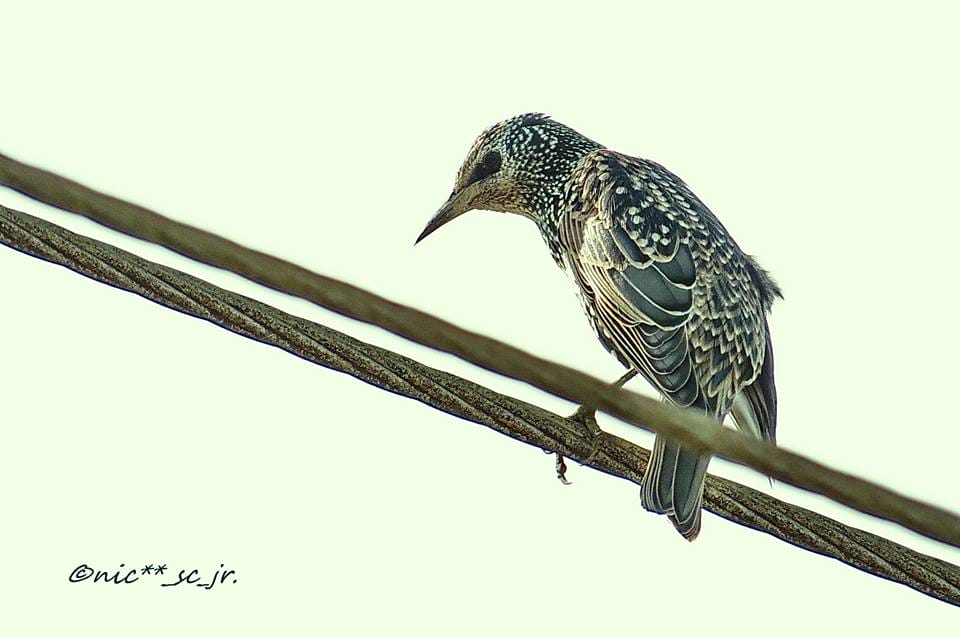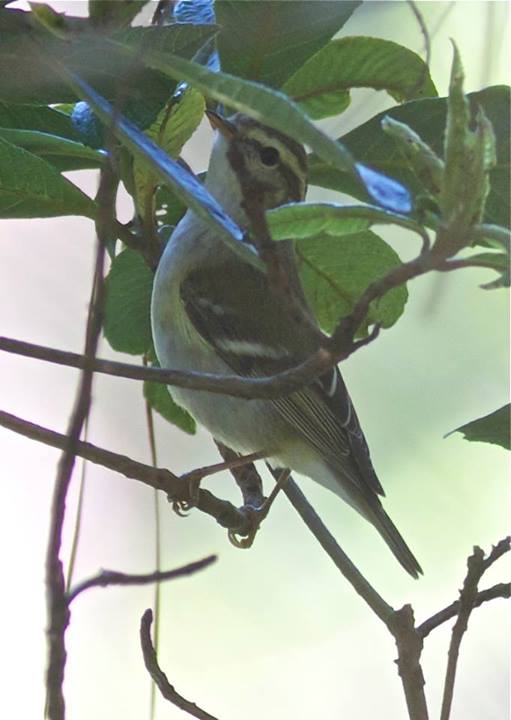 ---
Rare Migrants
Rare migrants were a Eurasian Coot Fulica atra at Gabu, Laoag, Ilocos Norte on 14 December 2013 (RR) and two others at Candaba Marsh, Pampanga on 15 December 2013 (RW). A White-headed Stilt Himantopus leucocephalus at Malalag, Davao del Sur on 6 February 2014 was identified based on its calls which are different from the Black-headed Stilt Himantopus himantopus (CP). A single Green Sandpiper Tringa ochropus seen at Laoag, Ilocos Norte on 14 March 2014 (RR). Out of several shorebirds 14 Sharp-tailed Sandpiper Calidris acuminate were identified at Candaba Marsh, Pampanga on 2 January 2014 (RH) and 18 Ruff at the same locality on 17 November 2013 (RH).
A total of seven records of the rare Chestnut-winged Cuckoo Clamator coromandus were received. One at Bangkong Kahoy, Quezon on 11 November 2013 (RQ), one at Puerto Princesa, Palawan on 20 December 2013 (EG), one at Nabasan, Subic, Zambales on 03 Janaury 2014, one at Koronadal City, South Cotabato on 19 January 2014 (JB), one at Eden, Torril, Davao City on 25 February 2014 (PS), and one at Iloilo, Panay on 08 March 2014 (VJ). A female Japanese Paradise Flycatcher Terpsiphone atrocaudata made its way to LPPCHEA, Parañaque/Las Pinas City on 1 March 2014 (MT) and 40 White-shouldered Starling Sturnia sinensis at Candaba, Pampanga on 12 February 2014 (BD). Forest Wagtail Dendronanthus indicus was seen at Puerto Princesa, Palawan on 15 February 2014 (CG) and no less than a total 21 individuals of White Wagtail Motacilla alba, including three records of the yet undescribed subspecies leucopsis in the Philippines. From Ilocos Norte there were records of 15 Red-throated Pipits Anthus cervinus at Gabu, Laoag Norte on 2 December 2014 (TR); and of 44 Yellow Buntings Emberiza sulphurata at Lagui, Laoag on 23 March 2014 (RH, RR). This may represent the largest flock of this threatened species ever counted in the Philippines. A first record of this species from Mindanao, Mt Kitanglad Range Natural Park, Bukidnon, on 18 February 2014 (RH) is also noteworthy.
---
Rare Residents
Possible the 1st record in the Philippines of the very rare dark morph of Little Egret Egretta garzetta was photo-documented at Candaba Marsh, Pampanga on 2 October 2013 (SR). The DENR Eagle Watch Teams verified a breeding pair of Philippine Eagle Pithecophaga jefferyi at Linay Mountains, Zamboanga del Norte on 3 October 2013 (DENR) and a juvenile was video-recorded at Mt. Mingan, Nueva Ecija on 20 February 2014 (PP). Very rare records include two Philippine Cockatoos Cacatua haematuropygia at Loboc Forest Reserve, Bohol on 23 March 2014 (RS) and an Isabela Oriole Oriolus isabellae in Cagayan Province on 27 March 2013 (RH). Two individuals of the vulnerable and seldom seen Cordillera Ground Warblers Robsonius rabori were found after intensive effort at Adams, Ilocos Norte on 25 March 2014 (RH); and the elusive Sunda Thrush Zoothera andromedae on 23 January 2014 was described from Mt. Polis, Mountain Province (AT).
---
Large congregations of roosting and migratory birds
Large congregations of waterbirds include 500 Wandering Whistling Ducks Dendrocygna arcuata at the internationally important Cabusao wetlands, Bicol River Estuary, Camarines Sur, on 24 January 2014 (FS). The same day and at the same locality 2,000 Northern Shoveler Anas clypeata and 1,000 Garganeys Anas querquedula were reported. At Malasi Lakes, Isabela 4,800 Philippine Ducks Anas luzonica were counted on 27 March 2014 (CP), probably the highest number ever counted (CP). No less than 5,250 Tufted Ducks were present at Naujan Lake, Mindoro Oriental on 21 January 2014 (PS, MW). Highest count of Little Grebes Tachybaptus ruficollis was of 101 individuals at Consuelo, Macabebe, Pampanga on 26 January 2014 (LG) and an impressive number of 1,296 Great Egrets Ardea alba and 9,504 Little Egrets Egretta garzetta were found at Bangrin Mangrove Sanctuary and Aporao Fishponds in Luzon on 26 January 2014 (MB);
There were several good counts of shorebirds. These include 2,647 Black-winged Stilts Himantopus himantopus at Bangkong Malapad Basag, Sasmuan, Pampanga on 16 January 2014 (DM) and 383 Long-toed Stints Calidris subminuta at Consuelo, Macabebe on 26 January 2014 (LG). At Tibsoc, St. Enrique, Negros Occidental, the country's outstanding candidate for protection under the International Wetland (Ramsar) Convention, important counts of threatened and near-threatened shorebird species were of 38 Asian Dowitchers Limnodromus semipalmatus, 560 Black-tailed Godwits Limosa limosa and 1,025 Great Knots Calidris tenuirostris on 04 January 2014 (RH).
The WBCO Raptor team expanded its pioneer research on identifying the main migration routes of raptors in the Philippines. From 15 to 20 October 2013, 529 Grey-faced Buzzards Butastur indicus and a total of 3,517 Chinese Sparowhawk Accipiter soloensis were spotted on southward migration at Cape San Augostino, Gov. Generosa, Davao Oriental (AT) and 1,431 more individuals of Grey-faced Buzzards were on southward migration at Cogon, Digos, Davao del Sur from 23 to 27 October 2013 (TC). At the traditional counting site at Tanay, Rizal, no less than 10,641 Grey-faced Buzzards on northward migration were counted over 12 days between 01 and 31 March 2014 (AT, TC), with peak counts on 17 March (5,214 individuals) and 18 Mar (1,716 individuals). Some 2,666 Chinese Sparrowhawks were also counted at Tanay during the same period with peak counts on 30 March (AT, TC, LG).
At the least 53,000 Barn Swallows Hirundo rustica at Zamboanga City on 02 March 2014 (AJ), making the city one of the country's largest night roosts for this species, and between 4,000 and 5,000 Eastern Yellow Wagtails Motacilla tschutschensis seen flying into roost from mainland Palawan at Cowri Island, Puerto Princesa, Palawan on 28 December 2014 (BD), making the island the largest roost ever reported for this species.
---
Editor's Note: Information about IUCN Red List Category, breeding, range, and population was taken from BirdLife International (2014) IUCN Red List for birds. Downloaded from http://www.birdlife.org on 29/07/2014.