August 1, 2014 – Ocular trip to DLSU-STC in Canlubang
An ocular trip at DLSU-STC Canlubang Campus was conducted upon the invitation of Nonoi Maralit, Director, Campus Sustainability Office of the De La Salle University Taft Campus. The said campus will eventually be dedicated to the Sciences branch of DLSU, becoming a total extension of the Taft campus.
WBCP Secretary Cristina Cinco described DLSU-STC Canlubang Campus as having a totally different atmosphere- it was "green" everywhere (as opposed to other DLSU branches)! The DLSU-STC Canlubang Campus is more or less 50 hectares of land with several trees, grasslands and even a river within its ground.
Despite the windy and overcast conditions, the group had more than 20 species in a little over an hour of birding. (Photo credits: Cristina Cinco)
August 2-3, 2014 – Ocular trip to Tagaytay Highlands
WBCP members Jops Josef, Maia Tanedo, Jon Javier, Tommy Tan and Rose Lacson headed to Tagaytay for an ocular birdwatching trip in Tagaytay Highlands. On the first day, some of the species seen along the Nature Trail include Coppersmith Barbet, Stripe-headed Rhabdornis, while in the area behind the Madre de Dios Chapel they saw Lowland White-eyes Elegant Tits, Black-naped Monarch and Luzon Hornbills. On the second day, Mike Lu and Gina Mapua joined the team. They went to Midlands Avenue where they saw Red Junglefowl, Guaiabero and Philippine Coucals. The team was able to count a total of 45 bird species. (Photo credits: Maia Tanedo)
August 5, 2014 – Talk at Management Association of the Philippines
WBCP President Gina Mapua gave a talk entitled Birdwatching: An Asset to Agribusiness and Countryside Development for the Management Association of the Philippines and the Agribusiness and Countryside Development Foundation. It was a breakfast meeting in Metro Club.
The focus of Ms. Mapua's talk was to show how birds can be assets to agribusiness. She talked about how birds serve to keep the insect and vermin population down. What a developer has to do is provide the proper environment for the birds and they will do the rest. In addition, Ms. Mapua also gave an introduction to begin the hobby of birdwatching.
August 8-9, 2014 – Bird guide training at Philippine Eagle Center in Davao
WBCP members Adrian Constantino and Trinket Canlas went to the Philippine Eagle Center (PEC) in Malagos, Davao City, to facilitate a 2-day training seminar on Birdwatching and Bird Tour Guiding organized by the Philippine Eagle Foundation (PEF). The couple represented the WBCP, together with Davao-based WBCP member Pete Simpson.
The objective of the seminar was to prepare several partners and stakeholders in bird-watching-based ecotourism at various PEF field sites and at the PEC and also to encourage more civil society participation in conservation education.
The two-day training included lectures, open forums, bird walks and action planning activities. There were a total of 48 participants from various sites around Davao. Included in the participant list were forest guards, LGU staff, Bantay Kalikasan volunteers, PEF volunteers and staff, high school and university students.
Pete Simpson, Adrian Constantino and Trinket Canlas led two birdwalks around the PEC and Malagos watershed area, one in the afternoon and another in the morning. The team were able to see a total of 34 species of birds, including White-eared Brown Doves, Colasisis and various flowerpeckers eating the ripe marang fruit on the trees!
The conservation consciousness of the audience was vary obvious from the moment the WBCP team started out the usual introductory lecture on birding. The WBCP team also spent a few sessions introducing the bird club activities, including the public guided trips, bird festivals, the club's participation in the Asian waterbird census and its pioneering efforts at filling up the migratory raptor information gap. (Photo credits: Adrian Constantino and Philippine Eagle Foundation)
August 9, 2014 – Guided trip at LMEP for Aperture Trading group and visiting Indian birder Dr. Dinesh Singal
WBCP members Jops Josef and Maia Tanedo conducted a guided trip at the La Mesa Eco Park for Aperture Trading group. This event was organized by Frank Tsai of Aperture Trading, the local distributor of Kenko binoculars. There were 18 participants including a  visiting birder Dr. Dinesh Singal from India. Some of the birds seen include a red-bellied pitta, mangrove blue flycatcher, Philippine-pygmy Woodpecker and Ashy Thrush. (Photo credits: Dr. Dinesh Singal)
August 10, 2014 – Ocular at UP Manila
Upon the invitation of UP Manila environmental organization, UP Minggan, WBCP members led by VP Willem van de Ven walked around the campus identifying birds. Surprisingly 13 species were counted including Philippine Pygmy Woodpecker, Spotted Dove and Crested Mynah, among others. UP Minggan intends to come up with a booklet featuring the fauna and flora of UP Manila. (Photo credits: Fredd Ochavo)
August 13 – Meeting with Manila Teachers and CORE
WBCP member Maia Tanedo had a meeting with Manila teachers and CORE where they discussed plans how science teachers can incorporate the bird posters developed by WBCP.
August 16, 2014 – Canon SX50 Presentation
Canon Ambassador/WBCP member Ely Teehankee gave a talk about the Canon SX50 for bird photography. His talk was supplemented by Maia Tanedo, who showed her photos (Photo credit: Alexander Loinaz)
August 17, 2014 – WBCP Technical Working Group Meeting
WBCP's Technical Working Group held a successful Sunday meeting led by Christian Perez. A meeting of the minds over red wine, milano salami and cured pork bits with a vision to provide a system for bird club members an easier way for posting trip reports. (Photo credit: Cristina Cinco)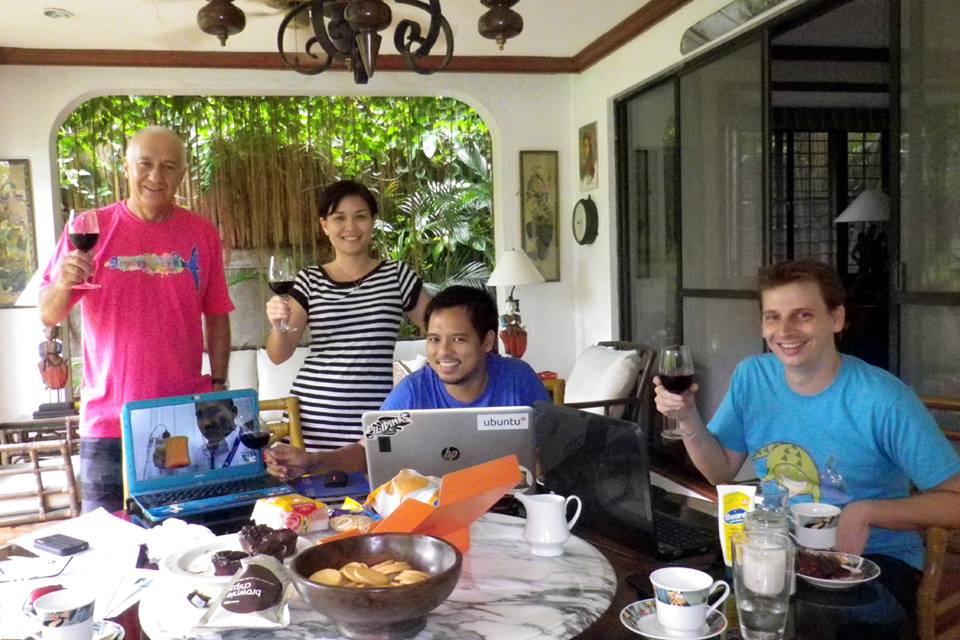 August 18, 2014 – Forum on Saving Freedom Island at UP Diliman
Power couple Jops Josef and Maia Tanedo provided a lecture in UP Diliman at the Forum on Saving Freedom Island by sharing the story of LPPCHEA from the perspective of birdwatchers. (Photo credit: Maia Tanedo)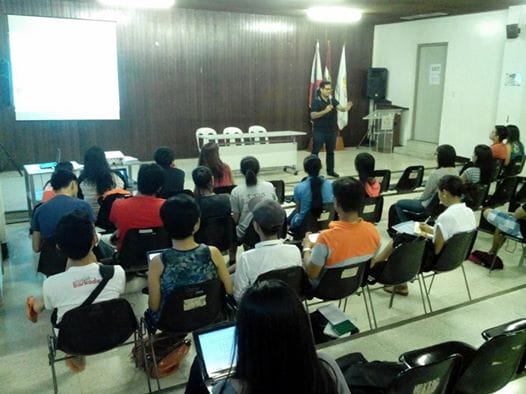 August 19, 2014 – Anvaya Bird Guide Training
A training was conducted for the rangers of Anvaya who had been birding with the WBCP for the past two years. WBCP member Anna Gonzales described the exercise as a fun experiencing seeing how the rangers channeled what they got from birding with the various teams that had come to Anvaya for quarterly bird walks.
Some of the training techniques the club used made the rangers of Anvaya nervous, but hopefully most effective. Aside from the usual lectures, photos and videos, the rangers had to guide the WBCP members, while the latter pretended to be newbies, and later make their own life list in our presence. (Photo credits: Cristina Cinco)
August 23, 2014 – Caylabne Club Trip
Taking advantage of the Ninoy Aquino Day holiday, the WBCP had a club trip for members in Caylabne Bay Resort in Mt. Palay-Palay, Cavite. Some of the birds sighted include a flock of five Sooty Woodpeckers, a noisy flock of Guaiaberos, Indigo-banded Kingfisher, a pair of Whiskered Treeswifts, Red-crested Malkoha, Blue-headed Fantail, Black-naped Monarch, three Philippine Serpent Eagles and a skulking Scale-feathered Malkoha. (Photo credits: Maia Tanedo)
August 28-29, 2014 – Visit to San Roque Dam
San Roque Power Corp requested the WBCP to conduct a bird survey 
at the dam area in Pangasinan again. This is to verify if the birds 
reported in previous trips are still there.
The trip to San Roque has been shortened considerably with the combination of NLEX-SCTEX and now, TPLEX. The group arrived at 9 am and after checking in, a short film clip about the dam and meeting the CSR Chief Tom Valdez, they went off birding immediately at the scrubland just in front of the admin building. That is where they scored the Oriental Skylark. Next the group birded Road 3 which was full of white eyes and munias. They also saw raptors in the air. After lunch they continued birding Road 3 and were now joined by representatives from the National Power Corp and DENR. Even if it was raining, they continued and found 455 Philippine Ducks on a rocky spit in the Agno river just after the release gates of the dam. Finally the rain got too much and they quit at 5pm. They planned on owling on Road 3 but that was scotched.
The next day they group went back to the where the ducks were and they found 2 Little-ringed Plovers as well as Jungle Fowl and the juvenile Plaintive Cuckoo. The group noticed a large number of Little Herons on the shores of the reservoir as we boated about on an aluminum boat. They also managed to walk around the dry ground before the dam release gates (water was low) and that is where they saw the Brahminy Kites having large bat for brunch. There were swift's nests under the top eaves over the dam release gates. They ended the survey with 52 species, as compared to the total 65 species sighted in previous surveys. (Photo credits: Irene Dy)
August 30, 2014 – Manila Division of Schools Science Club Leadership Training and Seminar
WBCP members Jops Josef and Maia Tanedo gave an introductory talk about birds and birdwatching to 500+ students from Manila public schools. The talk was part of the day-long activities organized by the Manila Division of Schools at the Arroceros Forest Park. After the talk, Jops, Maia and Mike Lu, walked around this urban oasis and were pleasantly surprised to discover a pair of Large-billed Crows that have taken up residence in the park. (Photo credits: Mike Lu)