by Carmela Balcazar
---
Samar Island Natural Park (SINP) is a birding area in the Visayas. Some of the target birds there are: Samar Hornbill, Rufous Hornbill, Visayan Blue Fantail, Visayan Miniature Babbler, Pink Imperial Pigeon,Visayan Broadbill, Steere's Pitta, Mindanao Bleeding Heart, Rufous-lored Kingfisher, Celestial Monarch, and Little Slaty Flycatcher. This is one of the first trip reports of the site after it was hit last November 2013 by Typhoon Yolanda ((Haiyan), one of the strongest typhoons ever recorded. Access to SINP from Manila by air is via Tacloban City.

---
The Samar Island Natural Park (SINP) is the largest lowland forest, and one of the biggest biodiversity hotspots in the country. Close to half a million hectares lies within its borders; a protected area of 333,300 hectares and another 125,400 hectares for a buffer zone. A few years ago, fellow bird club member Ruth Francisco made the front page with a sighting and photo of a rare Philippine Eagle.
Arriving on the first flight, the group composed of birdwatchers and wild bird photographers were eager to tick off the races to add to personal lists. After a lechon breakfast (Tonji was craving) and stocking on supplies at the local market, we set off for the two hour ride towards the Buray-Borongan highway.
Whiskered Treeswifts were the first birds we spied a few minutes away from the gates of the park. I had barely unpacked when Team Ramos (Sylvia and Tonji) were already busy photographing the Everetts White-eyes and Mike Anton had the resident Purple-throated Sunbird literally in his face that he had to inhibit himself from taking photos.
The SINP compound consisted of several small buildings namely; the Office, Guest rooms (total of 3), and Kitchen/dining area. Three air-conditioned dormitory type rooms were available for visitors wishing to stay overnight. One room had 7 bunk beds, our room had 5 bunk beds, and the last room had a double bed and a bunk bed. All had their own toilet and bath but no heater. Early breakfast and pack lunches were arranged with the staff and since local transportation was already pre-booked, everyone turned in early for the day ahead.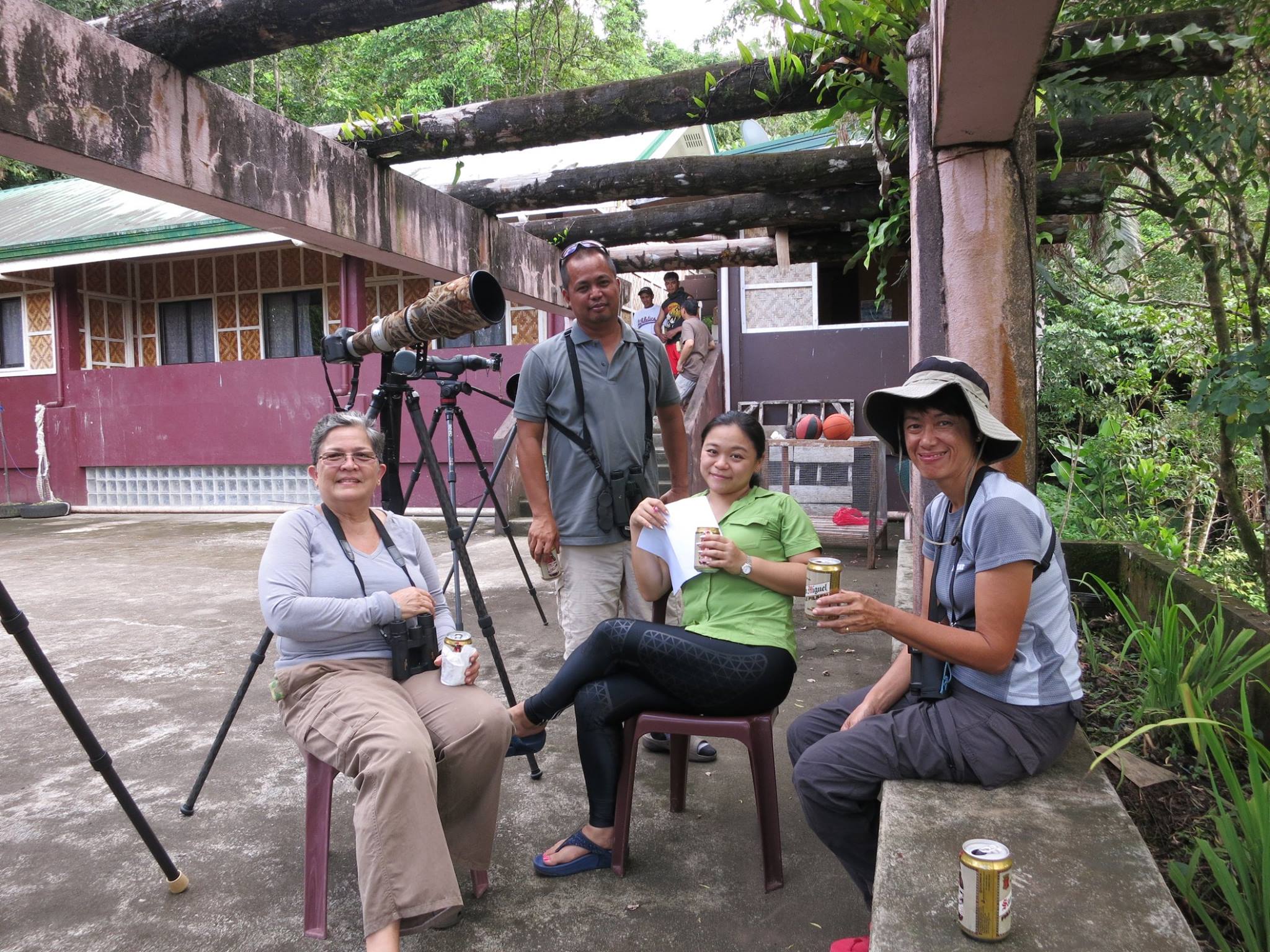 Day 1 Milan Falls
The first birding site was a 40 min. drive away and while stopping to pick up our trail guide, we chanced upon a pair of Samar Hornbills flying into the ridge top canopy. The male perched to catch the early morning rays, its head shining in full glory in the morning light. The female has good taste. He was a handsome male.  Samar Hornbill was recently split from Tarictic Hornbill.
After spending a short time birding roadside, we took the trail leading to Milan falls in Brgy. San Rafael, Taft. The trail is used sporadically by tourists/hikers and the locals. We barely had walked into the forest when Rufous Hornbills; led by two immatures and a pair of adults crossed the clearing. Unfortunately, they did not stay long enough for us to admire them.
The trail leading to Milan Falls took us through secondary growth forest. The limestone surface, often times, moss covered, coupled with loose rocks, roots and broken branches made this trail challenging to walk in. A pair of good shoes (thick soles preferred) and walking sticks is highly recommended to make traversing safely and easier. There were also short stretches of moderate incline that even an injured Mel Tan with her badly sprained ankle managed to do.
The Visayan Blue Fantail was quickly ticked. Despite calling quite close, the Rufous-lored Kingfisher didn't reveal himself. Bird waves brought in the small birds, such as the Yellow-breasted Tailorbird and Rufous-fronted Tailorbird. The trail didn't give much birds but the waterfalls was a cooling break. On the way back, the guides showed where the Philippine Eagle was spotted while being mobbed by Rufous Hornbills.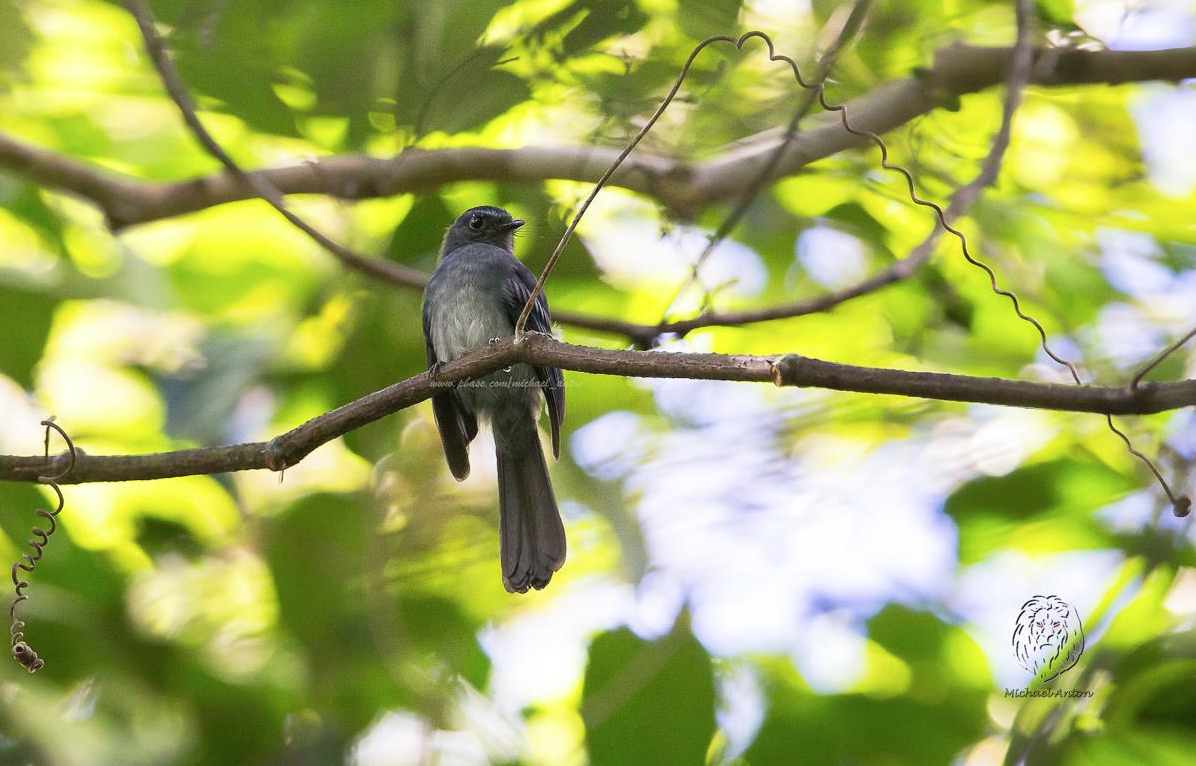 After lunch, we spent the rest of the afternoon driving on the road looking for more suitable habitat to observe birds. No such luck. Only a pair of distant Philippine Falconets were added to the bird list.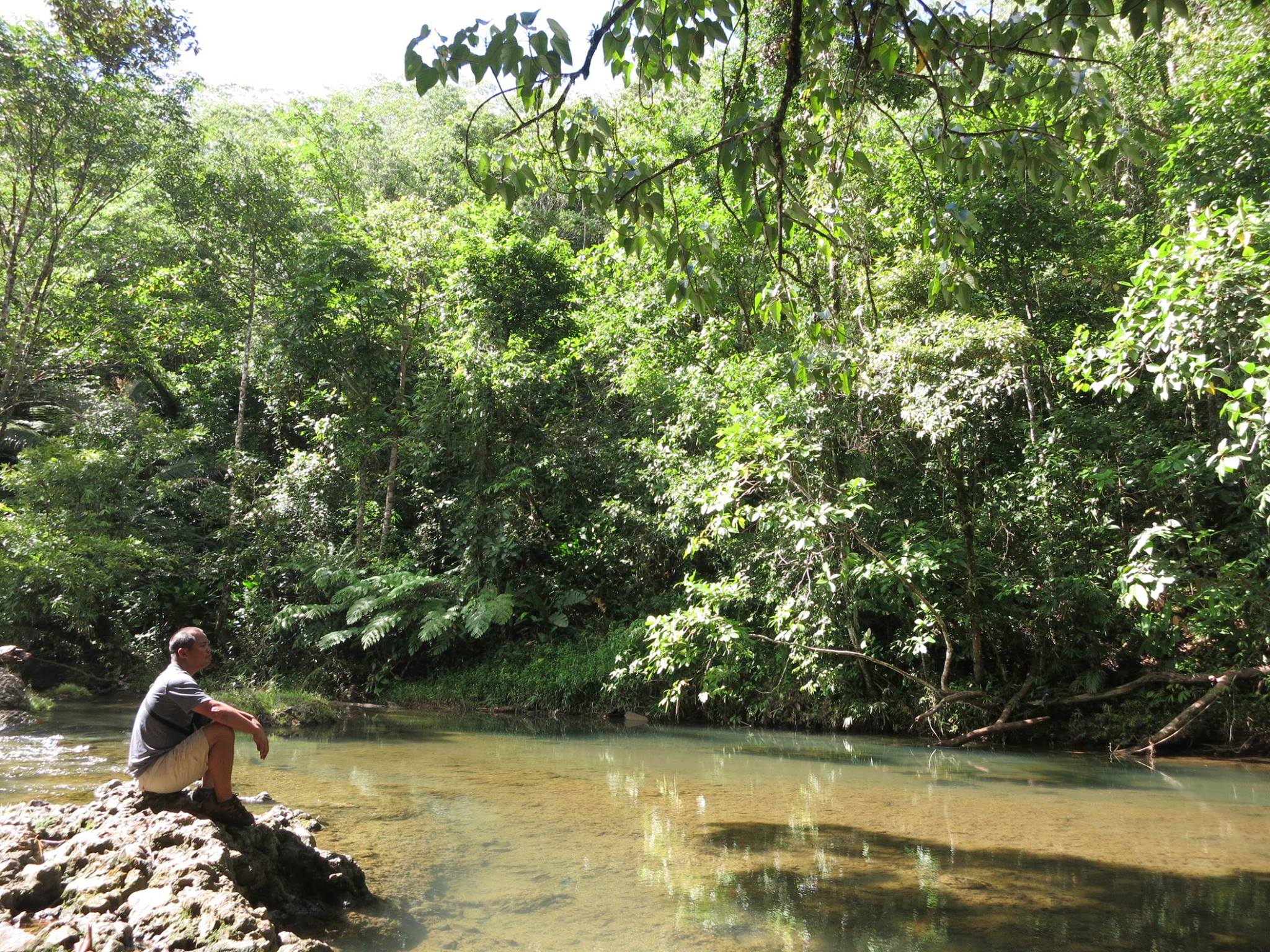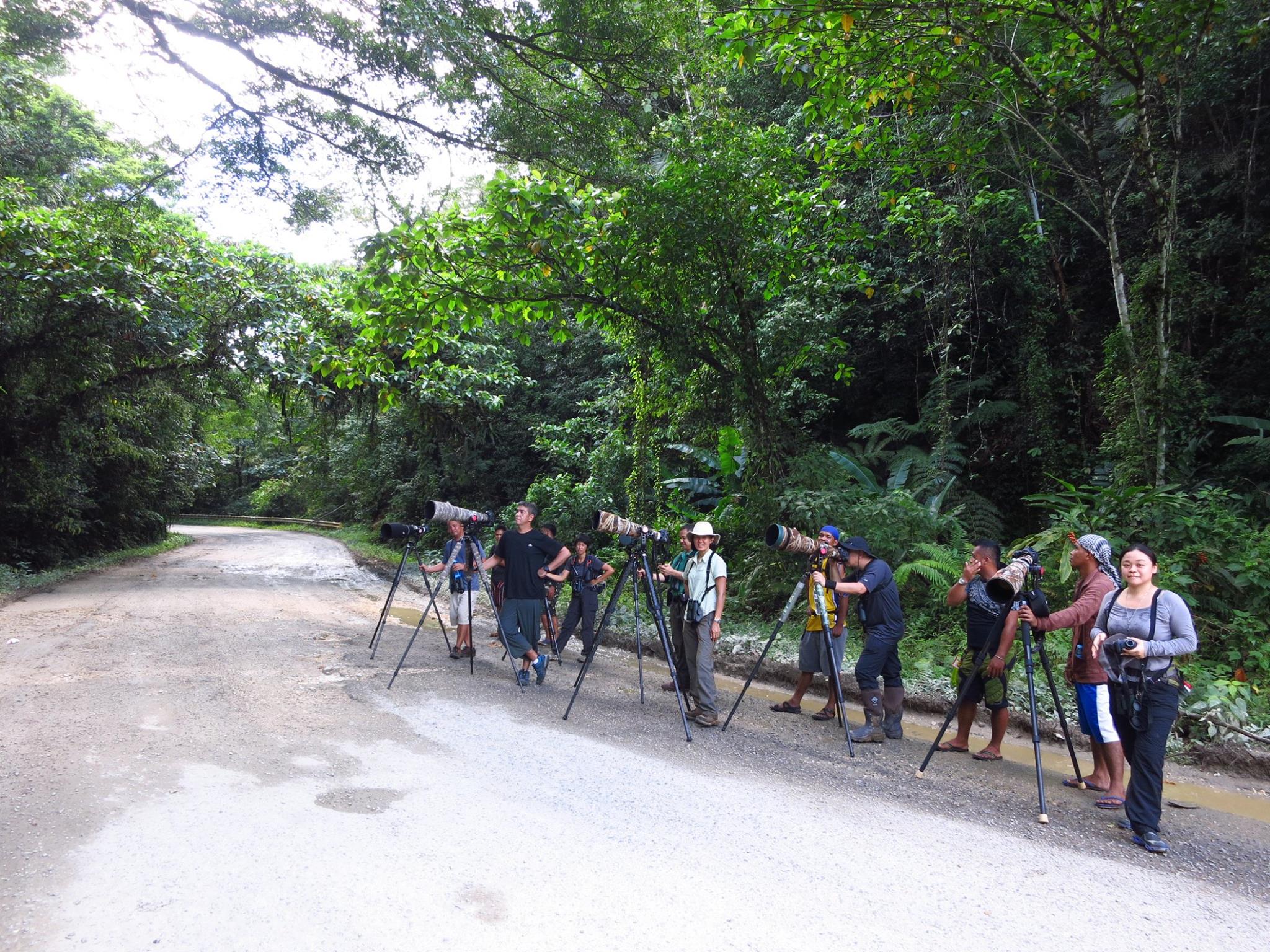 Day 2 Mock Adventure
We took a new trail in the hopes of more feathered encounters. A fern clearing gave us distant but long views of Hair-crested Drongos, Philippine Fairy Bluebirds and Yellowish bulbuls.
Further up the trail, Clemn gleefully tested his boots in the myriad of waterways, be it a creek, or muddy hole. It did prove to be an advantage as traversing and positioning were made easier. The narrow trail with its wet and slick conditions offered little vantage points for solid ground and a Rufous-Paradise Flycatcher sent everyone jostling for space and views between tripods like dancers on a dance hall. It seem to have an agenda as it flew back and forth across the trail.
The bird waves were far and few in between but when it did, a roll call soon arose from photographers and birdwatchers alike; Elegant tit, Black-naped Monarch, Orange–bellied FP, Olive-backed FP, Black-crowned babbler, Striped-headed Rhabdornis, Yellow-wattled Bulbuls, Philippine bulbuls, Handsome Sunbird, and so on. We stayed until everyone had their fill. Who said birders and photographers can't go birding together?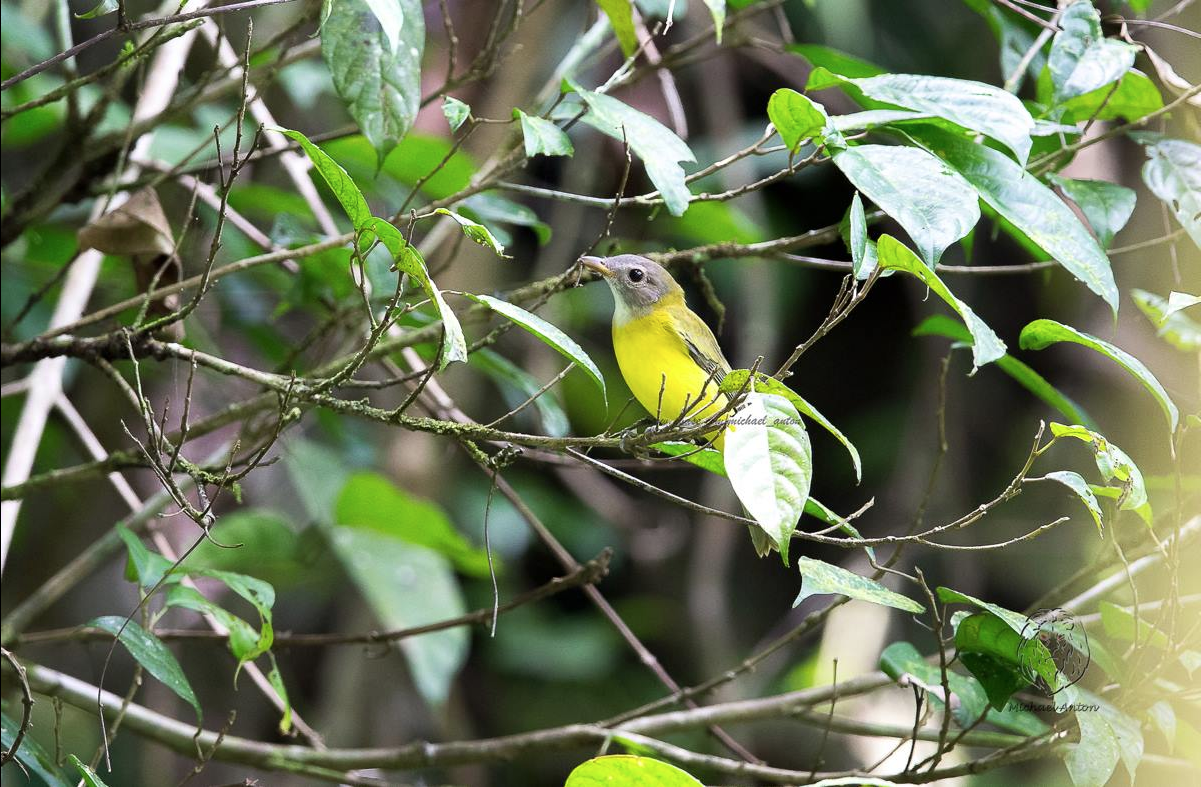 We continued deeper into the forest when it started to rain. Soon conditions had worsened and we called it quits. The trails had become treacherous. The alternative short-cut proved to be the most dangerous part of the sortie, requiring agility and sure-footedness of a mountain goat who hates water. Reaching the roadside, Nicky lets out an audible sigh of relief that no one got hurt. Our lunch reward? Three Vienna sausages for lunch. I swear I heard Mike Anton cry.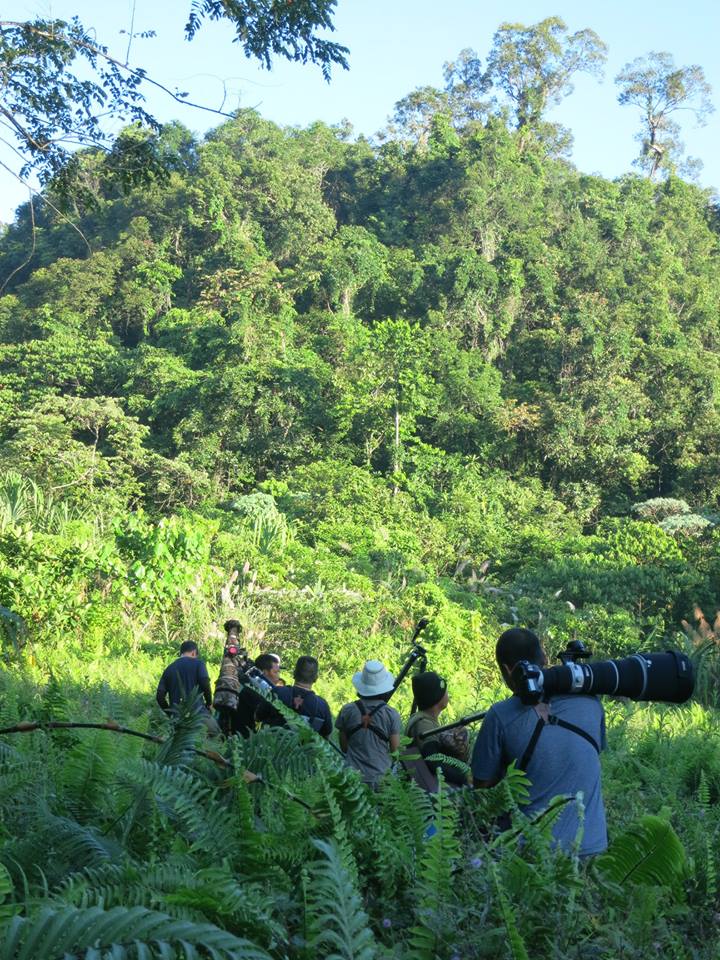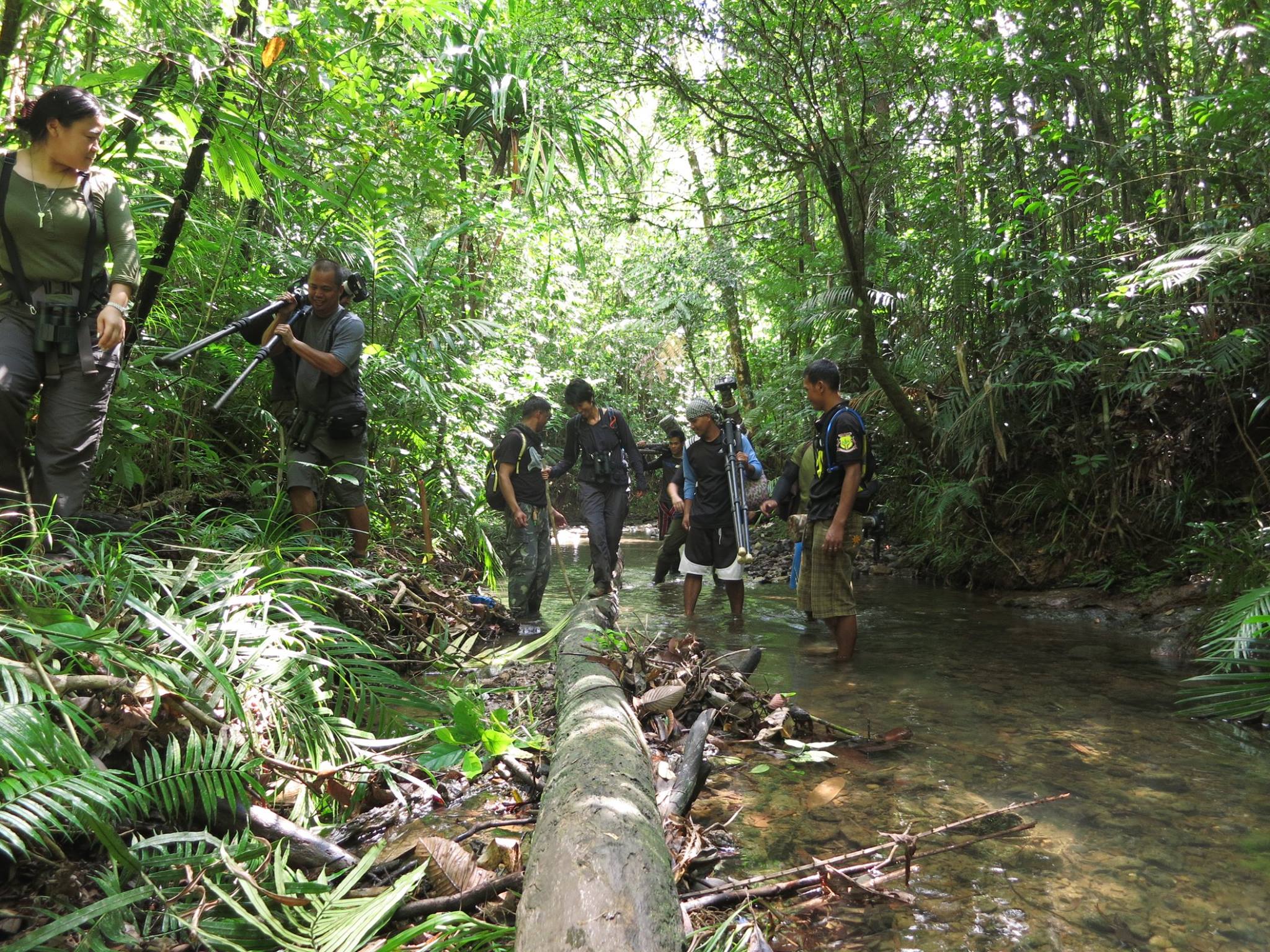 Day 3 From Dawn to Midnight
There is a saying, save the best for last. On the final day, we decided to do roadside birding for one of the target birds. We went back to the area where we last saw the Rufous Hornbills and played cat and mouse for a while, until an individual stayed long enough for us to admire and take photos of the semigaleatus race of the Rufous Hornbills. Soon after, the rains cut short our last birding day. Or so, we thought.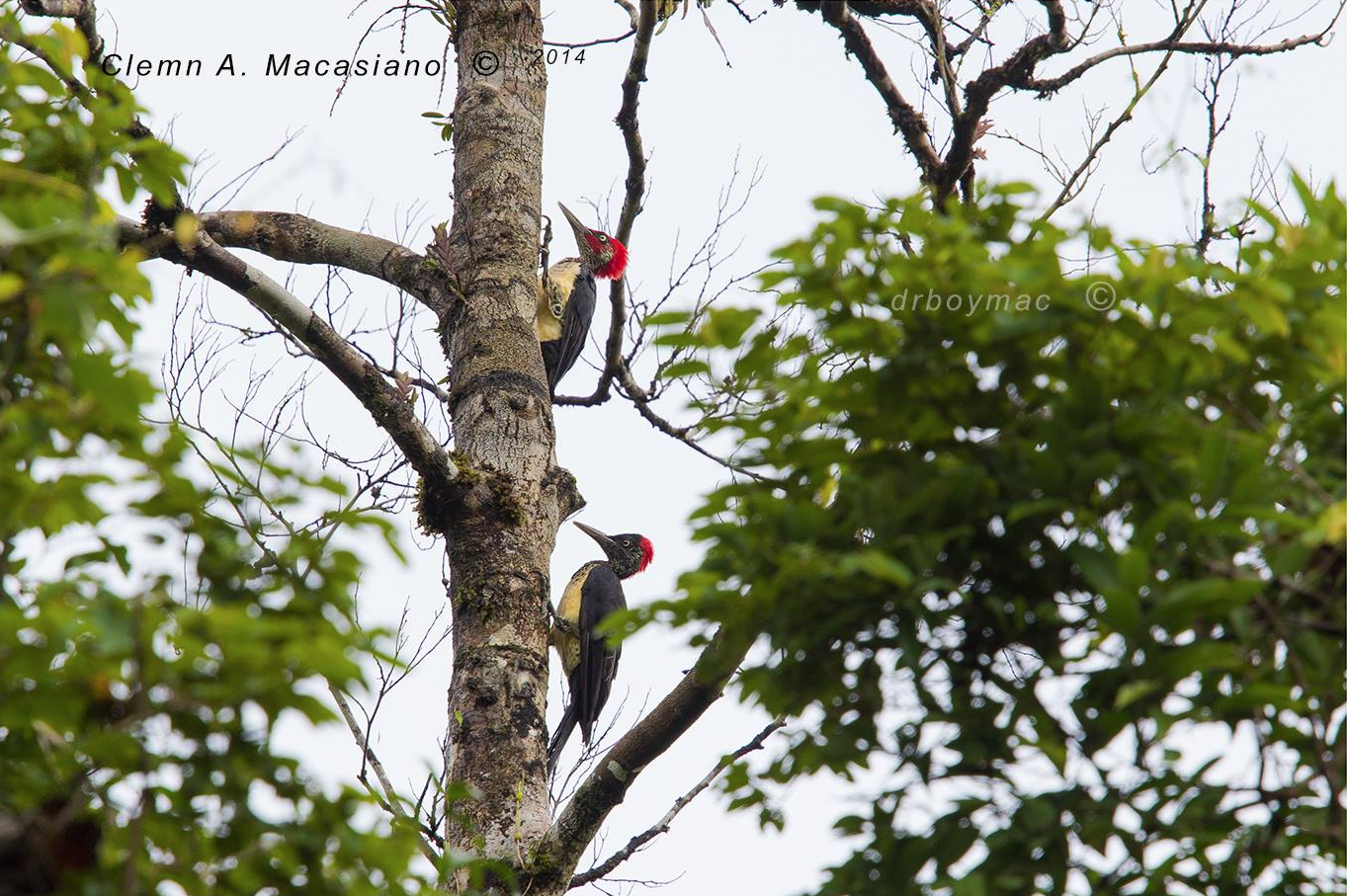 In the final minutes before midnight, with celebrations going on by the younger members of the group, Ixi and I were awakened by roomie Mel, with a soft, "Guys – You want to see an Everett's Owl?" Nothing gets a birder out of bed or a photographer unpacking, faster than that question. When the second time comes around with, "You want to see two?" Lights, camera and tripod are set-up in no time like a well-drilled surgical team. The birders handing out equipment as the photographer calls out; Tripod! Camera! Lights!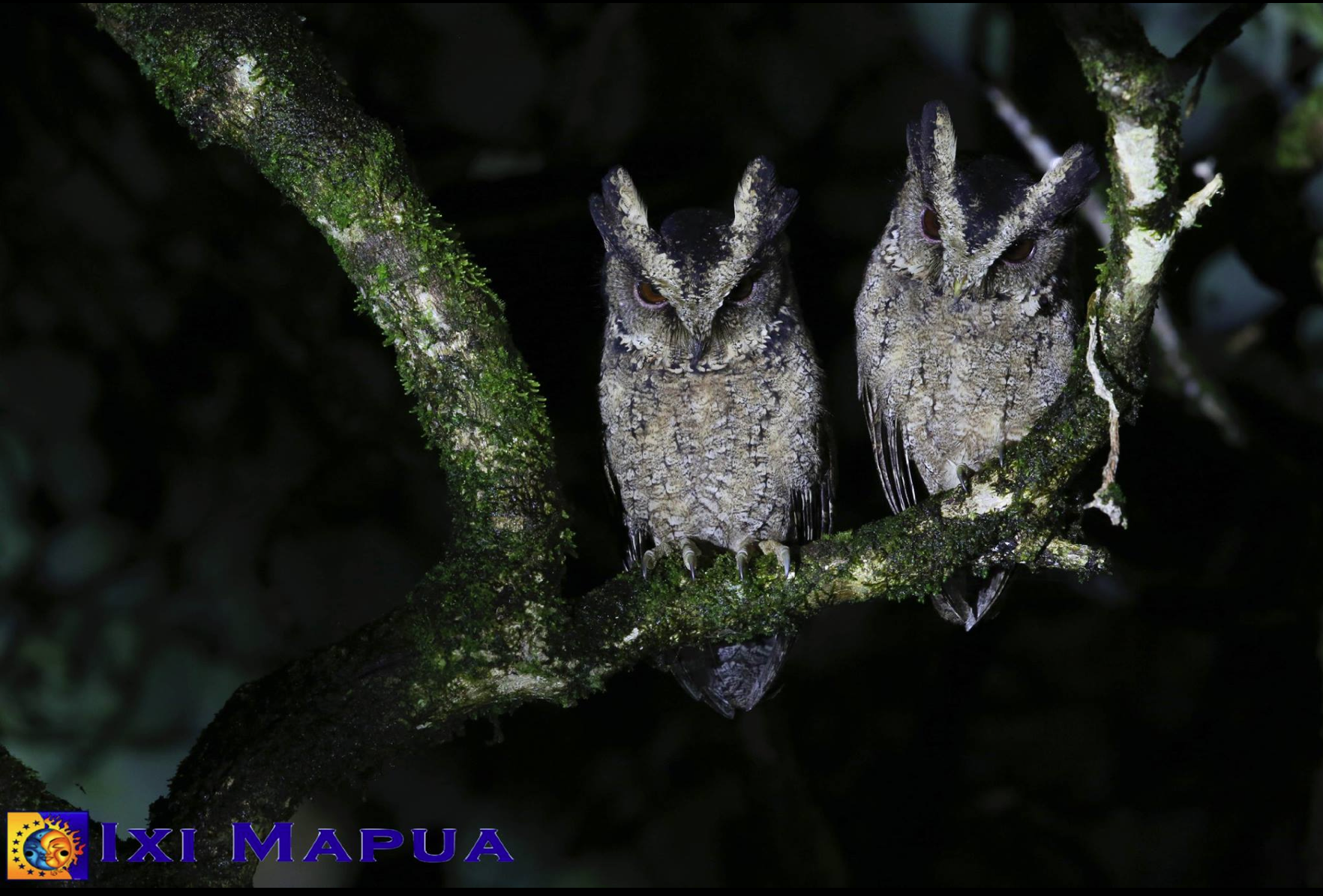 Initially, SINP looked to be rather wanting in birds. I could think of a number of reasons; bad luck, wrong season, iffy weather. But in hindsight, we were given an opportunity to earn the satisfaction of ticking off our target birds and enjoying each other's company in the most demanding of conditions. I even managed to add a lifer with the Black-crowned Babbler. Most of all, I was reminded that the company you bird with is as important as the birds you seek.
BIRD LIST
1. Philippine Serpent Eagle Spilornis holospilus 1
2. Brahminy Kite Haliastur indus 1
3. Philippine Falconet Microhierax erythrogenys 2
4. Common Emerald Dove Chalcophaps indica  1
5. White-eared Brown Dove Phapitreron leucotis  2 ho
6. Amethyst Brown Dove Phapitreron amethystinus  1 ho
7. Philippine Green Pigeon Treron axillaris  3
8. Philippine Hanging Parrot/Colasisi Loriculus philippensis 1
9. Philippine Coucal Centropus viridis  3 ho
10. Everett's Scops Owl Otus everetti  2  1 ad, 1 imm
11. Whiskered Treeswift Hemiprocne comata  3
12. Glossy Swiftlet Collocalia esculenta  3
13. Pygmy Swiftlet Collocalia troglodytes  4
14. Philippine Trogon Harpactes ardens  1 ho
15. White-throated Kingfisher Halcyon smyrnensis  2
16. Rufous-lored Kingfisher Todiramphus winchelli  2 ho
17. Collared Kingfisher Todiramphus chloris  3
18. Bee-eater sp. Merops sp.  2
19. Rufous Hornbill Buceros hydrocorax  5  3ad, 2 imm
20. Samar Hornbill Penelopides samarensis  2 1m,1f
21. Coppersmith Barbet Megalaima haemacephala  2 ho
22. Philippine Pygmy Woodpecker Dendrocopos maculatus  1
23. White-bellied Woodpecker Dryocopus javensis  4  2m,2f
24. White-breasted Woodswallow Artamus leucorynchus  5
25. Black-bibbed Cuckooshrike Coracina mindanensis  1 ho
26. Scarlet Minivet Pericrocotus speciosus  4
27. Yellow-bellied Whistler Pachycephala philippinensis  7
28. Brown Shrike Lanius cristatus  3
29. Hair-crested Drongo Dicrurus hottentottus  4
30. Visayan Blue Fantail Rhipidura samarensis  3
31. Black-naped Monarch Hypothymis azurea  2
32. Rufous Paradise Flycatcher Terpsiphone cinnamomea  3
33. Large-billed Crow Corvus macrorhynchos  1 ho
34. Elegant Tit Periparus elegans  5
35. Yellow-wattled Bulbul Pycnonotus urostictus  5
36. Philippine Bulbul Hypsipetes philippinus  9
37. Yellowish Bulbul Hypsipetes everetti  11
38. Barn Swallow Hirundo rustica  2
39. Pacific Swallow Hirundo tahitica 5
40. Rufous-fronted Tailorbird Orthotomus frontalis 2
41. Yellow-breasted Tailorbird Orthotomus samarensis 1
42. Brown Tit-Babbler Macronus striaticeps 3
43. Visayan Pygmy Babbler Dasycrotapha pygmaea 1
44. Black-crowned Babbler Sterrhoptilus nigrocapitatus 3
45. Everett's White-eye Zosterops everetti 75
46. Philippine Fairy-bluebird Irena cyanogastra 5
47. Stripe-headed Rhabdornis Rhabdornis mystacalis 3
48. Orange-bellied Flowerpecker Dicaeum trigonostigma 12
49. Buzzing Flowerpecker Dicaeum hypoleucum 8
50. Pygmy Flowerpecker Dicaeum pygmaeum 2
51. Purple-throated Sunbird Leptocoma sperata 2
52. Olive-backed Sunbird Cinnyris jugularis 1
53. Handsome Sunbird Aethopyga bella 2
54. Eastern Yellow Wagtail Motacilla tschutschensis 1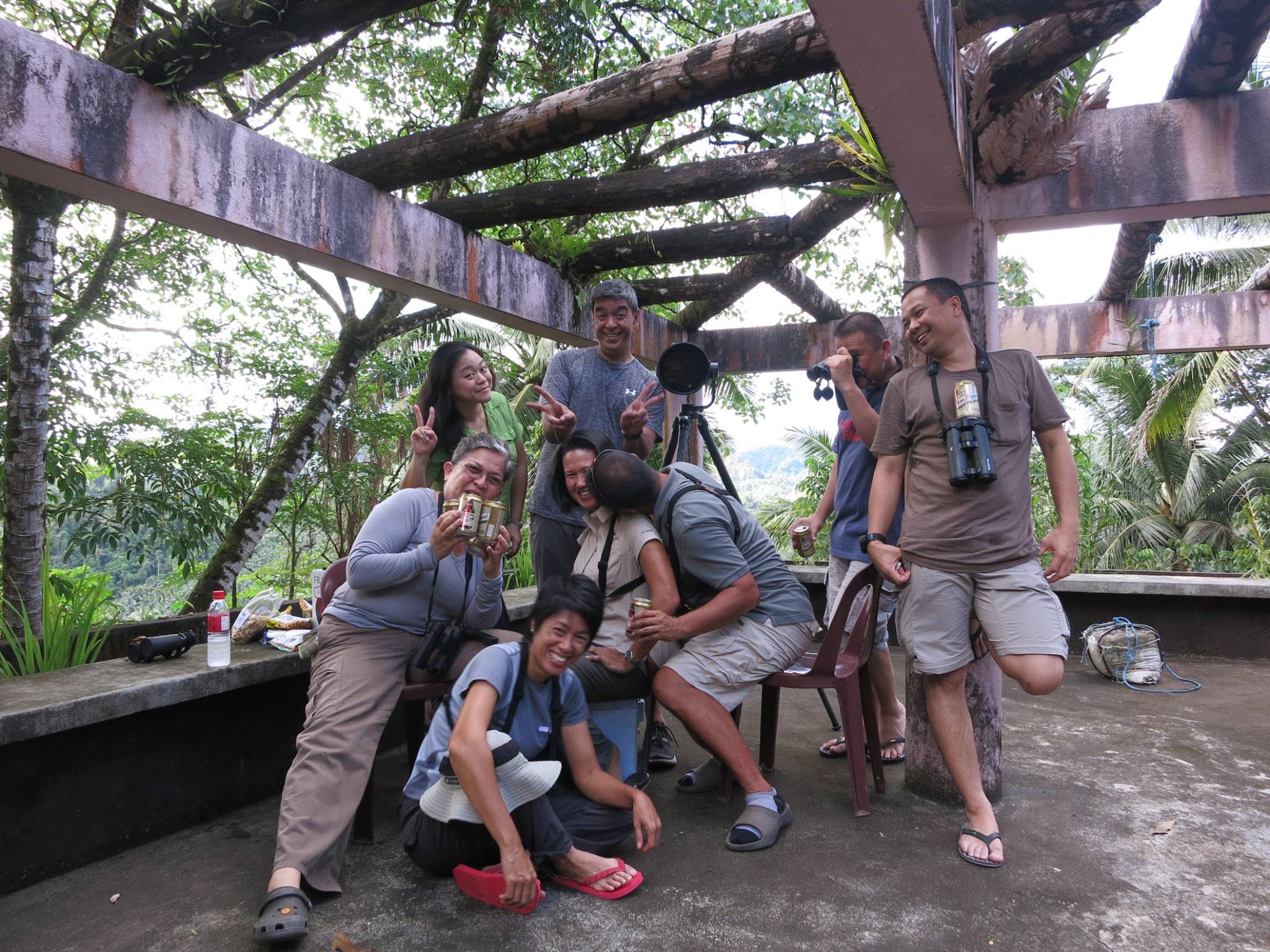 ---
---
Contact Persons for SINP:
Gaga Villanueva (pasu) +639286095500
angelitovillanueva1089@yahoo.com
J
un Pilapil – van driver
+639062734778