by Marester Bas Macasiano
---
Husband and wife birders Marester Bas Macasiano and Clemn "Boymac" Macasiano had the rare experience of seeing and photographing the endangered Japanese Night Heron while birding in Negros Oriental. IUCN classifies this bird as endangered. It breeds in Japan and is described as highly migratory. It has been recorded in Taiwan, South Korea, Russia, China, Hong Kong, the Philippines, and Indonesia.
---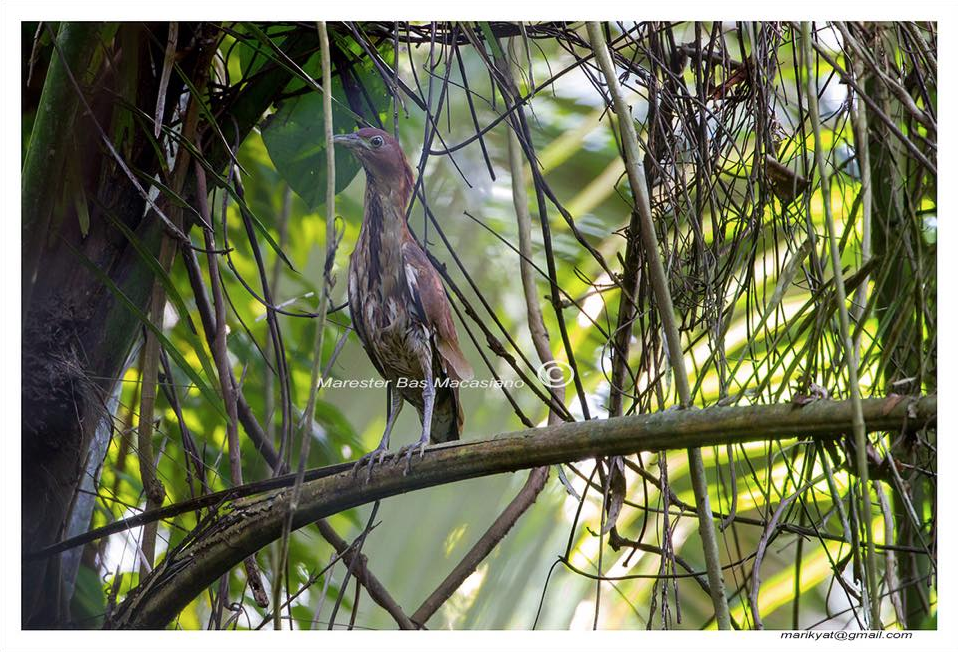 JAPANESE NIGHT HERON
Gorsachius goisagi
Valencia, Negros Oriental
Nov 18, 2014
Time:  1530-1630
Weather Condition:  Sunny and Bright
Due to my current condition bird photography is put to temporary hold. Saying that, on this particular day Clemn was basically birding alone while I was waiting in the vehicle.  Someone assisted him to bring my gear just in case I need to shoot. He was gone for 45 minutes, when his assistant came running to inform me that Doc Boymac spotted something of interest. Describing it to be belonging to the heron family but different from the previous ones he had photographed.
As an avid bird photographer I decided to shoot even if I was not at my 100%. The first half of the trail was easy but last half was tough as it was very slippery with 45 degrees down slope. It was a good 20 minute trek. Clemn was basically shooting in the ravine which makes  it more difficult for me. Luckily, the stream was dry which was to our advantage.  When I got to the site, my gear was already in place.  All I had to do was look at the green light of the pointer, set my camera, focus and shoot. When I was looking at the heron I got excited as it was my first time to see it. It was just perching there for a long time. It was difficult to get so near due to the vegetation as well as the condition of the area. It only flew when a bamboo tree gave way from its trunk due to strong rain and wind the night before. It was also high time to get back as the light was not suitable to shoot anymore. We then checked the Kennedy Bird Guide and were contemplating between a Malayan or Japanese Night Heron but we needed to see the files in the computer to be sure of its identification .