February 8, 2015 – Book launching of Pajaros, Zamboanga y Periodismo de Paz
Dusit Thani Hotel, Makati
WBCP Execom led by Gina Mapua were invited to the book launching of Pajaros, Zamboanga y Peridismo de Paz (Birds, Zamboanga and Peace Journalism) by author Frencie Carreon at the Dusit Thani Hotel. Also in attendance were Department of Tourism Region IX Director Mary June Bugante and book sponsor Team Energy Foundation led by Chairman Ricky de Castro.
After the book launch, the Execom had a meeting with DOT Reg IX Director Bugante at the Henry Hotel to discuss preparations for the upcoming Dia de Zamboanga to be held later in the month. (Photo credit: Mike Lu)
February 13, 2015 – Science Week at St Stephen's High School
Manila
In support of Science Week at St Stephen's High School, alma mater of Treasurer Mike Lu, the Club came up with a photo exhibit of birds grouped according to ecosystems to supplement the existing science exhibit. Mike also gave a talk about birds, birdwatching, threats to the environment and a short background on the WBCP to more than 160 Science Club members. (Photo credit: Mike Lu)
February 15, 2015 – Born to be Wild Feature on Migratory Birds
Balanga, Bataan
Born to be Wild featured "Migratory Birds" with host/WBCP member Nielsen Donato. The episode covered the Asian Waterbird Census in Balanga, the host reminiscing his early days in the Club by visiting the Las Pinas-Paranaque Critical Habitat and Ecotourism Area and the Candaba Marsh.
Photos show Nielsen Donato with MIke Lu and camera crew in LPPCHEA and a close-up of the Rufous Night-Heron. (Photo credit: Mike Lu)
February 22, 2015 – Philippine Bird Festival Meeting
Lu Residence, Manila
The core group of festival organizers met on Sunday with Balanga City Mayor and City Administrator Rudy de Mesa to plan on the 10th Philippine Bird Festival to be held in Balanga City, Bataan.
First thing decided are the dates: December 10-11, 2015 (Thursday-Friday). Foreign delegates will be asked to arrive on Dec 8 (Tue) and depart for Balanga on Dec 9 (Wed). The group set-up different committees and will be asking more members to volunteer. (Photo credit: Marites Falcon)
February 23, 2015 – Meeting with DLSU-STC
Canlubang, Laguna
Mike Lu and Tinggay Cinco had a meeting with Nonoi Maralit of DLSU-Science & Technology Campus (Canlubang) to discuss a follow-up activity to conduct birdwatching activities on campus for their students.
February 25, 2015 – Meeting with BMB
February 25, 2015 – Meeting with Manila Southwoods
Manila
Mike Lu had a meeting with the environmental officer of Manila Southwoods to further discuss our partnership in monitoring bird species and habitat enhancement on the golf course.
February 26, 2015 – Dia de Aves
Zamboanga State College for Marine Science and Technology
Zamboanga City
The success of the 9th PBF has inspired the Zamboanga State College of Marine Sciences and Technology to conduct its own mini bird fair this year. A parade was conducted on the Dia de Zamboanga where a steady stream of bands, dancers, students, police, coast guard, air force, government agencies that went on and on including the 3800 student-strong delegation from the Zamboanga State College of Marine Science and Technology. Other activities included lectures and birdwatching. In addition, the Club members conducted a guided trip for selected students to Bog Lake (a freshwater marsh) and also went birdwatching at the Pasonanca Natural Park and Sta Cruz Island. (Photo credits: Mike Lu & Sixto Kwan Jr.,)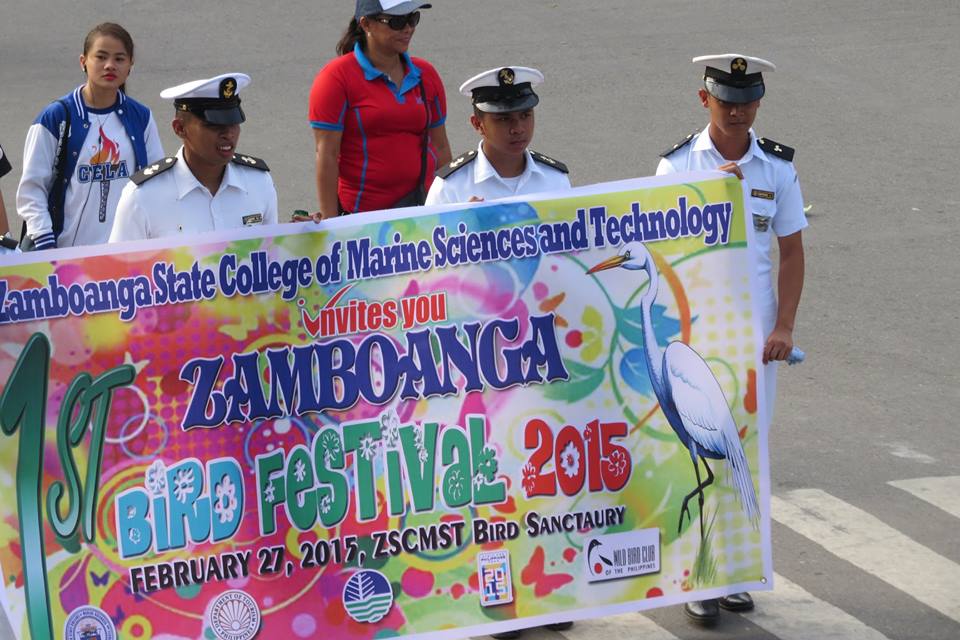 February 28, 2015 – Guided Trip to LPPCHEA
Las Piñas & Parañaque
A group of homeschoolers and parents contacted the Club requesting for a guided trip this coming Saturday, 28 February 2015. About 20 participants were expected. (Photo credit: Maia Tañedo)