by Robert Hutchinson
---
Mount Halcon is regarded as the toughest mountain to climb in the Philippines. It is also the only known site for the never before photographed Mindoro Scops Owl and the endangered Mindoro Imperial Pigeon.  The team of Robert Hutchinson, Mark Bezuijen, Ivan Sarenas, and Bram Demeulemeester made a successful climb up Mount Halcon last April 2015 and photographed the Mindoro Scops Owl, Mindoro Imperial Pigeon and other Mindoro endemics. Robert gives details on how to organize a climb while the mountain is still open to hikers. 
---
Mount Halcon on Mindoro is home to a couple of the Philippine's least known endemics, but the combination of a tough climb, a very wet climate, and frequent closures have meant that only a handful of intrepid birders have tried to see these special birds. I had visited Mount Halcon previously in April 2003 together with WBCP founders James McCarthy and the late Tim Fisher and the visit was a great success but I had always desired to return to study some of the lesser known subspecies, and try and photograph some of the species we had seen in those days without proper cameras.
The mountain has been closed to hikers for much of the time since 2006 and we had eagerly awaited an opening, so when the mountain was opened for a limited time this year our team (myself, Mark Bezuijen, Ivan Sarenas and Bram Demeulemeester) jumped at the opportunity. Ivan did a fantastic job of arranging our visit, with Mark providing an interesting range of camping cuisine. Our visit proved a great success with wonderful sightings of Mindoro Imperial Pigeon and Mindoro Scops Owl among others.
Mount Halcon overview
At 2,585 mMount Halcon is the highest mountain on Mindoro and is considered a very difficult summit. The good news for birders is that the special birds can be seen by reaching 1,200-1,300m!
 Logistics
We decided on a 3 day/2 night visit to the mountain, which proved just the right amount of time to see the birds. This short duration involves a fairly fast climb on the first day up to 1,300 m over a distance of 6.4 km, so consider arranging permits the previous day. We obtained the permits on the same day as our hike, and even with a 2 am start from Manila and arriving at the Baco tourism office well before opening hours, it was still 10 am – and very hot – when we set off!
Starting point for the visit is Calapan in north-east Mindoro which is served by many fastcraft ferries from Batangas, a journey of little more than an hour. We were helped considerably by local mountaineer Vic De Guzman (Cell # 09359256369) who organised transport and ensured that arrangements ran smoothly. Those organising independently may wish to contact the municipal tourism office in advance: Emily Samaco Naling, Cell# 09189134437, Email: emily_naling@yahoo.com
We departed Batangas at 5am but would have been fine to take the 6 am service since the Municipal office in Baco (30 minutes drive from Calapan) didn't open for processing of permits until 07.30am. All visitors must obtain the permits in person in Baco and it is important to check on current requirements, at the time of our visit for example they required a Medical Certificate and Certificate of Basic Mountaineering training. The issuing of permits and reporting took 1 ¼ hours in our case. Once permits are issued you can proceed to your allocated jump-off point, sometimes Lantuyan, or in our case Bayanan (20 minutes from Baco). The walk up from either jump-off point is apparently of equal difficulty and the two trails join at c.900 m before the really interesting birding starts. At the jump-off point guides and porters can be arranged and the costs for these are standardised so there is no need to bargain.
The walk up the mountain is steep in places, slippery after rain and requires a good level of fitness. The initial walk is through open habitat, becoming secondary forest at c. 600 m and better forest from 900 m upwards. There is a choice of two camps, one at 1,200 m (which we had used in 2003) is smaller and apparently has even more leeches, while on this occasion we stayed at 1,300 m in a more spacious camping spot. The walk to the campsite took us seven hours including stops for lunch and birding but this could be longer or shorter depending on fitness levels.
The walk down to the village is much faster with a walking time of less than 4 hours and a dip in the cold waters of the river at the village on your return is highly recommended!
When to visit
Mount Halcon has very high annual rainfall and this can seriously hamper birding. The driest time is from March – May although rain can still be expected during that time. This period should be the best for birds.
The mountain is currently open to visitors until 31st May so there is a window of opportunity for birders able to climb soon, worthwhile as it is unknown if the opening will now happen every year or if several more years of closures could follow.
Things to remember
You will need to provide all your camping gear including tents, sleeping mat, sleeping bag, cooking pots. You will also need to take sufficient food to feed your group and any porters that you will use. The mountain can be very wet so take good waterproof clothing and plenty of dry clothes. Mount Halcon has an abundance of leeches so be prepared!!
Birding
There is little of interest on the lower slopes but as you enter secondary forest Mindoro Bulbuls will start to appear and Bar-bellied Cuckooshrike (both males and females are unbarred in mindorensis!) is possible. When better forest is reached then look out for noisy groups of Mindoro Racquet-tails while we found White-browed Shortwing to be common by voice although typically difficult to see.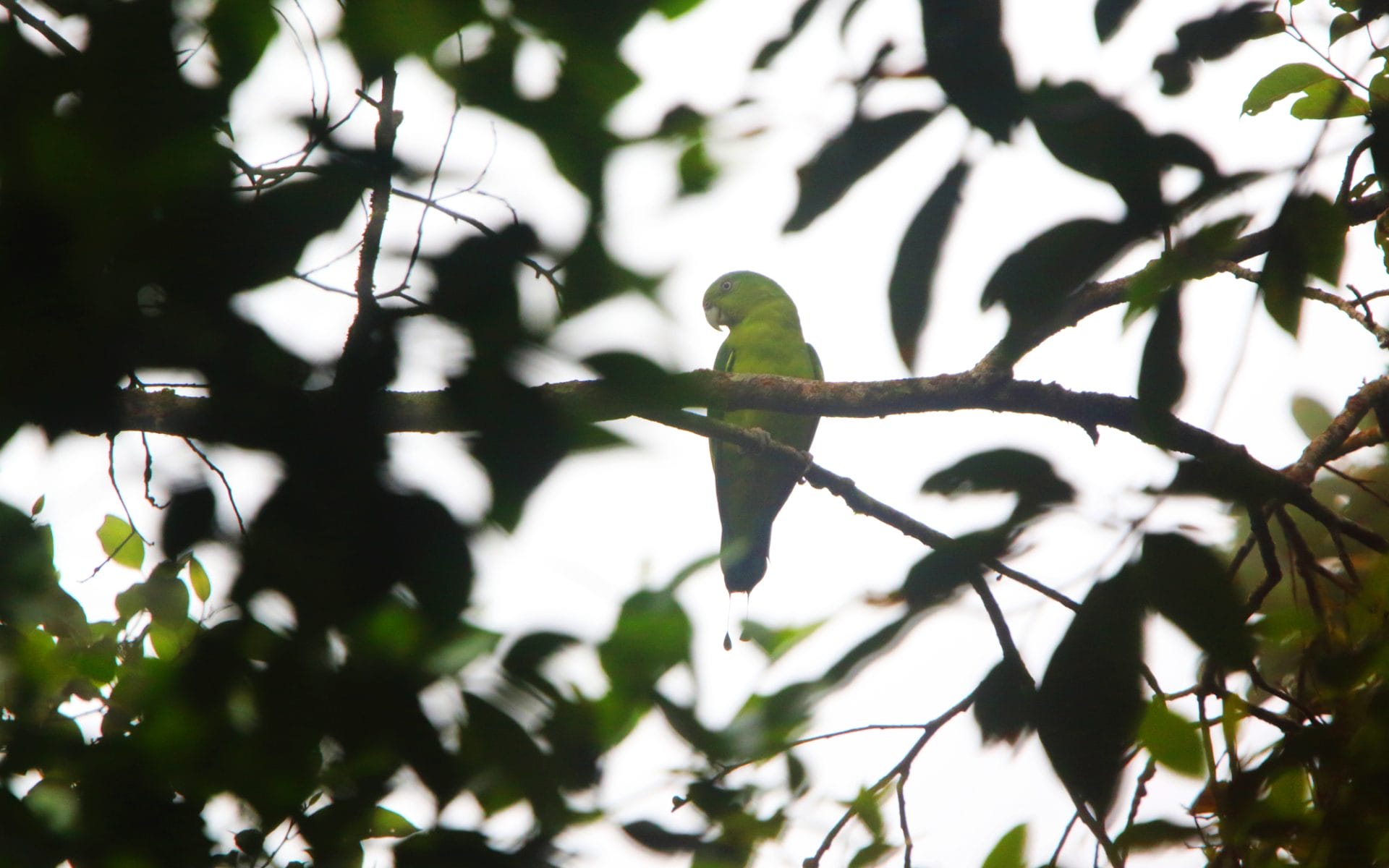 We saw our first Mindoro Imperial Pigeon as low as 850 m but they were much more common higher up, including around our camp site. Listen out for the deep booming call, watch any fruiting trees, and scan forested hillsides where possible. Also around our camp were Green-backed Whistler, Mountain Shrike and Island Thrush (the latter both endemic subspecies to Mindoro) besides commoner montane birds, and nice to see the Mountain White-eye which is the only subspecies to be named after the mountain – halconensis. At night we easily observed Mindoro Scops Owl around our camp sites and a close view of a Mindoro Hawk Owl on one occasion.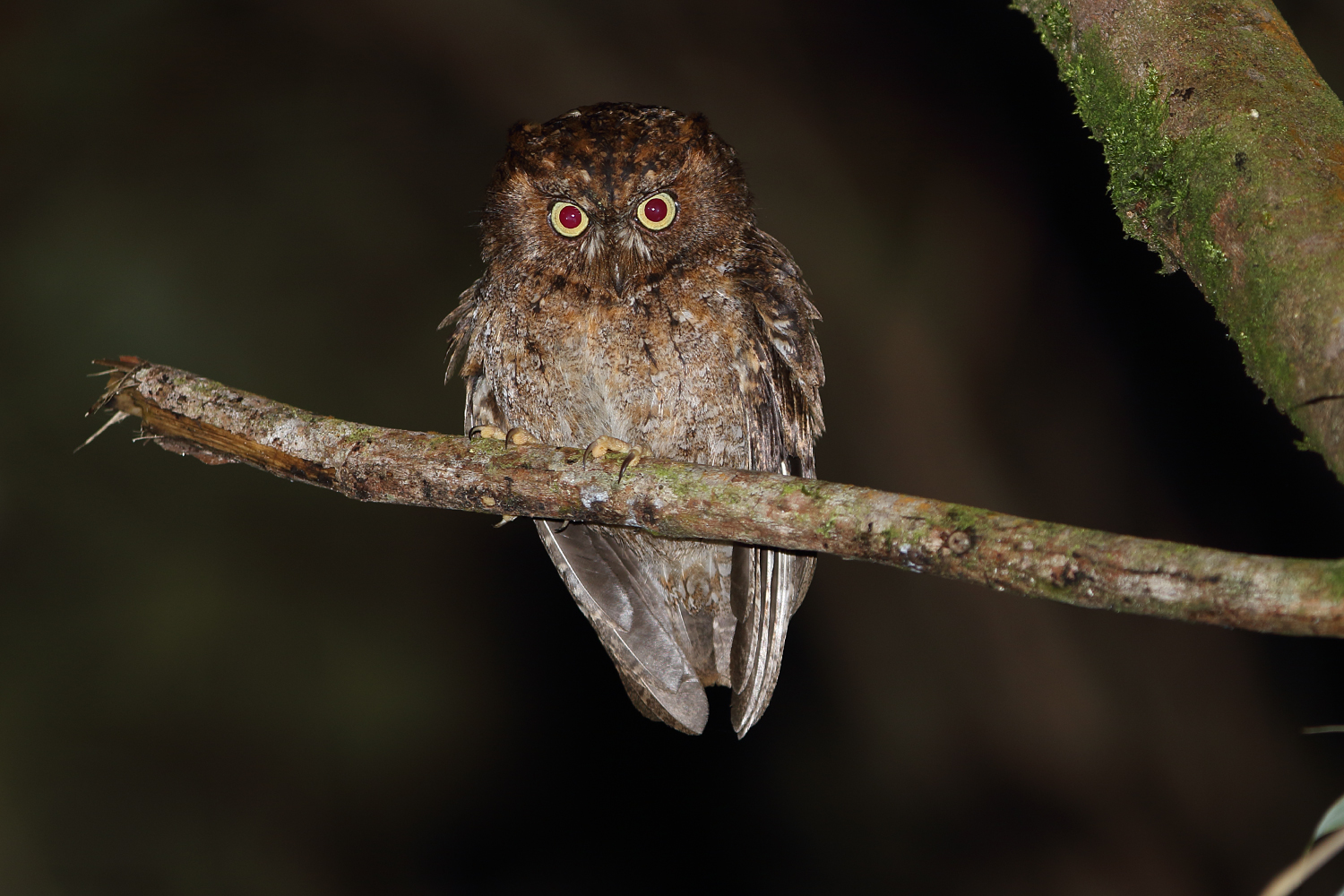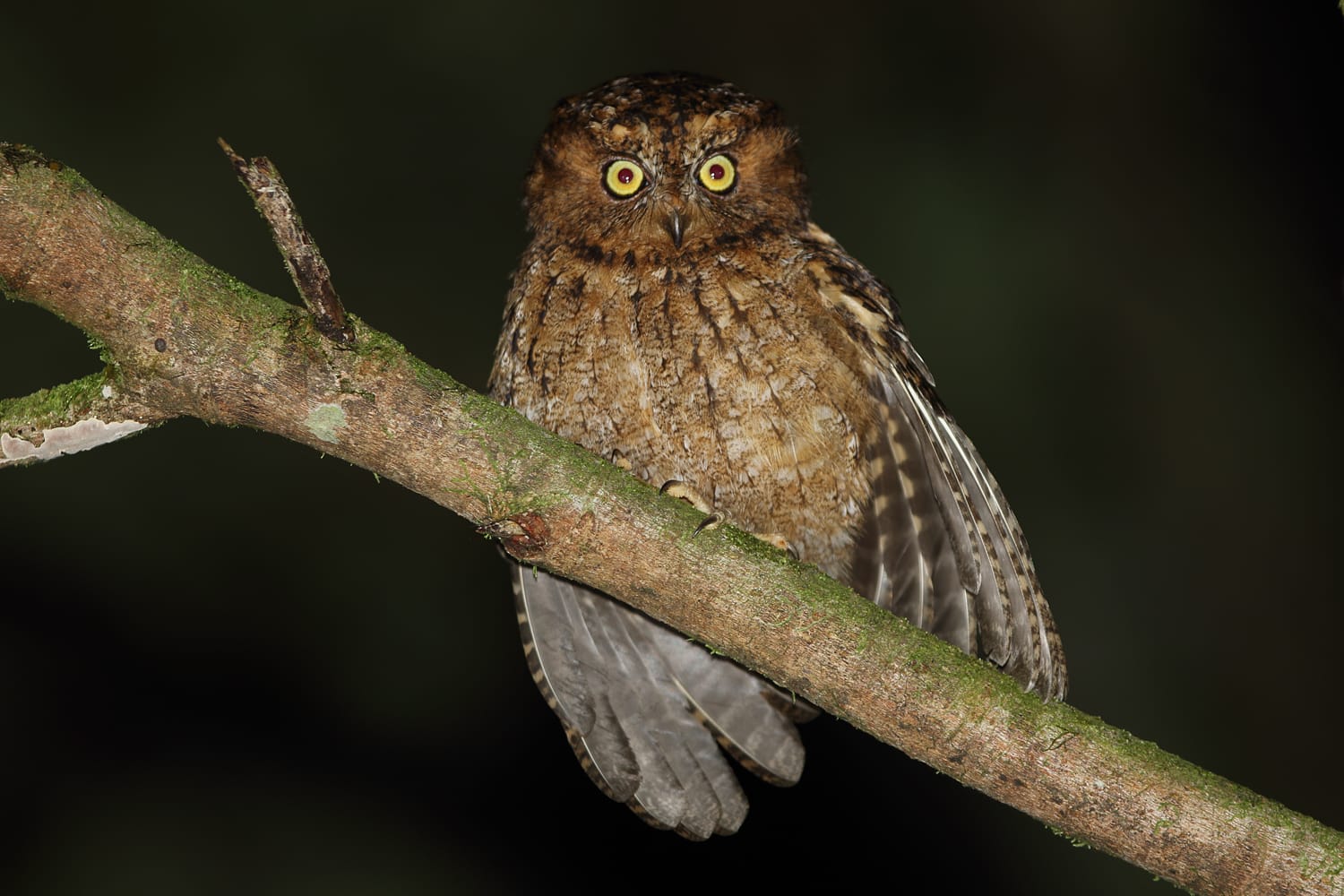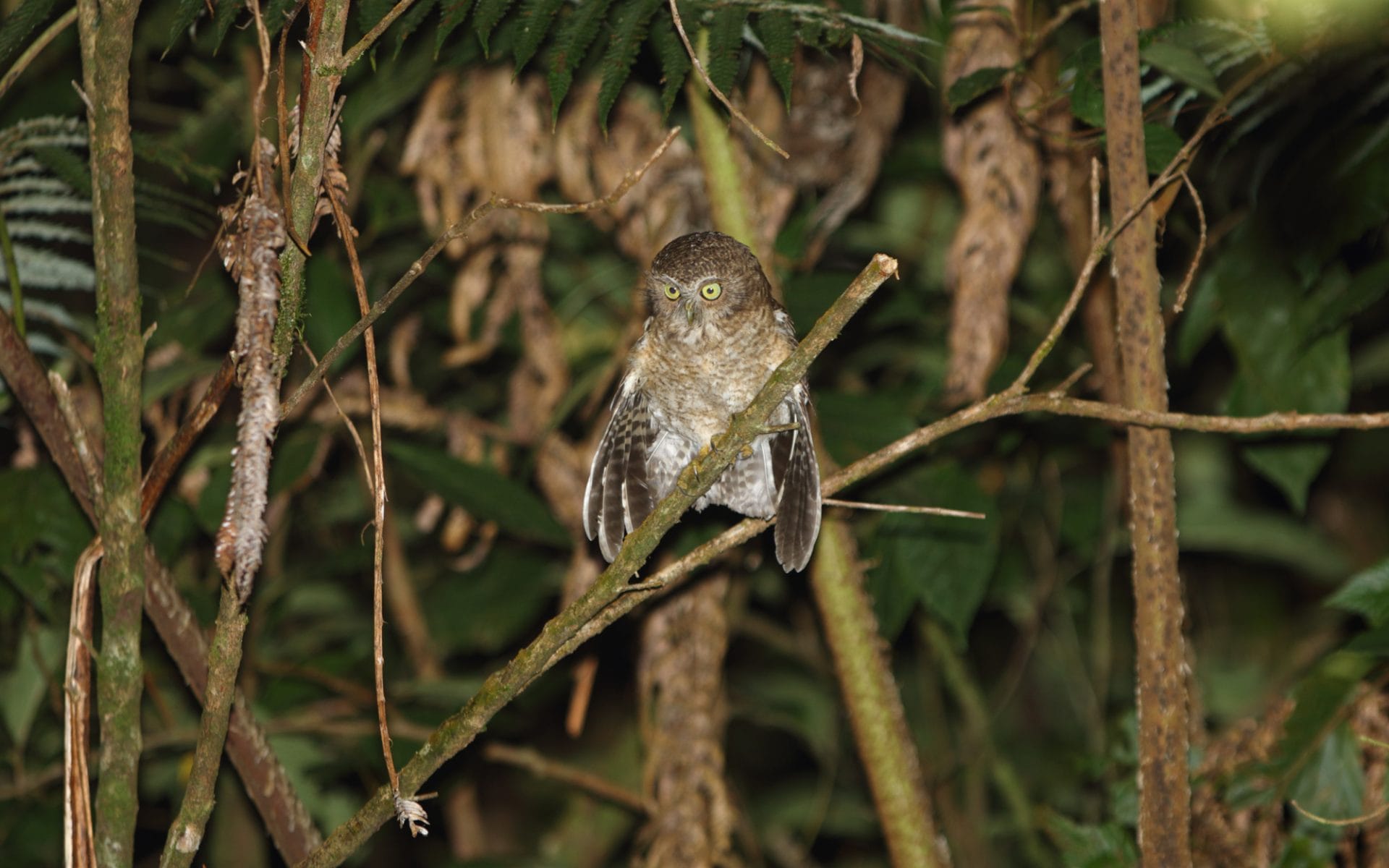 Ebird checklist for our visit can be viewed at;
16 April 2015: http://ebird.org/ebird/view/checklist?subID=S23067311
17 April 2015: http://ebird.org/ebird/view/checklist?subID=S23067541
18 April 2015: http://ebird.org/ebird/view/checklist?subID=S23067809