July 11, 2015 – 12th General Assembly and Club Anniversary Party
La Vista Club House, Quezon City
The 12th General Assembly was a well-attended event with some members coming in from the different provinces – Richard Ruiz (Ilocos Norte), Charlie and Cathy Gapuz Te (La Union), Bob Natural (Mindoro), Gina Mapua (Batangas), Felix Servita (Albay).  President Gina Mapua gave an enlightening report of the activities in the past twelve months. Records Committee Chairperson Arne Jensen and Vice-Chair Christian Perez updated the Club with the works of the committee and highlighted the unusual bird sightings of the year.
The second portion of the program started with the announcement of the Club's partnership with the Katala Foundation to fund-raise for the conservation of the Philippine Cockatoo.  It was followed with a short history of the Philippine bird festival as recounted by Alice Villa-Real and Mike Lu and the launching of the 10th Philippine Bird Festival – Bataan led by Balanga City Mayor Joet Garcia.  The highlight of the program was proclamation of the Club's re-elected officers: Gina Mapua as president, Willem van de Ven as vice-president, Tinggay Cinco as secretary and Mike Lu as treasurer.  A few days later, the Executive Committee elected Karen Ochavo as the 5th officer.
The event was held at the La Vista Clubhouse in Quezon City.  Volunteers manned the registration, the merchandise and auction tables. (Photo credits: Mike Lu & Marites Falcon)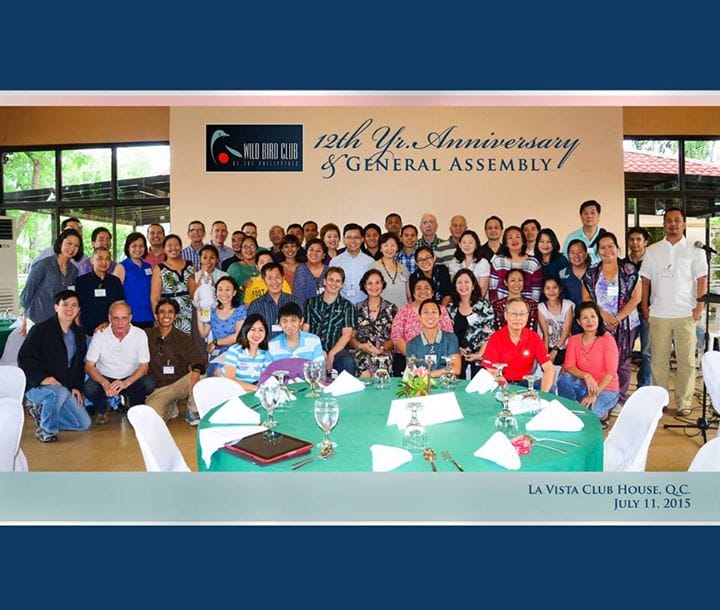 July 15, 2015 – Technical Working Group at BMB
Quezon City
As a result of the forum on birdwatching ethics organized by the Biodiversity Management Bureau last April, the Execom selected 3 members to represent the Club at the Technical Working Group to formulate guidelines that will be adopted by the Department of Environment and Natural Resources.  Representing the Club were Irene Dy, Tonji Ramos and Nicky Icarangal.
July 17, 2015 – Club Trip to La Mesa Ecopark
Quezon City
In response to a request by visiting British birder Nick Cate, members of the Club led by Robert Montgomery organized a trip to the La Mesa Ecopark. As the Club continues to grow, members are encouraged to organize more Club trips.
July 19, 2015 – Records Committee meeting
Manila
The Records Committee met up to tackle the change in responsibilities of the committee members in the light of the switch to using eBird for reporting bird sightings and coming up with the consolidated report for 2014.  Other matters tackled include the inclusion of more volunteers to the team. (Photo credit: Mike Lu)
July 25, 2015 – Anvaya Cove – Guided trip
Morong, Bataan
Anvaya Cove requested a guided trip for its' staff and club members.  15 participants and 4 staff joined the group and used the Anvaya Cove guidebook for the first time.  Halfway through the trip, the group was rained out.  After the rain, the birds became more active and the bird list at the end of the day reached 20 species.