Makiling on a Rainy Day
by Fleurdeliz Panga*
Fleur graduated BS Biology and took the "terror" Ecology class under Dr. Carmela Española where she learned about bird survey methods. She is now rekindling her interest in bird watching as a newbie bird club member, upon coercion by Nikdye.
When Nikdye Realubit told me she was going to Mt. Makiling April 2nd to go birding and that I could tag along, I did not hesitate nor ask any questions. I hopped on a bus with her in the wee hours of the morning, aiming make it to the mountain before daybreak. Apparently, Willem van de Ven and Jops Josef were there and she was assisting them to conduct a guided birding trip for CORE, the CSR arm of PRIMER Group of Companies. I was still sleepy but was totally excited to see what the mountain has to offer that day.
Our expedition did not start at camp, nor did it begin with birds. Makiling gave us a good morning jolt with a happy chance encounter en route to the site.
We went up the mountain through a diversion road as the road going up to camp was being repaired. The sun has not yet risen but for some reason, Jops kept his headlights low as we slowly navigated the uphill climb. It was fortunate he did. On the middle of the road we chanced upon a cat, moving slowly towards a ditch, as if unaware of our presence. The naturalists inside the four of us went on full-alert when one said "that is not a cat." The car stopped, and all our eyes were trained on the animal. Long tail, long snout, thick fur. A civet cat! It was the first time I saw a Common Palm Civet Paradoxurus philippinensis out in the wild. We were readying our cameras, moving slowly and quietly, when suddenly another car came towards us and scared the civet cat away. Drats! We tried not to be sad about not seeing the cat up close and we continued our way to the camp site.
The dawn chorus was well underway when we reached our destination. We heard a lot of birds as we were preparing the binoculars for the kids and adults joining the bird walk. There was the Asian Koel, Philippine Nightjar, Tailorbird, White-eared Brown-dove, and Spotted Wood Kingfisher. We waited for the sky to brighten a bit and Jops instructed the participants how to properly use binoculars. We haven't moved from our spot in the campsite yet when we already spotted a Scale-feathered Malkoha. It was that bird that officially started our activity.
We walked slowly to the clearing. The sun was up although it was overcast. Still, we were greeted by Glossy Swiftlets flitting overhead. There were also a pair of White-throated Kingfishers which we caught on scope. The participants were able to see the details of this colorful bird up close. Another Scale-feathered Malkoha showed up and Colasisis flew above us leaving only its distinct call on its wake. We also spotted a crow perched atop a lone branch in the distant canopy.
We experienced light rain showers towards the end of the walk. We would have loved to see more birds but most of the birds were likely to be taking shelter from the rain. Also, the cicadas were chirping in concert and made it difficult to hear more bird calls. It was then we decided head back to camp for a short debriefing for our participants. After we said our goodbyes, Nikdye, Willem, Jops and I went out on our own.
While Willem and Jops went to the Makiling Botanical Garden to bird some more, Nikdye and I went up the mountain to look for the Rafflesia that was reportedly in bloom. We were also hoping for a sighting of the Philippine Trogon, but the fog was thick and it was raining hard during our climb so we ditched the idea. We trudged on for the flower instead.
It seemed Maria Makiling was making us work for the sight we want to see. It rained so hard Nikdye and I were soaked to the bone. A limatik almost latched onto my face. It was a bit slippery; my shoes gave out by the time we reached Station 14. But then we saw the Rafflesia in bloom, two of them, along the trail. The rare sight was worth braving the rain.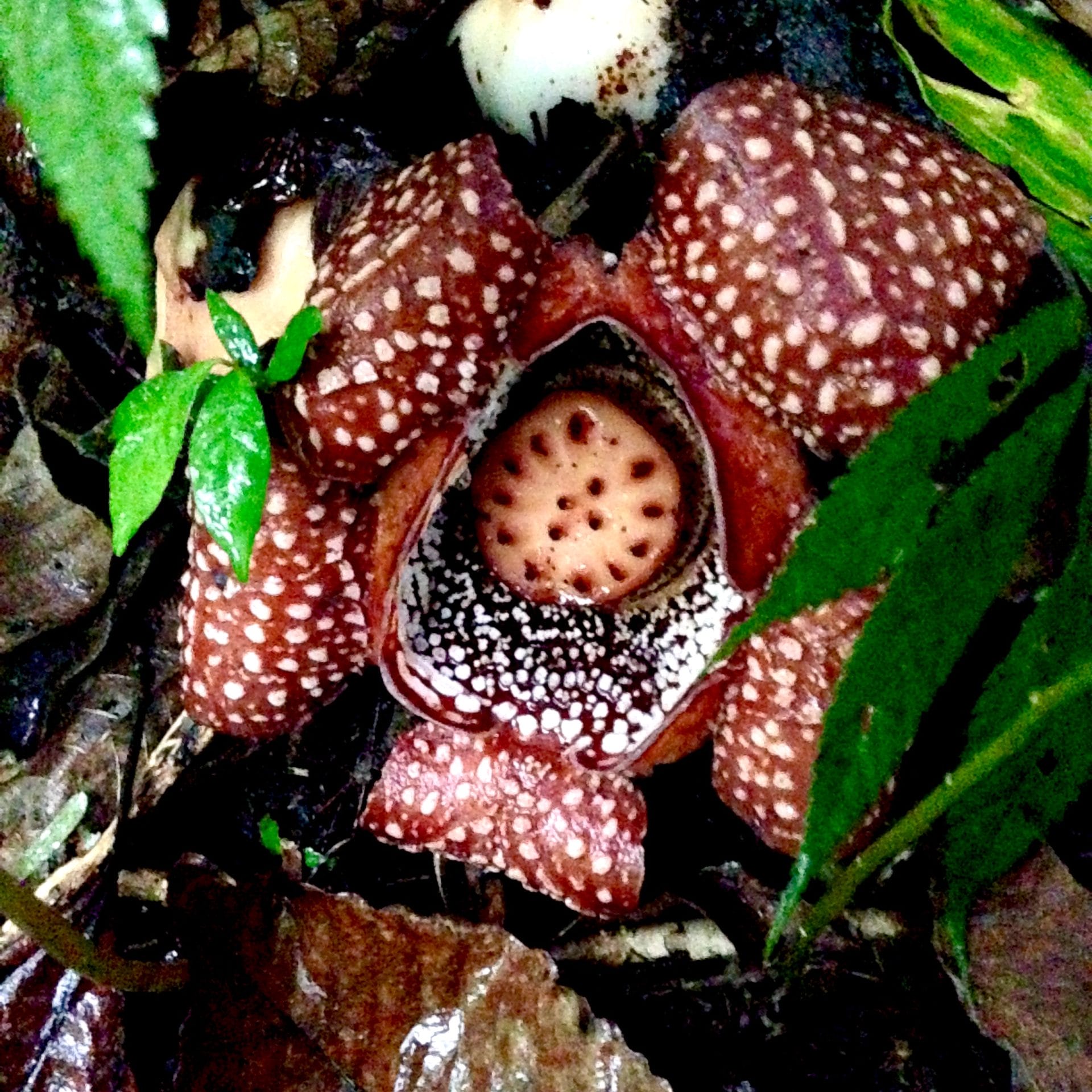 Later, we rejoined Willem, Jops, and our participants at the Makiling Botanical Garden for lunch and exchanged stories from our brief parting. Nikdye and I were cold and wet through from our hike while they barely experienced light showers. Totally unfair.
It didn't matter, though. We got what we came for, and more. We saw the blooming Rafflesia that I believe I sacrificed my shoes for. And oh, that chance encounter with the civet cat which alone already made our day.
More importantly, our participants were able to experience spotting, hearing, and seeing the birds, and were curious enough to ask a lot of questions about them. We were able to share our love for birds and wildlife to the kids and kids-at-heart. Hopefully it was an enjoyable and fun learning experience for them as it was for us. At least it was for me; I had many lifers that day.
Not so bad for a rainy day.