Babblers, Sunbirds, and Volcanos: A Trip Up Lake Holon
by Forest Jarvis
Though I've been living in Mindanao for a year now, I haven't had nearly as much of an opportunity as I'd like to see the good local endemics- something to do with my poor decision of getting a job that has nothing to do with birding! Therefore, I was thrilled when my friend Nof Suropia, a member of SOX Birders, invited me to join him on a hiking trip of Lake Holon in South Cotabato. In addition to having most of my favorite high-altitude birds, it was also a site suspected to have the Mindanao Miniature Babbler and T'boli Sunbird, two species endemic only to the mountains of Western Mindanao. Both of those had only been recorded on one site, Mount Matutum (on eBird at least), but I was determined to discover them elsewhere.
Lake Holon is actually part of a larger mountain, Mount Melibengoy (also known as Mount Parker). About 400 years ago, Melibengoy was the tallest mountain in western Mindanao, more than 2000 meters high. However, in 1641 it blew its top off in a massive eruption that turned the sky in Mindanao black, and rained ash as far away as Cebu and Panay. Lake Holon was created in the crater that formed after that. It's also considered a sacred site to the T'boli people, the Lumads who call the area home; they view it as the gate to heaven. They still have a large hand in managing tourism to the mountain, and maintaining the environment. Entrance is strictly limited to 200 visitors per day, the mountain guides themselves are T'boli, and a good portion of the profits go to the tribe itself. Nonetheless, climbing the mountain is remarkably affordable, especially compared to some other more-traveled tourist traps in the Philippines- my total expenses, including environmental fee, guide fee, porters, food and transportation were less than 2,000 pesos.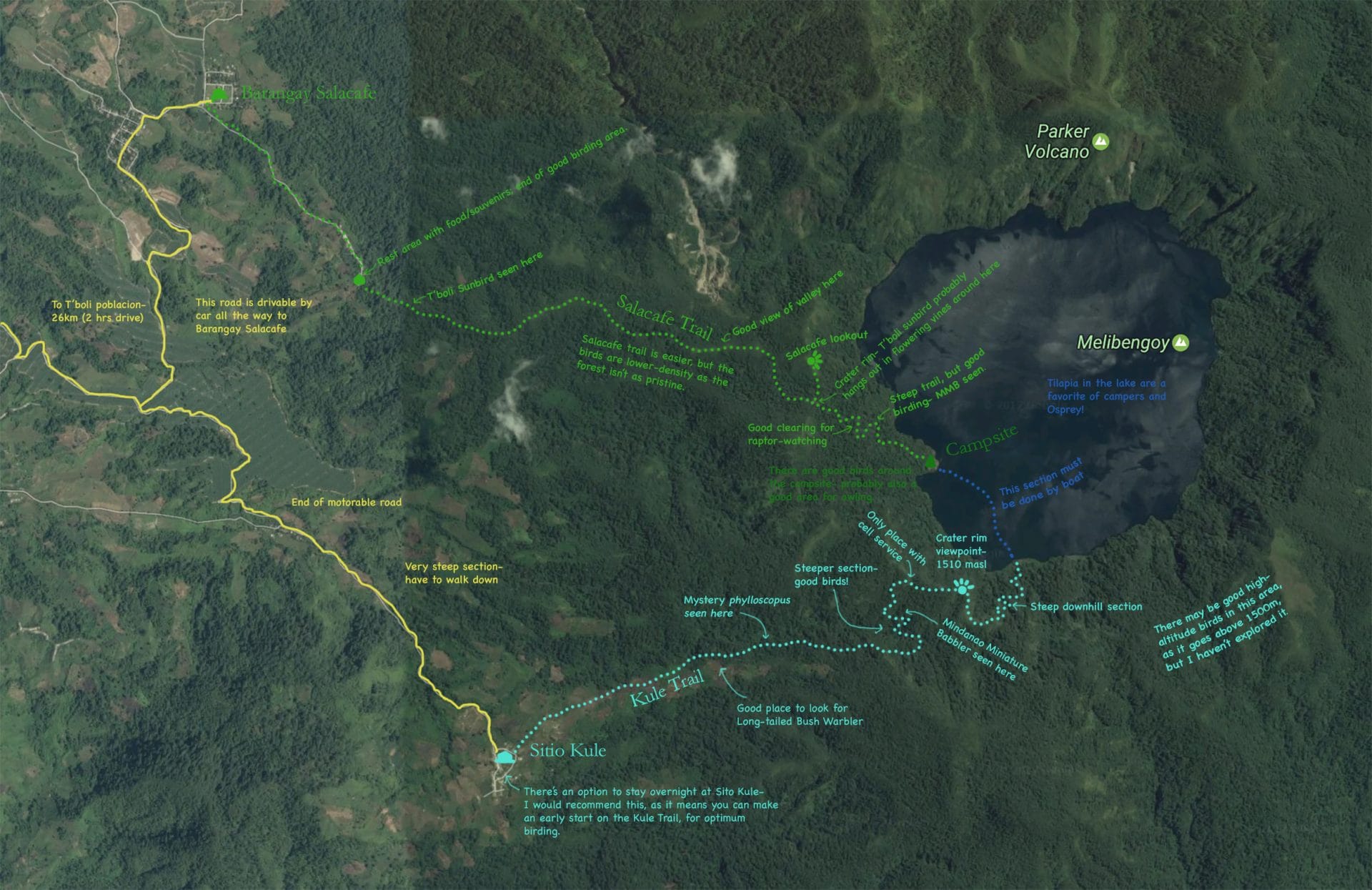 As is often the case with hiking, getting there is half the adventure! Before beginning the hike, we met outside the tourist office in the T'boli town center, where we dropped the car and paid the initial registration fees. The beginning of the hike itself is a 2-hour, 26-kilometer drive away from the town center, parts of which are only negotiable by motorbike. Thankfully the drivers we had were very experienced and managed to get and our gear safely there. As you go farther up the mountain, the land became a little more wild-looking and mountainous, transitioning from banana plantations to real trees. Eventually we arrived at our trailhead, a tiny indigenous village known as Sitio Kule. There are two trails up the mountain- the Kule Trail and the Salacafe Trail- but the Kule trail is the better trail for birding, as it goes through better forest.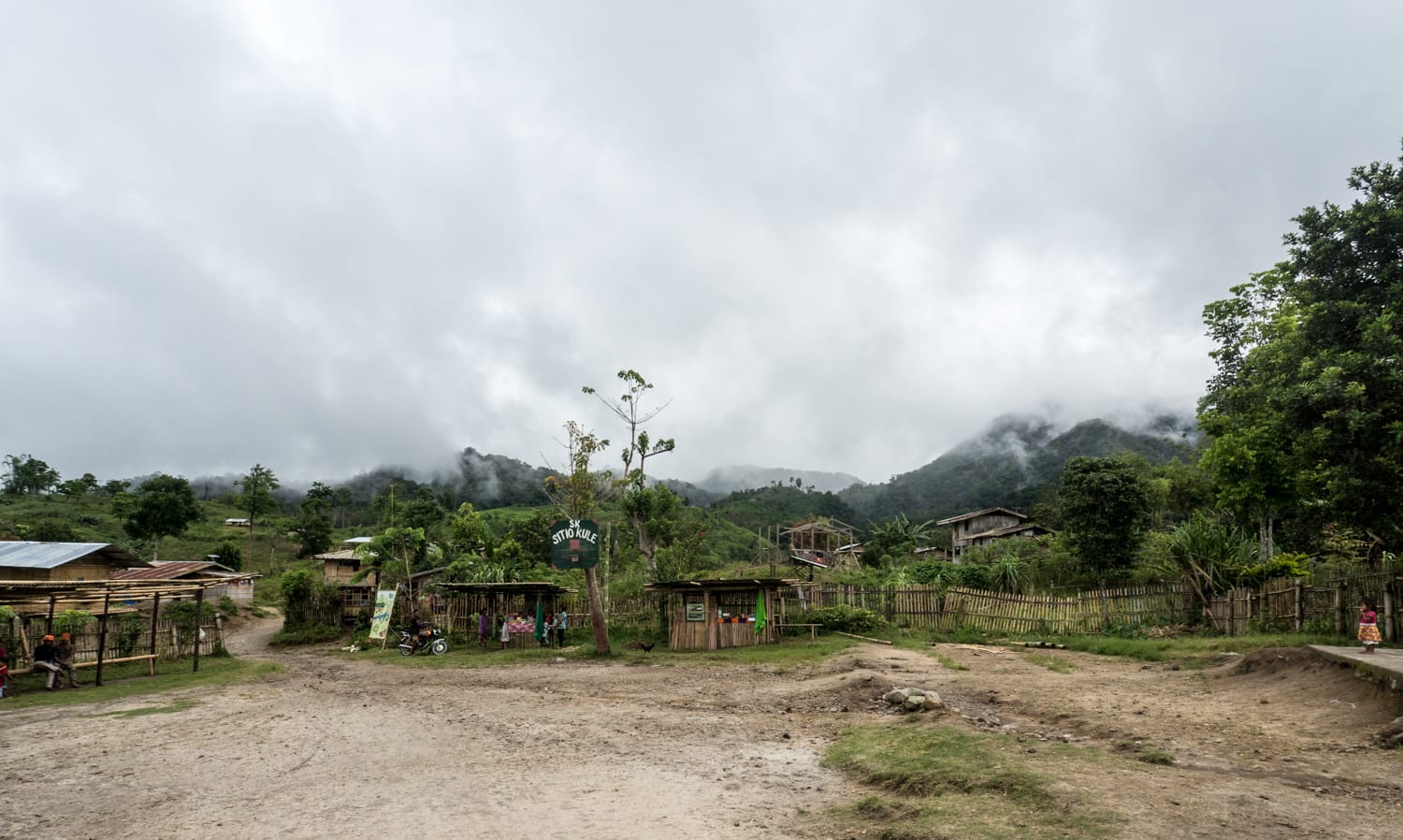 After getting our briefing and being matched with our guides and porters, we finally began the hike. The first part went through a grassland area, where we had a great view of the village below us, and the forested mountainsides above. Birds were relatively few, but for a Long-tailed Shrike and some White-breasted Woodswallow. However, this site seems to be a good place to search for Long-tailed Bush Warbler, which apparently have a different call in Western Mindanao than they do in other parts of the Philippines.
As we neared the edge of the forest, I started seeing some of the typical Mindanao mountain birds- Turquoise Flycatchers and flocks of little green Mountain White-eyes up in the trees, a calling Coppersmith Barbet, and some Coletos flying past. Once we entered true forest, we were surrounded by the calls of White-browed Shortwing, which seems unusually numerous here. As in other areas, there's a marked difference between the calls of the shortwings at higher altitudes compared to those at middle altitude. We spotted a couple of Colasisi (Philippine Hanging Parrots) feeding off a fruiting tree, joined by a lone Olive-capped Flowerpecker, another bird endemic to Mindanao.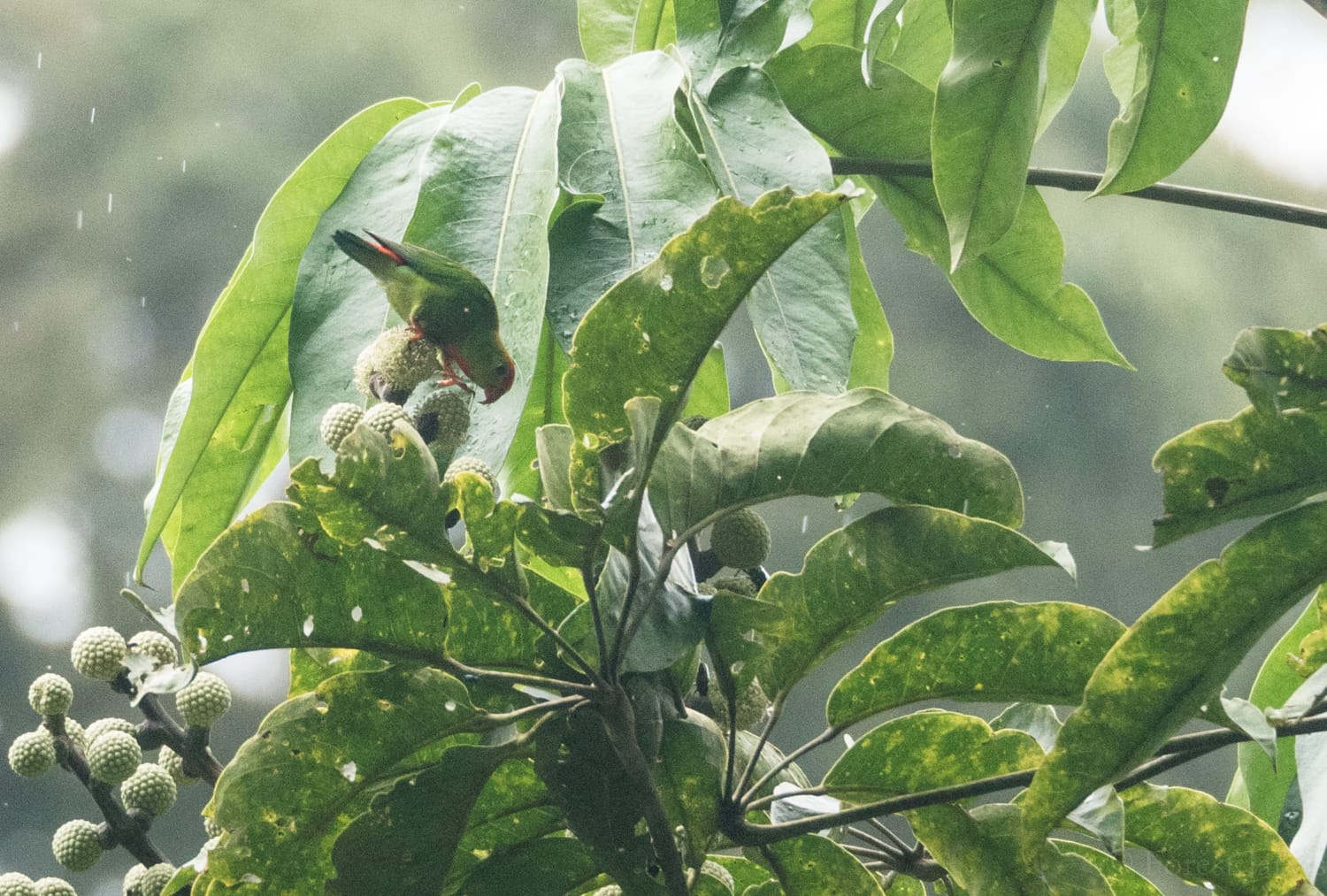 As we rounded a corner in the jungle, some movement caught my eye and I zeroed in on a tiny bird hopping around in the canopy. After taking a couple of pictures, I realized that I actually couldn't ID it- and I'm at the point of familiarity with Mindanao birds that a bird I can't ID is usually a good sign! I kept snapping pictures, as it decided to be coöperative and come down to eye level, although still far away and in bad light. Could it be the elusive Miniature Babbler? The more I looked, however, the more I began to suspect that that wasn't it- it looked just a little different from the pictures I'd seen. Later when our pictures were online, the same process happened- the bird experts first IDed it as Mindanao Miniature Babbler, but then changed their minds. The current best guess is that it's probably some kind of Phylloscopus leaf warbler, but it doesn't match any of the known Mindanao birds. It may be just a very strange-looking specimen, or it may be an undescribed subspecies or form, maybe of Mountain Leaf Warbler. How's that for birding intrigue?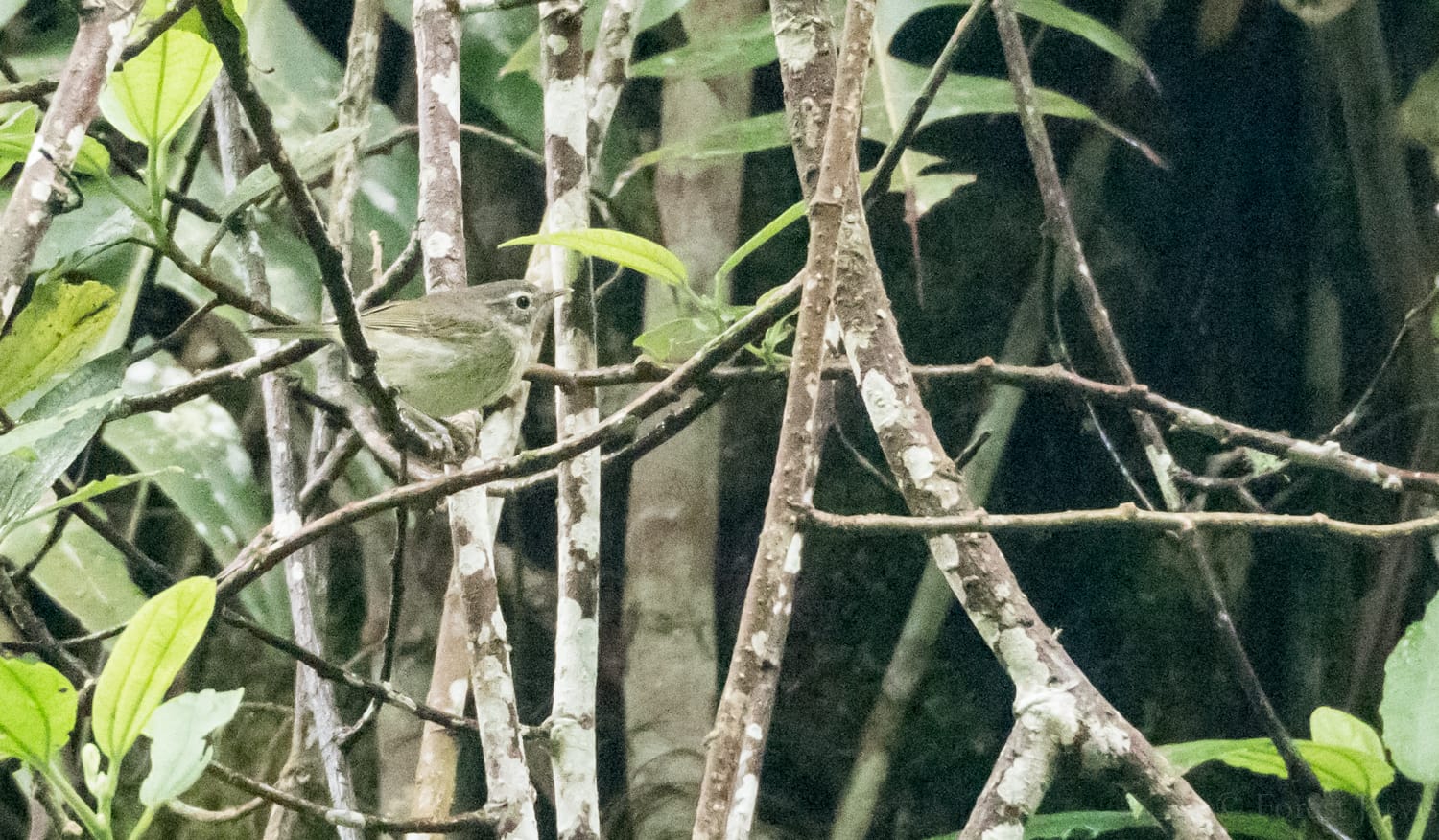 After stopping at a small stream crossing for lunch, we began a steep, zig-zagging climb up the mountain. Here the birds started to get better, with some mixed flocks including Black-and-cinnamon Fantail, Yellow-bellied Whistler, and Cinnamon Ibon. One of our coolest spottings was a fledgling Olive-capped Flowerpecker sitting in a bush just beside the trail- so well-camouflaged that none of the hikers had noticed it. We snapped pictures of it for a few minutes before letting it be, as its mother was hovering around us looking distressed.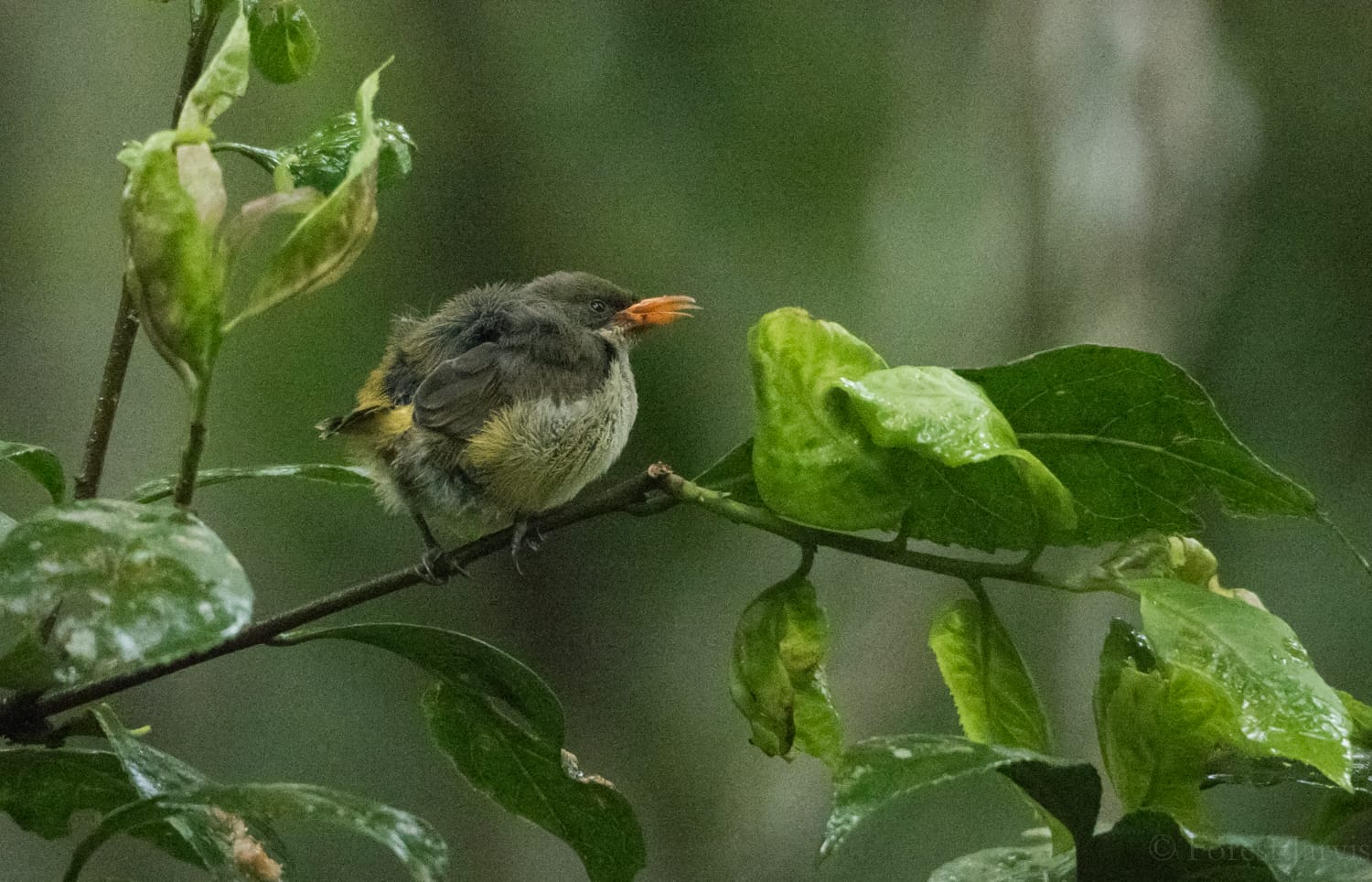 Just after I finished with the baby flowerpecker, another great mixed flock passed through the trees nearby me, and I hurriedly snapped as many pictures as I could- though the birds were far away and backlit, not the best setting for good pictures. The flock was mostly the usual suspects- Fantail, Whistler, Cinnamon Ibon (all good birds in their own right)- but then I noticed two smaller birds that caught my eye. They had the distinctive babbler shape (big head and a small pointy bill) and even some plumes sticking out back. Could it be? Some inspection of my pictures later revealed that I my suspicions were correct- Mindanao Miniature Babbler! This made Lake Holon only the second site where these tiny birds are known to occur.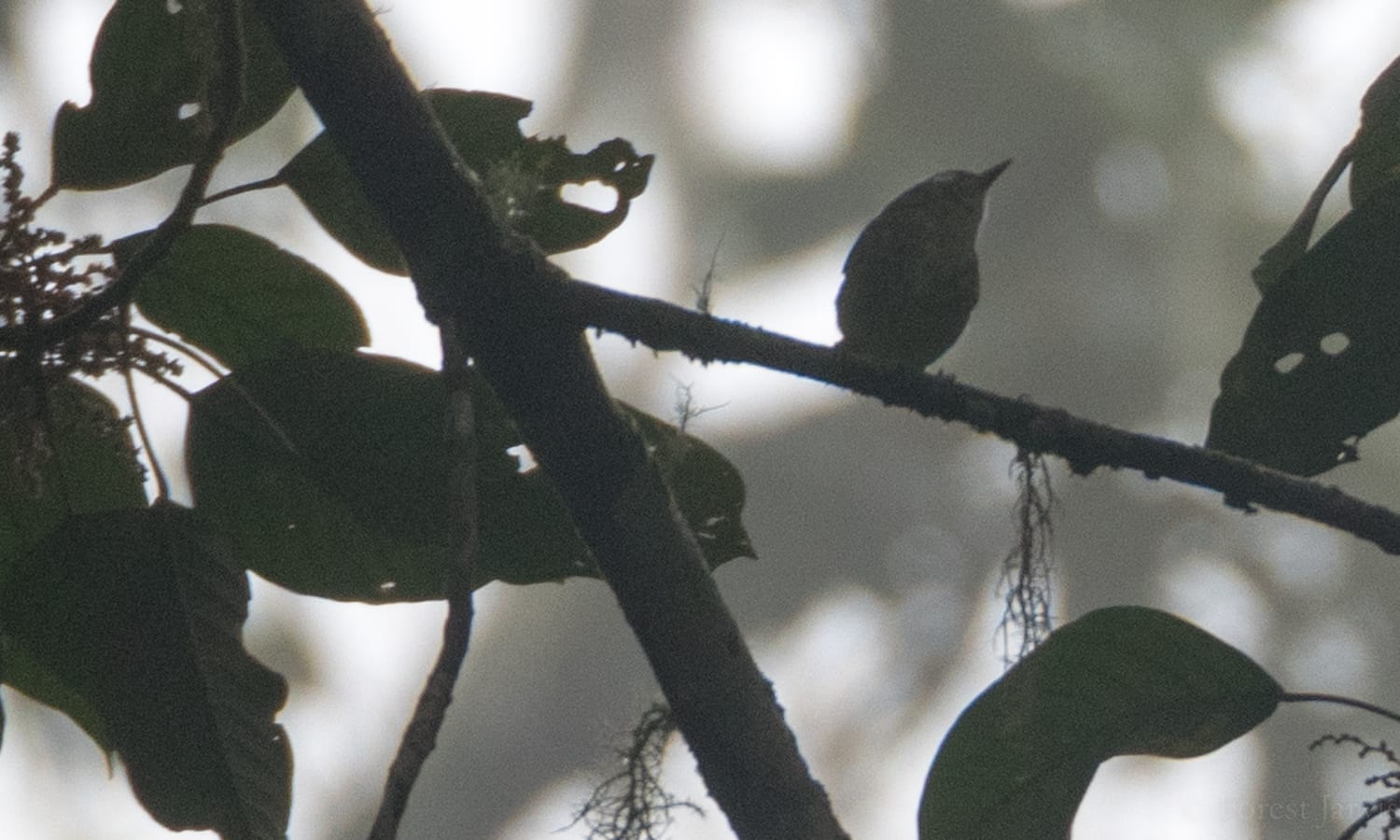 The last part of the hike up to the crater rim definitely made us work for the view- it was long and steep, especially while carrying my big backpack. We were worried it would five minutes after we reached the top, the universe intervened in our favor, and the mist slowly began lifting, until we had a full and amazing view of all of Lake Holon.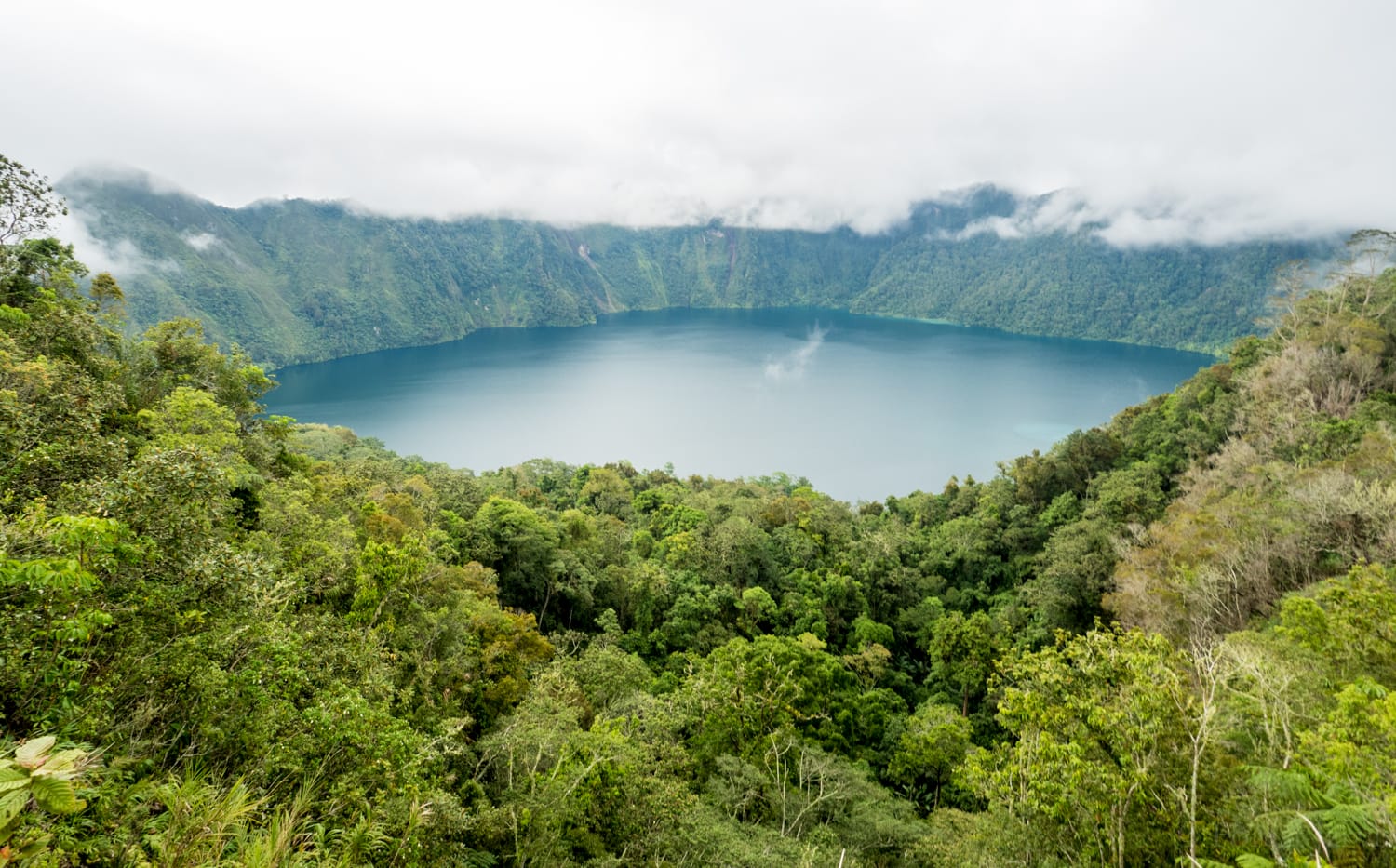 After the requisite selfies and group shots, I wandered around the crater area in search of any other good birds- the T'boli Sunbird perhaps, as this seemed like the appropriate habitat for one. Though the sunbird was nowhere to be found (maybe scared away by all the hikers taking selfies, I did get one more lifer in the form of an Island Thrush, a good high-altitude bird.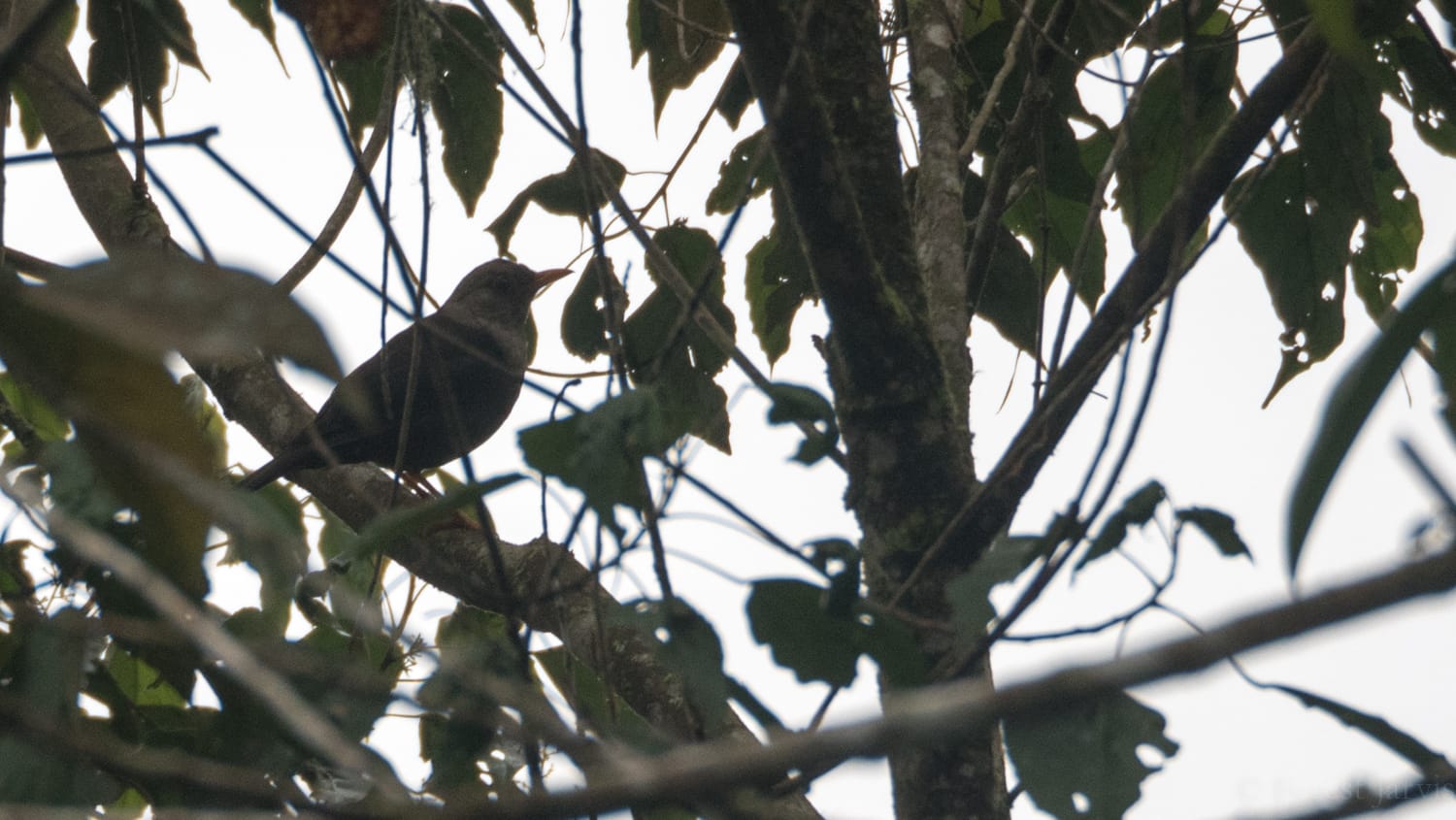 After a half hour or so of rest on the crater rim, we continued downwards towards the actual lake. It was a steep climb, but still through some beautiful forest areas, with lots of good birds flying through. Unfortunately, halfway down the mountain my luck really ran out, and a torrential downpour started. We hurried downhill to the side of the lake, where we would take a boat over to the campsite (as it's a crater lake, the lakeshore was too steep to actually hike around). Eventually there was a short break in the rain so we got all our stuff into the tiny wooden boats and headed across the lake to the campsite.
The campsite is actually very well-put-together; there are a few permanent shelters where campers can take refuge from the rain, as well as a house where the park rangers lived and prepared their dinner, as well as renting out various equipment to hikers. It's also possible to order fresh fish for dinner- the lake is stocked with tilapia!
I woke up early the next morning, planning to do some dawn birding, but I was instead distracted by the sunrise- and what an amazing sunrise! Watching mist drift across the lake and the sky turning from pink to orange, it's easy to see why the T'boli consider it the gate to heaven. Once I satisfied myself with the sunrise, I started looking around for the different birds, as they're most active in the early morning. Mostly it was the normal birds- Philippine Bulbuls, Buzzing Flowerpeckers, Mountain White-eye, and Turquoise Flycatcher. There was a big fruiting tree over the campsite, which held more Colasisi and Coppersmith Barbet, and even a single Cryptic Flycatcher, a rare bird to find outside of its usual spots in Davao City.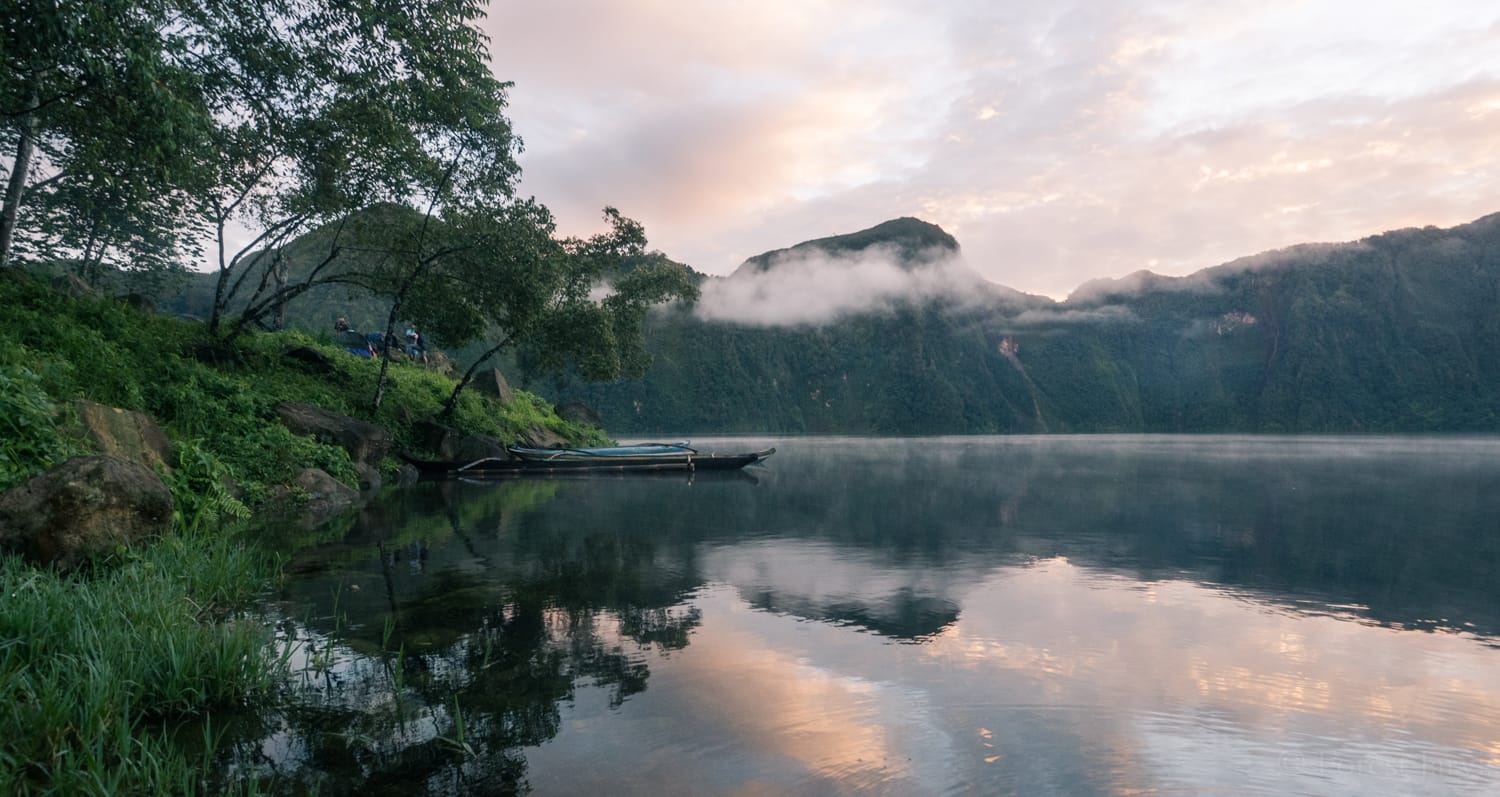 After some walking around, I took a break from birding (I hate taking a break from birding) to eat a breakfast of fresh tilapia and pack up the tent so that we could start the hike back. The great thing about camping in a crater lake is that no matter which direction you're going in, there's always an uphill part! The trail from the campsite up to the crater rim is as difficult as you might expect, but it also proved to be some of the best birding we encountered- probably because it was early in the morning. There were the usual mixed flocks of mountain birds, and I even saw another pair of Miniature Babblers, though I wasn't able to get another picture.
At a clearing midway up, Jing pointed out to me a couple of Brahminy Kites circling overhead, and just as I was taking a picture I heard a call from above that I recognized as a Philippine Serpent Eagle. Sure enough, one came into view just after that, circling for a little while before flying away. Maybe 30 seconds after the Serpent Eagle, we had a quick glimpse of an Oriental Honey Buzzard flying into the woods. The only three raptors of the day, all within a few minutes of each other! In the same clearing, I noticed a group of Olive-capped Flowerpecker scraping what looked like frog or insect eggs off of a tree branch. According to what I've read online, they supposedly only eat small fruits and flowers, so this may be the first record of that particular behavior.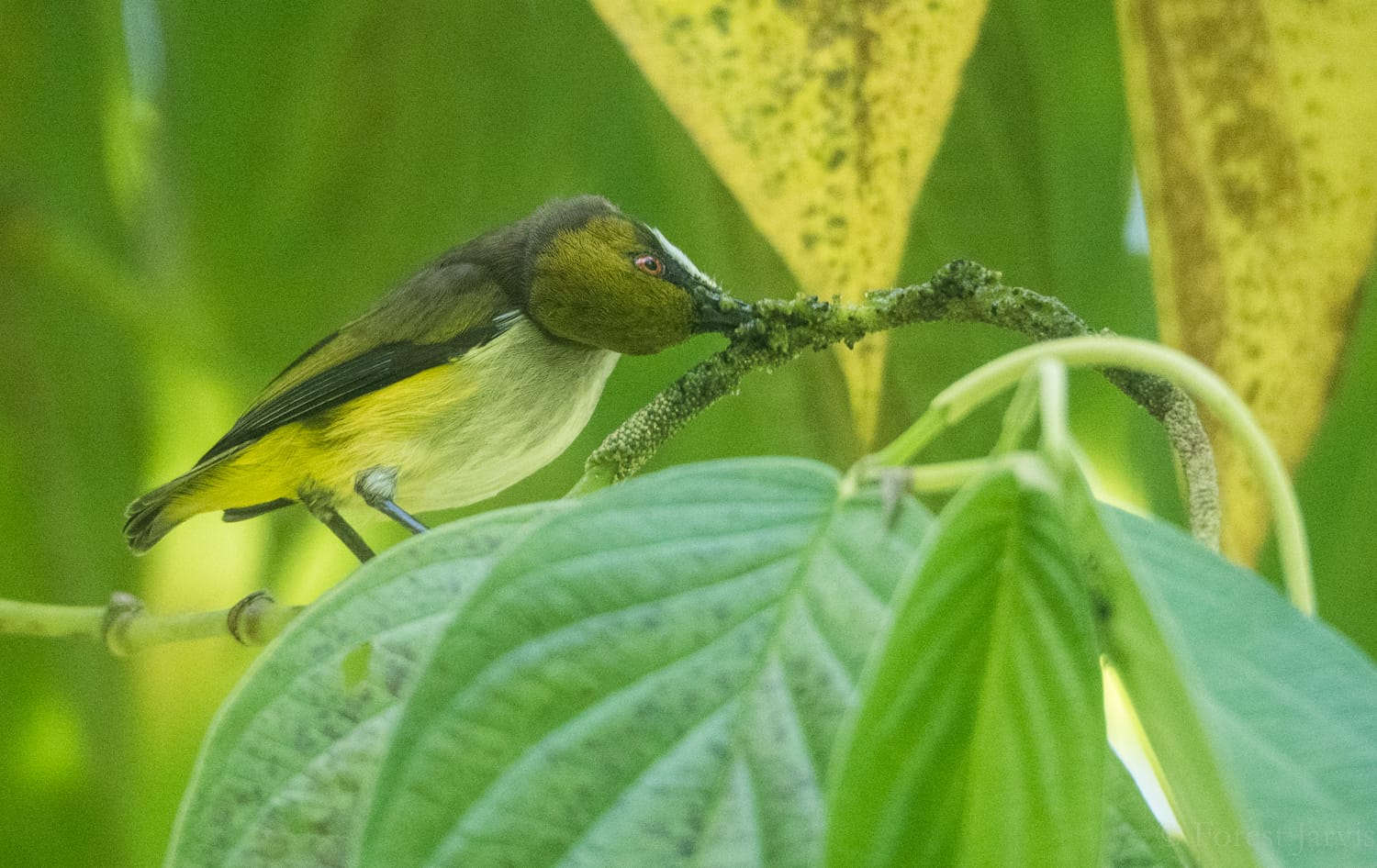 After maybe a more difficult hike than I was expecting, we reached the crater rim portion of the Salacafe Trail, the route we were taking back down. While we were waiting for others in our party to get up to the top, I wandered around the area trying to find the T'boli Sunbird, which I still hadn't seen. I may have seen one flitting around some native flowers it's known to like, but it flew away before I could get a proper view. On the other hand, I did get some other new birds for the list, such as Little Pied Flycatcher, Elegant Tit and Sulphur-billed Nuthatch.
As we went further down, I continued to lose hope about seeing the T'boli Sunbird. Perhaps there weren't enough flowers to keep them around, or perhaps they weren't that common around this mountain- after all, they'd never actually been recorded at the site! After a few hours of hiking, we reached the end of the real trail, where there were a bunch of souvenir shops. While we stopped for a cold soda and some barbecue, I entertained myself going through my pictures from the day. I zoomed in on a terrible picture I'd taken of a little bird on some vines near the end of the trail, and lo and behold, there it was- a T'boli Sunbird! Literally the last bird I'd seen on the trail, and with a hail-Mary long-distance camera shot at that. The perfect way to end an amazing hike.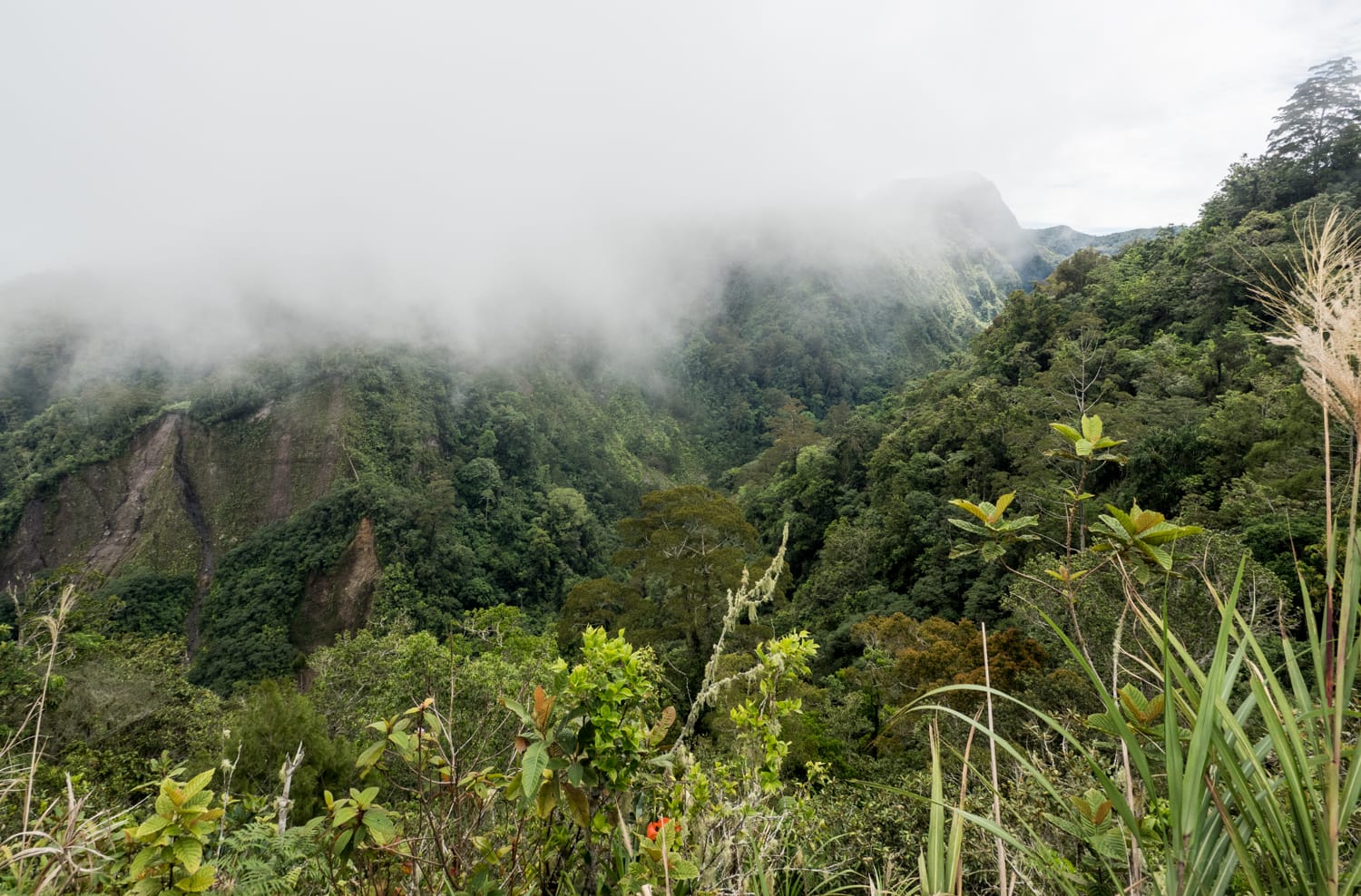 Overall I ended the trip with 45 birds, including my two targets and some other very good mountain species. However, I'm sure there's much more to be discovered at Lake Holon, as it's brand new birding territory. I'd recommend birders visiting Lake Holon to arrange a stay at Sitio Kule, so that they can start the Kule Trail bright and early for better birds- I'm sure we missed out on some good species with our bad timing. Also note that as admission is strictly capped at 200 people, you must reserve in advance (contact the tourism department on the Lake Holon Facebook page). Alternatively, it's probably best to go on a weekday, so that the trails are less crowded. I've also attached a map here, which will hopefully be helpful to any birders visiting the mountain. I hope to see more birders joining me soon!
Here are more photos: