Two New Philippine Endemic Species: Grey-rumped Swiftlet and Ridgetop Swiftlet
by Christian Perez
Glossy Swiftlet Split: the Short Story
The International Ornithological Union (known as IOC) has just released a taxonomic update where the Glossy Swiftlet is split into eight different species, of which two are Philippine endemics:
Grey-rumped Swiftlet (Collocalia marginata), which ranges in Central and Southern Luzon, Visayas, Babuyan Islands and Palawan.
Ridgetop Swiftlet (Collocalia isonota), which ranges in Northern Luzon, Mindoro, Mindanao, and the Sulu Archipelago.
The two new species are illustrated in plate 37 of the Kennedy guide as subspecies of the former Glossy Swiftlet. The Grey-rumped Swiftlet has a poorly defined greyish rump while the Ridgetop Swiftlet does not.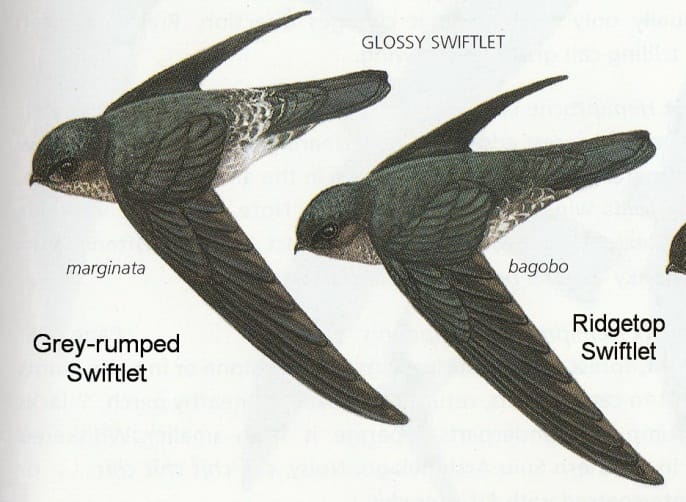 The split will be reflected in the next edition of the WBCP Checklist of the Birds of the Philippines, which is largely based on the IOC taxonomy. The ranges and descriptions presented here are rough simplifications of a rather complex taxonomic situation.
Glossy Swiftlet Split: the Long Story
This section is for those who have a particular interest is taxonomy. The split was proposed in a paper published on 7 April 2017 entitled "Speciation in Indo-Pacific swiftlets (Aves: Apodidae): integrating molecular and phenotypic data for a new provisional taxonomy of the Collocalia esculenta complex", by F. Rheindt, L. Christidis, J. Norman, J. Eaton, K. Sadanandan and R. Schodde (Rheindt et al. 2017). The paper can be read online at:
https://www.researchgate.net/publication/315889013_Speciation_in_Indo-Pacific_swiftlets_Aves_Apodidae_Integrating_molecular_and_phenotypic_data_for_a_new_provisional_taxonomy_of_the_Collocalia_esculenta_complex
The full description of the two species and their subspecies in the IOC checklist version 7.3 released on 31 July 2017 is exactly as follows:
Collocalia marginata   Salvadori, 1882           Grey-rumped Swiftlet
septentrionalis              Mayr, 1945                   Babuyan, Calayan and N Camiguin
marginata                     Salvadori, 1882            c and s Luzon, e and w Visayas, (?Palawan)
Collocalia isonota        Oberholser, 1906         Ridgetop Swiftlet
isonota                           Oberholser, 1906          n Luzon
bagobo                           Hachisuka, 1930           Mindanao, Mindoro, Sulu Arch.
You can see that "Palawan" is marked with a question mark, an indication that there is some uncertainty regarding the population occurring in Palawan. Both Dickinson (1991) and Kennedy (2000) mention five subspecies: the four subspecies shown above, plus an unnamed subspecies occurring in Palawan. IOC places the Palawan population as part of Grey-rumped Swiftlet marginata although Rheindt states that "the hitherto unsequenced population on Palawan, with variable whitish to dark rump and long tail and dark venter is of unknown affinity."
Further, Rheindt indicates "Northern Luzon (montane only?)" as the range for Ridgetop Swiftlet isonata, and "montane Mindoro" (instead of just "Mindoro") for Ridgetop Swiftlet bagobo. The Rheindt paper adds that the boundary between Grey-rumped and Ridgetop in Luzon (Northern Luzon vs. Central/Southern Luzon) is not clearly defined and needs further study.
Rheindt refers to "a new provisional taxonomy" in the paper title, and states that "we treat species separation of whitish- and dark-rumped forms as very much a working hypothesis, for two reasons. First, there is evidence of more geographically widespread and intra-island variation in rump color than has so far been reported", and "secondly, available mtDNA sequences are so far limited just to two of the four forms recognized in the Philippines".
As you can see, there is much confusion about the Glossy Swiftlet split in the Philippines, and more changes can be expected in the future as the situation is clarified by further studies.
The Glossy Swiftlet split has also been accepted by eBird/Clements and is reflected in the eBird taxonomic update that was implemented in August 2017. Like in IOC, the Palawan population is placed under Grey-rumped Swiftlet marginata but with the comment "identity of the population on Palawan not determined, but may belong with Ridgetop", which does not help clear the confusion. There seems to be an urgent need for a thorough scientific study of the Grey-rumped/Ridgetop Swiftlet population in Palawan.
For those who have birded in Borneo and the Malay Peninsula, the former Glossy Swiftlet there is now the Plume-toed Swiftlet Collocalia affinis. The Glossy Swiftlet was a wide ranging species occurring from the Andaman Islands and the Philippines to New Caledonia, and is now split into eight species. The details are in the Rheindt paper and in the IOC World Bird List:   http://www.worldbirdnames.org/ioc-lists/master-list-2/