The WBCP regularly gets invitations to do bird surveys in different sites. The most recent survey was conducted in Barrington Place in Antipolo.
BIRDING IN BARRINGTON PLACE
by Rache Go
It's not everyday nor every week that I go birding, that's why when an opportunity comes, I say "yes" in a jiffy! I received a text message from Mike Lu, current WBCP Treasurer, asking if I wanted to join him for an ocular inspection. I immediately confirmed.
I had no idea where Barrington Place was, but since I'm going to be the navigator for that trip, I had to check Waze and Google Maps.
It was a subdivision located within another subdivision. Mike and I followed Waze's directions which made us take the  Ortigas Extension  Valley Golf entrance instead of the Sumulong Highway entrance. Rodec dela Cruz met us and led the convoy to Barrington Place.
Rex Alejandro and Linda Gocon greeted us upon arrival. Refreshments were on the table as Rex introduced himself and told us about Barrington Place. It is a very private community inside the Valley Golf subdivision. All residents know each other. It is very organized and peaceful,  which would allow you to hear the leaves rustling and the birds chirping. As Rex continued to talk about the birds they see early in the morning and in the afternoon, a Philippine Pied Fantail perched on the pool gate beside us. Locally called "Maria Capra", I wondered how many cats it has bullied inside the subdivision since it has been known to be territorial and were observed to attack cats or dogs.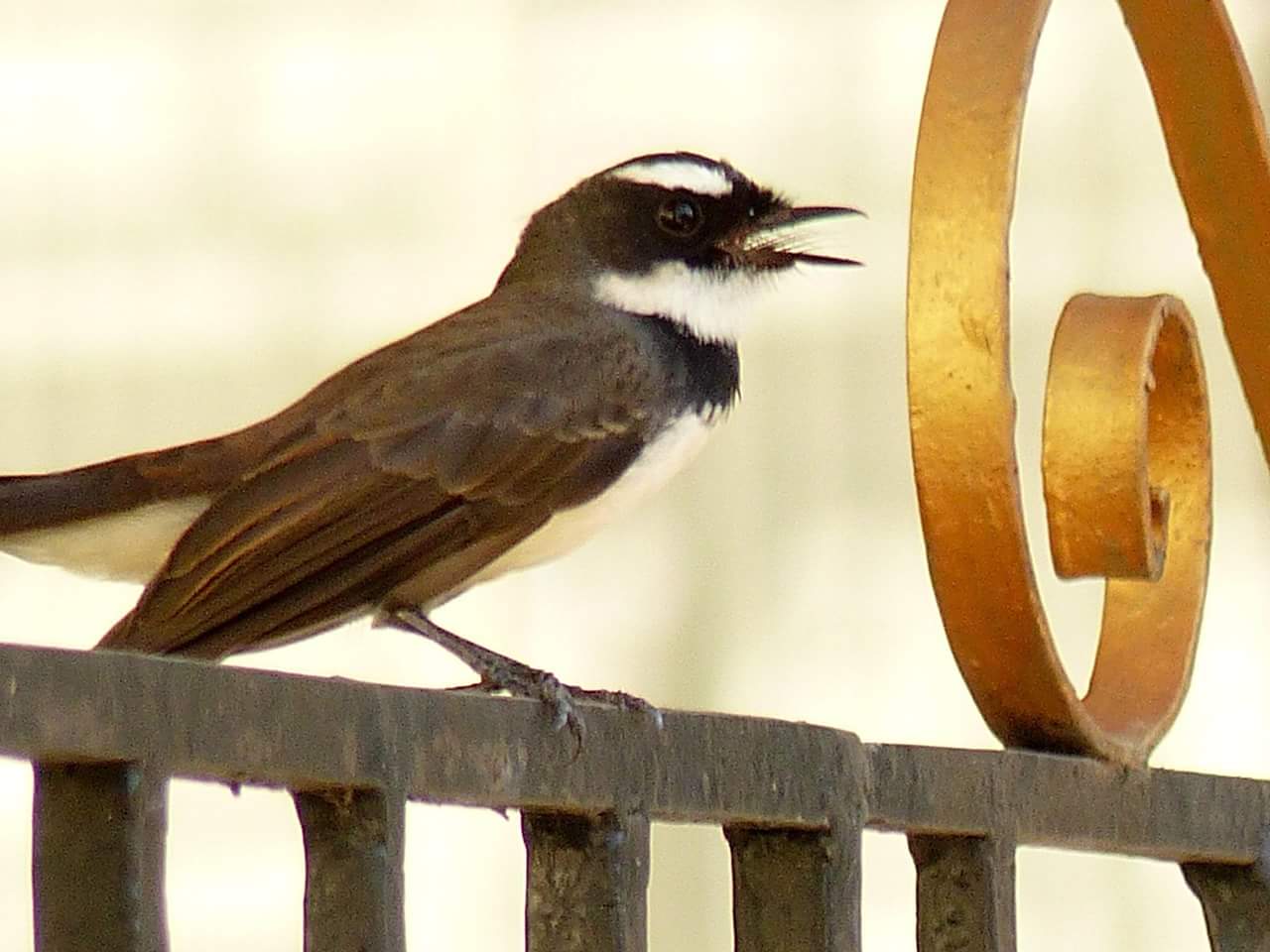 Rex then gave us a tour of Town & Country Estates which is just outside Barrington Place. We stopped by a dead end just to see the view before heading to the clubhouse.
The clubhouse was deserted. It was not being  utilized much by the residents. It would have been great for pool parties and get-togethers. We weren't able to see birds here, but we could hear them. It sounded as if they were mocking us that we couldn't see them.
We went back to Barrington Place and surveyed the area. By the creek, we saw a White-Throated Kingfisher and a little egret. As we walked further along, there were Black-Naped Orioles, Eurasian Tree Sparrows, Pied Triller, more egrets, and Yellow-vented Bulbuls flying above us.
As we ended our tour, we were introduced to Jerry Jiao of the homeowners association. He invited us inside his beautiful home and showed us where they often spend their mornings and late afternoons. This was where they would enjoy nature around them and where, sadly, birds often encounter accidents because of the glass windows.
The trip ended after we discussed the birds we saw. We also provided a few recommendations for the trees they need to plant and cut. As we said our goodbyes, we were led by Rex to the subdivision's Sumulong exit.
There are still a lot of green spaces in cities and urbanized areas. It is very important that there are people who are committed to maintaining these green spaces, not only for the birds and other wildlife, but for people as well.