Text highlights by Pol Cariño
Photos by Joni Acay
---
The Conservation Forum was held in two municipalities during the 12th Philippine Bird Festival. The forum highlighted the biodiversity of the Philippines and SOX and the predominant threats to it. The objective of the forum is to consult with and raise awareness about conservation issues among local stakeholders in order to draft a conservation action plan towards resolving said issues. The Conservation Forum was headed by Dr. Carmela Española, ornithologist, Wild Bird Club member and professor at the Institute of Biology, University of the Philippines-Diliman.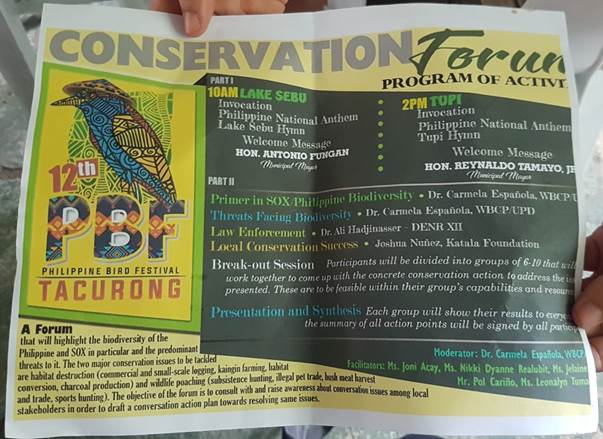 Municipality of Lake Sebu
Conservation Issues
Illegal logging
Poaching
Kaingin
Excessive use of Chemicals
Charcoal making
Habitat conversion (abaca farming)
Open pit mining (gold)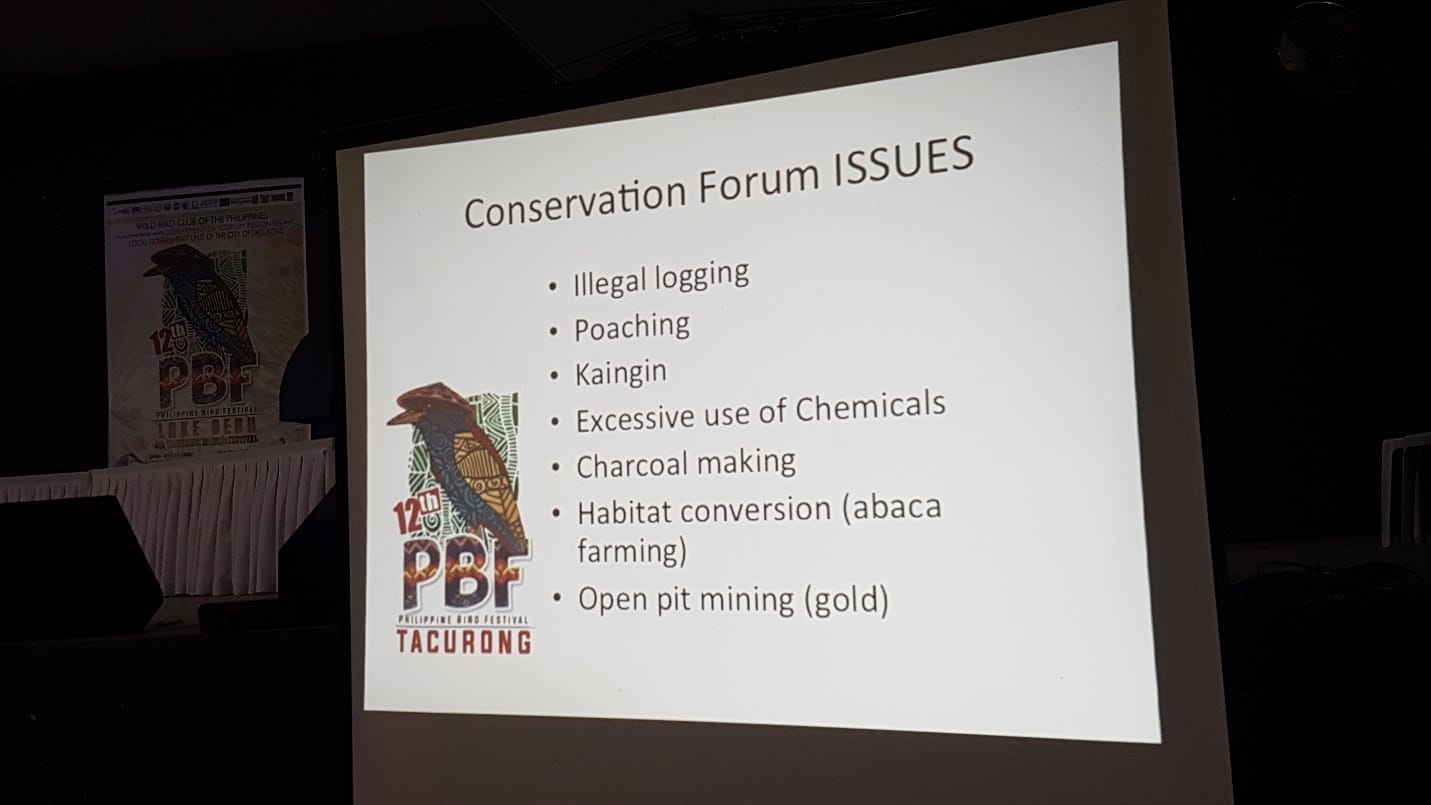 Conservation Solutions
Illegal logging – law enforcement; action point: every barangay official to be vigilant in reporting/guarding the checkpoints on night time activities; provide contact number for easy reporting; confiscate the chainsaws; add more outposts;
Poaching – must agree on confiscating the airguns, shotguns, 12 gauge, brgy officials should coordinate to the sitio leaders
Kaingin – enforce the protection zone; contact PASU Ambo Alfaro (09174189927) and Enforcement Division Chief Dirie Macabaning (09175416351);
Excessive use of Chemicals – sprays for farming causing landslides; when applying chemicals only apply it in flat land areas; moderately apply and only when absolutely needed;
Charcoal making – use only branches or standing dead trees; cut and plant; 1 tree cut replace with 10 trees; only planted trees can be cut not the natural forest/trees;
Habitat conversion (abaca farming) – plant in areas that are for production only; report to law enforcement; planting of abaca is ok outside the protected area or alienable & disposable land;
Open pit mining (gold) – secretly done; tighten law enforcement.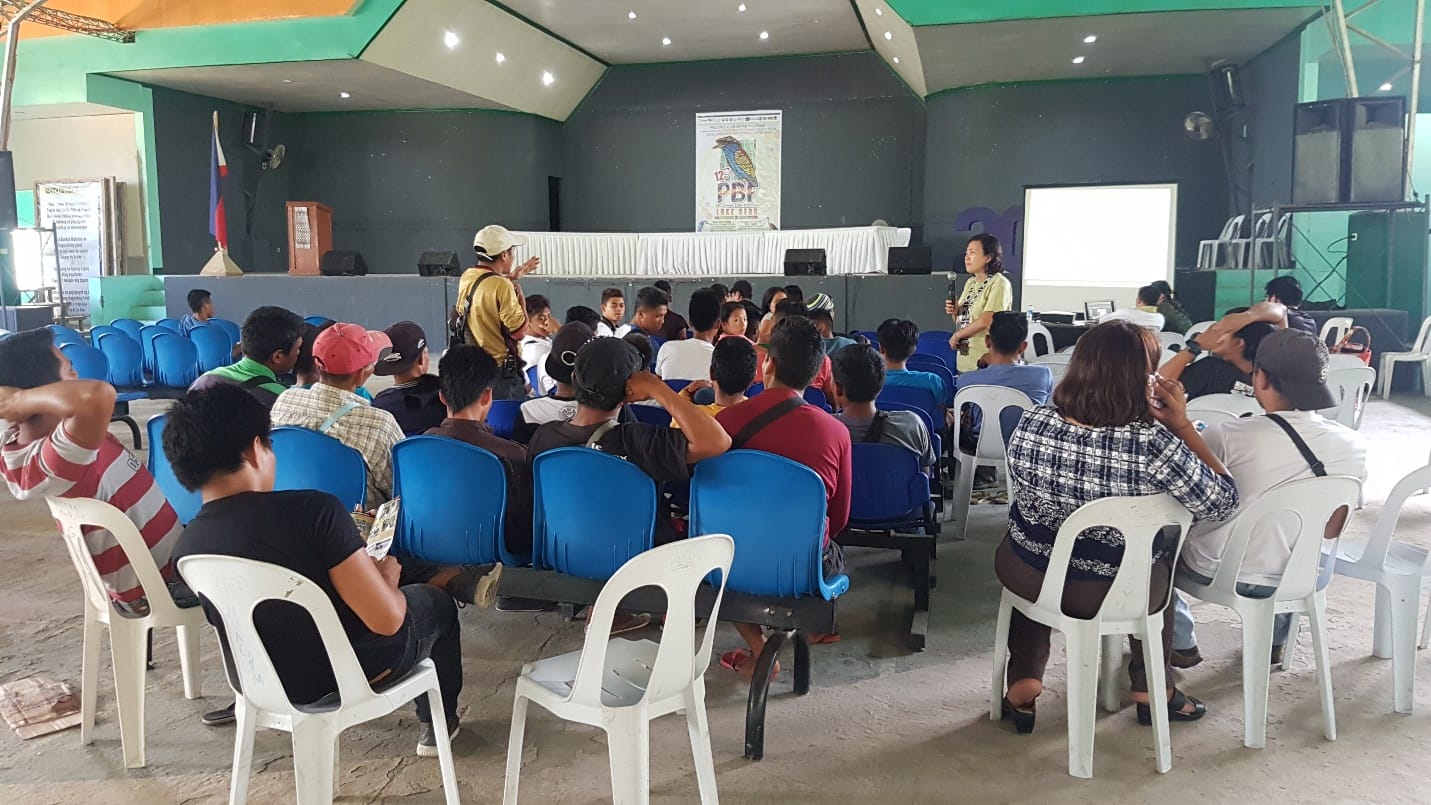 Municipality of Tupi
Conservation Issues
Kaingin
Mining
Persecution
Forest Fire
Illegal logging
Industrialization
Climate change
Lack of awareness and/or concern regarding Philippine wildlife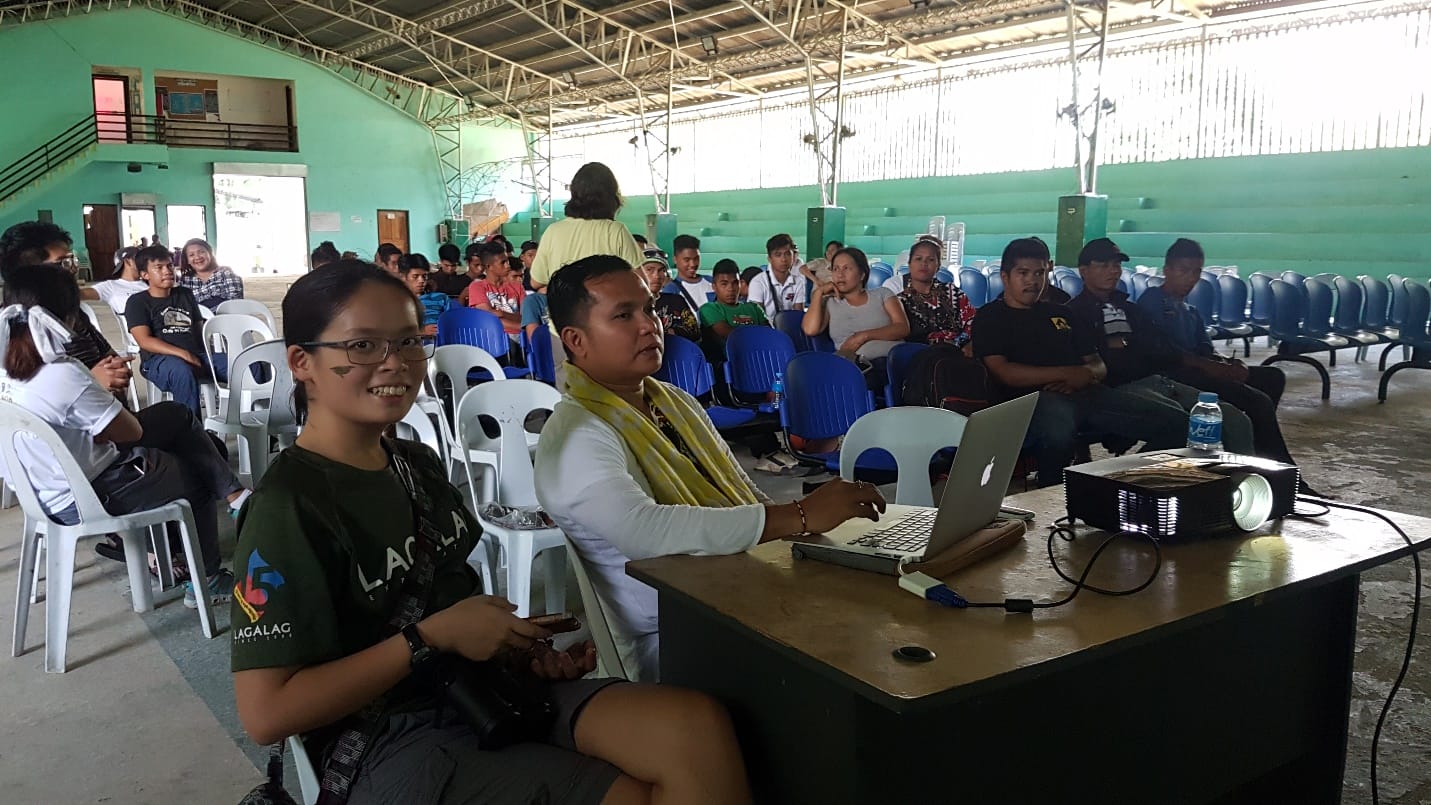 Conservation Solutions
Kaingin – to plant trees; join conservation work and help environmental organizations; create alternative livelihoods; Information Education Campaign; self-discipline; set a good example;
Mining – report mining activities; report and talk to LGU officials, barangay, MENRO, DENR; be vigilant and alert around us;
Persecution – "nanirador"; Information Education Campaign;
Natural or Man-made Forest Fire – establishment of fire line; information education campaign; proper solid waste management (be mindful of your trash);
Illegal logging – tree planting; report illegal logging activities; hotline to text and report any illegal activities (MENRO contact # 09173148991 Rolando Bisaya);
Industrialization – report violations made by the industry (e.g. piggery);
Climate change – tree planting/growing; minimize eating meat; practice the 3 Rs; carpooling; biking; participate earth day celebrations;
Lack of awareness and/or concern regarding Philippine wildlife– Information education campaigns; social media campaigns; join conservation fora; enjoy nature/bird/wildlife watching; nurture the kids while still young with conservation education information; integrate biodiversity conservation in curricula.