Text by Trinket Constantino
Photos by Adri and Trinket Constantino
Cambodia of course is best known for its temples, Khmer monuments which are a testament to architecture, religion and politics. Adri and I had always wanted to see the famed Angkor Wat, and so, on the rare occasion that our schedules left us with some break time which coincided with each other, Adri quickly put together a trip – which included birding of course!
So on a rainy night at the end of May, Adri and I, joined by Melanie, landed at Siam Reap.  We were met by our guide Yeat from the Cambodia Bird Guide Association.  Yet was quite cheerful even at the late hour, and quickly brought us over to the tourist-y old market area for a tasty noodle soup dinner and some beer to start our trip.  We were off to an early start the next day, so we checked in our hotel and quickly got a good nights' rest.
Yeat (who doubles as temple and bird guide!), arrived early the next morning before sunrise and whisked us off to get our temple day passes.  Our first two days were devoted mainly to visiting the temples, with some incidental birding on site.  We headed towards the Angkor Temple complex, parking at the back entrance where there were fewer tourists.  A large moat and wall surrounds the Angkor complex, which is why it is relatively well preserve from the onslaught of the jungle.  We were greeted by a low lying mist over the water and the ruins of the Ta Kou east gate and the air was heavy with humidity.  As we made our way to the front of the temple, we already could hear a Greater Coucals and Greater Racket-tailed Drongos calling.  We quickly walked the length of the Angkor Wat to join the tourist throng waiting for that perfect photo of the sun rising behind the iconic temple.
Having accomplished our tourist-photo goal, we made our way to the trails surrounding the main temple to do a bit of birding.  We took our breakfast along one of the smaller temples by the moat, watching out for birds.  Over the water flew Oriental Darters and Little Cormorants.  A family of Little Grebes were diving near where some locals were fishing for their breakfast. Indian Rollers flew back and forth and Lineated Barbets called loudly form the trees.
As we were eating, our attention was caught by a raptor perched nearby.  It was our first identification challenge of the trip, and it turned out to be a juvenile Rufous-winged Buzzard.
We were soon headed back to the temple complex before it got too hot and humid to walk the ancient halls and corridors with the tourists.  A Shikra flew above us and we spotted another Asian Barred Owlet (which turned out to be pretty easy to spot in the park) along the trail.
On our way back to the temple, we spotted a fruiting fig tree, which gifted us with Green-billed Malkohas, Thick-billed Green Pigeons, Lineated and Coppersmith Barbets, Hill Mynas and Streak-eared Bulbuls. Tree Squirrels leapt ran and leapt from branch to branch, often distracting us from the birds.
We spent most of the morning exploring the amazing Angkot Wat.  Angkot Wat was built during the 12th Century by Suryavaram II.  Originally built as a Hindu temple for Vishnu, it was later "coverted" to a Buddhist temple.  During the more recent regime of Pol Pot, many of the statues of Buddha were destroyed.  All this history was contained in the walls of the temple, stories of religious and political history intricately carved along the corridors.  I cannot put into a few words the experience of exploring the temple here, so I shall stick to birds!  But I have to say, the humidity and heat, combined with all the steps up and down exploring the temple took its toll on us and by noon, we were quite ready to take a bit of rest!
In the afternoon, we explored more temples at the Angkor Thom complex: the famous Prasat  Bayon, with its mysterious stone faces and Ta Phrom, the temple slowly reclaimed by the jungle made popular by the Tomb Raider movie.
In the evening we dropped off to sleep quickly, tired from our full day of walking and temple-exploring.  My dreams were filled with stone Apsara carving coming to life and dancing around me together with a menagerie of birds and elephants and fish!
On the second day, we travelled to the nearby Preah Vihear province.  Our guide Naran and driver Mr. P would be with us for the rest of our trip.  We took our breakfast of fried rice and fruit by the road.  Our short breakfast stop was deliberately planned at showed us several new birds like Golden-fronted Leafbirds, Vinous-breasted and Chestnut-tailed Starlings, Brown Prinia, Sooty-headed Bulbuls, Dark-necked Tailorbird and Chestnut-Capped Babblers.  We initially ignored the sparrows on the wires, but they turned out to be Plain-backed Sparrows and not the ubiquitous Eurasian Tree Sparrows we have here in the Philippines.
Down the road, we stopped by some pepper plantations to take good look at a Collared Falconet, looking both cute and fierce as it tore apart some insect held in its talons.
We finally arrived at the beautiful Koh Ker Temple Complex, where we birded mainly at the Prasat Bram area.  The forest was a dry, deciduous dipterocarp forest – and looked very different from our own tropical rainforests!  I was amazed that south east Asia actually harbored this type of forest.  It was the start of the rainy season and the forest was green – but the trees were evenly spaced and the forest floor was grassy (it was burned every year by the locals when the leaves dropped) and filled with all sorts of wild flowers!  We had very productive birding here – a preview of our next few days of birding. We had several woodpeckers – the common but beautiful Black-headed Woodpeckers, Common and Greater Flamebacks, Grey-capped Pygmy Woodpeckers and even an immature Greater Yellownape in a nest hole!
We chased Common Hoopoes, Red-billed Blue Magpies, Rufous Treepies, White-crested Laughingthrushes and Chestnut-winged Cuckoos through the trees.  When we paused for a break, a White-rumped Shama sang melodiously above us.
We also had several raptor sightings: Black  Bazas, Rufous-winged Buzzards, Crested Serpent Eagles were all easily spotted.  We also saw a Changeable Hawk-Eagle which seemed to be nursing an injured leg.
Common Woodshikes, Black-hooded Orioles, Green Bee-eaters, Large and Indo-Chinese Cuckooshrikes, Small and Fiery Minivets, White-browed Fantails were among the new birds we saw.
We took a break for lunch and did more birding/temple exploring in the afternoon at the pyramid-shaped Prasat Thom and on our way back to Siam Reap we explored the spooky Beng Mealea temple.
Our next 3 days were reserved for more serious birding!  Early the next morning we headed to the Bengal Florican Grassland Conservation Area bordering Siam Reap and Kompong Thom provinces.  It reminded us of Candaba – ricefields and grasslands stretching out under a hot morning sky.  We were there of course to see the Bengal Florican, a critically endangered bustard.  The Florican grasslands was one of the best and most reliable places to see this bird.  We were met by one of CBGAs local guides, Mr. G.  He came to us with the bad news that the Florican was quite a distance away and required us to walk across the fields.  And so we geared up with our optics and sun protection and walked in the muddy dikes and across newly plowed rice paddies!  Flocks of Comb Duck, Indian Spot-billed Duck, Black-winged Stilts, Black-headed Ibis and Red-wattled Lapwing flew on the horizon.  Oriental Pranticoles, Indochinese Bushlarks and Oriental Skylarks were flushed as we walked on the fields. Mr. G walked ahead, communicating with Naran via mobile phone, to update us of any sightings.  Our hearts stopped when we spotted a black bird in a grass clump in the distance!  Was it?  A look through our scopes revealed it was a cormorant!
We had a good laugh and teased Mr. G about trying to cheat us with a more common species.  Mr. G and his companions worked even harder, and we were finally rewarded with a distant but good view of 2 Bengal Floricans.  We had scoped views of them flying and walking on the ground.  Hard to believe such a large bird was hard to find!
On the way back to our vehicle, we stopped by some palm trees to admire some Asian Golden Weavers and their intricate nests.
Congratulating ourselves on our first Critically Endangered species for the trip, we headed on to Tmat Boey Village at the Kulen Promptemp Wildlife Sanctuary in Preah Vihear where we hope to sight our other Critically Endangered targets for the trip.
The end of May and beginning of June is not the ideal time to bird in Cambodia. At the start of the rainy season, it would be more difficult to spot birds and a more logistical challenge due to the weather.  In fact, we had skipped a popular birding site, Tonle Sap Lake, because the water was too low to access the best birding sites.  At Tmat Boey, trapaeng, forest pools, were beginning to form in the dry deciduous dipterocarp forest, scattering the feeding grounds of the birds.  Still, we were in good spirits and enthusiastic about our trip so far.
On the road, Asian Openbills were perched on the trees to greet our arrival.
We arrived and checked into our accommodations in the mid-afternoon.  We were housed at the comfortable Eco-lodge – Adri and I in our own cottage with a toilet and shower (with hot water!) and Melanie just a door down.  It was obviously rainy in the afternoons, so we crossed our fingers that we would have favorable weather for the next couple of days.  After a bit of rest, we headed on a trail at the back of the lodge for one of our targets.  A roosting site for the critically endangered White-Shouldered Ibis was located just a short walk away.
Again, the habitat surprised me.  It felt to me like we were walking in a garden instead of a forest.  White, yellow and red wildflowers bloomed around us and we walked on short grass damp from the rains.
We were joined at Tmat Boey by Mr. Ry – who we later found out was one of the best guides on site.  He seemed to know every nook and corner of the forest, every feeding ground and roosting tree!  We truly appreciated his running around the forest trying to find our targets, suddenly appearing at the most unlikely direction from which he took off!  We thought his name most appropriate – it was a mystery indeed how he quickly traversed the forest!
After a few minutes' walk, he pointed out a tall bare tree in the distance.  And so began the waiting game.  While waiting, we were entertained by a couple of Rufous Treepies flying around us.
A Spotted Owlet arrived with a loud cry and perched nearby.
As the light waned, a lone White-shouldered Ibis flew above us!  Oh no!  Was it using a different roosting tree for the night?
Thankfully a bit later, we saw a single ibis perched on the roosting tree.  Through the scope and in the fading light, we could clearly see its green-blue colors and white collar.
We waited for its companions to join it, but it was only joined by a Greater Racket-tailed Drongo.  As light gave way to night, we headed back to the lodge, happy that this individual seemed not to get the memo that tonight's' roost was somewhere else. We only had one other major target:  the critically endangered Giant Ibis.
The next few days were an amazing experience of birding.  We would leave before sunrise to check on the different Giant Ibis roost and bird along the "trails" while Mr. Ry zipped through the forests trying to find the ibis.  For two mornings, the Giant Ibis eluded us at the roost sites!  Everywhere we were greeted by the loud calls of Chinese Francolins.
We kept to the trails as it was so easy to get lost in the unfamiliar, uniform looking forest! We admired not only birds, but butterflies, several lizards and skinks, squirrels and all sorts of wildflowers!
The Giant Ibis continued to evade us, but we could not complain.  All sorts of woodpeckers were easy to see:  Grey-capped Woodpeckers, Common and Greater Flamebacks, Yellow-crowned Woodpeckers, Rufous-bellied Woodpecker, Rufous Woodepeckers, Black-headed Woodpeckers, Spot-breasted Pied (Freckle-breasted) Woodpeckers, White-bellied Woodpeckers, Great Slaty woodpeckers – our heads spun with each new sighting!
Large flocks of Blossom-headed and Red-breasted Parakeets flew above us, disappearing into the foliage as they perched on trees to feed.
33 A squawking Red-breasted Parakeet
34 A large flock of Blossom-headed Parakeets
Indian Cuckoos called loudly "one-more bottle" every morning and afternoon, quite vocal and visible in their perches.
We were soon familiar with the calls and jiz of prinias, barbets, cuckooshrikes, hoopoes, ioras, minivets, drongos, flycatcher shrikes. Woodshrikes, nuthatches, magpies!
On our last morning (ad our last chance to see the Giant Ibis!), we stumbled on an open field with several Burmese Shrikes patrolling.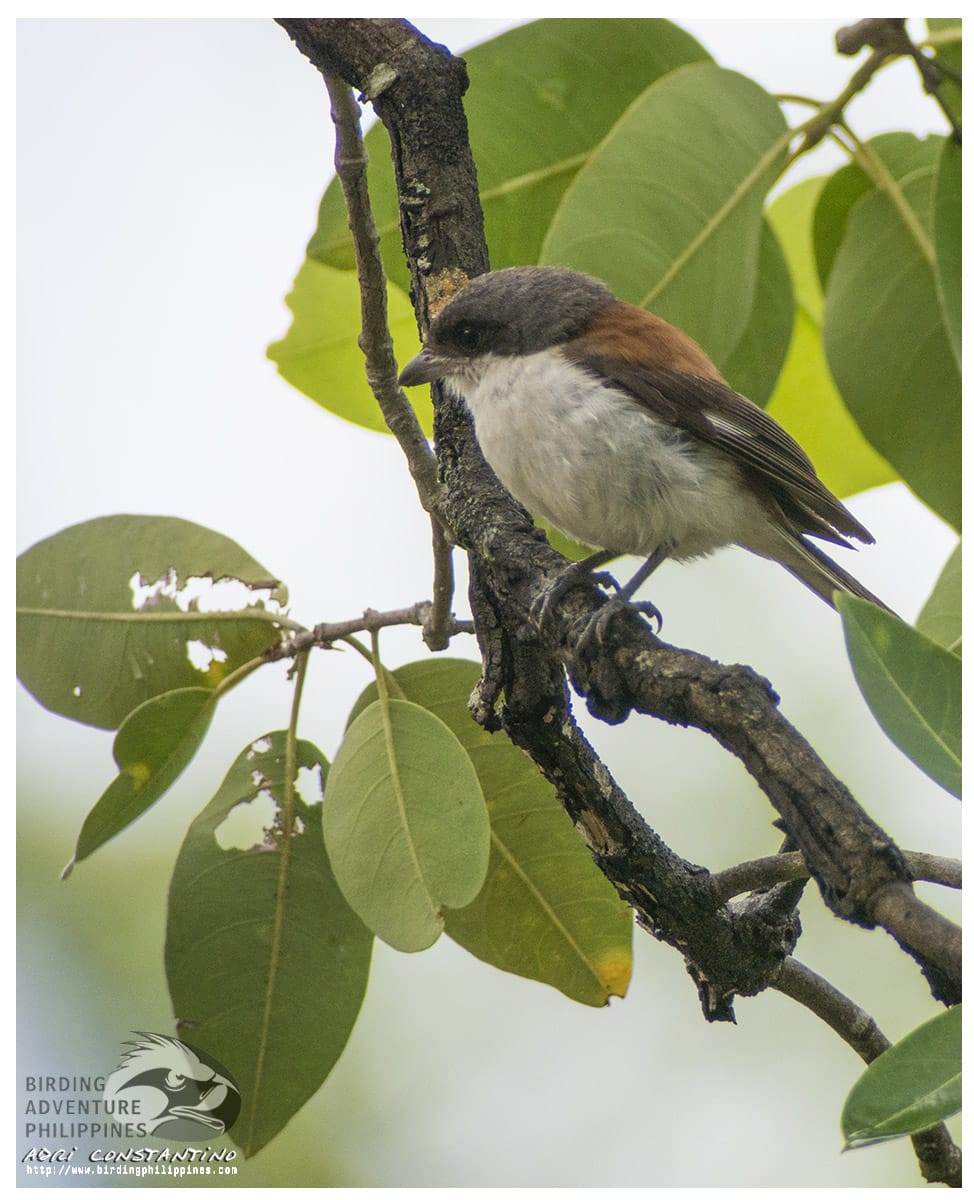 As we were looking in all different directions at different birds, Adri suddenly spotted a large bird flying behind the treeline!
As he shouted at all of us to look, Melanie and I only caught a brown shape on our binoculars but Naran  and Adri saw the distinctive light upperwing!  It was the Giant Ibis!  In true Mr. Ry fashion, he suddenly appeared out of nowhere and headed in the direction of the bird, motioning us to follow quickly.  We all but ran across the wet and soggy grass!
We ended up at a field where a large flock of Crested Treeswifts had several nests.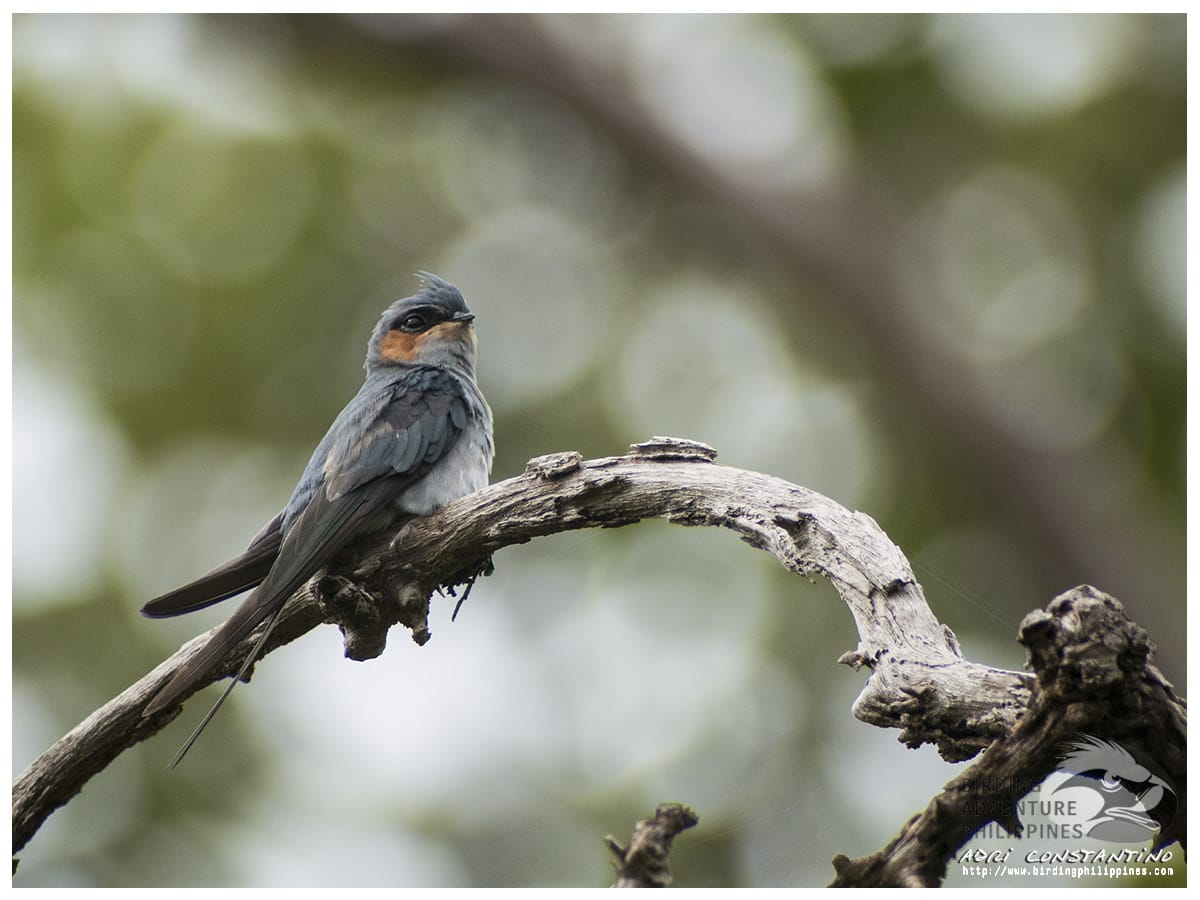 The surrounding habitat looked like a perfect feeding ground: several trapaeng could be seen.  However, a farmer was working on a noisy tractor, and the Giant Ibis was nowhere to be spotted.  It was certainly THE almost-sighting, not-quite-a-dip of the trip!  Mr. Ry and Naran were disappointed but we assured them that it was quite all right.  We could not ask for more, birding in the Kingdom of Cambodia in May had more than lived up to our expectations!
As we headed back to the lodge to pack up, a Lesser Adjutant flew across the road above us, another of the giant bird of Cambodia, bidding us goodbye… and maybe, hopefully, see you again.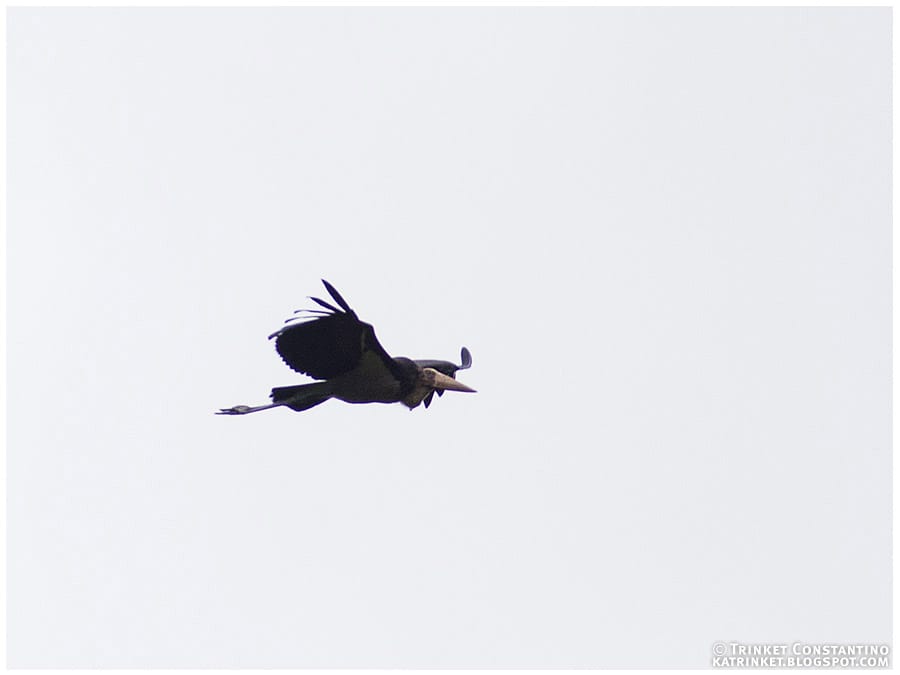 Thanks to the Cambodia Bird Guide Association (CBGA, http://www.birdguideasso.org) for organizing our temple and birding tours!  We appreciated all the hard work of our guides, Sean Yeat, Sophal Chen (Naran) and also enjoyed meeting the other CBGA guides and staff, Pisey Nop, Kunthea Chhoun, Nara Duong Thanks also to Victor Yu and Dion Hobcroft for the tip s and the referral.
For our ebird bird lists, check the following:
Angkor Wat: https://ebird.org/view/checklist/S48051652
Koh Ker: https://ebird.org/view/checklist/S48051668
Bengal Florican Reserve: https://ebird.org/view/checklist/S48051675
Tmatboey: https://ebird.org/view/checklist/S48051719 , https://ebird.org/view/checklist/S48051727 ,
https://ebird.org/view/checklist/S48051734