Text and photos by Cristina Cinco 
Over the years I have seriously combined two of my life's passions- painting and birdwatching.  As a birdwatcher,   travelling brought me to  destinations in the far corners of the country with inspiring sceneries where forests or uninhabited beaches still exists.  As a visual artist, vivid  memories from these trips became my subjects for paintings.
I began painting as a hobby thirty years ago after finishing college. My parents then considered  art  as a mere distraction to my academic pursuits. After graduation, it was my mother who even prodded me to take an intensive  workshop in oil painting, after which she became my number one supporter and art patron.  My earliest landscape painting in oil was of Shosenkyu Gorge from Yamanashi prefecture . I must admit that back in the 1980's travelling within the Philippines was very limited and quite expensive. My very first trip abroad was in Japan. I was totally amazed by the earthen  colors of the autumn season  which was totally different from the verdant foliage I was used to back home.
Early Landscape Paintings in Oil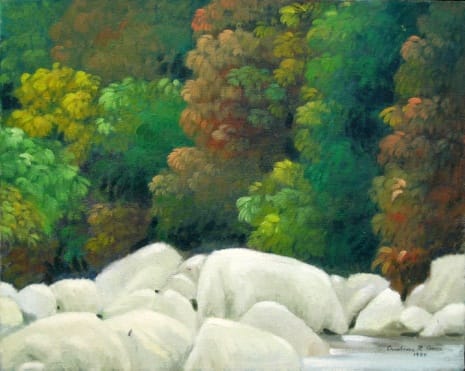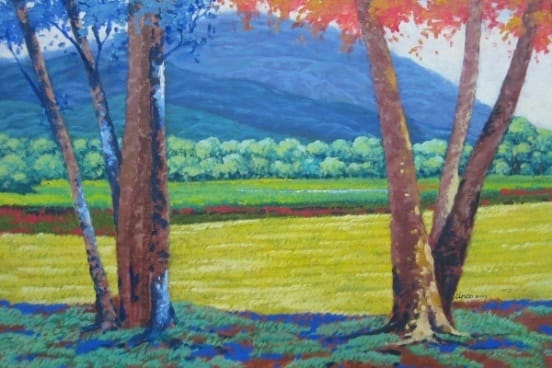 In the succeeding years, I totally stopped painting due to demands of work and every day life.  But realizing something was missing, I went back to picking up the brush in 2003. My shift to watercolor came by chance.  After joining a regular oil painting workshop, I  met  Peter Sutcliffe, my current mentor in watercolor. It was the reverse case for Peter.  He was attending the oil painting workshops  to further improve  his skills. The oil painting sessions eventually ended after three years. In the absence of a teacher   Peter offered  to teach the group in watercolour backed by his more than 50 years  of experience  in this media. As a legacy, he wanted to impart his knowledge and skills,  mentoring our  painting group from 2006 up to the present. Aside from being a watercolorist, Peter too is a birdwatcher! He was instrumental in introducing me to this nature oriented hobby.   Landscape painting was his forte having grown up in the English Lake District.  The terrain and the sceneries of his homeland became  his favourite subjects reminiscent of  youthful memories. Having retired in the Philippines, Peter observed  that there are very few local  artists who painted the beautiful landscape in the country. Inspired by Peter's watercolour landscapes, I took on  this challenge, which later became  my personal advocacy.
Watercolor Paintings by Peter Sutcliffe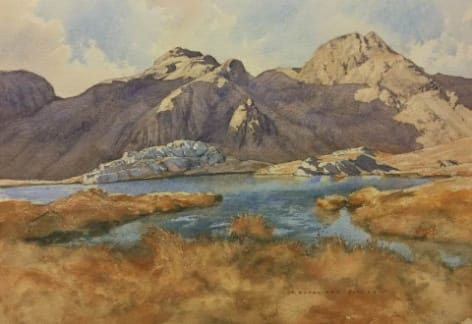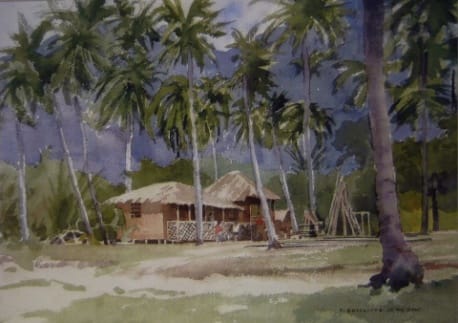 It took me several years of  training  to  gather enough confidence to paint landscapes. What seemed to be a simple subject such as a tree, a mountain or the sky proved to be difficult to portray. I continued to persevere in this water media after learning from the many failures and a lot of encouragement from my mentor . These art works are a result of my  travels as observed from a  viewpoint of a birdwatcher  and a watercolour painter.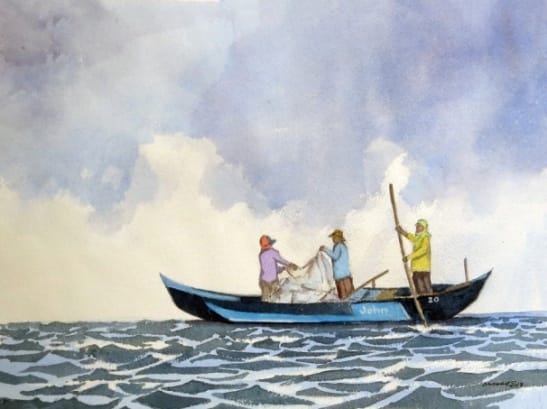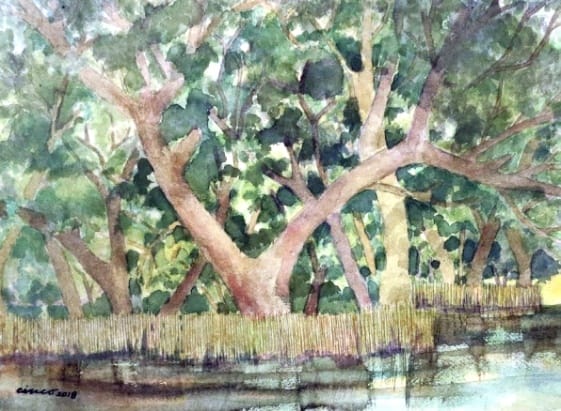 The  scenes from Navotas in the northern part of Manila Bay reflects the coastal life in Metro Manila.  Fisher folks still depend on the bay for way of living.   While the last patches of century old mangrove forests exist randomly along the shoreline.  Manila Bay serves a valuable source of food for its residents while its mudflats are important wetland habitats for birds during the migration season for birds. From the months of  November  to April, shorebirds like plovers, egrets and terns abound with a couple of  the critically endangered Chinese Egrets can be seen foraging in the area.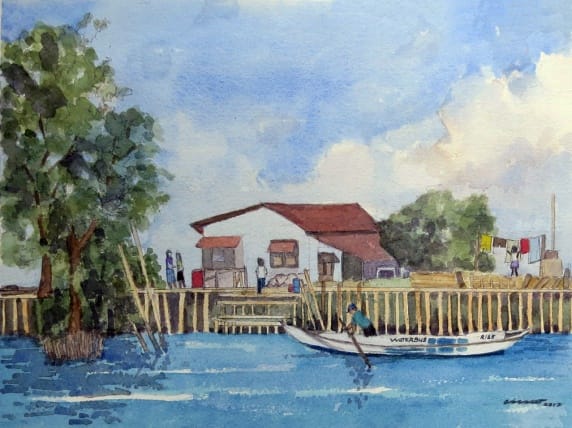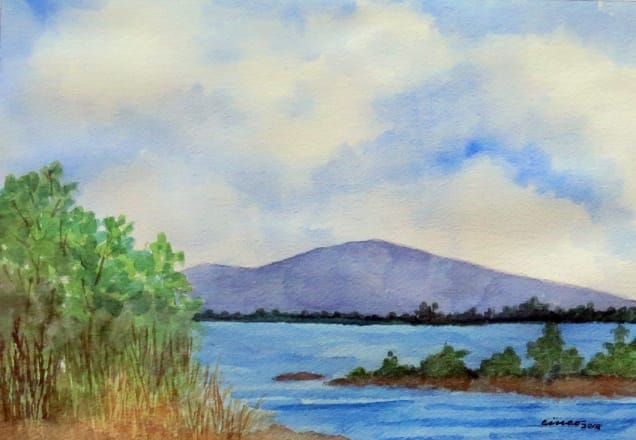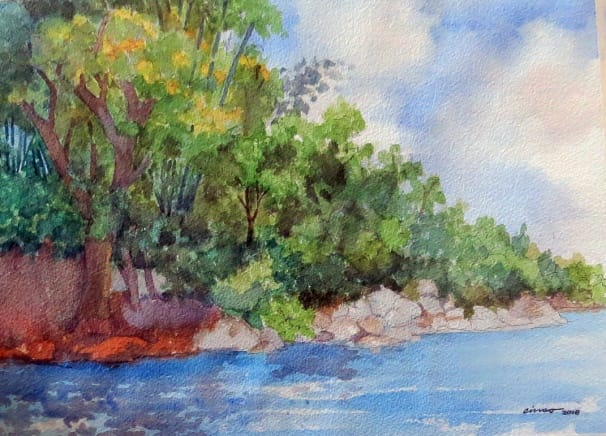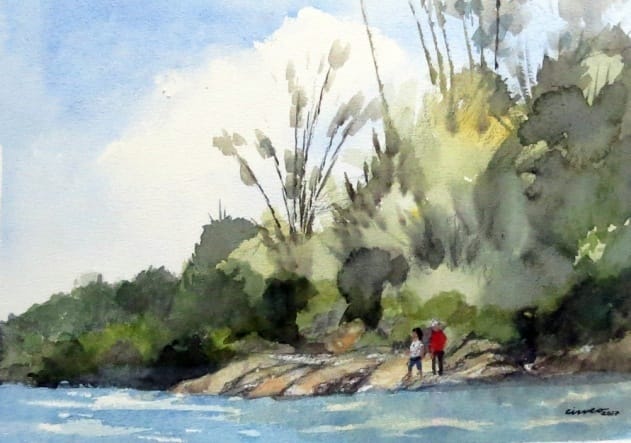 These paintings are the typical landscape views while  cruising along the Bumbungan river on the way to Pagsanjan Gorge  National Park.  Waterfalls, interesting rock formations, bamboo groves and Narra trees in full bloom with its bright yellow flowers dotted the riverbanks. As a birder, I had good views of  Blue-tailed Bee-eaters, Kingfishers (Collared, White Throated and the Indigo-banded Kingfisher), and even some migratory birds like the Common Sandpiper,  Eastern Yellow Wagtail and a solitary  Little Egret.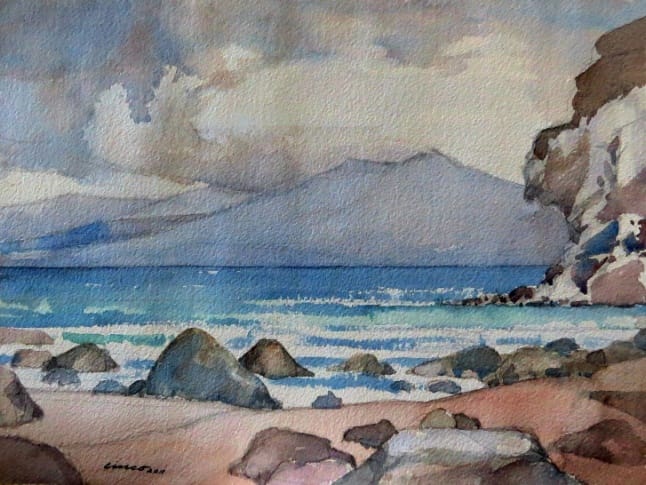 Negros Oriental is a favourite destination in the Visayas region.  On a stop over at a seaside restaurant, I came across this scene by the beach. I was enjoying the view of clam diggers, families taking a walk or people sitting  by the rocks to enjoy the sea breeze as the gigantic Talisay tree in turn provided some shade during the sunny afternoon.  Apo Island in turn was one of my trip's highlight experiencing the closest thing to having the island to one's self.  A marine protected sanctuary, corals and colorful fish were seen while snorkelling as Pied Imperial Pigeons became lifers while sitting on the beach.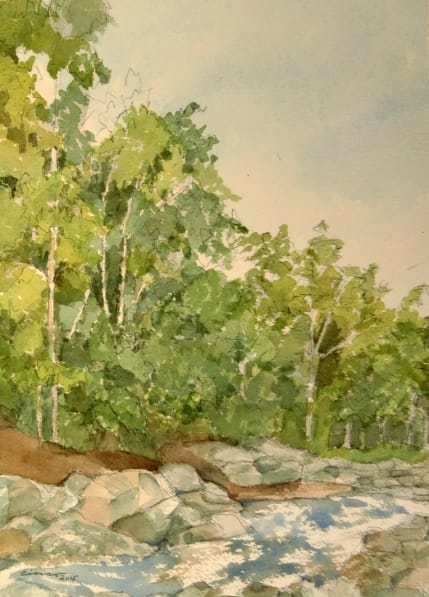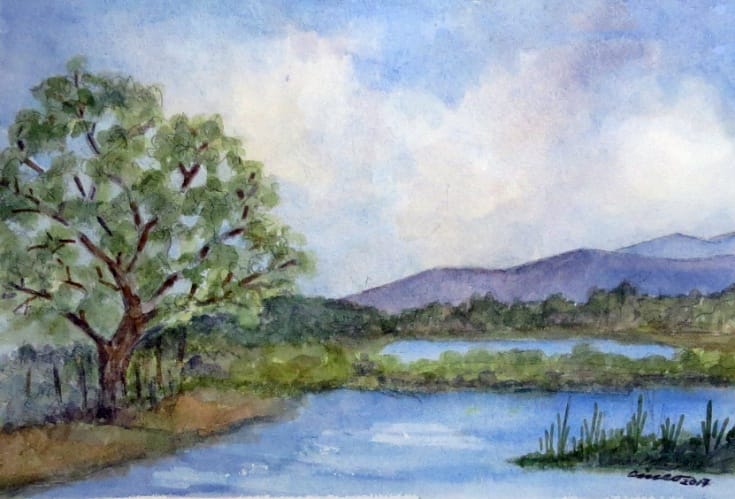 In 2014, the 9th Philippine Bird Festival was held in Zamboanga City. The city then was just  liberated from the rebel forces  a few months before  the event.   The  holding of the festival  right after the siege  boosted  the morale of its citizens. Being one of the oldest cities in the country,  Zamboanga also took pride in its  natural attractions such as  Pasonanca Natural Park and the Bog Lake at Calarian. The introductory birdwatching at Bog Lake was one of the festival activities for  the students providing them  good views of  waterbird species like the egrets, herons , Philippine Ducks and the  Philippine Swamphen.  The Pasonanca Natural Park within the city serves as its watershed.  The Tumaga river is part of the natural park and while still heavily forested, serves  as home to a myriad species a birds.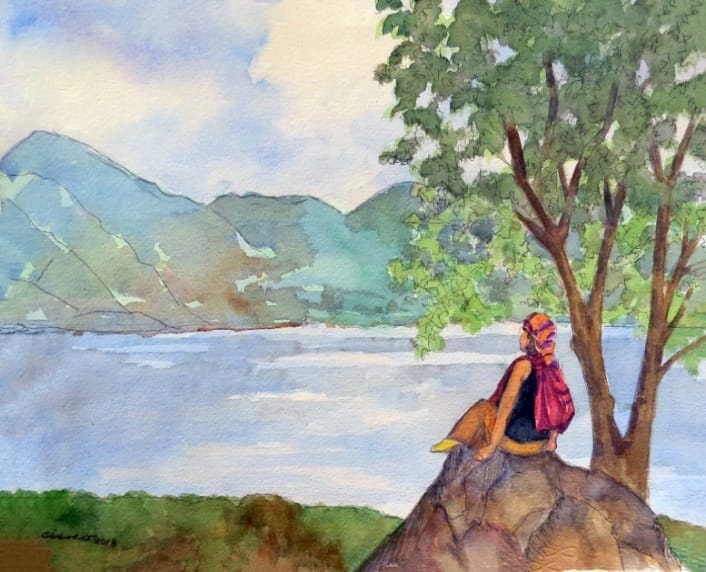 These  watercolour paintings serve as a journal of my travels.  Each composition is still a learning process faced with a lot of challenges.  Future trips will translate to subjects yet to be painted. As a birder and a nature lover in  these changing times of rapid development, the scenery are memories of places of what they were, an environment unspoiled  where various species of plants and animals can thrive.  Hoping that this art form will raise the awareness of nature conservation from the perspective of  being an avid birdwatcher and watercolour painter.